Things to do in Vietnam
Vietnam if one of the most interested destination in South East Asia. The beautiful country with the friendliest people in the World and Vietnam has many things to offers travelers. Visitor to Vietnam have many things to do in each city they visit. From crystal jade colored water in Halong Bay to beautiful terrace rice paddy in Sapa, from Capital city in Hanoi to ancient Hoi An town or sunny beaches in Nha Trang. From Vibrant city of HCM City to green orchard with lots of tropical fruit in Mekong delta. Everywhere you travel, you feel welcomed and feel the trip to Vietnam is right decision. To plan a better trip, we listed 18 things to do in Vietnam and hope it helpful for visitors.
We listed all the best experiences for travelers from North to South of Vietnam.
1. Biking in Ninh Binh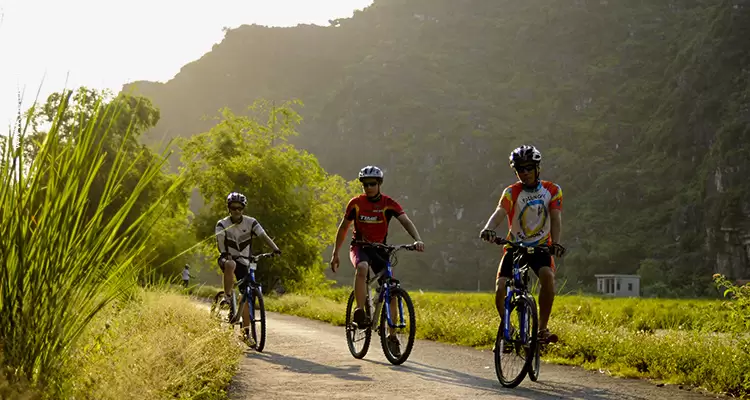 The slow pace of travel to Ninh Binh where you could see, feel and touch the atmosphere of countryside in the Red River delta. Stay overnight in Ninh Binh and choose to ride bike in the afternoon or early in the next morning to see the Sun set or the time when local people start their day. See the rice field and mountain ranges along your biking route in the most quiet time of the day.
Read more: Things to do in Ninh Binh
2. Trekking in Sapa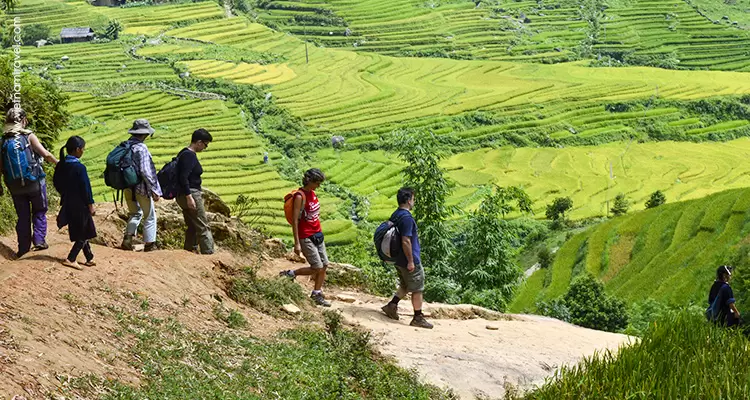 Sapa covers an area of over five thousands squares km with dozens of colorful hill tribes. This old French – built town with tropical forest, emerald rice terrace fields, colorful hill tribes is an great adventure experience… When you travel to Sapa, don't just stay at hotel in town. We highly recommend you take a half day or full day trekking to village of Hmong or Red Zao people, meet and talk to local at their home or their farm and enjoy the view of Muong Hoa valley or Fansipan mountains…
There  several route you could choose:
Trek from Sapa to Ta Phin
Trek from Sapa to Cat Cat Village + waterfalls
Trek from Sapa to Ylinh Ho, Lao Chai Ta Van
Trek from Sapa to Ta Van to Ancient rocks, Cloud bridge (Cau May)
Trek from Topas Eco-lodge to Thanh Kim, Thanh Phu
Read more: Things to do in Sapa
3. Kayak in Halong Bay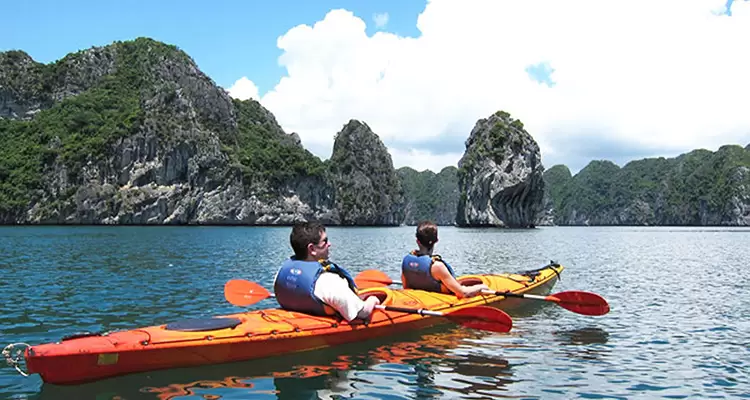 Halong bay is the top attraction of Vietnam, kayaking through Halong Bay is a must-do bucket list activity and by far the best way to explore all that the bay has to offer. Sliding through the water in a nifty kayak gives travelers more independence, and allows them to reach the shallow water that the cruise cannot get able to reach. Kayaking is included when you book a Cruise on Halong bay so tick it in the list that you will join on 2 day or 3 day trip of your Halong cruise.
Read more: 10 Best Ha Long Luxury Cruises
4. Trekking in Mai Chau

Mai Chau is a village of White Thai people in Mai Chau valley, Hoa Binh Province. It is 146km from Hanoi, about 3 hour drive passing many mountains and hills. Mai Chau trip is always nice and fun. You should spend 2 day for Mai Chau when you plan a trip.
Even though BanLac village and Pom Coong village getting too touristy but Vietnam Travel always preserve some of the best treking route in Mai Chau for their own clients. Our driver and guide really know the area, the great timing to make your trip is unique and enjoyable. We have many friends there and we even know how to cook the best authentic local food for our clients here too.
5. Cooking class in Hanoi/Hoian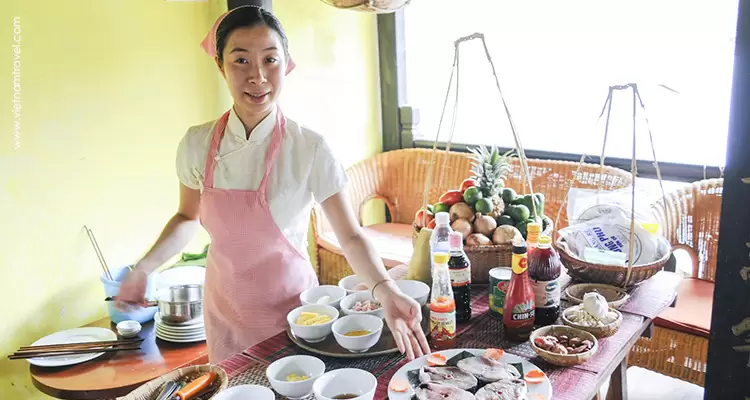 The World know more about Vietnam by the Wars and Vietnam Food. With the amazing supply of local farm products and source of fish and prawn from 3,260km of coastal lines and system of rivers. Vietnam has amazing material of their own cooking. Vietnamese has great methods to process their food in the nice and freshly food. During the visit to Vietnam, we highly recommend you to take a cooking class and get to know more about local culinary. Hoi An cooking is highly recommended.
Read more: Vietnamese Cuisine: The Definitive Guide to Classic Vietnamese Foods
6. Eco tour in Hoian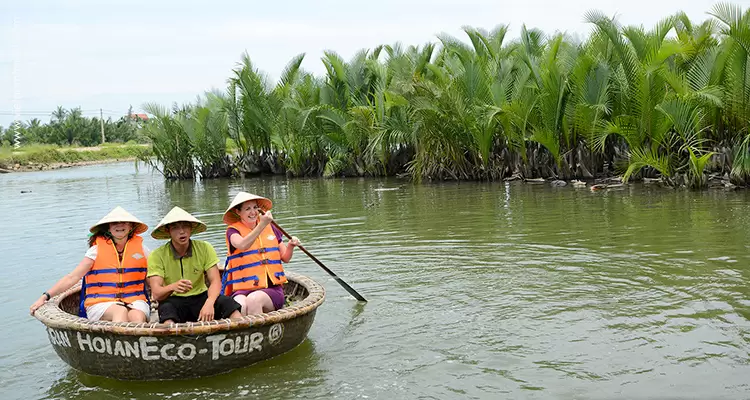 There are plenty things visitors can do in Hoian. The narrow lanes are ideal for guided walking tours. You could visit the old merchant's houses with influences from Chinese, Japanese and Vietnamese architecture; the 400-year-old Japanese Covered Bridge, the Assembly Hall of the Chaozhou Chinese Congregation with outstanding wood carvings…. But when visit Hoian, we highly recommend you to take a day of Eco tour outside the city and get to know more about countryside of Hoian and experience the slow pace local life with many activities on the farm, and river of farmer & fishermen in Hoian.
Read more: Things to do in Hoian
7. Biking in Hoian countryside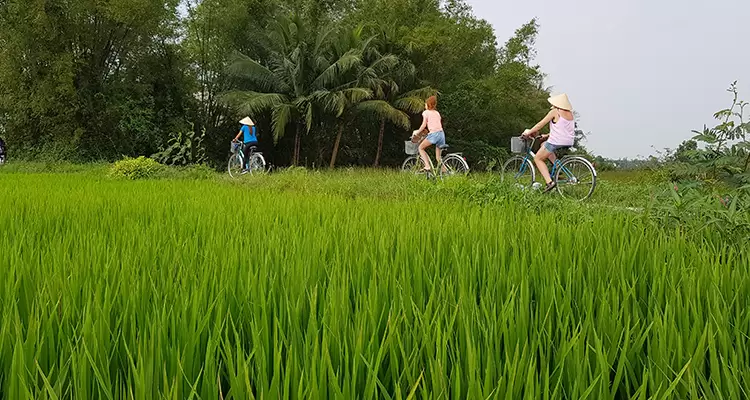 Hoian town is small in term of size, walking is good to visit the old town of Hoian.
When you want to discover the countryside of Hoian, we suggest you to take the bike to villages. It is safe to travel here by bike and you could enjoy the countryside better in the quiet and leisuring way out in the sun.
8. Motorbike from Hue to Hoian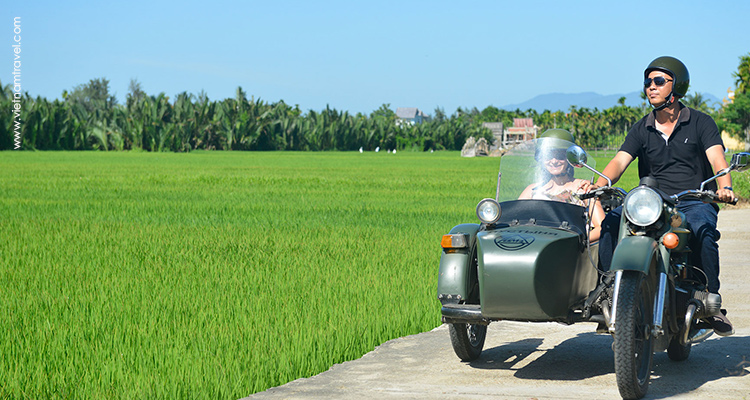 Hue to Hoian is about 130 km or about over 4 hours by motorbike. The first part you will drive along the national highway passing the countryside with lots of rice field up to Phu Bai then passing the area near the sea with lot of fish farm in Tam Giang. This area is flat and motor biking is leisure. From Lang Co beach you start to drive up the mountain passing the Hai Van pass with spectacular view of the mountains and the ocean. The third part of the way passing Danang to Hoian, you will drive on the flat road along the sea. Whole the trip is great experience and this motorbike trip is good for the young and well-travelled ones.
You may like: Things to do in Hoi An
9. Vespa tour in Hanoi/Saigon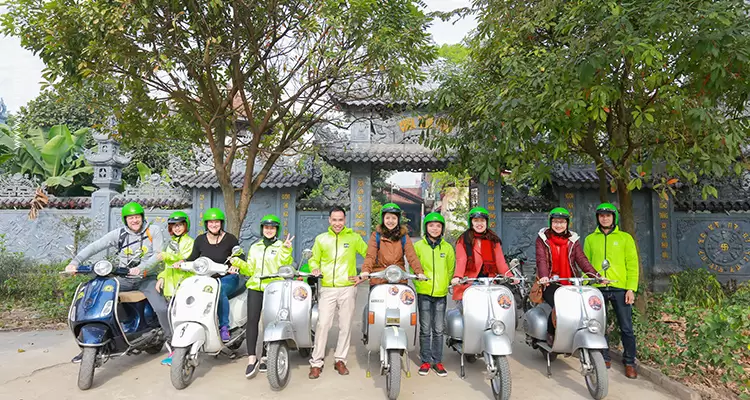 Vespa or Moped trip in Hanoi & HCM City operated by the local team of Vietnam Travel, Discover the city to all the hidden part as a local and gain the interesting experience that regular traveler cannot get to when they travel by car. Contact Vietnam Travel for more details and the best offers.
10. Immerse yourself in the Golden rice in Mu Cang Chai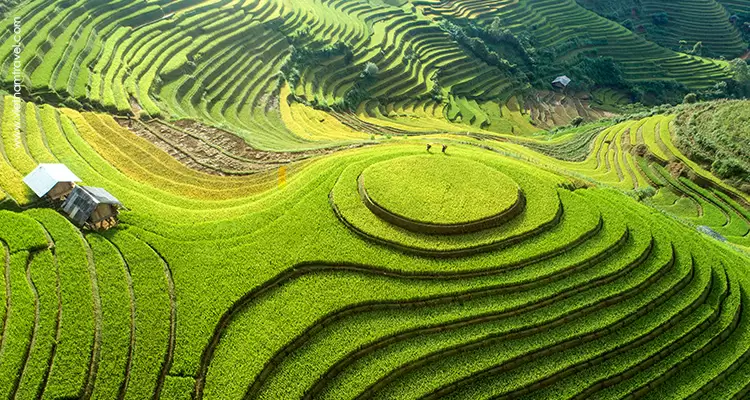 Mu Cang Chai is located 180 kilometers away from Yen Bai city. The only transportation to get there is by road so you could choose either motorbike or private car. If you choose private car, it take more than 8 hour drive about 280km. Public bus from Hanoi to Yen Bai Then another bus Yen Bai to Mu Cang Chai. The route condition is very bad so you have to take about 1 day to arrive by bus.
The best part is the stretch of hazardous roads spreading out for tens kilometers of infinite and primeval landscapes, grandiose ranges of mountains and the peaceful and poetic picture of ethnics' houses covered by terrace fields. Visit Mu Cang Chai in June when they planting rice or best in Sept in harvesting time is highly recommended.
11. Diving in Hoian/NhaTrang/Phu Quoc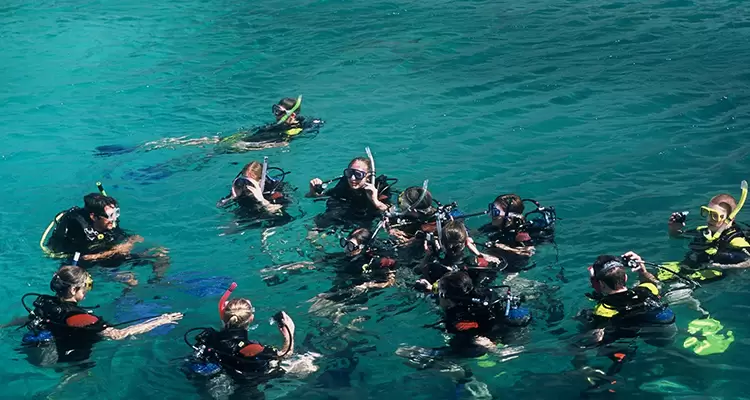 Diving is new in Vietnam, the sea water is not as clear as you may see in Thailand or Australia, but when your time is permitted, you could choose half day trip of diving. there is nice experience that you will gain more than other destination in the World. relax on water, enjoy the drink on a floating bar is one of them. The trip is for the young and adventure lovers. You will like it.
Read more:
12. Zipline in Hue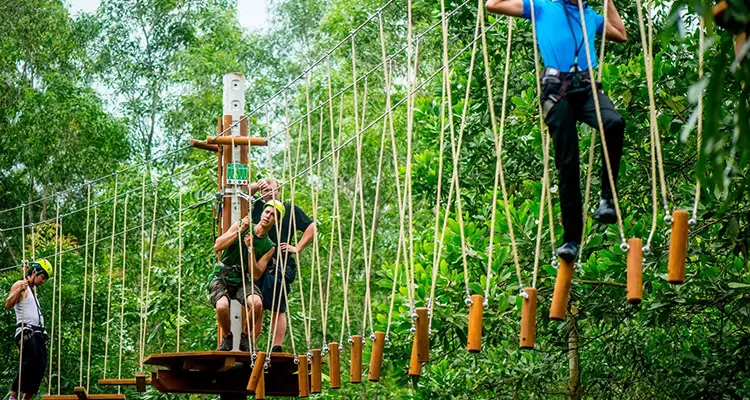 When you have more time in Hue Vietnam, let s take a half day trip to gain more adventure experience beside Temples and Mausoleum. Hue has many activities waiting for you to discover.
Read more: Things to do in Hue, Vietnam
13. Watching culture shows like: Tonkins, WPS, My Village, Ah Oh…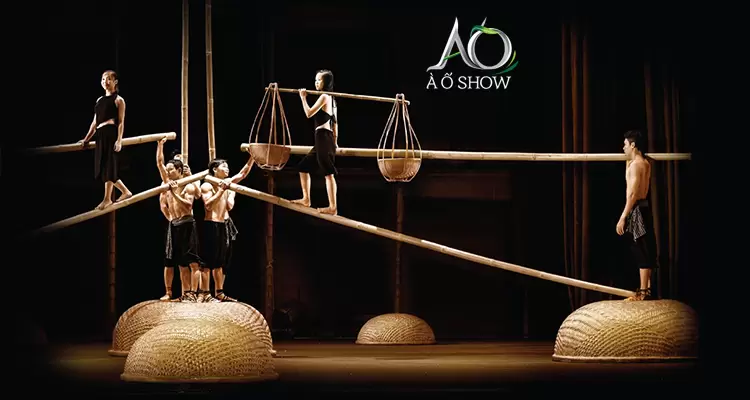 Beside Water puppets, now Hanoi has more shows for local and visitors and truly enjoy the culture and arts of Vietnam. Contact us and let us know your time and your interest. we will recommend you the best show of the day.
Read more:
14. Visiting traditional Craft villages: Hanoi, Hue, Hoian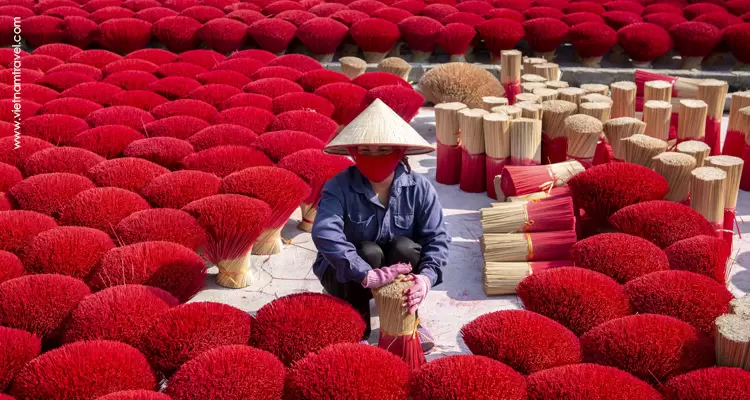 Vietnam Travel offer a special full day trip to vicinity of Hanoi and discover the interesting villages that regular visitors dont reach too. The itinerary is changes to thee season and date of travel to make sure you will gain the best experience of countryside and villages. Let us know your travel date and we will arrange you the special plan for your best Vietnam experience.
15. Taste the food of Vietnam (foodie tour in Hanoi, Hue, Hoian, Saigon)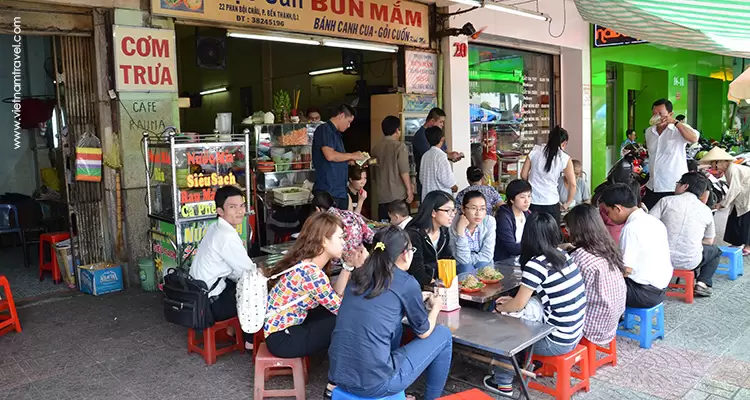 Hue is good place to taste many royal dishes in the restaurant and lot of good food on the sidewalk. Food on the street is reasonable and good. Seating on the low plastic chairs and enjoy the Bun Bo or Nem Lui would be fantastic.
16. Visiting floating market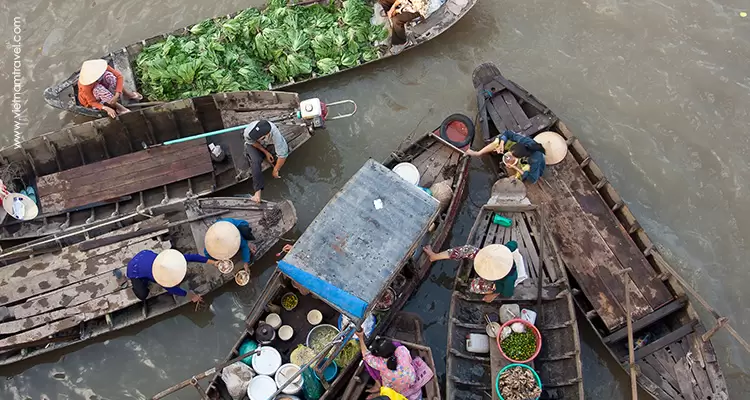 Can Tho is the basket of fruit in Mekong delta. 2 day trip allow you to experience the life of local and enjoy great food with lots of activities. We highly recommend you to attend the early morning market by boat on Mekong river in Can Tho. Cai Rang floating market is the one you would love to see. After the market, you should visit the fruit farm then go back to HCM City or continue your trip to Chau Doc with lunch en-route.
Read more: 7 Amazing Floating Markets in Mekong Delta, Vietnam
17. Mud bathing in Nha Trang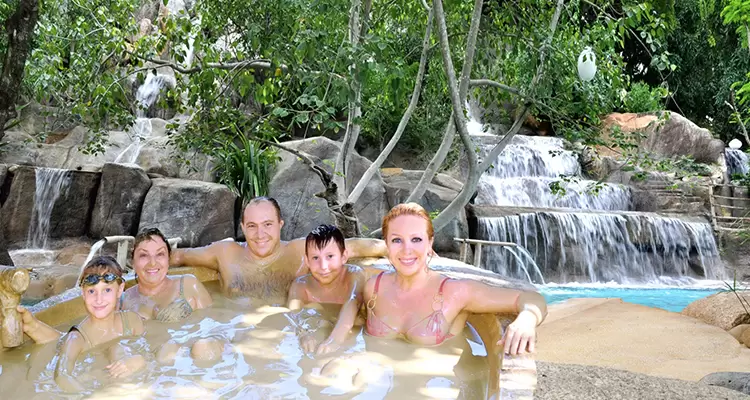 Nha Trang is modern city by the sea. There are lots of activities for visitors to Nha Trang from island tour to city tour where you visit Temples, Church, Central market… but there is a nice experience to deep in the herbal mud as the special method to take care your skin and your health. Note this activity when you plan the trip to Nha Trang, you will love it.
Read more: Things to do in Nha Trang
18. Motor bike in Ha Giang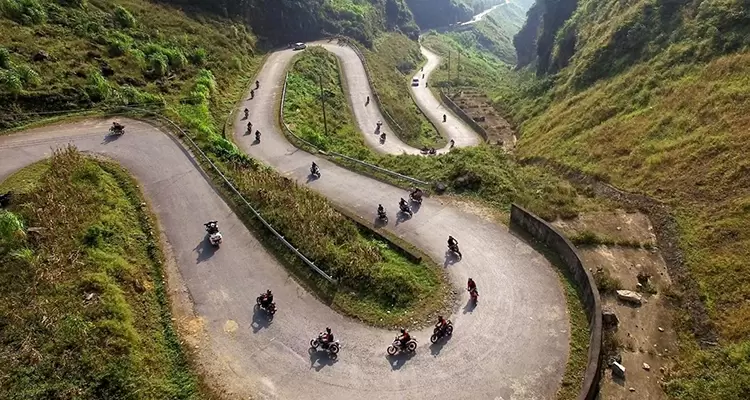 Special experience to discover the mountainous province of Vietnam, the trip is good for young and adventure visitors. Contact Vietnam Travel for more details and the best offers.
Read more: Things to do in Ha Giang, Vietnam