Bun Bo Hue (Spicy Vietnamese Beef Noodle Soup)
Along with famous Pho, "Bun Bo Hue" (call Spicy Vietnamese Beef Noodle Soup in English) is a legendary Hue dish that have been embraced all over Vietnam. This dish even appeared on the CNN Original Series "Anthony Bourdain: Parts Unknown". He exclaimed that "Bun Bo Hue is the best soup in the world!" Let's find out why "Bun Bo Hue" makes a strict chef, writer and TV host like Mr. Bourdain announced such a glowing compliment.
1. Origins of Bun Bo Hue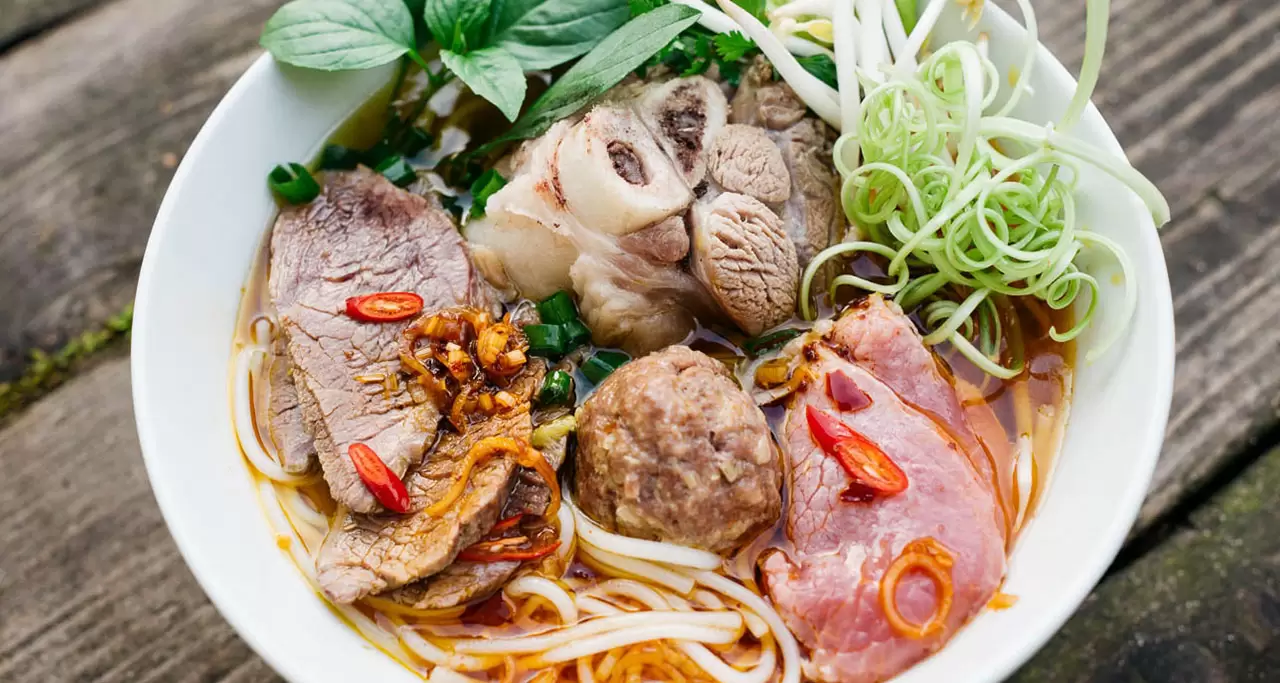 "Bun Bo Hue" though was born in the local province, all the original stories are still quite obscure. Some scholars and historians believe that "Bun Bo Hue" looks popular and cheap, but most likely appeared first in the royal menu. The explanation is based on the fact that the land surrounding the former capital – Hue used to have very few cow farms. In feudal times, people rarely raise cows on a large scale; therefore, there is no basis for the common use of this type of food called "high end". The preference for raw beef, therefore, most likely originated from the mandarins or the Nguyen royalty.
2. Ingredients to make a delicious Bun Bo Hue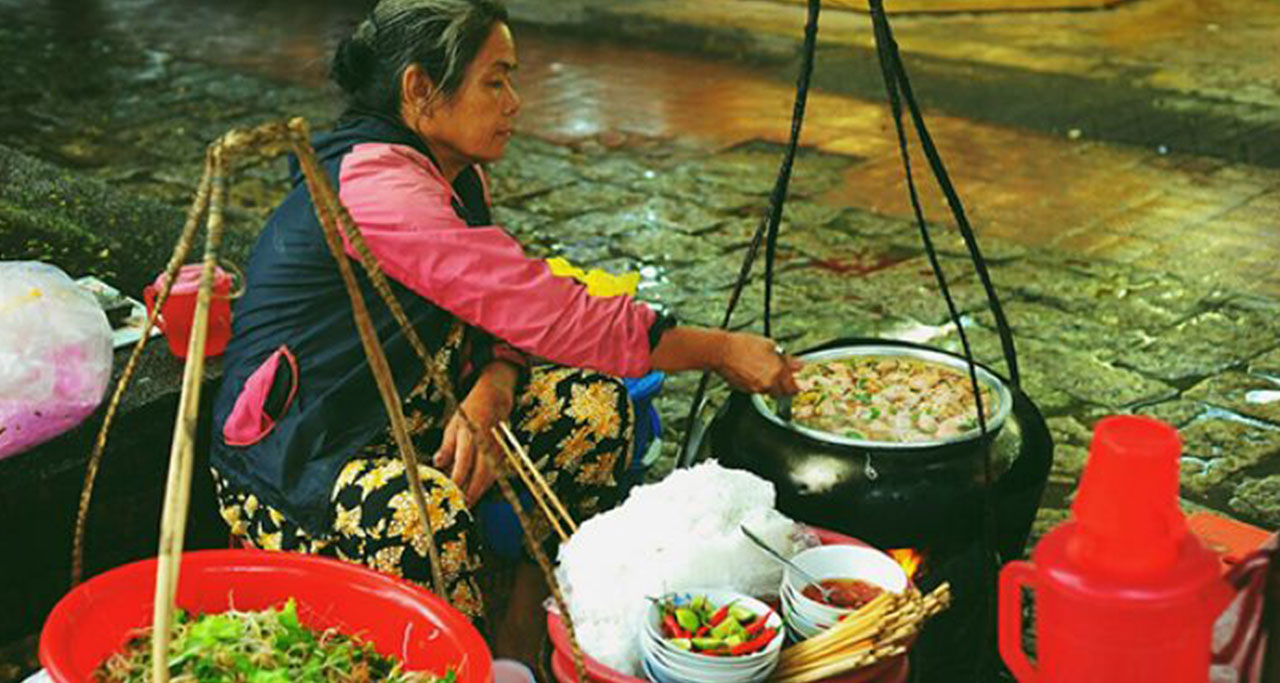 Like other Hue typical food, the Bun Bo Hue cooking process is elaborate. It reflects the age and quintessence of Hue ancient capital.
– The broth: it has to be prepared first and need to be cooked one day earlier. The broth for "Bun Bo Hue" is prepared by slowly simmering various types of beef and pork bones (ox tail, beef shank, pork neck bones, pork feet, and pork knuckles/ham hocks) and loads of lemon grass. The fiery spices, made up from frying together garlic, shallots, red pepper flakes, chilly powder. Moreover, what makes it different is a special Vietnamese spice called "Mam Ruoc" (fermented shrimp paste). The broth will smell strong and attractive. However, the second most important ingredient in "Bun Bo Hue" is the lemongrass which will be added to help to ease the typical smell of shrimp pastes and ground annatto seeds for the iconic red color, are added later in the cooking process. In return, a mild flavor slightly mixes with the smell of citronella making "Bun Bo Hue" irresistible to many visitors to Hue.
– The base – rice noodle: Unlike Pho with square shape, "Bun Bo Hue" has the noodle in long round shape. The rice noodle is made in special way that is a little tough in comparison to other types of noodle but making a good combination with the broth.
– The toppings: A portion of "Bun Bo Hue" contains slices of marinated and boiled beef shank. a pork knuckle, "Tiet Luoc" (boiled cubes of congealed pig blood) which has a mixed color of dark brown and maroon, crab ball and beef ball.
– Add-on fresh herbs: do not forget to add lime wedges, cilantro, diced green onions, raw sliced onions, thinly sliced banana flower, red cabbage, mint, basil, Vietnamese coriander, and sprouts.
3. Recommend restaurants
Vietnam Travel helps list 6 restaurants offering delicious "Bun Bo Hue" but do not limit yourself to these. There are plenty of other choices that you should try:
– Bun Bo Hue – 5 Nguyen Du Street, Hue
– Quan Cam – 38 Tran Cao Van Street, Hue
– Net Hue – 43 Mai Hac De
– Bun Bo Hue O Xuan – 5D Quang Trung Street, Hanoi
– Bun Bo Hue Huy Beo – 190 Lo Duc Street, Hanoi
– Bun Bo Hue Dong Ba – 207B Nguyen Van Thu Street, Da Kao ward, HCM
– Bun Bo Hue Chu Ha – 300 Vo Van Tan Street, District 3, HCM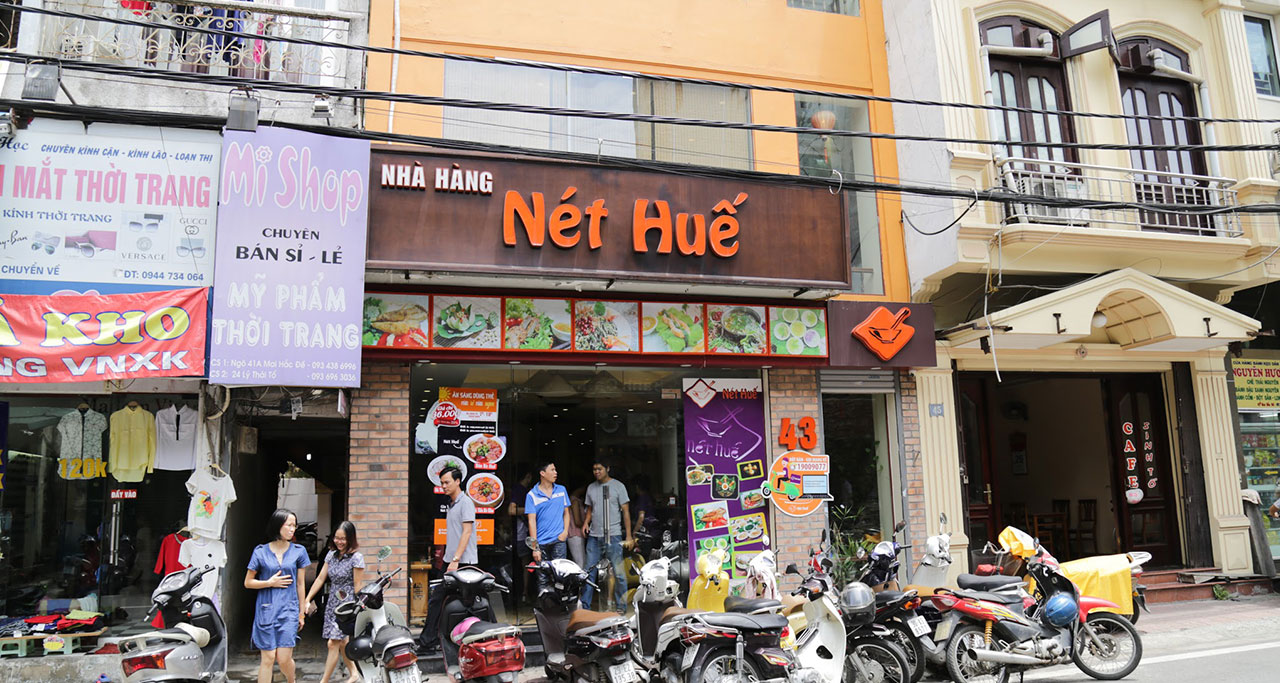 No matter who you are, we are sure that Bun Bo Hue is one of the top name called for trying first. Let's try to take advantage of the wonderful Hue local cuisine while traveling to Hue with Vietnam Travel. It is not exaggerating to describe "Bun Bo Hue" as a timeless delicacy which connects the past and the present. Hue used to be famous for its typical cooking style of the royal court. Beside "Bun Bo Hue", you can try other dishes that are often sold along with such as "Banh Khoai", "Com Hen", "Banh Bot Loc", "Banh It Tran", egc. As time goes by, "Bun Bo Hue" has changed and adapted itself to Vietnamese modern society. Nowadays, it is quite popular not only in Hue but also in every part of the country, not to mention other regions in the world by following the steps of Vietnamese immigrants. People may change but culture stays, and the culture lying deep within this dish is unforgettable. Till now, "Bun Bo Hue" has been among preferred choices for breakfast and lunch in Vietnam.