Top 10 dishes of Vietnamese street food
Vietnamese food is getting more popular all over the World, It is fresh, healthy and reasonable. The best places to server Vietnamese food is at its home land where it is created.
Undoubtedly, neither President Barack Obama and chef Anthony Bourdain can resist Vietnam fascinating cuisine on their visit in 2016. After Bourdain food journey, his popular TV shows "Parts unknown" on his called "one of his favorite places on earth."
"Vietnam. It grabs you and doesn't let you go. Once you love it, you love it forever." – Anthony Bourdain. Anthony Bourdain's obsession with Vietnam street food, specifically pho, had sparked an interest in this country, and I couldn't wait to slurp some pho on the street beside the locals.
Coming to Vietnam, you can retrace the footsteps of the President and the legendary gourmand anywhere. Grab a low plastic chair and let the adventure of authentic and local culture start. People here are friendly and willing to share their ways of lives. You may find it interesting that heirloom recipes have been perfected from generation to generation that have led many street food stalls to be the best places and must-try in town.
Best of all, street food stalls have mastered the art of balancing flavors and freshness in particular below:
1. PHO
When talking about street food in Vietnam, nothing can beat a good bowl of Pho – the heartwarming rice noodle soup for a great day. As the birthplace of pho, Hanoi is a ground zero for the salty broth, fresh rice noodles, a sprinkling of chicken or beef choice served with fresh herbs that has unofficially known as Vietnam signature food. Pho's soul is created by simmering meat bone in around 24 hours together with more than 20 ingredients like ginger, cloves, star anise, and peppercorns, salt, seasoning glutamate, etc. Pho is traditionally served for breakfast, but nowadays you can savour it all over town from dawn to dark.
2. BUN CHA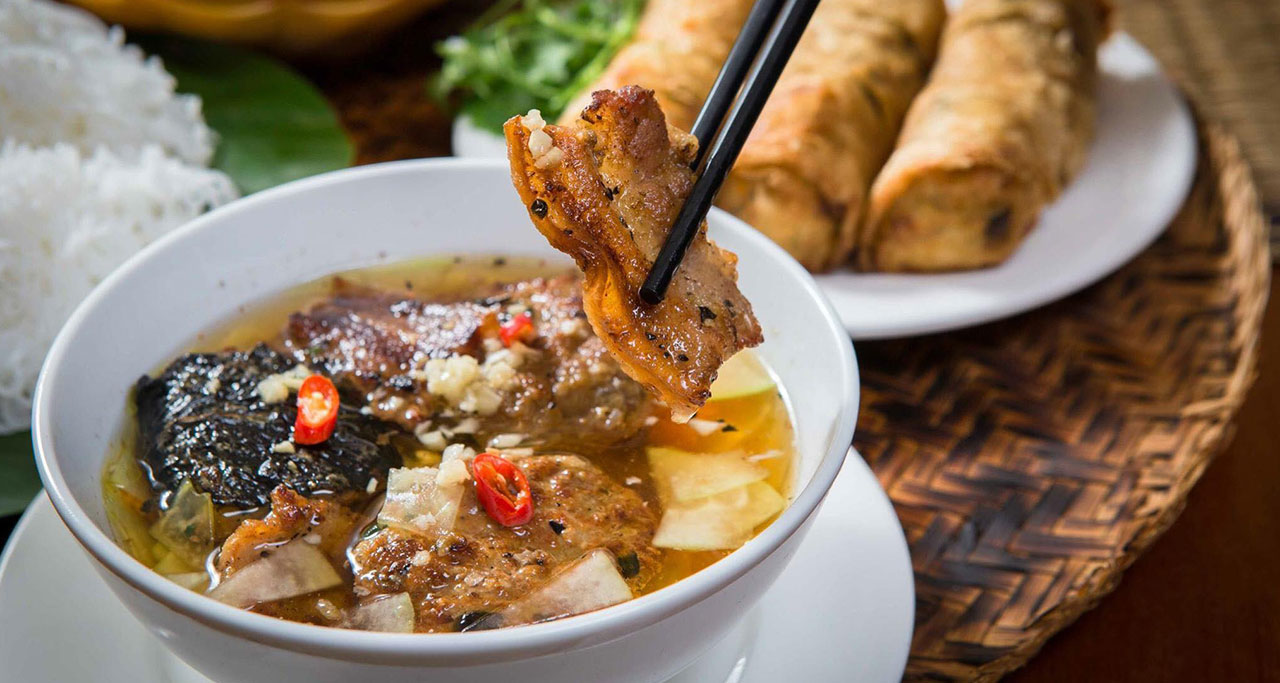 Pho might be the champion for breakfast, but Bun Cha must be the best choice when it comes to lunchtime in the capital. Basically, a Bun Cha set includes a plate of fresh noodle together with a bowl of sweet and sour fish sauce with chargrilled pork patties, crunchy pickled papaya and carrot, seasoned with chilli and garlic to make the taste stronger. Accompanied by deep-fried spring rolls, this will be a delightfully heady mix of flavours. The highlight of Bun Cha are these pork patties barbecued over smouldering coals, usually smoked by a simple hand fan!
If you're not convinced yet, just search for pictures of Obama sampled Bun Cha with his celebrity guide Anthony Bourdain at a "hole-in-the-wall" restaurant in Hanoi.
3. XOI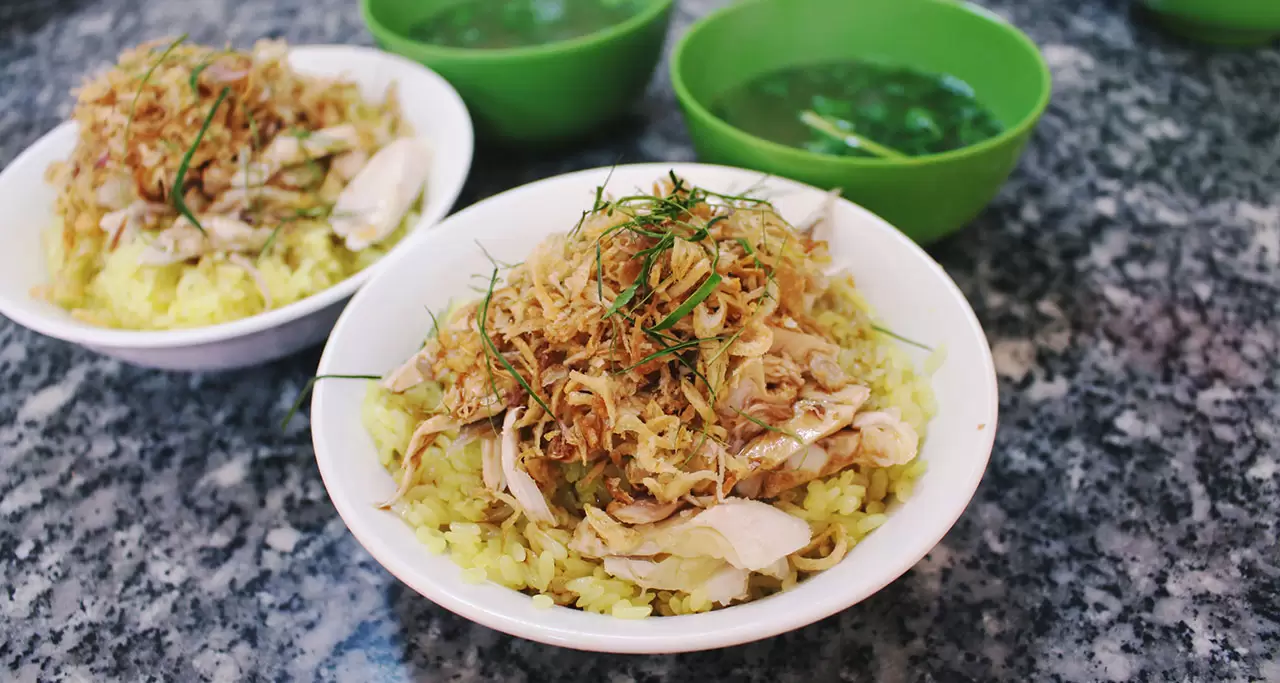 Every morning, it's easy for you to catch sight of colonial hat wearing lady hawking their wares. Sticky rice is a carb-rich breakfast food with dozens of variations wrapped in a banana leaf. We can name some popular types of Xoi as:
Xoi xeo: yellow colored sticky rice, topped with fried onion and green mung beans.
Xoi ga: white sticky rice with steamed chicken and soya sauce.
Xoi ruoc/ xoi thit: stickey rice served with stringy, salty dried pork
Xoi ngo: mixed sticky rice and corn.
Xoi lac: sticky rice steamed with peanut
Xoi dua: sticky rice with sliced fresh coconut
Xoi gac: red sticky Rice from Gac fruit
If you visit Vietnam, try "Xoi Xeo" from any street vendor basket to enjoy Vietnamese rice culture in an off-the-beaten-path way.
4. BANH XEO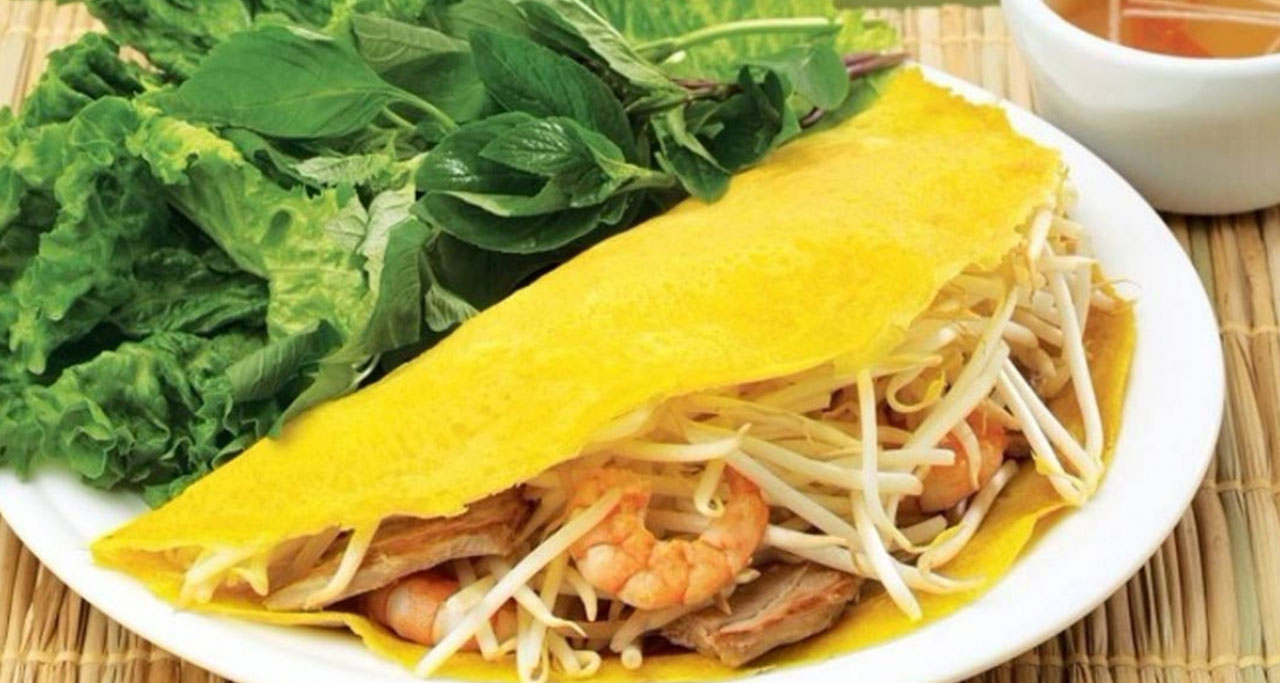 Banh xeo – also known as Vietnamese pancake is a favorite snack among not only Vietnamese people but also foreigners because of crispy, messy, savoury fillings and fresh taste. A good banh xeo has a yellow outer layer bulging with pork strips, shrimp and bean sprouts. Banh Xeo is categorized as handfood so that there's no need for complicated chopstick skill. To taste it like a local, you wrap a cut-in-pieces banh xeo with herbs and leaves then dip it into the sweet sour dipping sauce. The sauce is a perfect blend of fish sauce and spices such as sugar, lime juice, garlic and chopped chilli. I am sure that right after the first bite, this exciting combination will definitely make it hard to resist the next try.
You can easily find banh xeo in any places across the country but they has their own local ways to amaze outsiders.
5. GOI CUON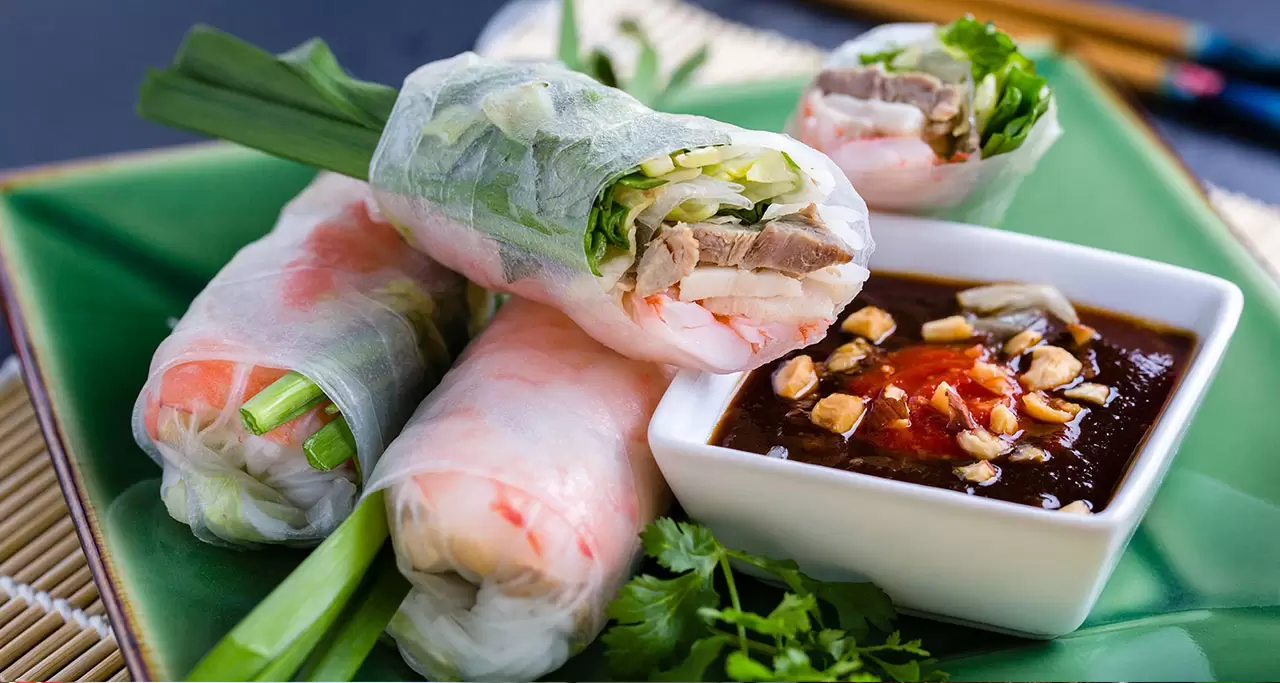 It's excited to find out that regarding to CNN Travel's voters, Goi cuon – Vietnamese fresh spring rolls have made its position to the best 30 dishes of the world list. The traditional recipe is made up of wrapped rice paper with boiled pork and shrimp, rice noodles, lettuces, local herbs. They are served at room temperature with either hoisin peanut dipping sauce or sweet and sour fish sauce. This refreshing roll is a perfect appetizer for any local tasting menu. Goi cuon is also a regular dish in our daily meal basis as it's easy to make and ingredients are available at any local markets all year round.
6. BUN BO NAM BO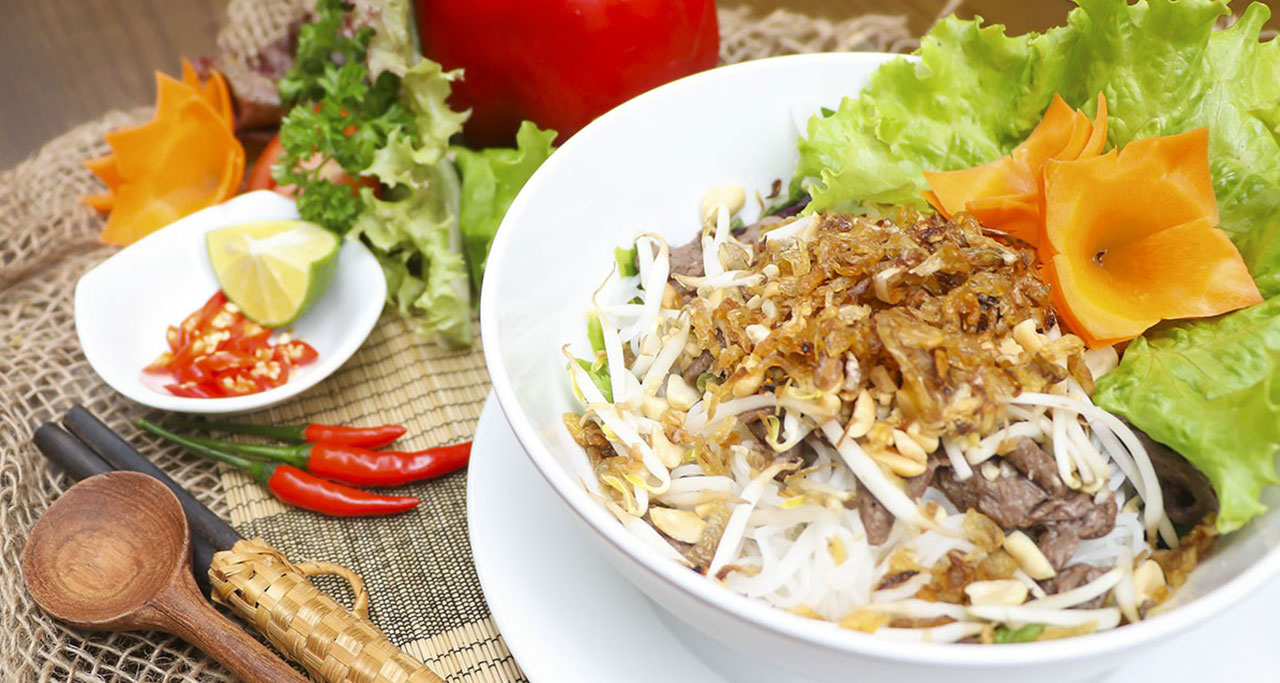 Besides our popular noodle soup – Pho, you may want to discover new taste of noddle salad – Bun Bo Nam Bo. The word "Bun Bo Nam Bo" itself means beef noodles that originates from the South. Excitingly, this noodle is widely popular in Hanoi nowadays. It's a fascinating mix of healthy materials including vegetable, noodle, beef topped with dried onions, roasted peanuts, bean sprouts and herbs, all of which harmonize in a magical way by the seasoning sauce. The sauce is a mixture of fish sauce, sugar, lemon, chili but each restaurant has their own secret recipe to combine these elements portions. Having a bowl of Bun Bo Nam Bo, all you need to do is mixing all ingredients together, grab a pair of wooden chopsticks and you are ready to try. In the tropical weather of Vietnam, a bowl of this fresh and crunchy noodle salad can definitely calm you down.
7. CAO LAU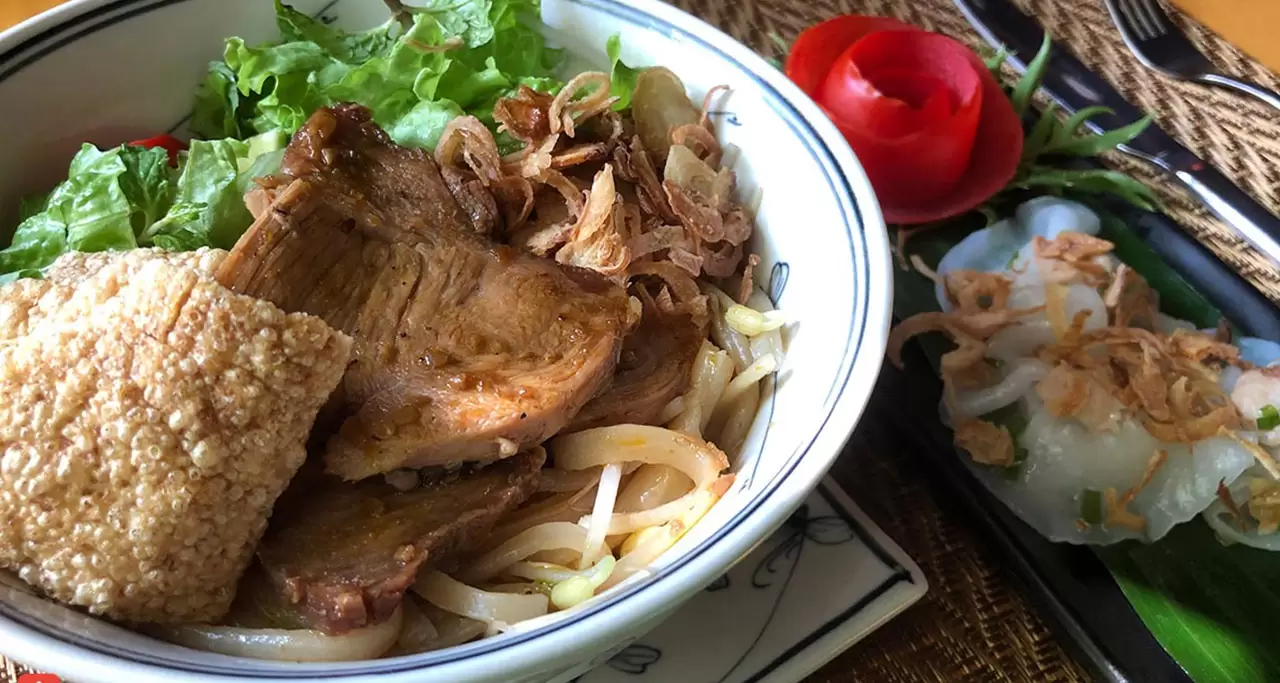 Hoi An is always the most attractive and favorite destination in Vietnam. And no-one can leave this romantic town without trying a Cao Lau. Cao Lau consists of five ingredients including chewy noodles, smoky pork, seasoned broth, crispy fried rice cracker and fresh herbs. Traditionally, authentic Cao Lau noodles can only be retrieved from the centuries-old Ba Le well that you will never find any good Cao Lau outside of the town.
A simple bowl of Cao Lau not only is the pride of Hoi An cuisine but also has hidden this ancient town history. Being a bustle trade center from the 15th to the 19th century, Japanese and Chinese culture has made a huge influence in this town architecture and cuisine. Cao Lau reflects the influence of waves of traders by its similarities with Japanese Udon and Chinese Char Siu.
8. BANH MI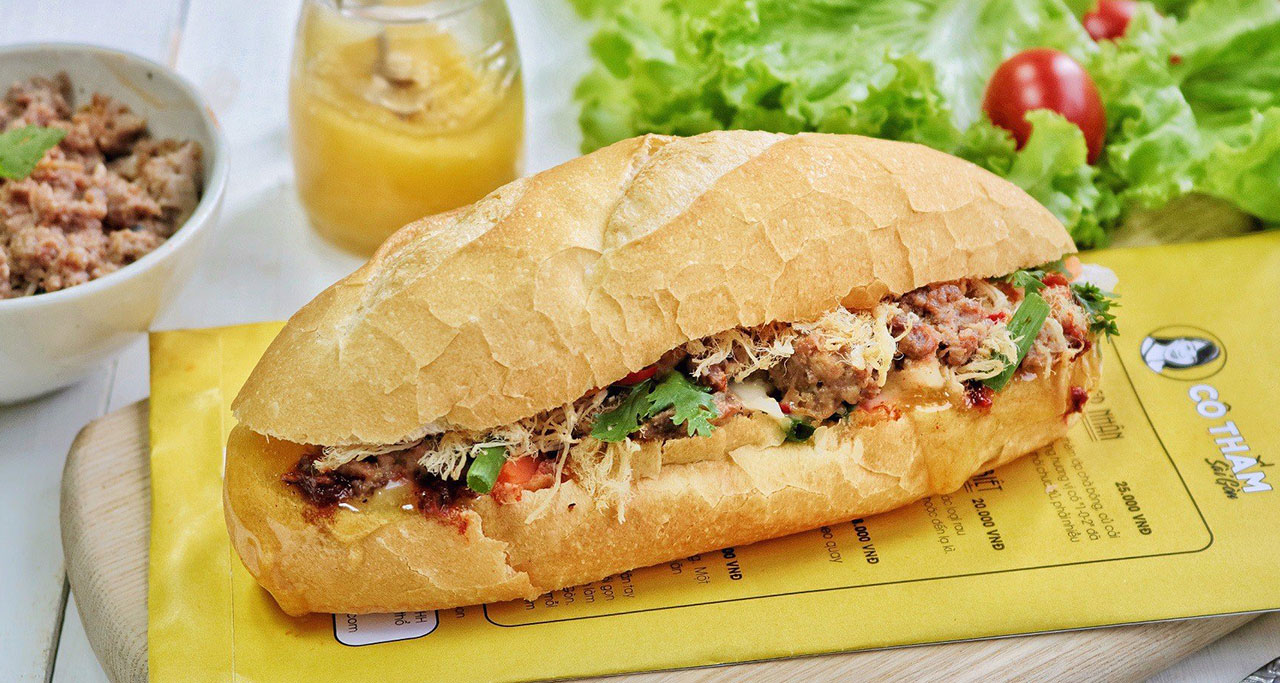 This is one of the finest thing French left in Vietnam beside French language and beautiful architectures of Colonial French in this country. Banh My in Vietnam has developed to the great level and become one of the most preferred street food by Trip Advisor. Vietnamese bread (Banh My) has many choices of topping. You will find Banh My contains Pate, Cheese, Sausages, Fried eggs, Mixed fried eggs & herbs, Grilled Chicken, BBQ pork as modified of Kebab, Minced baked pork… you can order one for each or mix of Banh My with several above topping. To me, Banh My like a treat and I prefer to take it in the late afternoon (as afternoon tea break). Visitors could find Banh My everywhere in the major cities of Vietnam. Price depends on what goes with Banh My and roughly from 50cents to a dollar each.
9. BANH BOT CHIEN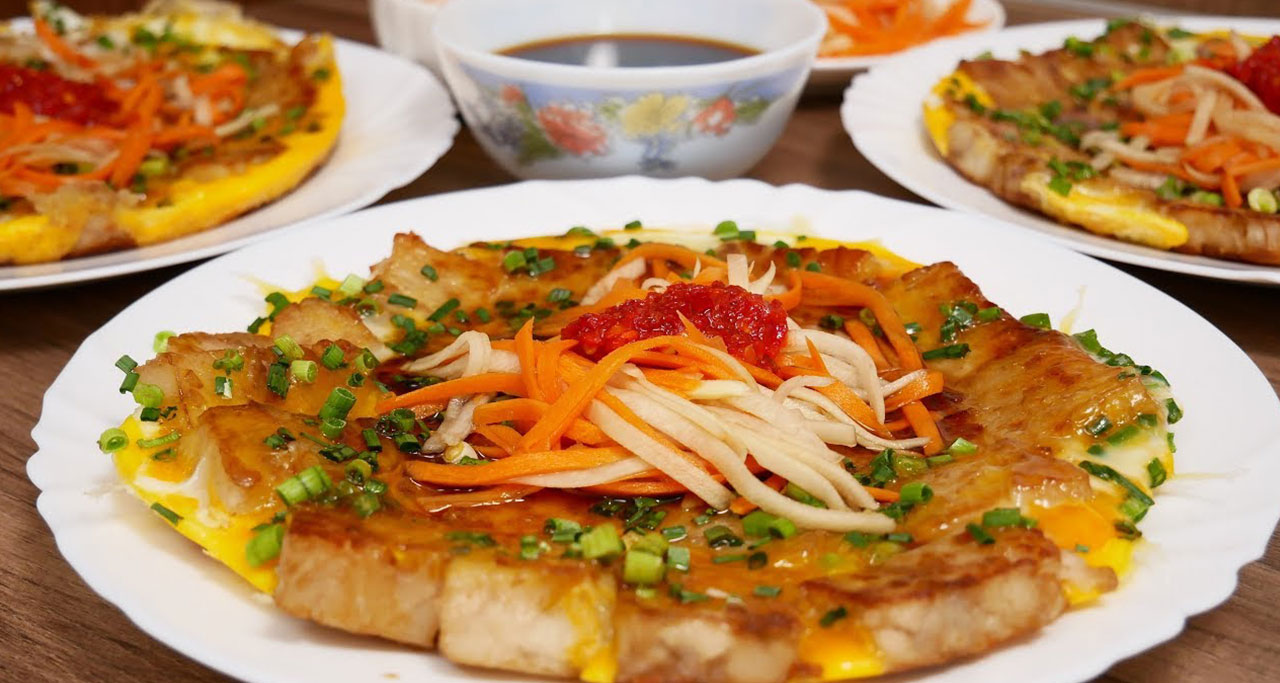 This is called Cake but not sweet as up might think about.
It is mad from Wheat flour mixed with eggs and fry deep until it become crispy. It like a treat for school kids mostly. The sauce is also one of the key to make it good or not. Normally Banh Bot Chien goes with some slides of green papaya, few herbs and a little bit of chilly or pepper .
It is more popular in HMC city rather than Hanoi and price is very reasonable.
10. CAFÉ TRUNG (Egg Coffee)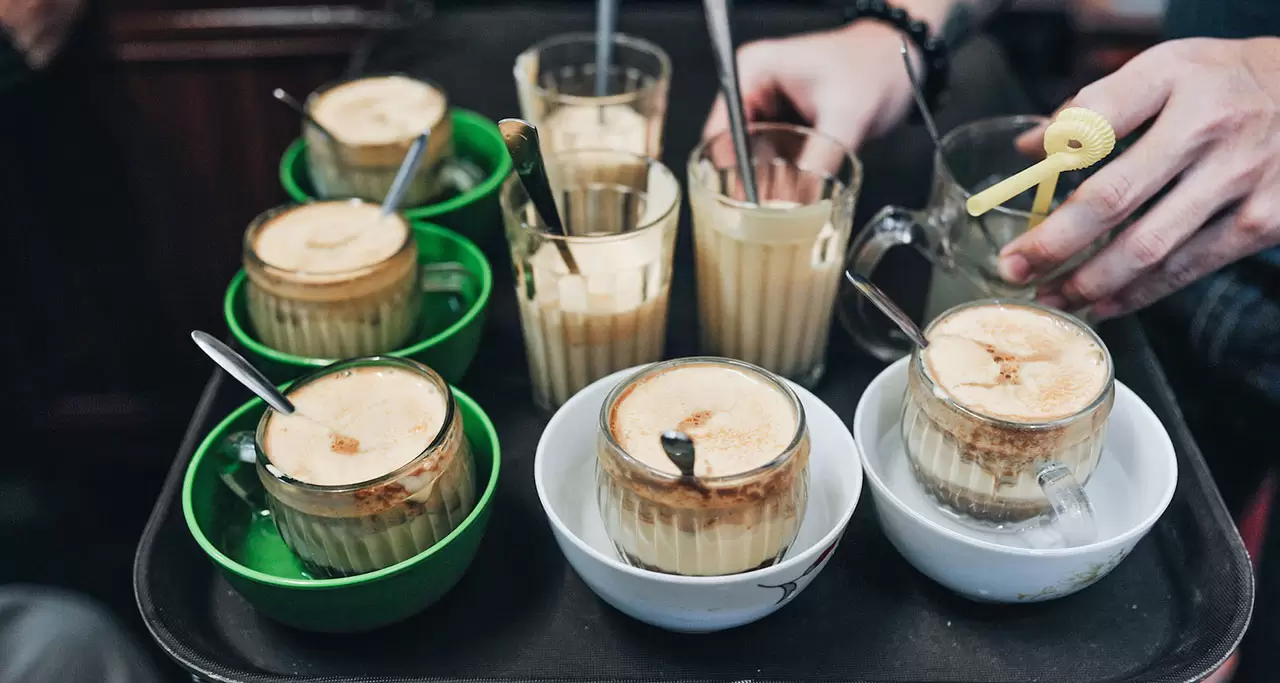 "Cà Phê Trứng," or egg coffee, is a Hanoi specialty. A creamy soft, meringue-like egg white foam is perched on dense Vietnamese coffee. While venues across the city now serve it, Cafe Giang claims to have created it. There is hot and cold versions and the hot one seem to be more popular. It now become one of a must try when you visit Hanoi. Actually, you could get Café Trung in many major cities of Vietnam but it is best served in Hanoi.