When Is The Best Time To Visit Vietnam?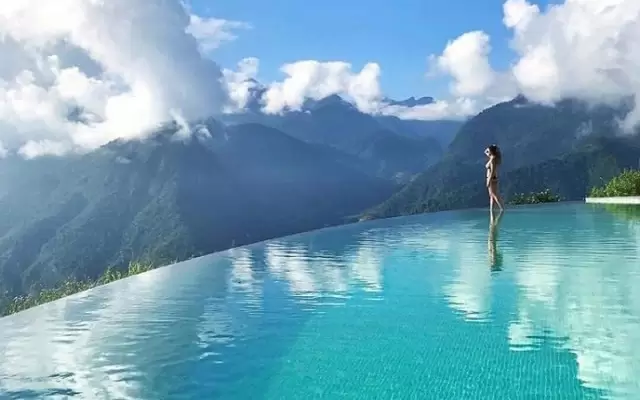 Vietnam is a captivating country in Southeast Asia that offers a rich cultural heritage, stunning natural beauty, and diverse ethnic diversity. However, Vietnam also has a complex and varied climate that can affect your travel plans and experiences. In this article, we will help you choose the best time to visit Vietnam based on the weather and climate by month.  Whether you want to explore the historic capital of Hanoi, witness the spectacular scenery of Halong Bay, or relax on the tropical island of Phu Quoc, we will help you plan your trip to Vietnam based on when to go.
Before planning holidays in Vietnam, you might wonder when is the best time to visit Vietnam. The answer is quite simple and obvious: anytime is the best time.
Thanks to its long stretching terrace of over a thousand kilometers, Vietnam has a diversified climate from North to South although both of them are effected to monsoon climate. The Northern climate has four seasons with the northeast monsoon from October to December. The South has tropical climate with only two seasons: dry and wet, in which the south or southwesterly monsoon dominating from May to September. So figuring out the best time to visit Vietnam depends on which parts of the country you want to visit, unless you're willing to be caught in a daily downpour or don't mind fierce temperatures and high humidity.
If you want to see a bit of everything, you have to spend time studying the differences in regional weather. Autumn (Sep to Dec) and spring (March to Apr) are the most favorable seasons (they are also a high and peak season) to explore the whole country. However, traveling Vietnam in low season is an amazing experience. You can take advantage of less crowded tourist attractions and discount deals on services. Besides, you can enjoy the predictable shower rain in May to Oct which lasts only 30 to 60 minutes and brings fresher atmosphere when it ends.
At Vietnam travel, we look at detailed weather factors and recommend how these might affect your holiday plans in Vietnam. Now, please have a look at our month to month guide to visit Vietnam.
January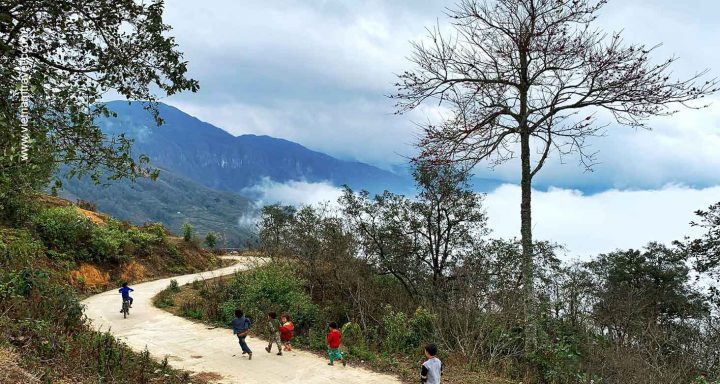 There are a lot of things to do in Vietnam from north to south in January. In January, cold winter weather hits the north. It is the coldest month in the mountainous areas, such as Sapa, rainfall is at its lowest, making perfect trekking. You can also visit Ha Giang to watch the plum flowers blooming along with snow if the temperature is below 0˚C. Hanoi at this time is in pleasant temperature, around 20˚C. Besides, you can enjoy the bustling and festive atmosphere when lunar new year coming so close at this time in north.
In January, the south part is in dry season in January. So it is a good time to visit Ho Chi Minh city. Enjoy the beach paradise, pristine islands and water-related activities (diving, snorkeling, surfing, etc.) in Mui Ne, Phu Quoc.
In January, the Central part with the end of rains also welcome visitors to explore their white sand beaches in Nha Trang, Da Nang, Quy Nhơn.
January is a dry month in Vietnam, with different temperatures in the north, central, and south regions. The north is the coolest, with an average of 18°C, while the south is the warmest, with an average of 26°C. The central regions have a moderate average of 23°C. The inland mountains may see some rain in early January, but the rest of the country is mostly dry. For more tips and information read this article on vietnam in january.
February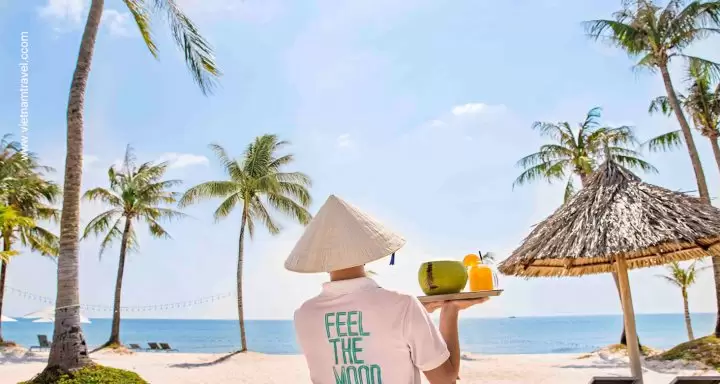 Vietnam is in optimum weather conditions in February. The south and the central coast, are perfect for beach bums. You should spend time in beautiful beaches, enjoy tasty seafood and street foods in Con Dao islands, Phu Quoc islands, Da Nang, Hoi An.
Since February is a season of flowers. Visitors can breathe in the fresh air and enjoy the natural landscape of spring blossoms such as plum, apricot, peach blossoms in Sapa, Moc Chau.
This month is also the first month of lunar new year, so you can you the festive atmosphere of the most important holiday in Vietnam everywhere you go. While it's wonderfully festive throughout, note that much of the country shuts down during this period, such as restaurants and museums. Also, accommodation can be hard to come by, as the Vietnamese take their holidays, and the transport system is stretched. Therefore, don't forget to contact us in advance to check the available accommodation.
February is a sunny and dry month in Vietnam, with mild temperatures across the country. The average highs are around 30°C (86°F) and the average lows are around 21°C (70°F). The north is still chilly, with an average of 17°C, while the south is warm and humid. The rainfall is minimal in February, but there may be some misty haze along the coast and in Halong Bay. You can enjoy many outdoor activities like cycling, boating, and exploring the countryside in February. You can also visit a floating market to experience the culture and lifestyle of this region. For more details and tips on Weather in Vietnam in February check out this article.
March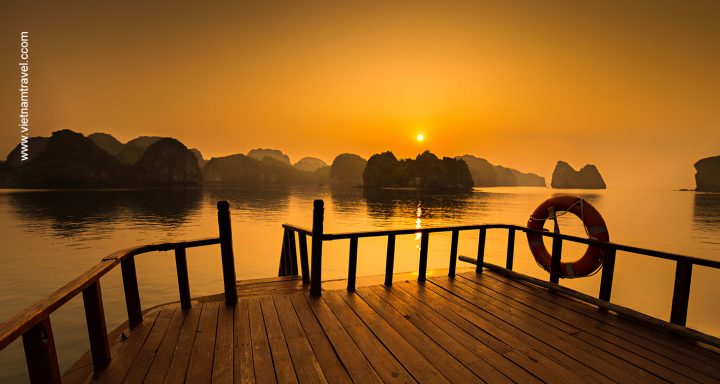 March is a best time to explore the whole country. The temperature is pleasant, from 20 to 25 degree, makes it suitable for trekking in highlands and mountains. Halong Bay is very stunning at this time. As well as, Phong Nha – Ke Bang National park, which boasts the world's biggest cave.
Da Lat in the central becomes beautiful at this time with cherry blossoms. The weather is cool with sunshine that make visitors cannot resist to fall in love with.
Lying down to sunbath or taking place in water related activities is the best for visitors who want to lazily enjoy their holiday at Nha Trang, Da Nang, An Bang.
March is a good month to visit Vietnam, as the weather is mostly dry and sunny across the country. However, there are some regional variations that you should be aware of before planning your trip.

In March, North Vietnam has a spring-like climate with mild temperatures and low rainfall, while Central Vietnam is warm and dry with high temperatures and low humidity. South Vietnam, on the other hand, is hot and humid with frequent rain and thunderstorms. The average temperature in Hanoi, Da Nang, and Ho Chi Minh City are 19°C (66°F), 26°C (79°F), and 28°C (82°F) respectively. It is recommended to pack warm clothes and a raincoat for North Vietnam, light clothes, sunscreen, and a hat for Central Vietnam, and light clothes, a raincoat, and an umbrella for South Vietnam.
April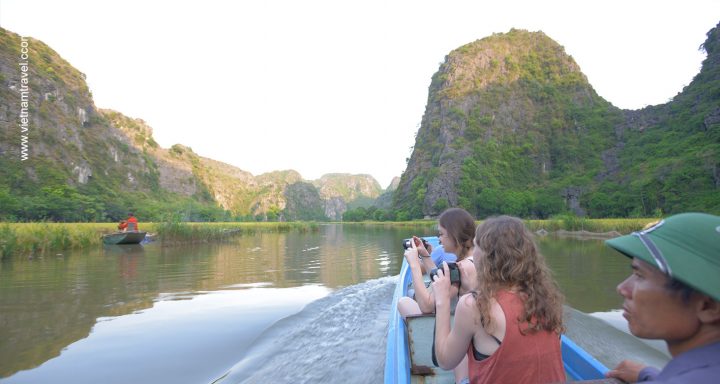 April is the last month of spring, ending up the festive season of Lunar New Year as well as the winter in North Vietnam. From this month onward, the average temperature and humidity throughout the country rise. But it's still very pleasant and great for hiking, with spring flowers in full bloom making the region especially beautiful.
Visitors should come to Ninh Binh to admire its beautiful scenery in Trang An and Tam Coc while the boatmen sails you through the long and peaceful rivers.
If you want to know more about Vietnam's old ancient emperor, Hue with Forbidden Citadel is very promising. Besides, if you want to experience the religious culture, Perfume Pagoda in the suburb of Hanoi is also in the month it's most beautiful and less crowded since the festival ended.
April is also the month to visit Vietnam best beaches and islands like Halong Bay, Da Nang city with average temperature of 27-29 degrees Celsius. The beaches have blue water and calm waves.
Vietnam has a warm and sunny weather in April, but the temperature differs by region. In the North, the average temperature goes up by 5°C from the previous months and stays between 25°C and 30°C. There are some rainy days in April, but it is less foggy than March. In the Central region, from Danang to Nha Trang, it is a great time to enjoy the summer beaches with an average temperature of 28°C and very little rain. Hue in the central and Dalat and the Central Highlands in the west also have good weather.

The weather in Vietnam in April is quite complicated. The days are hot and the nights are mild, so visitors should bring light and comfortable clothes. The highest average temperature is 33 C and the lowest average temperature is 25 C.
May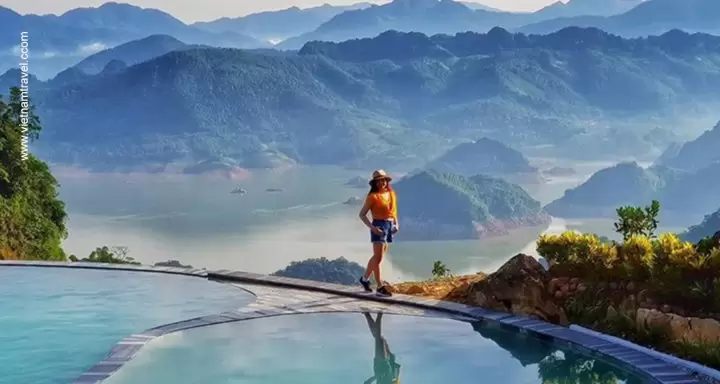 May is a right month before summer hit Vietnam so the temperature rises slightly to 30 degrees Celsius. However, you can barely feel the heat in early May. It is getting wetter but it's easy to avoid the short afternoon downpours. Therefore, it's still mostly dry and great for exploring the great outdoors in Ha Long Bay, Pu Luong, and Ninh Binh for its butterfly season.
The central coast has no more to offer than pristine beaches in Nha Trang, Da Nang in the sunny days.
May is a good time to travel to Vietnam with reasonable prices and mostly dry weather. The average temperature is between 28°C and 30°C, but you may encounter some afternoon showers in the north and south towards the end of the month.

The north is hot and humid, with some rainy days (avg temp: 29 °C). The mountains are still favorable for exploring Mu Cang Chai and Sapa, but Ha Giang gets more rain. The central coast is not very comfortable, as the cold monsoon lasts from October to April.

If you want to avoid the crowds and enjoy warm and sunny weather, the best months to visit Vietnam are May, June, and September. The north is cooler from October to December, but the central coast is better. From March onwards, the north can be very hot.
June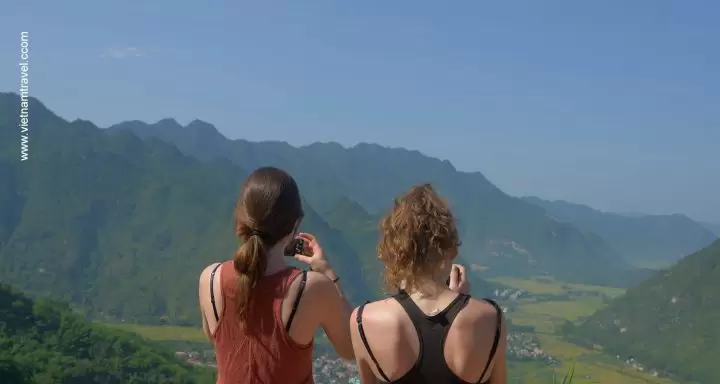 June is the first month of summertime in Vietnam, overwhelming you with a serious rise of temperature and humidity. The rain will be much more frequent but only last for 30 to 60 minutes. And when it ends, the atmosphere is fresher, skies are clear and blue which suitable for photo taking.
Besides, do not let the rain hesitate you from visiting Vietnam. Ha Noi and Mai Chau valley in the north are still prefect to enjoy. The central coast is at its best, so perfect for relaxing time on the beaches near Hoi An, Da Nang, Lang Co, Mui Ne and Con Dao islands. June also has the best weather to enjoy International Firework Competition 2020 in Da Nang city
June is a hot and humid month in Vietnam, with frequent rain and high temperatures. The average temperature ranges from 26°C to 35°C (79°F to 95°F), but it can vary by region.

The north of Vietnam is very wet in June, especially in the mountain areas. The average temperature is 30°C, but it can be cooler in the highlands. The central regions have sunny and dry weather, with ideal conditions for beach towns like Hoi An, Nha Trang, and Danang. The average temperature is also 30°C, with lots of sunshine.

The south of Vietnam has a tropical monsoon climate, with two seasons: wet and dry. The temperature is consistent throughout the year, but June is part of the wet season. You can expect some heavy showers and thunderstorms, but also some sunny days.
July
July has a temperature at nearly 40 Celsius degrees with rain. However, this month is perfect to enjoy beach across the country. You can choose the hottest days for a trip to Halong, Phu Quoc, Nha Trang, Mui Ne or Con Dao.  Visitors can enjoy the crystal ocean, sunny skies and delicious seafood. July is also a great time to visit the cities of the central coastal line: Da Nang, Hoi An and Hue. Or you can choose to stay away to the heat by visiting Da Lat.
July is a peak season for Vietnam travel, especially by the coast. You should book your hotels early, as prices can go up by 50%. The weather is hot and humid across the country, except for the far north. You may also experience some summer monsoon rains, which can be spectacular.

North Vietnam has a rainy season in July, with high temperatures and humidity. The average daily temperature in Hanoi is around 29°C (84°F), but it can be lower in the mountainous areas like Sapa and Ha Giang.

Central Vietnam has a sunny and dry weather in July, with occasional light showers. The beaches and islands of this region are the main attractions in this month. The average temperature is above 31°C (88°F) during the day.
August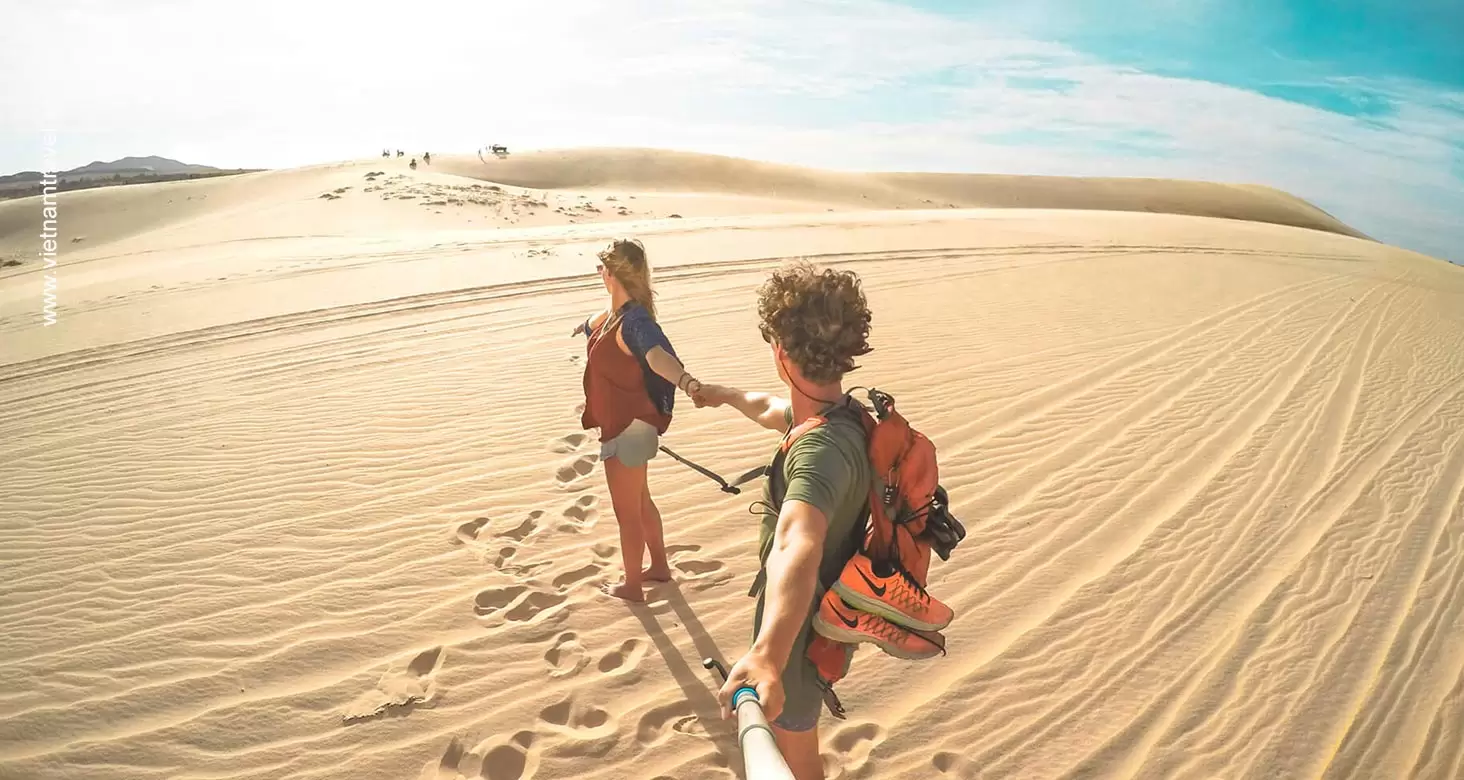 The temperature in August is still high but not as in June and July, and the rains can cool down the heat. Hanoi gets 27 to 32 Celsius degrees and is prefect for visitors to explore. August is a great month to visit the caves in Phong Nha Ke Bang and Halong Bay, relax on the white beaches of Cat Ba island, Nha Trang, wandering through Hoi An ancient town. Especially, please do not forget to take part in the sand sliding which found elsewhere in Mui Ne.
September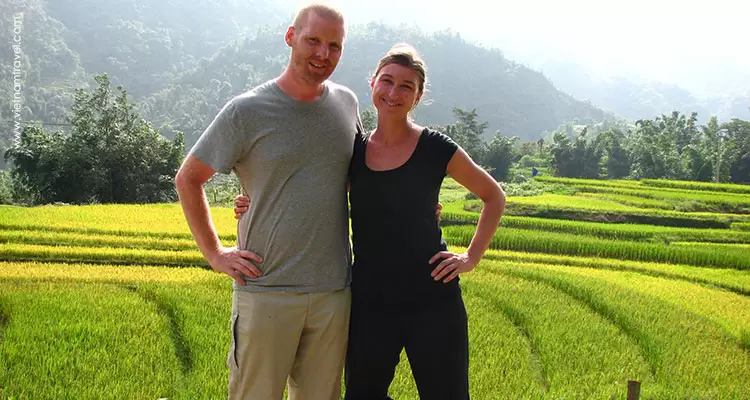 In the north and south, September marks an end of summer with the temperature drops significantly and it's getting drier, opening up the possibility of trekking once more in the north, around Sa Pa. 
As one of the best months to visit Vietnam, September offers diverse weather conditions and natural landscape features across the country. Cat Ba island, Halong Bay, Phu Quoc and Mui Ne have great conditions to enjoy the water and the scenery. Mountainous areas like Sapa, Mu Cang Chai start their harvesting season: terraced rice fields turning golden which creates a picturesque landscape that visitors cannot take their eyes off.
October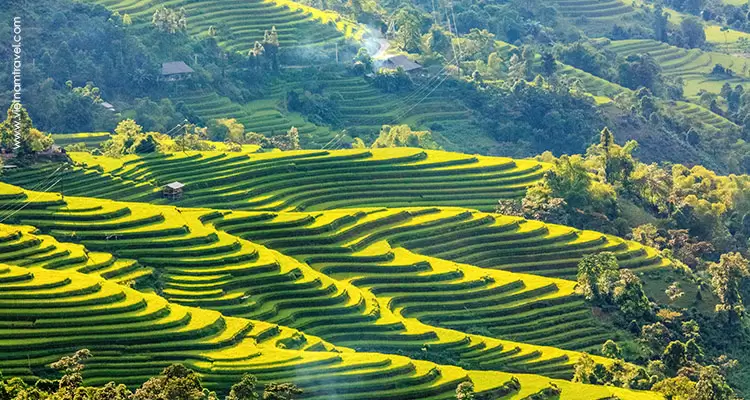 If you plan to visit Vietnam on October, you cannot miss Ha Giang or Mai Chau, which appeals travelers with its beauty of golden terraced rice fields and pink fields of buckwheat flowers. When the heat is gone, visiting Hanoi is prefect and trekking in Sapa is great.
In October, Da Lat becomes a romantic town with the fog covers all house roofs and trees, in addition with the beautiful of colorful blooming flowers. Meanwhile, in the south, it is getting dry and warm, and it's a great month to visit Can Tho – the Mekong Delta and its floating markets.
November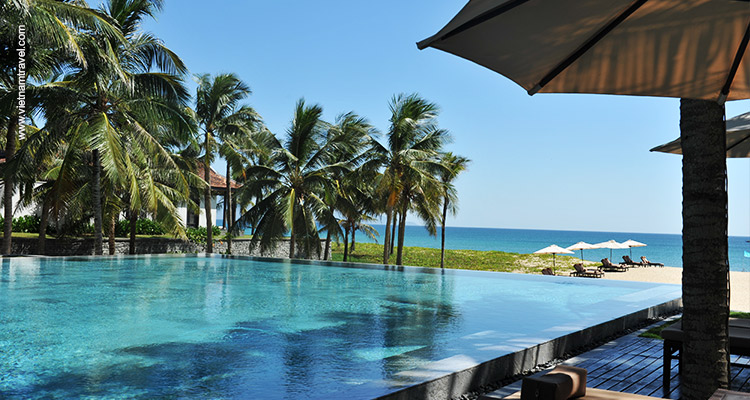 November is an ideal month to have a long trip in Vietnam because the temperature in the south is balmy and the one in the north is favorable. You choose either to visit beaches in the south (Mui Ne, Phu Quoc, Con Dao) or go trekking in the north (Sapa, Mai Chau). As well as Halong Bay is a place you should not miss.
Hanoi at this time becomes very enchant with a cooler breeze, changing leaves of trees and gentle autumn sun shines. Visitors may feel nostalgic because of its charming scenery.
December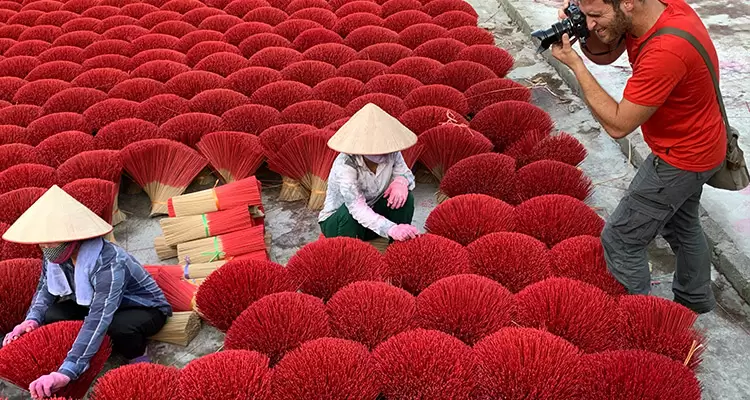 The north becomes cold at this time, but visiting Mai Chau is still appeal to many travelers because of its pretty nature and interesting culture. Ban Gioc Waterfall, one of Top 10 Waterfalls in Vietnam, is at its best beauty in this time of year. And visiting Perfume Pagoda in its off-season is just so relaxing and you can truly appreciate nature.
Meanwhile, the South still offers travelers the sunny beaches and warm water in Mui Ne, Phu Quoc and Con Dao islands.
There are so many places for tourist to discover Vietnam. No matter what time you plan to visit, Vietnam Travel organizes private tours of your choice destinations and visitors escorted by our professional guides will get chance to explore part of Vietnam. Ask travel questions, get tour help related to best time to visit Vietnam and adventures, please feel free to contact Vietnam Travel's tour planners today.