Halong Travel Guide For Overnight Cruise Seekers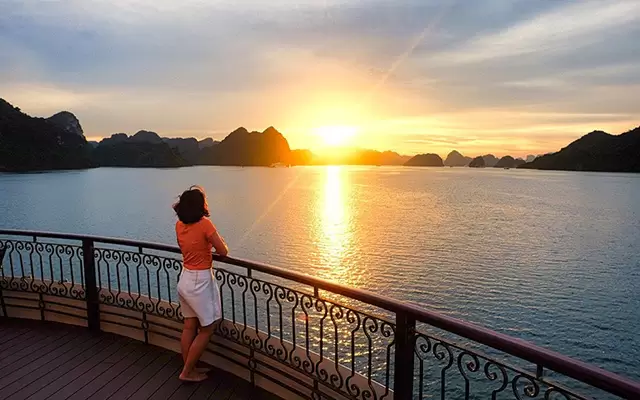 Halong Bay is not only a UNESCO World Heritage Site in Vietnam but also one of the New Seven World Natural Wonders. But few people know that Halong Bay Complex (1,969 islands in the 1,553 km2) includes three bays: Halong Bay (the main part), Bai Tu Long Bay (an off-the-beaten-track destination) and Lan Ha Bay (kayaking paradise). With many landscapes, diverse and rich flora and fauna with great archaeological and geological significance, it has landmarks attached to the historical and cultural values. Located close to the international gateways (Noi Bai, Cat Bi and Van Don Airport), Halong Bay is really easy to access and it is considered as one of Vietnam's most famous travel destinations for both domestic and foreign visitors.
We hope this Vietnam Travel's article offers useful Halong Travel Guide information for those looking for a holiday to Halong Bay, including overnight cruise seekers, but still wonder about the names of Halong Bay, Bai Tu Long Bay and Lan Ha Bay, as well as their differences.
1. Halong Bay (the central main part, 434 km2)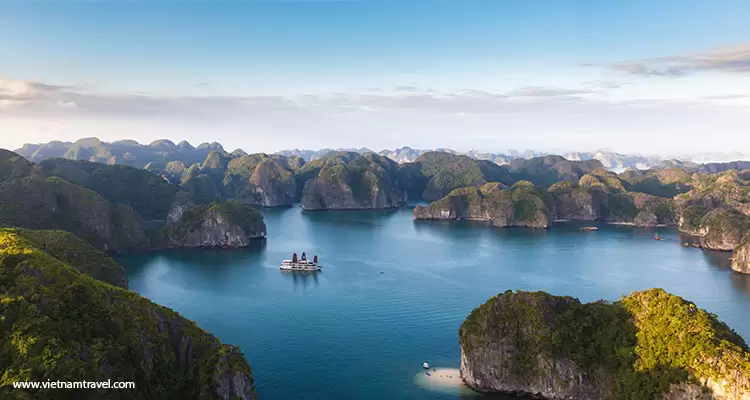 A spectacular seascape of some 775 limestone islands and islets towering from emerald water, Halong Bay is also an outstanding example of earth's history. Halong Bay is surrounded by Bai Tu Long Bay, Lan Ha Bay, Cat Ba Island, Tuan Chau Island and Halong City. Limestone towers, green islands and islets boast karst caves, caverns and grottoes, many hidden and still waiting to be discovered. Some islands are completely hollow. Framing the islands are gorgeous beaches, the emerald sea lapping gently on the soft, white sand.
The Bay was first recorded as a UNESCO World Heritage Site in 1994 thanks to its exceptional natural beauty and aesthetic importance. In 2000, it had the honour of being recognised the second time for its significant geomorphic features, as a billion-year-living proof of Earth's formation. Many visitors are unaware that Halong Bay actually has an immense value to the world because of its rare concentration of biodiversity, culture and history. Hence, this unique is exactly what makes Halong Bay a magical destination where visitors have chances to get up close and personal with the beating heart of Vietnam.
2. Bai Tu Long Bay (157.83 km2)
Bai Tu Long Bay is a trough in the Gulf of Tonkin, located in Quang Ninh Province. Bai Tu Long Bay covers a part of Halong City, Cam Pha Town and Van Don Island District. The Southwest side is adjacent to Halong Bay, the east by the sea, the west by the mainland with Cam Pha Town and the northeast by Co To Island. Bai Tu Long Bay is an off-the-beaten-track destination that has recently been in high demand among international visitors. Possessing a similar landscape with Halong Bay, Bai Tu Long Bay features clearer water and less-touristy attractions.
According to the legend, millions of years ago when Vietnam was attacked by its invaders, Emperor Jade sent Mother Dragon and her children to help the Vietnamese. After the invaders were defeated, the dragons fell in love with the peaceful seascape and decided to make their home in the bay. The place where Mother Dragon descended is now called Halong Bay, while Bai Tu Long Bay is where the young dragons descended. As located in further east of Halong Bay, a 3-day cruise is a better idea if you want to explore this hidden bay. The longer itineraries toward Bai Tu Long might be a barricade for most people, which leads to why most still prefer Ha Long Bay that requires a briefer time of visit. What makes Bai Tu Long stand out is the beauty of karsts and limestone mountains rising from the water or mystical caves in tranquil mode. A number of attractions that still remain their primitive charm will trigger your curiosity. 
3. Lan Ha Bay (70km2)
Lan Ha Bay is located south of Halong Bay, just off the coast of Cat Ba Island. Geologically, Lan Ha is an extension of Halong Bay but sits in a different province of Vietnam: Hai Phong. The bay itself is home to 400-or-so karst islands, of which Cat Ba is the largest. Travelling on a Lan Ha cruise is a great alternative if you are looking to break out of the dense tourist area of Halong Bay, and far fewer people are even aware of this destination. It has remained under-the-radar and is far smaller in size compared to Halong Bay proper, but Lan Ha Bay offers a similar experience and view with slightly different excursions. Some of the area's best snorkeling and rock climbing is to be found in the quiet waters and rugged cliffs of Lan Ha Bay. With over a hundred small beaches, many of them in picturesque locations at the feet of the abrupt limestone cliffs which make up these islands, it is never difficult to find a good spot for swimming, or organizing a private beach BBQ or overnight camp here.
4. How to get to Halong Bay from Hanoi?

The easiest way to get from Hanoi to Halong Bay is by car but don't try to go by public bus and catch the last-minute cruise. It takes about 2.5 hours including 15 minutes stop at the midpoint. You can reserve a seat on cruise's shuttle bus or book a private car. Pick-up and drop-off points are often at your hotels within Hanoi's Old Quarter. To ensure a pleasant trip, we recommend a private transfer for your travel: a maximum occupancy of 2 passengers for a 4-seater car, 3 passengers for a 7-seater car, and up to 8 passengers for a minivan.
Traveling by seaplane is another option that gives visitors a totally unique experience compared to any other kinds of transportation. The flight time on seaplane from Hanoi to Halong Bay is just 45 minutes. However, you need to arrive at Noi Bai International Airport 35 minutes prior to departure time, delay for several reasons may occur due to weather condition. Along the way, enjoy fabulous aerial views over the Red River Delta and experience the thrill of a water landing or takeoff at the Tuan Chau Island Marina. The flight can be extended to offer you an additional 15-minute scenic tour over the bay. This allows you to enjoy thousands of limestone karsts jutting up from the jade green waters from a bird's eye view and see remote fishing villages before landing on Tuan Chau Island Marina.
Note: This option is best suit for all cruises on the main Halong Bay and some on Lan Hay Bay. If you take an overnight cruise on Bai Tu Long Bay, you will need an additional transfer from Tuan Chau Marina to Hon Gai Port/ Halong International Tourist Cruise Port – just about 20 minutes by car
Read more: Best Ways To Get To Halong Bay From Hanoi
5. Why Halong Bay overnight cruises?
The best way to explore the entire Ha Long Bay, Bai Tu Long Bay or Lan Ha Bay is to spend your time on an overnight cruise sailing through green islets. This allows you some time to relax and truly enjoy the scenery out in the water, as well as to navigate to remote areas. On a traditional wooden junk or a modern cruise ship, visitors can enjoy enchanting natural scenery from balcony, terrace or sundeck. Admiring sunrise and sunset which cover the bay with an impressive red and orange color, enjoying fresh air that makes your mind absolutely relax. There are mainly two types of overnight cruise tours operating in three bays: 2 days/ 1 night, and 3 days/ 2 nights.
6. What to visit on an overnight cruise?
There are three routes for your reference, each route is exploited by many cruises. When you book a cruise, all of excursions are included in the price.
Each boat has a planned schedule to follow, but it was made very clear at the beginning you didn't have to do anything should you wish to just relax on board. Don't go for the cheapest option you can find. Pay a bit more for your safety and comfort is worth.
6.1. Halong Bay Overnight Cruises
Hundreds of boats and tourists, especially in the peak season, sailing every day. Most crowded and getting polluted.
• Sightseeing in Halong Bay
– Sung Sot Cave
One of the most famous caves in Halong Bay, Sung Sot Cave ("surprised cave") has 3 chambers with both stalactites and stalagmites from end to end. You'll need to walk up 700 or so steps to get to the mouth of the cave, so wear appropriate footwear! The caves can be extremely busy, so watch your belongings.
– Cua Van Floating Fishing Village
Cua Van is one of four Halong Bay floating villages. The community here lives on floating houses and make a living by fishing and selling their goods to the mainland cities and beyond. You can also check out the small museum that details the history and lifestyle of the village.
– Tung Sau Beach
If you're a fan of kayaking, head to this area to hop in and make your way around the karst mountains. Your guide will also take you into a cave to go spelunking!
– Ti Top Island
Ti Top Island is home to an incredible viewpoint overlooking the bay and its islands. You have to climb 423 steps to the top, but it's 100% worth it.
– Luon Cave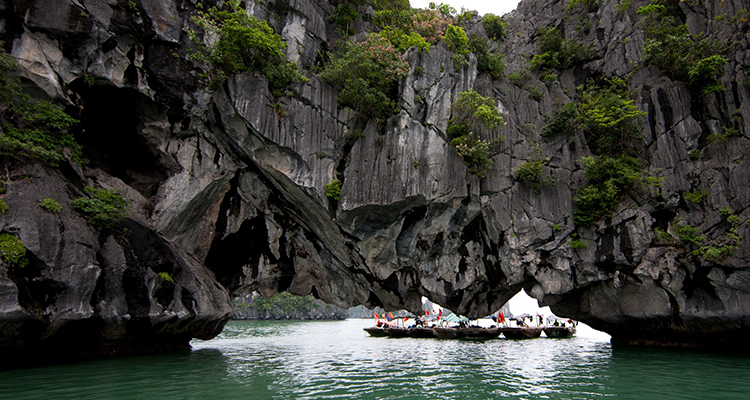 Luon is a small cave where you can go on a traditional bamboo boat ride – sometimes you'll also see lots of monkeys!
– Top Luxury cruises: Hera Cruise, Paradise Peak Cruise, Violet Cruise.
– 5 star cruises: Ambassador Cruises, Paradise Elegance Cruise, Jasmine Cruise.
– 4 star cruises: Paradise Sails, Pelican Cruise, Aphrodite Cruise.
– 3 star cruises: Glory Legend Cruise.
6.2. Bai Tu Long Bay Overnight Cruises
Located in the East of Halong Bay and close to China-Vietnam border. Less visited due to its location which is harder to reach and fewer accessible caves. Still remain unspoiled.
• Sightseeing in Bai Tu Long Bay
– Cong Do Area
Cong Do is an ideal place for swimming thanks to its many beautiful beaches with emerald waters and white sandy banks like Tra Gioi Beach, Cay Bang Beach, Cat Oan Beach…
– Co To Island
A hidden charm with pristine beaches, white sand and blue water.
– Vung Vieng Fishing Village
Exploring Vung Vieng floating village, you are not only be immersed in the quiet and peaceful atmosphere, surrounded by the rocky mountains but also in the process of discovering the cultural distinctions when talking to the fishermen, who are happy to show you their traditional fishing tips, dropping and pulling the net.
– Thay Cave
Each Stone Mountain in Thay cave contains hundreds of thousands stone blocks which were heaped up together look like stacks of giant books.
– Thien Canh Son Cave
Is a wild cave located in Bai Tu Long Bay, in the center of Cong Do Island. The entire ceiling shines with thousands of glittering stalactites, creating unique images: the stone statues, stone dragons, and flowers are likely to make an ideal world. Out of the cave, visitors will be surprised with the stunning scenery of Bai Tu Long Bay and Halong Bay from above. At the foot of the cave, there is the beach with calm blue water and soft white sand. Lush, diverse flora cover rock islands from the foot to the top.
 – Top luxury cruise: Emperor Cruise.
– 5 star cruises: Au Co Cruise, Signature Royal Cruise, Athena Royal Cruise.
– 4 star cruises: Starlight Cruise, Athena Luxury Cruise, Sealife Cruise, Dragon Legend Cruise.
– 3 star cruises: Oriental Sails, Swan Cruises.
6.3. Lan Ha Bay Overnight Cruises
Located at the East of Cat Ba Island and borders Halong Bay to the south. Tranquil and less touristy area because it is located adjacent to the "tourist giant" neighbor. Lan Ha Bay is less touristic, less inhabited, cleaner, and just as beautiful as Halong Bay itself. Lan Ha Bay is also called "Kayaking Paradise". Visitors can even paddle through a cave!
• Sightseeing in Lan Ha Bay
– Dark and Bright Cave
Is not only known for the stunning limestone structure at every turn but also for the interesting natural habitat. On the cliff one still find traces of fossils of fresh-water snails, which prove that the cave was inhabited thousands of years ago. Monkeys run to and fro in groups, benjamin fig trees shade the landscape and many orchids hang their sweet-scented flowers.
– Tra Bau Area
Just one day you can have a very enjoyable experience in the fishing village of Tra Bau as a real fisherman with fishing activities, swimming, kayaking. Especially, you will have the opportunity with your friends to take amazing pictures.
– Ba Trai Dao Islets
They are a group of three small mountains with the height of 23 meters, seen from a far, resemble three peaches. It's featured with Ba Trai Dao Beach which is one of the most beautiful beaches on Halong Bay. However, tourists just can swim at the beach in about 2 – 3 hours a day because the tide rises and engulfs the beach.
– Trung Trang Cave
Is located in Trung Trang valley being the largest valley of Cat Ba Island, about 300 ha, lower than sea level from 10 to 30m and 15 km to the northwest of Cat Ba Town.
– Monkey Island
Is about 1 kilometer away from the Cat Ba Town. This is a mountainous, sandy island formed by millions of waves and winds bringing sand, rocks, coral, shellfish, shells, shrimps and crabs to the foot of the mountain is inhabited by semi-wildlife of more than a thousand monkeys.
– Viet Hai Village
Entirely situated among the immense sea and surrounded by high mountains and jungle of Cat Ba National Park, Viet Hai fishing village is situated in Cat Hai District, Haiphong City. Visiting Viet Hai fishing village, you will feel the tranquil and peaceful atmosphere. Exactly you will find the hidden charm village of Vietnamese people.
– Top Luxury cruises: Ylang Cruise, Ginger Cruise.
– 5 star cruises: Indochine Cruise, Heritage Cruise, Era Cruise, Mon Cheri Cruises, Orchid Cruise.
– 4-star cruises: V'Spirit Premier Cruise, Calypso Cruise, Peony Cruise.
7. Tasty food on board

Most meals are included in the cruise package. The quality of the food on your cruise will depend entirely on the quality of the cruise you book – aka the more money you're willing to spend, the better your food will be – so book wisely. Mostly, cruises use fresh, quality ingredients that have passionately prepared and cooked to perfection by their professional chefs, then served with by friendly staffs. With 2 days 1 night program, visitors are often served a set menu lunch and a buffet dinner on the first day, a light breakfast and a buffet brunch on the second day. The menu varies among different cruises.
8. Popular activities to do
8.1. Exploring many caves, grottoes and islets
The islands, caverns and grottoes of Halong, Lan Ha, Bai Tu Long are treasures waiting to be explored. Discover a myriad of magical worlds formed over millions of years by limestone and water.
On the main part of Halong Bay, don't miss Sung Sot Cave though it is crowded if it is the first time you come to Halong.
8.2. Kayaking
This is an exciting and the most popular activity on Halong Bay. Sitting on a tiny kayak, paddling in the blue water, wriggling into the cave, or touching the stalactites, what's more amazing!
8.3. Swimming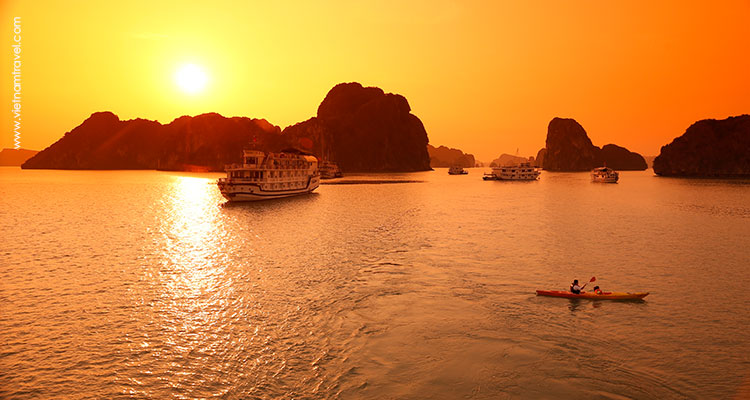 Floating your body on the water of Halong Bay among the vast number of islets is an amazing experience!
8.4. Taking part in cooking demonstration on cruise
This activity helps you not only to sample fine cuisine but also learn more about Vietnamese culinary culture. Cruise Chef will show and guide you how to make Vietnamese traditional dishes such as fresh or dried springing roll and/ or how to carve different kinds of vegetables and fruits. You may be invited to participate in a fun competition with other passengers to find who is the fastest to make the dish. Finally, you can have your own dish of food, enjoin yourself or share it with your companions. An interesting activity for those who love cooking and cuisine!
8.5. Tai Chi session on sundeck
Tai Chi is combination between deep breathing and relaxation with slow, deliberate movements, meditation, and breathing exercises.
8.6. Cycling in Viet Hai Village (Only in Lan Ha Bay)
The cycling experience along the Viet Hai Village will definitely delight all of your senses: going through rain forests and dark tunnel, admiring stunning scenery of rice fields, visiting ancient house made from straw, mud, bamboo or interacting with local people, etc.
8.7. Night squid fishing
Night squid fishing in Halong Bay is one of the most unique and exciting experiences. Does squid fishing need patience and difficulty as fishing? The answer is no, squid fishing is simple, not as hard as you think.
8.8. Photo hunting at dawn and sunset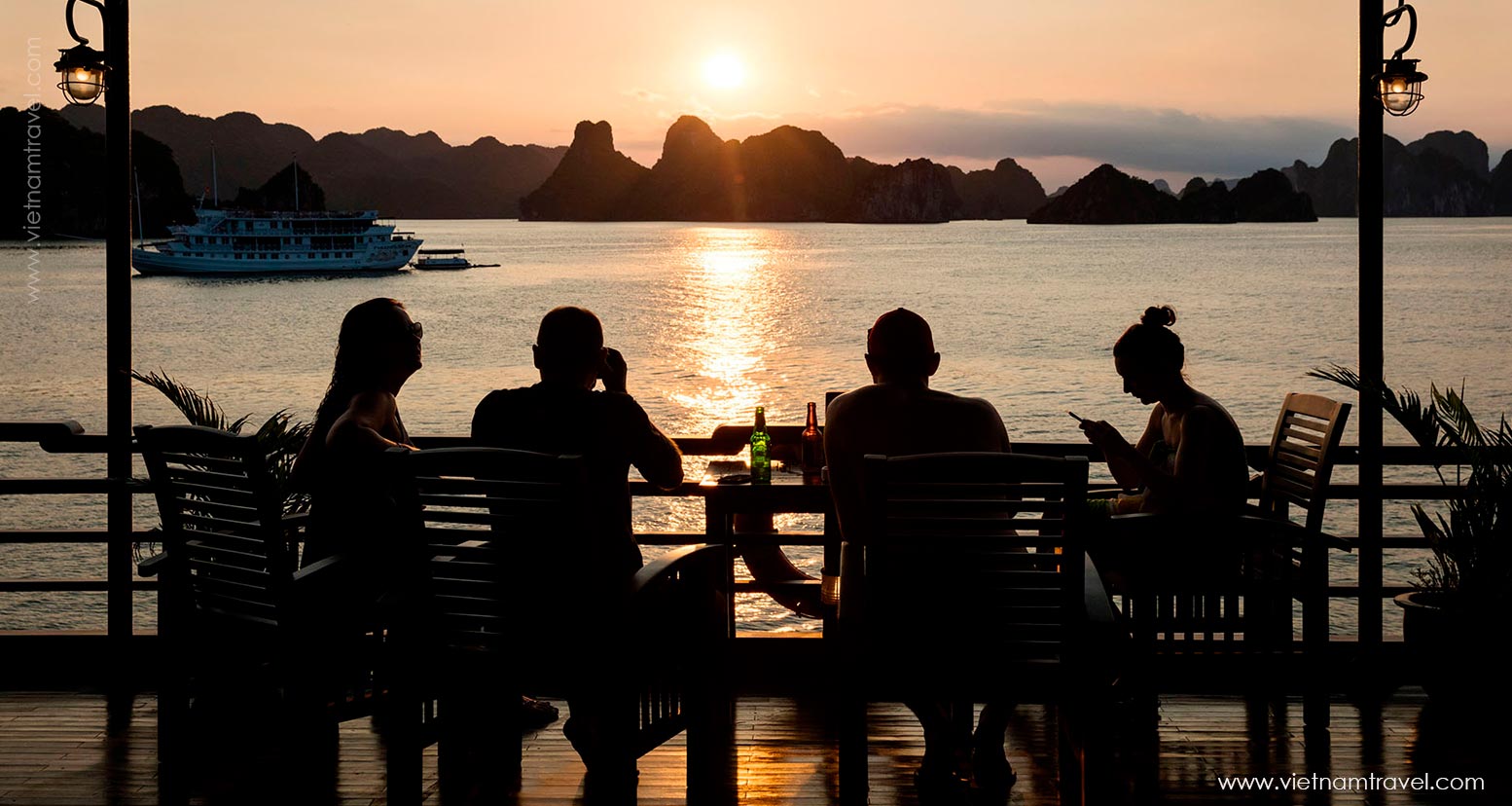 9. Special activities
9.1. Flying over the bay
Even if not flying to Halong Bay from Hanoi, travelers can still take advantage of the scenic flight only for incredible views and a completely different perspective on the islands. Thanks to their small size and ease of maneuverability, Hai Au Aviation's seaplanes and Northern Vietnam Helicopter are able to fly close to Halong Bay's gorgeous limestone islands for incredible, sweeping views which are completely different from the views enjoyed aboard a cruise at sea level.
9.2. Honeymoon experience
Congratulations on your marriage! A perfect way to enjoy your honeymoon in Vietnam is to sail along the waters of Halong Bay. The cruise team will help you plan unforgettable experience on your special day.
• A full-of-sunshine lunch date on the beach
A romantic lunch on the beach for 2 people is our best suggestion for daytime activity. Nothing can compare with a delicious meal in the nature, where you can make a little toast with your partner and savor the meal enjoying the breathtaking scenery.
• Leisure cocktail night on cruise sundeck
You don't often have a clear sky without any skyscraper while living in the city, so do not miss that rare opportunity of stargazing on a cruise sundeck with your loved one while sipping down a special Halong cocktail. This kind of intimate & romantic atmosphere is definitely something you've looked for in a honeymoon trip.
If you prefer a totally private area for your honeymoon on cruise, you'd better to charter a cruise. In addition to the normal services offered by the company, you'll also have a chance to see a water puppet show performed by local artists and also visit Vung Vieng fishing village on a rustic row-boat. Since it's your special day, your room will be decorated nicely with roses and candles. A beautiful honeymoon cake with a cute gift will be served within the day as well. In case you want to have a super special night, the staff will help you with any custom request, but of course, you'll have to pay extra money.
10. Cruise seasons and time to visit
• Cruise seasons
– Off-busy season
May – Sep. Best saving! Popular tourist spots are less crowded so you will get more cares and more enjoyable. If your heart is set on swimming and kayaking, it is recommended to visit Halong in these months, at the beginning/ end of summer. You may face humid and rainy days in summer, however it is not rain all days. Don't worry!
– Peak season
Oct – Apr. It is dry season, no monsoon. Availability may be an issue, so early booking is highly recommended, especially during Christmas, New Year and Easter period.
• Time to visit
It depends on your holiday. You can absolutely travel to and stay overnight on cruise in Halong all year-round as this exciting destination always offers something for everyone. But if you want to avoid the crowds in Halong Bay and still expect good weather during your visit, try to schedule your trip towards the beginning or end of the peak season. And, you are here, in the right hand of Vietnam Travel's passionate Halong Bay cruise specialists, why don't leave a message or email us today to get instant help about cruise choice, exclusive offer and reservation? Or you may like to see more about the best collection of Halong Bay cruises recommended by our cruise experts at: https://vietnamtravel.com/halong-cruises/. Whatever it is and how much you can afford or want to spend, you're sure to find something that will work for you! We also provide Vietnam private tours, as well as extension to other four countries in South East Asia such as Cambodia, Laos, Myanmar & Thailand.
11. Other information
• Don't Expect the WiFi or 4G to Work
We should mention that many ships offer Wifi, but the further you travel into the bay or surrounded by islands, the less likely the Wifi is to actually work. So sit back and enjoy the views without being connected!
• What to pack for Halong Bay overnight cruise?
– Bring a light jacket – you will be surprised by how cold it was at night, especially in the winter months (late November to March).
– Walking shoes for excursions.
– Bathing suit if you're visiting during the warmer months (April – October). Even if you don't plan on swimming, it's still worth to pack a bathing suit so you can either sunbath or put on while kayaking as you might get wet.
– Motion sickness medicine if you're very prone to motion sickness.
– You should 100% bring a camera with you on your Halong Bay cruise.
• Insurance
Don't forget to arrange a health insurance before heading to Vietnam. Get it before your trip to avoid unnecessary troubles or any unluck that might ruin your holidays!