Things to do in Cao Bang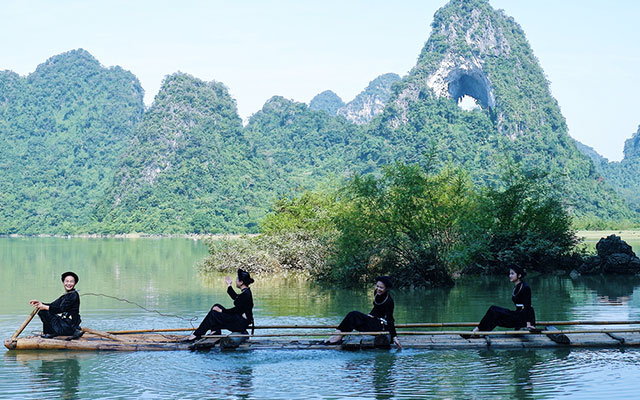 Cao Bang is a frontier province sit in the northeast of Vietnam. It is very famous for Ban Gioc Waterfalls – one of the most impressive natural sights in Vietnam. However, it has much more to offer than that and this following article will show you things to do in Cao Bang for your best experience.
Admire the beauty of Ban Gioc Waterfall
Ban Gioc Waterfall is located on Vietnam – China border, in Trung Khanh District. It is about 90km from Cao Bang City. Without a doubt, this waterfall is the most famous attraction in Cao Bang that you should definitely visit. With 300m in width, Ban Gioc is the fourth largest waterfall in the world. From above, water strongly pours down through several level of limestone to a large river surrounded by a peaceful scenery of grass carpet, rice fields and green forest. Tourists can take a bamboo raft to get close to the waterfall to admire its beauty and take the best photos.
The ideal time to visit Ban Gioc Waterfall is from August to September when the weather is pretty pleasant and the fall is filled with jade green water. It is also nice to come here from October to December if you are eager to see buckwheat flowers and wild sunflowers in blossom.
Entrance fee: 45,000 VND/ visitor.
Bamboo raft: ~ 50,000 VND/ person.
Explore Nguom Ngao Cave
Just 3km from Ban Gioc Waterfall, Nguom Ngao Cave is considered as one of the most spectacular limestone caves in the northeast of Vietnam. The cave was formed due to the weathered process of limestone by wind and water in a long time. Once stepping your feet into the cave, you will feel the cool and fresh air from natural mist inside with the average temperature fluctuating between 18 – 25°C. Nguom Ngao Cave is filled with multi-colored stalactites and stalagmites in various shapes and sizes hanging down from high stone cliffs. With your imagination, you can see many mythical creatures and magical scenes such as lotus buds, human figures, animals, trees, cactus, fairies combing hair…
The whole cave system is actually 2,144m long but for safety reason and natural beauty preserve, a more than 900m section is open to tourists. It is suggested to explore Nguom Ngao Cave after visiting Ban Gioc Waterfall. You may spend about 1 hour to stroll around the cave.
Entrance fee: 30,000 VND/ visitor.
Pay a visit at Phat Tich Truc Lam Ban Gioc Pagoda
Phat Tich Truc Lam Ban Gioc is the first pagoda built in Northern Vietnam. The pagoda is only 500m from Ban Gioc Waterfall so you can combine a visit of two places on the same day. Phat Tich Truc Lam Ban Gioc Pagoda is designed in traditional Vietnamese architecture style with three-door gate, bell tower, drum tower, stone stele, Guan Yin statue… From the pagoda, visitors could overlook the whole Ban Gioc Waterfall wrapped in paddy fields and mountain range.
Thang Hen Lake System
Thang Hen is a freshwater lake in a tranquil valley surrounded by rocky and green forest in Quoc Toan Commune, Tra Linh District, about 25km from Cao Bang City. This lake system is made up of 36 small natural lakes at a height of 1,000m above sea level. All of them is connected through caves and underground waterways. The best time to visit Thang Hen Lake is during the rainy season when the rising water level links all the lake together to form one big lake of 3km in length and 1km in width. Unlike other lakes that become red and brown colors during the rainy season, Thang Hen Lake remains sapphire green all year round, making it very impressive.
Visit Pac Bo Historical Relic Site
Pac Bo historical relic site is situated Truong Ha Commune, Ha Quang District, more than 50km far from Cao Bang City. This is a place where President Ho Chi Minh lived and worked in the early days to lead Vietnam's revolution against French colonialism. The main historical relics in this area are Pac Bo Cave, Coc Bo Cave, Bo Bam Cave, Lenin Stream, Karl Marx Mountain, Co Rac Ground and Khuoi Nam Stream. Here, tourists will certainly enjoy the cool year-round air and the picturesque scenery endowed by nature. Pac Bo is a worth-seeing place for those loving nature and history.
Entrance fee: 25,000 VND/ visitor.
Visit ethnic minority groups
Cao Bang is home to many ethnic minority groups such as Tay, Nung, Dao, H'Mong… who have lives in these valleys for centuries. Each minority has its own traditions, customs, brocade costumes, and way of life, making Cao Bang's culture more diverse. To experience and learn more about ethnic culture, you can take a visit to local markets where a lot of ethnic people from different groups gather to trade their commodities, visit a minority craft village with the local guides, or spend a night at an ethnic homestay during your trip.
Conquer Me Pia Pass
Me Pia Pass is located on Highway 4A, the section connecting Xuan Truong Commune to the center of Bao Lac – a border district adjacent to China, over 90km from Cao Bang City. This pass is 2.5km long, including 14 winding floors with sharp bends, high slopes and flanked by high mountains. Me Pia is evaluated as the most dangerous and challenging pass to conquer in Northeast Vietnam so it is only recommended for experienced riders.
You may like: 10 Scenic Mountain Passes in Vietnam
Try some local food
Traveling is to discover new things that also includes local cuisine and Cao Bang never ceases to awe visitors with its distinctive delicacies. As the land of many ethnic minorities, there are some dishes that sound incredibly strange but don't hesitate to give them a try. Some local specialties must be mentioned such as Trung Khanh chestnut, roasted pork, roasted duck, sour noodle soup, Carnarium sticky rice, ant eggs cake, "coong phu" cake, Chinese sausage…