Flowers in Vietnam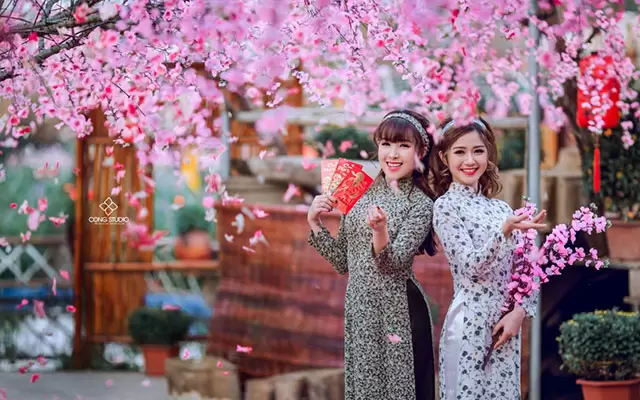 Flowers in Vietnam typically grow quite well thanks to country's tropical climate. In general, they are vibrant, fragrant and visually stunning, and come in a diversity of shapes, sizes and colors. From spring to winter, there are various kinds of flowers blooming throughout Vietnam, which creates irresistibly beautiful sceneries and sometimes is the main reason for tourists to visit one destination. If you are a flower blossom lover, don't miss the chance to plan a journey around Vietnam at any time of the year to discover the most vibrant flowers in this tropical country.
1. Flowers in spring
1.1. Peach Flower (Hoa Đào)
Peach flower comes firstly to Vietnamese's mind when thinking about spring and Lunar New Year in northern Vietnam. This flower owes its popularity due to the beauty of slender but vivid petals as well as its important meaning in the cultural life of many Vietnamese generations. Pink or dark pink color of petals presents for the prosperity and good fortune. It's very important for the Vietnamese to have their peach flower blossoms glowing during the first three days of Lunar New Year. Because they believe that vividly peach flowers in their houses will bring happiness, peace, good health and wealth for the whole family in the upcoming year. Legend said that the peach blossom and its vibrant colors can repel the evil spirits and symbolize longevity.
One week before the Tet holiday, tourists can easily see peach trees displayed in many flower markets, from big cities to small villages in northern Vietnam.
Besides, ethnic minority people living in northwest mountainous regions of Vietnam also has their own type of peach flower. From Mai Chau, Moc Chau to Sapa, Ha Giang, peach flowers bloom throughout the hillsides. That's the signal that the cold winter passes through and the warm sunshine of spring comes very soon.
1.2. Yellow Apricot Flower (Hoa Mai)
If peach flower is the typical symbol of northern regions on the occasion of Lunar New Year, spring in southern part of Vietnam can't be completed without yellow apricot flowers. The flower itself has several interesting meanings to discover. Firstly, the bright yellow color represents prosperity and good luck. Each flower has five petals symbolizing five blessings: peace, pleasure, longevity, convenience, and happiness. If the yellow apricot flower blooms with more petals, more good things will come in the New Year. Therefore, yellow apricot flowers are an indispensable part in every family in Tet Holiday as the hope of starting the new year with much blessing and convenience.
The most well-known place to enjoy Tet atmosphere and beautiful yellow apricot flowers in Saigon (Ho Chi Minh City) is Binh Hung Port. It is the main hub where local farmers carrying their flowers from Mekong Delta to distribute to wholesales and retailers in big cities.
1.3. Plum Flower (Hoa Mận)
From late January to mid-February every year, highland landscapes in northern Vietnam are fully covered by the pure white of plum flowers. If the weather of spring in one year is colder than normal, plum flower will delay its blossom until March. Moc Chau is dubbed as the most ideal place to enjoy the beauty of plum flowers. Every spring, Moc Chau Plateau is lightened with the bright white of plum blossoms. Its color spreads all over the roads and deep alleys in villages. Tourists may feel being lost in the wonderland while wandering through plum flower gardens and have nice talks with local ethnic children.
This flower's life lasts only 2 – 3 weeks then plum flowers will fall off and be replaced the baby plum fruits. Therefore, Moc Chau attracts lots of tourists flocking to witness this unique and mesmerizing scenery during plum flower season.
2. Flowers in summer
2.1. Lotus Flower (Hoa Sen)
Lotus is grown everywhere along the S-shaped strip land of Vietnam. The pinky lotus flowers are brightly grown up from the mud and grime surface to show off its beautiful color and charming shape. This exquisite flower symbolizes the purity; serenity, commitment and optimism of the future. In addition, these blossoms have long been linked to Buddhism in terms of nobility and pure thoughts. With above meanings, lotus was voted as the Vietnam's national flower; representing courageous but friendly and open-hearted Vietnamese people.
Tourists can be immersed themselves into the pure beauty of lotus if visiting Tam Coc – Bich Dong in Ninh Binh or any village in northern Vietnam in June. Mekong Delta, especially Dong Thap has other lotus blossom season because lotus here is well nurtured by the rich sediments from the delta. Coming to Dong Thap from August to November, tourists can take boat trip along lotus fields, collect lotus flowers and seeds then help locals prepare delicious lotus-related delicacies that only can be found in Dong Thap.
2.2. Flamboyant Flower (Hoa Phượng)
Flamboyant is the reminder of summer in Vietnam because it starts blooming in May or early June. The blooming time of this flower coincidence with the end of one school year. That's the reason why it's called as "the school age flower" and connects to the school memories of many student generations.
Hai Phong City is considered as "City of Red Flamboyant" because there are thousands of flamboyant trees are planted along two sides of many main streets in the city. When the flowers are blooming, the city becomes brighten and vivid by the flaming red color of flamboyant. The city held Flamboyant Flower Festival annually with many interesting activities to introduce the city's abundant and beautiful typical flower blossoms, promote and boost the city's tourism. Cat Ba Island in Hai Phong is also a great place to enjoy the beauty of flamboyant flower under summer sunlight.
2.3. Bougainvillea Flower (Hoa Giấy)
Bougainvillea are popular ornamental plants in the middle coastal climate with high temperature and humidity. It is easy to plant and does not require much care; and flourish extremely well in summer time (from late March to June). When blooming, the soft and delicate "paper-like" petals can be seen in shades of red, pink, white or some multi-colored. This flower with its cheery appearance and brightly colored petals stands for warm hospitality of coastal people in Danang, Quy Nhon, Phu Yen, Nha Trang, Mui Ne.
However, Hoian can be regarded as the most stunning place to see the bougainvillea bloom at its greatest vigor. The flower blooming adorns everywhere from the side of the road to gorgeous cascades drifting across rooftops and down the walls in the ancient town. Under the summer beams; a bougainvillea-covered street corner appears light-hearted and lively; which is a perfect background for thousands of "check-in" photos.
2.4. Red Silk Cotton Flower (Hoa Gạo)
Red silk cotton flower, whose scientific name is bombax ceiba, is a popular flower of the Northern Vietnamese villages. The flowers are in full bloom when spring is about to end and summer is upcoming soon (in April or lunar March). Living in tropical climates, bombax ceiba has a straight tall trunk and its leaves are fallen in winter. Cup-shaped flowers with five red petals appear at the end of spring, before the new foliage. After 2 week blooming, the flowers fall to the ground and become the favorite toy for poor children in the village. Thus, red silk cotton flower season reminds people about their home villages and peaceful childhood when they were playing with friends under the shade of the red silk cotton tree.
Local farmers in the past had experience that when red silk cotton flowers begin to deciduous, planting season of sesame trees is coming and it's time for them to put away the warm blankets to get ready for a new summer.
If you make a pilgrimage to Perfume Pagoda in early April, you will have chance to enjoy the beauty of those ardently burning-red flowers blooming along the riversides while taking boat trip to the pagoda.
3. Flowers in Autumn
3.1. Blackboard Tree Flowers (Hoa Sữa)
Blackboard Tree Flowers flourish in September and October so it's the signal of autumn in Vietnam. This type of flower is planted in many places but it has become an indispensable part in Hanoi's autumn. The white clusters of flowers look like the tiny white lanterns hidden behind the greenish foliage. These flower blooms spread the intensively sweet scent into small alleys and streets of the capital. It's such a romantic moment when walking along the alleyways in a cool autumn night and inhaling these lovely flowers' fragrance.
3.2. Water Lily Flower (Hoa Súng)
Similar to lotus, water lily is also a water-based plant. As the wild plants, water lily doesn't require much planting or caring. Its beauty is formed by small pointed dark-pink petals which decorated by the dark-green sharp round leaves floating on the water. October and November are the months of water lily blossoms. In other months, this flower hides deep down under the water surface. In several places in northern Vietnam, people plant water lily to beautify one specific attraction and attract more tourists. You can visit Yen Stream in Perfume Pagoda in November if you want to have stunning photo shoots checking-in with water lily.
In contrast, water lily can be found in huge quantities planted in vast water areas of Mekong Delta region. During flooding season (from early September to mid-November), local farmers busy with harvesting water lily as a way to earn an additional income and improve their living conditions. Water lily flower's stalks can be eaten raw with fermented paste or braised sauce, or dunked into sour soup and hotpot. During the rainy season, when the canals and rice fields overflow, white and pink water-lilies are in full bloom.
4. Flowers in winter
4.1. Rapeseed Flower (Hoa Cải)
Rapeseed is a bright-yellow flowering member of cabbage family and cultivated mainly for its oil-rich seed. In winter – spring season, cultivation land is arid and there is not enough water to grow rice. Therefore, farmers think of growing rapeseed in these winter months to make use of their land and improve their incomes. Initially, it is planted in large fields by farmers with the purpose of harvesting vegetables and collecting cooking oil. However, the bright yellow color of rapeseed flowers blooming in large scape of fields attracts lots of tourists coming to visit and take photos. As a result, fellow villagers combine farming with tourism by planting more and more rapeseed in their own rice terraces.
The flowers are blooming in around 20-day period then wait for the seeds in the next crop. Just take a half day visit from Hanoi Capital, there are beautiful rapeseed flower fields along Duong River. Many photographers and tourists come here to record the precious moments, romantic experiences in the garden of yellow rapeseed flowers. They are impressed by the simple beauty of the flowers and the tranquil atmosphere in the countryside. When the wind blows, the rapeseed plants swing like waves in the vast ocean.
In mountainous areas like Moc Chau or Mu Cang Chai, rapeseed flowers also have the white color which resemble the floating clouds. Leisurely strolling down the winding trails, visitors will admire the pure white beauty of the immense rapeseed flower terrace fields. Under the sunlight, this spectacular landscape becomes more brilliant and be a part of the wild mountain.
4.2. Buckwheat Flower (Hoa Tam Giác Mạch)
Hoa Tam Giác Mạch (Buckwheat Flower) is a traditional plant in the northwest highlands of Vietnam, where cultivation land is characterized as low-fertility or acidic but well drained soils. Buckwheat flower season starts from late October and ends in early November. Within its one-month life cycle, the flower flourish in white color, then change into pink, purple and finally switch into dark red.
The buckwheat flower can be seen in Lao Cai, Cao Bang, but Ha Giang is the most famous place where these flowers bloom beautifully in large terrace fields. Local ethnic people plant buckwheat to harvest wheat for making cake powder and the seeds are used to create distinctive wine flavor. White pink of buckwheat flower petals spread over the plateau, combining with amazing mountainous landscapes to create a very romantic and comforting setting for anyone who loves nature. In recent years, buckwheat flowers with wild but gentle beauty are widely known by young people. In every season of buckwheat flowers, they are eagerly preparing for the road trip to Ha Giang to admire this rare beauty.
Each season in Vietnam has its own slender beauty with various kinds of flowers. Taking private tour packages with Vietnam Travel; tourists will surely have precious and sincere advices from our travel consultants about where to visit in a specific flower season. Moreover, our enthusiastic drivers and tour guides will help you to take thousands of pictures with beautiful flowers; tell you many interesting stories about local culture related to each flower and more.
5. National Flower of Vietnam.
Lotus is selected as the national flower of Vietnam because it's an indispensable part of Vietnamese culture, history and national heritage. Although the flower lives in the muddy pond, their seeds grow toward the sunlight's direction, without being polluted by the surrounding mud. It manages to rise above the murky pond and bloom with exceptional beauty and fragrance. Therefore, the flower symbolizes the courageous Vietnamese, who had undergone thousands years of Northern dominant and hundred years of Western colonization.
From hardest and darkest periods, our people have still managed to gain our great independence and prove our strength and the rise of a strong will to live as ethnic Vietnamese.
In addition, lotus is chosen as the main symbol of Buddhism, which makes up 43.5% of Vietnamese religious culture (2009).
Buddhism selects the lotus flower to be the spiritual symbol of the following basic things:
Fortune – rise and bloom above the dark & muddy places to achieve enlightenment.
Purification – the muddy water pond will become fresher by the appearance of lotus flowers.
Gentleness – lotus flowers are ethereal-smelling beauties, not too overwhelming.
Patience – to have the beautiful appearance, one lotus flower undergoes a long process from its early stage deeply lying beneath the mud until passing out of the water to catch the sun.
Reincarnation – after a blossom season, lotus flowers will wither & prepare to come back for the next season. In Buddhist religion, when a soul leaves this world in its present form to be reborn in another.
Last but not least, lotus flower has also found its way into Vietnamese local daily lives. It's quite easy to be planted in tropical climate conditions like in Vietnam so Vietnamese has cultivated lotus for a long time. Vast lotus flower ponds can be found in northern Vietnam in June, but the lotus blooming season in southern Vietnam lasts longer (from August to November). In Vietnamese cuisine, lotus is used as a special ingredient to create unique local dishes. The flowers & branches are used to make salads & soups; the seeds are used for making lotus tea and sweetened soups while the green leaves are used to wrap food, such as steamed rice and certain kinds of fish.
6. Vietnamese New Year Flowers.
Vietnamese Tet (also known as Vietnamese Lunar New Year) is the most important celebration; as well as the longest holiday of the year in Vietnam. If Western people have pine trees for their Christmas holiday; Vietnamese also have their own lucky plants and flowers to show festive spirit in Tet. According to age-old traditions; "Hoa Dao" (peach flower) and Hoa Mai (yellow apricot flower) are considered as the most important symbols of lucky flowers in Vietnamese Tet.
Hoa Dao (peach flower) is familiar in northern regions because it can grow well in cold weather of northern Vietnam's spring months. Whereas, Hoa Mai (yellow apricot flower) is more favorable for Tet holiday in the tropical lands of the south. The vibrant colors of both flowers; (pink or dark pink of Hoa Dao and bright yellow of Hoa Mai) represent for the prosperity and good fortune. These plants are displayed at the most important places of a house; at the house's entrance door; in the middle of the living room and at ancestral altars. Locals buy these lucky plants and flowers one week before Vietnamese Tet and try to keep flowers blooming right on the first three days of Lunar New Year. Because they believe that the high rate of flourishing flowers symbolizes happiness, peace, good health and wealth for the whole family in the upcoming year.
During one month before Tet, it's quite an interesting experience to visit bustling Tet gardens and flower markets. Beside "Hoa Dao" and Hoa Mai, visitors can see different lucky plants and trees sold; such as: "Quat" (kumquat tree), "Hoa Cuc" (daisy), "Hoa Lan" (orchid), "Hoa Hong" (rose), to name a few. Even each flower and plant has its own meaning; all of them are purchased and kept in local houses just before Vietnamese Tet until mid Lunar New Year as the hope of starting the new year with much blessing and convenience.
7. Flower gifting in Vietnamese Culture.
In many countries including Vietnam, flowers have been considered as social means of communication. People give flowers as presents in special occasions: welcome guests to show your great hospitality; birthday gift to wish the receiver a new age with lots of happiness and blessings; wedding present to hope newly married couple a happy marriage life. Vietnam Travel team always prepare a brunch of seasonal flowers to welcome clients when picking up them on the first day of their trip. With such a heartfelt gift, we hope that our clients will feel warmly welcomed and quickly get familiar with the new country and new friends from very first moments.
Each flower has its own meaning so senders need to learn about flower meanings then choose the most appropriate flower types and colors in specific occasion. In Vietnamese tradition, flowers associated with funerals and Buddhism, such as: yellow daisy, white rose, white tuberose, marigold; should be avoided to be gifted because they are interpreted as a bad omen for receivers.
In recent years, the internet makes the world smaller and you can send flowers to Vietnam while you are in any country like US or Australia. Flower shops in big cities update online system in English; which helps overseas clients to choose flowers; make online payment then their flowers will be delivered to their special ones in Vietnam; even on the same day to make order.
Some online shops to send flowers to Vietnam:
– A Better Florist – www.abetterfloristvn.com
– Lux Flowers – www.luxflowers.vn
– CiaoFlora Vietnam – www.ciaoflora.vn
– VN Florist – www.vnflorist.com
– Dien Hoa Vietnam – www.dienhoavietnam.com
8. Other interesting facts about Flowers in Vietnam.
8.1. Vietnam's National Flower
Lotus is not only the national flower of Vietnam but also of India. It is widely distributed as a result of human translocations. It can be seen in southern India, Sri Lanka, all of Southeast Asia; New Guinea and northern and eastern Australia, even in Egypt.
8.2. Hoa Mai Vang (yellow apricot flower)
"Mai vang" (yellow apricot flower) is more preferred in southern Vietnam during Vietnamese Tet. "Hoa dao" (peach flower) is familiar in northern cold spring. The over 100-year-old apricot blossom tree used to be sold at the price of nearly 5 billion VND.
8.3. Flower of Bamboo blossom
Bamboo tree – a symbol for the solidarity of Vietnamese people as well as their diligence and bravery, has its own flower. Bamboo flower blossom is a peculiar phenomenon in the plant system. Many bamboo species flourish at extremely long intervals such as 65 or even 130 years.
This mechanism is still a mystery to botanists.
8.4. Largest flower planting area in Vietnam
Dalat is well known as the largest flower planting area in Vietnam. Year-round cool weather is the main reason to make this city ideal for growing high-value flowering plants and turn it into the "mecca" for flowers.
8.5. Cactus flower
Cactus is the plant living in dry environments like deserts. But it's planted widely as ornament for decorating houses in Vietnam. Cactus flower is a sign of lucky for home owner.
8.6. Flowers of Vietnam restaurant
Do you know there is a famous restaurant named Flowers of Vietnam?  Just pay a visit there to enjoy Vietnamese delicacies. There are traditional famous dishes, such as: Vietnamese noodle soup (phở), spring rolls (gỏi cuốn); and Vietnamese styled tea and coffee. You can visit the restaurant at the address:
Flowers of Vietnam
4440 West Vernor Hwy
Detroit, MI 48209, USA
(Cross Streets: Vernor + Clark)
Tel: (313) 554-2085
RESERVATIONS ONLY