Top-Rated 5-Star Hotels in Ho Chi Minh City for a Relaxing Getaway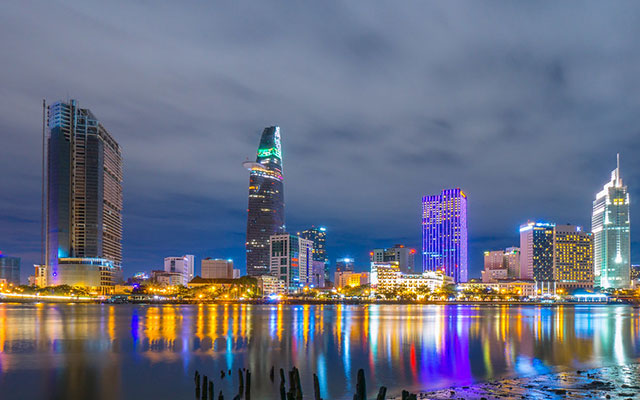 Ho Chi Minh City (aka Saigon) is well-known for Vietnam's largest metropolis yet a rich culture and history. It is an absolute must-visit place on any travel bucket list. What to do, where to go, what to eat… are some factors travelers should research before traveling and yes, where to stay is also included. Here Vietnam Travel recommends you some best 5-star hotels in Ho Chi Minh City in aim to helping you get more information.
1. Park Hyatt Saigon
Located in the heart of the vibrant city, Park Hyatt Saigon is within walking distance of the most popular sites such as Saigon Opera House, Saigon Central Post Office, Notre Dame Cathedral, Independence Palace… The elegant and French colonial-style hotel houses 245 guestrooms and suites, redefining urban luxury with its sophisticated design, handcrafted details and modern-day comforts. All rooms and suites are equipped with the latest technology, including in-room mini iPads, Nespresso machines and sensor lighting systems. Park Hyatt Saigon is also famous for organizing various social and art events with an impressive selection of 10 function spaces for various types of occasions for up to 450 guests.
For dining, Park Hyatt Saigon features world-class bars and restaurants. Its signature restaurant is Square One offering authentic Vietnamese and French cuisine while cozy setting Opera restaurant serves traditional Italian dishes. The hotel's stylish and contemporary 2 Lam Son bar and elegant Park Lounge offer afternoon tea, international wines, premium spirit with live performances. They add to the vibrant nightlife of Ho Chi Minh City. Guests may also enjoy rejuvenating wellness treatments utilizing traditional Vietnamese rituals and ingredients at Xuan Spa or exercise at the fitness center.
Address: 2 Lam Son Square, Ben Thanh Ward, District 1, Ho Chi Minh City.
Number of rooms: 245.
Price: Starting from 280 USD.
2. The Reverie Saigon
The Reverie Saigon is the highest hotel in Saigon, located on the 27th to the 39th floor of the Times Square tower. Each room offers beautiful panoramic views overlooking the bustling metropolis and the winding Saigon River through floor-to-ceiling windows. There are a total of 224 guestrooms and 62 suites which are divided into 12 categories of hotel accommodations. Equipped with premium amenities, luxury Frette linens, and other rich details, staying at The Reverie Saigon will give you an ultra-luxurious experience. The hotel has an Italian-influenced elegant design and furniture. Interiors are curated by some of Italy's most recognized furnishings design brands such as Colombostile, Giorgetti, Poltrona Frau Group and Visionnaire with styles ranging from chic modern to classical European, from whimsically romantic to fanciful and sophisticated.
Ranging from Chinese, Asian to French, Italian, guests will be spoilt for choice with dining options at The Reverie Saigon's restaurants including Café Cardinal, R&J, The Long @ Times Square and The Royal Pavilion. After a long day of activities, guests can relax at sauna, spa and massage treatment, outdoor pool or work out at fitness center. They are all fully-equipped.
Address: 22 – 36 Nguyen Hue Boulevard, Ben Nghe Ward, District 1, Ho Chi Minh City
& 57 – 69F Dong Khoi Street, Ben Nghe Ward, District 1, Ho Chi Minh City.
Number of rooms: 286.
Price: Starting from 350 USD/ per room/ night.
3. Hôtel des Arts Saigon – MGallery
Located in city center, a few minutes to famous tourist spots, Hôtel des Arts Saigon – MGallery is an ideal choice for both leisure and business travelers. This luxury boutique hotel has won numerous awards for its distinctive modern romantic design and unique bespoke services such as "Leading Lifestyle Hotel in Asia" by World Travel Awards, "Luxury Boutique Hotel" and "Luxury Architecture Design Hotel" in Southeast Asia by World Luxury Hotel Awards…
Combining the classical charm of French Indochina with a sense of timeless chic, the hotel's 168 rooms feature an elegant beauty with contemporary facilities: flat-screen TV, complimentary Wi-Fi, writing desk, air conditioning, spacious bathroom with premium bath amenities… All of them creates a memorable experience. Hôtel des Arts Saigon – MGallery offers 2 vibrant restaurants: Saigon Kitchen and Social Club serving a fine selection of genuine Indochina and Western. In the evening, you can head to rooftop bar to overlook Saigon's glittering skyline while sipping on some cocktails and grazing on midnight snacks.
Address: 76 – 78 Nguyen Thi Minh Khai, District 3, Ho Chi Minh City.
Number of rooms: 168.
Price: Starting from 145 USD/ room/ night.
4. Caravelle Saigon
Caravelle Saigon is one of Saigon's leading international 5-star hotels and is located in city center, a short walk to iconic landmarks and locations such as Saigon Opera House, Notre Dame Cathedral, historic Dong Khoi Street, modern Nguyen Hue Walking Street, and the legendary Ben Thanh Market. First introduced in 1959, the hotel witnessed Saigon through wartime and was even a noted location during this period. After having been renovated recently, Caravelle Saigon boasts a modern design combining French and Vietnamese architecture. It has 335 rooms featuring a warm and cozy contemporary style. All of them are equipped with top-of-the-range amenities including a flat-screen TV, a pillow menu, Wi-Fi internet connection and 24-hour room service.
Caravelle Saigon is also a premier venue in the city for weddings, meetings, conferences, events and gala dinners. The centerpiece of Caravelle Saigon's event floor is the Caravelle Ballroom which can cater up to a maximum of 400. Fitness and wellness enthusiasts have access to the private Kara Spa, fitness center and private outdoor swimming pool and bar. Guests can choose a casual buffet style at Buffet Nineteen Restaurant or a fine dining at Reflections Restaurant. Cocktails and wine are available at Saigon Saigon Rooftop Bar with panoramic skyline views or grab a cup of coffee/tea, and some pastries at Café de l'Opera when you're on the go.
Address: 19 – 23 Lam Son Square, District 1, Ho Chi Minh City.
Number of rooms: 335.
Price: Starting from 295 USD/ room/ night.
5. Hotel Nikko Saigon
Hotel Nikko Saigon is sit on the outskirt of District 1 but a peaceful location away from the hustle and bustle of the city. This is a modern and minimalist 5-star hotel from a Japanese conglomerate. There are 334 rooms, suites and 53 apartments with earth tone color theme room interior bringing the elegance and a truly relaxing stay experience. Besides, the hotel boasts an impressive selection of on-site facilities such as fitness center, outdoor swimming pool, relaxing Ren Spa, meeting rooms, business center and concierge services.
For dinning, Hotel Nikko Saigon offers wide international buffet stations for breakfast and dinner at La Brasserie as well as Chinese cuisine with a Taiwanese touch at Ming Court. Conveniently located in a cozy nook of the grand lobby, The Lounge is an ideal place to unwind with live music in the evenings while indulging a leisurely drink.
Address: 235 Nguyen Van Cu Street, District 1, Ho Chi Minh City.
Number of rooms: 334 rooms and 53 apartments.
Price: Starting from 150 USD/ room/ night.
6. The Myst Dong Khoi
Unlike other 5-star hotels in classic or redefined European style, The Myst Dong Khoi has an unique design with its innovative look and architecture. From outside, it looks like a new art center cleverly designed with geometric windows and balconies scattered across the building as well as decorated with hanging gardens in a certain pattern. However, guests will be surprised when getting inside the hotel. There are a total of 108 rooms in The Myst Dong Khoi which are named following the key theme: Dong Khoi room, Saigon City room, Verdant Calm room and Serene Corner room. With antique interior decor like vintage telephones, floral window frames, wood furniture and local craftworks, each room will bring you to the old Saigon. Nostalgic as it is, The Myst Dong Khoi is still able to accommodate you with high luxury of the old times in combination with comfortable modern amenities.
Dining options at this boutique hotel are also plenty from freshly brewed coffee at Bason Café to a traditional dinner at The Nest. Don't forget to witness nightfall with a Saigon-inspired cocktail at the rooftop lounge, Bar Bleu. Other facilities such as fitness center, swimming pool, spa, tour desk and meeting rooms are provided here as well.
Address: 6-8 Ho Huan Nghiep Street, Ben Nghe Ward, District 1, Ho Chi Minh City.
Number of rooms: 108.
Price: Starting from 190 USD/ room/ night.
7. InterContinental Saigon Hotel
Another luxurious hotel situated right in the city center is InterContinental Saigon Hotel. The hotels boast 305 elegantly-appointed rooms, including 19 suites and a stylish Presidential Suite, with sizes ranging from 38 to 202 square meters. All of the rooms with a comfortable and modern design offer panoramic city views though floor-to-ceiling windows and spacious bathrooms. Spa with bespoke treatments, well-equipped fitness center, an outdoor swimming pool on the 3rd floor, meetings rooms and conference halls are available at this hotel.
After a full day enjoying Saigon, guests can relax in the hotel and savor in 3 signature restaurants, serving from Saigon local cuisine to authentic Italian and Chinese cuisines. The Yu Chu restaurant features exquisite tastes of Cantonese and Peking cuisine; Basilico is a contemporary-casual eatery specializing in authentically Italian dishes and homemade desserts; and the all-day dining experience of Market 39 well-known for its Sunday brunch and seafood buffet dinner. Besides, grabbing a hand-crafted latte or a mixologist-crafted cocktail at The Library Lounge and Purple Jade Cocktails Bar is ideal to get relaxing moment to end the night.
Address: Corner of Hai Ba Trung Street and Le Duan Boulevard, District 1, Ho Chi Minh City.
Number of rooms: 305.
Price: Starting from 210 USD/ room/ night.
8. New World Saigon Hotel
New World Saigon Hotel is ideally sit in the city center, within walking distance to some famous tourist attractions such as Ben Thanh Market, Notre Dame Cathedral, Independence Palace… and only 20-minutes driving from Tan Son Nhat International Airport. The hotel has 533 spacious rooms and suites which are elegantly decorated and well-equipped. It provides complimentary Wi-Fi Internet access in each room and throughout the hotel, flexible venues for meetings and conferences of all size and a business center where you can find all your needs from office supplies and photocopying to secretarial and translation support. It is absolutely a good choice for business and leisure travelers alike.
New World Saigon Hotel features 4 restaurants and lounges offering a wide spectrum of local and international cuisines. Black Vinegar serves authentic Chinese delights while sophisticated Parkview restaurant is famous for seafood buffets. Tea and coffee are available at Whisper Bar & Lounge while fresh pastries are offered at Whisper Patisserie. Guests can unwind themselves with a range of treatments at the hydrotherapy area with massage showers, steam bath, sauna and Jacuzzi; indulge in outdoor swimming pool; or have a good workout session at the fitness room.
Address: 76 Le Lai Street, District 1, Ho Chi Minh City.
Number of rooms: 533.
Price: Starting from 130 USD/ room/ night.
Ho Chi Minh City is the most populous and the most visited, served by the Vietnam's busiest airport (Tan Son Nhat). It is always noise, busy and frenetic, has super feisty locals, chaotic traffic and delicious street food. Nightlife in Saigon is alive, feeding an already brewing youth culture. The city has a rich history, as well as lots of exciting modern sights and activities that you will be excited to explore. If you need further helps regarding accommodations in Ho Chi Minh City, things to do, or any kind of travel requests for your Vietnam holiday, contact our travel consultants.