How to get to Danang from Hanoi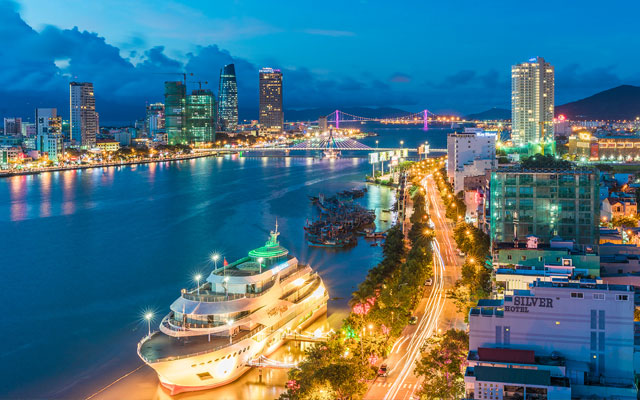 Danang is considered as a travel hub of Central Vietnam connecting North and South Vietnam. It is pretty convenient for tourists to reach Danang from other places in Vietnam, especially from Hanoi Capital City. If you are trying to plan how to get to Danang from Hanoi, this article is what you need. You can choose from one of 5 following ways which is best for you.
1. Fly from Hanoi to Danang
It is undeniable that traveling from Hanoi to Danang by plane is the quickest and most comfortable way. It just takes 1,5 hours. The one-way ticket costs from 40-100 USD. To get the best deal, you should plan your trip and book your ticket for months in advance instead of last-minute booking. There are at least 20 direct flights per day from 4 local airlines: Vietnam Airlines, Vietjet Air, Jetstar, and Bamboo Airways. The earliest flight departing at 5am and the latest at 23pm.
2. Travel by train
Traveling by train from Hanoi to Danang is an interesting experience which gives you a chance to explore the culture, local life and admire the stunning view of Hai Van pass in Central Vietnam. There are 10 train trips per day operated by 5 express trains. Reunification Express is a national train offering 4 types of seat: hard seat, soft seat, hard berth (6 berths per cabin) and soft berth (4 berths per cabin). Meanwhile, 4 private luxury tourist trains: Livitrans, Viollete, Lotus and Laman Express Train only serve soft berth to ultimate passengers' comfort.
The railway length is 791km and average travel time is around 15-16 hours. The ticket price varies from 35 USD to 80 USD depending on the seat type. From soft seat type to soft berth type are equipped with air-condition and comfortable seats/berths. The detailed schedule as below:
Train No.
Departure Time
Arrival Time
Reunification Express Train SE7
06:00
22:25
Reunification Express Train SE5
09:00
01:30
Reunification Express Train SE3
Livitrans Express Train SE3
Viollete Express Train SE3
19:30
11:10
Reunification Express Train SE19
Laman Express Train SE19
Lotus Express Train SE19
20:00
12:25
Reunification Express Train SE1
Viollete Express Train SE1
22:10
13:30
– Pick-up point: Hanoi Railway Station at 120 Le Duan street, Hoan Kiem district, Hanoi.
– Drop-off point: Danang Railway Station at 791 Hai Phong street, Thanh Khe district, Danang.
3. Travel from Hanoi to Danang by sleeper bus
Sleeper buses are available for journey from Hanoi to Danang. This is the cheapest and best option for backpackers. One-way ticket costs around 15-25 USD. Some bus companies you can choose from such as Phuong Trang departing from Giap Bat Station, Hoang Long from Nuoc Ngam Station, Queen Café offering free hotel pickup around Hanoi Old Quarter. Almost buses provide WiFi, mineral water, wet tissue, toilet and air conditioning. They often start journey from 5pm in Hanoi and arrive Danang in the next day. The journey is the same time as the train, so factor in 15-17 hours depending on the traffic.
4. Get from Hanoi to Danang by private car
For those who are seeking the most comfort and flexible journey, a private car will be the best choice to get to Danang from Hanoi. It is not really economical but gives you more space of privacy. This option is suitable for a small group of friends or family who don't like to follow any rules or schedules. Traveling by private car is also ideal for tourists loving to discover along Vietnam with magnificent Ho Chi Minh trail. It is surely an amazing adventure by stopping in Ninh Binh for famous Trang An Complex, Hoa Lu – Tam Coc, Vinh City in Nghe An province, Quang Binh for UNESCO World Heritage Site of Phong Nha – Ke Bang National Park, DMZ and Vinh Moc Tunnels in Quang Tri province, Hue Citadel… The trip normally takes 4-5 days depending on your travel pace and interests. Here below is sample itinerary:
Day-1: Hanoi – Ninh Binh (100km, overnight in Ninh Binh)
Day-2: Ninh Binh – Thanh Hoa – Nghe An (240km, overnight in Nghe An)
Day-3: Nghe An – Quang Binh (355km, overnight in Quang Binh)
Day-4: Quang Binh – Quang Tri – Hue (210km, overnight in Hue)
Day-5: Hue – Danang (100km)
5. Riding a motorbike
Riding a motorbike from Hanoi to Danang is not a convenient way but it is a good option for those who are eager for adventure. Going with a motorbike, you can be completely flexible and free to explore whatever and whenever you want without depending on any schedule. You can follow the sample itinerary as traveling by private car, stop some famous places and recharge or do by your own plan. Of course, you can challenge yourself with non-stop driving to Danang but you will easily get tired and have no energy for activities. For such a long journey, you should prepare good health, driving skills and going with a partner is highly suggested.