Things to do in Mekong Delta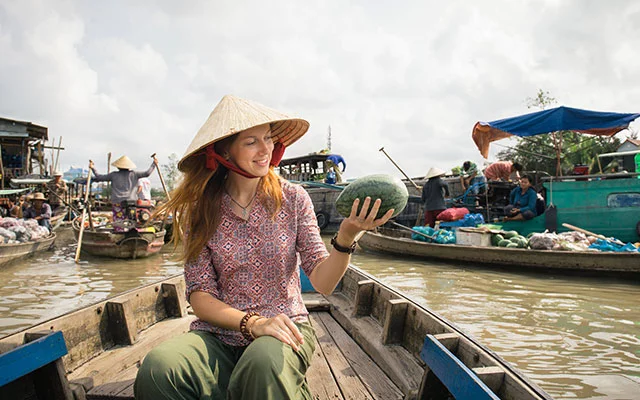 It is not exaggerated to say that a trip to Mekong Delta (locally called "Mien Tay") is a must when visiting Vietnam, especially for those who love nature, rural life and local culture. Due to its special geography characteristics, the local people have created a unique way of life attached to rivers, which appeals a lot of travelers. A day tour from Saigon to Mekong Delta is enough for you to get a glimpse of this region but it offers much more if you have time to experience all things to do in Mekong Delta listed below in your journey to Vietnam. Let's check them out:
What is Mekong Delta?
Mekong Delta is a southwestern region of Vietnam. The total area of the whole region is about 39,000 square kilometers. It is famous for a massive rice basket and a heaven for tropical fruits of the country. 70% of tropical fruits and 60% of exported rice are from Mekong Delta. Besides, this region is considered as the biological treasure trove with over 1,000 different species.
There are 12 provinces and 1 city in Mekong Delta with the immense beauties and cultural charms. Local people depend mostly on agriculture and water to make living so floating markets and floating houses are built to adapt with rising water in flood season. This floating lifestyle makes Mekong Delta more unique and special. Motorboat and sampan are two convenient means of transportations for locals to travel around.
What to do in Mekong Delta
Enjoy our list of Top 7 Things to Do in Mekong Delta below.
1. Visit Mekong Delta floating markets
Your trip to Mekong Delta will not complete without a visit to vibrant floating markets. Markets are organized on the river and goods are transported by the local sampans and motorized boats. To attract and let buyers know about their products, sellers hang samples of product on the top of a bamboo pole, called "cay beo". This is a unique characteristic in Mekong Delta that you cannot find in anywhere else.
There is nothing more than sitting on a narrow boat, called sampan and go inside to the markets, try some local foods and buy some fruits… to learn more about the way of life, daily activities and culture of local people. The floating markets is open very early in the morning, usually from 3 or 4 am. You should start your tour to floating markets around 6-7am to see the most dynamic and best scenes with crowded people and boats gathering to exchange products, mainly tropical fruits and vegetables. The most famous floating markets in Mekong Delta are Cai Be (in Tien Giang) and Cai Rang (in Can Tho). It will take you normally 2 days to explore these two markets from Ho Chi Minh City (Saigon). There are also other interesting floating markets in the region such as Phong Dien, Tra On, Long Xuyen…
For further details, keep reading at: 7 Amazing Floating Markets in Mekong Delta, Vietnam
2. Take a traditional sampan tour
A boat trip is available for tourists in Mekong Delta region, especially in Cai Be and Ben Tre with only 2-hour drive from Saigon. You can take a day tour to one of these two places or continue further to Can Tho and Chau Doc. Traveling by a traditional sampan through zigzag small canals under shades of water coconuts trees is truly a wonderful way to discover the beauty and uniqueness of Mekong Delta. Along the journey, tourists will make some numerous stops to visit a local fruit orchard, coconut candy factory or brick kiln… to interact with local people as well as understand more their daily life.
3. Cycle around the villages
Another way to explore Vietnam's "rice bowl" is to cycle through the lush countryside and sleepy villages of the Mekong Delta, which takes you deep into the agricultural heart of the country. The quiet back roads, friendly local people, peaceful space and stunning sceneries are what you will encounter on your ride. It is absolutely a chance to take a deep breath, stay calm and relax.
4. Explore Tra Su Cajuput Forest
Tra Su cajuput forest is a great place to explore the wild nature with diverse flora and fauna. It has long been a tourist attraction in Chau Doc particularly and Mekong Delta region generally. The best time to visit Tra Su cajuput forest is in rainy season (flood season) when the forest is dressed up with the appealing look of the green duckweed carpet covering the whole large area.
To go inside and explore the forest, tourists will take a boat trip with local guide, paddling along small canals. While immersing yourself in a peaceful and airy atmosphere, you will be in awe of seeing many kinds of birds, storks… finding food around or local farmers on their paddies and orchards. Besides, trying some specialties in the middle of forest at the end of the trip is absolutely interesting.
Take a look at Tra Su Cajuput Forest for more information about best time to visit and how to get there.
5. Try fresh tropical fruits in Mekong Delta orchards
Mekong Delta provides almost 70% of the fruit consumed throughout Vietnam and this is definitely a fruit paradise with a dozen different tropical fruits such as coconut, durian, mango, mangosteen, pineapple, jackfruit, dragon fruit, pomelo, grapefruit, orange…, just to name a few. Especially, you can visit the fruit orchards in the region, pick the ripe fruit right off the trees and enjoy its freshness. It is the best experience ever.
6. Go bird-watching
For bird watching and bird photography, Mekong Delta is an ideal location to go with a collection of wildlife sanctuaries. About 350 species of birds have been recorded in this region which mainly water birds. However, many of them are endangered or threatened such as Sarus Crane, Lesser Adjutant, Bengal Florican. Tram Chim National Park in Dong Thap (more than 3-hour drive from Ho Chi Minh City) is home to 200 bird species while Tra Su holds a plenty of winged wildlife in its flooded forests. Besides, Bang Lang Stork Garden is a great place to see thousands of storks, which are mainly white storks and blue storks.
7. Overnight on Mekong Delta cruise
If you are familiar with an overnight cruise on Halong Bay – UNESCO World Heritage Site, Mekong Delta overnight cruise will give you a definitely different experience. This is the best way to escape from the crowded city life and truly immerse in the nature, on waterways of Mekong Delta. There are many types of cruises, length of the trip and activities for you to choose the best suitable option. During the journey, you will stop at some key sites of the region to get more close touch and interact with local people.
Let's check out our Mekong Cruises to get more ideas.