Top Luxury Mekong River Cruises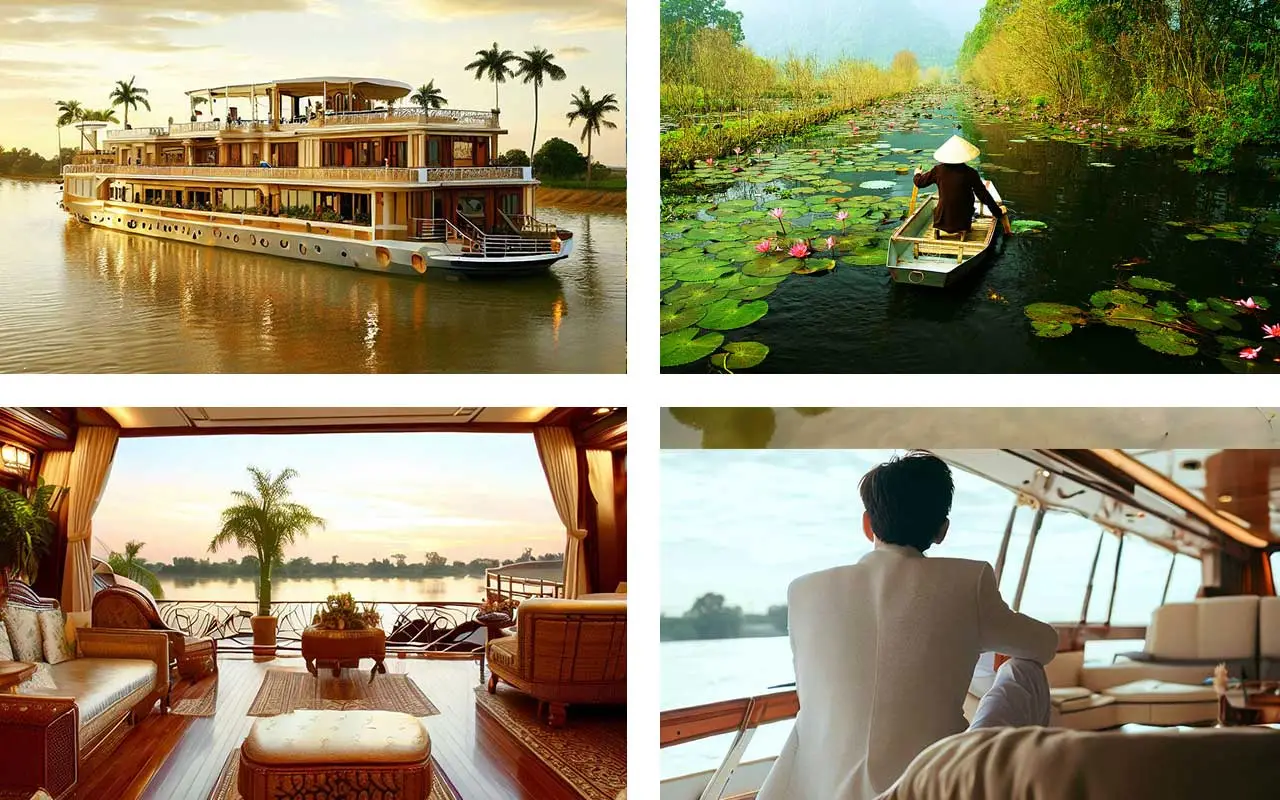 Cruising along the Mekong River allows you to explore a vast distance in a condensed amount of time, that gives you more time to kick back and relax between all of the best bits. To save your seeking time, Vietnam Travel listed out the Top Luxury Mekong Cruises, which are undoubtedly the easiest and most immersive method of travel to see the majesty of this delta and its beautiful surroundings.
Mekong is the longest river in South East Asia and the seventh largest waterway in the world. Embark on a luxury journey of contrasts as you gain a deeper understanding of the complex history in this region and be charmed by the friendly locals as they go about their daily lives along this magnificent waterway. A luxury Mekong Cruise or Mekong Delta Cruise will be aboard a traditional riverboat or ship, staffed with a professional crew who are there to serve your every need and provide the highest standards of safety and professional seamanship. We hope you will feel yourself become captivated by a world filled with unique customs, cultures and history on one of these Top Luxury Cruises on Mekong River in your Asia trip.
A magnificent presence on the Mekong River, Aqua Mekong showcases modern architecture and interiors by renowned architect Noor Design. The Mekong river cruise ship's 20 spacious, air-conditioned suites feature full-length windows that offer spectacular panoramas of the ever-changing Mekong scenery. Aqua Mekong also received the coveted Gold Award in the Architecture/New Build category in the 2015 Asia Hotel Design Awards.
As the Aqua Mekong charts a luxurious passage across Cambodia and Vietnam, on-board guests embark on an inspiring journey of local flavors with a dining experience crafted by Michelin-starred consulting chef David Thompson. The ship's bar menu, created by renowned spirit experts and cocktail designers Proof & Co, echoes a similar locally minded philosophy.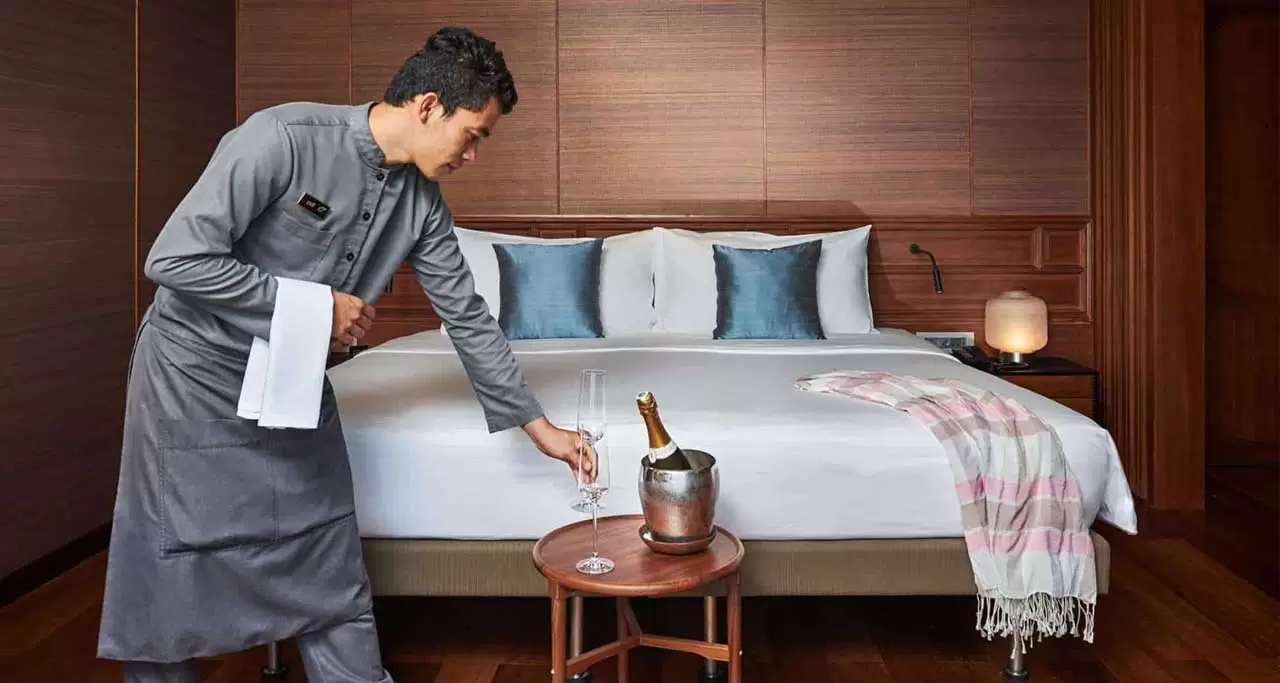 Aqua Mekong guarantees utmost safety, comfort, and exclusivity for offshore excursions, as Aqua Expeditions owns and operates the only private fleet of launch boats on the Mekong River. The four ergonomically designed launch boats bring guests on highly personalized day trips to landmarks, temples, and villages where tradition, spirituality, and craftsmanship reside.
Ports of Embarkation: My Tho (Vietnam), Phnom Penh and Siem Reap (Cambodia).
Type of Vessel: River Expedition Vessel.
Cruise duration: 5 days/ 4 nights, and 8 days/ 7 nights.
Price range: from $2,650.
The majestic Jayavarman is considered the father in Heritage Line's "family" of cruise ships. This vessel was named after Angkor's most venerated king, a devout Buddhist who ruled from 1181 to 1218. Thanks to its intricate woodcarvings, Khmer bas-reliefs and Vietnamese lacquer paintings, this impressive cruise ship resembles a floating art gallery. Wherever they look, guests are reminded of the local arts and culture.
Travelling the Mekong between My Tho, the entry gate to the Mekong Delta, and Siem Reap, Cambodia, Jayavarman marries the art deco charm of 1930's France with the romance of Indochina. Measuring 57.8 meters/190 feet from bow to stern, Jayavarman holds 27 elegantly decorated cabins.
With three-and-a-half decks, Jayavarman is as spacious as it is beautiful. Guests can admire Khmer artifacts in the Henry Mouhot Lounge, mingle in the Club 1930 Bar, dine in the elegant Indochine Dining Hall, and recharge with spa treatments in the Apsara Spa. A Jacuzzi pool is located on the top sun deck, which offers spectacular views of the passing delta.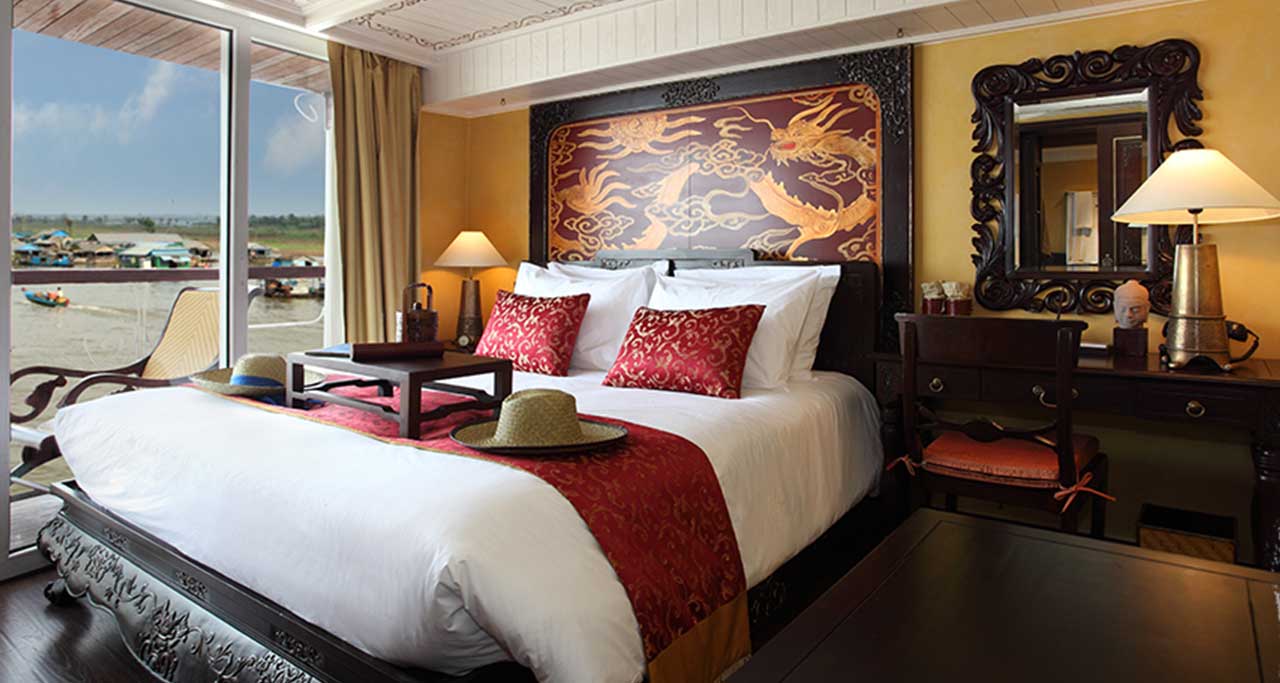 Offering exceptional service, comfort and style, Jayavarman is a name to remember. This beautiful vessel is an unforgettable means of exploring some of the finest scenery in Asia. Life on the Jayavarman is one luxurious experience after another. Allow the cruise to paint – in your mind's eye – the picture of romance, majesty and mystery that becomes you when you board the Jayavarman. At every corner, every river bend aboard this luxurious and majestic ship, new sights and new experiences are ready and waiting to be found.
Ports of Embarkation: My Tho (Vietnam), Phnom Penh and Siem Reap (Cambodia).
Cruise duration: 4 to 8 days.
1. The Lost Civilization | Saigon – Siem Reap or vice versa | (8 Days – 7 Nights).
2. Serenity Cruise | Siem Reap – Phnom Penh or vice versa | (5 Days – 4 Nights).
3. Serenity Cruise | Siem Reap to Phnom Penh only | (4 Days – 3 Nights).
4. Pearl Of The Orient | Saigon – Phnom Penh or vice versa | (4 Days – 3 Nights).
Price range: from $405.
Plying the slow, swirling waters of the Mekong, The Jahan is Heritage Line's most romantic cruise liner. Considered the brother of The Jayavarman in Heritage Line's "family" of cruise ships, this magnificent vessel was named after the Indian emperor Shah Jahan, who ruled the Mughal Empire from 1628 to 1658.
A great patron of architecture and the arts, Shah Jahan oversaw the construction of many legendary sites, including India's dazzling Red Fort, and the famed 777 gardens of Kashmir. This cultured monarch is a fitting namesake for The Jahan, which evokes the opulent vessels of British India. No expense has been spared in the interior or exterior decorations, which showcase the talents of local woodworkers, weavers and artists.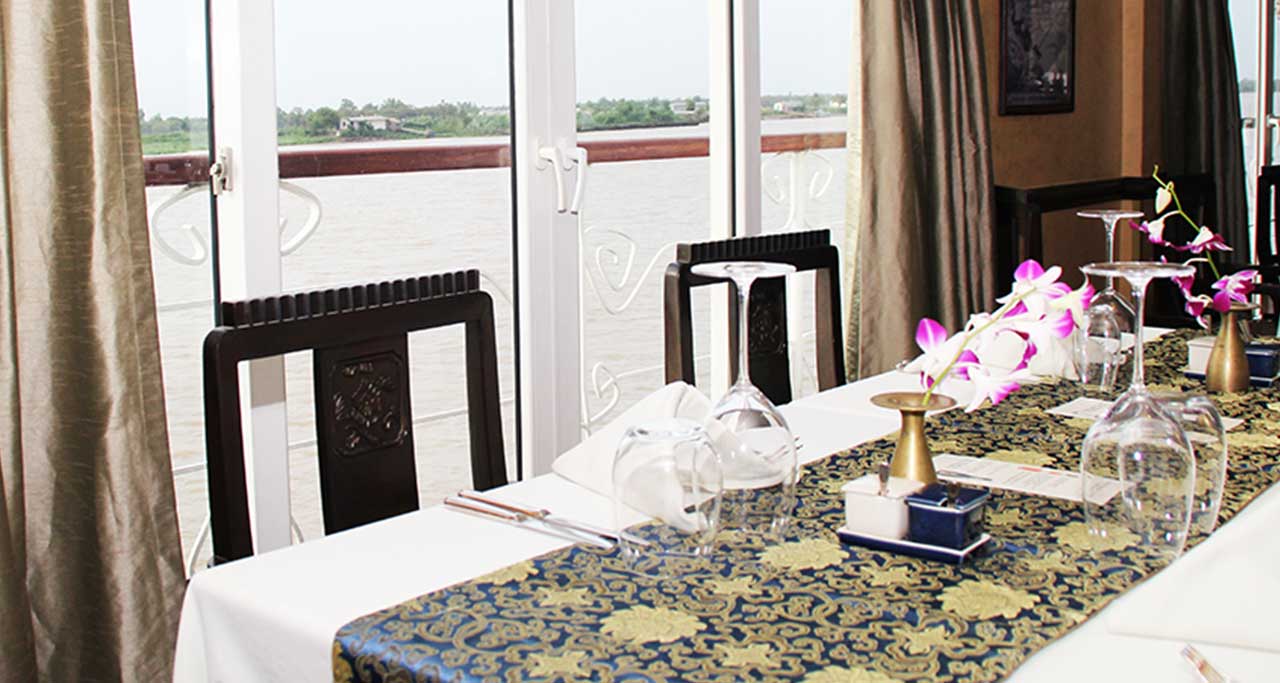 With three decks, this vessel offers all the amenities of a fine resort, including comfortable in- and outdoor lounges, an outdoor bar, a small boutique, dining room, fitness equipment and a steam room, as well as an excellent spa.
Stretching 70 meters/230 feet from bow to stern, The Jahan features 26 beautifully designed cabins on two decks, each with its own private balcony.
Discover the bygone elegance of travel aboard the majestic Jahan. Just as Indian art and architecture influenced the Khmer and Cham cultures in the Mekong Delta, the stunning artistry of The Jahan will inspire you, as will the delta's vibrant beauty.
Life aboard the Jahan will read much like a royal tale. As the rays of the morning sun glide across the balcony to your well-appointed room, you will be gently rustled from your slumber. It feels like you were taken back to a time when royals slept in whimsical abodes and awoke by the glow of the balmy sun – the mysteries of the day are yet to unfold.
Ports of Embarkation: My Tho (Vietnam), Phnom Penh and Siem Reap (Cambodia).
Cruise duration: 4 to 8 days.
1. The Lost Civilization | Saigon – Siem Reap or vice versa | (8 Days – 7 Nights).
2. Serenity Cruise | Siem Reap – Phnom Penh or vice versa | (5 Days – 4 Nights).
3. Serenity Cruise | Siem Reap to Phnom Penh only | (4 Days – 3 Nights).
4. Pearl Of The Orient | Saigon – Phnom Penh or vice versa | (4 Days – 3 Nights).
Price range: from $405.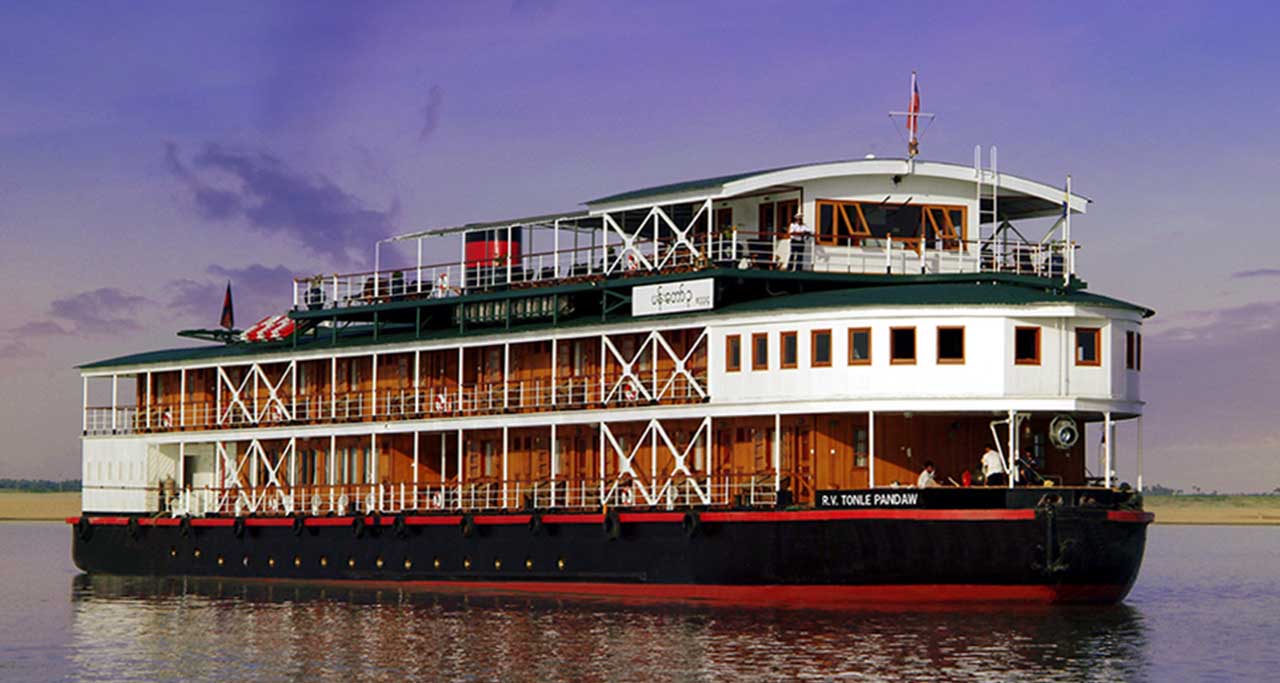 Modelled on Pandaw II and originally called Pandaw III, the Tonle saw a year's service in Burma in March 2002 before being sent under tug-tow to the Mekong where she has done continuous service between Saigon and Kampong Cham ever since. With her gorgeous upper deck saloon, observation decks and formal dining room this ship is an old favorite and has a rich ambience. In 2013, she was fully refitted and the number of cabins reduced to just twenty-eight in order to create a professional spa and library on the lower deck. She is not a small ship but despite her size, she has a shallow draft and can usually get up river into low water areas when other vessels are stuck well below. Additionally, the ship has quality mountain bikes for your independent exploration.
RV Tonle Pandaw Cruise passes from the vibrant French colonial port of Saigon, through the vast delta so rich in human life and endeavour, to travel along the main channel into the rich countryside of Cambodia. With a full day in charming Phnom Penh, guests then explore remoter waterways as we progress to the great monuments of Angkor.
Ports of Embarkation: My Tho (Vietnam), and Siem Reap (Cambodia).
Cruise duration: 8 days/ 7 nights.
Price range: from $592.
RV Amalotus Cruise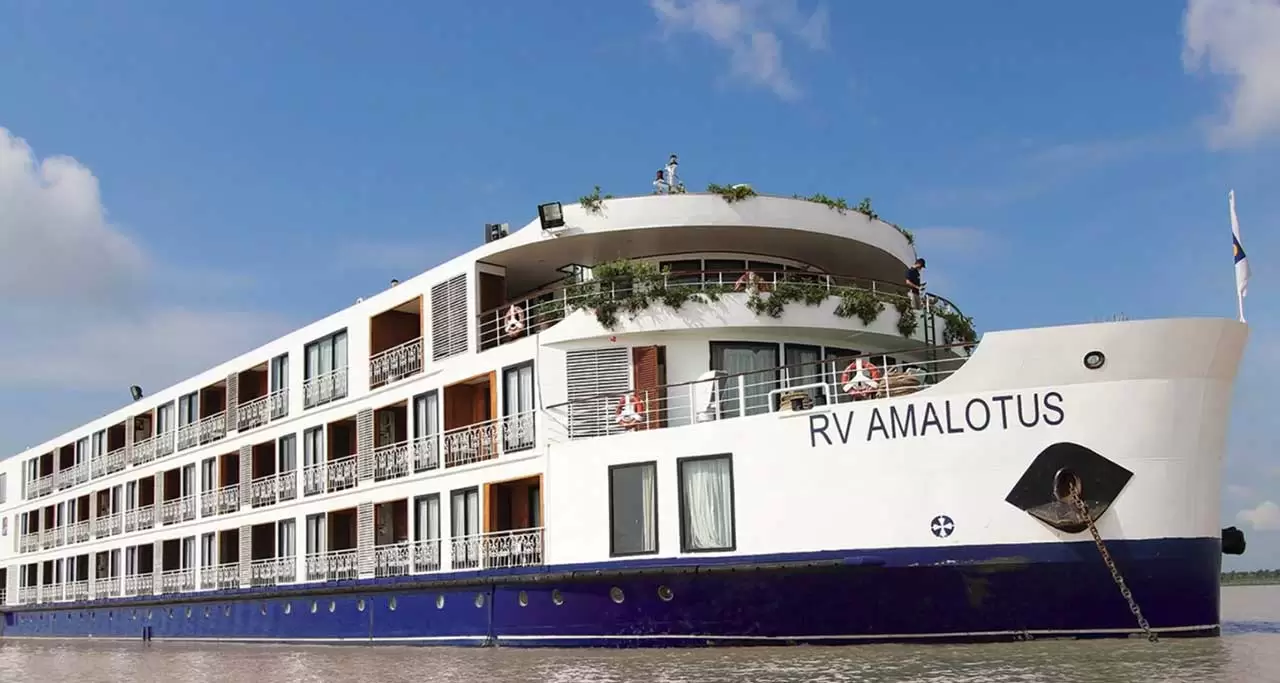 Experience a land of unimaginable beauty in style and luxury. Newly refurbished for July 2016, the RV AmaLotus is one of the most luxurious river ships cruising on the Mekong River. With a large amount of space per guest, the RV AmaLotus allows you to make the most of its facilities. While its intimate size ensures you'll enjoy a personalised experience. Your onboard accommodation on the RV AmaLotus provides uncompromising comfort, quality design and the amenities of a fine hotel. No matter which category of suite of the 54 cabins you choose, you're sure to delight in your luxury five-star retreat as you cruise the Mekong.
Harking from the villages and towns you visit, local performers share their beloved customs and culture, offering a unique insight into the traditional way of life along the Mekong River. Aboard the RV AmaMekong experience an intimate discovery of Vietnam and Cambodia that goes beyond the tourist trail. Each day you'll wake to new adventures and experiences that go beyond the tourist trail and are sure to become unforgettable memories.
Ports of Embarkation: My Tho (Vietnam), and Siem Reap (Cambodia).
Cruise duration: 8 days/ 7 nights.
Price range: from $1,320.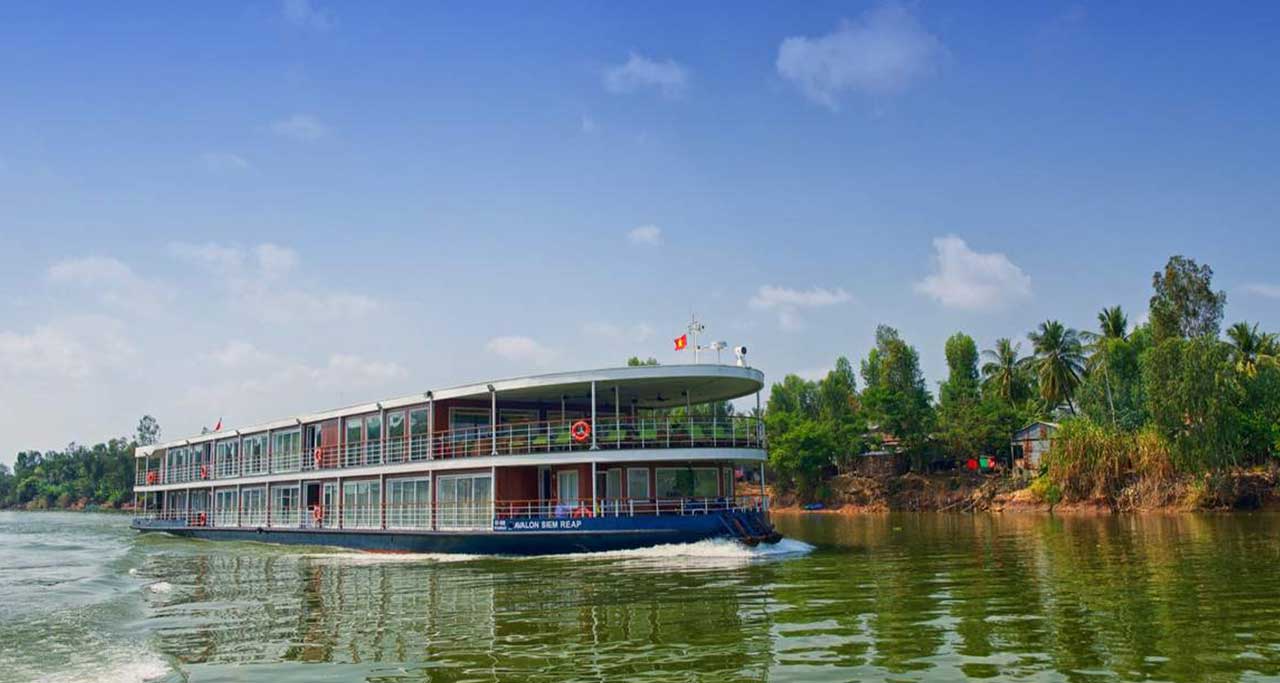 A journey with Avalon Waterways along the mighty Mekong River through Vietnam and Cambodia offers an unforgettable blend of fascinating cultures, ancient architectural wonders, and beautiful riverscapes and landscapes. And because bigger isn't always better, the cruise focuses on intimate experiences with exceptional personalized service on the incredible Suite Ships. Carrying a maximum of 36 guests, the cruise brings you closer to the must-see sights and mesmerizing scenes of everyday life along the river. The all-suite Avalon Siem Reap was specifically designed to offer the best river cruise experience on the Mekong River.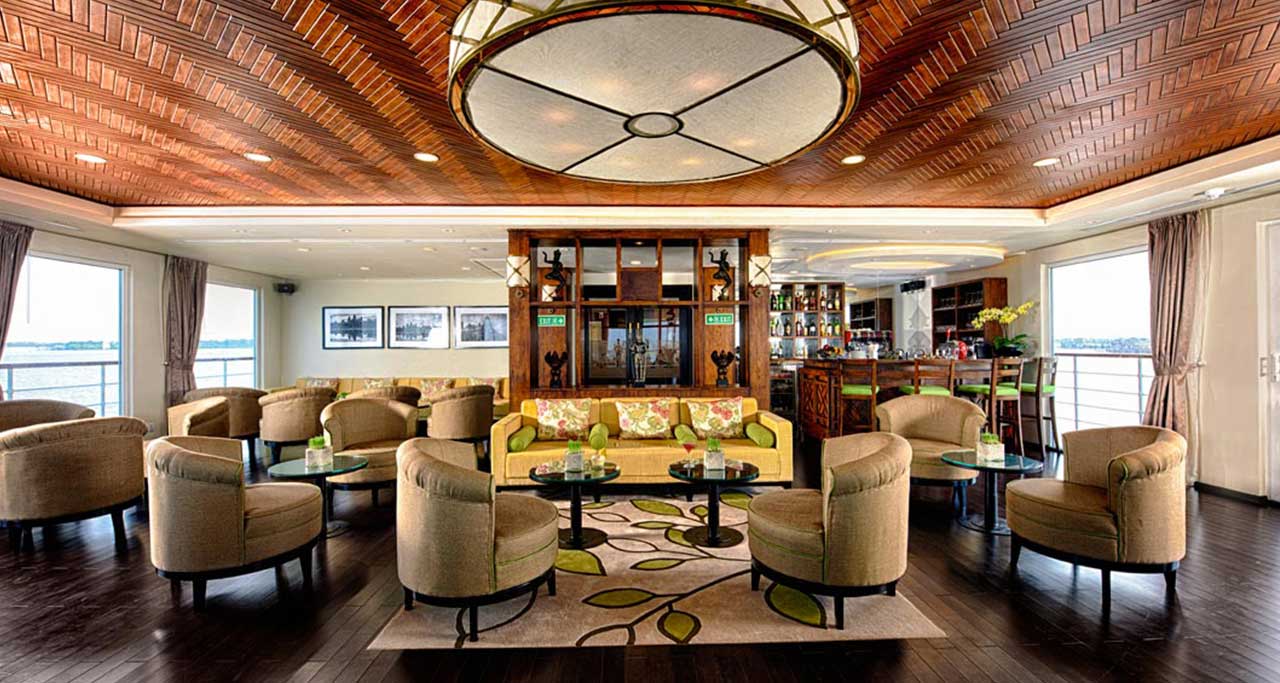 The ship has been meticulously crafted to offer all the modern features you expect, yet it retains the colonial charm fitting to Vietnam and Cambodia. While the number of guests on the ship may be small, the ship isn't. Built as long and wide as other ships that carry twice as many guests, the public spaces never feel congested.
From the air-conditioned Panorama Lounge to the open-air observation lounge, there is plenty of seating and spots to relax. Plus, its lounges are located at the front of the ship, not the back, so no matter where you sit you'll always have a great view.
The crew embodies the spirit of you first, no matter what. From the reception staff and bartender to wait staff and room attendant, they always deliver exquisite service that's comfortable and friendly, never stuffy! With Avalon, the ship becomes your home away from home.
Additionally, she is one of only two ships in the industry, along with her sister ship the Avalon Saigon, cruising from Ho Chi Minh City to Phnom Penh (or vice versa). eliminating hours of motor-coach travel time, which means you enjoy more cruising along the Mekong River! An expert Cruise/Tour Director and carefully selected Certified Local Guides accompany you throughout your adventure, ensuring no detail is overlooked.
Ports of Embarkation: Saigon (Vietnam), and Phnom Penh (Cambodia).
Cruise duration: 8 days/ 7 nights.
Price range: from $1,320.
Luxury comes in many forms, not simply a level of comfort but also the personal touches and attention to details that make the difference between being simply a client of a business, or a guest amongst friends. Song Xanh Sampan, a unique authentic private sampan, are designed for travelers who are looking for private cruise experiences in the Mekong Delta.
Five very unique and authentic sampans (2-3 cabins) are fully equipped with beautiful bamboo and rattan furniture to create a very charming atmosphere. Operated as private charter cruises for individuals, couples and families with children, each sampan will carry a charming rowing boat, nicely designed for a deep exploration of the delta through numerous small canals and arroyos along the journey.
Experience a different side of the Mekong Delta with an overnight cruise, allowing you to awaken with the sun as village life begins to stir. Travel low and slow aboard the completely private and stylishly comfortable Song Xanh Sampan through this most peaceful of settings made up of emerald green rice paddies, colorful fishing boats, and life lived on the riverbanks much like in decades past. Additional highlights include a candlelit dinner in a century-old home and cruising among the colorful barges and boats of the famed Cai Rang Floating Market.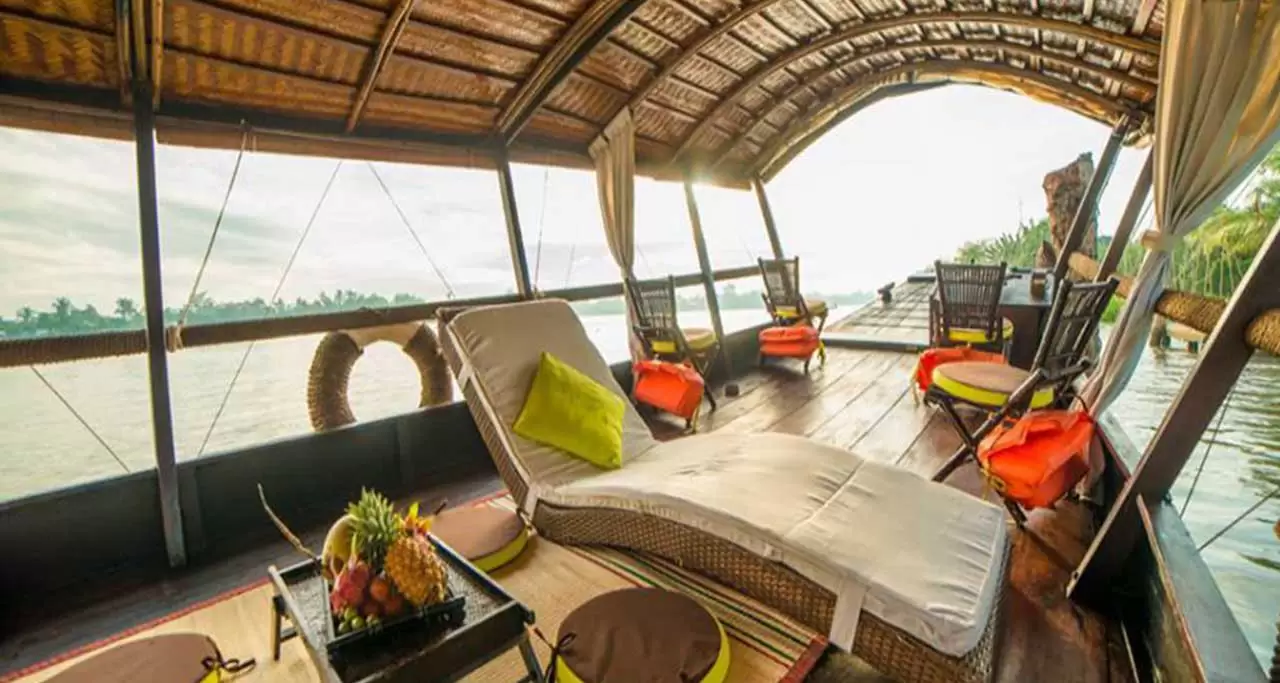 Piers of Embarkation: Cai Be (Vietnam), Can Tho (Vietnam) and Rach Gia (Vietnam).
Cruise duration: 2 days/ 1 night, and 3 days/ 2 nights.
Price range: from $325.
Now you may have an imagination of each luxury cruise in your mind. Ask our dedicated travel consultants for further information and book a Mekong's luxury river cruise with confidence with Vietnam Travel. We've done the hard work so you don't have to, come and enjoy a luxury Mekong river cruise to remember.