Vietnam Weather: General information & Best Time to Visit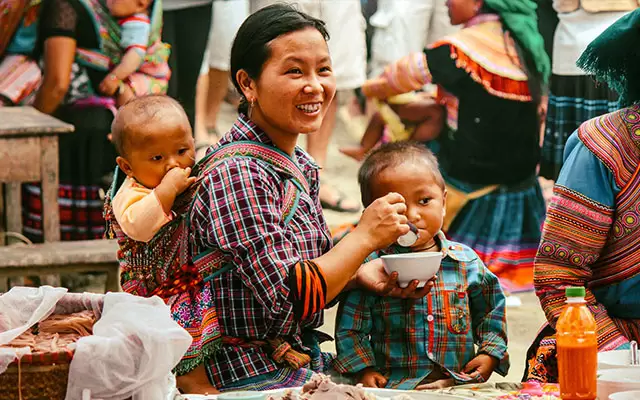 Vietnam is a country of stunning natural beauty and cultural diversity, where you can experience everything from ancient temples and colonial architecture to vibrant cities and pristine beaches. However, Vietnam also has a complex and varied climate that can affect your travel plans and experiences. In this article, we will guide you through the different seasons and regions of Vietnam, and give you some tips on how to choose the best time to visit this amazing destination. Whether you want to explore the historic capital of Hanoi, witness the spectacular scenery of Halong Bay, or relax on the tropical island of Phu Quoc, we will help you plan your trip to Vietnam based on weather and climate.
Overview of Vietnam Weather
Average temperature: 27 °C (81 °F), varies by region and season.
Average humidity: 84%, varies by region and season.
Average rainfall: 1,800 mm (71 inches), varies by region and season.
Average sunshine duration: 2,000 hours per year, varies by region and season
Average wind speed: not available.
Rainy Season: May to October in most of the country, influenced by the southwest monsoon.
Hot Season: March to May in most of the country, with high temperatures and humidity.
Cool Season: November to February in most of the country, influenced by the northeast monsoon.
Vietnam is a country in Southeast Asia that has a diverse climate that varies by region and season. It is influenced by the monsoons, which bring different weather patterns to different parts of the country.
North Vietnam
North Vietnam (including Ninh Binh, Hanoi, Halong Bay, Ha Giang, and Sapa) has a subtropical climate with four distinct seasons: spring, summer, autumn, and winter. The spring (February to April) and autumn (August to October) are the best times to visit, as the weather is mild and dry, with clear skies and pleasant temperatures. The summer (May to July) is hot and humid, with frequent rain and thunderstorms. The winter (November to January) is cool and dry, with occasional fog and drizzle. The average temperature in Hanoi ranges from 17 °C (63 °F) in January to 29 °C (84 °F) in June. The average rainfall in Hanoi is about 1,680 mm (66 inches) per year.
Central Vietnam
Central Vietnam (including Quang Binh, Hue, Da Nang, and Hoi An) has a tropical climate with two main seasons: dry and rainy. The dry season (January to August) is hot and sunny, with occasional showers in the afternoon. The rainy season (September to December) is cooler and wetter, with heavy rain and possible typhoons. The average temperature in Da Nang ranges from 22 °C (72 °F) in January to 30 °C (86 °F) in July. The average rainfall in Da Nang is about 2,500 mm (98 inches) per year.
South Vietnam
South Vietnam (including Nha Trang, Ho Chi Minh City, Mekong Delta, and Phu Quoc) has a tropical climate with two main seasons: wet and dry. The wet season (May to October) is hot and humid, with frequent rain and thunderstorms. The dry season (November to April) is warm and sunny, with occasional showers in the late afternoon. The average temperature in Ho Chi Minh City ranges from 26 °C (79 °F) in January to 29 °C (84 °F) in April. The average rainfall in Ho Chi Minh City is about 1,800 mm (71 inches) per year.
Vietnam Climate
Vietnam is located in the intrinsic belt, with high temperature and high humidity all year round. The North is influenced by mainland China, so it is more or less continental climate. The East Sea (South China Sea) has a profound effect on the humid monsoon tropical nature of the mainland. The humid monsoon tropical climate is not heterogeneous throughout the territory of Vietnam, forming different climatic regions. Vietnam's climate changes seasonally and from low to high, from north to south and from east to west. Due to the strong impact of northeast monsoons, the average temperature in Vietnam is lower than that of many other countries of the same latitude in Asia.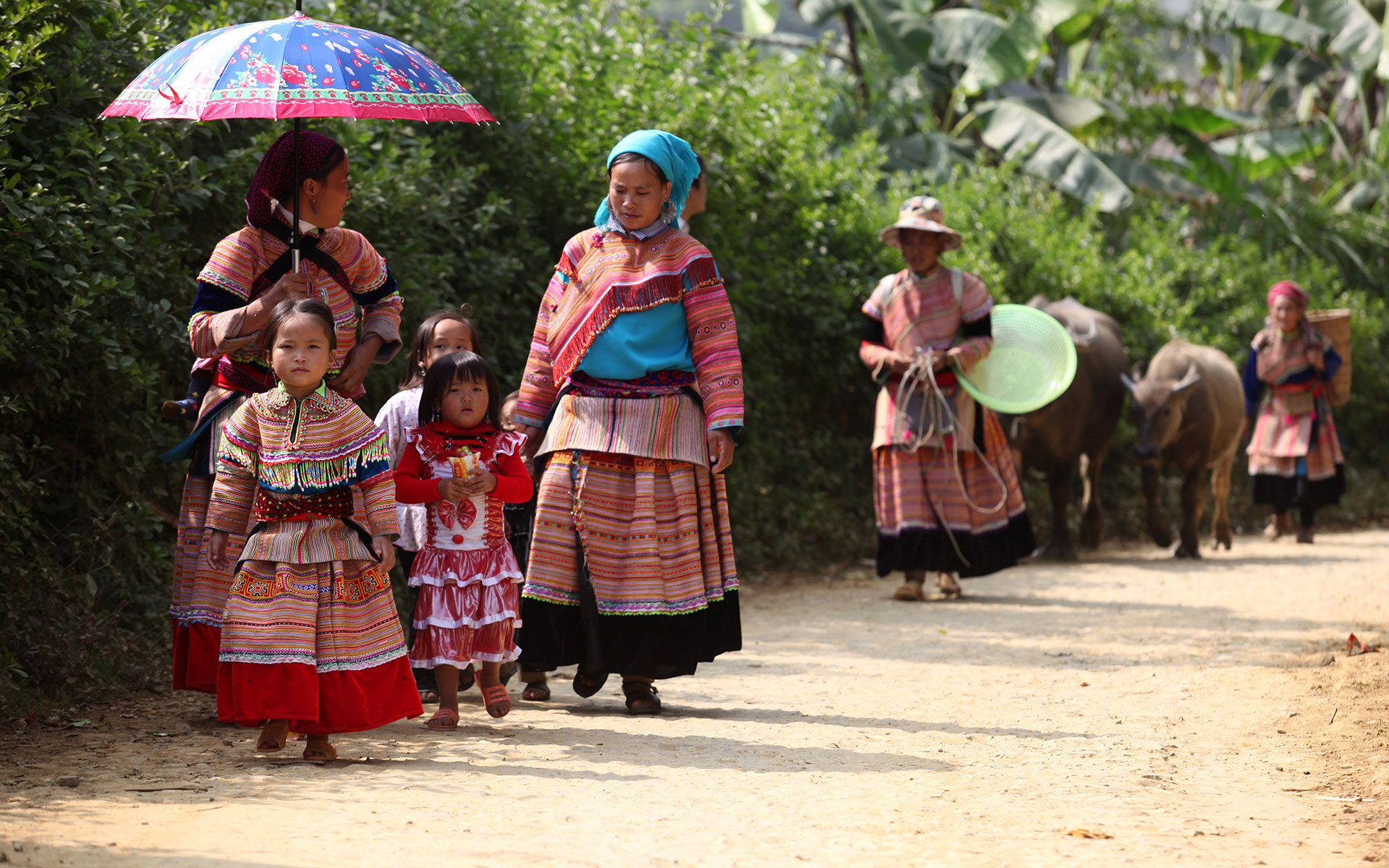 There are 8 different climatic regions in Vietnam based on the geographic and climatic conditions, which are grouped into 2 main types: the North (includes all areas north of the Hai Van Pass: Northwest, Northeast, Red River Delta, North Central) and the South (includes all areas south of the Hai Van Pass: South Central Coast, Central Highlands, Southeast, Mekong Delta River).
(1) The North is a tropical monsoon climate, with 4 distinct seasons (spring-summer-autumn-winter), influenced by northeast monsoons (from mainland Asia) and southeast monsoons, with high humidity.
(2) The South, due to less influence of monsoons, the tropical climate is quite temperate, hot all year round and divided into two distinct seasons (dry and rainy seasons).
Besides, due to the topographical structure, Vietnam also has sub-climates. Some places have a temperate climate like Sa Pa (Lao Cai province); Da Lat (Lam Dong province); some places belong to continental climate such as Lai Chau and Son La.
Temperature
The average temperature in Vietnam ranges from 21oC to 27oC and increases gradually from North to South. In summer, the average temperature across the country is 25oC (23oC in Hanoi, 25oC in Hue, and 27oC in Ho Chi Minh City). Winter in the North, the lowest temperature in December and January. In the northern mountainous areas, such as Sa Pa, Tam Dao, Hoang Lien Son, the temperature even drops to 0°C, with snow.
Vietnam has a huge amount of solar radiation with the number of sunny hours from 1,400-3,000 hours / year. The average annual rainfall ranges from 1,500 to 2,000 mm. The air humidity is above 80%. Due to the influence of monsoons and the complexity of the topography, Vietnam often experiences disadvantages in weather such as storms, floods, and droughts.
Regional climate
Weather in Northern Vietnam
Northwest

Dien Bien, Hoa Binh, Lai Chau, Lao Cai, Son La, Yen Bai

Northeast

Bac Giang, Bac Can, Cao Bang, Ha Giang, Lang Son, Phu Tho, Quang Ninh, Thai Nguyen, Tuyen Quang

Red River Delta

Bac Ninh, Ha Nam, Hanoi, Hai Duong, Hai Phong, Hung Yen, Nam Dinh, Ninh Binh, Thai Binh, Vinh Phuc
The climate of Northern Vietnam in winter is unusually cool for the latitude. The average temperature in January is below 20 °C (68 °F) while in Hanoi, the average is 17.5 °C (63.5 °F), and it's around 14 °C (57 °F) in the northernmost areas, where the temperature at night can approach freezing (0 °C or 32 °F) between December and January.
In spring, the temperature in northern Vietnam gradually rises, and the sun comes out so often. Then, from May to August, it's summer, also the rainy season when the weather becomes hot and humid, with downpours in the afternoon or evening. The wettest months, for example in Hanoi, are July and August, with about 300 mm (12 in) of rain per month. The maximum temperature is around 33 °C (91 °F), however, due to the humidity, the heat becomes annoying. Sometimes, it can reach high at 37/38 °C (99/100 °F), with peaks of 39/40 °C (102/104 °F) in May and June.
In September/October and November, a quite pleasant period of the fall comes when the monsoon withdraws, before the return of cool and dull weather in December.
In mountainous areas, winter is quite cold with the average temperature in January is around 8 °C (46.5 °F). The highest peak is Fansipan at 3,143 meters high, which is covered with snow in winter.
The climate in the North of Vietnam often suffers from bad weather impacts. On average, there are 6 to 10 storms annually and tropical depressions cause floods, which strongly affects life and agriculture sector of the whole locality in the region.
Weather in Central Vietnam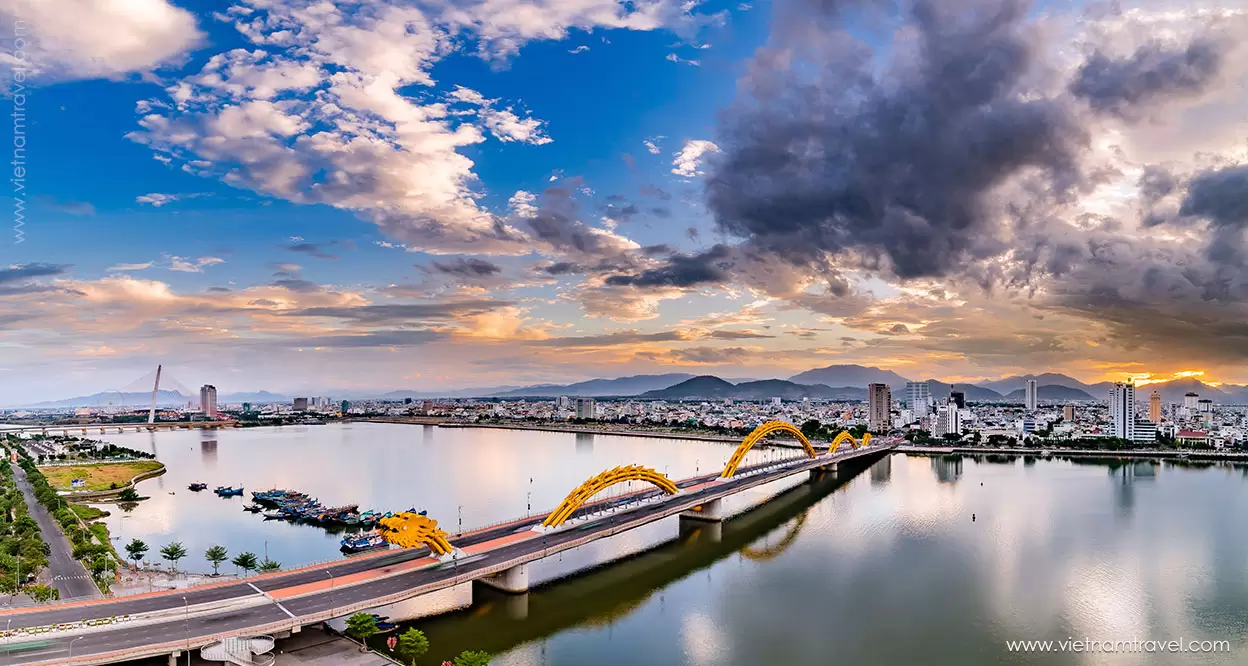 North Central

Ha Tinh, Nghe An, Quang Binh, Quang Tri, Thanh Hoa, Thu Thien-Hue

South Central Coast

Binh Dinh, Binh Thuan, Danang, Khanh Hoa, Ninh Thuan, Phu Yen, Quang Nam, Quang Ngai

Central Highlands

Dak Lak, Dac Nong, Gia Lai, Kon Tum, Lam Dong
In winter, because monsoons blowing in the northeast direction bring steam from the sea, the North Central area is affected by cold weather accompanied by rain. This is the difference with the dry winter weather in the North. In the summer, there is no steam coming from the sea, but the southwest monsoon (also known as Laos wind) blows upwards, causing dry and hot weather, at this time the day temperature can reach over 40 degrees Celsius. Meanwhile, the humidity in the air is very low. The rainy season usually occurs from July to October, in which, Thua Thien – Hue is one of the provinces with the most rainfall in Vietnam. This province's annual average rainfall exceeds 2,600mm, even up to 4,000mm in some places.
In South Central Coast Region, the northeast monsoon usually weakens when blowing here because it is blocked by the Bach Ma mountain range. Therefore, in summer, when the southwest monsoon occurs strongly from the Gulf of Thailand and overflows the Truong Son mountain range, it will cause dry and hot weather for the entire area. The rainy season usually occurs from October to December.
Located in the Tropical Savanna, the climate in the Central Highlands is divided into two seasons: the rainy season from May to the end of October with the wettest months in July/August, and the dry season from November to April, in which March and April are hottest and driest months. Due to the influence of altitude, the climate of the highlands at 400-500m high is relatively cool and rainy while in the highlands over 1000m, the climate is cool all year round, characteristic of the high mountain climate.
Weather in Southern Vietnam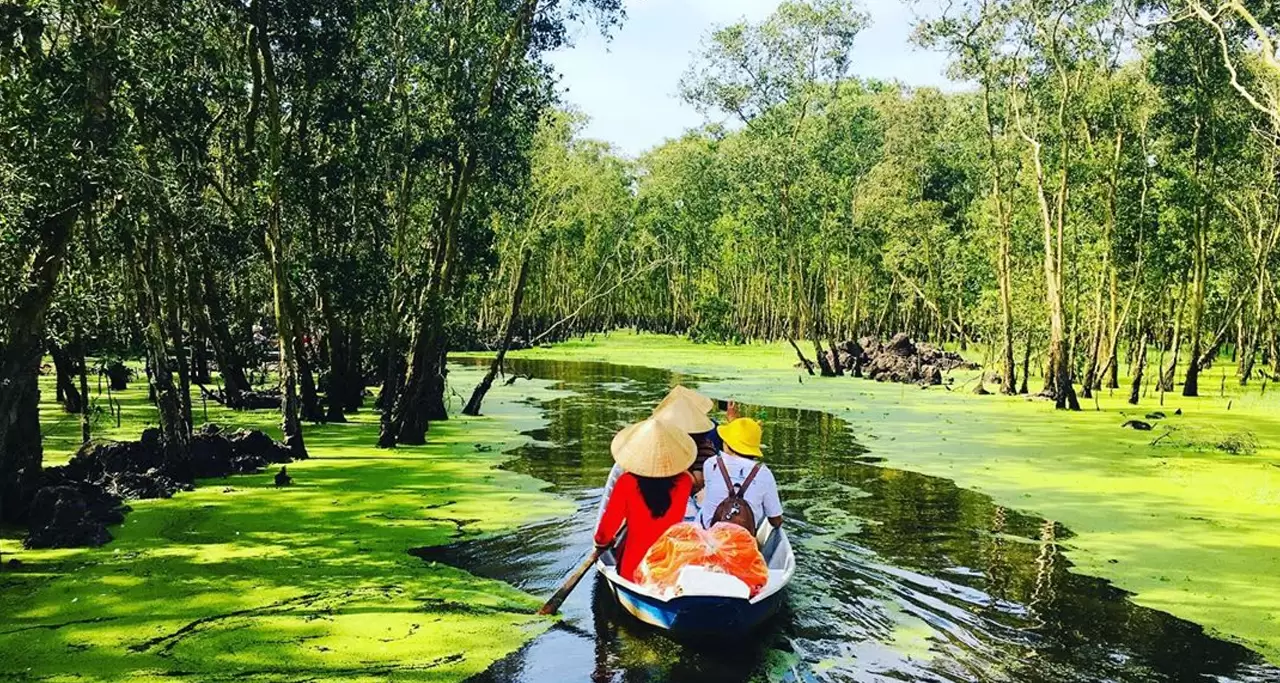 Southeast

Ba Ria-Vung Tau, Binh Duong, Binh Phuoc, Dong Nai, Ho Chi Minh City, Tay Ninh

Mekong River Delta

An Giang, Ben Tre, Bac Lieu, Ca Mau, Can Tho, Dong Thap, Hau Giang, Kien Giang, Long An, Soc Trang, Tien Giang, Tra Vinh, Vinh Long
The South is located in the typical region of tropical monsoon and sub-equatorial climate, rich humid background, abundant sunshine, long radiation time, high temperature and total temperate accumulation. Amplitude of day and night temperatures between months of the year is low and moderate. The annual average humidity ranges from 80 to 82%. The climate is formed in two main seasons all year round, the dry season and the rainy season. The rainy season is from May to November, the dry season is from December to April. The production season is different from the Northern Delta region.
The annual rainfall ranges from 966-1325 mm and contributes over 70 – 82% of the total rainfall throughout the year. The rain is unevenly distributed, gradually decreasing from the adjacent area from Ho Chi Minh City to the west and the southwest. Rainfall is lowest in the Southeast region. When heavy rainfall occurs in some areas in the region, it often causes erosion in high mounds. When the rain is combined with high tide and flood, it will cause flooding, affecting production and life of the people in the area.
Due to the general climate change phenomenon, the Southern Delta in the coming time may be greatly affected by the exhaustion of water resources in rivers, especially the Mekong River. According to scientists, by 2070, weather changes in the region will affect the water resources of the Mekong Delta, mainly through small and medium rivers, the flow will be reduced.
The Best time to visit Vietnam
As you can see that the weather in Vietnam is split by region, therefore, there is no exactly best or worst time to visit Vietnam, with travel possible all year. High season often comes from October to April when the weather seems to be the best with dry, cool, even cold atmosphere and less rain. However, low season (May to September) is still in favorite choice due to many sunny days. Although rain in low season can cause more or less inconvenience to each visitor while traveling, its benefits of good deals and service availability can't be denied.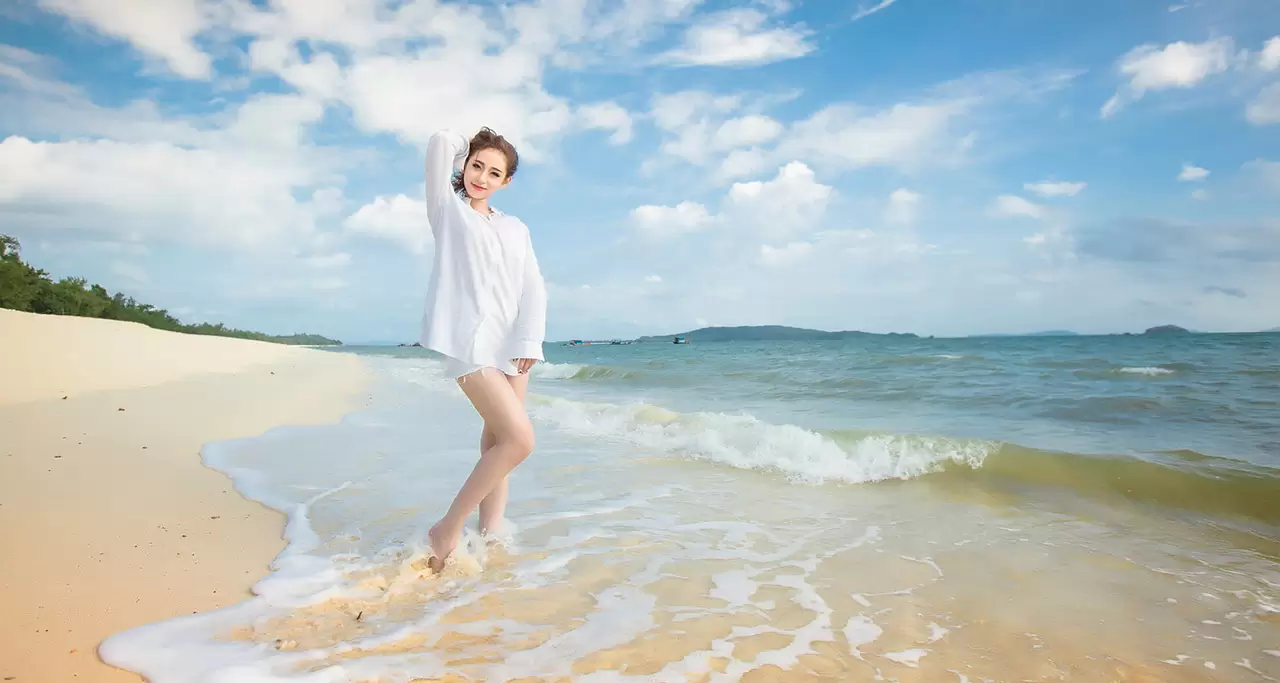 When the North is hot and humid with high rainfall during May to September, then the weather becomes cooler and dry in October to April. Especially, in the far North, December and January can be particularly cold.
While the optimal time to visit Vietnam for pleasant weather is typically from November to April of the following year, the prime period to explore the country is from March to April. During this time, rainfall is minimal and temperatures are more moderate. In a country more than 1,600 kms (1,000 miles) long, the weather in Vietnam varies considerably as you go from north to south, from a temperate to a tropical climate.
Central Vietnam experiences hot, dry weather between January & August when temperatures can hit the mid-30°C's; whilst high levels of rainfall can occur in September, October & November.
Southern Vietnam is generally dry and hot from November to April, and warm and wet between May & October, with the highest rainfall in June, July & August.
In conclusion, Vietnam is a beautiful destination that draws visitors all year round thanks to its lively atmosphere, idyllic beaches and wonderfully tropical climate. Decision on travelling time to Vietnam will definitely be up to your choice depending on what type of weather you love, what you want to do, and how much (or how little) you're into crowds. Each weather type has its own strength and advantages which can probably surprise you when exploring the whole country through the North to the South. Contact Vietnam Travel today to get a free help regarding tour itineraries and quotations. We are more than happy to assist 24/7!
Please check information about Vietnam weather in other months of year at here: