Discover the most 5 attractive night markets in Danang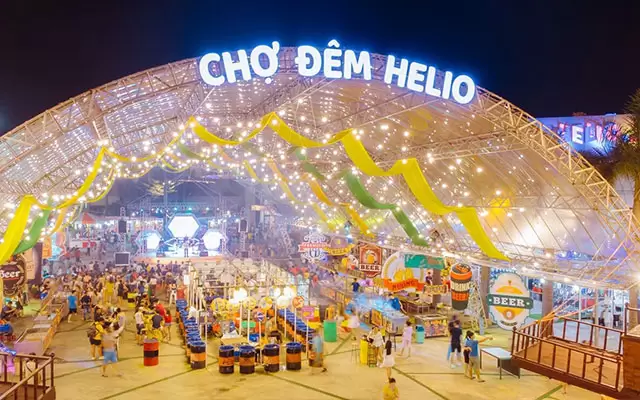 Besides famous amusement parks, marvelous landmarks and spectacular bridges, Danang at night time has its own special attractiveness coming from night markets. Visiting Danang night markets tourists can learn about Danang's hidden beauty in the eyes of the locals via activities like: leisure strolling, street food sampling and local souvenir shopping. Follow us to discover the most 5 attractive night markets in Danang and tick them into your must-try list!
The top night markets in Danang:
Son Tra Night Market
Location: Mai Hac De & Ly Nam De Street, An Hai Tay Ward, Son Tra District, Danang City.
Opening hours: 6 PM – 11 PM daily.
Son Tra Night Market has very excellent location, in between Dragon Bridge and Love Lock Bridge. Therefore, tourists can combine sightseeing and shopping at the same time if they don't have much time to experience Danang nightlife. About 150 booths in this market are arranged in tidy lanes with spacious aisles to ensure that visitors can reach any booths easily. The highlight here is various different types of souvenirs, such as: colorful lanterns, hand-made pottery products, conical hats and traditional clothes.
Don't miss the chance to try local delicacies, which are sold in food courts interspersed with souvenirs booths and other entertainment services. Visitors don't need to go far because this market offers all original Danang cuisines at low price. Being linked with the biggest walking street on the Han riverside, it will be a mind-blowing experience when tourists taste local street foods and observe beautiful surrounding landscapes under sparkling lights.
Helio Night Market
Location: 2/9 Street, Hoa Cuong Nam Ward, Hai Chau District, Danang City.
Opening hours: 5 PM – 11 PM daily.
Helio is largest and most renowned night market in Danang. Helio is where tourists can find anything they need: beautiful check-in spots, diverse items for shopping need, delicious but affordable foods & drinks, live music and cool games all night long. Generally, the market is divided into three main areas, including: food court, shopping area and festival zone.
First of all, it can't be denied that Helio is truly the food heaven with diversity of dishes from Vietnam as well as neighboring countries like: China, Korea, Japan, Thailand, etc. Over 150 stalls of foods and beverages offering youngsters' fevered-street food and Vietnamese traditional cuisine will surely satisfy even difficult gourmets. Especially, beer and barbeque space in Helio Night Market is where you can't find anywhere else in Danang. This bustling area is decorated with impressive light effects, consists of hundreds types of brand-new beer, countless grilled food options. There is nothing more interesting than sitting at any barbecue, sipping beer, enjoying food while listening to music from the main stage.
Move to shopping area, shopaholic visitors surely can spend hours to find and try hot fashion items with endless choices of trendy clothes, accessories, cosmetics and hand-made souvenirs.
More than a place to eat and shop; Helio Night Market offers festival zone where tourists can be delighted in the light and sound of live music performances of many professional bands and dancers at EDM or concerts on the outdoor stage every weekend with free entrance. If tourists want to have some extra fun; they have many options like carnival games with surprising gifts, or newest movies in the Metiz Theater right in the market.
Not surprisingly, Helio Night Market is the largest nightlife paradise in the city and a not-to-be-missed spot to have fun by night while you are in Danang City.
An Thuong Night Market
Location: An Thuong 4 Street, Bac Phu My Ward, Ngu Hanh Son District, Danang City.
Opening hours: 5 PM – 12 AM daily.
If you visit An Thuong Night Market, don't expect to get authentic experience as other traditional night markets with a variety of different stalls selling anything. This is well known as a night food court area consisting about 18 food stalls with different cuisines from not only Vietnam but also many other countries; such as Japan, Thailand, Korea, Belgium, Mexico and so on. These dishes are made by native chefs so you can enjoy them at their original tastes.
Therefore, it attracts lots of foreign tourists who might miss their own taste when staying away from home. Being created as night market concepts from other famous tourism countries like Khaosan in Bangkok (Thailand); South Bank in London (UK); An Thuong Night Market possesses a special bar with unique drinks from all over the world. The neon lights; funky music and signature street foods harmoniously combine with each other to become the bustling An Thuong Night Market. In addition, An Thuong is dubbed as "foreign area" in Danang so it's not difficult to find accommodation and other convenience services nearby this culinary paradise.
Le Duan Night Market
Location: 144 Le Duan Street, Thach Thang Ward, Hai Chau District, Danang City.
Opening hours: 7 PM – 11 PM daily.
Le Duan Night Market is a spontaneous market opened and self-managed by locals 6 or 7 years ago. Along 1km of Le Duan Street are more than 200 shops with various products from clothes, shoes to accessories. These shops offer idyllic, rustic but extremely cheap items so it attracts lots of young Danang shoppers. It's such an enjoyable experience to wander along the market and hunt down low-priced goods which are diverse in color, material and design.
Even not as large as Son Tra or Helio Night Markets; Le Duan Night Market stills consists of small food and drink courts selling popular and simple dishes and drink like baked rice paper, sandwiches, sugarcane juice, lemon tea. Street vendors in this market are very hospitable and warmly welcome both locals and tourists with their big smiles.
This market is within city center and not too big. So if you have little time left in Danang; you can go there and walk inside to get a glimpse of local Danang nightlife.
Hoa Khanh Night Market
Location: Au Co Street, Hoa Khanh Bac Ward, Lien Chieu District, Danang City.
Opening hours: 6 AM – 10 PM daily.
Located near many universities and colleges; Hoa Khanh Night Market is an ideal place for locals and students to do shopping and trading at night time. In the day time, it is a regular market to serve shopping needs of residents staying nearby.
From 5 PM, the market wears other coat with more than 100 stalls selling all kinds of clothes, shoes, cosmetics, and typical dishes of Danang.
As soon as tourists reach to the market's entrance; they will be impressed by dozen of food stalls with appealing displays and aroma. Just make a stop to discover this food paradise before going inside the market. Food options range from popcorn; grilled seafood and quail, chicken feet to many types of soft drinks at affordable prices.
Going further to the market; tourists will encounter the selling area of clothes, foot wears and cosmetics with most prevailing trends. With only 50.000-100.000 VND, you can find beautiful items and accessories in this market.  With a distance of 12km from Han Bridge, this is the furthest market from city center of Danang. So it will be better if you can find a local to escort you during the visit in Hoa Khanh Night Market.
Above night markets are the indispensable part in building the hustle and bustle of Danang by night. If you haven't been to any of them, just note them down to your next-visit to this dynamic coastal city. It will be a real omission if tourists spend night time in hotel room while in vacation. Just dress up and Vietnam Travel's guides will take you to Danang night markets; which definitely will blow up your mind.