8 Best Vegetarian & Vegan Restaurants in Danang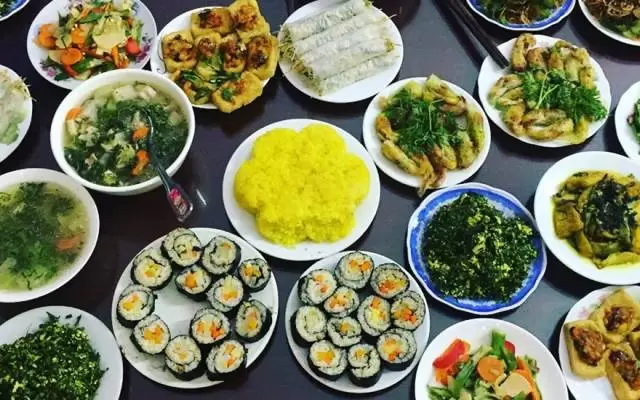 Vegetarian food – a very specific feature of Buddhists. Nowadays, Vietnamese vegetarian cuisine has gone beyond the religious concept and becomes more and more popular in daily life. Carefully invested from ingredients to processing methods, vegetarian dishes create healthy and delicious taste which attract both the locals and foreign visitors. Being famous for nice beaches and nightlife, Danang City in the Central of Vietnam also surprises visitors with many vegan and vegetarian restaurants. If you are in Danang and find where to enjoy vegetarian food, the following list will be helpful for your choice.
Located in the small alley on Le Hong Phong Street, Lien Hoa is in the top delicious vegetarian restaurant in Danang City. Operated by the whole-hearted passion and over 15-year experience of the owner who came from Hue – the ancient imperial capital of Vietnam, the foods here are prepared and decorated in the special ways. Not only the space is quite airy, clean, cool and quiet, the restaurant also offers a wide range of food options with more than 120 vegetarian dishes starting from US$ 1.3/dish.
At Lien Hoa you can enjoy from simple, traditional dishes such as "banh nam" (rice flour and mushroom dumplings), vegetarian "pho" (made with vegetable broth, tofu, and seitan), rice dumpling cake, hot pot… to luxurious vegetarian ones with great taste and eye catching decoration. Their delicious and nutritious selection of "che cung dinh" (Hue royal sweet soup) desserts are also must-try dish.
Add: 49 Le Hong Phong Street, Phuoc Ninh Ward, Hai Chau District, Danang City
Opening hours: 8.00am – 9.30pm
Nowadays many people in Danang show their interest in macrobiotic methodology which has thrived in many of the long-lived traditional cultures worldwide so as to ensure healthy body, mental clarity, and even become free from unexpected diseases. Located in the nice road of Son Tra District, the Bao An Macrobiotic Restaurant is a wonderful choice for you and your family members to enjoy a wide range of healthy and delicious nourishing food at starting price of US$ 1.7/dish.
From the first look, Bao An impresses you by its architecture of Vietnamese ancient house style with wood. Walking inside, you will feel that your mind and soul are refreshing in the peaceful atmosphere and light Buddhism music. All foods are chosen as vegan macrobiotics, means: no monosodium glutamate, refined sugar or harmful seasoning powders. Bao An offers their whole-vegetarian-foods diet by whole grains (particularly brown rice), fresh vegetables, fruits, legumes, and seaweeds. Rice and noodles are completely made from organic brown rice, while such vegetarian ingredients as mushrooms, beans, vegetables and tofu are sourced from reliable areas where they are grown in nature without pesticides. After meal, you can taste the various kinds of healthy tea featuring the inviting taste of organic brown rice, lotus rhizome, and other naturally sourced ingredients.
There is open kitchen space where you can watch and learn the food making process. They also sell the cooking materials so you can purchase some for your kitchen.
Add: 56 Hoang Bich Son Street, Son Tra District, Danang City
Opening hours: 7.00am – 9.00pm
3. R.O.M Restaurant
R.O.M or Revolution of Mushroom – one of the best restaurants of mushroom and vegan food in Danang which guaranteed nutrition, no MSG. Delicious taste comes from diversity – ROM creates local dishes based on recipes related to mushrooms.
With a nice, cozy atmosphere and the staff of enthusiastic service, ROM restaurant will bring a delicious meal with a various range of menu at the price from US$ 2.6 per dish. There are a variety of simple dishes like spicy noodles (Korean style) and mushroom fried rice which offer deep flavors to satisfy every diner. Some other vegetarian dishes for your choice including Quang noodles, Hue noodles, Thai rice, pancakes, little ramen, mushroom hot pot, Thai hotpot, etc.
Also, the consistent innovation in their recipes makes ROM unique and attractive. ROM will definitely be a great place for the faith in vegetarian food.
Add: 87 Hoang Van Thu Street, Hai Chau District, Danang City
Opening hours: 8.30am – 10.00pm
4. Phuc An Vegetarian & Café
Phuc An Vegetarian & Café impresses all diners by its attractive decoration, friendly staffs and variety of mouthwatering, nutrient-dense dishes starting at price of US$ 1.7/dish.
Walking inside the restaurant, you will feel an atmosphere which is quite formal but still unpretentious, cozy, and elegant, giving its guests a comfortable, and close-to-nature feeling.
All dishes at Phuc An are made from fresh and pure ingredients such as wheat flour, tofu, and a lots of vegetables without any harmful chemical substances.
The favourite dishes for your choice at this restaurant can name with the steamed lotus leaves stuffed with sticky rice; delicate, refreshing, and crunchy grapefruit salad; steamed mushroom in banana leaf, fried rice in pineapple fruit, etc. After the meal, you can enjoy their tasty drinks offered at very reasonable prices right at this inviting place. So don't hesitate to visit this vegetarian and café while you are in Danang and explore it by yourself.
Add: 547 Nguyen Tat Thanh Street, Thanh Khe District, Danang City
Opening hours: 10.00am – 10.00pm
5. Huong Khach Vegetarian Restaurant
Situated in the city center, Huong Khach is impossible not to mention as a famous one with a variety of menu with more than 200 vegetarian dishes as a nutritious, delicious and attractive vegetarian party at starting price from US$ 1.5 per dish. Its venue is spacious, airy with melodious meditation music helps every diners to step out of the hustle and bustle life. The restaurant has a high requirement in food making process and carefully choosing ingredients in clear origin to guarantee food quality, hygiene and safety.
Add: 106 Hoang Dieu Street, Phuoc Ninh ward, Hai Chau District, Danang City
Opening hours: 8.30am – 9.300pm
6. ANs Vegetarian Restaurant
As one of the great vegetarian restaurants in Danang that "never run out of customers", ANs Vegetarian Restaurant earns points thanks to its rich menu with a variety of vegetarian dishes.
It may look like coffee shop than a restaurant but you will fall in love with its green and colorful decoration.
You can both enjoy delicious Vietnamese vegan dishes and Western flavors from European-style vegetarian dishes. Fast, friendly service and reasonable price are also a plus for this place.
Add: 169F Trung Nu Vuong Street, Binh Thuan ward, Hai Chau District, Danang City
Opening hours: 8.00am – 9.00pm
7. Huong Sen Vegetarian Restaurant
Located on Dang Thai Mai Street, Huong Sen Vegetarian Restaurant is always special with a small space but peaceful and airy.
The restaurant has a cozy space, in which the decoration is very modern and well-ventilated. Customers can enjoy the food while watching the outside scenery. Gentle fragrance gives you lightness in the soul.
The menu is rich and varied with many delicious and unique vegetarian dishes made from clean and guaranteed ingredients. The chefs are experienced and dedicated to the profession. The restaurant specializes in vegetarian dishes such as rice, vermicelli, noodles, pho, ram, dishes with white rice such as mixed wisteria, ginger sauce mushroom, roasted pork with sesame seeds, braised goby fish…, specially Vegetarian Hotpot with full of mushrooms and vegetables, spinach, bean sprouts and molded beans and young tofu. Price comes from US$ 1.7 per dish.
Add: 30/1 Dang Thai Mai Street, Thac Gian Ward, Thanh Khe District, Danang City
Opening hours: 7.00am – 9.30pm
8. Vegetarian Banh Mi Thien Hieu
Besides vegetarian rice, vegetarian vermicelli or vegetarian noodle stalls, you can also try something more quick & simple yet delicious as a vegetarian "banh mi" (Vietnamese sandwich). The bread here is very crunchy and the vegetables, fresh cucumber inside makes it tasty. The special attraction of this shop also comes from its enthusiastic, attentive and respectful owner who always says the words "Amitabha Buddha" whenever he finished selling bread to each customer. A loaf of bread is only just from US$ 0.5 but very quality and is judged to be even more delicious than salty bread.
Add: 560 Dien Bien Phu Street, Thanh Khe District, Danang City
Opening hours: 3.00pm – 11.00pm
As becoming a popular trend at the present, people spend their interest in the vegetarian for religion purpose, keeping health or protecting the environment. Travelling to Vietnam in general and Danang City in particular is be welcomed by a vegetarian and vegan-friendly country. We are always here to help your Vietnam travel plan, including vegetarian recommendation. Please feel absolutely free to contact our Travel Consultants for more information!