12 Vegan and Vegetarian Restaurants in HCM City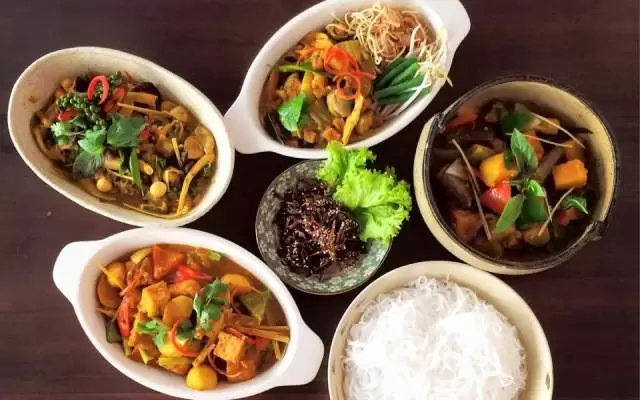 Nowadays, travelling as a vegetarian to Vietnam will be no longer a challenge. Thanks to Vietnam's sizeable Buddhist population, there are lots of vegan and vegetarian restaurants in HCM City and other major cities of the country to meet this demand. As one of the main hubs among must-travel destinations in Vietnam, Ho Chi Minh City (aka Saigon) will definitely be in the top choosing list. Vietnam Travel understand the challenges of traveling across new cities in search of vegetarian food only to find restaurants that no longer exist. Therefore, to save your time, we'd like to share the most accurate information on the top vegetarian-friendly restaurants in our hometown of Ho Chi Minh City – try it out!
1. Hum Vegetarian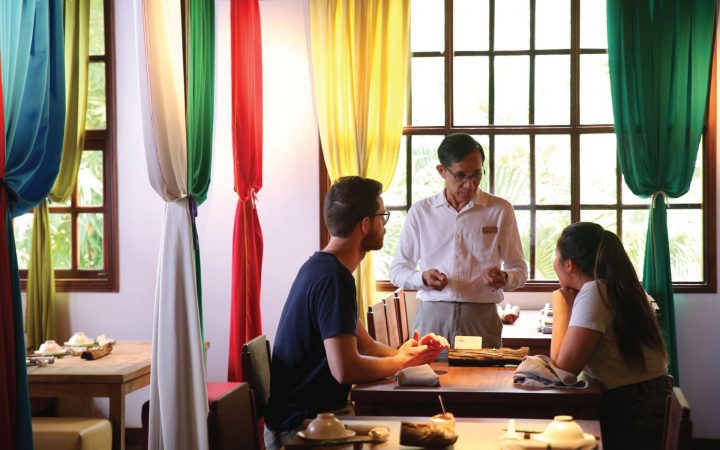 Add: Hum Vegetarian, Lounge & Restaurant – No.2, Thi Sach Street, Ben Nghe Ward, Dist.1, HCM City
Opening hours: 10.00am – 10.00pm
Two other branches include:
Hum Vegetarian, Garden & Restaurant – No 32, D10 Street., Thao Dien Ward, Dist. 2, HCM City
Hum Vegetarian, Café & Restaurant – No 32, Vo Van Tan Street, 6 Ward, Dist. 3, HCM City
At Hum, you will be served with creative menus and the freshest ingredients for a culinary experience which is not only delicious and fulfilling, but also nourishes the soul with peace, healthfulness, and grace. The dining venue is surrounded by lush gardens, wooden décor, and fountains that create an elegant and calming atmosphere. So far, Hum Vegetarian has opened up 3 locations across the city which brings you the flexible choice for your dining experiences from their more casual café, to the modern lounge or garden restaurant location. The price range is from US$ 4-13/dish.
2. Filthy Vegan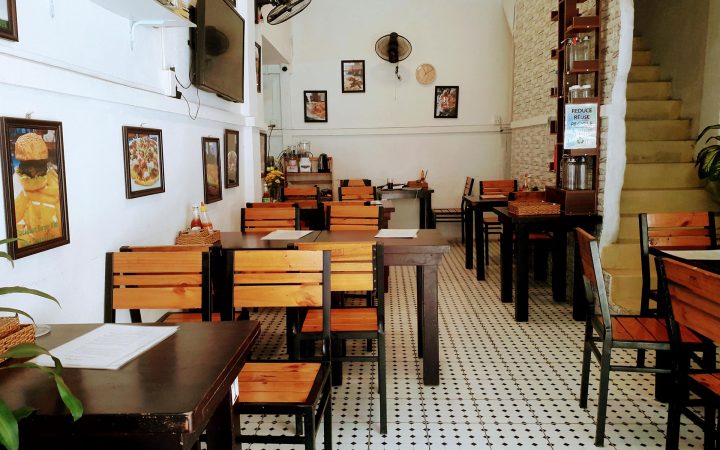 Add: 86 Co Bac Street, Co Giang Ward, District 1, HCM City
Opening hours: 11.00am – 10.00pm (Tue-Sun)
Owned by the vegan British, Filthy Vegan is a completely plant-based restaurant serving up your food cravings. Located in the heart of the city within walking distance from the backpacker area, you can experience the best filthy food like hot dogs, fry-ups, burgers…There is also a bakery offering cheese cakes, flat breads, muffins, apple pies, etc with a weekly special offer such as quiche, chili non carne, cottage pie, etc. Beverages are served including vegan beer such as Tiger or Heineken, cappuccinos, juices, shakes, etc. Another plus point of this restaurant is to reduce waste by recycling, sourcing local ingredients and donate 10% of profit to a vegan charity. The price range goes from US$ 2-6.5/dish.
3. Sen Vegan House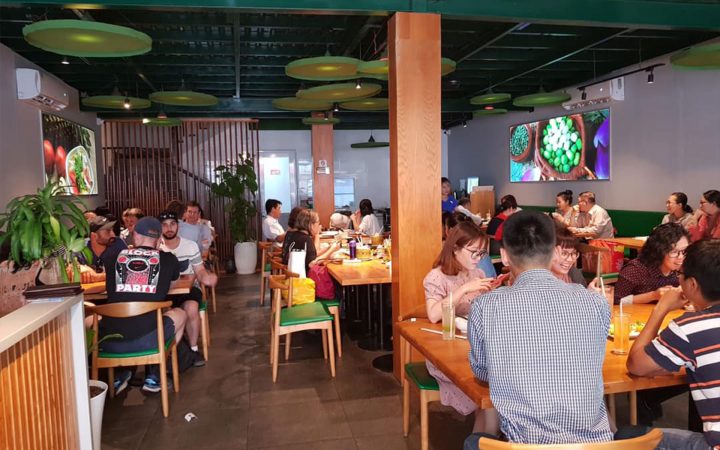 Add: 93-95 Pho Duc Chinh Street, Nguyen Thai Binh Ward, District 1, HCM City
Opening hours: 8.00am – 2.30pm & 5.00pm – 10.00pm
Nestled in the heart of the city, Sen Vegan House (Sen Quan Chay) is a 100% vegan Vietnamese restaurant with massive food selection. Their food's charming decor is one of the most impressive things on your visit here. The restaurant also offers authentic and simple Vietnamese noodles, soups and veggie stir fries. With attentive and helpful staffs, Sen Vegan House is good place to eat out the night in Ho Chi Minh City. The price range is from US$ 2.4/dish.
4. Bong Sung Vegetarian food & coffee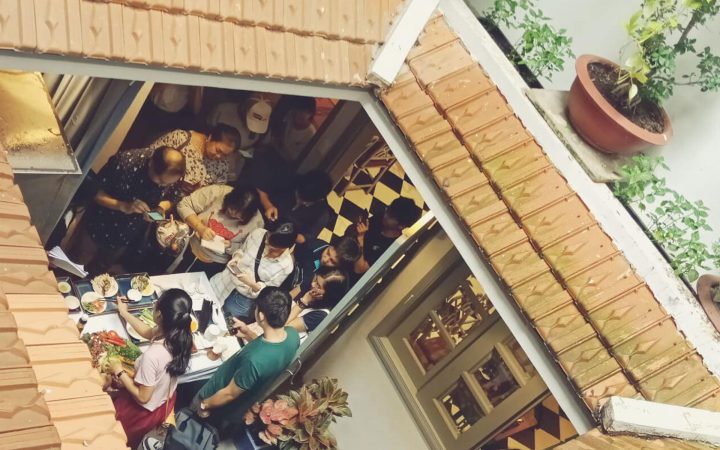 Add: 86 Nguyen Du Street, Ben Nghe Ward, District 1, HCM City
Opening hours: 7.30am – 10.00pm
Other branch at 155 Nguyen Dinh Chieu Street, Ward 6, District 3, HCM City
Located off the main street down an alley and upstairs in a safe area, Bong Sung is considered an excellent place to grab a meal with friends and family while serving vegetarian and vegan-friendly Vietnamese cuisine in healthy style. With 2 well-presented indoor and outdoor spaces, you will feel satisfied to choose this place as a go-to eatery. Their friendly staffs will be happy to recommend you the best dishes as well as to explain the detailed ingredients which are used for the food. A local sweet-and salty lemon drink is recommended to pair with your Vietnamese meal. The price range is from US$ 1.3-12/dish.
5. The Organik House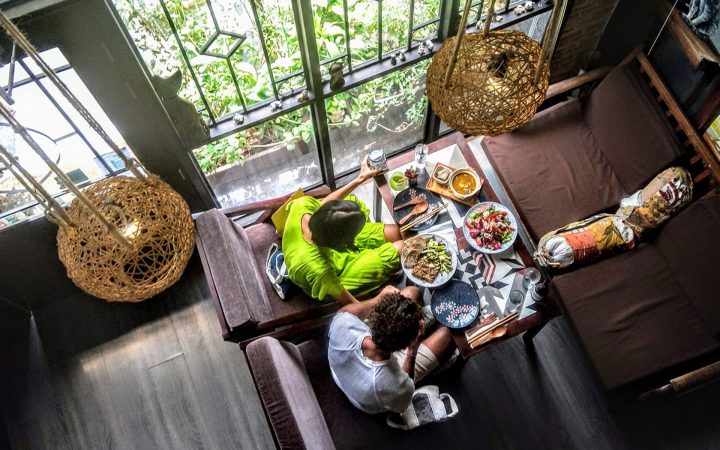 Add: 7F Nguyen Thi Minh Khai Street, Ben Nghe Ward, District 1, HCM City
Opening hours: 7.30am – 10.00pm
The Organik House offers an environmentally friendly venue to everyone. All their products are 100% biodegradable and chemical free. The menu serves from organic, vegan food to healthy drinks like smoothies, bean milk, tea, traditional Vietnamese and Italian coffee.
6. The Organic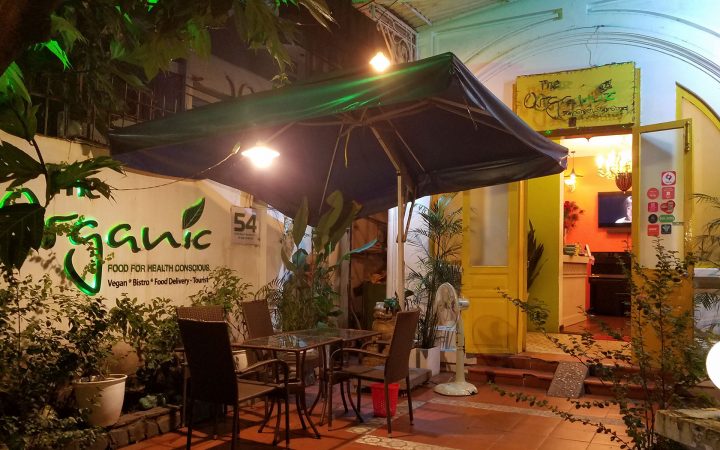 Add: 54 Ly Van Phuc Street, Tan Dinh Ward, District 1, HCM City
Opening hours: 7.00am – 9.00pm
As one of favorite dinning places to even Vietnam famous celebrities, The Organic provides freshly made veggie dishes not only Vietnamese but also Western recipes.
With the carefully researched menus, the dishes at The Organic are delicious and bring a nutritional remedy for healthy stature, muscle building, or smooth skin while ensuring energy according to the formula GO – GROW – GLOW…
GO menu offers dishes such as creamy mushroom spaghetti, satay fried rice, pineapple rice… to provide energy a day long.
GROW menu goes for dishes which are made from beans, especially tofu to provide enough protein for those who want strong muscles.
GLOW menu brings youthful skin, full of vitality from the vitamins in vegetables such as salads, mixed salads…
7. Buddha Chay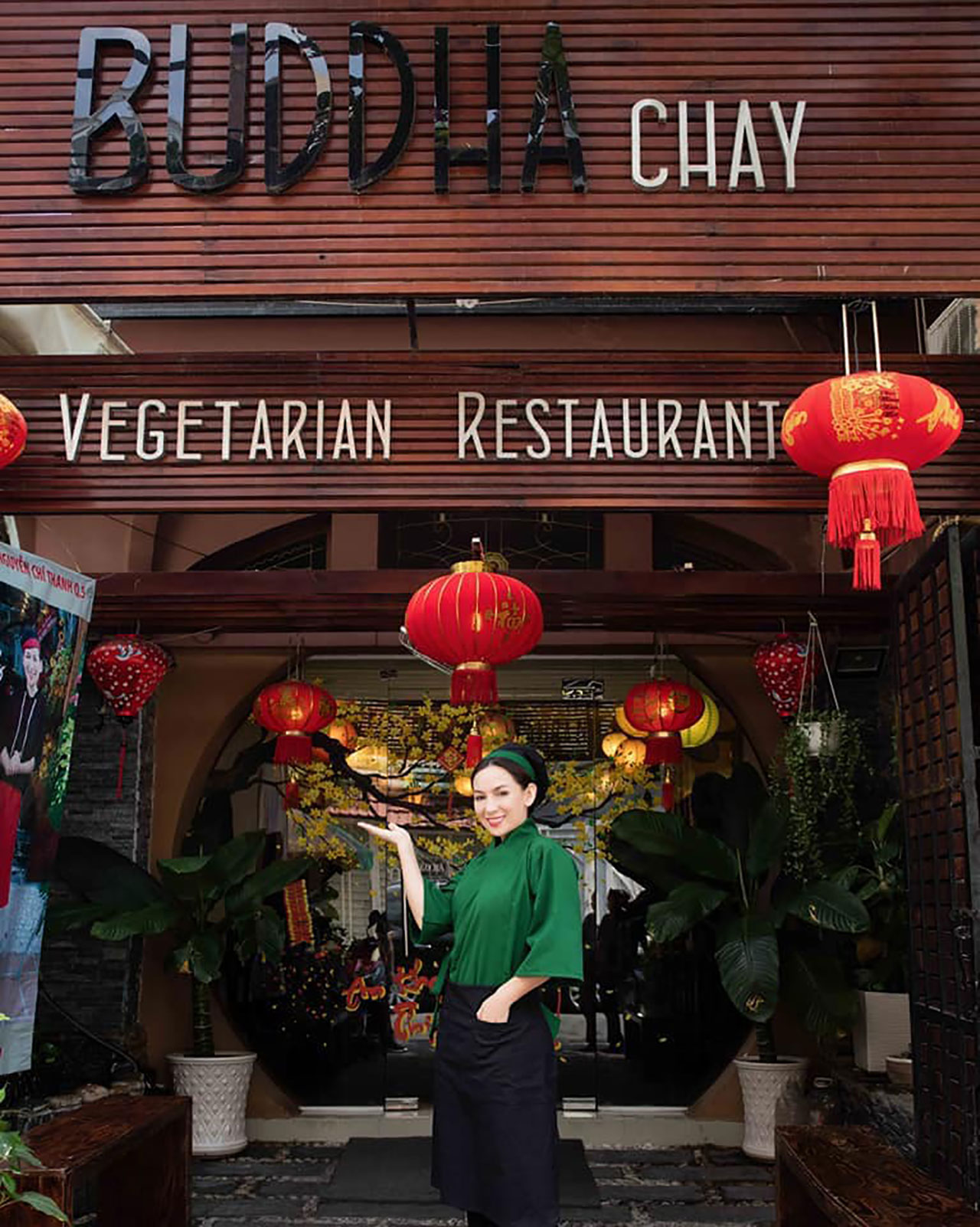 Add: 31 Dang Tat Street, Tan Dinh Ward, District 1, HCM City
Opening hours: 10.00am – 10.00pm
Other branch at 5 Nguyen Chi Thanh Street, Ward 9, District 5, HCM City
Buddha Chay is a Buddhism-inspired vegetarian restaurant as its name. Being decorated with Buddha art including Buddha paintings and statues, you will enjoy your meal in a quiet, cozy space with gentle light background. There are 2 venues in District 1 & District 5 for your convenient choice.
The restaurant serves popular dishes such as tofu, vegetables, noodles, rice noodles, fried rice, warehouse, salad, soup… with reasonable price from US$ 1.2 – 11/dish.
8. Phuc Quang Chay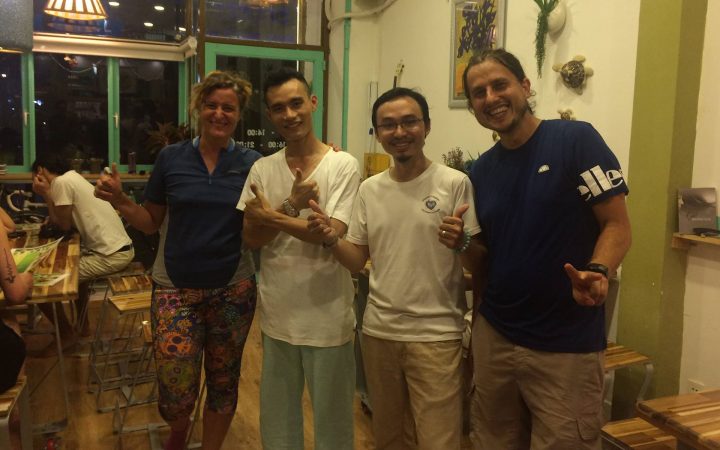 Add: Alley 41, Nguyen Van Trang Street, Ben Nghe Ward, District 1, HCM City
Opening hours: 9.00am – 10.00pm
At Phuc Quang Chay, you will find really tasty vegetarian food at a good price. Its charming design also fits their friendly service. A wide range menu of Vietnamese dishes are offered such as steamed dumplings, chive cakes, noodle soups, rice paper rolls, fried rolls, tofu and mushroom hotpot, stir fried vegetables, fried rice, etc. Besides, don't forget to enjoy their list of fresh beverages such as fruit juice, banana chocolate and coconut water. Price starts from US$ 1.5/dish.
9. Pi Vegetarian Bistro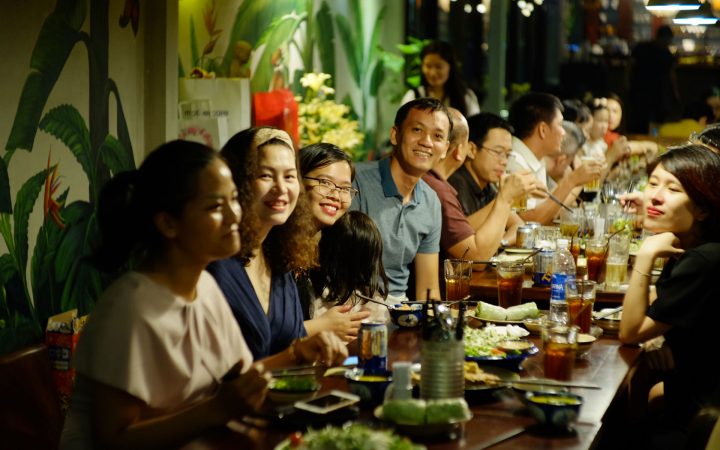 Add: 1st floor, 19 Vo Van Tan Street, District 3, HCM City
Opening hours: 11.00am – 3.00pm & 5.00pm – 9.30pm
Pi Vegetarian Bistro serves a wide range of Asian vegetarian food such as spring rolls, tempeh & green mango salad, in which some highlights from their menu including Fried Rice Noodle Stir Fry and the Homemade Black Garlic Tempeh Salad. This is more upmarket restaurant and suitable for those who want to take a break from side street-food stalls. Pi healthy drinks are also offered such as cold-pressed juices, fresh fruit smoothies, fruit & veggies blend, tea & coffee… Price range is from US$ 2.5/dish or from US$ 9/person for Set menu (minimum of 2 people).
10. Saigon Vegan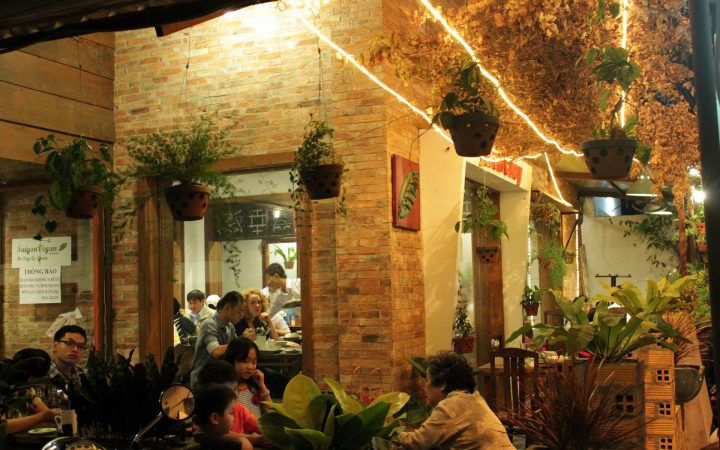 Add: 378/3 Vo Van Tan Street, District 3, Ho Chi Minh City
Opening hours: 7.00am – 10.00pm
With spacious and greenery space, Saigon Vegan has a fairly large menu full of vegan versions of Vietnamese dishes. There are a range of noodle soups, hot pots, seasonal salads and all sorts of braised veggies, tofu, mock meats cooked in clay pots and so much more. The taste is delicious and the servers are very friendly. The restaurant is often crowded in the 1st and 15th day of lunar calendar month so reservation in advance is highly recommended. Price goes from US$ 1.5/dish.
11. Here & Now Vegetarian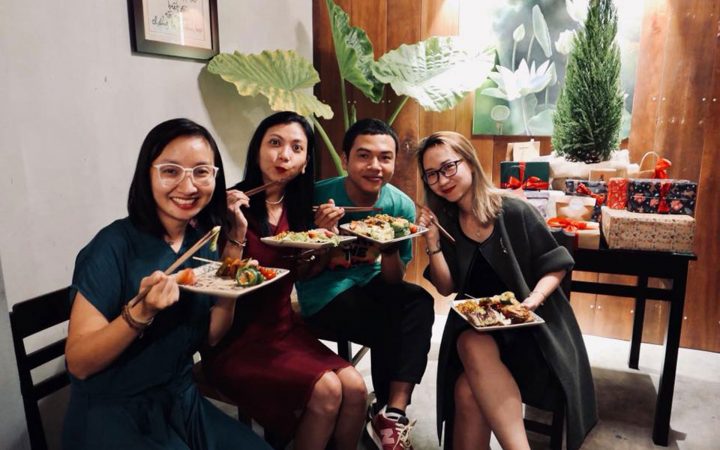 Add: 220/12 Nguyen Trong Tuyen Street, Ward 8, Phu Nhuan District, HCM City
Opening hours: 10.00am – 2.30pm & 5.00pm – 9.30pm
Other branch at 74/1 Pham Viet Chanh Street, Binh Thanh District
Here & Now is not centrally located, however it is still a pleasant and subtle change to escape from the touristy area and enjoy Saigon's other sides. With traditional yet modern in every small details, you will feel chill and relaxing atmosphere here. The decorations from utensils and delicate touches bring you back in time and experience the city life as it used to be. This vegan kitchen offers tasty and well-presented cuisine, among of them is most favorite dish – Pad Thai. Herbal tea is worth trying as well. The price starts from US$ 2/dish.
12. Healthy World – Healthy Farm
Add: Healthy World – 120 Nguyen Trai Street, Ben Thanh Ward, District 1, HCM City
Heathy Farm: Dien Bien Phu; Minh Phung; Tran Hung Dao; Pham Hung; Nguyen Kiem; Nguyen Thi Thap; Hoc Mon
Opening hours: 10.30am – 10.30pm
Because of full freezer section in restaurant that sells all manner of mock meat, this is probably one of the more unique vegetarian restaurant in HCM City. Besides the daily a la carte menu which offers common plant-based dishes, you can choose you own veggies and mock meats from the display, then you can have your own hotpot or noodle bowl cooked by the staff. Vegetarian food is becoming popular these days not only for the religion purposes but also for the health. The above list of best vegan and vegetarian restaurants just gave you the first steps among hundreds of choices in Ho Chi Minh City. Hope you have a great meal.
Behind each veggie-filled dish is a story that starts long before that first bite. Come and enjoy vegan or vegetarian menus at one or more of the above recommended restaurants in Ho Chi Minh City! We will be adding more to the list as soon as we taste, so be sure to periodically check back! Ask our Travel Consultants for further information and assistance if you have any questions related to your Vietnam holidays!