10 Things To Do In Hue, Vietnam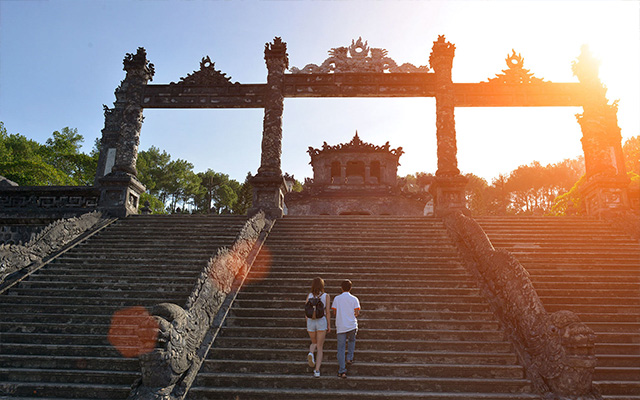 The palaces of the Imperial City, boaters on the Perfume River, and gentle waves along the sandy coast all welcome you to the heart of central Vietnam: Hue City. The city holds incredible importance in Vietnam's history, and it's no surprise there are so many wonderful things to do in this former royal capital. Here are the 10 best things to do in Hue as you explore the unique places, sights, and flavors that wait around every corner…
1. Explore the Imperial Citadel
Even if you have got just 1 day in Hue, you need to visit the Imperial Citadel as this is the most important site of Hue historical monuments. Also known as the Imperial City, this amazing complex is where Vietnam's emperors used to live, protected by the thick stone walls and moat surrounding them. Construction began in 1804 and although many of the buildings have been damaged over the years, they still make for an impressive sight.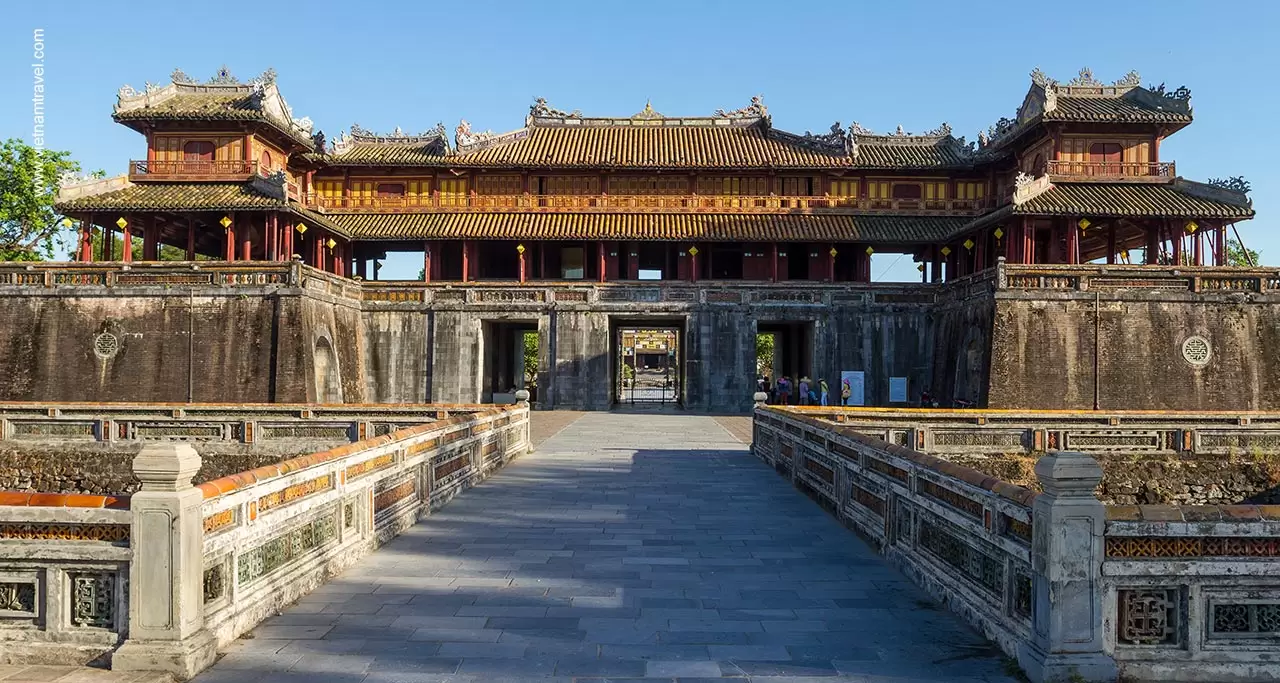 You can spend hours wandering around the Imperial City, marveling at the impressive gates, endless array of temples, courts, gardens and beautiful landscaping. And thankfully most of the walkways are covered so you'll get some respite from the blazing midday sun.
To create a civilized tourism environment that respects national and cultural values, tourists are urged to wear respectful clothing when entering the site. It means offensive shorts, tank tops and short skirts will be absolutely prohibited.
The entrance fee is 200,000 VND for adults and 40,000 VND for children aged from 7 to 12.
2. Visit Tombs of the Ancient Emperors
A stay in Hue would not be complete without a visit to the stunning Imperial tombs. The tombs are the elaborate resting places of the Nguyen Dynasty, who ruled over Vietnam from 1802 until 1945.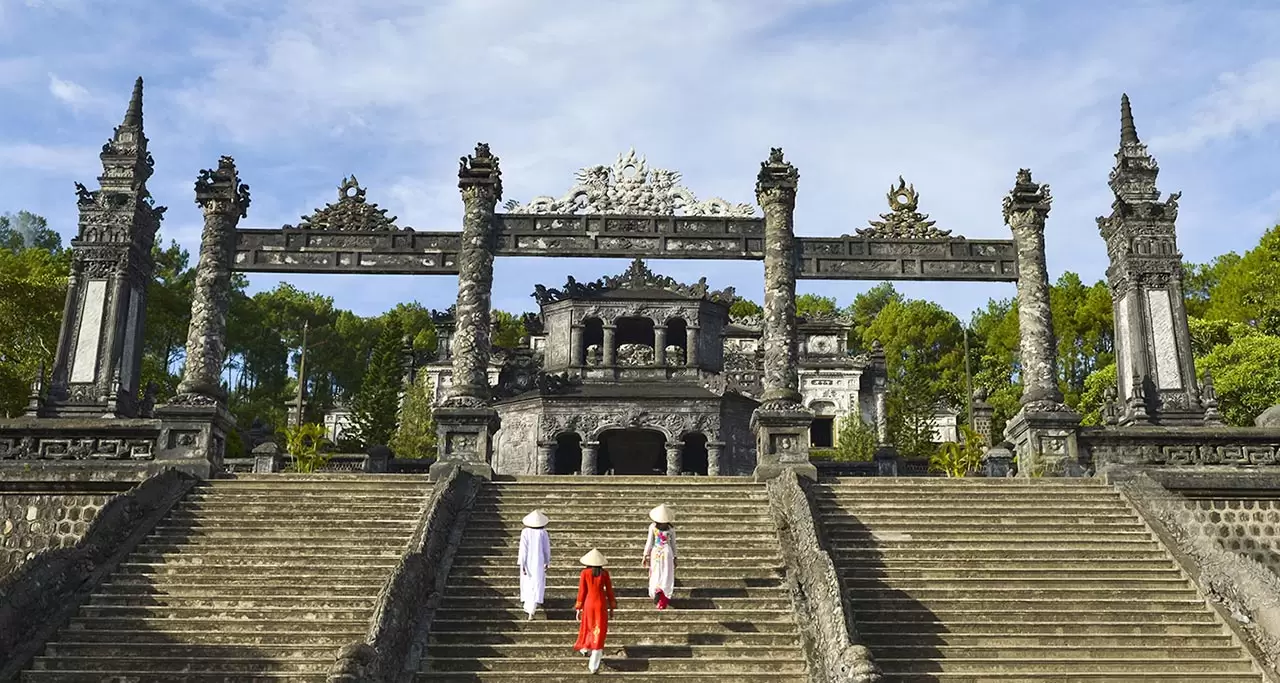 There are seven known royal tombs in Hue, six to the southeast of the Hue Citadel on the other side of the Perfume River and a single tomb on the same side. Of these seven tombs, three are significantly more popular compared to the rest due to their relative good condition and better accessibility. They are tombs of Minh Mang, Tu Duc, and Khai Dinh. The individual entry fees for each tomb are 150.000VND but if you plan to visit all these tombs and the Imperial Citadel, it is suggested to buy a package ticket of only 530.000VND for adults and 100.000 VND for children (from 7 to 12 year old).
* Minh Mang's Tomb: best for history and culture.
Minh Mang tomb is the last resting place of the second Nguyen Dynasty, Emperor Minh Mạng. Considered to be the largest tomb in Hue with an impressive lake and monument systems, the tomb attracts visitors for its nature and historical value. Just about an hour, you will have a great chance to learn about the history of Vietnam as well as explore the original beauty of a magnificent work under Nguyen Dynasty.
* Tu Duc's Tomb: best for dreamers and romantics.
Emperor Tu Duc had a strong affinity for art and poetry. So that is the reason he channeled to craft his romantic, illustrious tomb. Tu Duc wanted his final resting place to blend harmoniously with nature. Coming here, you will get lost in a labyrinth with the fragrance of flowers and the soft sound from the royal music show. No doubt, this place used to serve his elegant pleasures of the Emperor. Thus, a nostalgic and artistic space is what you will feel when visiting the tomb.
* Khai Dinh's Tomb: best for something completely different.
Constructed between 1920 and 1931, it is a proud work of Khai Dinh himself combining both
Eastern and Western styles. Khai Dinh was the Nguyen Dynasty's most eccentric and unusual king, who reportedly embraced French colonialism. Much like his father, Khai Dinh favored imported luxuries, spent a large sum of money on his tomb, and was the subject of ridicule by nationalist leaders.
Most Nguyen Dynasty's royal tombs are quite far from Hue city center. Therefore, you can travel by motorbike, taxi or contact us for a private tour with our experienced guide and driver to have a deeper insight about these historical attractions.
3. Seek peace at Thien Mu Pagoda
Located on the bank of the poetic Perfume River, 5 kilometers from Hue City center, Thien Mu Pagoda with its ancient architecture is one of the most fascinating and ancient pagoda in Hue City. Not only does it go on romantic poems or Hue characterized lyrics, Thien Mu is also considered as a sacred pagoda and the sight not to be missed by any tourists when setting foot in the ancient capital. It is recommended to visit this pagoda in the afternoon so you can observe the monks' praying time inside the pagoda as well as enjoy the beautiful sunset on the Perfume River.
If you would like to snap a photo free from other tourists, head to Thien Mu Pagoda in the early morning hours. The tour bus crowds descend by mid-morning.
4. See Dong Ba Market
If you are in Hue, there is a place that you should really pay a visit is Dong Ba Market, the biggest and oldest market in Hue.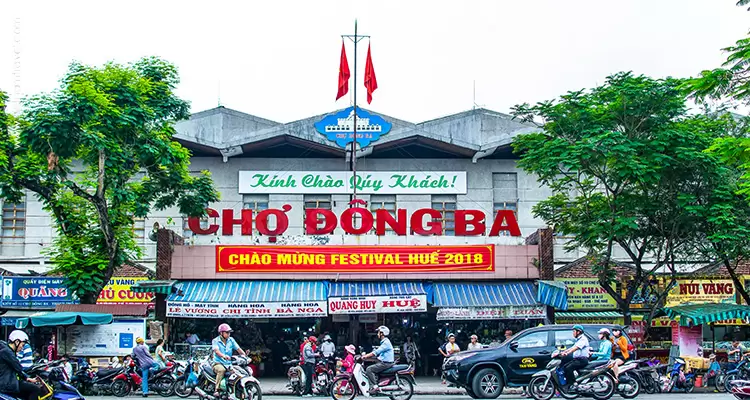 What consists in the attraction towards this market is the preservation of ancient distinctiveness. Tourists can see all the typical features of a traditional Vietnamese market, for example, the sampan landing, the bus station and the bazaars. Dong Ba market is considered as a paradise for snapshots of daily activities as well as for shopping with everything from souvenir items to bronze goods, Hue sesame sweetmeat, conical poem hats…
Because the market is so crowded, please be careful with your belongings. Also, comfy shoes and clothing are suggested because the market have no air conditioning and sometimes the floors gets damp or wet.
5. Sample the local cuisine
If you love Vietnamese food, you will love Hue's cuisine. This peaceful, ancient city in central Vietnam has a distinctive cuisine, a ton of great restaurants, and some seriously unique dishes. It's one of the favorite foodie destinations of tourist when visiting Vietnam.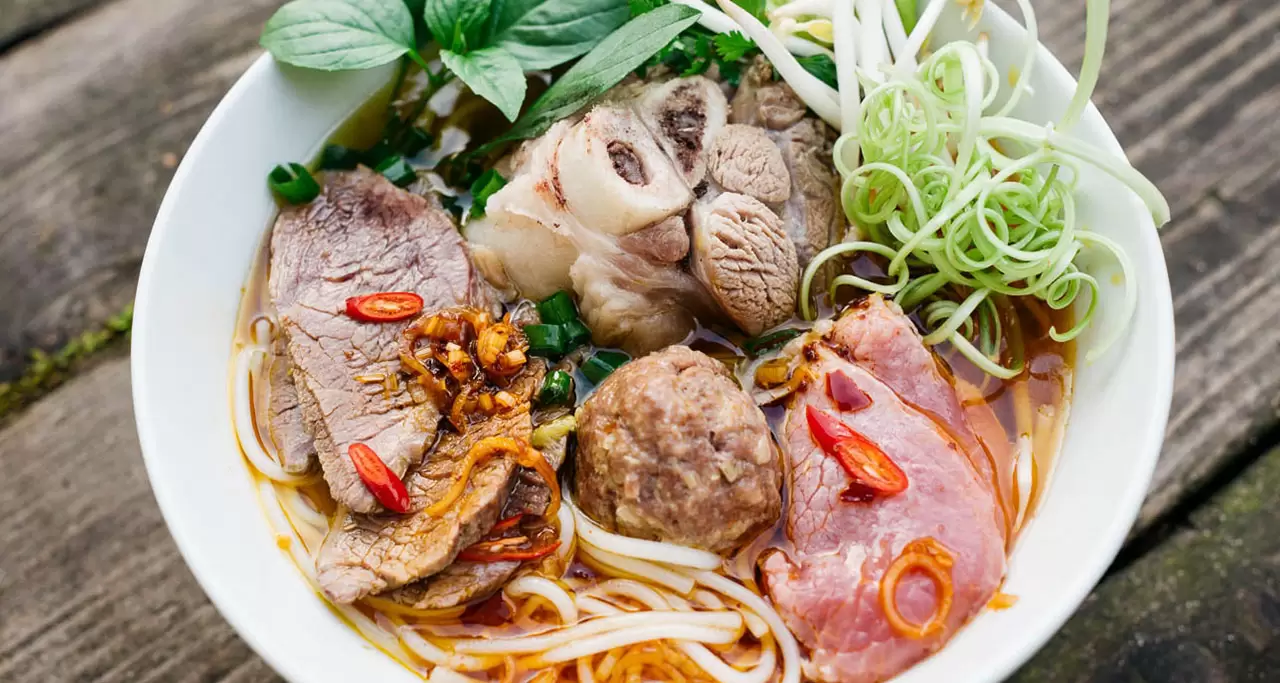 Vietnamese food varies a lot from region to region and from city to city. The differences between northern, southern, and central Vietnamese food are particularly noticeable, and central Vietnam has one of the best cuisines. Even within the central region, individual towns and cities have their own iconic food dishes, and Hue is no exception. Here you will find some iconic dishes to hunt for during your time in Hue: Bun Bo Hue (Hue beef noodle soup), Nem Lui (Hue Lemongrass Skewers), Com Hen (Clam Rice), Banh Khoai (Vietnamese Crepe), Banh Beo (Steamed Rice Cakes), Bun Thit Nuong (Vermicelli Noodles With Grilled Pork)…
Read more: 18 Best Things To Do in Vietnam
6. Cycle around the city of Hue
Unlike other big cities in Vietnam such as Hanoi and Ho Chi Minh City which are so crowded with numerous means of transportation, Hue is so quiet with a small number of traffic. As such, it is said to be the nicest place in Vietnam to cycle around.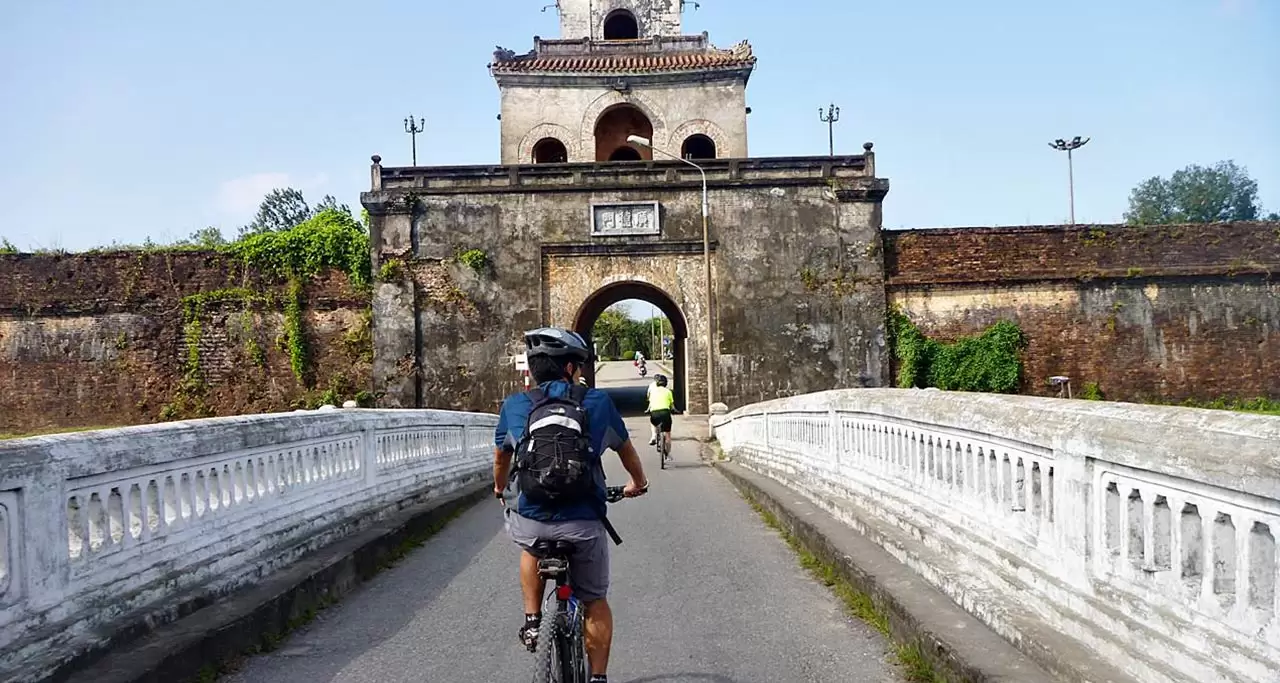 You can choose to cycle along the banks of Perfume River and across Truong Tien Bridge to take in spectacular view of marvelous surrounding landscape. Or cycle to the Imperial Citadel to admire the fascinating ancient architecture. Then pass by a number of air crafts as well as tanks – passed remnants of the American War. By cycling, you may get a deeper insight into those great things than any other kind of exploration. Moreover, plan your cycling day to the walled city in which you can gain first-hand observation of local people's everyday life there.
7. Cruise in a boat on Perfume River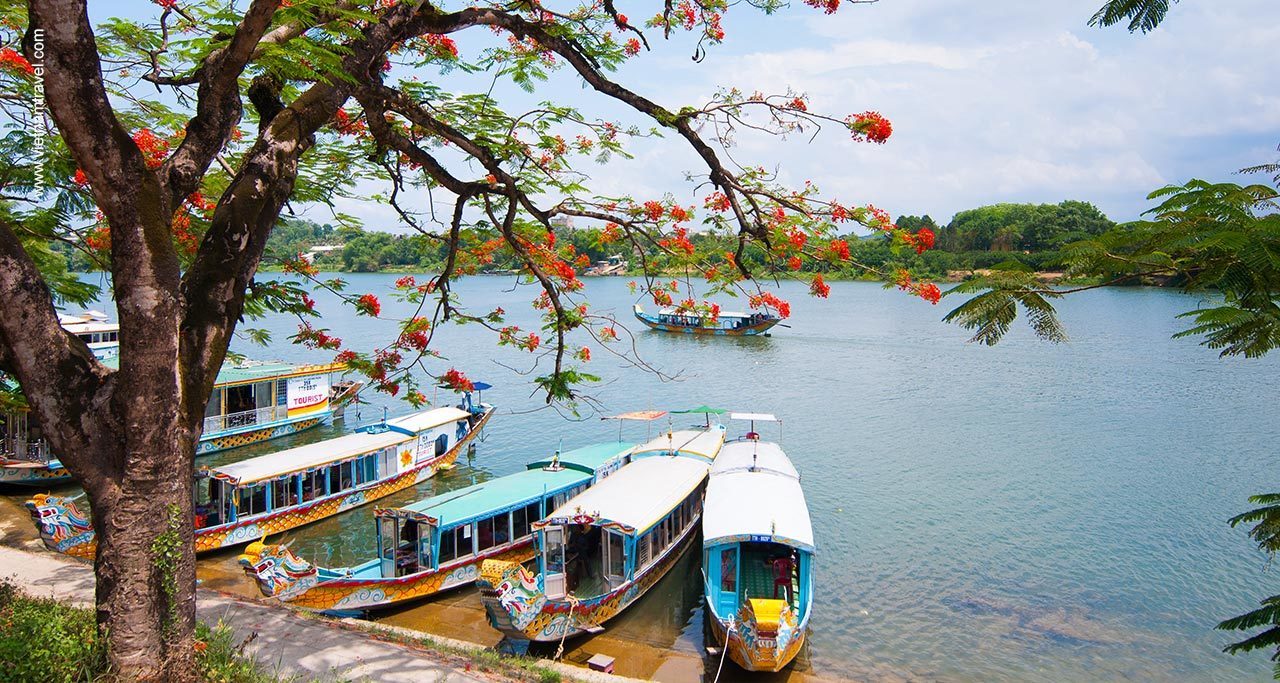 Another best things to do in Hue is cruising the historic Perfume River. While the emperors tombs and the Thien Mu Pagoda are easily accessible by taxi or motorbike, you may prefer to hire a boat for several hours instead. You will have the opportunity to cruise on the Perfume River, soaking in the Hue countryside as you pass. It's a relaxing way to visit the sites and you'll get to see the city from a different vantage point.
8. Visit the Royal Theatre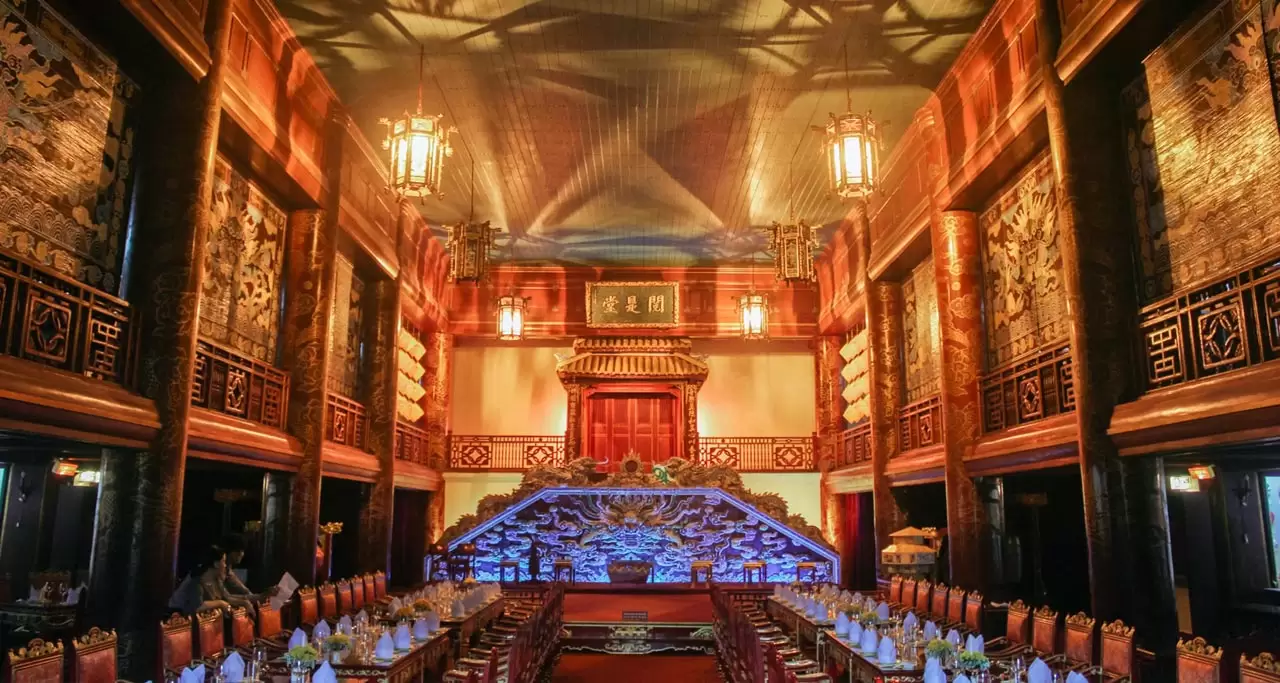 Built in year 1826 under King Minh Mang, solely to entertain the royalty, Royal Theatre now serves as the National Conservatory of Music. If you are interested in the beautiful culture of the Vietnamese people, visit the living soul of the restored citadel is the Royal Theatre. Every day, lavish cultural dances and plays are performed for tourists resting like royalty in the plush chairs.
Performances take place at 9 A.M, 10 A.M, 2:30 P.M and 3:30 P.M.
9. Journey to Bach Ma National Park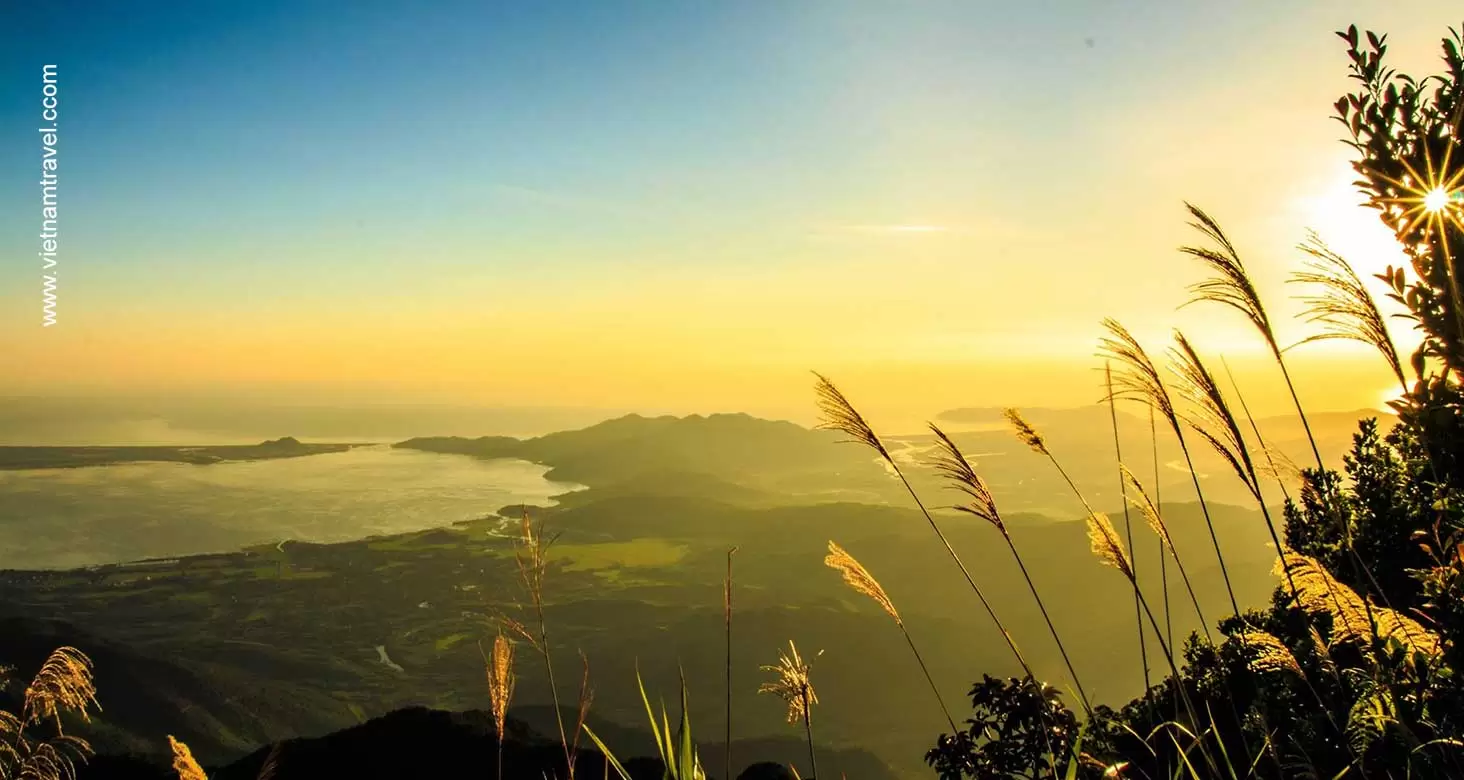 For those who are interesting in nature, taking a day trip to Bach Ma National Park is a perfect choice. About 40 kilometers to the south of Hue City, Bach Ma mountain is nestled in the Truong Son mountain range which looks like a white horse stretching its legs towards the vast sea (Bach Ma means white horse in English). Not only does this area have charming scenery, a cool climate, and French-style villas, but it is also gathers many rare and precious animals and plants of the tropics in the vast primitive forests with spectacular streams and waterfalls.
10. Enjoy panorama view on Hai Van Pass
Although not technically in the center of Hue City, Hai Van Pass, or ocean cloud pass, connects two major tourist destinations Hue and Danang, and it is one of the best things to do for those traveling in this central part of Vietnam. Two sentry towers along the pass, with one left by French colonists and the other by American troops during the Vietnam War, seem to tell a detailed account of Vietnam's two sad histories. The winding mountain highway of Hai Van Pass and Lang Co Bay along the road have been selected by National Geographic magazine as one of must-go places in life.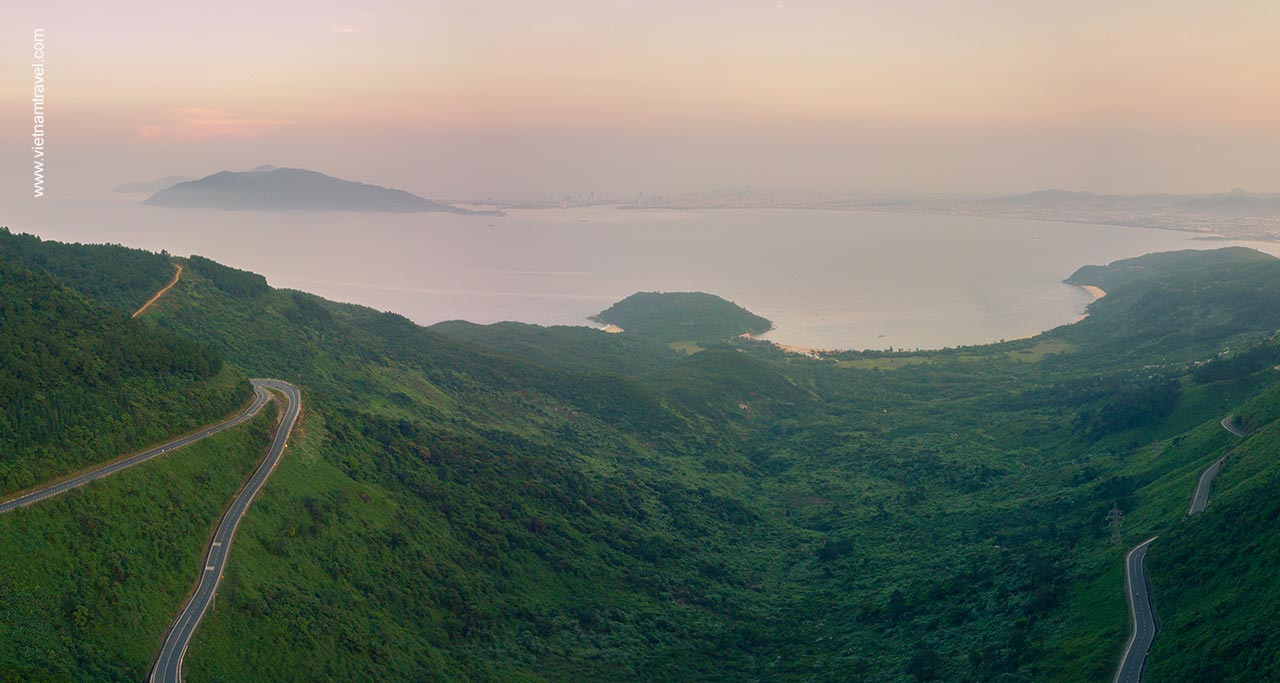 Motorbiking and bicycling are often the two most popular way to explore Hai Van Pass. Or simply make a stop if traveling by car/ bus between Hue and Danang/ Hoian, you can enjoy the spectacular views of the coastal line.
The history, culture and people will entice you and keep you returning. If you are planning a trip to Vietnam, make sure Hue historical former capital city to be included in your itinerary as that will introduce you with the true colors and culture of Vietnam. Also, engage in the above-mentioned things to do in Hue for a thorough tour of the quaint city. Still looking for other information and useful tips for your Vietnam vacation? Check out our travel guides!