Cu Da Ancient Village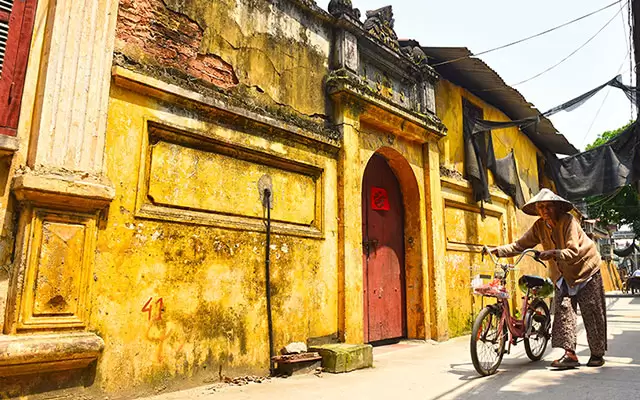 Cu Da Ancient Village is about 15 km south of Hanoi, on the bank of Nhue River, Cu Khe Commune, Thanh Oai District. The village attracts tourists for many ancient houses, ancestral temples and its traditional handicraft of vermicelli and soybean sauce product.
This is a place for those who love ancient architecture and learn about traditional village, or just simply find yourself in peaceful scene of the village. Let's get more information about this ancient village through the below article of Vietnam Travel.
1. Vermicelli paradise.
Knowing as "mien" in Hanoi, a different type of noodle but in dry solid form. This familiar and rustic dish from vermicelli always presents in the tray of Tet holiday or other important days in the families of Vietnam, creating a beauty in Vietnamese culinary culture.
The villagers started making vermicelli hundreds of years ago. Cu Da vermicelli can be easily recognized by its feature of shiny yellow or fine white and thin form.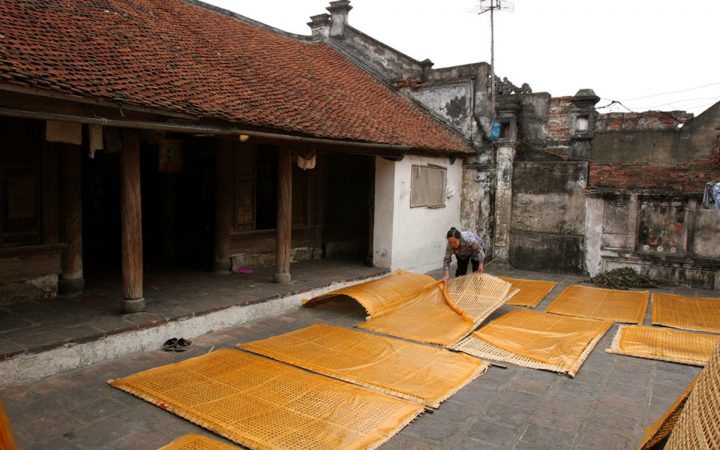 At first, making vermicelli was for the own consumption of villagers. Time to time, high quality products attracted the interests from all over the country, and vermicelli soon became a calling name of Cu Da village.
Cu Da vermicelli is made 100% by arrowroot. What to make high quality vermicelli is source of good arrowroot from Bac Can, Lai Chau, Son La and Moc Chau. The vermicelli depends on the market and the needs of each region.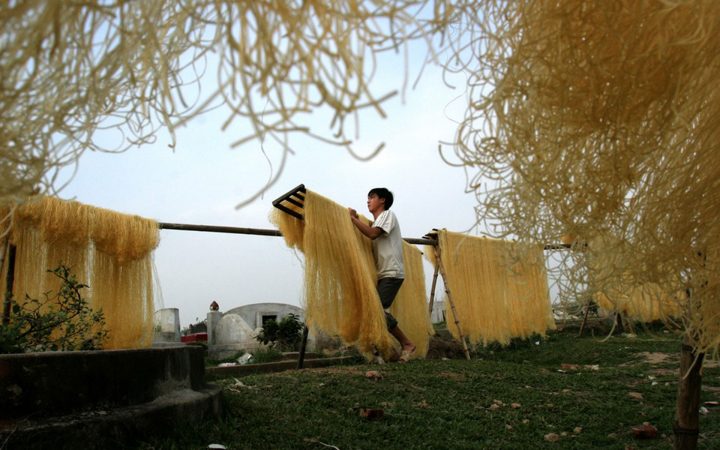 For the process making, the arrowroot is ground and mix with water to make a paste. Then this paste is smeared into thin pancake on the large bamboo trays, steamed and dried in the sun. It depends on the weather. After almost drying, the villagers cut it into small, thin strips and dry again before the products are packaged & distributed across Vietnam.
Although machines are now used for spreading and cutting, it is a very labor-intensive process, but completely brings good incomes for the villagers from the production of hundreds of tons of vermicelli each year to meet the national demand.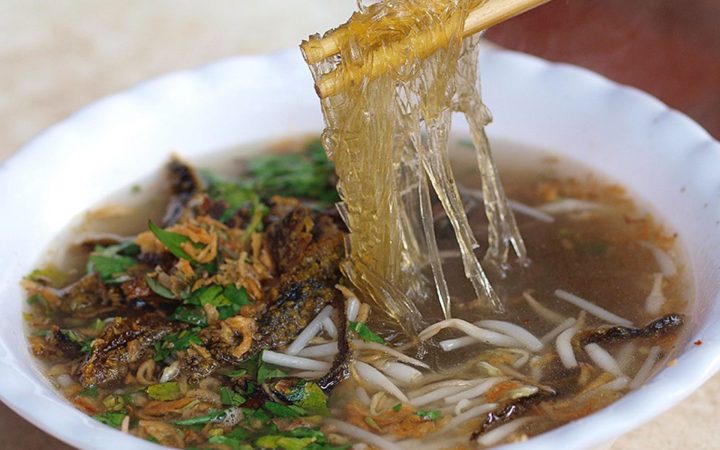 While visiting Cu Da Village, you can see white and yellow vermicelli dangled everywhere, covering any surface such as rooftops and walls. That is really interesting scene to remember.
2. Good quality soybean sauce.
Not only well known as one of the biggest vermicelli crafting villages in the North of Vietnam, Cu Da Village is also famous for its delicious soybean sauce.
It is said that the soybean sauce making in Cu Da Village has been related to the formation of the village which has its history of about 400 years old. Previously, almost every household made a few jars of soybean sauce to eat all year round. Nowadays, making the sauce is both for food and for sales around the region and other localities.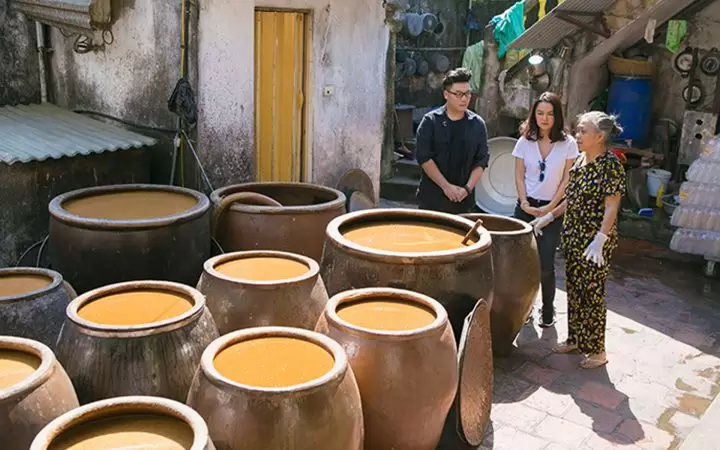 The main ingredients to make soybean sauce include sticky rice, salt, soybeans and clean water, preferred rainwater for better quality. To have a delicious sauce with yellow color and fragrant scent, it requires a lot of meticulous processes.
Different from same products of other countryside, in which pieces of bean or glutinous seed are still seen, Cu Da soybean sauce is like a kind of juice with special sweetness and aroma. These are like the unique characteristics for the gourmets to recognize its products.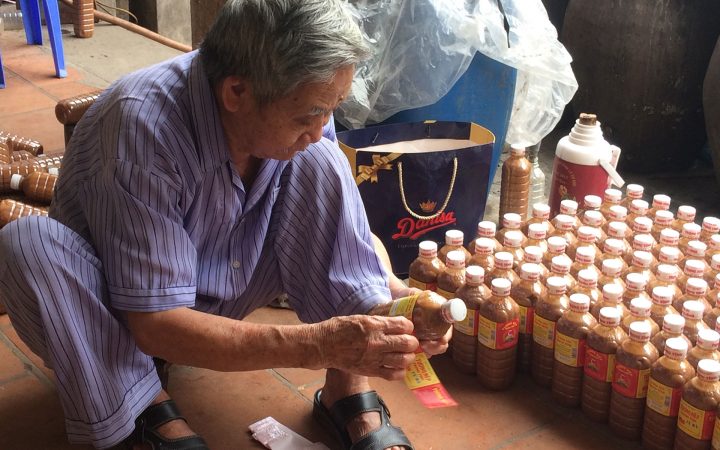 The best season for making soybean sauce is usually from April to August when the weather is favorable. Being branded by the Department of Intellectual Property, Cu Da soybean sauce has a firm foothold in the market, and has been sold in big supermarkets, consumed in many provinces, cities nationwide, and even exported to some Asian countries.
Tuong Cu Da (as locally called) was even mentioned in an article by Dodi Newman on Washington Post as one of necessary ingredients for Vietnamese delicious cuisines.
3. Ancient Architecture.
Coming for traditional handicrafts, but Cu Da Village also keep you with the beautifully preserved architecture & friendly locals.
In the late 19th and early 20th centuries, thanks to the convenient position on a bustling trade route along the Nhue River, Cu Da Village benefited from a thriving economy, that helped the residents to build and maintain beautiful houses, gates and temples.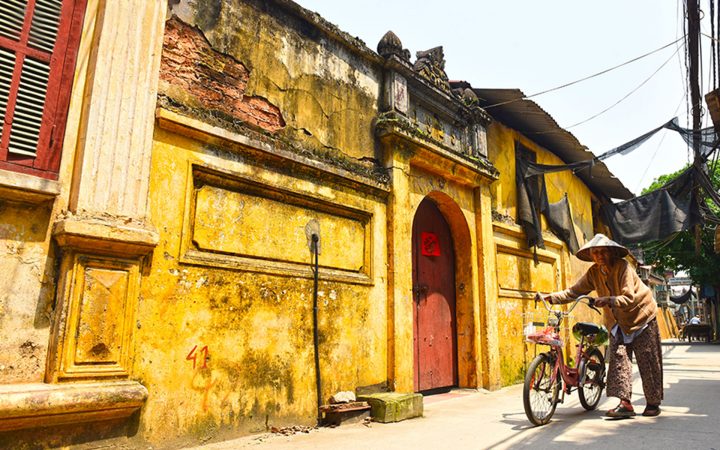 You will see a mixture of Asian, Chinese, Vietnamese and even French colonial-style architecture all in one village. The village's structure is planned in a herringbone shape. From the big road, there are dozens of small lanes laid by slanting bricks leading into the village. Besides the newly-built houses in modern style, there are about 100 old houses in both Vietnamese and French styles, of these, 50 remain almost unchanged.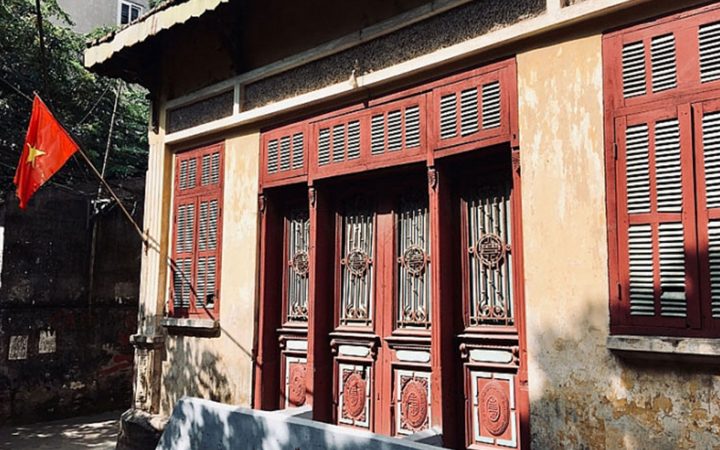 Houses in Cu Da Village are low and deep in length. For which are made of wood, they are always cool in the summer and warm in the winter. Many French style villas were built as community centers where the villagers would gather for the meeting. The photogenic two-story buildings with pastel tones, pretty balconies, eaved rooftops and intricate stone carvings bring a good vision to everyone.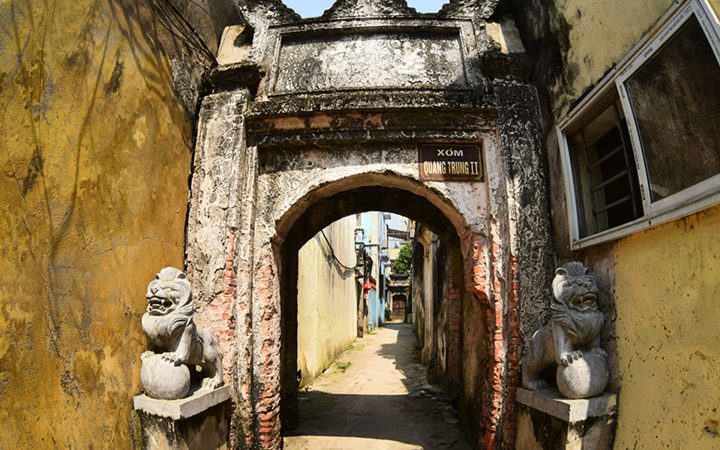 In addition, its main temple, Cu Da Temple as national heritage site, is also attractive and well-kept that showcases precious stones, colorful motifs of dragons, unicorns and phoenixes. Apart from these, other cultural and interesting buildings are dotted here and there, such as the communal village house, family temples, the public well and hamlet gates.
As visiting this village, tourists can learn more about how to preserve the valuable cultural assets and traditional beauties that the ancestors left behind.
Read more: 15 Vietnam villages you should visit
4. Getting there.
From Hanoi Old Quarter, you can easily reach the village by several types of transports such as motorbike, taxis or even by bicycle. However, we recommend you to have an escorted guide and a private driver who could show you around and share with you more widely about the culture of Vietnam. Cu Da Village is worth to visit in a day trip that combines with Perfume Pagoda, Quang Phu Cau (famous with its incense making) or Duong Lam Ancient Village.