Whale Island, Nha Trang – All Things You Need to Know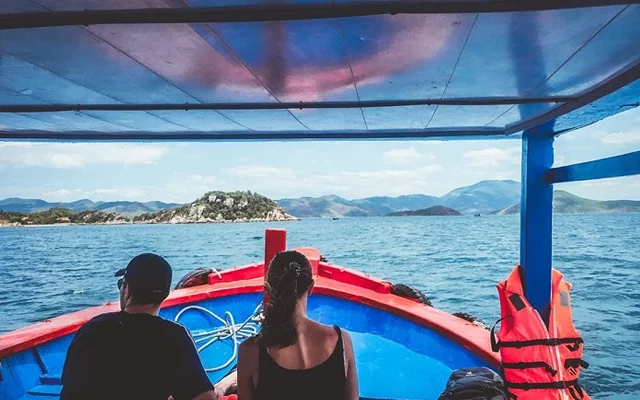 Whale Island (also called Hon Ong Island) is a truly untouched paradise for those who love the sea, like to explore wild nature, immerse in tranquil atmosphere and escape from busy modern life. Once setting foot on the island, you feel like stepping into another world offering crystal blue sea, smooth white sand beach and picturesque landscapes. It is definitely a must-visit place when you come to Nha Trang particularly and Vietnam generally.

Location of Whale Island, Nha Trang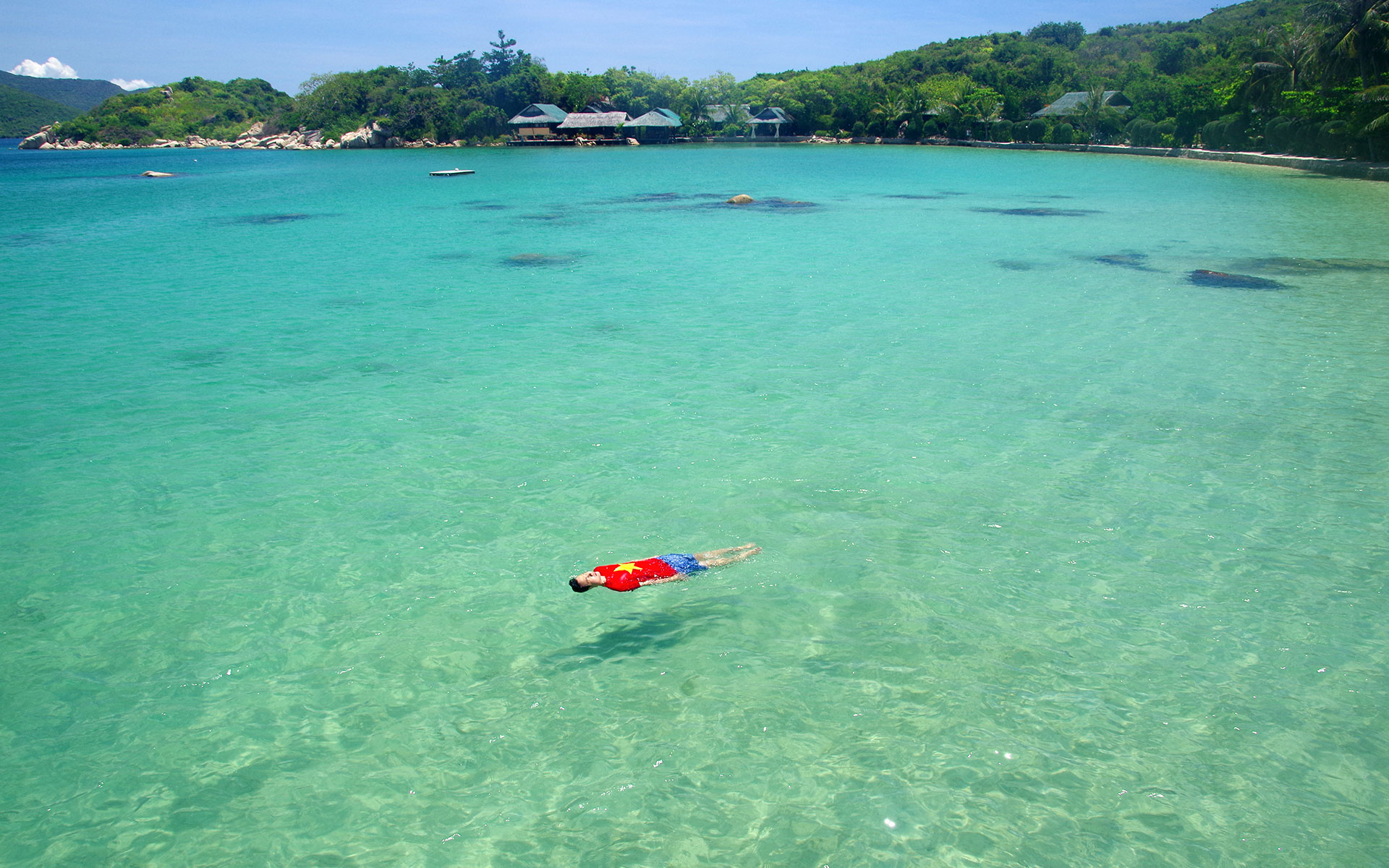 Located in Van Phong Bay, around 100km from the coastal city of Nha Trang, Whale Island is one of the most beautiful islands in Vietnam with untouched and peaceful scenery. It has an area of about 40ha and is uninhabited. There is only one resort with 31 rooms on the island. So it is said that Whale Island is like a "Robinson Island".
This island is also listed on the top 10 must-dive destinations in the world for 2020 by Forbes Magazine. With an average temperature of 28°C, Whale Island is particularly famous for its macro gems hidden among the lush soft corals, making it perfect for diving.
It is quite interesting that during the breeding season of jellyfish and plankton, usually from April to July, a lot of whales gather here to forage and they love to hunt near the shore, so if you are lucky you will have chance to see whales on the island. It is reason why this island is called Whale Island.
Whale Island Resort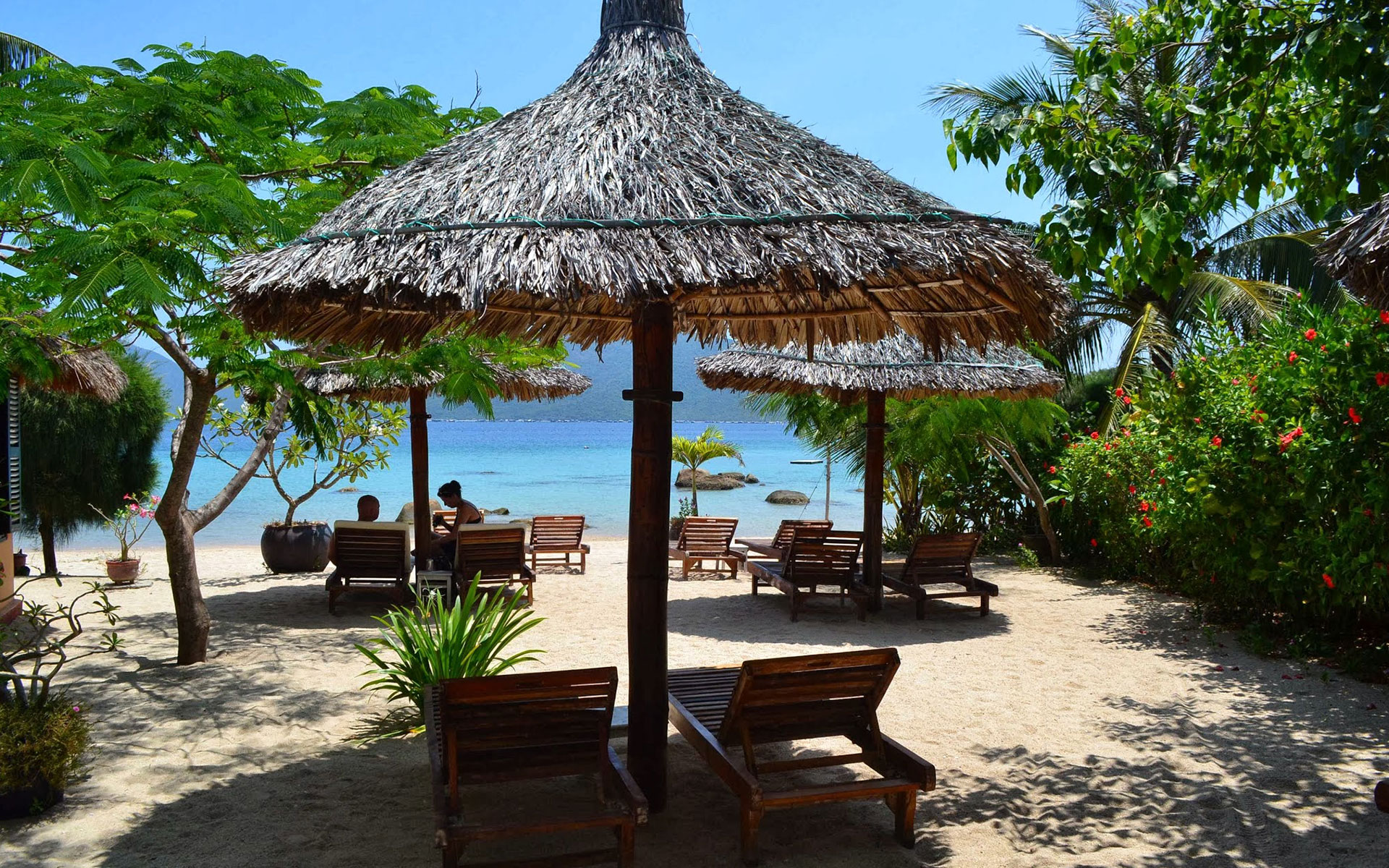 As mentioned above, there is only one resort on the island, named Whale Island Resort built by a French – Vietnamese couple. The resort has a total of 31 traditional-style bamboo thatched bungalows equipped with beds with mosquito nets, ceiling fans, no air-conditioner, plus en-suite bathrooms with shower. Construction materials are mainly wood, bamboo, and leaves roof, making the resort in harmony with nature.
The price ranges from 45 USD – 80 USD, subject to change due to the room type and travel date. All services on the island such as restaurant, bar, massage, diving, snorkeling are provided by this resort.
How to get to Whale Island
To get to Whale Island, you have to travel to Dam Mon pier where the resort's boat will take you to the island in about 15-20 minutes. There are 3 ways to get to Dam Mon pier: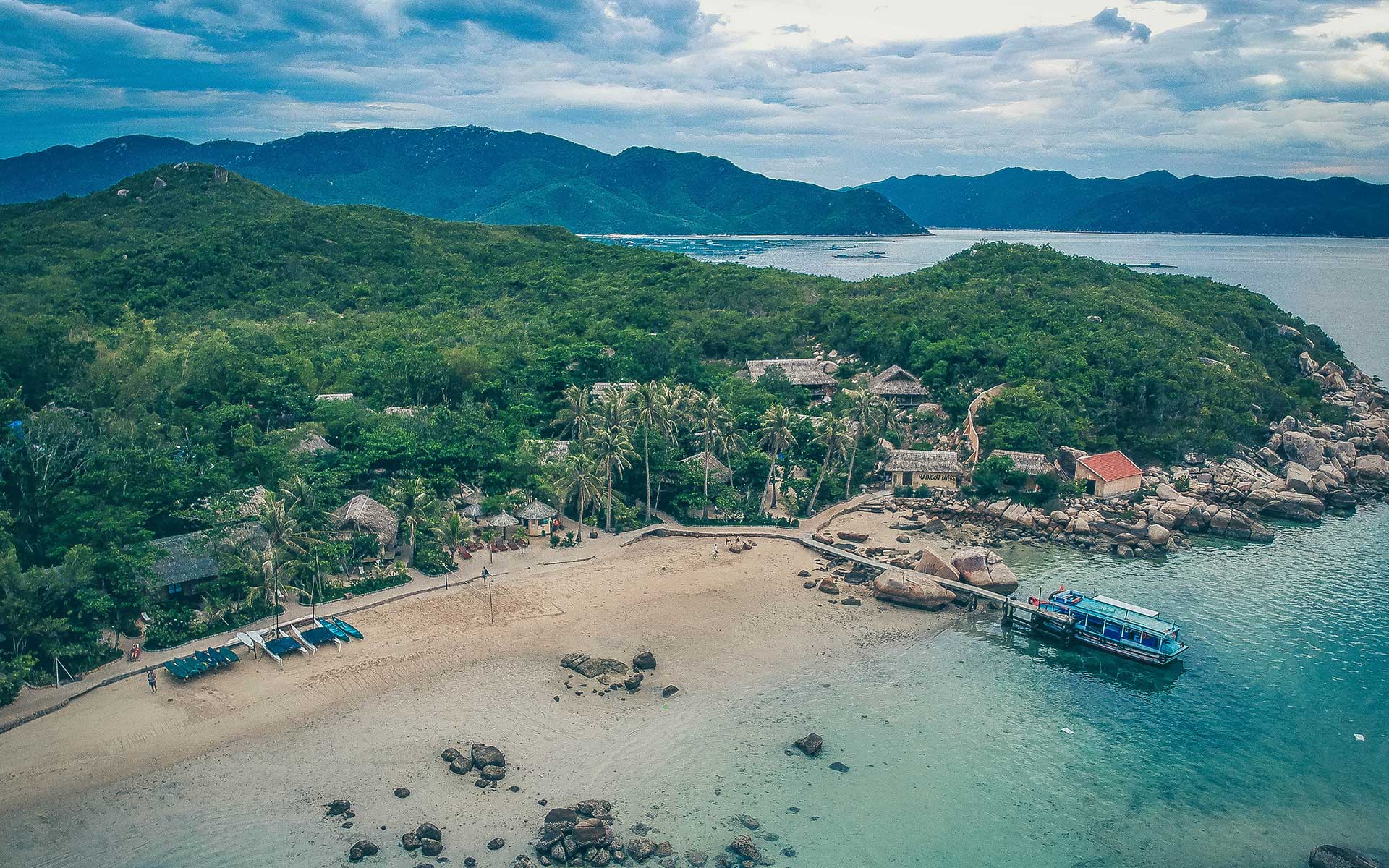 * By motorbike: For those who love adventure and don't want to depend on any schedule, driving a motorbike to Dam Mon pier is the best choice. You can easily hire a motorbike in Nha Trang City and it costs about 100,000 – 150,000 VND for 24 hours. From the city center, you follow National Highway 1A to the North, go through Ninh Hoa and Van Gia to reach the foot of Co Ma Pass (a distance of about 80km), then turn right and continue to drive about 20 minutes to reach the pier. Along the way, you will be an awe of beautiful scenery surrounding with smooth white sand dunes and blue sea to the skyline.
* By bus: From Nha Trang City center, you take a bus with the name Nha Trang – Van Gia to Van Gia station. The distance is about 68km and takes you around 2 hours. Then you continue to take another bus with the name Nha Trang – Dai Lanh and get off at Co Ma junction. The total cost for 2 buses is just about 40,000 VND. From here, you can take a taxi or motorbike taxi to get to Dam Mon pier.
* By resort's shuttle bus: Whale Island Resort provides shuttle bus to pick guests up from Nha Trang City center or Cam Ranh International Airport. When making the room conservation with the resort, you can ask for shuttle bus services. It costs about 20 USD/ one-way ticket for adult if traveling from city center or 25 USD if traveling from Cam Ranh Airport to Dam Mon pier. The shuttlebus usually departs at 11:00 AM and 13:15 PM.
* By private car: This is absolutely the most convenient and comfortable way to get to Dam Mon pier, especially for those seeking for privacy. The driver will pick you up at Cam Ranh International Airport or your hotel in city center and take you directly to Dam Mon without waiting for picking up other guests. You can totally stop for short break or photo opts along the way if you want.
Best time to visit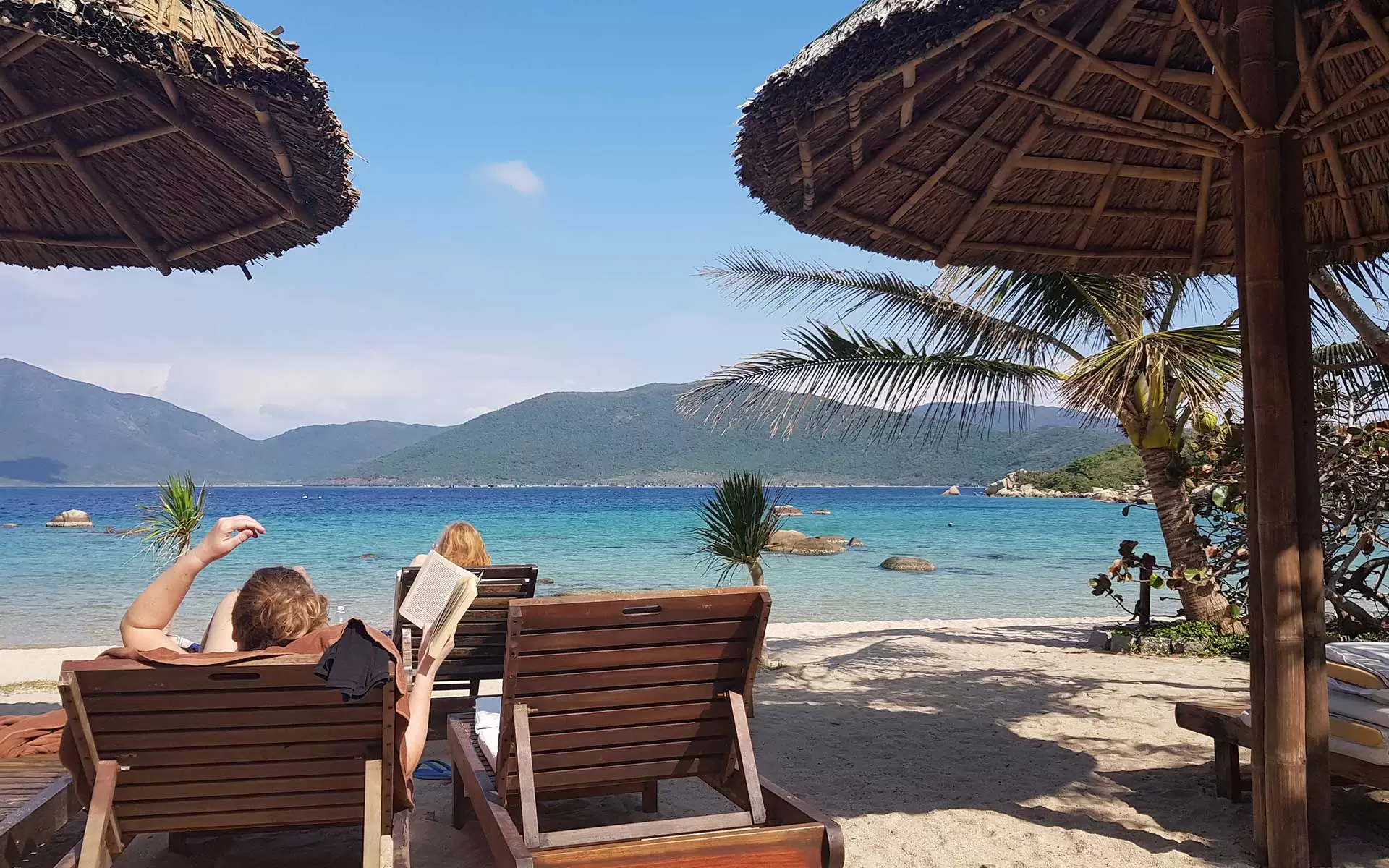 The weather on Whale Island is relatively mild and pleasant all year round. However, the best time to visit the island is from March to August when it is warm, sunny and dry; and the sea is calm and clear. This period is perfect for underwater activities.
From September and December is rainy season in Nha Trang and Whale Island. It is cloudy and rainy, making the sea water not clear. In additions, storms may occur sometimes with rough sea, and big waves so the boats are not allowed to operate.
What do to on Whale Island
Whale Island is relatively small and unspoiled but there are some interesting activities for you to take part in during your trip. Or you just come here to immerse in yourself in tranquil and pristine scenery.
Kayaking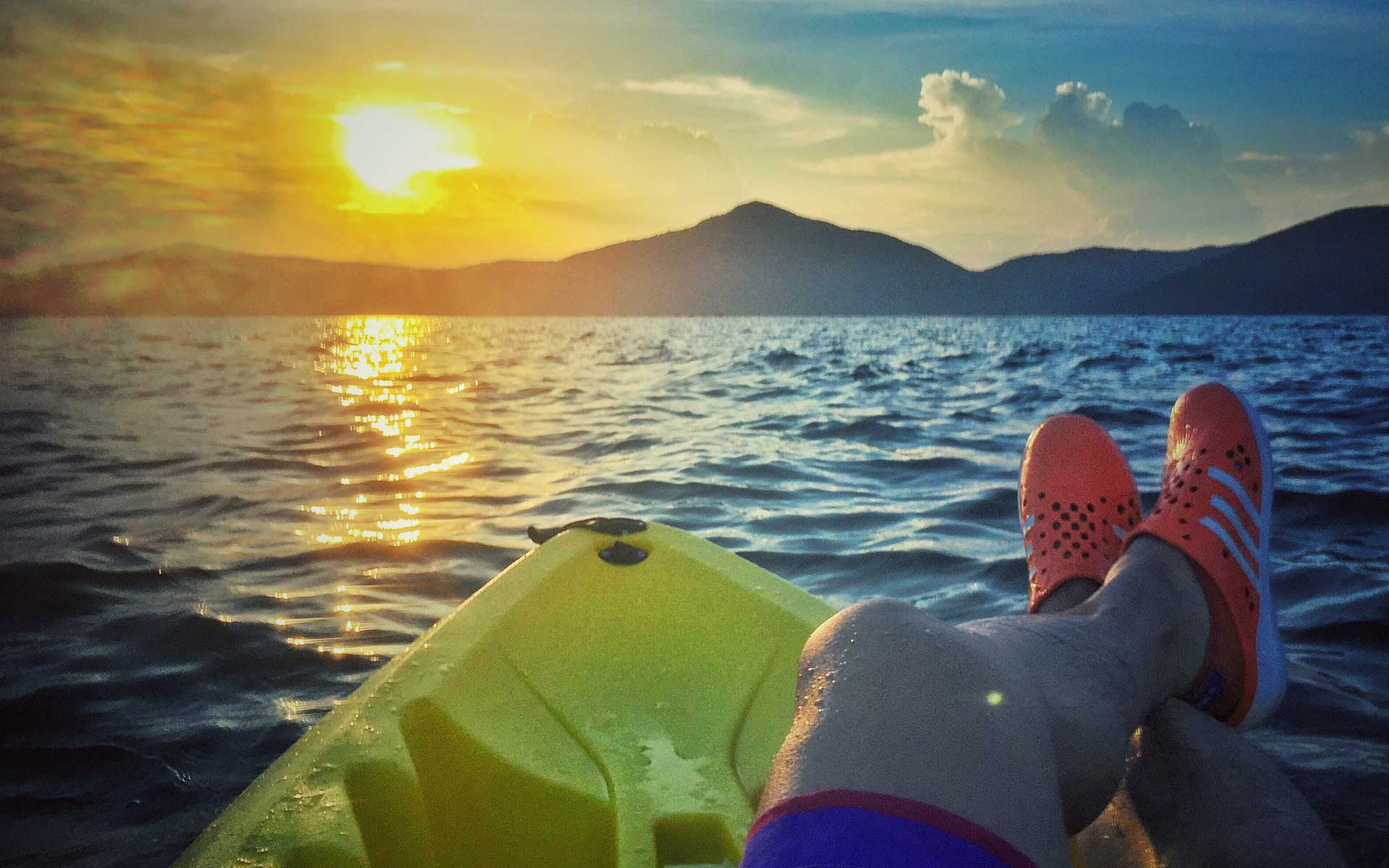 It is extremely amazing to go kayaking on Whale Island. It just costs you 100,000 VND to rent a 2-seater kayak in 2 hours. You can paddle around the island and admire glorious sunrise or sunset on the tranquil island.
Snorkeling & Scuba Diving
Whale Island is voted on the top 10 destinations for diving by Forbes Magazine so it is certainly must-try experience when you coming here.
With only 60,000 VND, you will be provided a full set of snorkeling equipment such as breathing tube, diving goggles and two propellers. The water is calm and pellucid, making it easier to see the underwater marine life.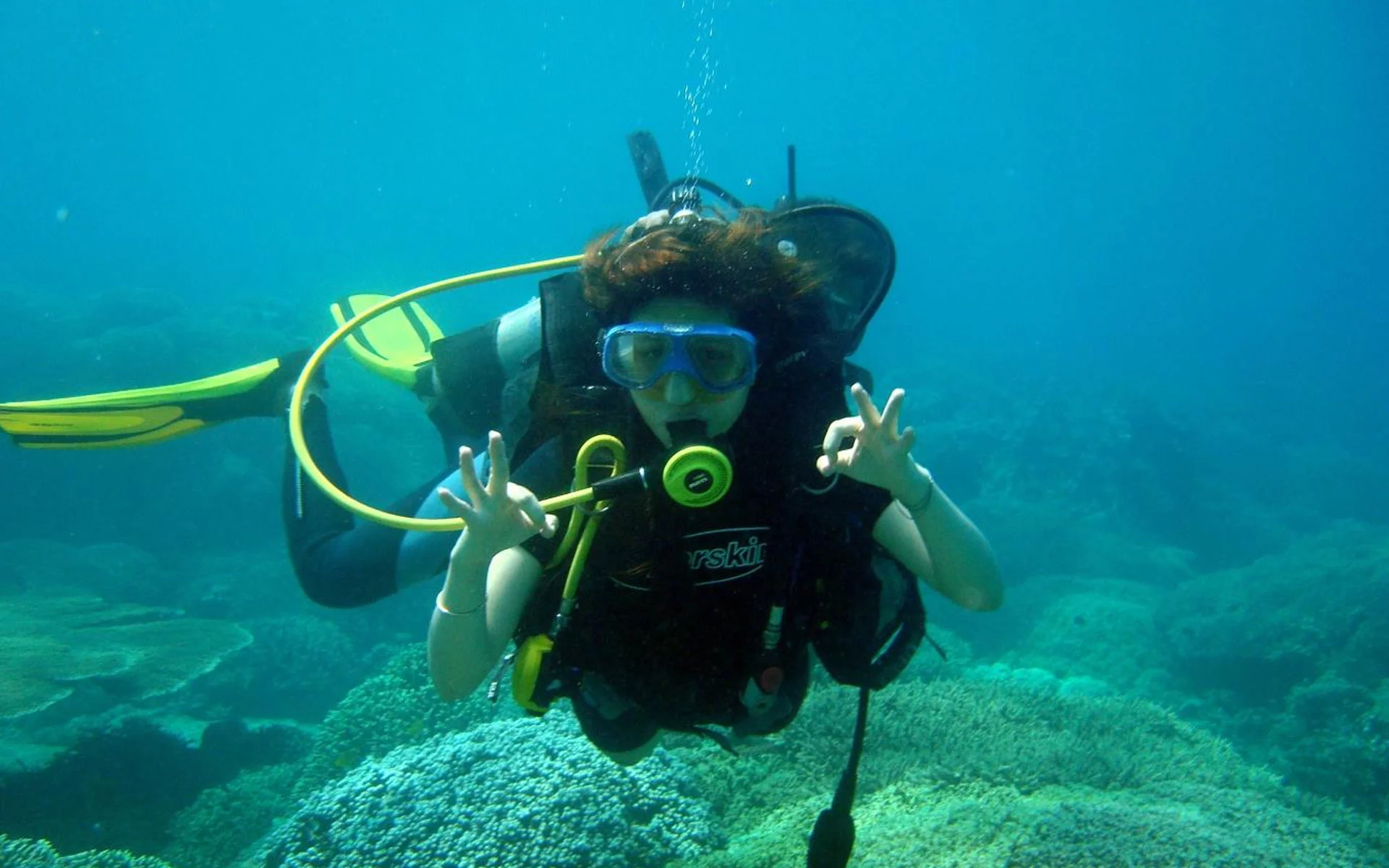 Whale Island is also a perfect place for beginners and experienced divers. There is safe and simple diving from the beach to a maximum depth of 15m to explore the marine creatures such as seahorses, cuttlefish, sea snails, crabs, shrimp, stingrays… If you are planning to take a PADI Course on Whale Island, you can head to Rainbow Diving Center to have some adventure dives. You will be picked up to the spot and a coach are await to instruct you on how to dive.
Trekking
Besides water activities, you can go trekking to explore the richness of the fauna and flora in pristine forest on Whale Island. You will have a chance to see a great number of rare species of birds such as woodcock, plovers, Indian pewit, white eagle, pink-necked parrot, white-legged stork… All are specially protected in the unique ecological zone.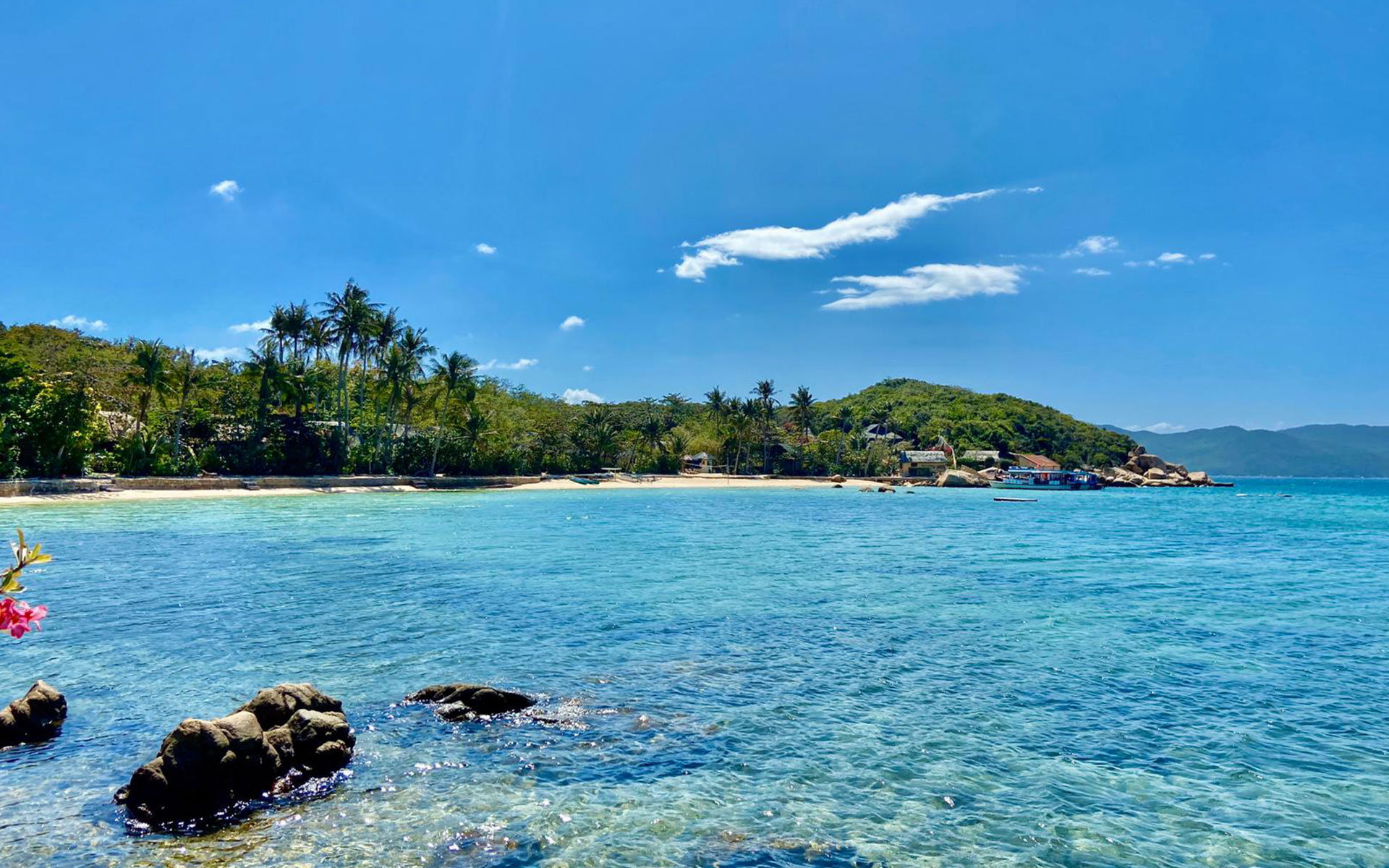 It is better to prepare some essential things before trekking such as long-sleeved clothes, walking shoes, a bottle of water and mosquito repellent… You can ask the resort's receptionist to get the trekking map. There are 3 popular routes: Yellow Trail (15 minutes), Blue Trail (20 minutes), and Red & White Trail (1.5 – 2 hours). These trails will give you a chance to go around the island, enjoy beautiful natural landscapes and some moments for taking fancy photos.
To sum up, Whale Island is an extremely ideal place for truly nature lovers who want to find the sense of complete relaxation in a tranquil and unspoiled place and get away from bustling city life. Do not expect luxurious accommodation and 5-star services on the island as it is very eco-friendly and natural. You will have chance to admire the stunning landscapes both above and under water and immerse in yourself in peaceful atmosphere. If this is a travel type you are looking for, so let's plan a trip to visit this wonderful paradise!