Temple of Literature Hanoi: History, Architecture & Travel Tips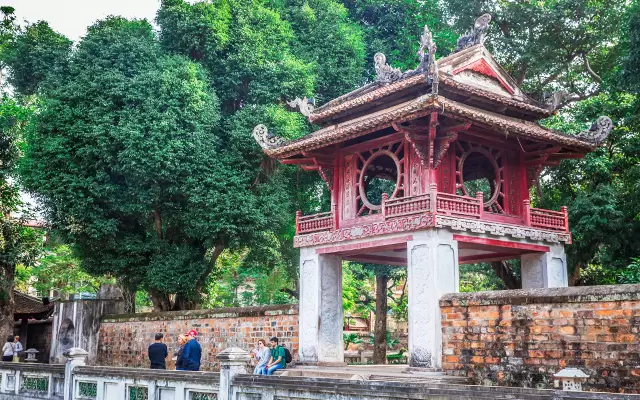 The Temple of Literature Hanoi (Văn Miếu – Quốc Tử Giám) is a rare example of well-preserved traditional Vietnamese architecture where is dedicated to the Confucius & honors Vietnam's finest scholars. Located in the south of the Imperial Citadel of Thang Long, this is often cited as one of Hanoi's most picturesque tourist attractions. Being as Vietnam's first national university, the Temple of Literature is a place of study rather than a religious landmark. It is ranked in Hanoi's categories of Historic Sites, Points of Interest & Landmarks, Sacred & Religious Sites.
Vietnam Travel will help you to understand more about this historical site which should not be missed when you visit Vietnam's elegant capital city.
1. History
The Temple of Literature was originally founded under Ly Thanh Tong's dynasty in 1070 to honor Confucius, known as Văn Miếu ("Văn" means Literature, "Miếu" means Temple).
Six years later, in 1076, Quoc Tu Giam was built behind the Temple of Literature, and became Vietnam's Imperial Academy, a prestigious school for top academics shortly after, under the reign of King Ly Nhan Tong.
At first, the Imperial Academy as a royal school was opened for only members of the elite such as princes, nobles, and bureaucrats. Later on, in 1253, under Tran Thai Tong's dynasty, Imperial Academy was expanded as National Academy to accept the civilians' children who had excellent academic abilities.
Under the reign of King Tran Minh Tong, Chu Van An was appointed Quoc Tu Giam's mandarin, as today's principal, who directly taught the princes. In 1370, after his death, King Tran Nghe Tong worshiped him at the Literature Temple which was located next to the Confucius.
In late Le dynasty, Confucianism became very popular. In 1484, King Le Thanh Tong set up stelae for those who passed the doctoral exam from 1442 onwards. Each stele was placed on turtle's back which is symbol of the longevity & wisdom. Under King Le Thanh Tong's dynasty (1460-1497), exactly 12 examinations were held every three years.
In 1802, the Nguyen dynasty's monarchs founded the capital in Hue where they established a new Imperial Academy. During this period, the Literature Temple was called "Van Mieu Bac Thanh" (Literature Temple of the Northern Citadel) and later changed to "Van Mieu Hanoi" (Hanoi's Literature Temple). As for Quoc Tu Giam, it became the school of Hoai Duc prefecture and then developed into the Khai Thanh Shrine, a place for honoring Confucius' parents. By this time, the Pavilion of Constellation was also built next to the side of square well.
In 1906, the Temple of Literature was ranked as a historical and cultural vestige by the General Governor to Indochina. Unfortunately, during the French war (1946-1954), the Literature Temple  was almost destroyed because of bombs.
2. Architecture
The whole complex of Temple of Literature covers an area of 54,331 square metres, including the Exterior (Lake of Literature & Giam Garden), and Interior Area which is divided into five sections as mentioned details below.
Architectural complex of Van Mieu – Quoc Tu Giam was built for each zone, layer by layer along the North-South axis. It is similar to that of the temple at Qufu, Shandong (China) where is Confucius' birthplace.
2.1. Exterior Area: Lake of Literature & Giam Park
Lake of Literature (or Hồ Văn, or Hồ Giám, also known as Minh Duong Lake) is located in front of the main gate of Literature Temple (on the other side of the current Quoc Tu Giam Street). There is Kim Chau mound in the middle of the lake, which is the place where poetry commentary of ancient citadel took place.
Giam Garden, located on the west side of the temple, is an important space of the relic, displaying many ornamental plants, octagonal houses. It is often used as a venue for cultural and artistic activities during Tet Holidays such as: water puppet show, dragon dance, poetry performance etc.
2.2. Interior Area: Literature Temple & Quoc Tu Giam
The Interior Area of Literature Temple is divided into five courtyards, each of which is surrounded by brick walls. There are three gates at each courtyard: the biggest one in the center and two smaller ones on either side. The first two courtyards are shady and provide a quiet buffer from the bustle of the surrounding streets. The third one contains a large pond known as the "Well of Heavenly Clarity". The fourth hosts the House of Ceremonies, which contains a large statue of Confucius and is flanked by souvenir shops. The last one hold some of the largest structures including a bell tower and drum.
The Front of Literature Temple is an open space, making the vestige appearance looks majesty and holy. It consists of four brick pillars and two stelae commanding horsemen to dismount (Hạ Mã) on two sides. There are two lions facing each other on the top of the two highest pillars in the middle. The two other pillars are topped with four phoenixes in a charming position with out-stretched wings and tails huddled together. The two "Hạ Mã" stelae were built in 1771, in front of the entrance of Literature Temple, to remind all people, including doctors, high-ranking mandarins and emperors, getting off their horses to pay homage to the saints and the talented educational center of the country.
• The First Courtyard: Great Portico & Great Middle Gate
The first courtyard leads from the Great Portico (Khu Nhập Đạo) to The Great Middle Gate (Đại Trung Môn) with two smaller gates on sides: Attained Talent Gate (Đại Tài Môn) and the Accomplished Virtue Gate (Thành Đức Môn), which implies that a successful person should have both talent and virtue. Here you will see 2 small ponds on each side of the garden and 3 walking paths with meaning used in the past as follows: the middle one was for the king, the royal family and the great mandarins; two small paths on each side were for students and normal people.
The Great Middle Gate, located at the end of the central path in the first courtyard, is built in the architectural style of post Le dynasty (15th-17th centuries). It is a construction with three compartments supported by wooden pillars and a red shoe-shaped tiled roof. On the rooftop, there are signs of two carps flanking a flask that were decorated with pieces of glazed terracotta and porcelain. The ground of the gate was paved with bricks that made in Bat Trang Pottery Village. The Great Middle Gate was set up on a brick platform surrounded by stone with three steps, making it sizeable and solemn.
• The Second Courtyard: Success Courtyard and Pavilion of Constellation
Pavilion of Constellation (Khuê Văn Các) was built in 1805. The architecture includes 4 square brick pillars (85cm x 85cm) supporting the upper attic, with very beautiful wooden structures. It is not too big but the pavilion has unique and harmonious architecture. Pavilion of Constellation has a red elaborate roof with two circular windows and a bronze bell which is only rung on special occasions. Pavilion of Constellation was originally used to hold a review of the beautiful essays from the students who passed the examinations.
The Pavilion of Constellation is a symbol of Hanoi today, a familiar image featured on the back of the 100,000 Vietnamese Dong banknote.
• The Third Courtyard: Well of Heavenly Clarity & Garden of the Doctors' Stelae
The third courtyard starts with square shape well which also known as the Well of Heavenly Clarity (Thien Quang Well). The square represents the earth while the circle at the top of the pavilion represents the sky which created a harmony between the sky and earth. This well functions as a mirror absorbing the best essence of the universe, and helped students see themselves and dress up before entering the sacred inner part.
On both sides of the Well of Heavenly Clarity are 82 stelae, known as the Doctors' Steles, mounted on stone tortoises. Each stele recorded details of candidates who successfully passed the state royal examinations held at the National Academy from 1442 to 1779, and thus are a precious historical resource. Tortoise is considered to be a holy creature and a symbol of longevity and wisdom in ancient Vietnamese tradition. It used to be good luck for pupils and students to rub the heads of the turtles before their important exams, but in order to preserve these stone turtles, everyone is forbidden to touch them now.
• The Fourth Courtyard: Gate of Great Success & Attained Talent Sanctuary
The fourth courtyard lies behind the Gate of Great Success, the central area, as well as the main architecture of the Temple of Literature. It consists of two large works arranged parallel and connected by other houses. This place is used for the worshiping of Confucius, four most brilliant students of Confucius (Mencius, Yanhui, Zengshen, and Zisi) and Ten Chinese Philosophers.
This is where most Vietnamese visit and make their offering especially during the exam period.
• The Fifth Courtyard: The Imperial Academy
The fifth courtyard housed Vietnam's actual first academy that was established in 1076 with the principal aim of educating the country's high officials. In 1946, it was destroyed in the First Indochina War. The present Imperial Academy was reconstructed in 2000 on the former ground of Quoc Tu Giam. Nowadays, there are several exhibits here with a statue of Chu Van An, one of the Academy's rectors and a beloved figure in Vietnamese history for his dedication to teaching. There are also many cultural events held at the hall in this courtyard, as well as displays of old uniforms that the scholars wore while studying there.
In this area, incense are often lighted and flowers are offered by students and their parents especially at the time of examinations.
3. Cultural Value
– With more than 700 years of operation, having trained thousands of talents for the country, Quoc Tu Giam is considered as Vietnam's first university and also an academic symbol of the feudalism of the country.
– This is not only a visiting site for domestic and foreign tourists, but also a place of praise for excellent students.
– An annual poetry festival is taken place on the full moon day of lunar-calendar January. Other activities from traditional villages and Spring Calligraphy Festival (asking and giving letters) are also set up during the New Year's days for local people to come and join. This is a beautiful culture of Vietnamese for centuries.
– Previously, the martyrs often came to "get lucky" before each exam by stroking the turtle's head at the doctoral stelaes. However, today, a fence is set up to preserve the monuments so the martyrs no longer do the ritual of luck as before.
– Water puppet performances are sometimes set to tell about Vietnam's history. At souvenir stores, you can buy water puppets and other objects such as stamps, wooden masks or miniature statues of Vietnamese famous historical people. You can also see & enjoy traditional Vietnamese musical instruments in the temple as well.
– Temple of Literature is an image on a polymer banknote with par value of 100,000 VND of Vietnam.
– This was in the list of 23rd National Special Monuments by the Prime Minister of Vietnam.
4. Some interesting facts regarding the Temple of Literature Hanoi
– The first student at the Imperial Academy – Vietnam's first university was Crown Prince Ly Can Duc who became King Ly Nhan Tong later.
– The three kings are worshiped at the Literature Temple (the second floor of The Imperial Academy): Ly Thanh Tong, Ly Nhan Tong, Le Thanh Tong.
– The three celebrities are worshiped at the Literature Temple: Confucius, Chou Kung (Duke of Chou) and Chu Van An.
– There were total 18 Great Tutors had their names engraved on stone stelae at the Temple of Literature. Nguyen Truc – the first grade doctoral laureate was named (in 1484), while Trinh Tue – the last one received this honor.
– UNESCO recognized these 82 Doctors' Stelae as part of the world's documentary heritage and in 2011 placed this in the Memory of the World International Register of UNESCO.
– The main purpose of the architecture is for studying rather than for religion practice though it is a temple.
5. Useful Tips to Van Mieu – Quoc Tu Giam
– Raise a higher sense of responsibility in the protection of the environment, architecture, sanitation and landscape of the relic and keep up the security;
– Wear suitable and appropriate clothing. Conical hat, cap, short skirt, single strip shirt or shorts are not allowed inside the places of worship;
– Be quiet within worshiping areas;
– Cash is preferred as no credit card accepted;
– If you visit Hanoi's Literature Temple yourselves, Vietnam Travel highly recommend you renting the audio guide (available in eight languages: Vietnamese, English, French, Spanish, Korean, Japanese, Thai and Chinese) in the entry and it will help you understand the culture of Vietnamese people and also the history of education. It costs around 30,000 VND – 50,000 VND/ unit (1.3 USD – 2.2 USD).
– If you are looking for somewhere delicious to have lunch before of after your visit to the Temple of Literature, go around the corner to KOTO Restaurant (61 Van Mieu Street) – a non-for-profit social enterprise that's a hospitality school for disadvantaged youth. It is top notch and the training ground for the kids to get trained up in a two-year program that provides them with internationally recognized chef qualifications.
– You can spend around 90 minutes leisurely exploring the temple. Some other nearby attractions of the city that you should combine with a visit to the Literature Temple in Hanoi City Tour are Hoa Lo Prison (Hanoi Maison Centrale), Ho Chi Minh Mausoleum with Ba Dinh Square, Tran Quoc Pagoda by the West Lake, Imperial Citadel of Thang Long, Vietnamese Women's Museum etc.
– Be careful if you take a taxi or a cyclo around the temple as you may be cheated. Three of trusted taxi brands in Hanoi are Mai Linh, Taxi Group and ABC Taxi.
6. Getting to Vietnam's First National University
Located around 3km far from Hoan Kiem Lake, it takes you about 10-15 minutes of drive. There are various transports to choose such as bus, taxi, rented motorbike, cyclo or just on foot. For most comfortable and interesting experience, a private car/ minivan with experienced tour guide is highly recommended.
Opening Hours:
Summer time (15/4-15/10): open weekdays from 7:30 to 17:30.
Winter time (16/10-14/4): open weekdays from 8:00 to 17:30.
Address: 58 Quoc Tu Giam Street, Dong Da District, Hanoi.
Ticket Price: 30,000 VND/ visitor/ entry (1.3 USD).
The Temple of Literature is considered as one of Hanoi's most sacred places. What stands now is a spectacular example of Indochinese architecture and a reflection of the country's several imperial histories after almost 1000 years as well. It is also an important site for education and during the graduation season there will be hundreds of students in graduation gowns and traditional Ao Dai posing for photos and waiting for blessings. Vietnam Travel highly recommend all travelers to visit the Temple of Literature, to bask in its picturesque gardens where ancient scholars studied, to admire the grand trees and to look the tranquil well that have witnessed centuries of Vietnamese history.