Cu Lao Xanh (Van Phi Island)
1. Overview of Cu Lao Xanh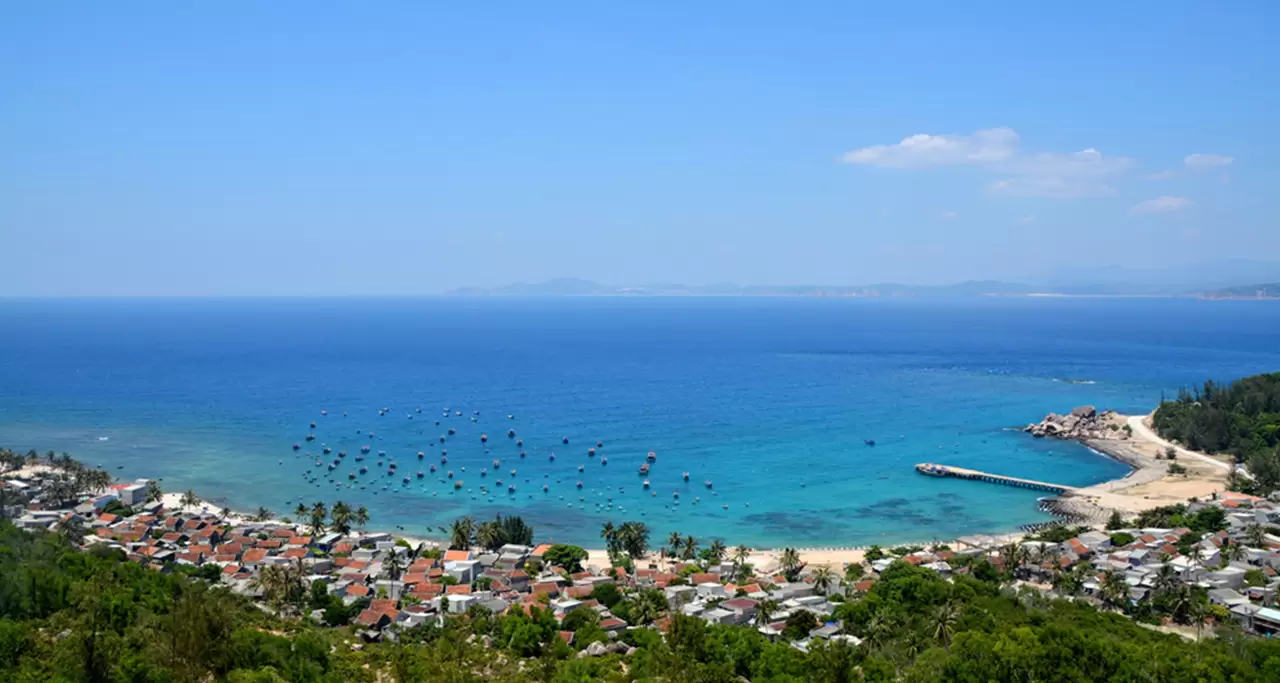 Cu Lao Xanh (or Van Phi Island) of Quy Nhon City, Binh Dinh Province is a hidden beauty and considered a charming pearl of the East Sea. The island is just about 24 km away from the mainland, located near the Xuan Dai Bay in Nhon Chau Commune, Binh Dinh Province. Cu Lao Xanh is translated into English as Green Islet, which refers to its greenery beauty and vitality.
The whole island is covered by the greenish lush natural forest, the lines of the tall coconut trees along the beach, the pure blue sky and crystal clear sea water. You may be fascinated by the sparkling water surface under the sunshine. Cu Lao Xanh has soft white sand dunes. From the above, Cu Lao Xanh looks like a sexy woman with full of vitality lying among the vast ocean. If you are on the planning step to visit Quy Nhon, Cu Lao Xanh must be included into your travel bucket list.
2. Best time to visit Cu Lao Xanh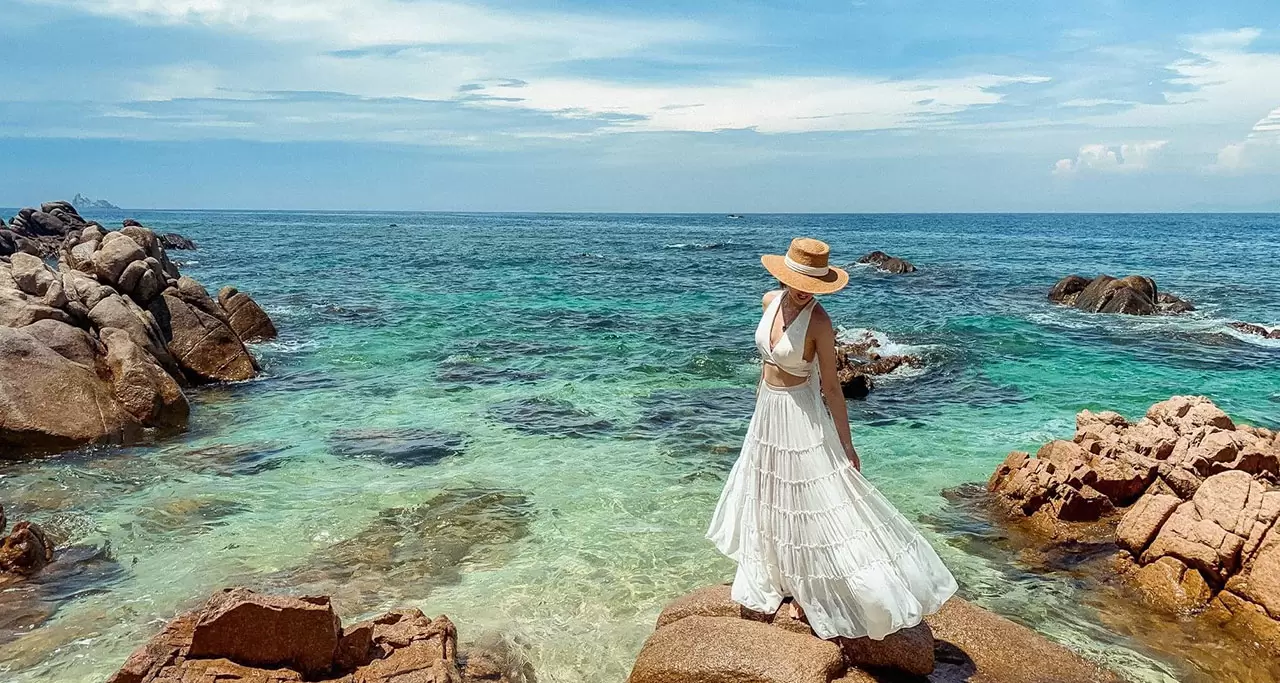 Cu Lao Xanh shares the typical features of tropical climate in South Central Vietnam, which is similar to more popular beaches in Nha Trang or Phu Yen.
The best time to plan the visit to this island is from February to June or September to October. During these months, the island is in full summer mode, basking in constant sunshine (avg temp: 28°C), which is convenient for visitors to swim and dive to see the colorful coral reefs.
In contrast, the end of July and August should be avoided because typhoon tends to happen in this period. The northeast monsoon blows to cause rain and fluctuations, large waves prevents ships and boats from operating occasionally so tourists are highly recommended not to visit the island in bad weather conditions to ensure their safety.
Read more: Best Tourist Islands In Vietnam
3. Things to do in Cu Lao Xanh
3.1. Swimming & Diving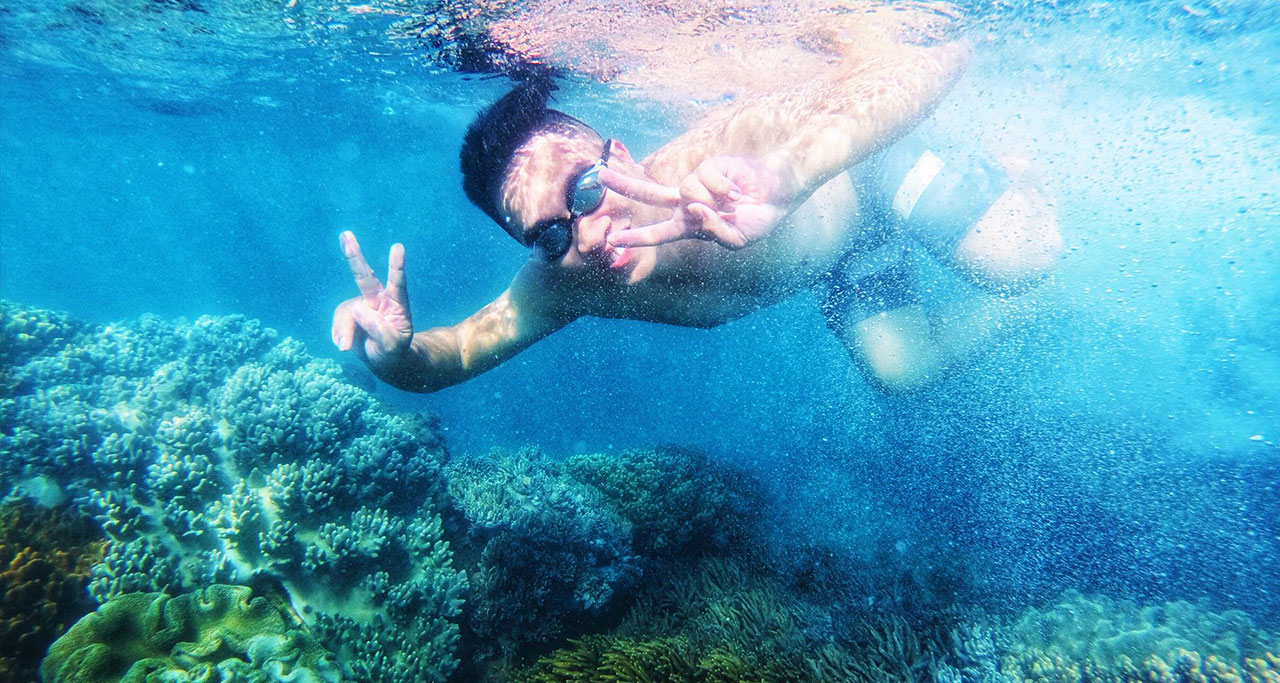 Beautiful beaches are located at the west of the island. They surely can meet the requirements of persons who likes swimming, admiring the blue crystal water, seeing colorful & unique multi-shape coral reefs and walking along the long soft white sand stripes. Sea lovers shouldn't miss this amazing opportunity to experience these magnificent beaches. Moreover, you can take part in other exciting activities such as seeking sea stars, catch sea urchin, etc. Just immerse yourself into the blue sea and feel how close you are to nature more than ever.
3.2. Discover Cu Lao Xanh Light Station & Lighthouse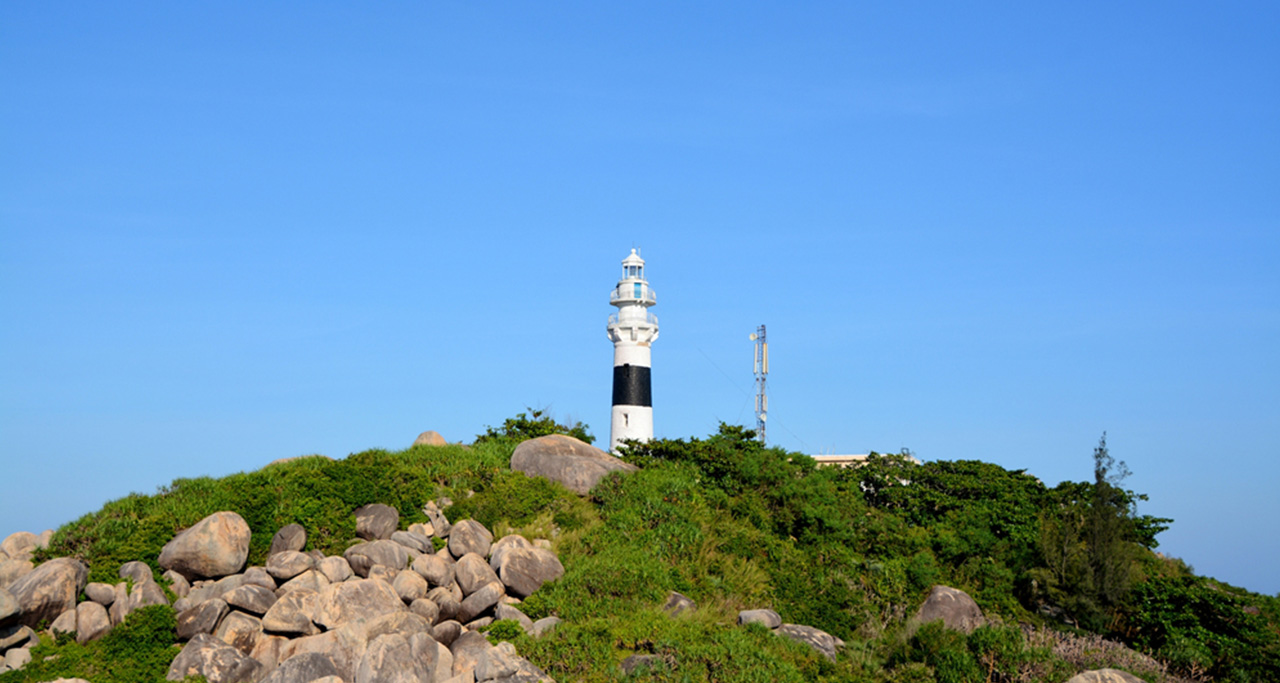 Cu Lao Xanh Light Station is located on the top of a 120m hill and parallel to the 19m Lighthouse. It is a two-storey building with a unique structure and used to be the house of a French official during the war against the French colonialists. At the back of the Cu Lao Xanh Light Station standing a 19-meter lighthouse with French name as Plogam Bir. Its structure is a combination of Asian and Western Gothic architecture styles. This lighthouse was built in 1890 by French after a ship sank on colliding with the reef in Quy Nhon sea. By the time of its launching, this structure was the highest lighthouse of the Indochina, with 119 meters in length and its light can spread up to 50 kilometers.
Over the past 130 years, Cu Lao Xanh Lighthouse has become a close friend to fishing boats and fishermen in this region. Its light lead fishermen to row their boats safely at night time or overcome many strong waves and sea storms all year round.
Standing on top of the lighthouse, tourists can have a panoramic view over the Cu Lao Xanh island and surely will be overwhelmed by the picturesque sceneries below. The island stretches out like a grand picture with many shades of blue and green.
3.3. Visit "Fairy Well" Stream (Giếng Tiên)
Tourists can move down toward the northwest of the lighthouse to reach Fairy Well Stream (Giếng Tiên). The name derived from a legend. According to the legend, on moonlit nights, fairies would descend, play around, enjoy the scenes, and take a shower in the stream before flying back to the sky. "Gieng" means "well" and "tien' means "fairy' in Vietnamese. Therefore, Gieng Tien stream means the well where the fairies take a bath. Bathing in the pure fresh water with salty smell is surely a great experience that every visitor should not miss.
3.4. Participate Cầu Ngư Festival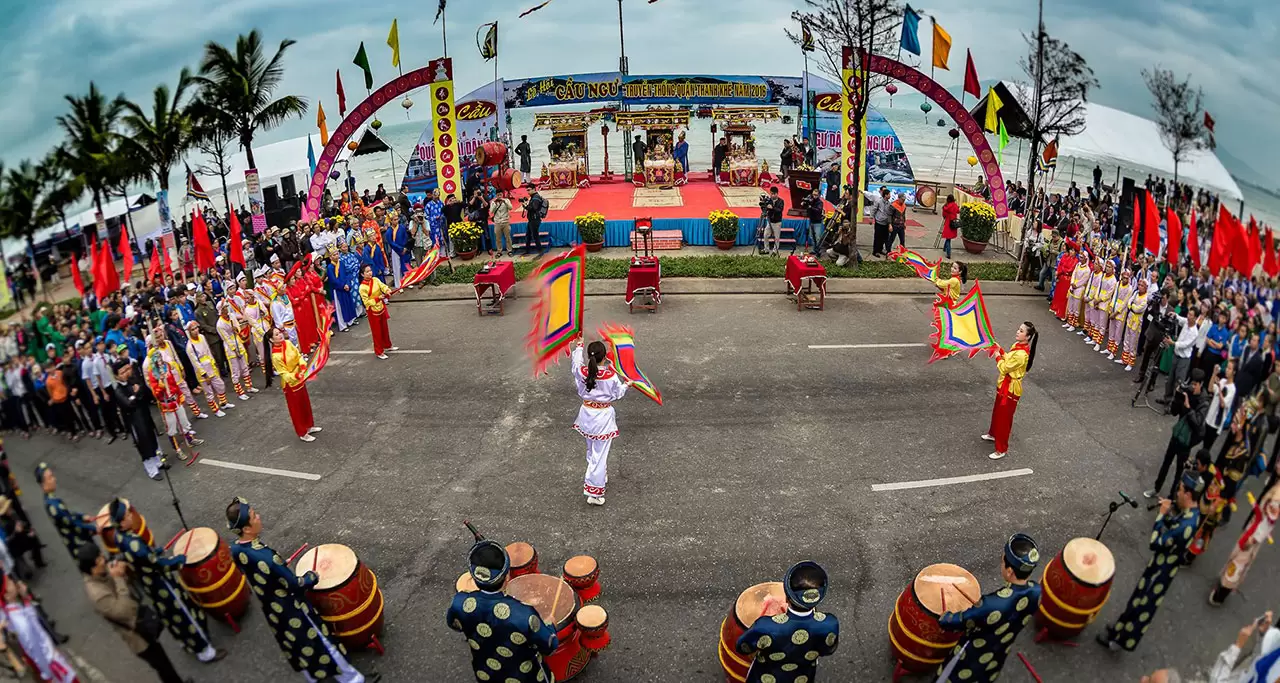 Cầu Ngư means "fish worshipping" in Vietnamese. This is the biggest traditional festival of the fishermen in coastal areas including Cu Lao Xanh. Cầu Ngư Festival is annually held on 16th March (lunar calendar) to express local fishermen's gratitude to the fish lord, as well as pray for a peaceful and successful fishing season as fishermen often face up with uncertainties and potential dangers on the giant ocean. This is a spiritual tradition passed on from generation to generation since ancient time and still honorably preserved until today.
During the festival, besides the worship rituals, many traditional interesting games such as the racing boat, tugs of war, etc are also organized.
3.5. Other activities
Do not forget to bring fishing rope when discovering the Cu Lao Xanh Island. When tourists are tired from walking or swimming, they can sit on some rock cliffs and go fishing, or wade in the water to catch some "vú nàng" snails, a local specialty. What can be more pleasant than to enjoy the seafood one has just caught on their own, grilled on the spot with friends or family members.
There were also small sand dunes in which the sea turtles often lay their eggs. If a tourist is lucky enough, he might have a chance to see the tiny turtles crawling on the sand toward the sea.
4. Accommodations in Cu Lao Xanh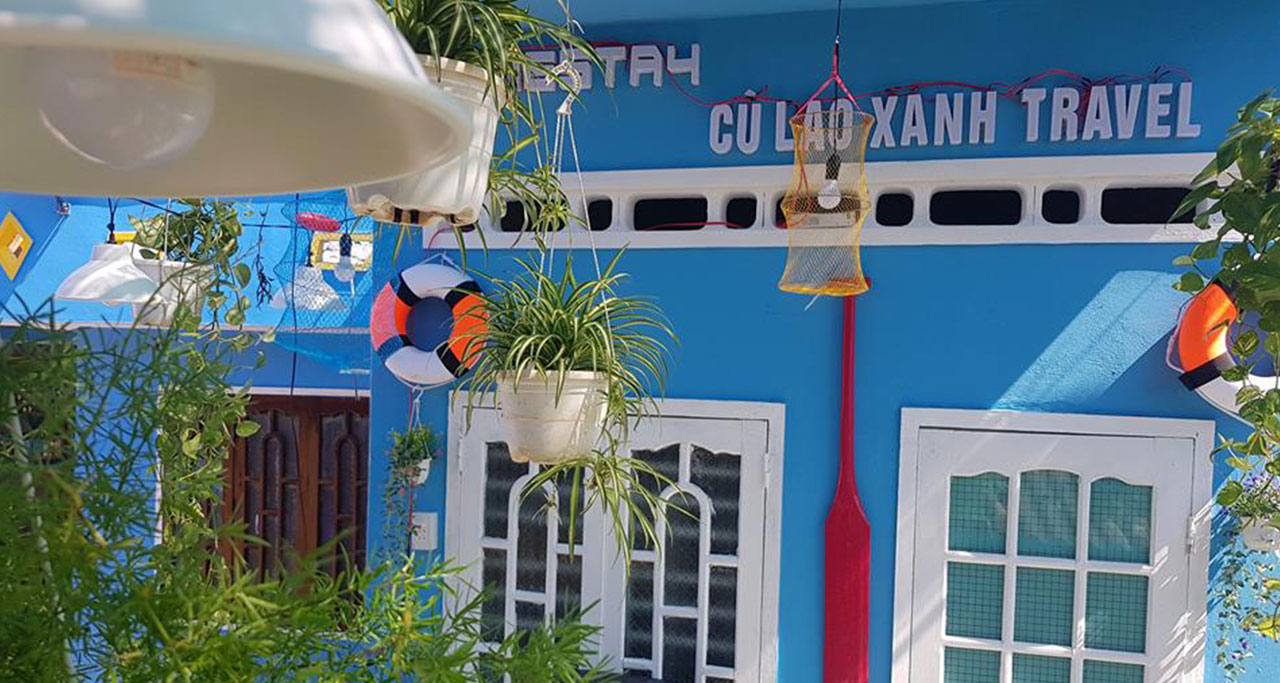 This place is famous for its beautiful, natural and romantic beach and they have not been exploited much by tourism. Therefore, there are not many accommodation options for tourists to choose from. There are several homestays with extremely cheap prices from 50,000 VND – 100,000 VND/ person or 150,000 VND – 550,000 VND/ room, depending on tourists' budget.
• Homestay Travel Cu Lao Xanh
• Uncle Nam's Homestay in Hoa Hoa
• Uncle Vuong's Homestay
• Phuc Hung Homestay
• Homestay Ngoc Dinh
Besides a few homestays, if tourists want to experience local life, they can definitely ask local people for staying in their houses. The local people and fishermen here are very friendly and open. They are willing to help and invite you a simple meal of delicious seafood and local specialty in Cu Lao Xanh.
5. How to get to Cu Lao Xanh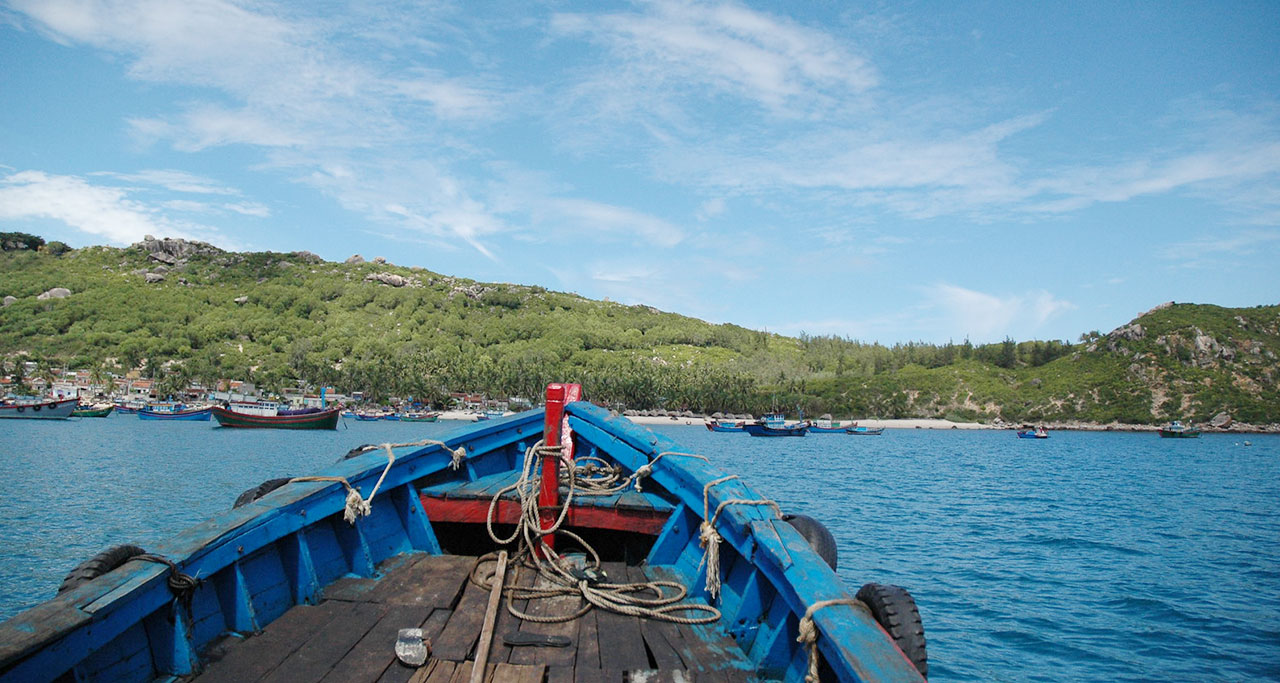 Lying in a strictly managed area within the maritime boundary of the country, the island is virtually off limits for foreigners. The only way to get to this island, 24km away from the inland town of Quy Nhon, is by boat or speedboat. From the Ham Tu wharf, it takes 2 hours and 25,000 VND (~ 1.09$) to get there in a normal wooden boat. For 200,000 VND, you can get there on a high speedboat in 50 minutes. Cu Lao Xanh is wildly beautiful, with sunny beaches and a serene coast.
6. Some notes when traveling to Cu Lao Xanh?
– Cu Lao Xanh is a military island so the security is very strict. When arriving in the island you must bring identification card. Ideally, you should book the tour to Cu Lao Xanh with Vietnam Travel as we can assist you to get a guarantee procedure quickly. Foreigners are prohibited to visit Cu Lao Xanh for any reason.
– Currently Cu Lao Xanh has not yet pulled electricity from the mainland. People living on the island only use generators from 9 am to 3 pm and 5 pm to 11 pm. So you should prepare backup chargers, cameras, phones to avoid running out of battery.
Fresh air, blue sea, white sand and golden sunshine creates a poetic and peaceful natural scenes of Cu Lao Cham, which makes it as a truly precious gem in the sea and a destination that should not be missed when exploring Quy Nhon.