Top 5 Magnificent caves worth visiting in Halong Bay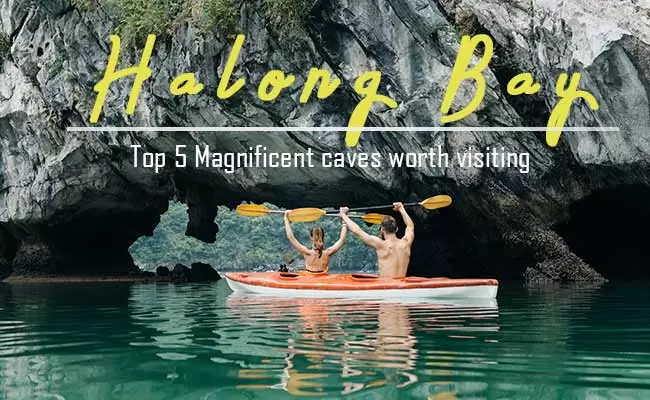 Ha Long Bay is well-known for its magnificent structure naturally formed by geological movement million years ago. Numbers of caves created by 1969 limestone islands are unaccountable. Some of them are must-visited spots while the others are less popular or even unknown. Below is the list of 5 marvelous caves you should not miss to visit in Ha Long Bay.
1. Sung Sot Cave (Surprise Cave)
Covering 10.000 kilometer square, Sung Sot cave is the biggest and most spectacular cave in Ha Long Bay. First discovered by the French in 1901, the early visitors named it "Grotte des Surprises", it is located on Bo Hon Island which is in the center of the bay. Therefore, Surprise cave has become a classic option for most of visitors on their Ha Long Bay trip.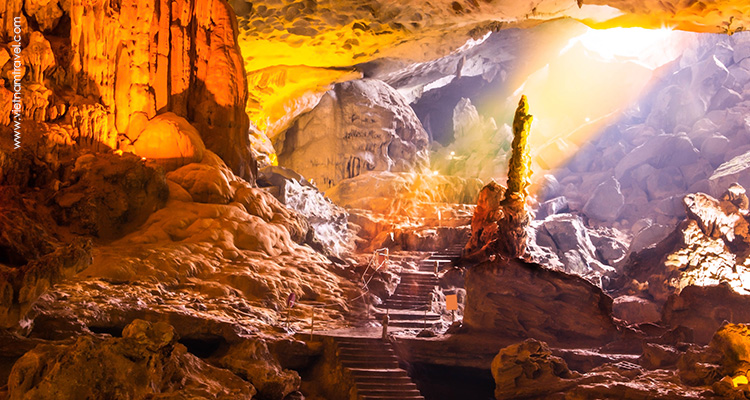 To reach the cave entrance, you will ascend a long stone staircase of 100 steps offering most wonderful panoramic view ever. The cave is divided into two chambers together with  a "royal garden" comprising a clear pond and stimulating small mountains. Inside the cave displaying a wide range of stalagmites and stalactites in mysterious and unique shapes that inspires a lot of interesting imagination such as human, animals, plants in fascinating poses. Walking through the cave ,visitors witness surprise to surprise as the cave's name itself.
2. Trinh Nu Cave (Virgin Cave)
Along with Sung Sot Cave, Trinh Nu cave is hidden inside Bo Hon Island, which is about 15 kilometers from Bai Chay of Halong Bay. In the past, the French named it with a romantic title , "La Vierge" (Virgin Cave). Nowadays, it remains a cozy home for fishermans and symbol of true love for couples. In the middle of this grotto lying a stone shaping a girl with her long hair hanging down, looking to the sea with the eyes full of vain hope. Situated opposite to Trinh Nu Grotto, Trong Cave(Male Cave) accommodates a boy statue looking at the girl statue.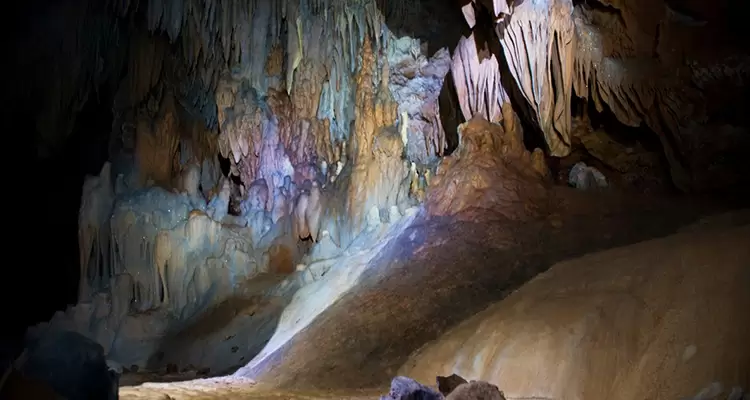 Tourists can listen to his despairing scream in tune with the wind blowing into the cliff  for endless times. It was such a tragic love story that the beautiful fisherman's daughter refused to get marriaged with the rich administrator of the fishing zone to wait for her fiancé. She then was left in the wild cave till hunger and exhaustion and turned into stone. Her loyalty and beautiful love therefore inspired lovers to come here for taking oath of love.
3. Luon Cave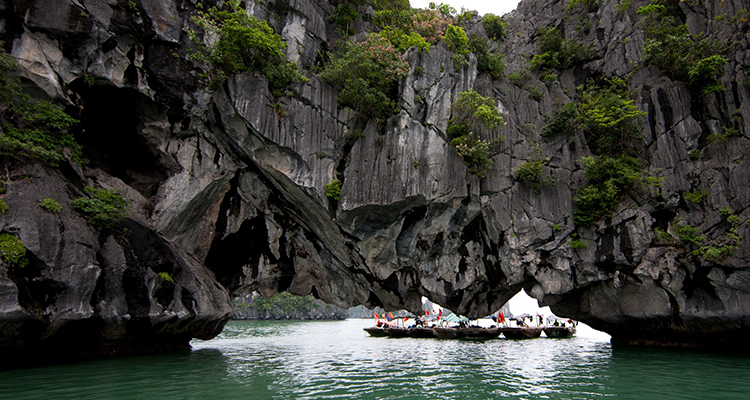 Luon Cave is always perfect place for kayaking where you can experience a hands-on adventure and enjoy the extreme peace of the bay. The cave is about 60 meters length and the height depends on the water level.  Here the cliffs stretch vertically out of the blue and serene water. The cave's ceiling is covered by magnificent stalactites  together with many orchids hangging their sweet-scented flowers. After passing the appealing entrance, you will see a green complex of in-mountain waters , luxuriant plants  and spectacular mountains. If you are lucky enough, you may encounter a family of lovely monkeys playing around.
4. Thien Cung Cave (Paradise Cave)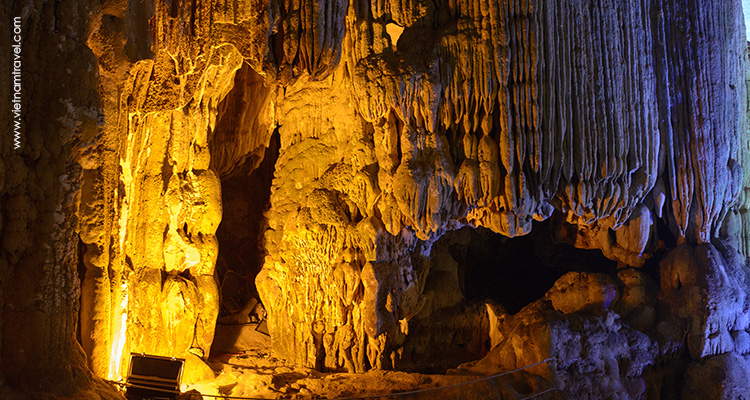 Once visiting Thien Cung Cave, you will have a sensation of just having seen a unique fine-art museum which is created by nature; all these presentation are beyond imagination, ability and intellect of the human beings. In the cave centre, there are four large pillars propping up the " heaven roof." Many extraordinary drawings were carved on the stone including birds, fish, flowers, human life activities especially a scene of fairies celebrating their wedding. Locals has rumorred that a pretty girl named Mây (cloud) and the Dragon Prince felt for each and their wedding was organized within seven days in the grotto. Celebrating this special event, many dragons released variety of stalactites and stalagmites, elephants and stone lions danced happily together. Sparkle stars also attended the wedding banquet made the cave become a truly splendid and lively palace. The way to Paradise Cave is a perilous one, covered by thick vegetation systems on both sides. After passing through a narrow gate, the grotto's 130-meter-long girth opens up with the natural stream described above.
5. Dau Go Cave (Driftwood Grotto)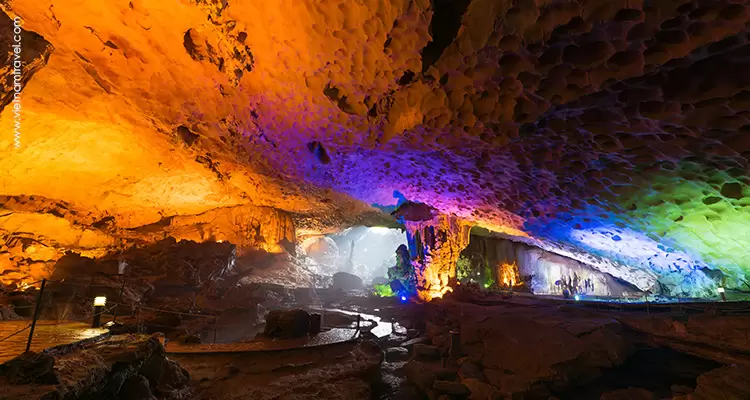 Located on Dau Go island , 2 million years old Dau Go Cave reveals not only history but also mythology unparalleled with any other caves in Halong Bay. The name Driftwood Grotto came from a popular tale of Vietnamese battle against the Mongolian aggressors in the 13th Century. In a decisive battle, Tran Hung Ðao used the cave as a warehouse to keep pointed piles of ironwood  which is a weapon that helped our army defeated invaders in Bach Dang river. The remaining wooden pieces are found inside this grotto have proven its present name. If the Thien Cung Cave is monumental and modern (in its natural form), the Driftwood Grotto is solemn, but also grandiose. Stalactites and stalagmites with various sizes and shapes falling down from the roof of the grotto look like a picturesque waterfall. This waterfall comprises thousands of lively statues, reliefs representing Halong wonderful nature and people.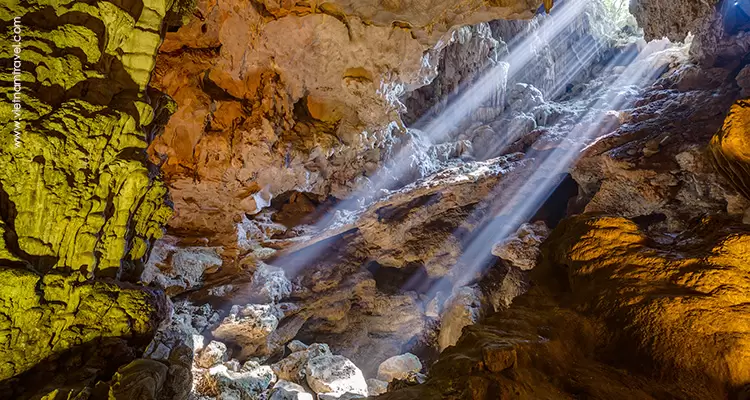 Your Vietnam holiday will not complete without a HaLong Bay trip. To experience what the World Herritage site offers, please feel free to contact us for more information. Our team with professional travel consultants will create unforgetable travel experiences by understanding your travel interests.