Halong Bay Seaplane Tour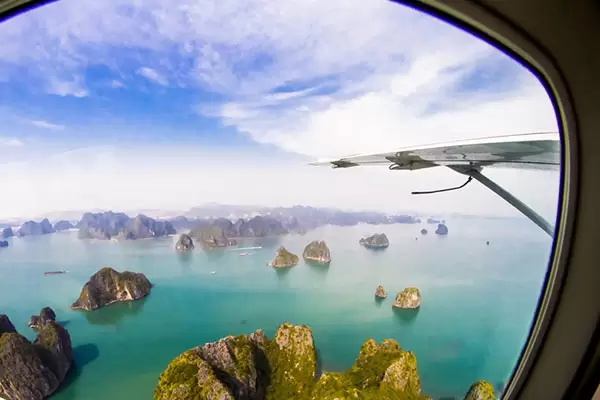 Cruising in Halong Bay is a must when visiting Vietnam. And now tourists have had an additional fascinating experience of Halong Bay – sightseeing over the dazzling natural attraction from seaplane. While cruising helps you view the bay at the horizon, the seaplane presents you spectacular and appealing beauty from 300m high above the water level.
Why a sea plane trip?
Taking a seaplane tour, tourists can visit famous Halong Bay in just 45 minutes from Hanoi airport. Moreover, it's once-in-a-lifetime experience, with thrilling water take-off and landing. The moment of take-off is highlight of every ride. In fewer than 60 seconds, the seaplane gets to speed and lifts off, making every customer excited from the beginning. Landings are just as dramatic because the seaplane touches down on the glimmering water of Tuan Chau Marina, cruises over the ripples and climbs ashore. In between, travelers can catch a glimpse of towering limestone islets topped by forest rise from the emerald waters.
Operation
The aircraft model is Grand Caravan 208B-EX, originated from the United States. There are just 12 stylish and comfortable leather seats for passengers on each flight. You can charter the whole aircraft for your most comfort. Luggage allowance per person is 7kg which includes both checked and carry-on luggage. Reasonable weather allows aircraft to operate daily. The journey will start from Hanoi Airport and go over famous Ha Long Bay attractions including the Thien Cung Cave and Ti Top Island, as well as Bai Tu Long, a lesser-known neighbor of Ha Long Bay, finally reach the Tuan Chau Marina.
The safest aircraft ever built
The Cessna Grand Caravan 208B EX is considered as the safest single-engine aircraft in the world and the safest single-engine aircraft to land on water. Any flights have to meet the strictest requirements by Federal Aeronautics Associations, International Civil Aviation Organization and Civil Aviation Authority Vietnam. Every flight is crewed by an International Captain and a Vietnamese first officer who are well-trained on safety and emergency procedures to ensure of a safe, smooth ride.
Flight schedules
Scheduled flights are divided into 3 categories including Hanoi – Halong or vice versa (with scenic flight in Halong), Hanoi – Halong transfer only, Scenic Flight Halong in 25 minutes. The 45 minutes Hanoi-Halong flight with additional 15 minutes of a scenic flight over Halong Bay offers the miracle of nature from a bird's eye view. For those looking for truly unique travel experiences while staying on a budget, they can take advantage of the 25 minutes scenic flight only for panoramic view and a completely different perspective on the islands. After that, visitors can take luxury overnight cruises to admire exceptional natural beauty of the UNESCO World Heritage Site.
Interested in this off-the-beaten experience? Contact our travel consultants for the best rate and a smooth Halong Bay trip!