Cat Ba National Park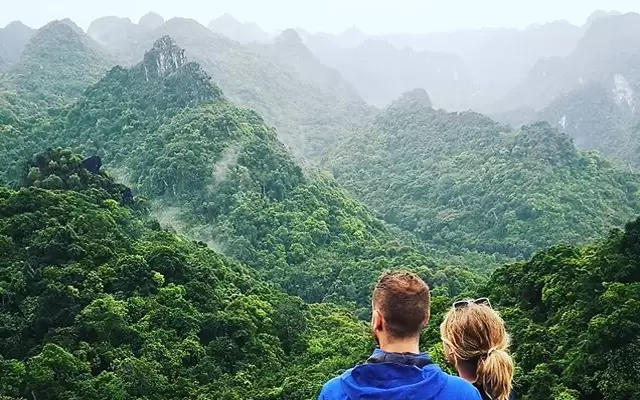 Cat Ba National Park is situated in Cat Hai District, Hai Phong, Vietnam. The Park is one island in a group of some 367 islands of the Cat Ba Archipelago – 40km east of Hai Phong City, 124km from Hanoi and borders with Halong Bay to the north facing to East Sea.
The Park was established on the 31st March 1986 and now covers some 17,362.96 ha; approximately 10,912.51 ha are terrestrial ecosystems (islands), and 6,450.45 ha are marine ecosystems. It was the first ever national park to be established in Vietnam and is divided into three zones: strict protection; ecological recovery; and administrative services.
Nice trekking in the greens plus the pleasant temperature with nice breeze from the sea will make your trip more relaxing. Route Viet Hai or Ngu Lam peak are the choice for pleasant trek in Cat Ba Island.
1. Overview of Cat Ba National Park
1.1. Geomorphology Value
The most striking feature in the geomorphology of Cat Ba National Park is fully developed karst scenery; previously developing on land but invaded by sea and continuing to change over time. Cat Ba Archipelago is a prime example of karst scenery with fenglin (cone karst) and fencong (tower karst) features which have been isolated and separated from one another by firths and valleys. The system of caves in the area is plentiful, diverse and complex, further research is required to better describe and understand the cave systems. Cat Ba has sufficient conditions to be listed as a Geo – Park. The combination of and numerous small islands gives the region a remarkably beautiful landscape with immense tourism potential.
1.2. Cultural and Historical value
Cat Ba is rich in historical and archaeological values. Initial research has confirmed that Cat Ba Island has been populated by humans for many thousands of years. There are relics that show important milestones in progress of ancient human societies. Cat Ba Island used to be an ideal settlement for man right from the time it was still part of the continent (around 6,000 – 7,000 years ago). There are also a lot of special traditional festivals across Cat Ba.
1.3. Ecosystems
The Park differs from other national parks in Vietnam because of a great variety of ecosystems, landscapes and seascapes. It has many unique ecosystems such as the tropical rain forest on karst mountains, mangroves, coral reef, sea grass beds, caves, grottos, firths and valleys.
1.4. Fauna and Flora
Initially identified 1,588 vascular plant species across 187 families, among these, 58 are species listed in the Vietnam Red Book (2007), the IUCN The World List of Threatened Trees (2008) has 33 species. 1,026 are medicinal plant species, with one newly recorded species: Cycas tropophylla.
According to the result of initial research, Cat Ba National Park has 338 terrestrial animal species including 53 species of mammal; 205 species of birds; 55 species of reptile and 25 amphibian species, among which 36 species listed rare and endemic in the Vietnam Red Book and the IUCN Red List. Most noticeable of which is Cat Ba Langur (Trachypithecus poliocephalus) or white-headed langur, a species endemic to Cat Ba and listed by IUCN as one of 25 world top most endangered primates.
1.5. Marine Creature
Covering an area over 6,450 ha, the Park's sea possesses invaluable marine resources. According to scientific records, there are over 1,131 marine animal and plant species, including 196 species of sea fish, 193 species of corals, 538 species of zoo benthos, 75 species of sea grass, 199 species of phytoplankton, 89 species of zooplankton and 23 mangrove species.
Cat Ba is also famous for other sea specialties such as squid, lobster, crab, pearl shells, snout otter clam, blood ark, etc.
2. Weather in Cat Ba National Park
The weather in Cat Ba National Park is the typical type of tropical monsoon climate with 2 main seasons. The summer (the humid season) is hot, humid and rainy lasting from May to October. The winter (the dry season) is cold and dry lasting from November to April. Also, the effect of the sea controls and balances the weather in Cat Ba Island making the atmosphere warmer in the winter and cooler in the summer. Therefore, the average temperature of the park remains within 25०C to 28०C.
In Cat Ba National Park, the peak season of tourism is the summer. At this time, a lot of tourists from surrounding areas and international destinations come to Cat Ba Island to enjoy the beauty of nature and avoid the hotness of summer. Therefore, the price for accommodation and tourism services becomes more expensive and overloaded. It is always recommended to book the tour packages and hotel stays much in advance to avoid last hour rush and cancellation.
3. What to do in Cat Ba National Park?
3.1. Forestry Ecotourism
Coming to Cat Ba National Park, you possibly choose among various tour routes of different forest ecosystems to explore their rare wildlife resources, such as tropical everlasting green primitive forest, mangroves, limestone vegetation types, or Kim Giao precious wood forest, and so on.
The short routes (1-2 hours walking and hiking) consist of: Kim Giao Forest – Ngu Lam Peak; Environmental Education Trail; Trung Trang Cave.
The long routes (4- 7 hours trekking) such as: Frog Pond – Viet Hai; May Bau – Army Hospital Cave; Me Go – May Bau, Trung Trang – Lien Minh Suoi Goi.
3.2. Sea Tourism
Besides forest ecotourism activities, the park is also promoting its investment into marine ecotourism to meet the demands for exploring vast sea resources. In the sea area of the Park, you can choose among sea tourism types, such as taking boat trips to visit Lan Ha Bay, Van Boi, Viet Hai, Van Ta, Tra Bau areas, and rowing kayak to discover bay and gulf ecosystems, diving for a coral watch, climbing to some cliff of beautiful islands in Lan Ha Bay, fishing, swimming and sea bathing at isolated beaches, and other undersea sports. Sea tours often last for 2-5 hours.
3.3. Discovering in caves
Cat Ba Archipelago was formed tectonic crust movements as well as the increase and decrease of sea level in millions of years ago. Cat Ba with karst territory is endowed with plentiful caves and grottos. There are many charming caves and caverns in the Park, such as Trung Trang Cave, Thien Long Cave, Hospital Cave, attracting dozens of thousands of visitors annually.
3.4. Watching animals at night
For tourists of loving watching and discovering reptiles, amphibians, insects or activities of nocturnal, a night walk in the forest is such a marvel. Beneath the magical sky and mysterious forest sounds are lively moves of wildlife.
In the research results of preliminary statistics, the Park has 53 mammal species, 55 reptile species, 25 amphibian species, 274 insect species and 205 species of birds
The animal night watching route is included in Mau Bau – Frog Pond (in 2 – 5 hours)
3.5. Swimming, kayaking, fishing, climbing and coral watching
The sea area of the Park is decorated by romantic beaches of white smooth sands, deep blue sea water, made itself an idea seaside surrounded by spectacular sceneries of bays, gulfs and a sweet harmony of forest and sea island. Staying here, you can go sea-bathing on primitive beaches, rowing kayak to visit charming area, climbing on some beautiful islands in Lan Ha Bay, coral watching or relaxing fishing.
3.6. Community – Based Ecotourism & Home stays
The forests and sea of Cat Ba are immensely important culturally, providing livelihood resources for local communities. However, the natural resources are under constant threat. Community-based ecotourism initiatives are beginning to turn marginalized communities into local stakeholders, creating incentives to support conservation. The buffer zone area of the Park where local people living are interesting places for holiday makers go to visit and get 1 or 2-night home-stay in their traditional houses. While in the village you will live with one of the families, have meal together, get an opportunity to explore their culture and beautiful nature of Cat Ba Archipelago Biosphere Reserve!
3.7. Voluntary Tourism
This is a kind of tourism in which tourists take part in not only exploring natural resource values but also distributing to improve and protect a fresh and clean environment, such as gathering liter, making tour-guiding signs, and conservation-aiming signs.
3.8. Tour Around Historical and Cultural Places
Besides the charm of sea island natural resources, the values of cultural history are also a beauty that attracts tourists to the Park and Cat Ba Archipelago, such as Cai Beo Archaeological Site, Hien Hao Temple, Army Medical Corps Cave, Committee Cave, Rowing festivals, local traditional architect of houses, local cuisine and so on.
4. How to get to Cat Ba National Park?
From Hanoi, there are various ways to reach Cat Ba National Park.
• By public transport
Buses depart at Nuoc Ngam or Gia Lam bus station every 15 to 30 minutes to Haiphong. The trip takes about 2.5 hours.
Trains depart Long Biên station to Haiphong two times every morning (at 6 and 9 am) and the trip takes approximately 2.5 hours.
Upon your arrival in Hai Phong take a taxi or motorbike taxi to Ben Binh where you can get the boat to Cat Ba Island. There are also plenty boats departure times are: 7am, 8am, 10am, 1pm, 3pm & 4pm. The trip to Cat Ba takes about one hour to Cat Ba town and you can take bus, auto, motorbike or bicycle to to Park's headquarters (15km).
If you take the boat to Phu Long pier (on the other side of CatBa town) and the bus of the same boat company will take you to Park's headquarters (this is included in the price of your ticket). You will have to tell the driver you wish to get out at the Park. It'd better if you write on a small piece of paper: "Vuon Quoc Gia", and give to the driver, he will let you get off when arrive to the Park.
By auto, motorcycle or bicycle: Follow Highway 5 from Hanoi to the port of Đinh Vu in Hai Phong. You can take your vehicle onto the ferry to Cat Hai Island. Once you arrive on Cat Hai you must cross the island to catch the second ferry which takes you to Cat Ba Island. It takes about 2 hours from Dinh Vu to Phu Long. Ferries depart hourly between 6 am to 5pm every day.
• By private car/ van with local tour guide to escort you from Hanoi. That is the most comfortable and interesting way to experience the deeper view of the area & sites along the way as well as smooth services from the beginning to the end.
+ From Cat Ba Town (15km) to Park's headquarters, you can take bus, auto, motorbike or bicycle.
+ From Ha Long, Bai Chay or Tuan Chau, you can get ferry or tourist boat to Gia Luan then take taxi, tourist bus or motorbike taxi to Phu Long (23km).
5. Travel tips
Local tourists usually come to Cat Ba on weekends and holidays, so you should take your trip on weekdays to avoid crowds, the possibility of running out of accommodations, and increasing price.
With the advantage of having many ecosystems, Cat Ba's seafood is very diverse and ample. There are some species that only Cat Ba can provide. You can visit Cat Ba Market (on 1 thang 4 Street) to find food stalls that serve cheap seafood or enjoy yourself at some of good local restaurants around Cat Ba town.
You can rent an automatic motorbike for around 100,000 VND easily from most hotels in Cat Ba Town. Helmets are provided and the bikes are in pretty good condition.
It is incredibly humid so make sure you take plenty of water and mosquito repellent with you.
Opening hours: 7.00 – 17.00, everyday
Entrance fee: 80,000VND / adult; 40,000VND / child from 7-14 years old.