Cat Ba Island: A Complete Travel Guide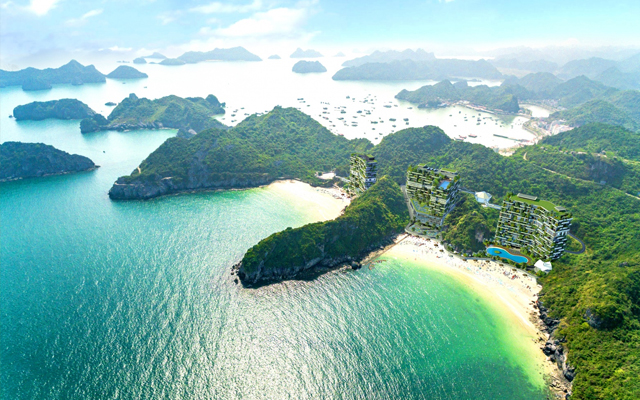 Cat Ba Island is one of the most stunning and diverse destinations in Vietnam. Located in the Gulf of Tonkin, it is the largest island in the World Natural Heritage Site of Halong Bay. Cat Ba Island boasts a pristine beauty of forests, sea, mountains, hills, beaches, caves and villages, offering plenty of opportunities for adventure, relaxation and cultural exploration.
Whether you want to hike in the Cat Ba National Park, home to the endangered Cat Ba Langur, cycle to the peaceful Viet Hai Village, swim at the gorgeous Cat Co Beach, visit the Monkey Island or enjoy the local seafood and nightlife, Cat Ba Island has something for everyone.
In this article, we will provide you with a complete travel guide to Cat Ba Island, covering its history, weather, best time to go, what to see and do, where to stay and how to get there. Let's get started!
Cat Ba is one of the largest and most beautiful islands among nearly two thousand islands in the World Natural Heritage Site of Ha Long Bay. The island was honored to be recognized by UNESCO as a World Biosphere Reserve in December 2004.
About 40km away from Hai Phong City or 23km from Halong City, Cat Ba Island is blessed with a pristine beauty: forests, sea, mountains, hills, beaches, pine trees, cave caves alternating with each other, creating many beautiful scenes.
In few recent years, the new route of cruise passing Cat Ba and Lan Ha Bay is less crowded alternative to access Halong Bay and it become the greater choice of traveler on overnight cruise. Go with Vietnam Travel to get more information of this beautiful island.
1. History of Cat Ba Island
Cat Ba Island means "Women's Island" as its historical name "Cac Ba" ("Cac" meaning all and "Ba" meaning women). Legend has it that many centuries ago, three women of the Tran Dynasty were passed away in the fighting against the evaders from the sea. Their remains were found at the beach and local people built a temple to worship them on the island. Later, local fisherman named the island to thanks these female heroes
Archeological evidence suggests that people have lived on Cat Ba Island for almost 6,000 years, with the earliest settlements being found on the southeastern tip of the island close to the area where Ben Beo Harbor located today. In 1938, a group of French archeologists discovered human remains belonging "to the Cai Beo people of the Ha Long culture, which lived between 4,000 and 6,500 years ago… considered to be perhaps the first population group occupying the North-Eastern territorial waters of Vietnam… the Cai Beo people may be an intermediary link between the population strata at the end of the Neolithic Age, some 4,000 years ago".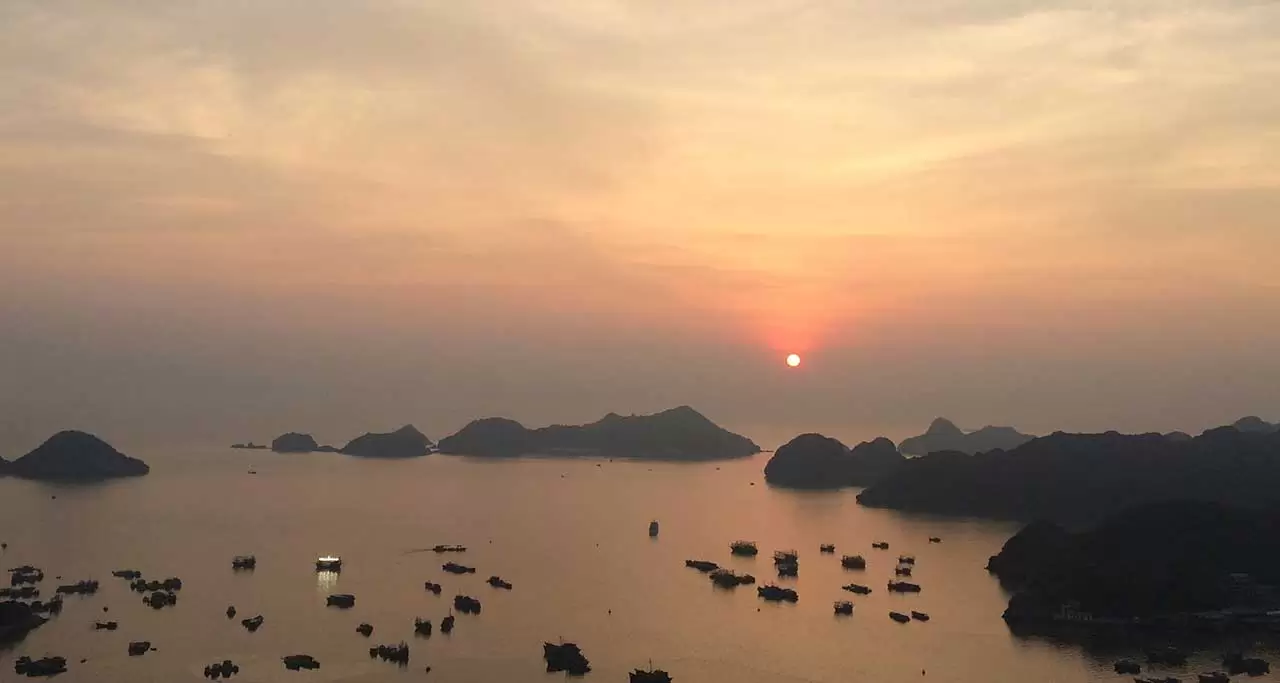 In more recent history, Cat Ba Island was inhabited mostly by Viet-Chinese fisherman and was largely influenced by both the French and American wars. The island was a strategic look-out point and bombing during the wars often forced local residents to hide among the Island's many caves.
It consists of 367 islands, off the coast of Hai Phong City and Quang Ninh Province, and approximately half of its area is covered by a National Park, which is home to the highly endangered Cat Ba Langur. Administratively, it is the islands of Cat Hai District, Hai Phong City.
Since 1997, Cat Ba Town has grown rapidly and has become a tourist hub for both the island and greater Ha Long Bay.
Related Article: Best Tourist Islands In Vietnam
2. Weather of Cat Ba Island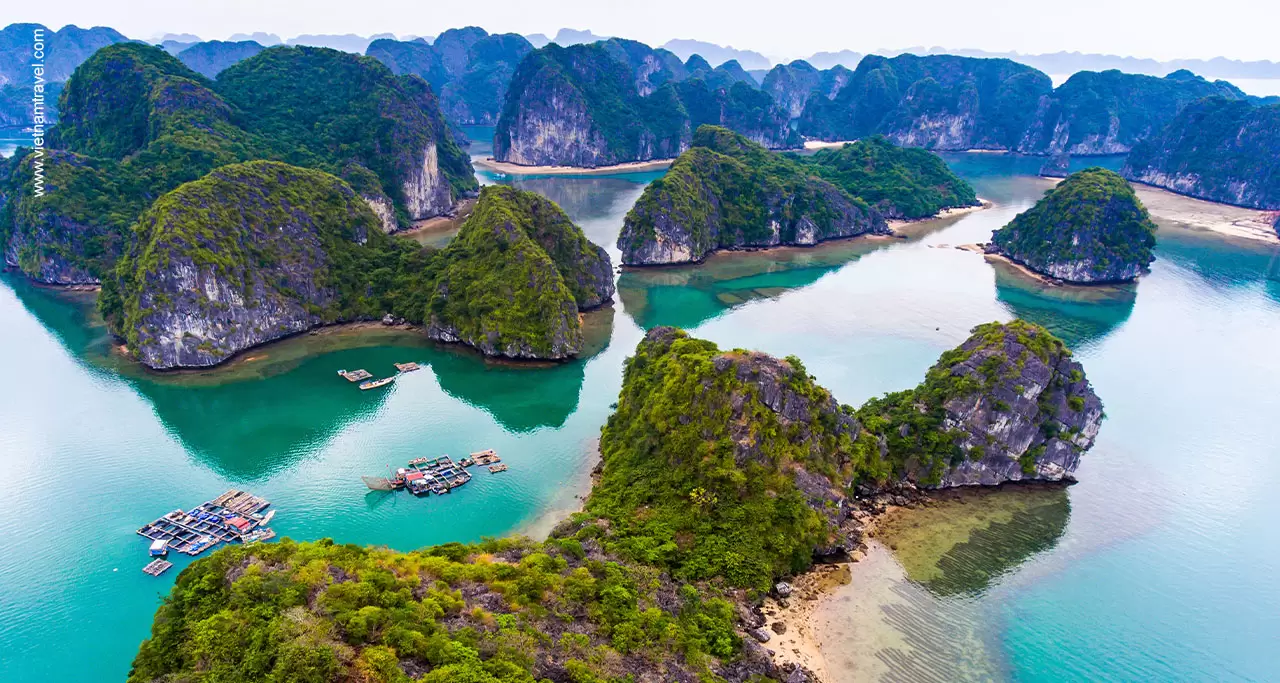 During the month of February, March, November you are most likely to experience good weather with pleasant average temperatures that fall between 20 – 25 degrees Celsius (68°F – 77°F).
The hottest season / summer is in May, June, July, August, September and October with an average high-temperature of 33°C (91°F) and an average low-temperature of 25°C (77°F).
A lot of rain (rainy season) falls in the month of: June, July, August and September from 240mm to over 300mm.
The warmest month is July with an average maximum temperature of 33°C (91°F).
The coldest month is January with average temperature varying between 15°C (59°F) and 19°C (66°F).
August is the most wet month with the rainfalls of over 300mm and more than 15 rainy days per month. If you are not a big fan of rain, this month is not for you.
For more information about Cat Ba weather, check this link: https://vietnamtravel.com/cat-ba-island-weather/
3. Best time to go to Cat Ba Island
The best time to visit Cat Ba Island all depends on your personal preferences. If you enjoy the heat of tropical summers, June to August is probably the best time to go. If you enjoy milder weather, October till March is a better time to go. Be mindful of the fact that even though Cat Ba has four seasons, there's still a rainy and dry season.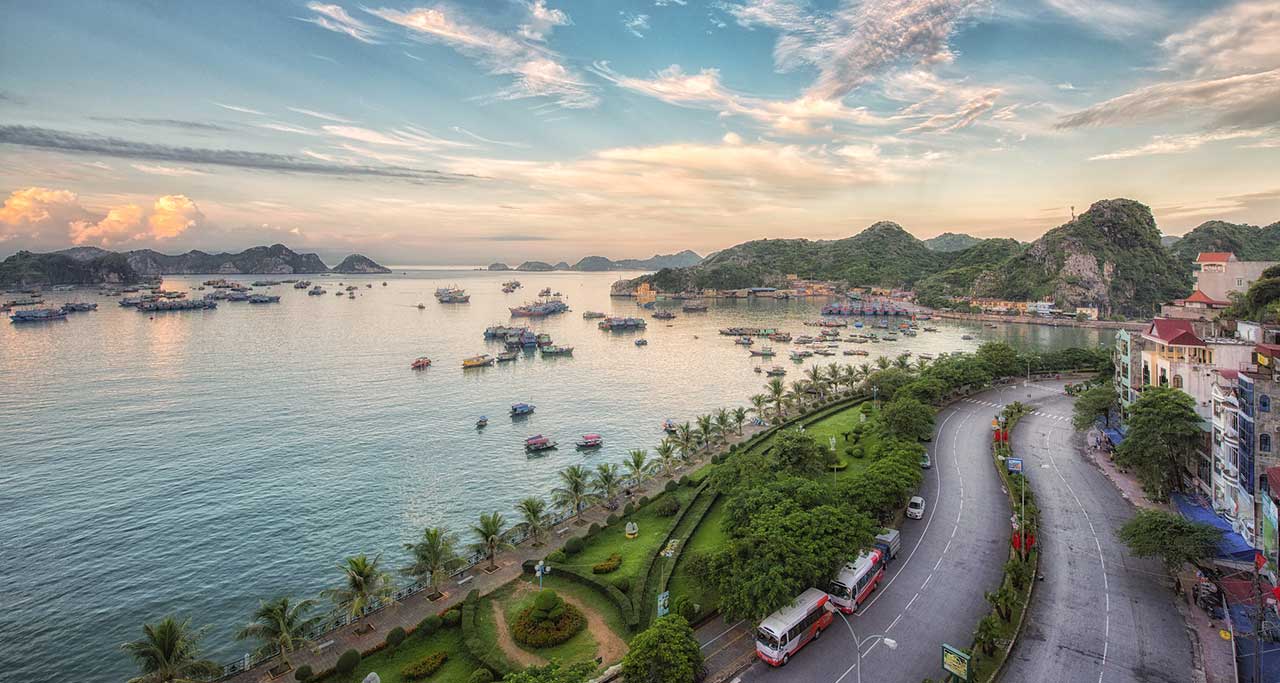 Rainy season is from May to September and the dry season is from November to March. Every season has up- and downsides to it but the consensus is that the best months to visit are February, March, October and November.
4. What to see & do around Cat Ba Island
4.1. Cat Ba National Park
Cat Ba National Park was established in 1986, it covers some 17,362.96 ha, of which 10,912.51 ha are terrestrial ecosystems (islands) and 6,450.45 ha are marine ecosystems.
Cat Ba National Park is at the heart of the UNESCO Cat Ba Archipelago Biosphere Reserve and it shares the distinctive scenic beauty of the Ha Long Bay Area, a UNESCO World Heritage Site. The Park is also home to diverse range of terrestrial and marine life.
Cat Ba National Park is a tourist attraction to millions of domestic and overseas visitors. Coming to the Park, travelers can enjoy the beauty of the vast landscapes and seascapes. Visitors can choose to relax on isolated beaches in Lan Ha Bay, trek through primeval tropical rain forest or mangrove forest, discover many unique animal and plant species, and immerse themselves in the local culture.
4.2. Viet Hai Village
You can book a boat from Cat Ba to Viet Hai Harbor, then go by motorbike, bicycle, trekking to Viet Hai Village passing a forest road 6 km to the village. In the village, you can visit old houses, take pictures of forest trees or see people, buffalo working on the green fields.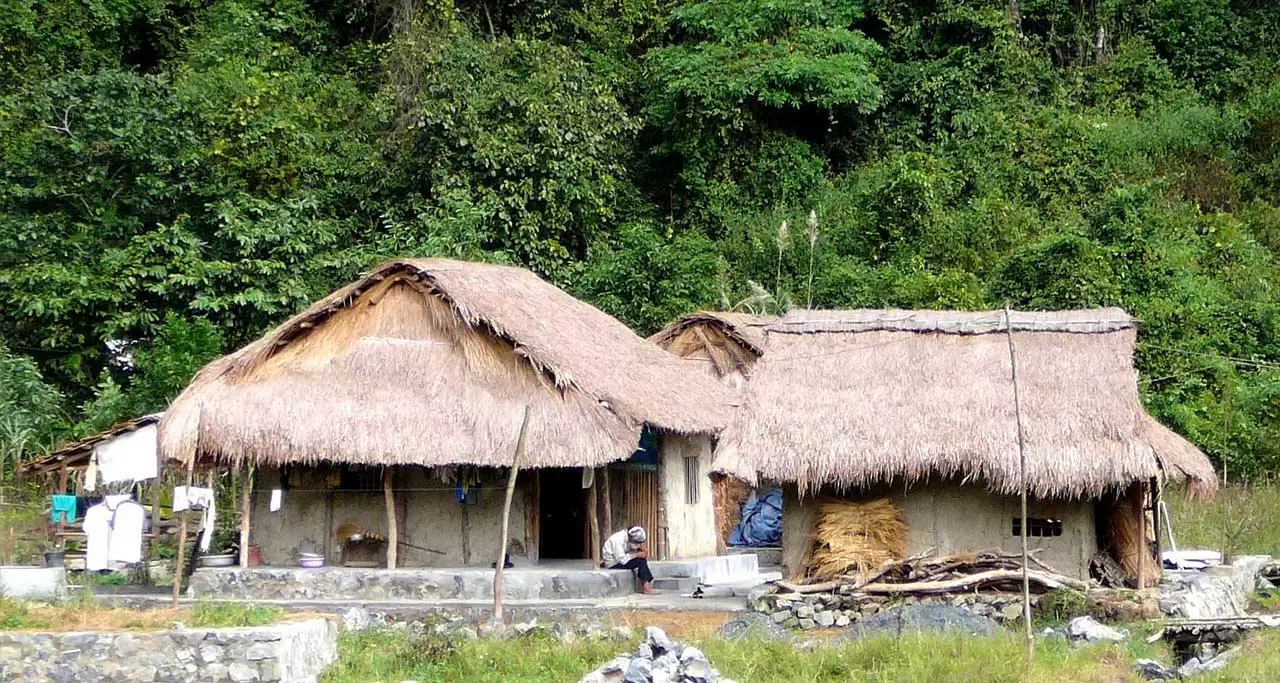 When you travel from Cat Ba Town or Monkey Island Resort to Viet Hai Harbor, you will have time to enjoy the beauty of Lan Ha Bay with hundreds of small islets, natural sandy beaches, floating houses…. When you ride from Viet Hai Harbor to the village, you can stop on the way to take pictures of green lake or the beautiful trees on the water. There is a road on the left where you will go through a cave. It is fantastic road to come to Viet Hai Village.
4.3. Cat Co Beach, Cat Ba Island
The white-sand Cat Co Beaches (simply called Cat Co 1 and Cat Co 2 and 3) make a great place to lounge around for the day. They are about 1 km southeast from Cat Ba Town over a steep headland; and can be reached on foot or by motorbike or taxi. The two beaches are separated by a small hillock that can be climbed over in about 20 minutes. Most; however; take the easier route along a new; 700m; wooden seaside walkway around the mountain. Cat Co 2 is the less busy and more attractive of the two; and also offers simple accommodation and camping. On weekends the beaches fill up with local tourists. The main beaches; apart from those at Cat Ba Town itself; are Cai Vieng; Hong Xoai Be and Hong Xoai Lon.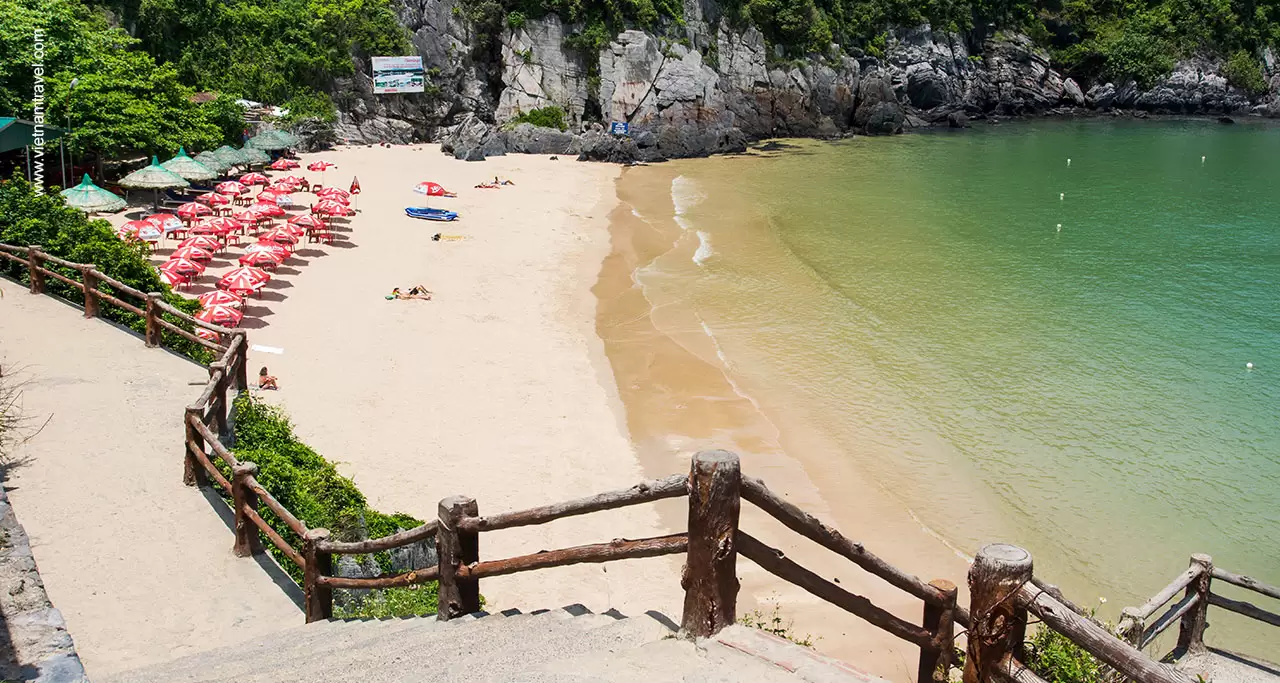 4.4. Monkey Island (Cat Dua Island)
Location about 5km from Cat Ba town center. Monkey Island is one of the most attractive addresses tourists shouldn't miss in Cat Ba Island.
To get to this beautiful island there is only one way by boat. It can take about ten minutes from Beo dock throughout Cai Beo Fishing Village along with a few tiny islands. Almost tourist boats have stop here in order that tourists have a chance admire the masterpieces that nature has bestowed on Cat Ba.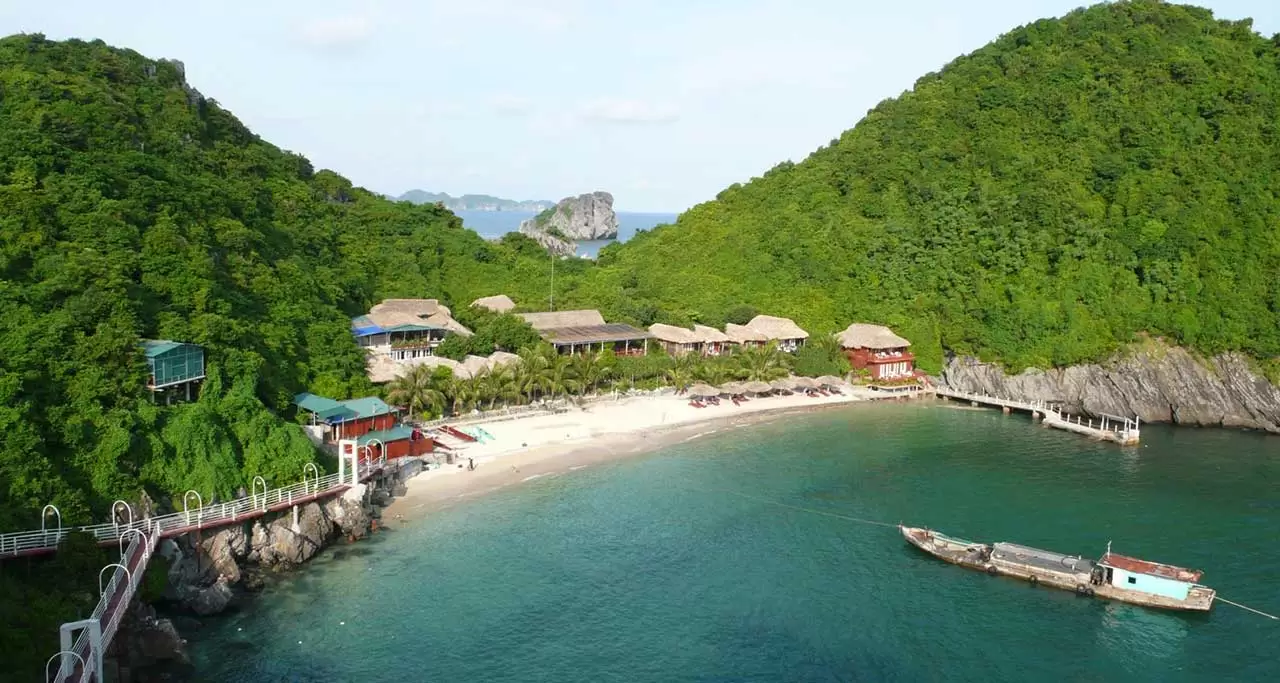 The island was previously known as Cat Dua Island. At Cat Dua since you will find a large amount of wild pineapple shading around. The fruits of the pineapple here look good, however it's not able to eat. The local people use them to make traditional medicine.
Monkey Island is also an ideal for swimming in the blue water and white sandy beaches. Thanks to the existence of many dozens of monkeys that why they name for this island as Monkey Island. Virtually all of monkeys in Cat Dua are attracted here for dwelling by the rangers. They're very adventurous with the locals and tourists. They grab food right from tourist's palms and may bite if provoked. But, it's the untouched uniqueness which makes the island become renowned appealing a large number of tourists to this island.
4.5. Local seafood, nightlife & Getting around
Being right by the sea (it's an island), sea food is very popular on Cat Ba Island. Nightlife on Cat Ba Island is understandably limited due to its reputation as a place for rest and relaxation. However, there are several expat-owned bars and bistros in the main town, where you can enjoy drinks and live music until late.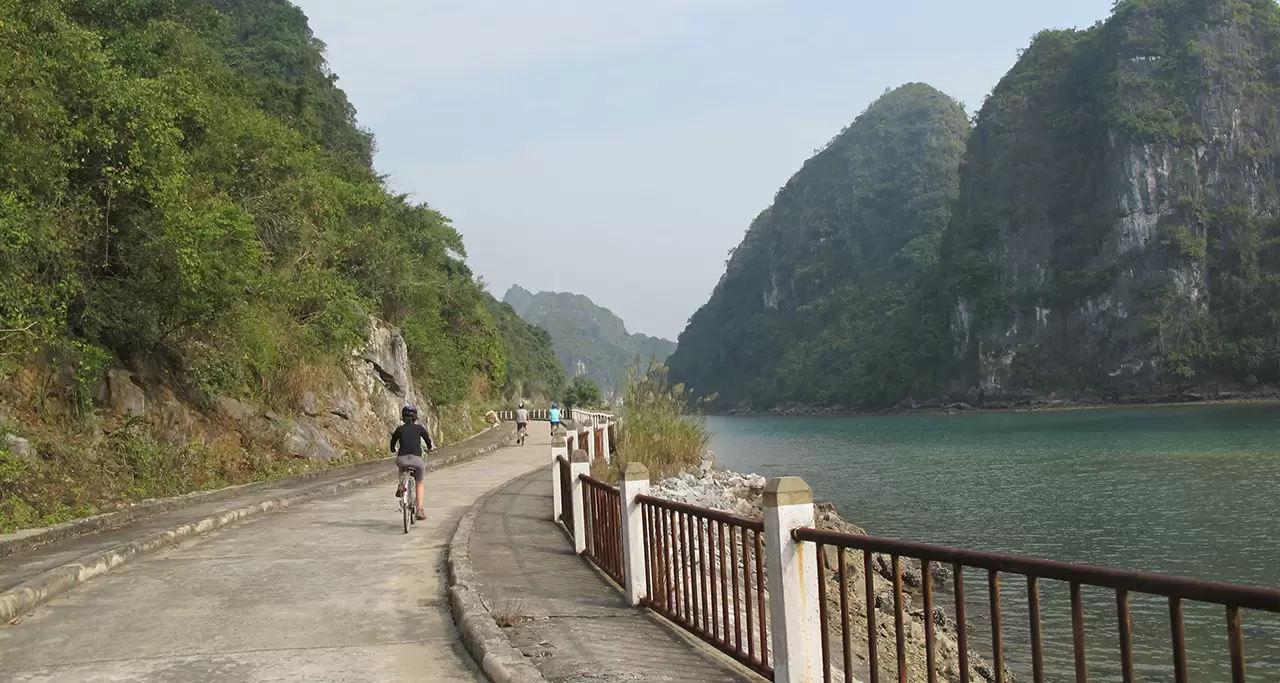 Once you're in your hotel on the harbor, everything is accessible on foot, including the beaches. You can tour the island by motorbike taxi – rates are very negotiable, but think in terms of 100,000 VND per hour. You can also rent a motorbike yourself for 80,000 to 100,000 VND a day from numerous places in Cat Ba Town. Mountain bikes are also available.
5. Where to stay?
There are plenty of hotels and hostels available on Cat Ba Island. You will find most of them on the waterfront even though some hotels have recently opened a bit more inland. Generally, you pay a bit more for a room with sea view. When you're less abled or not in great physical condition, make sure that you book a hotel with an elevator as a lot of hotels won't have any.
Some names for your reference such as:
Sea Pearl Hotel (rated as 3 star): as you won't find many mid-range hotels in Cat Ba, this can be good one. Price from US$ 35 – US$ 50/room/night.
3 star: Cat Ba Princess (as mid-range): from 40$/room/night up.
Cat Ba Eco-Lodge (around 13 kilometers from Cat Ba Harbor): Price from US$ 35 – US$ 50/room/night
Monkey Island Resort (Cat Dua Island): Price from US$ 50/room/night
Flamingo Cat Ba Beach Resort
Flamingo Cat Ba Condotel
Hôtel Perle D'Orient – Mgallery (at Cat Co 3): a boutique hotel with personality for a remarkable travel experience. Rooms range from 110 USD/room/night
* Prices are just approximated, and can be a bit higher during the weekends.
6. How to get to Cat Ba Island?
6.1. From Hanoi (~ 124 km)
Hopping on a Hanoi-Haiphong highway bus will take you from Hanoi to Cat Ba island in around 3-5 hours (4 hours on average). There are various operators, but try Cat Ba Express, Good Morning Cat Ba for reasonable price and good service.
Another way is to take the private car/van from Hanoi to Cat Ba. There is a ferry but when you have a private car to this island, you could be able to discover Cat Ba National Park and get around on the island by your own vehicle.
Don't forget that you can also get to Cat Ba Island by taking an overnight cruise (2 nights option) through Lan Ha Bay. Almost Lan Ha Bay cruises offer an excursion with cycling through Viet Hai Village on Cat Ba Island.
You can choose one of following ways for your experience: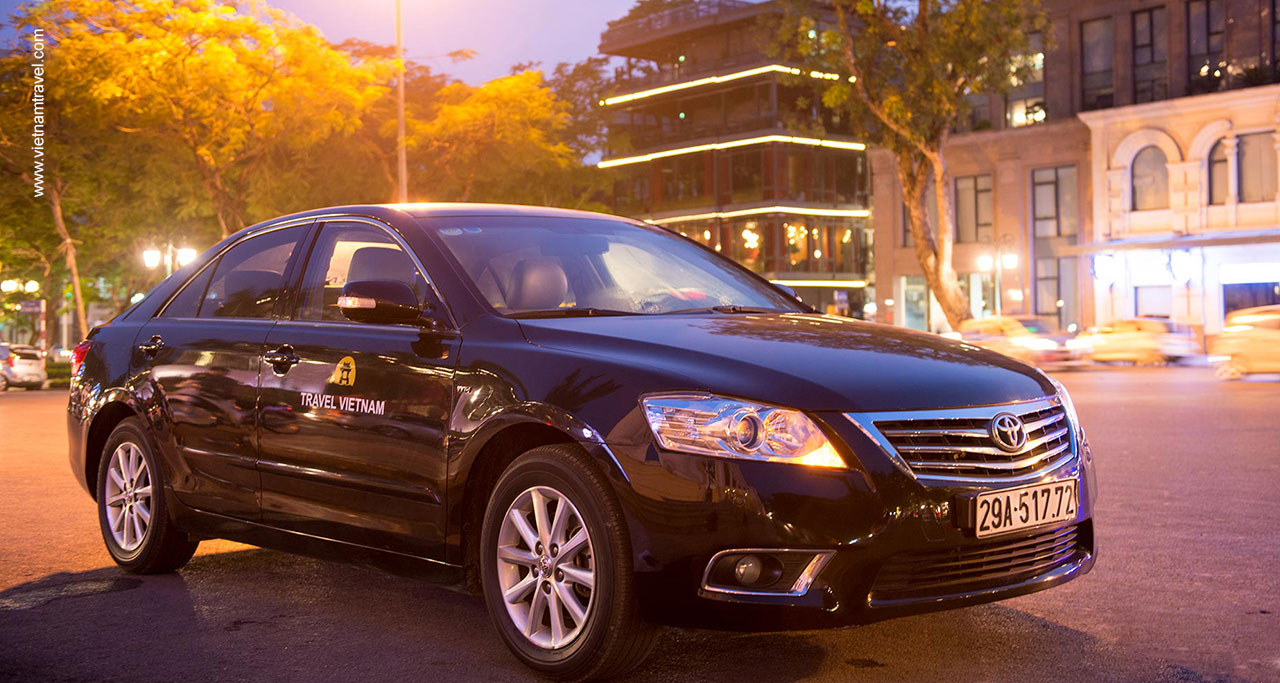 a. Bus + Speedboat
Starting from Hanoi to Got Pier through Sea Bridge Tan Vu – Lach Huyen (*). Then speedboat to Phu Long Pier where you meet another bus for transfer to the centre of the town.
(*) At the beginning of September 2017, in Hai Phong City, the longest bridge crossing the sea in Vietnam, but also in South East Asia, Tan Vu – Lach Huyen (Tân Vũ Lạch Huyện) was opened. The bridge begins in Hai Phong City on the highway leading from Hanoi ends up on Cat Hai Island. The length of the bridge cross the sea is 5.4km. Cat Hai Island is about 1.5km from the largest island in Halong Bay – Cat Ba Island.
This project has also helped promote the strategic partnership and friendship between Vietnam and Japan.
b. Bus + Cable Car
Starting from Hanoi to Cable car station (*) at Cat Hai through Sea Bridge Tan Vu – Lach Huyen to Phu Long Station where you meet another bus for transfer to the center of the town
(*) Cat Ba Cable Car – the largest cable car in the world.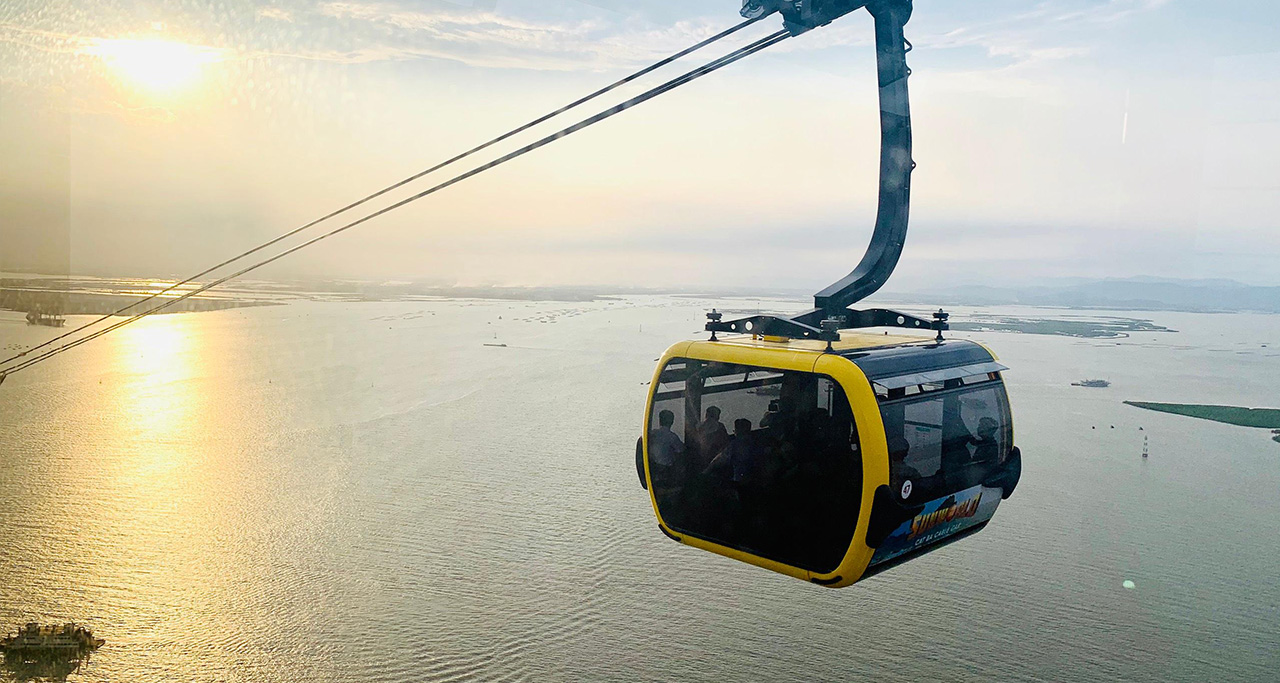 This project is owned by Sun Group, connects 4km Cat Hai – Phu Long operation on 6/6/2020 with a capacity of 4500 passengers / hour. There are 60 cabins and maximum 30 passengers can accommodate in one cabin.
Operation hours: everyday, except Tuesdays
Morning: 9.00 – 11.30.
Afternoon: 13.30 – 16.00 (weekdays) or 13.30 – 18.00 (Saturday, Sunday).
Ticket price: 150,000VND / person.
Child policy: 100,000VND / child from 1m-1.4m; Free for child under 1m.
May you concern: Book Car in Vietnam
6.2. From Halong City (~ 20 km)
Once in Halong, the best way to get to the island is to take a ferry. There is Tuan Chau Ferry to Gia Luan Harbour – Cat Ba Island. From there it's about a 40-minute drive to Cat Ba Town. There's a bus that costs around 30.000VND. There are taxis as well but be mindful about prices.
The daily ferry so easily as it is operated every 1 hour from 6.00 AM till 6.00 PM. It takes only 45- 50 minutes per ferry journey. In the high season it departs in every 30 minutes. However, please be aware that the ferry operation sometimes depends on the minimum number of passengers to start running.
6.3. From Hai Phong City (~ 40 km)
There are multiple ways to travel to Cat Ba Island from Hai Phong:
Speedboat (Mekong Hoang Yen): from Ben Binh to Cat Ba Pier (~45 minutes).
Bus (Good Morning Cat Ba): Tan Vu Lach Huyen Bridge to Cat Ba (1h40′).
Private Car/Van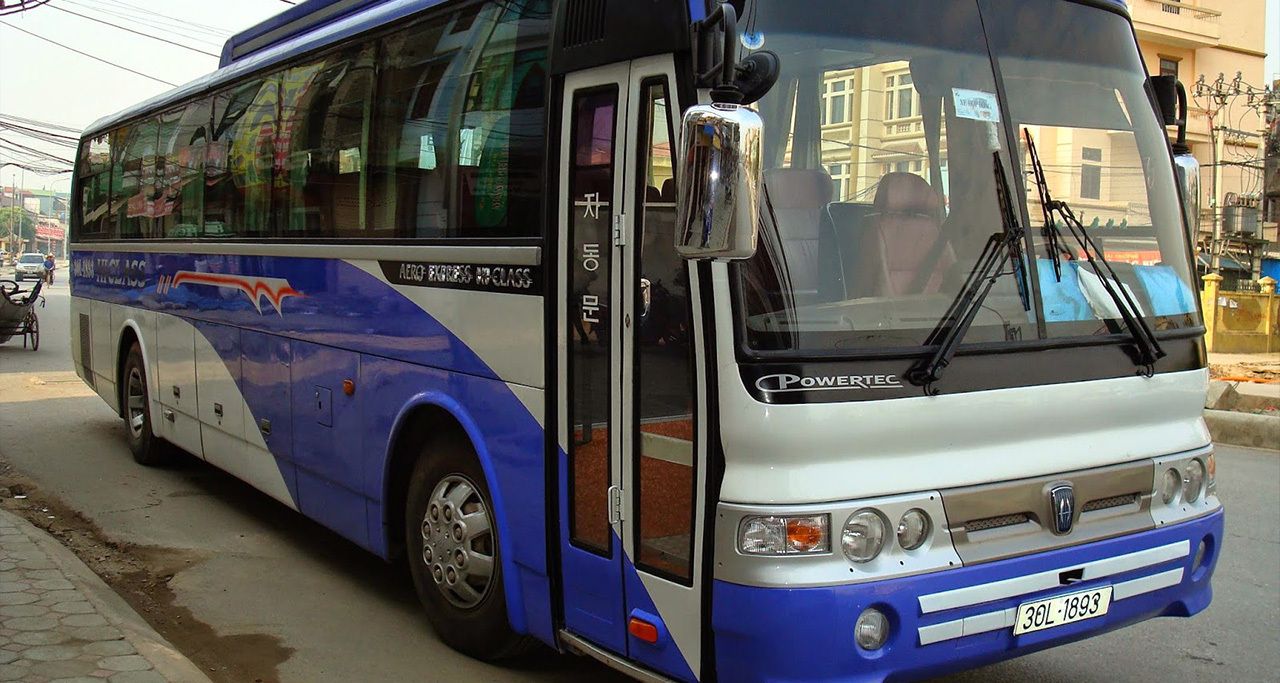 To make your best experience to Cat Ba Island, a senior travel guide go along with private car/ van would be a great combination and which could ensure you a great trip.
Vietnam Travel will be more than happy to communicate with you and help you design your perfect Cat Ba trip.