Mu Cang Chai Overview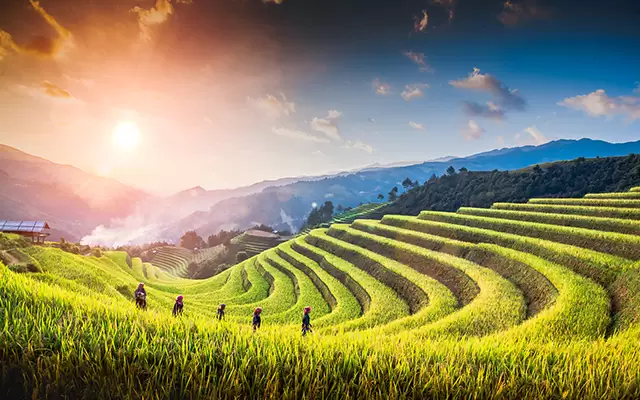 Mu Cang Chai (Mù Căng Chải) is located at the foot of the Hoang Lien Son mountain of Yen Bai province, about 6-7 hours driving from Hanoi. It is well-known for spectacular terraced rice fileds which are best in June and September. This is a favorite destination for nature lovers and photographers. Visitors could take 3-day trip to Mu Cang Chai and surrounding areas (Khau Pha pass, Nghia Lo, Tu Le commune, La Pan Tan, Kim Noi…). You will be impressed with nice drive from Khau Pha pass with one side of the most tortuous passes and the other of the most beautiful terraced fields in the country. A visit to Mu Cang Chai also give you a great opportunity to meet, talk and stay with the family of hill tribe people in Northwest Vietnam.
1. How to get to Mu Cang Chai
Mu Cang Chai is about 330km Northwest of Hanoi. With the improvement of road network, today it is so much easier to access Mu Cang Chai by motorbike, tourist bus and especially by private car.
1.1. By motorbike
This may be a perfect method for those who are into adventure and get familiar with winding mountain roads since it is a long journey of 7-8 hours on up-down and curving roads. It is recommended to go with a partner you can exchange to drive and have someone to talk with. Traveling to Mu Cang Chai by motorbike could be a fun experience as it allows you to visit several places on the way which are too far for a walk and the paths are too small for cars. For safety, you should not drive at the high speed and at the night time due to the low visibility.
1.2. By tourist bus
There are some local sleeper buses from Hanoi to Mu Cang Chai, such as Khanh Thuy, Thao Nguyen, Cuong Lan. The pick-up points in Hanoi are at My Dinh, Giap Bat and Gia Lam Bus Stations, and the drop-off point is at the center of Mu Cang Chai Town. The departure time is from 10am to the latest one at 23:30pm. It takes around 7,5 hours to reach Mu Cang Chai district. From the bus station, you need to rent the motorbike to access the terrace rice field or the Thai villages….  Even though the cost is quite cheap at around 8-12 USD one-way ticket but very few people choose this option.
1.3. By private car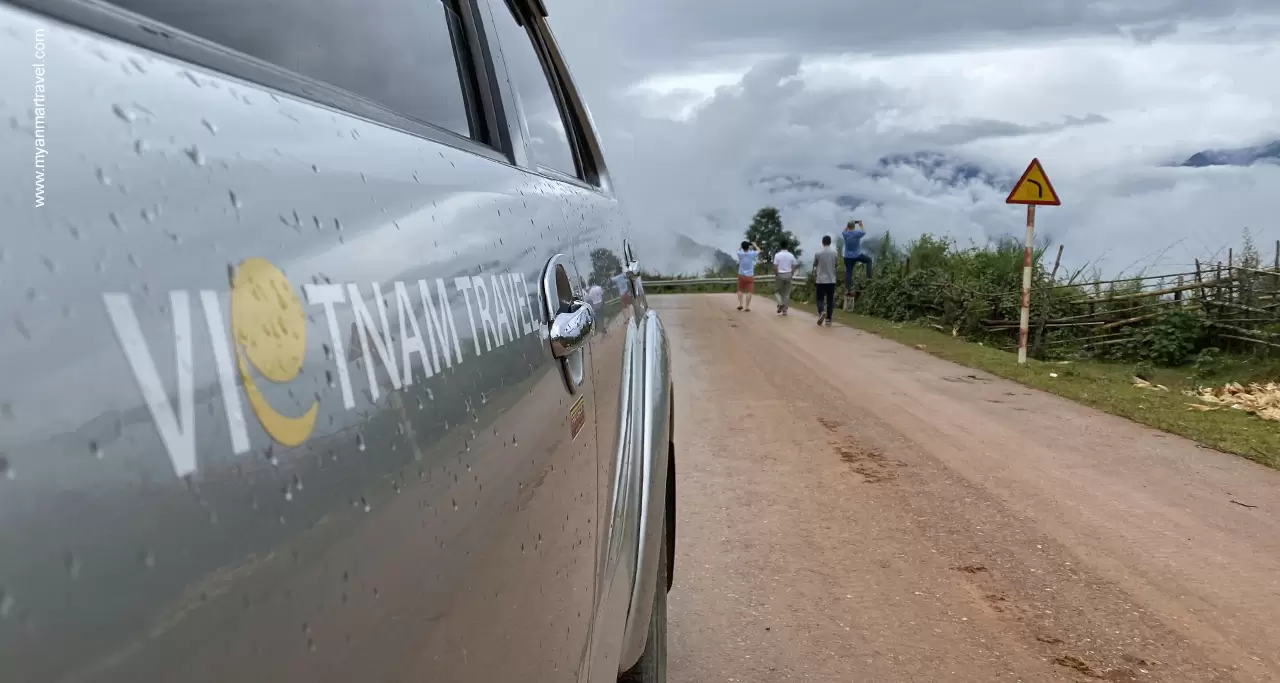 It is no doubt that traveling with a private car is the most convenient way. The experienced driver will pick you up at your hotel lobby at any time you prefer and take you to Mu Cang Chai on a 6 -7 hour journey. It is flexible and you could stop along the drive for tea break or photo opportunity. You do not need to follow any bus or train schedule. However, this option cost you some extra dollars.
2. Best time to visit Mu Cang Chai
Mu Cang Chai itself is a beautiful place all year round. However, the best time to visit Mu Cang Chai is no doubt during the rice harvest, from mid-September to mid-October when the endless terraced rice fields change from green color to yellow one. It is also right time for hikers and photography enthusiasts alike. From afar, the rice fields look like golden silk scarves flying over in the wind above green mountain slopes, making the mountainous landscape astonishingly beautiful.
Between May and June is the time of watering when the first summer rains start pouring down the mountain to the terraces. Water spills into the fields making the arid soil softer and hatched so that the rice can be transplanted. During this period, the local people start plowing for a new crop. The surface of terraced fields shines like a mirror reflecting the contrast of the reddish brown of soil, the deep blue of the sky and the green of surrounding forests creating a picture of natural beauty.
Related post: Top 10 rice fields in Vietnam for photographers
3. Accommodation in Mu Cang Chai
Mu Cang Chai is an undeveloped district of Yen Bai province, just lately opened for tourism so there is no more accommodation option except for homestays and motels. They are located in Nghia Lo town, Tu Le commune and Mu Cang Chai district but the number is limited. If you come to Mu Cang Chai at peak times (at harvest season), it is almost difficult to book.
3.1. Mu Cang Chai Ecolodge
Mu Cang Chai Ecolodge, about 20km from Mu Cang Chai center, is now considered the best accommodation in this area. Built in 2018, the ecolodge consists of 9 boutique bungalows and one biggest communal house including 17 comfortable dorm beds.
3.2. Mu Cang Chai Resort
Mu Cang Chai Resort with better quality and standared service has been under construction, It will bring the better comfort level for visitor to Mu Cang Chai.
3.3. Le Champ Tu Le Resort Hot Spring & Spa
Comfort bungalows view over the terrace. Visitors will have opportunity to enjoy Olsen and taste the authentic cuisines of local people.
3.4. Kim Noi Village homestay
Kim Noi Village homestay. There is beautiful village near the town with the view of river and terrace field. Some family in Kim Noi could accommodate you at their long house. Enoy the great home cook dinners and some rice wine of Thai Tribe. Sleep on the bamboo floor of long house would be great experience when you travel to Mu Cang Chai too.
4. What to do in Mu Cang Chai
4.1. Explore ethnic villages
4.1.1. Che Cu Nha Village
The village is located about 20km away from Mu Cang Chai. Che Cu Nha village is perfect for photo opportunity with its dramatic views but the road up to terraced rice fields' viewpoint is very steep and quite dangerous if you go by motorbike. Che Cu Nha has a timeless quality when the local traditional style is still well-kept. A trip to Che Cu Nha brings a closer touch on the local life.
4.1.2. De Xu Phinh Village
This is another village that you can't miss out on your journey to Mu Cang Chai. Like Che Cu Nha, the living style of people in De Xu Phinh is also well preserved. Local women still wear the typical ethnic clothing. The high roadside location is cool and breezy and it is a well-known spot for tourists to stop and take photos.
4.1.3. La Pan Tan Village
La Pan Tan is a mountain village of H'mong ethnic people in Mu Cang Chai district. Terraced rice fields here have been recognized as national landscapes by the Vietnam Ministry of Culture, Sports and Tourism.
4.2. Conquer Khau Pha Pass
Khau Pha is one of the four great passes in North Vietnam. Located right after Tu Le town, Khau Pha pass is more than 30km long, connects Mu Cang Chai district and Van Chan district. Riding on the pass, either by motorbike or car, you will have the chance to see the magnificent sceneries of nature. The peak of the pass is 1,200m high above sea level and it is covered in fog most of the time. A climb up to the pass offers a perfect place for beautiful views and the most striking moments are found when the rice terraces are flooded for the coming rice crop and when the rice ripens.
4.3. Visit Tu Le Valley
Tu Le valley is considered as a tourist destination not to be missed when traveling to Mu Cang Chai. Here you will admire the terraced fields stretching beautiful yellow and green. To capture beautiful pictures of Tu Le terrace rice fields, you should be at the peak of Khau Pha pass from 7am to 9am. Tu Le is also a popular destination for overnight stop in mini-guesthouses, motels or trekking down to visit beautiful villages of Black Hmong & Thai tribes or homestaying in Lim Mong village of Black Hmong
4.4. Ride motorbike on breathtaking loops
Riding a motorbike through winding passes and terraced rice fields gives you the complete freedom. You can travel at the preferred pace and stop anywhere you want. You'll find quality strips of tarmac that weave around oval hills and sky-high dirt tracks that cling to near-vertical cliff faces.
Notable main roads include the magnificent stretch between Mu Cang Chai town and Tu Le via the Khau Pha mountain pass. For a gentle ride through ethnic Thai villages, continue to Nghia Lo before circling back. Off the main road, a ride up to Mo De village offers more great views on a mostly paved road.
4.5. Go hiking on undiscovered trails
Hiking is a great way to explore Mu Cang Chai's scenery at a slower pace. You will pass layers of rice terraces, tea and corn plantations, and higher up, primary tropical rainforest. Hiking may be a new tourist activity in Mu Cang Chai, but the H'mong have been roaming these hills for centuries. Until recently, villagers traveled almost everywhere by foot, creating a network of trails that zigzag up the valleys and into the mountains. These trails connect every hamlet and provide excellent hiking routes for long and short forays.
4.6. Hot Springs in Mu Cang Chai
4.6.1. Tu Le Hot Spring
Deeping in the hot spring water is a well-preserved tradition of Thai people in Tu Le. The hot water from underground were reserved in a big pond made by community. The water could reach to 45°C. After a hard working day on the field, deeping in the water is very relaxing. Thai people see the hot spring as a remedy to keep them healthy.
4.6.2. Ban Hoc Hot Spring
About 60km from Tu Le, there is another Hot Spring in Van Chan district, Yen Bai. It named after the village " Ban Hoc".
From the main road, you take 1km of the small lane to access Ban Hoc. The water is hot all year around and temperature could reach to 50 C degree. This hot spring is located next to the cold spring and local people have choices to enjoy the bath.
4.6.3. Le Champ Resort Hot Spring & Spa
At Le Champ Resort, visitors could enjoy the Olsen in the comfort and luxury level.
5. What to eat in Mu Cang Chai
Along with the charm of the golden terraced fields is a cuisine that captivates diners. Coming to Mu Cang Chai, you will enjoy great dishes like Tu Le nuggets, roasted grasshoppers, five-colored sticky rice … and many other interesting dishes.
5.1. Tu Le green sticky rice (Cốm Tú Lệ)
Like the sticky rice, "cốm Tú Lệ" is well-known to eaters across the country. This dish requires a meticulous process of making which the locals are so dedicated and careful in each step. Only rice growing farmers truly understand when it is right time to gather young grains to make "cốm". After being hand-harvested, young rice is not to beat or crumple up; it must be pluck off, leave rice straw, give through water and roast dry in cast iron pan. It is then poured into the rice mortar and slightly pounded with a wooden pestle until the husk is removed from the young sticky grains.
"Cốm" is usually eaten with ripe bananas, ripe red persimmons or can also be used to cook duck porridge, sticky rice, tea and wedges in dishes such as spring rolls, fried shrimp, fried meat… It is advisable to chew "cốm" slowly to feel the stickiness of the young rice and at the same time enjoy its sweet and fragrant taste. Visiting Tu Le and Mu Cang Chai during the harvest season, you will have chance to see Thai people who are busily sift and winnowing the green rice.
5.2. Five-colored sticky rice (Xôi ngũ sắc)
This is a common dish for parties in northwest of Vietnam. The name of the dish comes from the fact that it has 5 colors. There are more or less colors depending on different requirements but often there are white, black, purple and yellow colors. The locals use natural ingredients from leaves or roots of forest tree to soak the rice to make colors before cooking. This dish is commonly included in meals of Tet holiday or festivals of ethnic groups in the mountains.
5.3. Roasted grasshopper
Grasshoppers are available year round but most are in harvest. The fat roasted grasshoppers crunchy with lemon leaves and aromatic peppers. You may feel scared for the first time try but when you eat it, you can crave forever.
5.4. Grilled fish (Pa pỉnh tộp)
"Pa pỉnh tộp" is a traditional dish originating from the Thai ethnic minority group in the northwest of Vietnam. The dish consists of freshwater mountain fish and a variety of specific ingredients, including garlic, ginger, chili, herbs such as dill, coriander, and green onions, and "mắc khén" – a rare type of pepper from Vietnam's northwestern forests. After seasoning, the fish is grilled over charcoal until golden brown and then served with sticky rice. Soft and sweet stream fish meat mingled with spices makes the dish very special.
5.5. Grilled chicken with leaves of "mắc mật"
"Mắc mật" leaf is an indispensable ingredient to make a famous and special grilled chicken in Mu Cang Chai. The grilled chicken with leaves of "mắc mật" has sweet and sour taste. This dish is served with "chẳm chéo" – a kind of sauce mixed of chicken liver, salt, lemon, chili, "mắc khén" and different kinds of fragrant herbs.