Top 10 Rice Fields in Vietnam for Photographers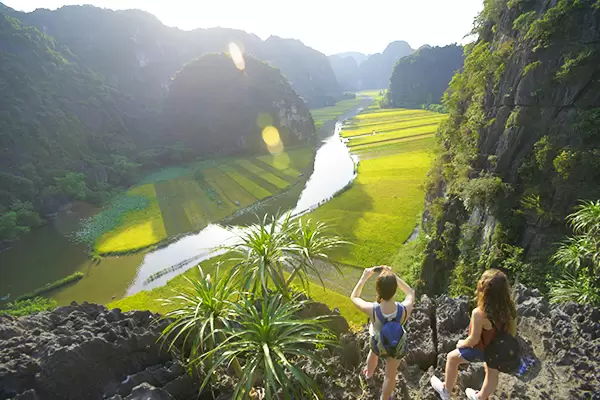 Vietnam is primarily an agricultural country with a strong history in the cultivation of rice. In fact, it is thought that rice has been grown in Vietnam throughout its 4,000-year history. Around 80% of Vietnam's population works in the rice fields or jobs related to growing, harvesting and the production of rice. Images of terraced green or golden rice fields have become synonymous with Vietnam.
Depending on the rainfall, most of areas in Vietnam yield two rice crops per year. The harvest season typically lasts from 3 weeks to one month, depending on the area. This article will provide harvesting times for the most popular areas, the best times to visit the rice fields and helpful location pointers for capturing the most beautiful photographs. Get your cameras ready!
1. Rice Fields in Tam Coc
The beautiful area of Tam Coc is located only 90 kilometers south of Hanoi in the lush province of Ninh Binh. Although this area can be done in a day trip, Vietnam Travel suggests two days to fully enjoy and explore the caves, cruise the river and have time to take in the natural beauty (see Ninh Binh Excursion). Because water levels are high in Tam Coc, farmers must wait until levels lower in order to plant rice and the area only produces one crop of rice per year.
The best time to take photos of rice field in Tam Coc from first three weeks of May when the fields rice turn gold which indicates they are ready to harvest. To capture the best photos, use a drone or climb up to the mystical Mua Cave for the best views of the Ngo Dong River, limestone caves and karstic rock formations.
2. Rice Fields in Bac Son Valley
Bac Son, known as the Valley of Sunshine, is located about 250 kilometers south of Hanoi. There is a new highway, number 7, which makes the trip very comfortable and convenient. To fully enjoy the valley and all Bac Son has to offer, a two day trip is recommended. Harvest takes place in September but besides the beautiful rice fields there is much to see and do here. Trek through the villages of the Tay people, explore the caves, waterfalls and learn about the culture of the local people. For a truly unique experience, consider a homestay with a local family to really experience the destination to its fullest!
For the best photographs, hike to Viba Peak, about 600 meters high for a spectacular view of the entire valley.
Don't forget to taste some homemade rice wine and "cheers" with local family. Below is footage that Vietnam Travel Media made in Quynh Son, Bac Son in June 2020.
3. Rice Terraces in Sapa
One of the top and most intriguing destinations in Vietnam, is the mountainous area of Sapa. Mount Fansipan, the highest peak in Vietnam, reaches more than 3,140 meters above sea level. What once used to be a grueling trek up to the peak can now be visited by cable car. The views from the top of the peak are outstanding and overlook the peaceful countryside. Sapa is particularly interesting because it is home of more than a dozen different hill tribe ethnic groups. The colorfully dressed ethnic groups, such as the Red Dzao and the Hmong working on the terraced rice fields make for the most stunning photographs.
Sapa is an area that doesn't get a whole lot of rain and for this reason yields only one rice crop per year. Therefore, the harvest time in Sapa is about from the last week in August to the last week in September; with the best time for photos is mid-September.
The best way to see the area is to spend three to four days an explore the surrounding area by renting a jeep or motorbike. There are five routes that we highly recommend for exploring the area:
• Route 1: Sapa – Cat Cat – Sin Chai (closest to the town).
• Route 2: Sapa – Y Linh Ho – Lao Chai – Ta Van (the most popular trekking route).
• Route 3: Sapa – Sa Seng – Hau Thao (less touristic, best for sunset).
• Route 4: Sapa – Thanh Kim (closed to Topas Ecolodge, less visited, best for biking).
• Route 5: Sapa – Ban Khoang – Ta Giang Phinh (best to combination with visits to the Silver Waterfalls and Tram Ton Pass, also less visited by tourists).
Another great way to explore Sapa is to allow one of our private guides to take you off the beaten path for an adventure you will never forget. Getaway from the crowds and meet and talk with many friendly local people, visit their farms and share a meal at their tables: an experience not shared by mass crowds or tours.
4. Terraced Rice Paddies in Mu Cang Chai
Situated in Yen Bai Province and about 300 kilometers from Hanoi, Mu Cang Chai is a more remote area therefore a three day stay is recommended. There are many ways to get there from Hanoi whether it is by private car, train or bus. Private car is recommended to allow freedom to stop and take photos as desired.
Harvest in Mu Cang Chai follows the same as Sapa therefore it is suggested you book your accommodation/meals well in advance. Although the area is relatively poor and undeveloped, there is a large number of local tourists and photographers that visit this area for the sheer natural beauty of these terraced rice fields.
5. Rice Paddies in Hoang Su Phi
Located about 300km away from Hanoi, the unique terrain of Hoang Su Phi can be found. With green forests, deep valleys and steep mountains, the diverse geography of the area offers spectacular views of mother nature's creation.
Due to the high terrain of Hoang Su Phi, cultivating crops has not been easy for the local people; hence the terraced hillsides. The serene terraced hills are also home of twelve different ethnic minority groups. Crops grow once a year in this region and the ideal way to explore is to hike through the hills to capture local life against the clear blue sky. Rice begins to ripen in the autumn which creates weaving shades of green and yellow. The colors, festivals and crops are a photographer's feast for the eyes!
Tourists coming to Hoang Su Phi often combine their visit with Ha Giang's highlights such as Dong Van Karst Plateau Geopark, Lung Cu Flag Tower, Quan Ba Twin Mountains and Ma Pi Leng Pass. The much less visited area of Ha Giang is an attractive cultural destination offering beautiful and spectacular scenery. There are many undiscovered places waiting you to see and to grab nice photos. If you love adventure, get off the beaten track and explore the hidden charms of the country for a real life experience in this North Vietnam Grand Adventure tour package (11 Days) as it brings you to heavenly striking terraces and green gardens, including Hoang Su Phi.
6. Rice Terraces in Y Ty
Roughly 7 hours from Hanoi is Y Ty , a mountainous village of Bat Xat District, located in the Lao Cai Province. This is an ideal destination to combine with Sapa or Bac Ha for a memorable four-day trip into the Hill Tribe country.
Y Ty (or Y Ti) is home of the Hmong, Dzao, Giay, Ha Nhi – the hill tribe with most the beautiful and colorful dress in Vietnam. The colors of their dress contrasted against the mountains, blue sky and rice fields is a photographer's heaven. The trip to Y Ty has even more to offer besides stunning photographs.
For generation after generation, the Hmong people have been building these terraces in order to utilize the land to grow their rice. When you visit, learn the secret Hmong technique of how they build and equally irrigate these terraces. These techniques help make the location not only unique but truly beautiful. Harvest takes place for a month from Sept till beginning of October.
7. Rice Fields in Mai Chau
Located about 146km or roughly about a 3-hour drive from Hanoi, drive through some of the most picturesque mountains and rolling hills on your way to Mai Chau. Although both Ban Lac and Pom Coong are gaining popularity with tourists, a Vietnam Travel driver and guide can show you the hidden gems away from the usual tourist path. Our guides are experts in the area and strive to provide most authentic and memorable experiences.
The best time to visit and photograph the rice fields is in mid-August. The season lasts for two weeks and these fields and tiny Thai villages are not to be missed by any lover of photography!
8. Rice Fields in Hai Duong
Hai Duong, a province lying between Hanoi and Hai Phong City, so rich in history and culture, officially dates back to 1498. The Sino-Vietnamese name meaning, "Ocean Sun" has produced many scholars throughout the years and therefore has become known as a "Doctoral Village".
Along with its long history, Hai Duong is also known for its rich culture, many festivals, traditional theatre, and places of importance such as the Mao Dien Temple of Literature. In fact, it even boasts Kiep Bac Temple located on the path of a pilgrimage from Thang Long to Yen Tu Buddhist Holy Land.
The festivals that take place in the area are a photographer's dream, especially the festival that takes place at the famous Kiep Bac Temple in Autumn. Enjoy local specialties such as green bean cakes and lychees to local craft villages, you and your camera will not be disappointed!
The area of Hai Duong is conveniently located along the expressway between Hanoi and Halong Bay (or Cat Ba Island) or the old National Highway 18. The location offers a perfect opportunity to make a combined stop en route to visit the flat deltas of northern Vietnam. Rice fields in this area produce two crops per year. The "golden seasons" or harvest takes place in May and September but watching locals plough their crops using water buffalos is equally impressive during January/February and June. A stop here to interact with the local farmers and try your hand at harvesting is an experience you won't forget!
9. Rice Fields in Thai Binh
Thai Binh is considered the rice basket and number one producer of rice in Vietnam. Due to the high production in this region, Vietnam is the second largest exporter of rice in the world. Thai Binh is located midway between Ninh Binh (home to poetic Tam Coc & Trang An Scenic Landscape Complex) and Hai Phong Port and makes for a perfectly combined stop on your way to Halong Bay. What is unique about the rice fields this region compared to Sapa or Y Ti, is that they are completely flat with no mountains at all. Vast rice fields along the Red River Delta is a must stop on your journey to Halong Bay.
10. Rice Fields in Mekong Delta
The Mekong Delta is a large area which comprises of six provinces located along the mighty river. This is were the myriad of rice field colors can be seen. The best time for photography is during May (when farmers water the fields) and the August harvest but the area attracts visitors all year long. The various stages of the rice fields from freshly plowed, deep green to glistening golden threads are a feast for the eyes. To enjoy the best views of the rice fields, hike up Co To mountain, the third longest mountain in the range of Seven Mountains (with 5,800 meters in length and 614 meters in height). The region offers so much to see from peaceful Khmer Temples to local life along the mighty Mekong. Don't forget that it is easy to travel between Vietnam & Cambodia via the Mekong River and its delta region where you could stop and get best photos of rice fields.
For more details, please contact Vietnam Travel and an agent will reply within 24 hours. See you in Vietnam!
Rice fields in Ninh Binh captured by Vietnam Travel staff: