Top 10 rice fields in Vietnam for photographers
Vietnam is an agriculture country and we have been growing rice for long time through 4 thousand years our history. 80 % of Vietnam population working on rice paddy and things related to rice.
Rice field is typical image of Vietnam, wherever we have land and water, we could grow rice. If you draw a typical painting about the countryside of Vietnam, there must be a rice field in it.
Most of the part of Vietnam has 2 rice crops a year, some mountains area have only 1 crop a year. It depends much on water. Harvesting time lasts for 3 weeks to a month and it is different in each part of Vietnam too. In this writing, I will provide harvesting time in each place where you will see the best rice field in Vietnam. I will give you a hint of the best location for photographer for good shots. But in general, if you use a drone, it allows you to get the best images.
1. Tam Coc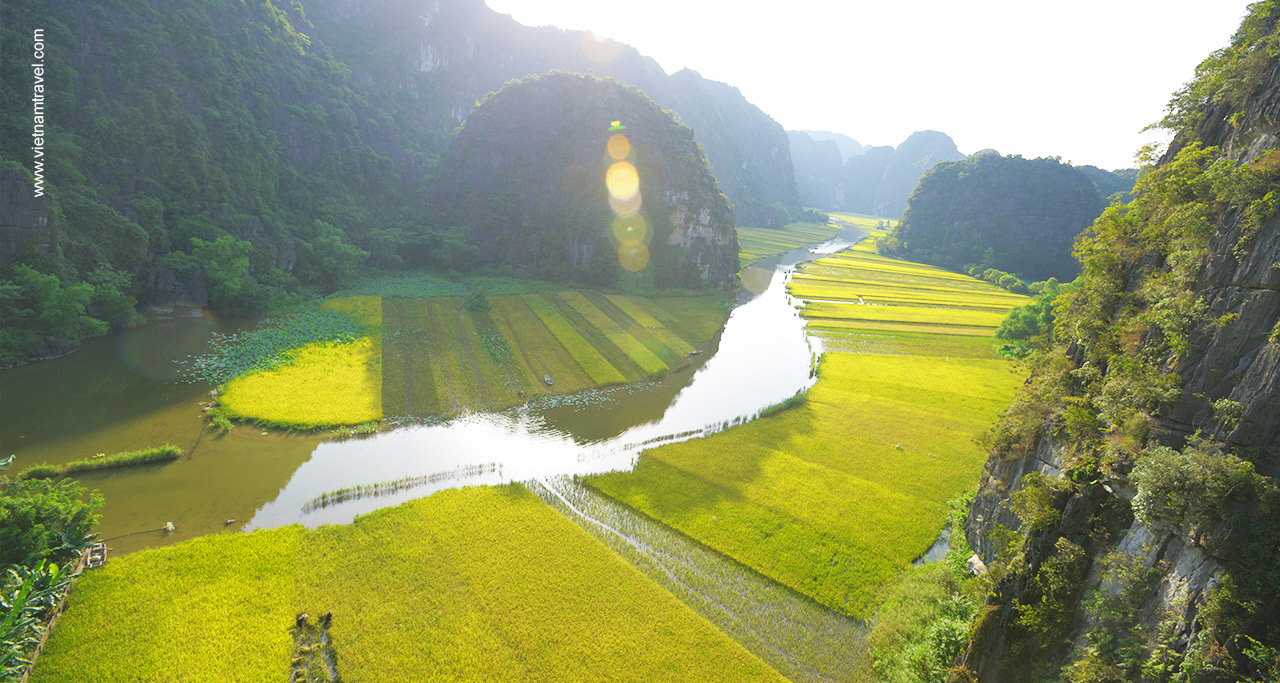 Tam Coc is about one and half hour drive of Hanoi. You could visit Tam Coc in a day trip but if you have more time, you 'd better take 2-day trip. There are too much of water in Tam Coc, Ninh Binh, so farmer have to wait for lower water to grow rice. There is only 1 crop of rice in Tam Coc. The best time to take photo of rice field in Tam Coc from first week of May and it last for 3 weeks When rice turn to gold color and get ready for harvest.
Best location for photographer: Mua Cave, clime to the rock up to the view point or use drone
2. Bac Son Valley. Lang Son, Vietnam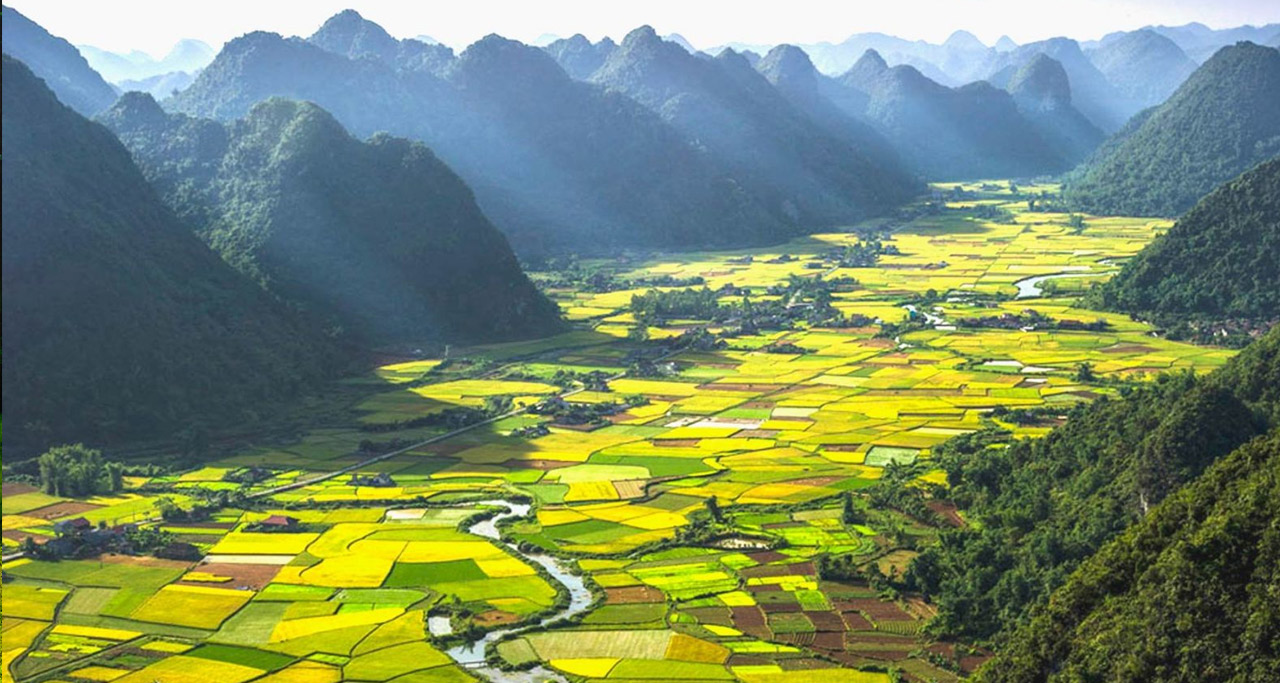 Bac Son is about more than 3-hour drive from Hanoi. Bac Son is a district of Lang Son province but you should not go to Lang Son, that would be too long way.
From Hanoi, you take the new freeway 07 to Thai Nguyen passing new Samsung factory ( They request Vietnam government to build this new freeway before setup the factory here). From Thai Nguyen City you turn right to highway 1B To Bac Son.
Harvest time of Bac Son rice field is in
Time for rice field is September.
Best location for photographer is from Viba Peak ( 1200 steps) at Na Lay mountain 600 m for over view of whole the valley.
AB Village Bac Son district Lang Son Province. For a great trip to Bac Son, you should take 2day trip. Beside rice field, you could visit the cave, the Dang Mo water falls, trekking in the village of Tay People, enjoy the show of Tay culture dance and music…
You stay at the long house of Tay ethnic tribe in Quynh Son village and enjoy the home cooking with family. Fantastic!
Don't forget to taste some nice rice wine and cheers with family.  Below is footage that Vietnam Travel Media made in Quynh Son, Bac Son in June.

3. Sapa (Muong Hoa valley, Thanh Kim, Thanh Phu), Lao Cai, Vietnam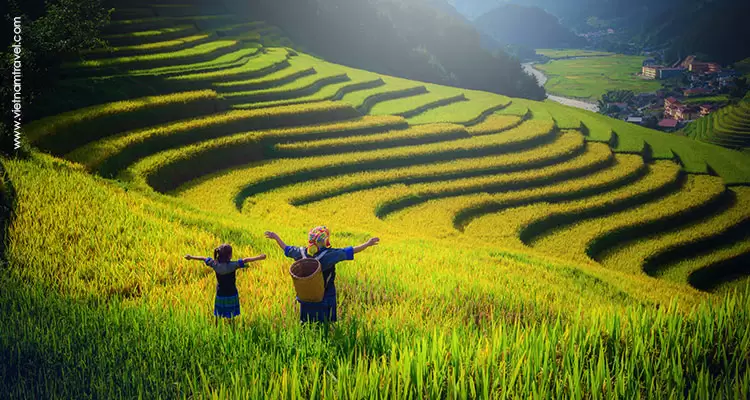 Sapa is one of the top attractions of Vietnam, Sapa is home of more than a dozens of hill tribes people. Sapa is mountainous area with the peak Fansipan (3134m above sea level). Sapa has only 1 rice crop a year because they don't have much water. They got to wait for rainy season come to grow rice. Therefore, the harvest time in Sapa is about August 25th till September 20th. If you come bit late, there is still some part of rice not harvest but people start to burn rice stocks, it would be abit smoky.
The best time to take photo of rice field in Sapa is in 1 week in the mid of September, you will see terrace rice paddy on the hill side and Hmong and Red Dzao people working on it, That would be the great combination and people contribute a great decoration for your photo 😀
You should spend 3-4 days for Sapa when you plan Sapa trip. My advice is don't stay too long in town. You rent a Jeep or motorbike and drive 2 routes
Route 1- Sapa – Sapa- Ta Phin ( pass the old church)
Route 2- ( Best of Sapa rice field): Sapa – Ylinh Ho- Lao Chai- Ta Van – Pass the ancient rocks and drive downhill to Thanh Kim, Thanh Phu…( Full day)

Sapa in June, when rice is still green
Let our private guide take you on the less touristy route and perfect timing trip. You will meet and talk to many friendly and nice local people along the trip at their home and their farm that makes your trip to Vietnam is memorable and unique. That is far different from other join-in trips of the mass market.
4. Mu Cang Chai, Yen Bai, Vietnam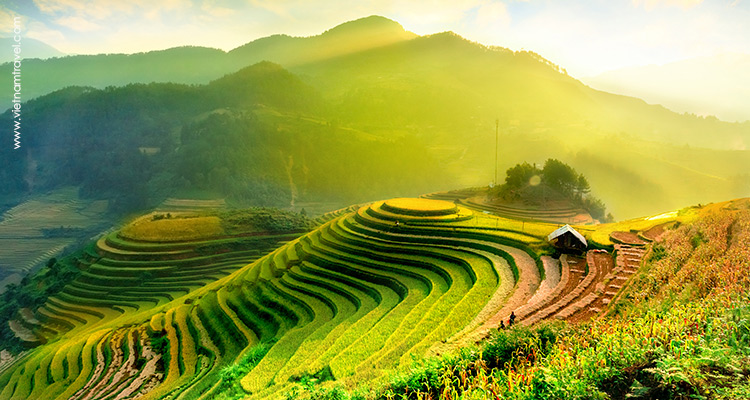 This is the best terrace rice field in Vietnam.
Mu Cang Chai is in Yen Bai, One of the poorest provinces in Vietnam. The accessibility to this area is only by road. Not too long distance but take you long time to get there.
You 'd better take 3 days trip to Mu Chang Chai. You should rent a private car for the trip that allow you to stop wherever you would like.
Take the new freeway to Yen Bai City then choose the way Highway 37 then Highway 32 to Nghia Lo. If you leave Hanoi early in the morning, then you could have lunch at Nghia Lo. You get to Mu Cang Chai by late in the afternoon.
There is huge number of local tourist and photographer come this time of the year, You should preserve hotel in advance but the number of rooms is limited so you should choose the homestay and book in advance. You should also book meals included so family have time to prepare for you. Travellers go to Mu Cang Chai only this time for rice paddy so the capacity of accommodation is very limited.
The harvest time in Mu Cang Chai is pretty much the same time with Sapa.
5. Hoang Su Phi, Ha Giang, Vietnam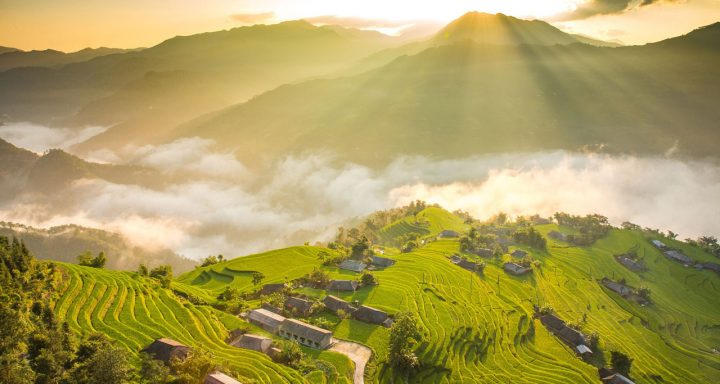 Hoang Su Phi is in Ha Giang province, It is about 7hours drive from Hanoi.
Actually, you will get spectacular photo of the terrace rice paddy in most of the place in Ha Giang province. But when you drive along highway 4 passing Hoang Su Phi, that is the best area for photo of the rice field. Private car or motorbike is the best for this part of Vietnam. You should take 4 day trip to Hoang Su Phi and Ha Giang. Beside rice in Hoang Su Phi you will visit Ha Giang Geo-park, Old palace of Hmong King, Lung Cu flag tower, Dong Van love market, Meo Vac…
Ha Giang is rich culture destination and less travelled area, there are many undiscovered places waiting you to visit.
6. Y Ti, Bat Xat, Lao Cai, , Vietnam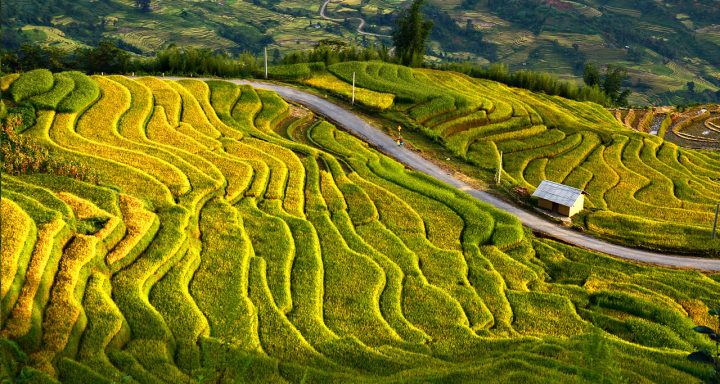 Y Ti is a mountainous village of Bat Xat district, Lao Cai Province. It is 7 hour drive from Hanoi.
You 'd better combine trip to Y Ti with Sapa or Bac Ha. It should be 4 day trip.
Y Ti home of Hmong, Dzao, Giay, Ha Nhi- the Tribe with most the beautiful dress in Vietnam. It is high up in the mountains and there is pretty contrast of rice and cloud and mountain range… it makes the photo of your rice field in Y Ti is even nicer. The trip to Y Ti has more to offer.
Hmong people in Y Ti has secret technique to build the Terrace rice field. The build it for generation to other generation on the very steep hill side. That secret is how to get water equally on every steps if the field (Amazing irrigation system). That make the rice field in Y Ti is very unique and beautiful.
Harvesting time in Y Ti last for a month from Sept till beginning of October.
7. Mai Chau, Hoa Binh, Vietnam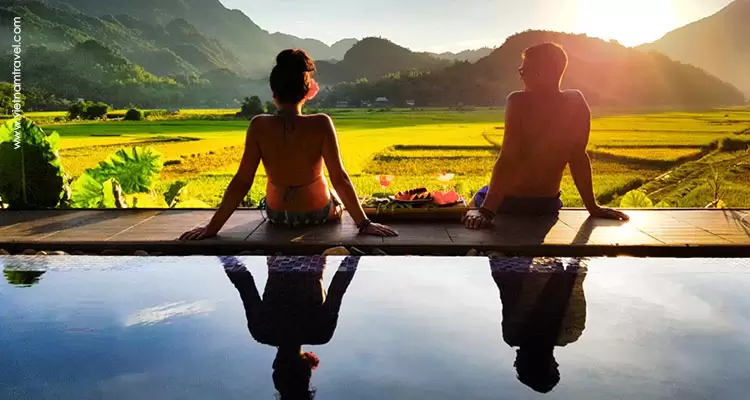 Mai Chau is a village of White Thai people in a beautiful valley of Hoa Binh Province.
It is 146km from Hanoi, about 3 hour drive passing many mountains and hills.
Mai Chau trip is always nice and fun. You should spend 2 day for Mai Chau when you plan a trip.
Even though BanLac village and Pom Coong village getting too touristy but Vietnam Travel always preserve some of the best part of Mai Chau for their own clients. Our driver and guide really know the area, the great timing to make your trip is unique and enjoyable. We have many friends there and we even know how to cook the best authentic local food for our clients here too. Harvesting time in Mai Chau is last for 2 weeks in the mid of August. It last for about 2 weeks and good timing to be sure you won't miss the best moment of the most beautiful time of rice field in Mai Chau.
8. Rice field in Hai Duong province, Vietnam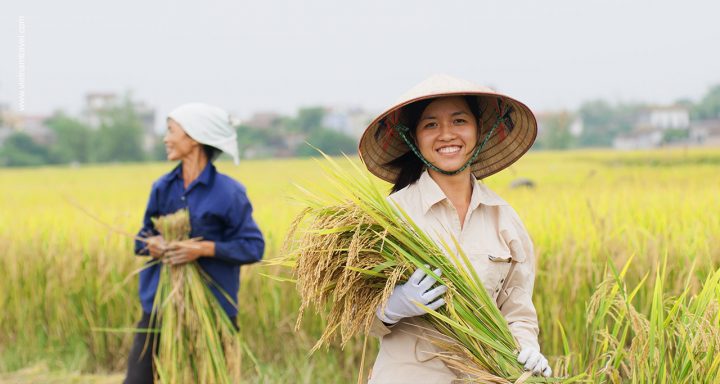 Hai Duong is the gate in the west of Hanoi. You will pass Hai Duong on the way to Halong Bay.
It is pretty flat area and Hai Duong has 2 rice crops year. Harvesting time is in May and Sept.
You don't need to presser much time for the rice field in Hai Duong and you should combine with the trip to Halong Bay or Lan Ha Bay.
As you see, your cruise in Ha Long Bay and Lan Ha bay often end at 12.00. The way back to Hanoi is supper good ( the best highway in Vietnam) so you will get to Hai Duong at 13.00.
If you love to see the nice rice field of Hai Duong, meet friendly people in the country side of Red River Delta. You should follow the way I note here.
When you reach to Hai Duong City. You take the exit of the freeway to Thanh Mien. Then continue the drive passing villages and rice field, then heading to the Dike of Red River. This area is very typical rural village of Vietnam. You could stop and meet, talk to people on the rice field. You could even join a hand on harvesting with local farmers. Then you continue the drive along the dike of Red River and heading to Hanoi. Beside rice field of Hai Duong provice, you could see the brick kills, flower village in Van Giang, Vegetable village in Van Duc, Proterty in Old Bat Trang village and passing the nice newly build city of Ecopark for some juice or coffee or drink before you get back to Hanoi in the late afternoon.
9. Rice field in Thai Binh, Vietnam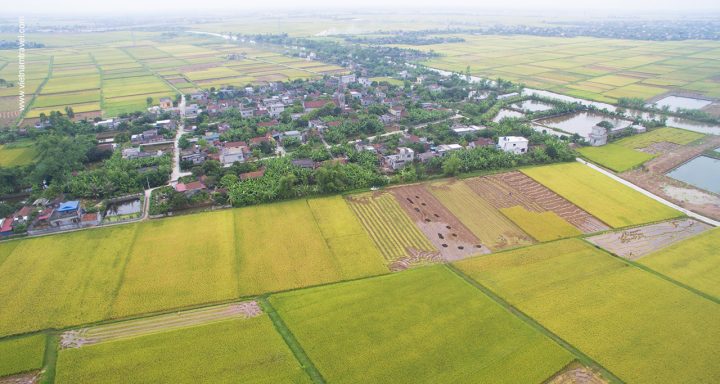 Thai Binh is rice basket of Vietnam. This province produces the most of rice for export (That is why Vietnam is the second rice exporter in the World). Thai Binh is located in the mid of the way from Ninh Binh to Hai Phong or Halong. So you could combine Thai Binh in this route. This province is completely flat and have no mountains or hills at all. The rice in Thai Binh is very productive and could be the most productive rice in Vietnam.
10. Rice field in Mekong Delta, Vietnam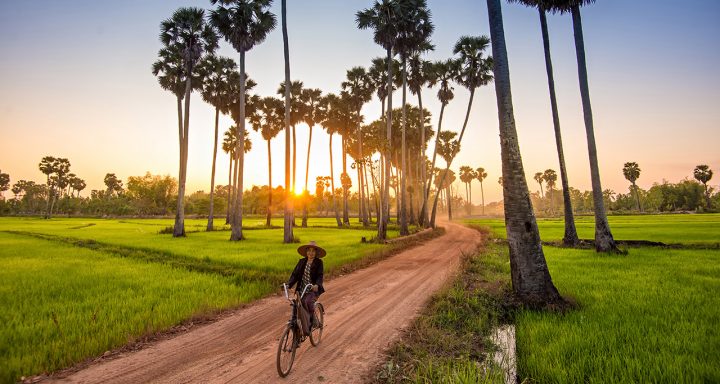 Mekong Delta is too large, it included 6 provinces along the Mighty river.
The best photo of rice field dotted with Palm tree and red soils road which became very muddy in the rain.
The trip from HCM City to Chau Doc or Kien Giang ( before you extend your trip to Cambodia). You would be able to see the rice field of Mekong Delta. The harvest time here is end of August.
You could get nice photos of rice field is in the harvesting time and at the 3 months before that when farmer water their rice field.
If you need details information about timing and how to get to best rice field in Vietnam. Please contact Vietnam Travel. We will reply you in within 24 hours.
Thank you for your reading and see you in Vietnam!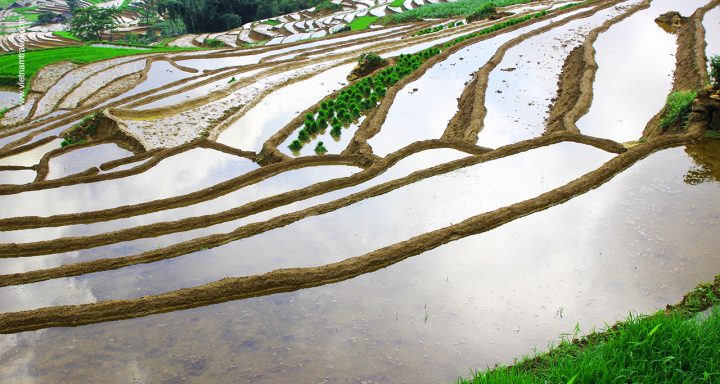 Vietnam rice field at the planting time. They use so much of water to process the land.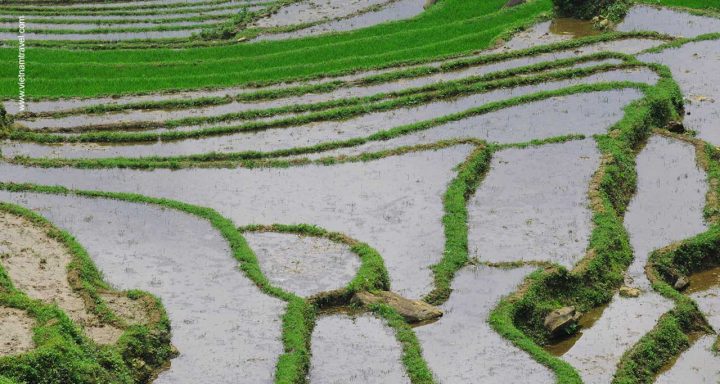 There a footage of rice field in Ninh Binh that my team and I recorded at the link below: