Traditional Vietnamese Martial Arts: History, Sects, Characteristics, and Costumes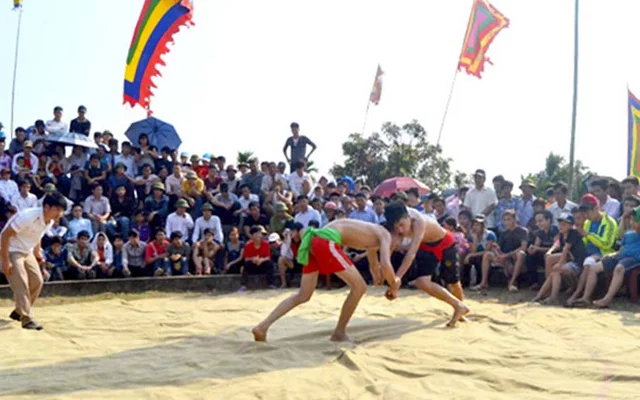 Together with long history of expanding the border and defending the country, traditional martial arts have been an indispensable feature when it comes to Vietnamese culture. These martial arts are the traditional cultural heritage of Vietnam, created by Vietnamese or Vietnameseized from the borrowed martial arts worldwide, to make them suitable with the Vietnamese's state, culture, and philosophy.
Over thousands of years, Vietnam has built the comprehensive traditional martial arts with a full range of aspects relating to medicine (vo y), morality (vo duc), music (vo nhac), tunic (vo phuc)…
The basic philosophy of Vietnamese martial arts is to take weakness against strength; take minority against majority; take shortage against length; the attack is simple but dangerous, effective, agile and unpredictable; the defense is extremely discreet, tight and highly realistic.
Let's learn more about this proud culture of Vietnam with us through this post!
History of Traditional Vietnamese Martial Arts
"Vo Ta" (Ta martial art) was the original name that people used to talk about the martial arts of Vietnam. It was called Annammite (Vo An Nam) by French or Vietnam martial arts (Vo Vietnam) by American. In 1991, the name "Vo Ta" was renamed "Traditional Martial Arts of Vietnam" (Vo Co Truyen Vietnam) by the Vietnam Traditional Martial Arts Federation.
Back to the past, in Vietnam, when the French took over Dai Nam, traditional martial arts sects were banned by the French colonialists because the leaders of the anti-French insurrection movements were all skilled people in Vietnamese martial arts.
Around 1925, Vietnamese traditional martial arts were restored together with other foreign martial arts introduced into Vietnam, such as Boxing, Shaolin…During this period, many legendary masters left a reputation.
Before 1945, the name of the Four Great Masters, Bai-Mua-Cat-Que, was well known. They trained countless patriotic youths who were ready to defend and protect the homeland, creating a widespread martial tradition all over the five continents.
After 1945, Mr. Que had his noble disciples such as Nguyen Van Quy; Dang Van Hinh and Professor Dr. Dang Quang Luong. The 3 remaining masters from Four Great Masters were called "Tam Nhut" (three suns), including Han Bai, Ba Cat, Bay Mua. They were honored in having great merit in restoring the traditional Vietnamese martial arts during this period.
Until the French left Vietnam, the Ngo Dinh Diem government in South Vietnam continued to maintain a restoration of Vietnamese martial arts under the leadership of the Vietnam General Martial Arts (VABA), and the Vietnam Martial Arts Association. During this time, three other masters were known as "Tam Nguyet" (three moons) in following the restoration and development of Vietnamese martial arts, including: Truong Thanh Dang, Quach Van Ke and Vu Ba Oai.
However, in South Vietnam in 1960, a group of Nhu Dao martial artists led by Master Pham Loi who joined the coup against Ngo Dinh Diem was defeated. Therefore, from 1960 to 1963, Ngo Dinh Diem continued to ban martial arts groups from developing (including Vietnamese martial arts).
In 1964, martial arts continued to operate, including Vietnamese martial arts. During this period, traditional martial arts strongly grew no less than other countries in the region, such as Thailand, Indonesia, Hong Kong, Taiwan, Laos, Cambodia … Four masters: Tu Thien-Ho Van Lanh, Tran Xil, Xuan Binh and Ly Huynh have been honored in training many elite martial arts fighters for the Vietnamese martial arts village, especially those who brought the victory for Vietnam in international arena. They were awarded the Diploma of Merit for their glorious achievements to the country. Since then, the martial arts world called these four masters as "Tu Tu" (four bright stars), following their previous classes of "Tam Nhut" and "Tam Nguyet" in the restoration and promotion of Vietnamese martial arts traditions.
After 30 April 1975, Vietnamese martial arts stopped developing for a while due to the chaotic situation of security.
In 1979, in the event that the Chinese army and Khmer Rouge army attacked Vietnam, the Vietnamese state restored martial arts activities, including traditional Vietnamese martial arts, to gather young people to practice indomitable spirit and ready to fight to protect the homeland.
After that, martial arts federations formed to manage the martial arts movement, including the Vietnam Traditional Martial Arts Federation (1991). However, for many reasons, from then until 2007, Vietnamese martial arts have not been paid attention as other martial arts with international competitions such as Taekwondo, Judo, Karatedo, Wushu, Pencak silat, Boxing, Vovinam …
Conservation and development of traditional Vietnamese martial arts play an important role in building an advanced Vietnamese culture imbued with national identity and play an important role in Sports development in the country. Therefore, on 3 January 2014, the Ministry of Culture, Sports and Tourism issued a Decision approving the project "Conservation and development of traditional Vietnamese martial arts up to 2020".
Traditional Vietnamese Martial Arts Sects
According to experts, traditional martial arts in Vietnam includes 5 sects.
1. The first sect: Ha Thanh group (North)

As the capital of many feudal Vietnamese dynasties, martial arts in Ha Thanh and neighboring provinces developed through "martial arts" competitions. Here formed many diverse martial arts, such as Thien Mon Dao, Thang Long Vo Dao, Nam Hong Son, Nhat Nam, Hoa Quyen, Thanh Phong Vo Dao, Viet Vo Dao … Masters Tran Tien, Tran Cong, Tran Hung Quang … are the famous names as the living proofs in the martial arts village of Ha Thanh.
In addition, Traditional Wrestling cannot be missed in the list, originating in Bac Ninh – Bac Giang (Kinh Bac), Ha Tay (Hanoi today), Hai Phong, Ha Nam… To this day, Vietnamese Traditional Wrestling contributed the famous wrestlers in the international arena such as Nguyen Thi Lua, Ha Van Hieu… Recently, at Sea Games 30 in Philippines, all 12 gold medals were gained by Vietnamese wrestlers.
2. Second sect: Binh Dinh Group (Central)

Binh Dinh is the cradle of martial arts in the Central associated with the Tay Son Dynasty (1778-1802). In the 18th century, a number of famous masters from North Vietnam and China moved to settle in this area and taught martial arts to the local people. From then up to now, the Binh Dinh group includes many martial arts from Binh Dinh and the surrounding areas such as: Roi Thuan Truyen, An Thai, An Vinh and other forms of martial arts taught by families or masters such as Tay Son Nhan, Thanh Long martial arts, Binh Dinh Sa Long Cuong, Binh Dinh martial arts, Tan Son Bach Long, Tay Son Thieu Lam, Binh Dinh Gia, Tien Long Quyen Dao … Besides the martial land of Binh Dinh, the central provinces – Central Highlands are also the cradle of many unique traditional martial arts, such as Tan Khanh Ba Tra in Khanh Hoa, Tan Gia Quyen in Quang Ngai. A typical example of those who studied Tan Gia Quyen from the young age and successfully applied its techniques in Muay Thai competition, that is  Nguyen Tran Duy Nhat – a martial artist competing in the Muay Thai Flyweight in ONE Championship.
3. The third sect: Southern Group (South)

Southern martial arts appeared along with the process of opening and settling of the Vietnamese in the 18th and 19th centuries. After stopping in the South Central Coast, the Nguyen Lords continued to expand their territory to the South and immigrants from Quang Nam, Da Nang, Quy Nhon to reclaim wasteland in the Mekong Delta. Many famous masters in the South were compared to "Tam Nhat"; "Tam Nguyet" and "Tu Tu". Many Southern martial artists participated in the competitions and won against masters from neighboring countries such as Cambodia, Laos, and Thailand. The diverse backgrounds of the Vietnamese in the South have created the Southern martial arts systems with a rich origin mixed from groups of Binh Dinh, Thanh Hoa, Nghe An, the Red River Delta and even martial originating from China (such as the Shaolin martial arts), the Cham martial arts, the Cao Mien martial (Cambodia). Some famous sects in the South include Tan Khanh Ba Tra, That Son Quyen (An Giang), Am Duong Vo Phai, Kim Ke, Thanh Long Vo Dao…
4. The fourth sect: Sects originating from China
The exchange and long-standing influence from China throughout Vietnamese history have created martial arts schools taught by Chinese or Vietnamese masters in Vietnam. However, most form systems have been more or less adapted to the physical and cultural suit of the Vietnamese people. An incomplete list of sects with Chinese origin in Vietnam includes: Northern Ma Son, Lam Son Dong, Phat Gia Quyen, Khong Dong, Vinh Xuan Quyen (Vietnam), Thieu Son Phat Gia, Shaolin Long Phi, Shaolin Bac Truyen Thien Muc Son …
5. The fifth sect: Vietnamese martial arts overseas
Following in the footsteps of Vietnamese people around the world, many Vietnamese martial arts have come to foreign countries, especially Western countries such as France and some European countries, America and Canada. There are 22 martial arts schools rooting in Vietnamese Martial Arts in France, and up to 30,000 martial arts students studying. Some martial arts in France are considered as "the cradle of Vietnamese martial arts abroad" such as Cuu Long martial arts, Dai Viet martial arts, Nam Ho Quyen, Trung Hoa Phai …
According to current estimates, there are about 400 training centers, clubs with 900 martial artists, 1 million followers in 45 countries worldwide.
The Federation strives to develop Vietnamese traditional martial arts to 100 countries and territories by 2030.
The Main Characteristics
– Usually using in battle, fighting against foreign aggression, conquering the wild nature, fighting and hunting tigers and wild boars, protecting houses, villages, and robbery.
– Suitable for many types of terrain.
– Practical, flexible.
– "Di cong vi thu, di nhu che cuong, di doan che truong" – focusing on crawling close to the ground, immediately pressing the opponent and then launching a decisive attack, very suitable for the small Vietnamese figure.
– Proficient training must be with nature to get fresh air in order to increase the qigong in the body, then the attack will be stronger.
Costumes, Belt & Levels
Costumes of traditional martial arts athletes at national tournaments
– Black-colored martial arts uniforms, tank-collared shirts, unpaired pants;
– The Vietnamese Traditional Martial Arts badge on the left chest of the shirt;
– Name of unit (province, city, industry) behind.
The referee's attire
– White trousers, short-sleeved white shirt (long-sleeved winter) without a shoulder, shirt pocket without a lid;
– The Vietnam Traditional Martial Arts Federation badge on the left chest of the shirt;
– Black bow, black belt, white shoes with soft sole.
Belt and Color
– Belt is made of soft fabric with the width from 6 to 8 cm, embroidered with the word "Vietnamese Traditional Art".
– The belt color of Traditional Vietnamese Martial Arts is divided into 5 colors according to class and ranked from low to high as follows:
a) Black belt;
b) Green belt;
c) Red belt;
d) Gold belt;
e) White belt.
Levels
The training program of Vietnamese Traditional Martial Arts is divided into 18 levels and 6 ranks as follows:
1-Students: from level 1 to level 8.
2-Guide: from level 9 to level 11.
3-Beginner coaches: from level 12 to level 14.
4-Intermediate coaches: from level 15 to level 16 (ages 20 and up).
5-Senior coaches: level 17 (ages 25 and up).
6-Master: level 18 (ages 27 and up).
So far, Vietnam has organized many festivals and international competitions on traditional Vietnamese martial arts, including two World Championship of Traditional Vietnamese Martial Arts (2016 and 2018), and recently the First World Cup of Traditional Martial Arts in Marseille, France (May 2019), attracting thousands of martial arts athletes, masters, and researchers worldwide.
Obviously, traditional Vietnamese martial arts are not merely martial arts aimed at training human skills, physical strength, improving self-defense, towards human physical and mental harmony. The practice of traditional martial arts also arouses the patriotism, national pride, martial spirit and humanity of the Vietnamese people.
Therefore, the study and preservation of martial arts sects definitely play a very important position contributing to the crystallization of the fine traditional values ​​of the country's martial arts.
We hope that the above information are helpful for you to better understand about traditional Vietnamese martial arts. If you have any requirement about tours in Vietnam or other necessary information, don't hesitate to contact Vietnam Travel team for instant assistance!