Complete Travel Guide To Phu Quy Island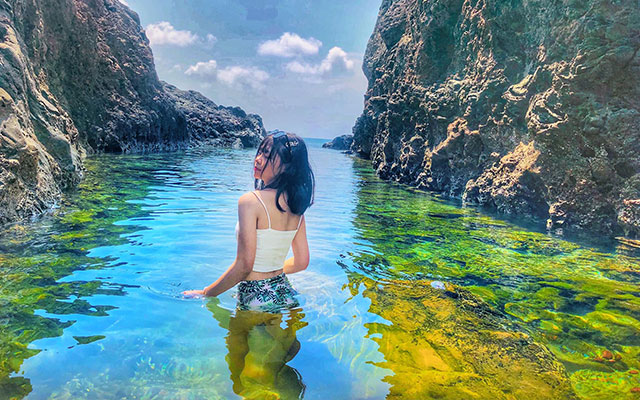 Phu Quy Island – Yes, this is a complete travel guide to the island in Binh Thuan Province. Don't be confused with Phu Quoc Island which is probably the most popular tourist island in Vietnam. But if it is not even the name you are looking for, keep reading about this new interesting travel destination…
1. General Information.
Located 120km east from the mainland of Phan Thiet City, Phu Quy Island lies entirely in the East Sea and not be regularly seen on Vietnamese travel brochures due to its isolated location. However, the island has recently opened its doors to tourism so its name is on the lips of many young Vietnamese backpackers.
Phu Quy Island is the largest one among ten islands in Phu Quy District, with a population of 20,698 residents in an area of 16.5 km2. The topography of Phu Quy is mostly flat, but some places are in almost undetectable undulations. Two highest points on the island are the lighthouse in the northwest, and Cao Cat Mountain in the northeast. The coastline consists of long and open bays, broken only at the northern and southern tips of the island, where volcanic bluffs rise dramatically, forming striking escarpments. The centre of the island is green, agricultural, and forested.
The island's name – Phu Quy, is translated into English as "rich and precious", which refers to the abundant reserves of mineral resources and good fishing conditions there.
2. Best time to visit Phu Quy Island.
The island trip will be perfect in dry and sunny weather. According to local experience, tourists should visit Phu Quy Island from December to April when the weather is suitable for moving around and admiring the scenic landscape. During these months, the sea has calm water and very few strong waves, so it is convenient to travel between the mainland and the island by boats or ships.
In contrast, the sea will be very rough and there are many strong winds with high possibility of sea storms in October and November.
3. How to get to Phu Quy Island?
The only way to access to Phu Quy Island is taking boat from Phan Thiet City. However, the nearest airports to Phan Thiet are Cam Ranh Airport in Nha Trang (195km ~ 3h30m drive) and Tan Son Nhat Airport in Ho Chi Minh City (210km ~ 4h15m drive). The option of flying to Tan Son Nhat Airport then continue the journey to Phan Thiet is more popular among backpackers because there are plenty of buses and trains operating the route between Ho Chi Minh City and Phan Thiet.
While in Phan Thiet City, tourists find the way to Phan Thiet Port and take a boat trip to Phu Quy Island. In the past, it took about 6 hours travelling on slow boats to Phu Quy Island. Thanks to the operating of new speedboats, the journey from the mainland to the island shortens to 2.5 hours in recent times. Two most trustworthy speedboats are highly recommended by fellow travelers are Superdong and Phu Quy Express. One notice is that speedboat schedule is not fixed because it depends much on the weather conditions in particular periods. So make sure to check boat schedule in advance to be notified about the weather condition and re-plan your travel plan if necessary.
4. What to do and see in Phu Quy Island?
Just look like a small drop in the vast East Sea, Phu Quy Island still amazes tourists at the first sight by its gorgeous peace and tranquility because it has not be touched or affected by human beings. There are lots of thing to do and see on Phu Quy Island so the best way to go around by motorbike to explore all the appealing aspects of this island.
4.1. Relaxing at pristine and uncrowded beaches.
Surrounded by the deep blue ocean, the most distinctive characteristic of Phu Quy Island is gorgeous beaches and bays. The water quality there is the best and clearest among many islands in Vietnam.
The northwest area: From the watchful eye of the hilltop lighthouse and the humming wind turbines, the coastline of this area runs round a rocky cape. The calm and transparent water makes it ideal for a diving experience. Once dipping in the water, tourists could gaze at brightly colored fishes that swim between sea bushes, and starfishes hiding in deep and narrow canyons.
Bai Nho Beach and Ganh Hang Cliff: located in the southwest area and can be accessed via a steep and grassy path from the main road. In the shadow of the Phu Quy Flagpole, Bai Nho Beach looks like a slice of black rocks and white sand with bright-blue water. This spot is not suitable for swimming but it's also a good idea to hike along the rugged cliffs that stretch on both sides of the beach.
At the southern tip locates one of the best beaches of the island, Trieu Duong Bay. Possessing wide, curving spread of white sand and bright-blue, shallow water, this is the favorite spot to take picnic for islanders and visitors.
4.2. Checking-in at remarkable sites on the islands.
In terms of Phu Quy's topography, the island is mostly flat terrain. Therefore, it's quite easily to recognize that there are four distinct viewing points there, where volcanic cliffs meet the sea. The first view point is Phu Quy Lighthouse which is situated in the northwest of Phu Quy Island. This beautiful and sturdy structure can be accessed via a steep but relatively short staircase. The best time for visit the lighthouse is between 4 to 5 pm to get the best light, when the sun slowly descends on the horizon. It's such a thrilling sensation because tourists can feel the greenery and the isolation of the island from this viewing point.
The second viewing point as well as the highest point on the island is Cao Cat Mountain. At the top of this mountain is a complex of Buddhist monastery, military installation and extraordinary escarpment of stratified rock. Once reaching the monastery, just follow the stairs leading to the top of the mountain. The view from the peak is incredible, especially around 5 pm. The miraculous scene just come into view.
Sitting on dramatic volcanic cliffs is the third viewing point – Phu Quy Flagpole, which can be easily accessed via the coastal road. From this point, cliffs spread north to Bai Nho Beach and Ganh Hang Cape, and south to Bai Da Beach. Both directions offer great hiking opportunities with terrific scenery along the way.
Last but not least, Mo Thay Temple can't be missed for a sightseeing trip in Phu Quy Island. This site attracts tourists thanks to its scenic position on a fascinating volcanic rock cape in the northeast of the island. Take a walk to the very tip of the peninsular and look back at a beautiful double bay with Cao Cat Mountain behind.
The rock formations here are mesmerizing and there are little overhangs carved out by the sea – like petrified waves. Fish farms here are also another enthralling sight. With a series of rectangular stone walls clinging to the rocky coast, the fish farms look like ancient ramparts protecting the island from ocean's attacks.
4.3. Discovering nearby islets by boats.
Besides main attractions in the island, there are still several nearby small islets waiting to be discovered. Among them, Hon Tranh Islet is the most favorite site which is definitely worth a few hour excursion on a small boat. Even being a small islet located off the southern tip of Phu Quy Island, Hon Tranh Islet boasts itself an excellent white sand beach with crystal clear waters on both the western and eastern sides. It offers excellent conditions for swimming and snorkeling so don't forget to pack swimsuit and goggles when visiting this fish-shaped islet.
4.4. Visiting religious temples and pagodas.
For an isolated location with not large population, Phu Quy Island still astonishes tourists by its remarkable number of worship places. The variety of these sites ranges from mountaintop monasteries to communal village temples. They include Buddhist sanctuaries, Catholic churches, ancestor shrines, and Cao Dao temples. Below is the list of the most attractive and striking religious buildings, which can help visitors catch a glimpse of the diverse but harmonious spiritual life of the local people.
* Van Thanh An Whale Temple
Located just behind Phu Quy Port, the temple is the complex of gates, temples, altars and courtyards. The temple is well known for the huge whale skeleton, which is kept in an exhibition room right to the side of the main temple. In Vietnam's fishing villages, whale worship is a long tradition lasting for many centuries. Whales are considered as a sacred creature and represent spirits of the ocean that can protect local fishermen from natural disasters while out at ocean. And these colossal mammals are respectably called as "the grandfather of the sea". That's why this temple has another name as "The Mausoleum of the grandfather of the sea" (Lăng Ông Nam Hải). The "whale skeleton display room" is not always open so tourists are highly recommended to make an arrangement in advance to ensure that the "display room's keeper" will arrive and open the door for you.
* Linh Quang Pagoda
This pagoda is one of the most impressive religious structures on the island, with a highly decorated and multi-level tower. Due to its high location, the pagoda can be easily seen from any point on the island. The pagoda is decorated with colorful and ornate dragons, tiles, pillars, reliefs and statues.
* Linh Son Pagoda
The main monastery of this pagoda is located just below the peak of Cao Cat mountain – the highest viewing point on the island. Therefore, it can't be find a more stunning position for a pagoda than Linh Son Pagoda. The steep staircase reaching to the pagoda is decorated with golden dragons and pink bougainvillea. The complex includes prayer rooms, sophisticatedly decorated altars and a shrine at the peak. Best time to get here is around 4 pm to watch the sunset and gaze out over the island.
5. What to eat in Phu Quy Island?
The most famous dining option in Phu Quy Island is fresh, delicious and inexpensive seafood straight from the ocean. Sea cucumbers and carbs are among the most popular seafood on the island. Tourists can find informal local seafood restaurants set around the island. Tran Hung Dao street in Tam Thanh commune is the gathering point of bigger restaurants where staffs can speak some basic English sentences. Another option for seafood is tasting them in floating restaurants clustered just offshore at Bai Phu Bay. These places are set up in open-air terrace and offer relaxing atmosphere.
With the scale of an isolated island, Phu Quy's street food may not be varied but is still a decent selection. Street food vendors can be seen along the main streets around the island, but the busiest places are Vo Van Kiet street in Tam Thanh commune, and around Long Hai market. The most popular street foods here are: savoury pancakes filled with freshly caught shrimp and pork (banh xeo); fresh spring rolls filled with herbs, fish cake and pork (cha cuon); rice vermicelli with fried tofu and shrimp dipping sauce (bun dau mam tom); central-style thick noodles (mi Quang), and southern-style vermicelli noodles (hu tieu).
Phu Quy Island has its own island brew: rượu dứa. This is a very potent, amber-coloured liquor made from the fermented fruit of the pandanus tectorius plant, which grows all over the island. The plant has long, sharp leaves and exposed, claw-like roots; the fruit is like a round, orange, pineapple. It is sold at many local stores around the island, costs around 10,000vnd for a 500ml bottle.
6. Where to stay in Phu Quy Island?
Different from popular destinations in the mainland, Phu Quy Island has yet to be spoilt by the exploitation of commercial tourism. Therefore, tourists can't expect to find luxury accommodation while in the island. Recently, there are about dozens of mini-hotels, guest houses and homestays, which are gathered around the main port area and Tam Thanh commune. Almost offers transfer services between the port and guest houses' location. Just remember to contact before arriving so that you can be picked up timely.
* Hoang Phu Hotel (Rate: 250,000 – 450,000 VND/R/N)
A three storey building down the narrow backstreets near the embankment in Tam Thanh commune. The hotel has good, clean rooms with sea view.
* Villa Dai Duong (Rate: 700,000 – 950,000 VND/R/N)
Located in the center of Tam Thanh commune, good reviews from in-house guests. The hotel offers 5 small mini-apartments. Each apartment has one living room, one small kitchen, bedroom and toilet.
* Lamin Hotel (Rate: 150,000/person): different room types to accommodate all travel group sizes: double/twin rooms; family rooms; dormitory for small group of friends.
In addition, there are many homestays with extremely cheap prices from 50,000 VND – 100,000 VND/ person. The general standards are clean and fairly new rooms.
7. Important note for foreigners when traveling to Phu Quy Island?
For foreign tourists, travel permits must be obtained to visit Phu Quy island as the island is still controlled by the military. Though it may take a bit of time and money, there is almost no hassle in the procedure and the travelling experience in the end as it's well worth the efforts.
To overcome language barriers with local Immigration Department, foreigner tourists should book this service via travel agencies.
The application procedure may take at least 48 hours so tourists should book it in advance and prepare the following documents:
• Valid Vietnam visa or temporary residency card
• Immigration stamp of latest entry into Vietnam (in your passport)
• Copies of main passport page, visa, and immigration stamp (optional but useful)
• Cash in VND: 250,000-850,000 (depending on the application method)
• Name & address of your accommodation in Phan Thiet/ Mui Ne.