Things to do in Phu Quoc Island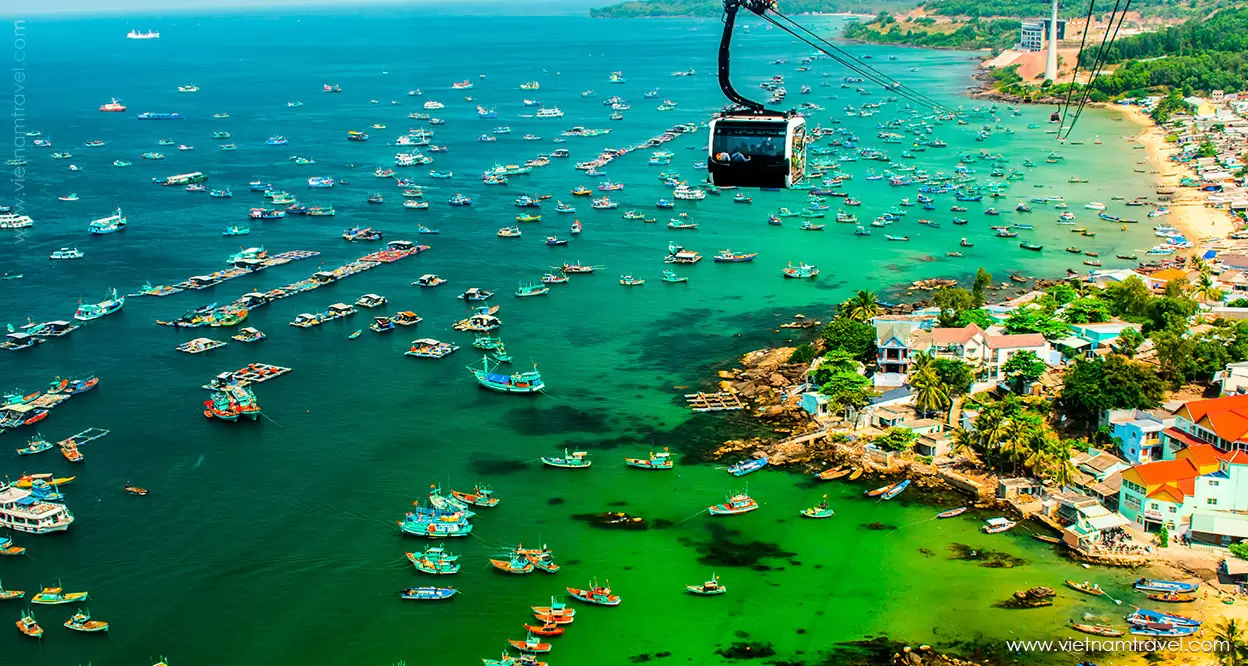 Phu Quoc Island is located down South of Vietnam which is known as one of the largest untouched island in Vietnam with the same size as Singapore 600 sq.kms. About 99 mountains and hills are covered by green forests and majestic waterfall. Travelling To Phu Quoc, you will be amazed by many beautiful sandy beaches, fresh sea and friendly people that all make Phu Quoc Island as a true paradise for travellers.
There are so many ways that travellers can choose to travel from Ho Chi Minh City to Phu Quoc which depends on your schedule and your needs.
Travelling by bus then by ferry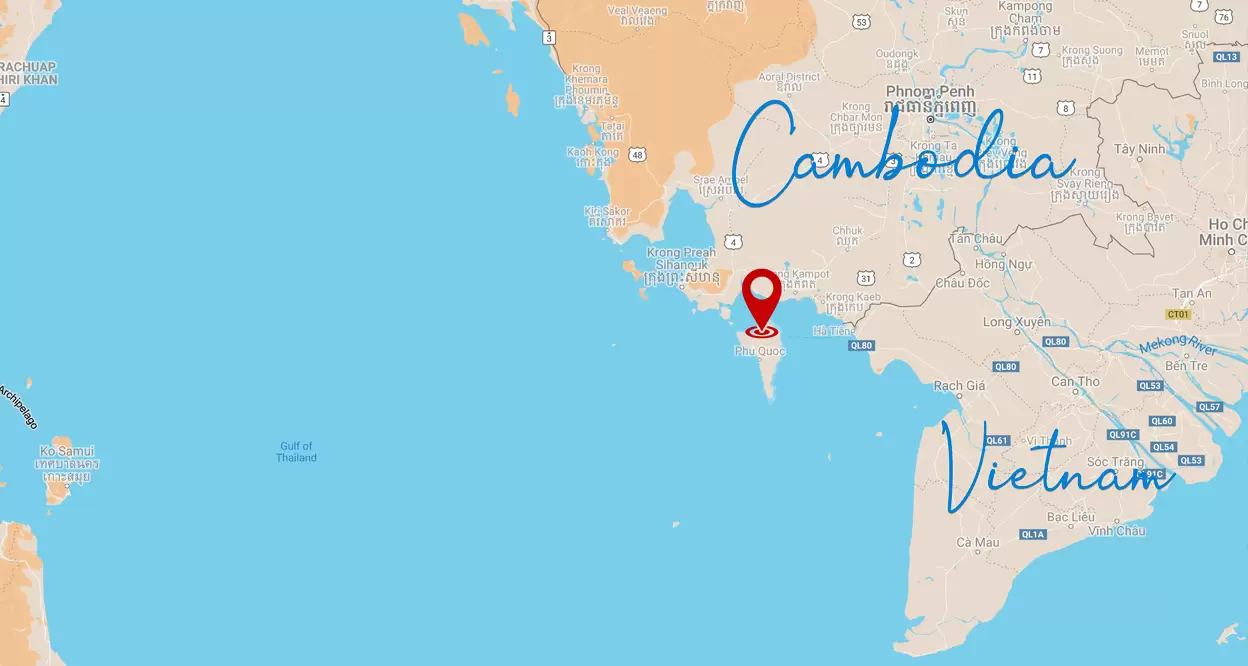 This is one of the cheapest way for those who are in budget. You will take bus from Ho Chi Minh City to Rach Gia taking about 7- 8 hours driving on car. You can book ticket with Futa Bus or Kumho Samco with about 150.000 VND- 200.000 VND/ticket/way (7-9 USD). You should arrive in bus station 30 mins with ticket in hand before departure time.
Upon arrival in Rach Gia, you will take ferry from Rach Gia Port to Bai Vong Fast Boat Pier in the Island spending about 2.5 hours on ferry to get to Phu Quoc Island .
There are 2 reliable companies that you can book boat ticket are Superdong and  Phu Quoc Express and it costs 230.000 VND- 300.000 VND/person/way (11-13 USD). And again, you should be there sooner than departure time and have your ticket printed out.
Travelling by private car then by ferry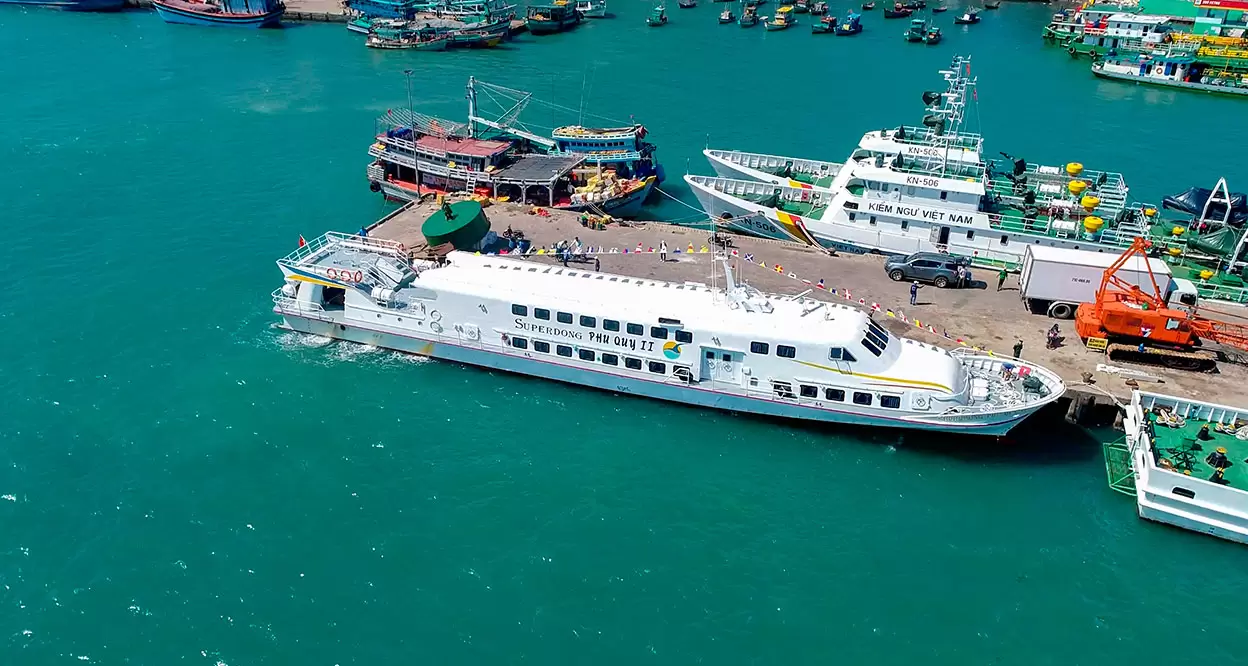 This is most comfortable way, you could combine with excursion to Mekong delta, stay 1 night in Can Tho then next day continue to drive to Rach Gia for the ferry to Phu Quoc island.
This is great travel experience and get close look to the countryside of Mekong delta, travel in slow pace and allow you to stop at interesting points, try may type of local transportation from Ferry to small boat and rowing boat… ask the travel consultant of Vietnam Travel for more details.
Note: There is an airport in Rach Gia that you can take flight directly to Phu Quoc Island instead of doing the ferry and it takes only 1 hours flight.
Travelling by plane.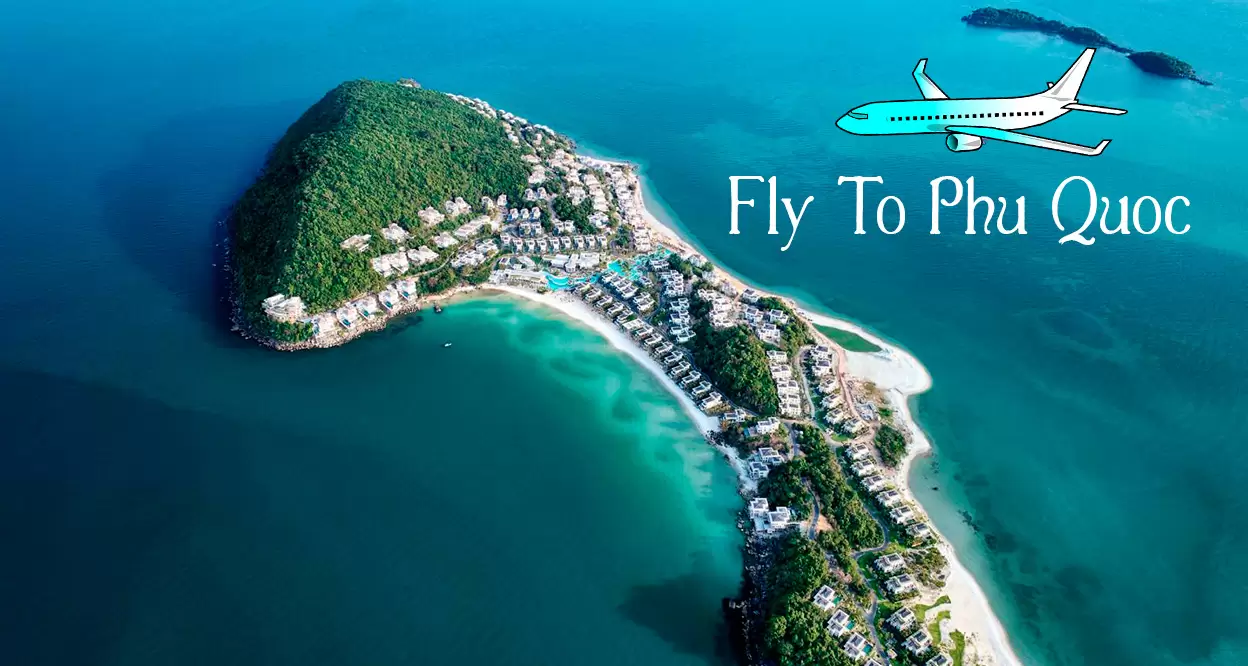 Using plane to travel to Phu Quoc is the most common, fastest and convenient way for travellers who not only want to save time, but also enjoy the trip perfectly. From Tan Son  Nhat Airport in Ho Chi Minh City, travellers can use Vietnam Airlines, Jestar Pacific Airlines or Vietjet Air to travel to Phu Quoc with 1 hours flight. Price is about 30- 130 USD/person/way which is depended on its availability based on your booked time. From Phu Quoc, you can take taxi/ private car to get to your hotel in Phu Quoc Island.
Note: The best way to get back to HCM City from Phu Quoc is flight.
Things to do in PhuQuoc
Travelling to Phu Quoc from Ho Chi Minh City, tourist can spend about 3 days 2 nights at least so that you can enjoy the Phu Quoc Island beauty. Indeed, you can spend more time which depends on how many day you have. There are so many things that you can do when you are in the Island. Here are few things you should not miss when you are here:
Having Beaches Break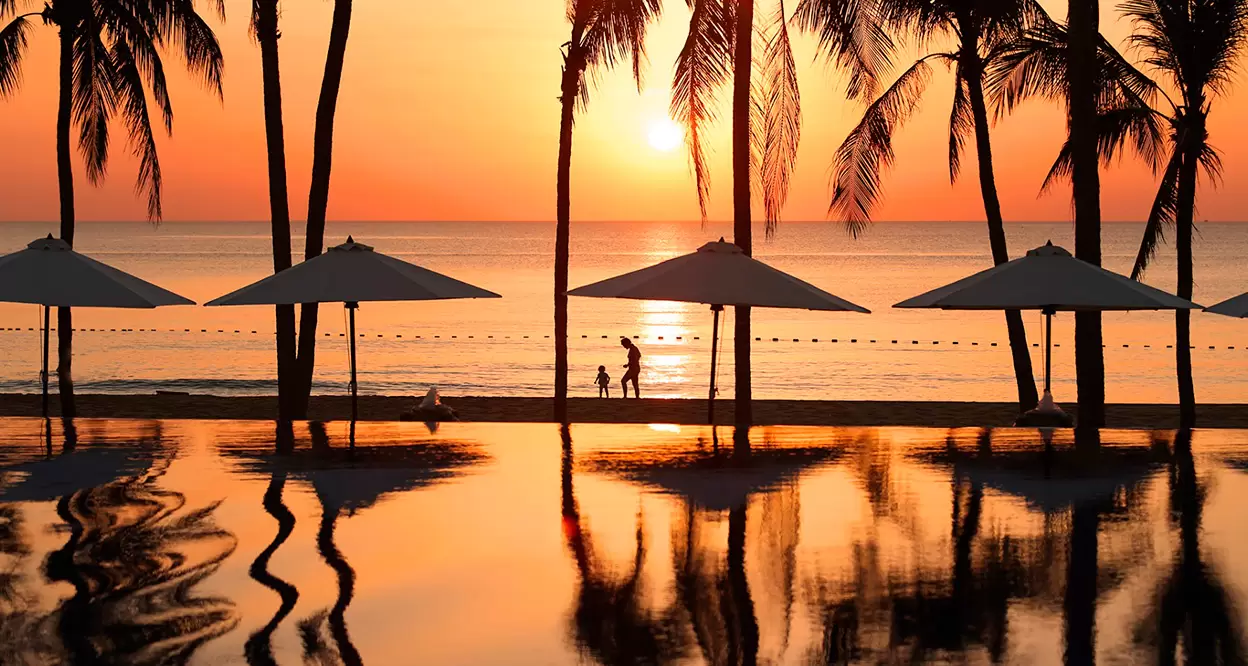 Travelling to Phu Quoc, there is one thing that you should not miss is that discover beaches here. Phu Quoc Island is known as one of the most beautiful isolated island with many stunning beaches that attract tourists.  Some of them is well known for travellers but some is really isolated where you can immerse yourself in a warm, calm and clean sandy beach. There are some famous beaches such as Long Beach, Ong Lang Beach or Bai Sao Beach where you can take many beautiful photos for your lifetime gallery.
Visiting nights markets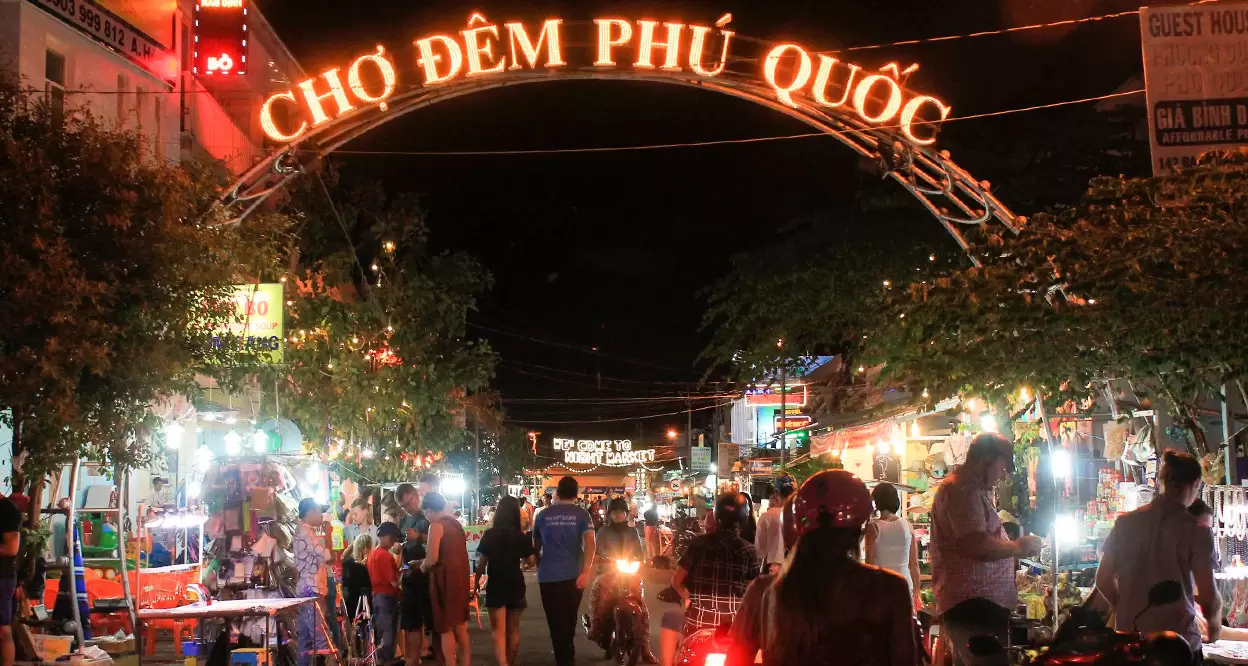 Phu Quoc Island has 2 famous night markets which are both located along Vo Thi Sau street in Duong Dong Town named Dinh Cau night market (the old one) and Bach Dang night market (the new one). They are quite closed to each other which is away few streets form each other only so you can travel back and forward between them. The night market will come alive when the sun which opens every night from around 6.00pm to about 10.30pm and it can be flexible due to the weather. The night market will not let you down thanks to its diversity from traditional cuisine to delicious seafood to many pretty souvenirs that you can bring back home. Besides, hanging out at the night market, you will enjoy the fresh air from the sea with real natural and be impressed by their local friendly and hospitability.
Experiencing the local life at Ham Ninh Village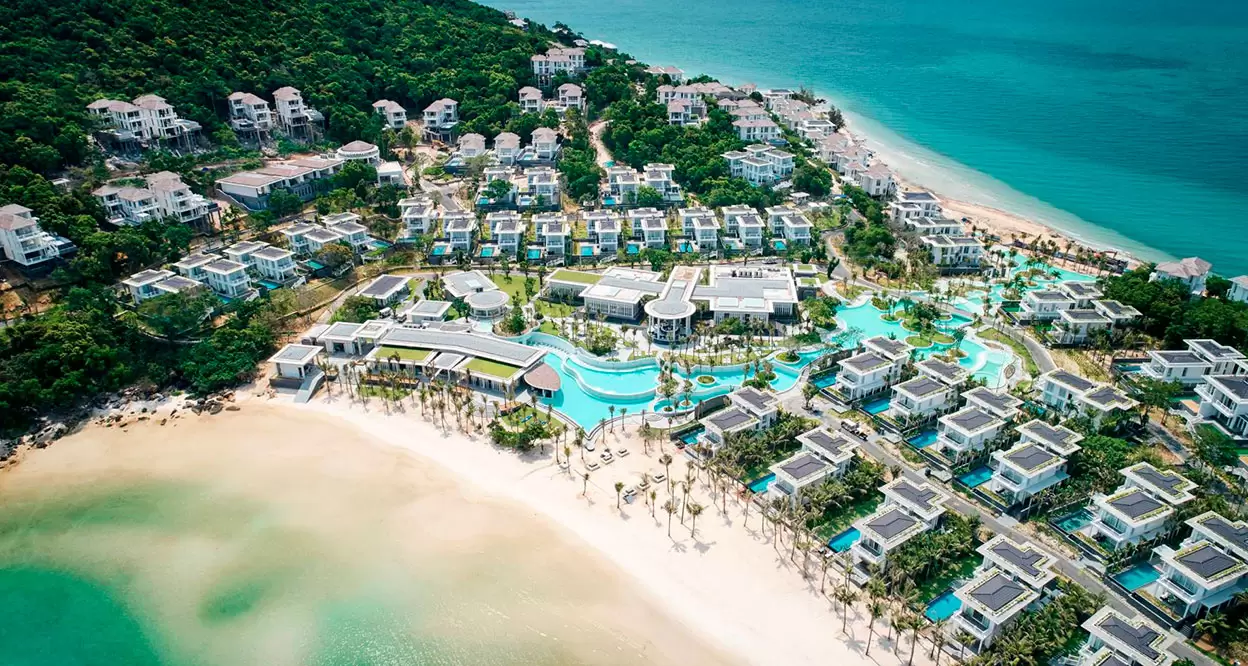 Your journey to Phu Quoc Island will not complete If you miss Ham Ninh Village where is famous for a picturesque of local fishing village, floating village/ market/ restaurant  and delicious seafood as well. Visiting the village, you will deep yourself in a fresh seafood village and if you are seafood lover, you will absolutely love it! Besides, the main income of local people here is from going fishing so there is another interesting things you can experience is their local life, seeing how they make end meets and how their day like.
Exploring Suoi Tranh Waterfall
Get way from beautiful islands and soft sandy beaches, you can visit this area covered by green, natural caves and stunning waterfall. This will be much more attracted by those who are natural lovers where you can join some physical activities such as camping and hiking. The best time to visit Suoi Tranh Waterfall is at the rainy season from May till September. The entrance fee costs you 5.000 VND/person and parking is available with 10.000 VND additional.
Visiting Turtle Island and Finger Island
If you are looking at discover some small isolated beautiful islands in Phu Quoc, you can consider to Turtle Island and Finger Island where you can embark from Duong Dong habor then sail along the coastline of the west coast  to the north. You will have change to go fishing on your own, then stop for snorkeling at the Turtle Island. Then continues to the Finger Island which is the next site for Snorkeling where you can explore the unspoiled corals of this area.  Finishing a full day tour with such a great experience and beautiful photos back home will make your journey memorable.
Snorkeling and Diving in Phu Quoc Island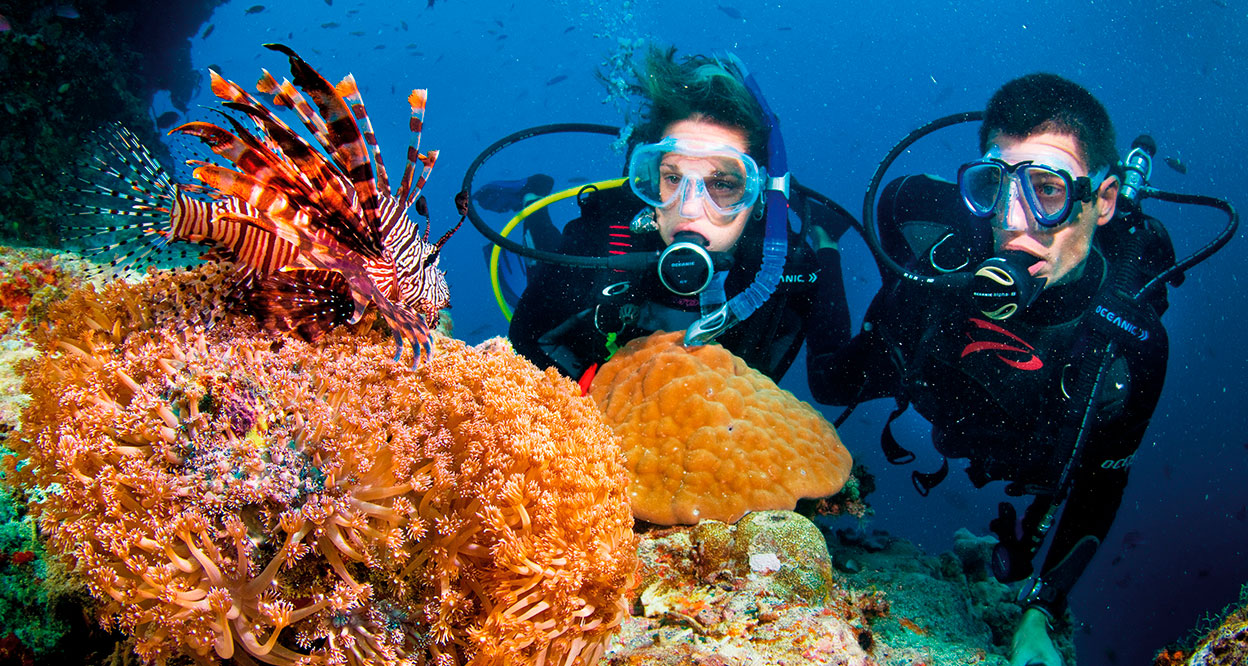 Phu Quoc Island has well known as one of the most beautiful islands has great offer of the best snorkeling and diving in Vietnam. Travelling to Phu Quoc Island, where is home of many other smallẻ islands, travellers will not miss one of the most popular tourist activities like this. The best time to join snorkeling and diving is generally from November to April when the sea is calm and the weather support us. Travellers can do snorkeling and diving in both the North and the South of Phu Quoc Island. Here are some highlighted spots for you: Turtle Island, Fingernail Island, Thom Beach which are in the Northern of the Island; And you can travel to the South to join snorkeling and diving which is at the Hon Thom Island, Dragon Rock, Dry Island, Roi East, Roi South. Apart from relaxing and immersing yourself at a such fresh and natural island, snorkeling and diving is such a great idea to hit the water to enjoy its natural tranquility of the island.
Riding a cable car from Phu Quoc to Hon Thom Island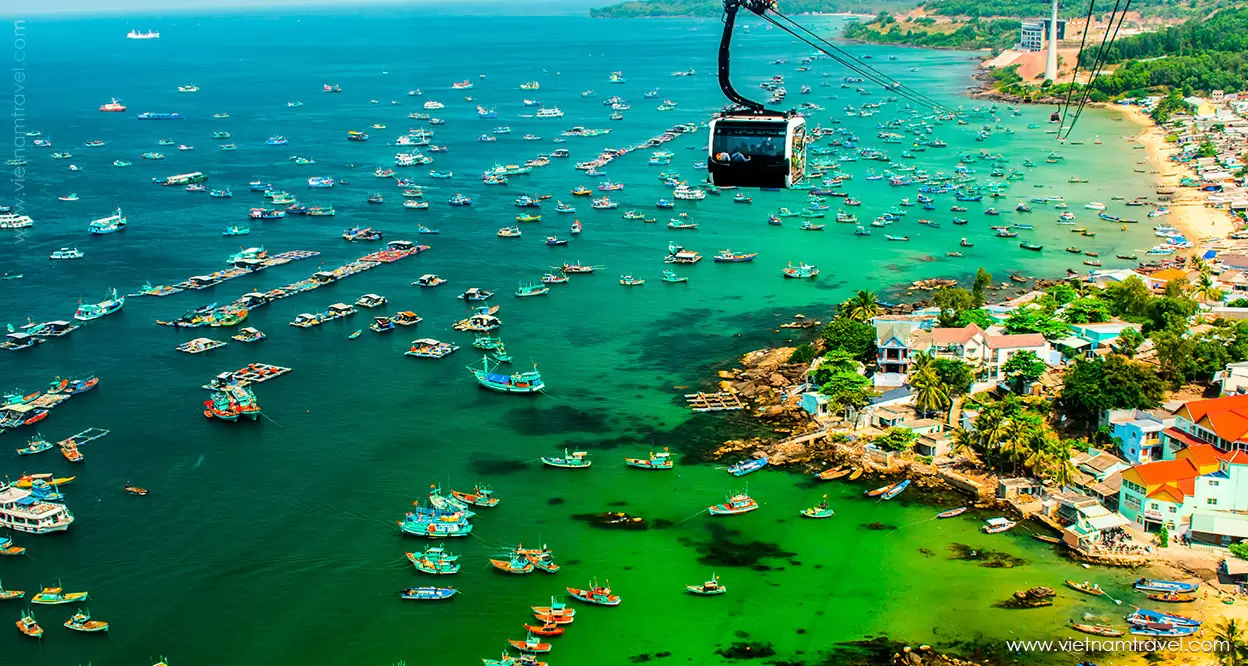 Your great staying in Phu Quoc Island will not be completed if you miss the cable car from Island to Island when you are here. Phu Quoc cable car is not only known as one of the longest cable car that connect the An Thoi town (the start station) in Phu Quoc with Hon Thom Island (the final station) located down to the South of Phu Quoc Island. Hon Thom Island one of the largest island among many others and also referred to Pineapple Island. The ride will last about 8km and take 15 minutes for each way that is the longest ride in the world opened from 7.30am to 5.30pm everyday with one and a half hours break for lunch. Travellers will be amazed by the prefect view from the high level down to the sea where you can really enjoy the pure bliss over the ocean. Upon arrival, there are so many things you can do in Hon Thom Island and soaking yourself under the sun will be a good idea. Let's come to Phu Quoc Island to experience by yourself!
Travelling to Phu Quoc, you can choose to join an organized tour or you can just simply immerse yourself at a such fresh and green island or relax at the beautiful sandy beaches. Your trip to Ho Chi Minh City will not perfectly complete without visiting an isolated and stunning island with only about 1 hours flight. You can click here to check proposal itineraries to see what suite to you or just contact us to get more details so that we can tailor your perfect upcoming trip to Vietnam.