One Pillar Pagoda, Hanoi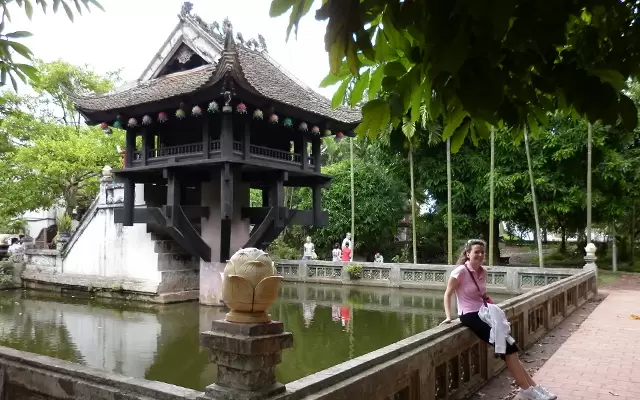 One Pillar Pagoda, also referred as Chua Mot Cot, Dien Huu or Lien Hoa Dai is famous for its impressive architecture and historical values. The shape of pagoda is said to present a lotus flower growing out of water and related to the nice legend of Ly King. The pagoda is located in Ba Dinh district next to the complex of Ho Chi Minh Mausoleum and it is one of the favorite stops in the Hanoi City Tour and here is some information related to One Pillar pagoda.
1. History of One Pillar Pagoda
One Pillar Pagoda was first built in 1049, during the reign of Emperor Ly Thai Tong. Legend said that the Emperor was old but had no child. He often went to pagodas to pray for a son. One night, he dreamt of seeing Guan Yin Buddha (Quan The Am Bo Tat) sitting in a lotus throne Quan and giving him a baby. Not long after that, the queen gave birth to a prince. Then he decided to build this pagoda to show his deep gratitude to Quan The Am Bo Tat. The pagoda was first named Dien Huu pagoda which means "long happiness and prosperity". On 8th April of lunar calendar, the Emperor visited the pagoda to attend the ritual of Bathing the Buddha with all monks of the capital then release birds.
Through many decades, the pagoda was repaired and restored several times. In 1105, King Ly Nhan Tong extended the pagoda and added Linh Chieu pond and a gilded lotus throne atop. In 1954, French colonists used explosives to destroy the pagoda before withdrawing from Vietnam. But after one year, in 1955, the municipal government restored the pagoda and it remains as this shape until now.
2. Unique Architecture of One Pillar Pagoda
This pagoda is distinctive and unique in terms of architecture. The structure includes 3 parts: a single pillar, Lien Hoa Dai and a curved pagoda roof.
* The pillar is actually made of 2 stone blocks connected each other skillfully. This stone pillar is approximately 4m high (excluding the sinking part under the foot) and 1.2m in diameter.
* Lien Hoa Dai is a wooden square structure with each side of 3m width. There is a statue of Guan Yin Buddha worshiped inside the pagoda. The statue was designed following the dream of the King Ly Thai Tong – Guan Yin Buddha sitting on a lotus.
* The roof is considered as the most important part of the whole work, especially to religious buildings. One Pillar Pagoda's roof is curved in all 4 sides with 3m width.
It is decorated with traditional patterns of two dragons facing the moon. This pattern, to Vietnamese people, symbolizes the holy power bringing the wish for wisdom and vitality of human beings.
The pagoda's structure also shows the harmonious combination of imagination and unique architecture with a system of wood beams that create the solidity and beauty for the pagoda. With its great historical and architectural values, One Pillar Pagoda was officially recognized as "The Pagoda with the Most Unique Architecture in Asia" by the Asia Record Organization in 2012.
3. Meaning
One Pillar Pagoda is the cultural and historical symbol for a thousand year civilization in Hanoi. It was designed to resemble a blossom lotus emerging from the water's surface. The lotus flower is known as the flower of the dawn and is the symbol of purity, purity, serenity, commitment and optimism for the future. The local people often come here to pray for happiness, success and luck.
4. How to get to One Pillar Pagoda
One Pillar Pagoda is situated next to Ho Chi Minh Mausoleum, about 3km far from Hoan Kiem Lake. You can combine a visit to Ho Chi Minh Mausoleum Complex with One Pillar Pagoda in your Hanoi city tour itinerary. Local bus, taxi and motorbike-taxi are easily found to get these sights. However, it is recommended to book a private tour with local guide, which helps you understand and learn more about Hanoi's culture and history.
Location: Chua Mot Cot Street, Ba Dinh District, Hanoi.
Opening hours: 07:00 – 18:00 every day
Entrance Fee: Free
Dress code: Avoid to wear tank-top and short. It is recommended to wear clothes covering your knees and shoulders to show your respect and appropriate to native culture.