Vinh Moc Tunnels – A Famous Historical Relic in Vietnam
No words can be more illustrative than the title of the film "Vinh Moc tunnels – a world beneath the war" by Director Janet Gardner to describe Vinh Moc tunnels in Vinh Linh district, Quang Tri province. The war has ended and the tunnels have become a historical site. Visitors to Vinh Moc tunnel come to better understand local people's hardships, creativity and bravery.
Address: Vinh Moc hamlet, Kim Thach commune, Vinh Linh district, Quang Tri province
Opening Hours: 7.00am – 5.00pm
Entrance fee: 40,000VND / person
History & Geography of Vinh Moc
Vinh Moc (Vịnh Mốc) is a tunnel complex in Quang Tri, Vietnam. It is located in the Demilitarized Zone (DMZ) near Hien Luong Bridge, which established as a dividing line between North and South Vietnam from July 1954 to 1976 as a result of the First Indochina War.
Followed one designer witnessing this said that the real name was Son Vinh Tunnel. "Son" means mountain and "Vinh" not only refers to Vinh Moc, but to the Vinh Linh people. During the American War (say by local) which is known as Vietnam War, when American bombing raids north of DMZ intensified in 1966, the inhabitants of Vinh Linh district began digging down into the red laterite soils, excavating many tunnels over the next 2 years. Although they were also used by the North Vietnamese soldiers, the tunnels were primarily built to shelter a largely civilian population who worked the supply route from the Con Co islands lying 28km offshore. Some tunnels belong to Vinh Moc, a village located right on the coast where for 2 years, 250 people dug the tunnels, which housed all 600 villagers & 17 children who were born inside the tunnels over verifying periods from early 1967 until 1969, when half decamped north to the relative safety of Nghe An province. In 1972, the villagers of Vinh Moc were finally able to abandon their underground existence and rebuild their homes, rejoined by relatives from Nghe An a year later.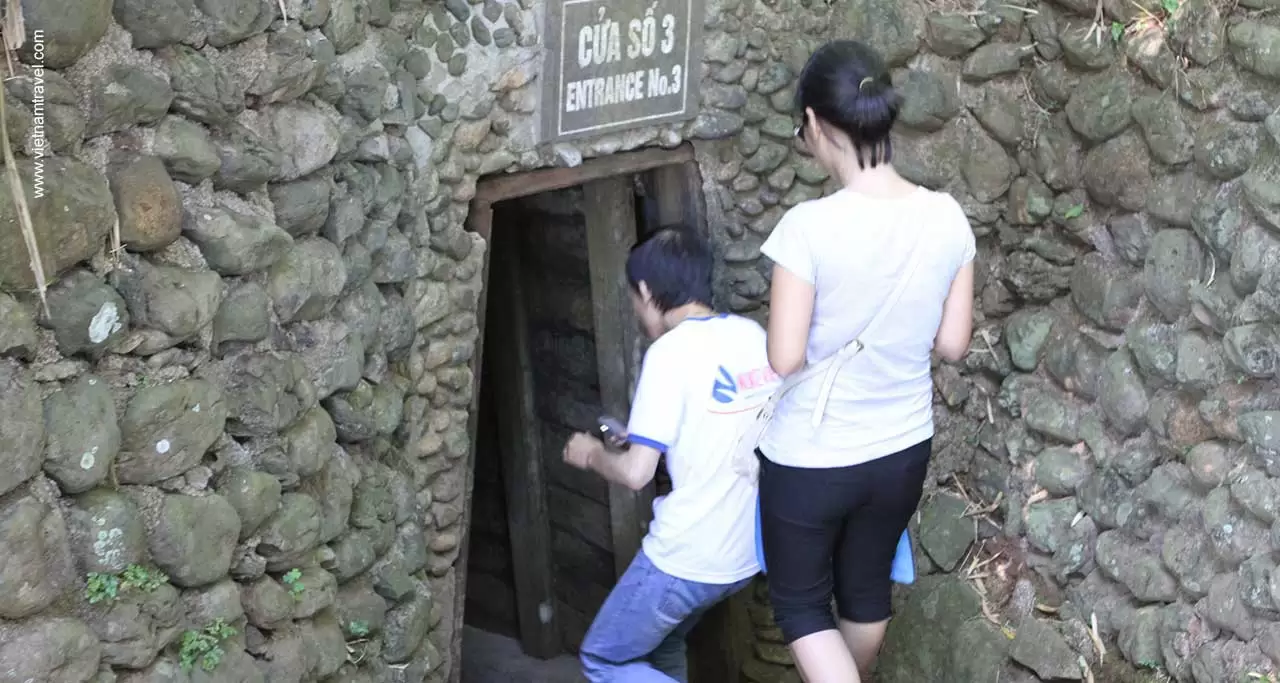 The tunnels were constructed in 3 different levels with the total length of nearly 2,000 m long with six entrances to the tops of hills and seven entrances to the East Sea.
+ The first level, 12 and 15 meters below the ground, was where the civilians lived.
+ The second level, at a depth of 18 meters, served as the Headquarters of the Party Committee, the People's Committee and Military Command.
+ The third level, 22 meters below ground, was used as a warehouse for logistics, food and ammunition for Con Co Island and the civilians and soldiers in the tunnel.
The complex grew to include wells, kitchens, rooms for each family and spaces for healthcare including operation room, maternity room, health station.
How to Get to Vinh Moc Tunnels
Vinh Moc Tunnels are chosen as a stopover for tourists who travel from Quang Binh to Hue or a day trip from Hue city, besides many other famous historical sites named Quang Tri Old Citadel, Khe Sanh Combat Base, Hien Luong Bridge, Ben Hai River, etc. as this district had been an important battlefield between Vietnam and America.
Vinh Moc is  90 minutes drive from Dong Hoi city ( 80km) or  2 hours from Quang Binh (114km) if you travel by private car/van.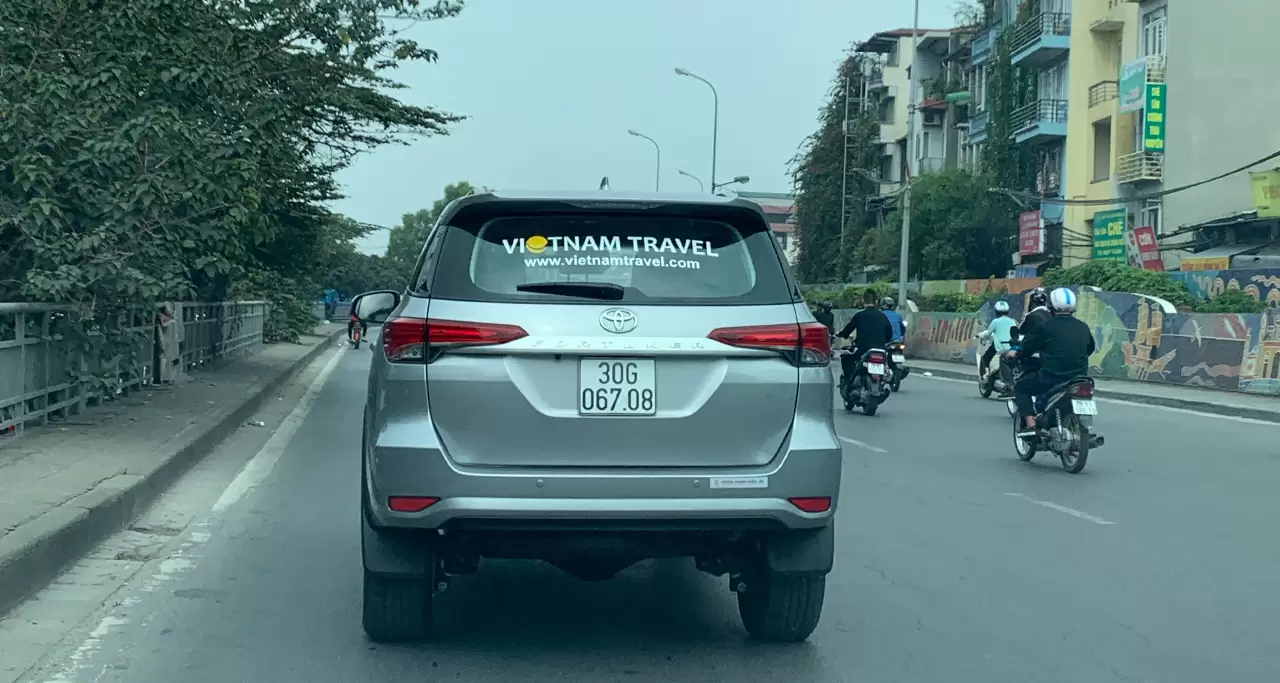 The turn-off to Vinh Moc from High way 1 is 6.5km north of the Ben Hai River in the village of Ho Xa. Follow this road east for 13km. Tourist shuttle buses run between Phong Nha/Dong Hoi and Hue Vietnam, then you can continue to take taxi for a visit at Vinh Moc and the Ben Hai River.
You can do it on your own but having a good guide (with a flashlight!) will illuminate the experience with information. They'll also point out every slippery step and lead you through the confusing labyrinth.
For best experience, it is recommended that tourists planning to visit this area should book a tour through Vietnam Travel to get well-arranged services.
Vinh Moc tunnels vs Cu Chi tunnels
Cu Chi tunnels were used in a combat situation, whereas Vinh Moc tunnels were used as permanent bomb shelters, an entire village lived underground. Bigger than Cu Chi tunnels where you need to crawl, at Vinh Moc tunnels, you can stand and walk inside (rather wet & slippery during rainy season).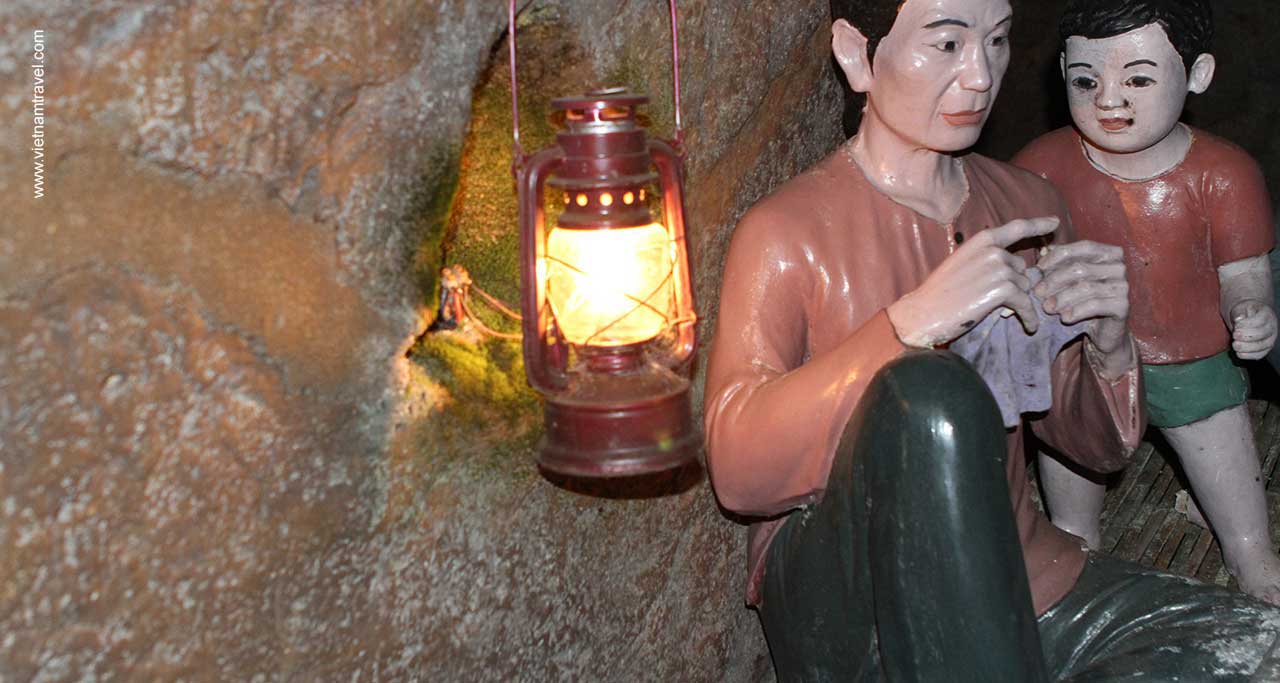 Vinh Moc tunnels receives fewer visitors, very pleasant oceanfront location. Adding to the vividness of the experience will be the unexpected dioramas of people in parts of the tunnel. A visit to Cu Chi is a half-day trip from downtown Saigon, and Vinh Moc is a full day trip from Hue. It will be a great idea to visit to both those tunnels to see the differences as well as to learn their important roles in Vietnam War as each one has its own values.
Vinh Moc is not the only tunnel system. It is the longest and largest tunnels  among 114 tunnels found in Vinh Linh district, with miles of trenches connecting village to village. As becoming the historical sites of significant value reflecting Vietnam's history and its people's patriotism, bravery and creativity, impressive Vinh Moc tunnels will be worth for your visit!