The Best Theaters in Hanoi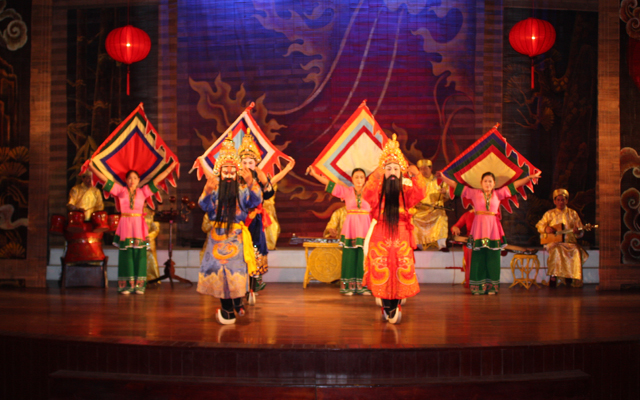 Theaters and live shows are performed at the weekend  and sometimes week day in Hanoi – the city of over thousand-year history. Immerse yourself in a night at the theater is great opportunity to learn more about the culture of this nation. The shows and even stages in Vietnam are very creative. It could be at the lake of the community or the outdoor space. Those shows could be the traditional performances in the backdrop of communal house's yard to the modern theatrical shows that are delicately choreographed.
Through the time, the shows has been entertaining local and enriching the culture of an agricultural country. Since the tourism booming in the last decades, this type of arts bring to stage for both local and travelers. Nowadays, travelers to Hanoi could have opportunity to watch these shows easily. We recommend some good show and the best theaters that you could visit during your trip in Hanoi.
1. Vietnam Tuồng Theatre (Nhà Hát Tuồng Việt Nam)
Nested on Duong Thanh Street, which once named Rue de la Citadelle by the French, Vietnam Tuồng Theatre has welcomed visitors and served as a melting pot where Vietnamese performing arts and culture meet world audience. Taking a short few minutes' walk from Sword Lake, entering the heart of Hanoi's Old Quarter, one will find the Vietnam Tuồng Theatre opposite the centuries-old Hang Da Market (Rue des Cuirs), where merchants has been gathering ever since feudal time. The theatre building has been around for over a hundred years, a true witness of Hanoi's historical changes.
The Vietnam Tuồng Theatre was originally built by the French as a cinematheque at the beginning of the 20th century, by the name "Olympia". The cinematheque used to screen Western movies and mainly served the French colony's entertainment needs. In 1945, when the revolution army took over Northern Vietnam as the French withdrew, the building was renamed "Hong Ha Theatre", and had since then been appointed by the new Vietnamese government as a destination for troupes of local performing art genres such as Tuồng, Chèo, Cải Lương, etc. to stage their works, bringing entertainment to Vietnamese residents, and preserving Vietnam's cultural heritage. Of all these genres, "Tuồng" stayed over the years and grew to become an essential attribute of this historic theatre. The place is therefore known as Vietnam Tuồng Theatre.
The old "Olympia", now Vietnam Tuồng Theatre, is nowadays a major stage where Vietnamese culture and performing arts collide. Not only Tuồng, Chèo, Hát Xẩm, etc. , the presence of Lang Toi – My Village's contemporary artistic performance on Vietnam Tuong Theatre's stage is a breath of fresh air, bringing forth cultural exchange and progressive expansion of Vietnamese contemporary performing arts.
With cozy neo-classic design, enriched with cultural and historical heritage over the years, Vietnam Tuồng Theatre presents a unique ambiance, treating cultural enthusiasts to exotic and mesmerizing artistic experience that mark their unforgettable memories in Hanoi.
Address: No.51A Duong Thanh Street, Hoan Kiem District, Hanoi
2. Vietnam National Drama Theatre (Nhà hát kịch Việt Nam)
The Vietnam National Theater is located at No. 1 Trang Tien Street, right in the heart of Hanoi's French Quarter, and belongs to the Ministry of Culture, Sports and Tourism. The main functions of this theatre is performing dramatic arts; collect, preserve and develop spoken dramatic art. The famous meritorious artist Xuan Bac is the acting director of the Vietnam Drama Theatre.
The Vietnam Dramatic Theater (formerly known as the theater team of the Central People's Workers Union) was established in 1952 at the Viet Bac battlefield. Theater's history is associated with the development of Vietnamese revolutionary theater art and grown up with the country development. Up to now, Vietnam Drama Theater is considered as the "Leading Bird" of Vietnamese spoken dramatic arts.
3. Thang Long Water Puppet Theatre (Nhà hát múa rối nước Thăng Long)
Thang Long Water Puppet Theatre is one of the most popular tourist attractions in Hanoi. Located at Dinh Tien Hoang street, nearby Hoan Kiem Lake, the theater is the final stop for one day Hanoi City Tour. Enjoy the show, tourists can discover this unique Vietnam traditional art form dating back to the 11th century. This tradition first started in the Red River Delta, when rice paddy fields were flooded and villagers would make entertainment by standing in the waist-deep water with the puppets performing over the water. Using large rods to support the puppets, it appeared as if they were moving across the water with the puppeteers hidden behind a screen.
The live music plays an integral part of the show with singers often shouting words of encouragement to the puppets. A Vietnamese orchestra plays traditional music using drums, wooden bells, horns, bamboo flutes and cymbals. There are also authentic Vietnamese operatic songs telling the story that is being acted out by the puppets. Most of the shows describe Vietnamese folk tales and legends with topics including the celebration of the rice harvest depicted in a humorous fashion.
Shows at this modern theatre are performed in a pool of water as the stage for the puppets. The puppets are controlled by no more than eight puppeteers hiding behind a bamboo screen. Today's performances usually include a number of short sketches rather than one long story, taking the audience on a journey of ancient village life, agricultural harvests and dances of mythical creatures.
It is also highly recommended to pay more to get closer to the action as the theatre seats a few hundred people and the puppets are not that big. Aside from the general admission fee of VND 100,000, there's an additional camera or video fee if you wish to photograph or film the show.
Address: No.57B Dinh Tien Hoang Street, Hoan Kiem District, Hanoi
4. Hanoi Chèo Theatre (Nhà Hát Chèo Hà Nội)
Located in No.15 Nguyen Dinh Chieu Street, Hai Ba Trung District, Hanoi Chèo Theatre is an interesting destination for people who love traditional folk art. The origins of chèo theatre are obscure. In contemporary Vietnam, many people believe it to be the oldest of Vietnamese theatre forms. They connect its origins with popular festivals featuring boating songs and dances, and argue that this association explains the term chèo, which means "songs of the oars".
As popular theatre, chèo was a form of entertainment but it was also associated with religious celebration. It consists of folk songs with pantomime, instrumental music and dances, combined with instructive or interpretive sketches dealing with stories from legends, poetry, history and daily life, plus acrobatic scenes and magic. Chèo tells tales of chiefs, heroes and lovely maidens and offers an eclectic mix of romance, tragedy and comedy. Since it was founded 60 years ago, the Hanoi Chèo Theater has attracted many famous artists who have produced special plays such as "Quan Âm Thị Kính", "Lưu Bình Dương Lễ", "Tấm Cám". The theater has restored ancient plays and revised scripts to accommodate modern audiences. Hanoi Chèo Theater is the most popular among 16 chèo theaters in Vietnam.
The artists in Hanoi Chèo Theater have created mini stages to bring audiences, especially foreigners, closer to this art form. Visitors to Hanoi can see a Chèo play either at 15 Nguyen Dinh Chieu street or nearby Hoan Kiem Lake. With an hour of songs and dances, the artists send audiences back to Vietnam's ancient legends.
With same origins from Northern Red River Delta, chèo and water puppetry have many similarities and close attachments. The music, language and story of chèo is used for water puppetry. Normally, water puppetry artists control puppets in lakes or ponds, and chèo artists are inside tormentor and sing according to the acts of puppets.
Address: No.15 Nguyen Dinh Chieu Street, Hai Ba Trung District, Hanoi
5. Hanoi Opera House (Nhà hát lớn Hà Nội)
Located in the heart of Hanoi, in a beautiful intersection downtown meets five main city roads, is a huge building called Hanoi Opera House, or the Grand Opera House (Vietnamese: Nhà Hát Lớn Hà Nội). Standing with times over 100 years, Hanoi Opera House has become a witness of Hanoi's history. This historic building hosts to shows by many of cultural entertaining performances, contemporary dance, bamboo cirque, orchestra concerts and government events.
The beautiful Hanoi Opera House was built from 1901 to 1911 by the French government, during the period French occupied Vietnam.
There are three grand opera theatres built by French in Vietnam: Hanoi Opera House, Hai Phong Opera House and Saigon Opera House. Hanoi Opera House is the biggest one of three and speaks volumes as historical and cultural evidence of Vietnam under French rule. In 1899, the city council held a meeting chaired by Richard – envoy of Hanoi, and he proposed to build the Theater with the purpose of entertaining for French colonialists. Vietnamese elites were allowed to attend these performances but they had to be well-dressed and paid much money for tickets.
Hanoi Opera House has the own significances that are worthy of standing in the list of the world's classics. In terms of its values of architecture and landscape, the Opera House is still the most important artistic art form and most suitable for high-quality art programs and meets requirements of international performances.
Hanoi Opera Hotel is just a few minutes walking from Hilton Hotel, Hotel de l'Opera Hanoi – Mgallery, Sofitel Legend Metropole Hotel, Conifer Boutique Hotel, The Lapis Hotel, Apricot Hotel and many others in the Old Quarter. Hoan Kiem Lake and Vietnam National History Museum are also nearby. Visitors can see the imposing colonial architecture of the Hanoi Opera House from the outside. Wander around the sprawling gardens and admire the huge building features many elements of Gothic and neoclassic architecture. To see the inside, visitors will need to book a seat for a performance. While it is interesting with the architecture, the true highlight is of course seeing a show in this grand setting. The Hanoi Opera House hosts both classic French and Italian opera and also traditional Vietnamese performances.
This city landmark is also included in most of our Hanoi Tours. If you don't find it in your city tour itinerary, please ask your travel consultant to fill in.
6. Theater of Vietnam National Academy of Music 
It is the public higher education institution in Vietnam. The main campus is located at the heart of the capital of Vietnam – Hanoi. Vietnam National Academy of Music has garnered a reputation of a strong educational institution as it is among the top 80 universities of Vietnam. Let is go and see how the theater look like.
Address: 77 Hao Nam, Cho Dua, Dong Da, Ha Noi