Weather of March in Vietnam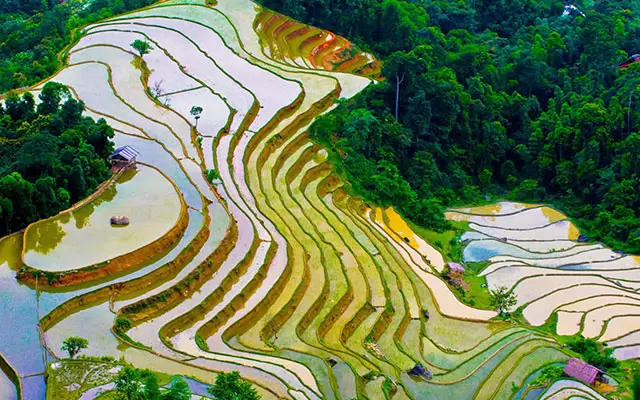 March is the perfect time to travel in Vietnam due to the comfortable weather, not too hot or too cold. During this month, all kinds of activities are suitable and safe even scuba diving. Conditions at the very best of dry and bright weather bring an expectation of excellent trekking and adventure activities. Here are things you might need know about Vietnam weather and events in March to plan your holiday.
1. Climate in March by Region.
1.1 Northern Vietnam
Popular destinations: Hanoi, Halong Bay, Cat Ba, Sapa, Ha Giang, Mu Cang Chai, Ninh Binh, Mai Chau, etc.
The weather of North Vietnam in March is always kept at an appropriate level, with average temperature at 19°C. Although expecting plenty of sunshine and clear blue skies while temperatures start to rise, it remains cool with drizzling rains sometimes (~34mm). The temperatures in the mountainous areas are higher than the first 2 months of the year (January/February), making the conditions for trekking and soft adventure activities in Sapa, Mu Cang Chai, Ha Giang… at their best. It is also the ideal time to explore the cultural sights.
1.2 Central Vietnam
Popular destinations: Hoian, Danang, Hue, Nha Trang, Quy Nhon, Dalat, etc.
At the average temperature of around 28oC and less rain, this weather is excellent in full summer mode. Because of the constant sunshine, the relaxation at beaches like Hoian, Danang, Nha Trang, Quy Nhon…are great choice. Hue is also warm and dry and it is good time taking a journey to discover Dalat and the Central Highlands as well.
1.3 Southern Vietnam
Popular destinations: Ho Chi Minh City, Phan Thiet & Mui Ne, Mekong Delta, Long Hai & Ho Tram, Con Dao & Phu Quoc, etc.
In March, temperatures in the South are starting to rise with an average level of 29oC. This dry weather is perfect for water sport activities. Remains as the best choices in the country are beaches within easy reach from Ho Chi Minh City, such as Ho Tram/Long Hai or Phan Thiet/Mui Ne, as well as southern islands of Phu Quoc, Con Dao. With average visibility of 20-30m, the island of Con Dao still has its favorable diving conditions. There's little chance of rain, however, if any, it makes the air cooler.
3. Where to Go in March?
As one of the best months in Vietnam, visiting Halong bay on the cruise is an idea choice to admire the beauty of this UNESCO Heritage site with clear skies and turquoise waters.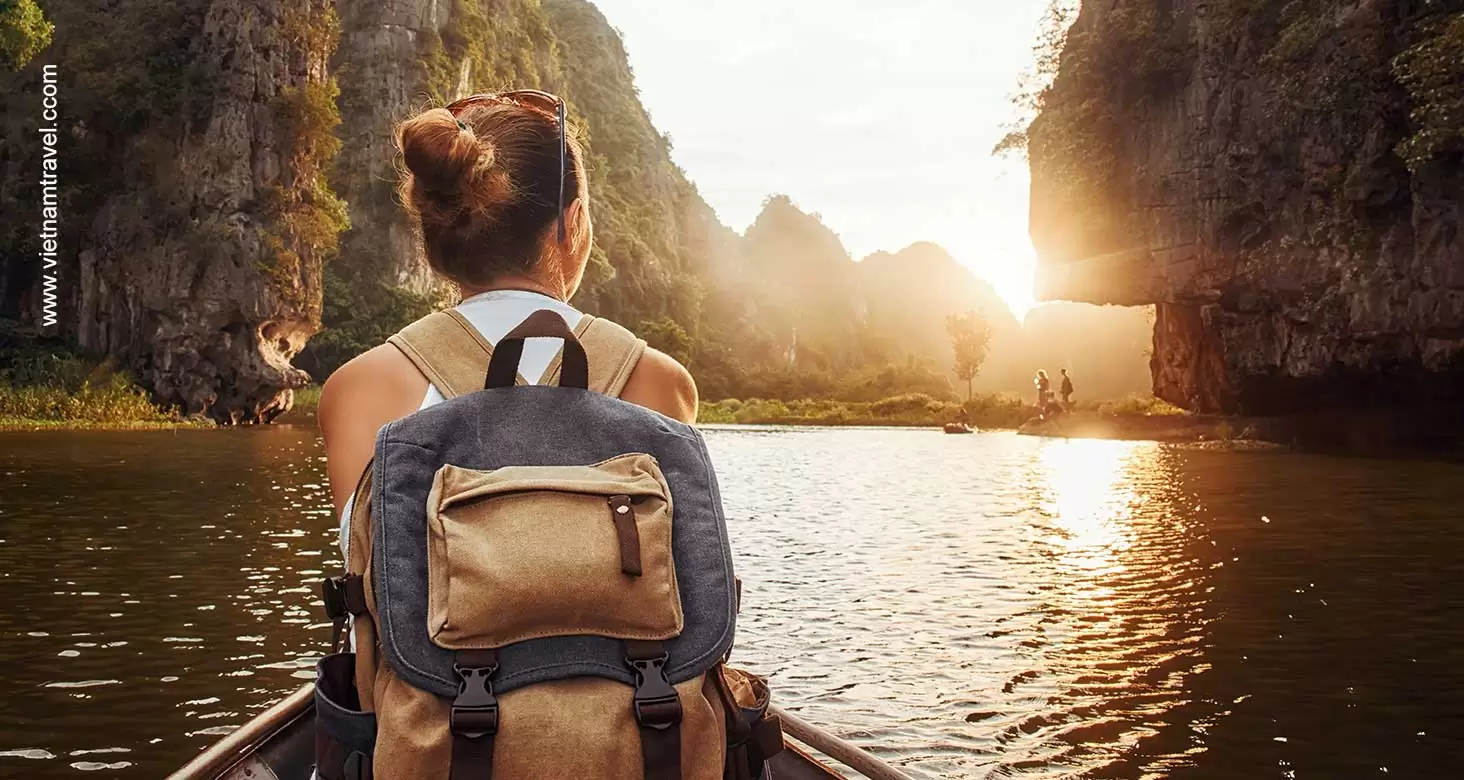 This is also perfect time for flower blooming in mountainous areas of North Vietnam such as Moc Chau (Son La), Mai Chau or Dien Bien Phu. Not only offering beautiful scenery of flower blooming in March, Dien Bien Phu is a historic city of Vietnam, named after the greatest military victory of Vietnamese people against French force. All coastal areas are beach paradises because of warm water and mild weather: Danang, Hoian, Nha Trang. Other sites in Central Vietnam are worthy for visiting during this month including Ba Na Hills will famous Golden Bridge, Hue City or Phong Nha-Ke Bang National Park.
March is a terrific opportunity if you come to highland areas like Dalat, Dak Lak, Pleiku, and Gia Lai. You can enjoy the coffee flower season along the hillside. Elephant Racing Festival at Krong Na Village, Buon Don District, Dak Lak also attracts tourists, as well as many other fascinating festivals of ethnic minorities who are living there. Dry weather and low water level in the South in this month. You can enjoy floating market or sampan rides in Mekong Delta areas, or take part in the nightlife activities of Ho Chi Minh City. With calm waters and great visibility, Con Dao island is considered one of Vietnam's top snorkeling and scuba sites, especially in March.
Useful Tips.
– Although the weather in March is mild, there is still big difference between the North and the South when the average temperature comes from 19oC in the North up to 29oC in Southern part. Therefore, choosing appreciate clothing at specific destinations is a priority.
Light clothes, sunglasses, hat, sunscreen, swimsuit… for beach vacation or visit the Central and the South.
Good trekking shoes, some warm layers for mountainous areas in North or the Central Highlands, especially early morning or late evening.
– Dress politely and discreetly when visiting spiritual/cultural places such as temples, pagodas.
– This is not a peak of traveling season but still at high occupancy if beach vacation is your most preferred choice.
4. March Events
4.1 Thay Pagoda Festival (Quoc Oai District, Hanoi).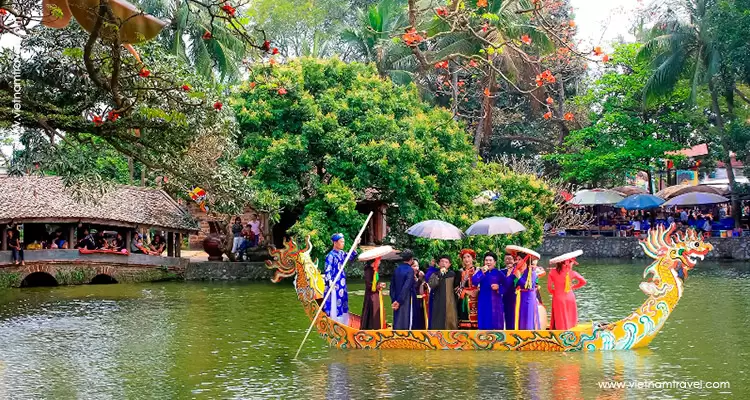 This celebration honors Tu Dao Hanh, a wise religious sage and inventor commemorated for inventing Vietnamese water puppetry.
This festival is actually a joint activity from 4 villages: Thuy Khe, Da Phuc, Khanh Tan, Sai Khe. As there are many pagodas in the whole area, the festival is mainly held in Thien Phuc Pagoda, alias Thay Pagoda, starting from 5th – 9th of third lunar month (or in April – varying by year), comprising giving a bath to Tu Dao Hanh's statue, presenting incense sticks, tablets escorting procession, folk theatrical plays (cheo), chess games, water puppets show, recital of the feats of Tu Dao Hanh and more.  The two most noteworthy events and distinctive features of Thay Pagoda festival are the procession of the tablets and the water show.
4.2 Hai Ba Trung Festival (Hanoi).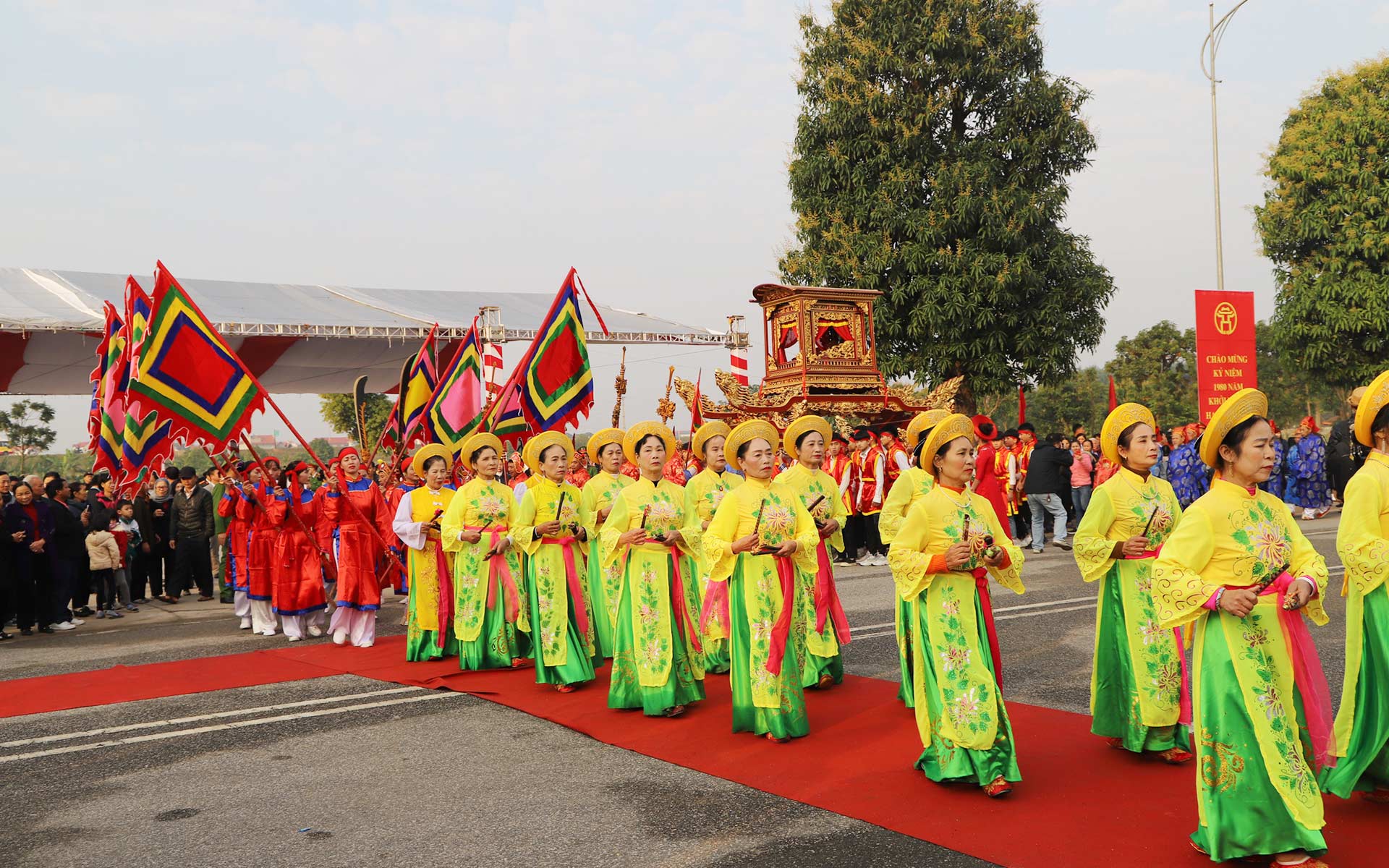 This festival is taken place on 6th day of second lunar month at Hanoi's Hai Ba Trung temple to honor the two Trung sisters (Trung Trac, Trung Nhi) who rode their elephants and led the troop to fight against the foreign invaders.
Many places and areas have held Hai Ba Trung Temple Festival but the main ones are in these three following locations: at Hat Mon Commune; at Ha Loi Commune and in Dong Nhan Ward.
4.3 Ba Chua Kho Temple Festival (Bac Ninh).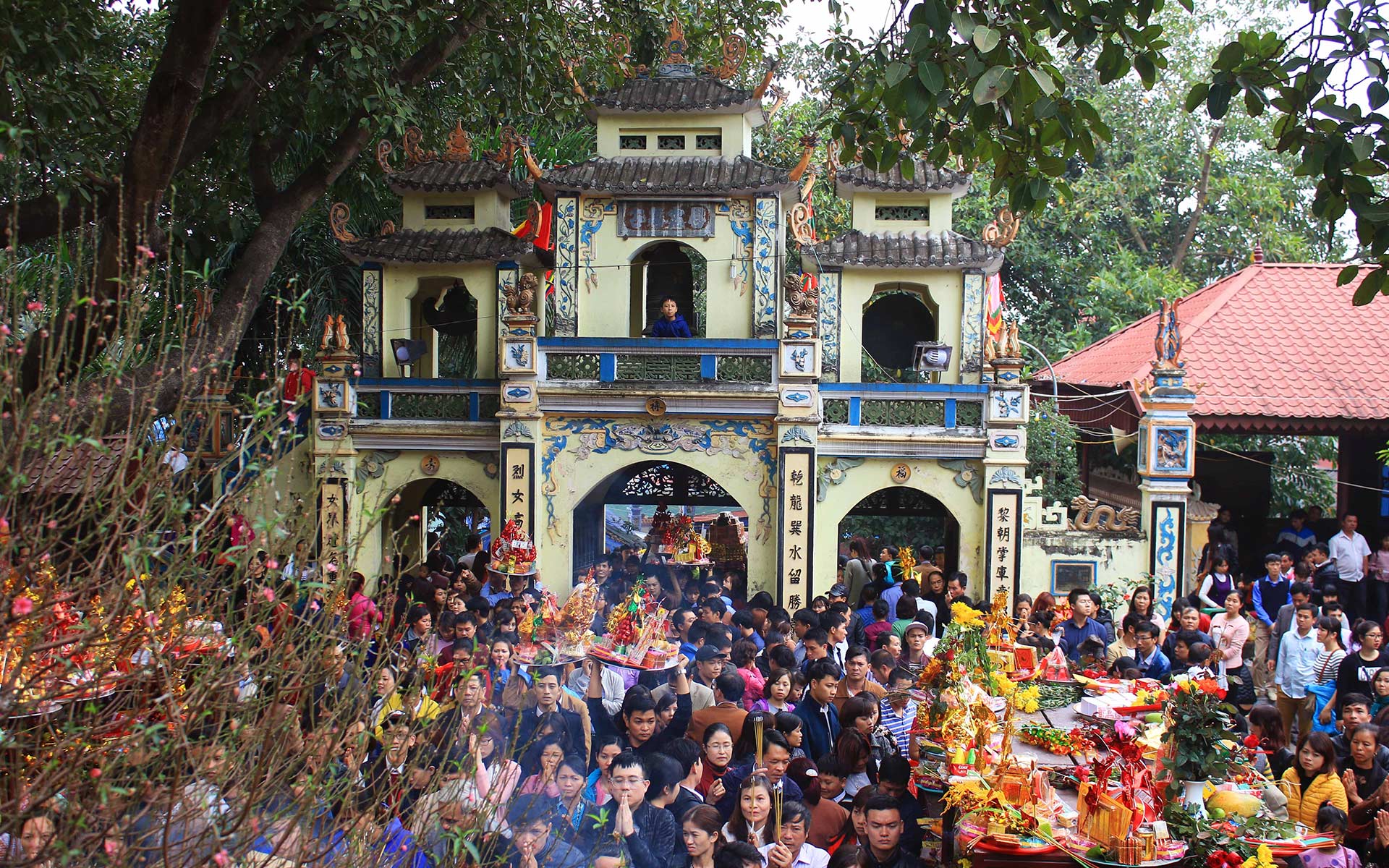 In the full moon of the second lunar month (February or March), you will witness massive crowds of prayers to Ba Chua Kho or Lady of the Storehouse to petition for money, health and especially fortune. This festival is quite popular among Vietnamese people and it appears in many Vietnam travel reviews.
4.4 Phu Giay Festival (Nam Dinh).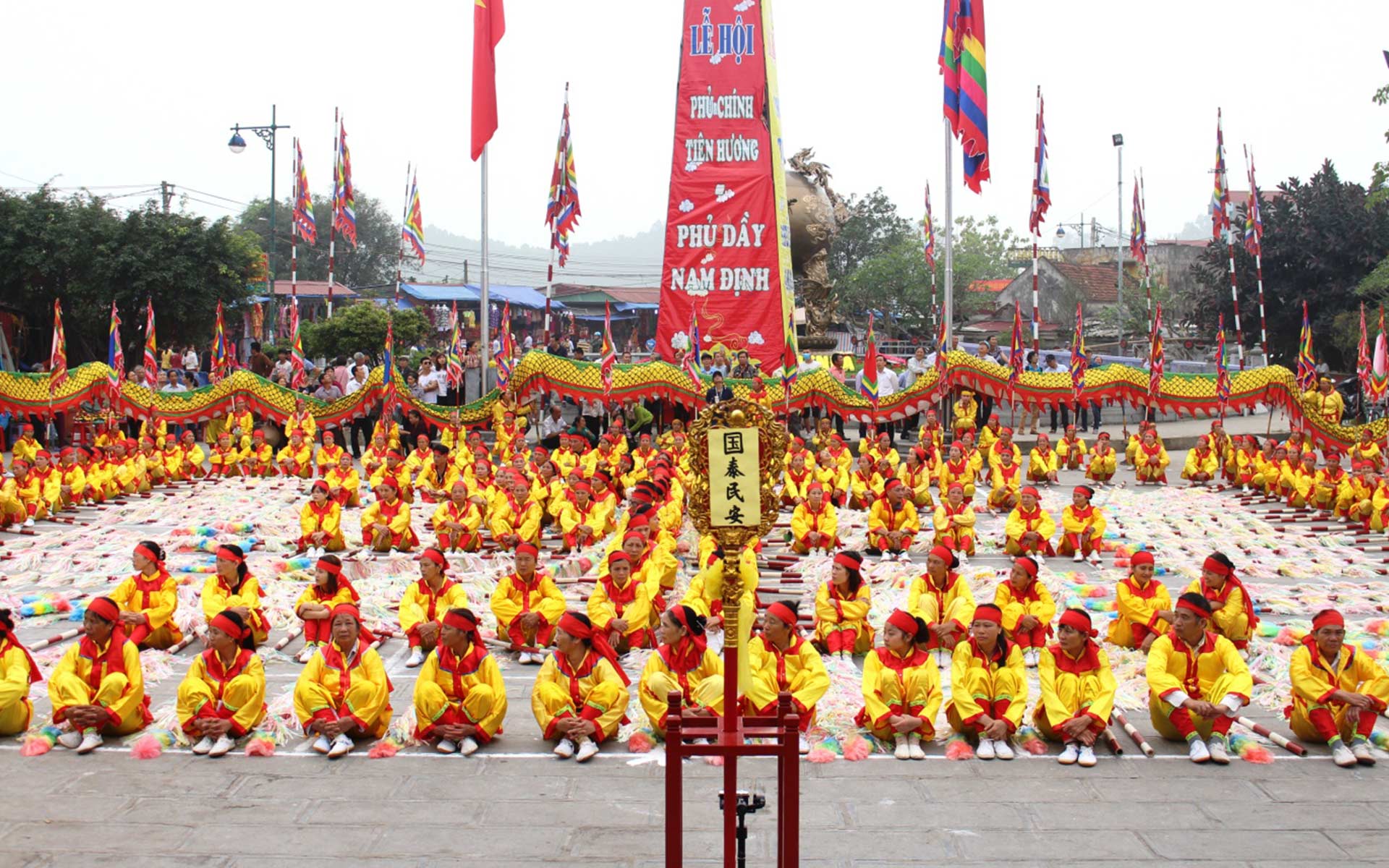 Taking place annually in the first ten day of the third lunar month (or in April – varying by year), the festival draws pilgrims to Phu Giay Temple (Nam Dinh province) to pay tribute to Lieu Hanh, one of the Vietnamese "four immortal gods." It features folk singing and dance (as tuong, cheo, trong quan, ca tru, xam), plus other traditional games such as wrestling, swinging, cock fighting; bird fighting dragon – lion dancing. Especially, "keo chu" game takes place after finishing the procession. All these activities create the energetic and exciting atmosphere for the festival which attracts any travelers to return.
4.5 Elephant Racing Festival (Dak Lak).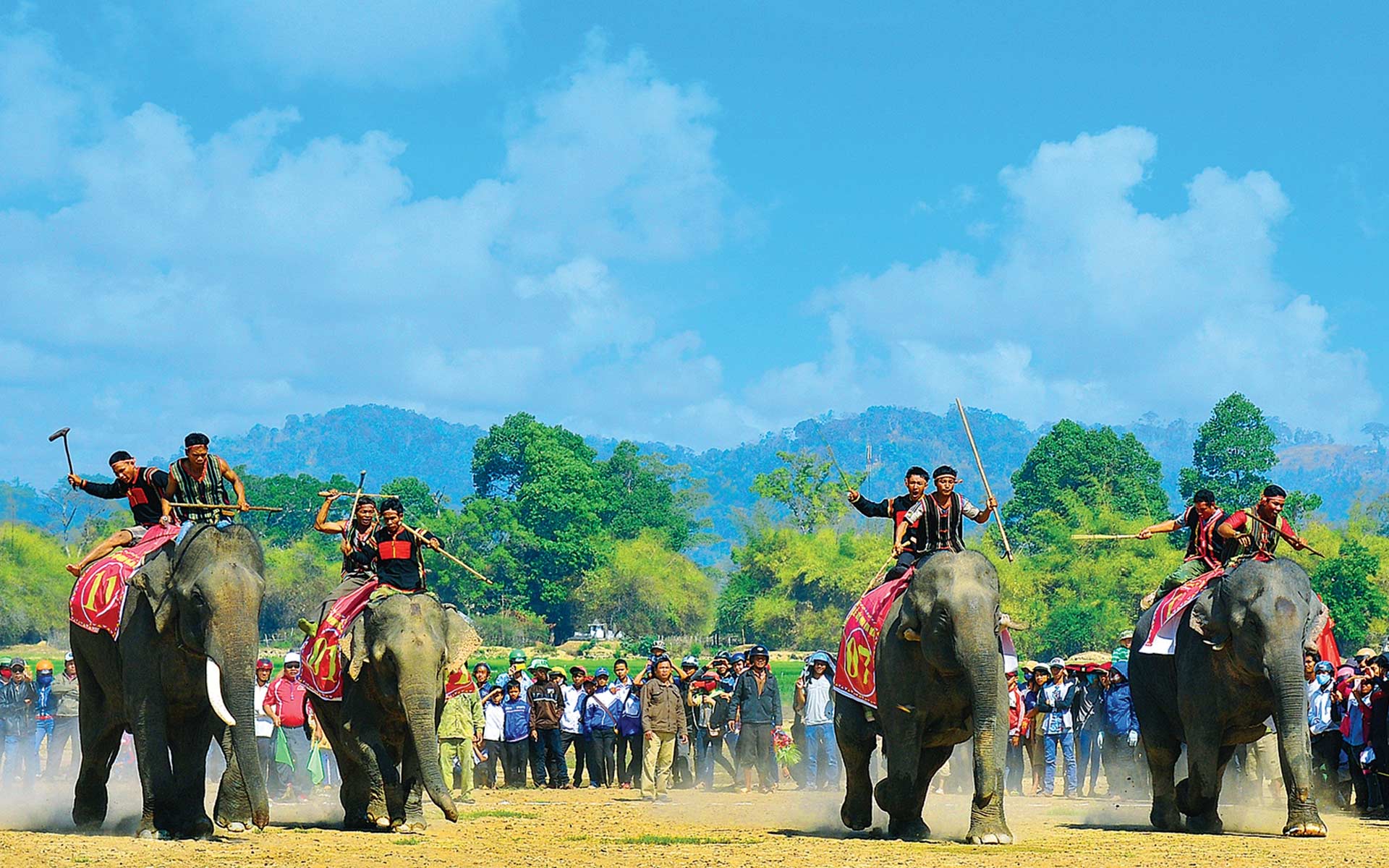 Elephant race is a long-standing tradition in the Central Highlands. Normally held in the third lunar month (or in April – varying by year), the annual festival becomes a major tourist event in Ban Don (Dak Lak) featuring many kind of activities such as racing, football matches, tug of war, swimming sessions, a parade and a buffet for the animals. Of course, another highlight of the festival comes with the boisterous sound of gongs and drums.
4.6 Quan The Am (the Goddess of Mercy) Festival (Danang).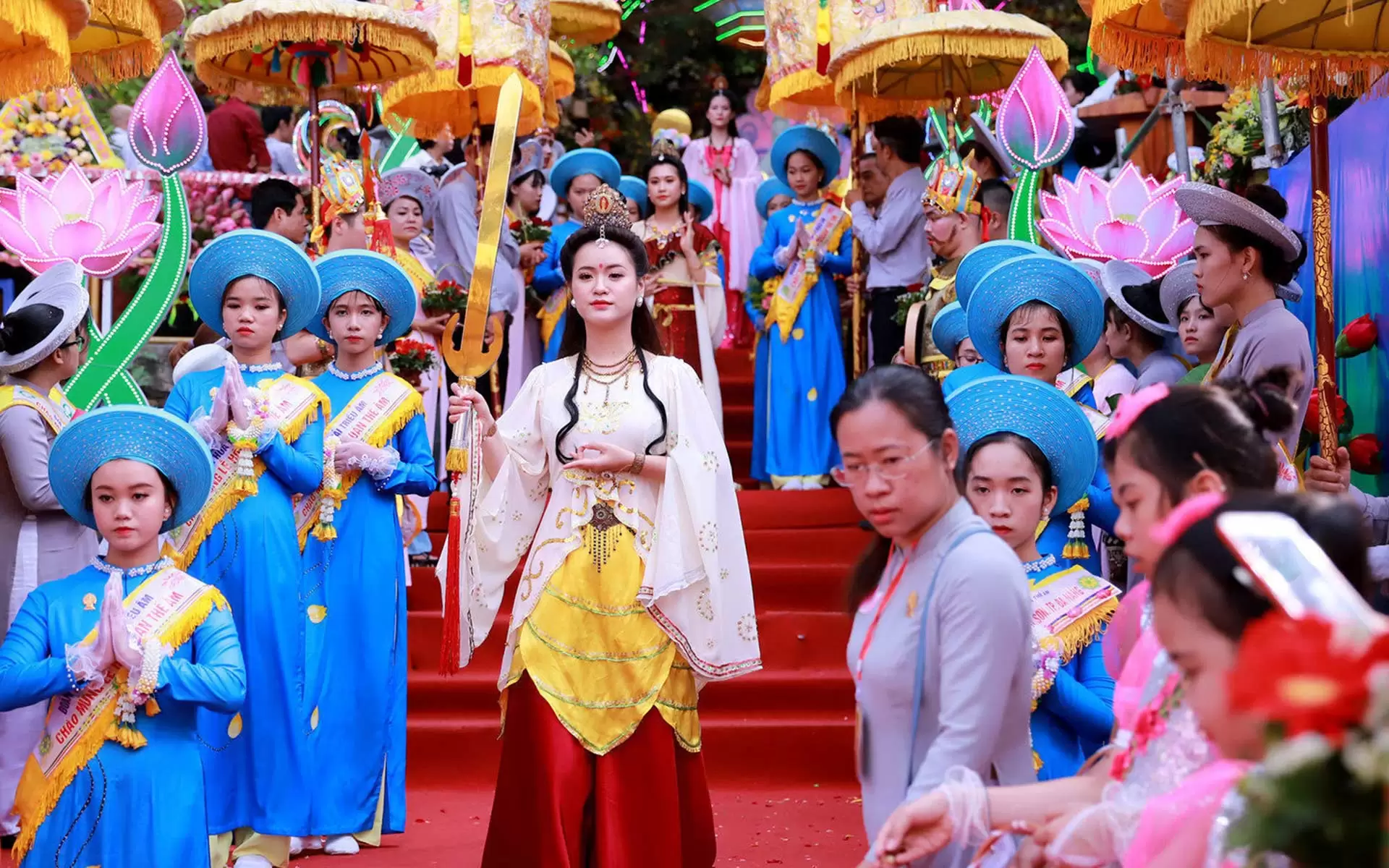 The Quan The Am Festival is one of the most eagerly anticipated spiritual cultural events for Buddhists and non- Buddhists across from Danang and elsewhere in the country. This festival is held at the namesake pagoda inside the Marble Mountains tourist area on the 17th day of the second lunar month.
4.7 Dinh Co Festival (Ba Ria – Vung Tau).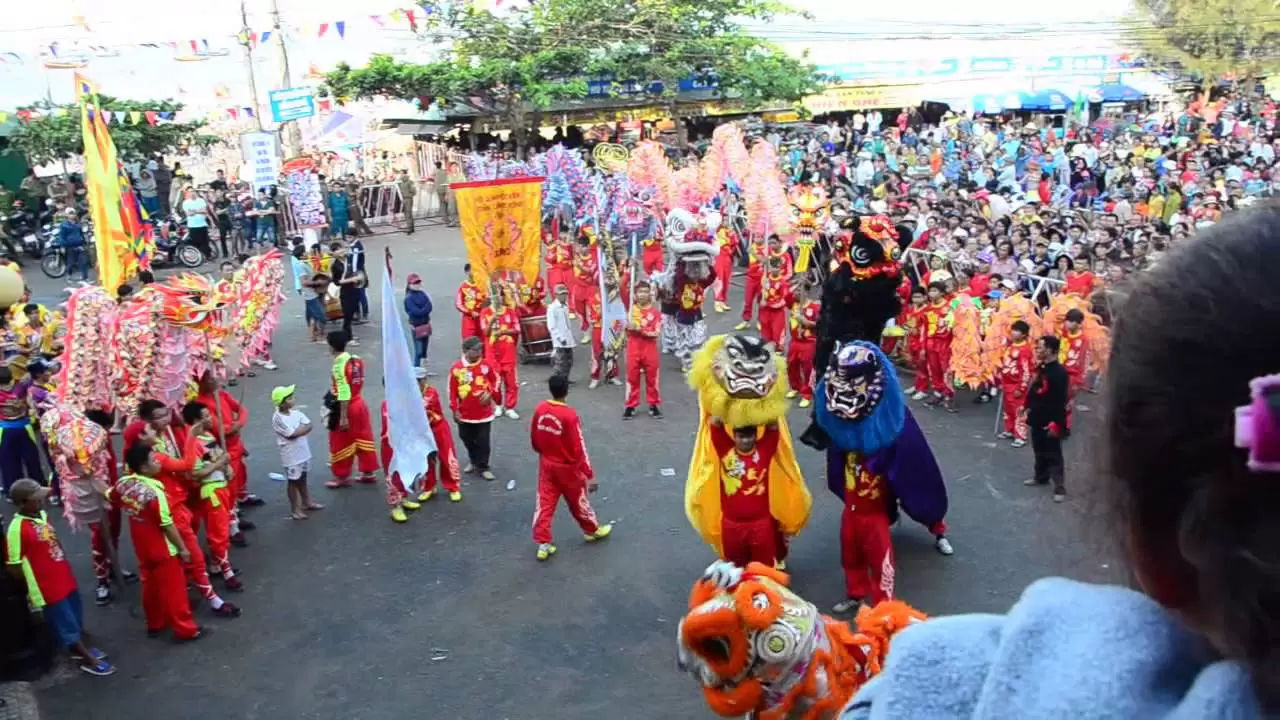 Every year on the 10th on the second lunar calendar, thousands of people will gather at Dinh Co (Young Lady Palace) under Mount Thuy Van to pray for a peaceful and comfortable life. On festival days, there are art and sports activities such as ancient opera performing, tray dancing, lion dancing, dragon dancing, boat racing and so on. If you have a chance to travel to Ba Ria-Vung Tau in early February days on the lunar calendar, remember to join into this festival's atmosphere.
Please check information about Vietnam weather in other months of year at here: