Tam Coc – Bich Dong: A Quick Guide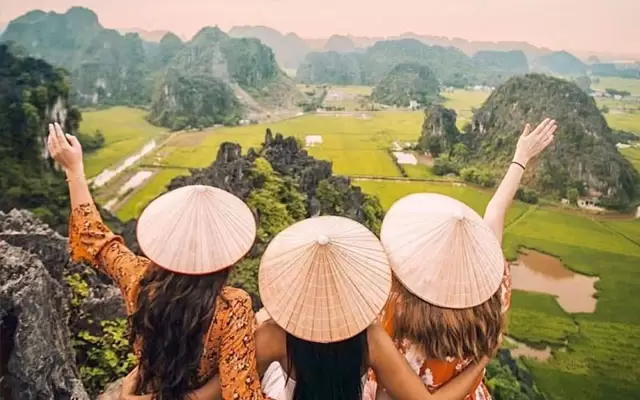 Beside Trang An Scenic Landscape Complex, Tam Coc – Bich Dong are the most well-known tourist sites in Ninh Binh Province and named locally as "Halong Bay on land" for its similar poetic, awe-inspiring views and inspirational natural scenery. Popular day trips or stopover tours often include Hoa Lu Ancient Capital, another famous historical relic, in their Ninh Binh travel itinerary. Below is a quick guide to Tam Coc – Bich Dong by Vietnam Travel's tour experts.
Bich Dong Pagoda is a three-tiered ancient pagoda on the nearby Ngu Nhac Mountain dated to 1428 under the Ly Dynasty, comprising Lower – Middle – Upper Pagodas in ascending order. Bich Dong literally means "Green Pearl Grotto" because it's surrounded by magnificent scenery of mountains, waterways, fields and sky covered by green mist. This picturesque landscape is added by charming and mysterious Tam Coc site. In English, Tam Coc means "Three Caves", including First Cave (Hang Ca) – Middle Cave (Hang Giua) – Last Cave (Hang Cuoi).
Location and transportation to Tam Coc – Bich Dong
Tam Coc – Bich Dong is situated at Ninh Hai Commune, Hoa Lu District, Ninh Binh Province. To access this tourist site from Hanoi, you could travel by train, by motorbike or by private car/van to Ninh Binh City, which is about 100km south of Hanoi or almost 2-hour drive. Tam Coc – Bich Dong is 11 km from Ninh Binh City and can be approached by motorbike or private car/van, except train.
You could choose any type of above transportation, depending on your travel interest and budget. But if you want to relax and enjoy most of the drive to Ninh Binh, the best option is taking private car and a local guide who could provide abundant source of information and local knowledge for your short valuable holiday.
Travelling by bus or train is the most economical way but a bit time-consuming as you have to follow bus/train schedule. And from the bus/train drop off point in Ninh Binh, passengers have to take a taxi transfer to Tam Coc – Bich Dong site.
Riding motorbike or driving yourselves to Ninh Binh is not a bad idea, but traffic in Vietnam is bit different to the rest of the world and most of visitors would not choose that.
Best time to visit
There is no exact answer for the question: "When is the best time to visit Tam Coc – Bich Dong?" because it remains the unique beauty all year round. The answer depends on each person's expectation and travel interest.
* January to April is suitable for those who like cool weather and festival activities. This is also the time to see green rice fields along two banks of Ngo Dong River when you visit Tam Coc. During Tet holiday (late January or early February), locals organize a lot of festivals so the vibe is really great.
* May to June is when the weather is hot, humid with rainfalls but tourists will have chance to witness magical scene created by mother nature. The floating rice fields on the two sides of the Ngo Dong River will turn into golden color, while the lagoon right at the entrance gate to Bich Dong Grotto is highlighted with blossom lotus flowers.
Things to do
Take the rowing boat ride along Ngo Dong River
Known as "Halong Bay on land", Tam Coc is a must-see place for first time visitors in Ninh Binh. The 2-hour boat ride in Tam Coc will start from Van Lam Pier, run along Ngo Dong River, beautiful rice paddies, unique limestone karsts and pass underneath three caves. Just remember to keep your head low in the boat to avoid hitting on the low ceilings of these unique mountain erosions. With 127m in length and 20m in width, Hang Ca (First Cave) is regarded as the longest one and contains most fascinating natural arts deep inside. You may feel amazed of how your boat captain uses their legs to row the wooden paddles. Don't forget to turn on your camera to record these beautiful moments. Here, you may feel like disappearing from the real world and getting lost in such a hidden fairy site.
Entrance fee: 120,000 VND/ visitor
Boat fee: 150,000 VND/ boat (4 Vietnamese per boat/ 2 foreigners per boat).
Visiting time: About 2 hours.
Explore Bich Dong Pagoda & Cave
No Ninh Binh itinerary would be perfected without a visit to Bich Dong, which is located 2 km from Tam Coc. Much like its name as "Green Pearl Grotto", Bich Dong nestles in the jungle of mountains, rivers, water, rice fields around in green. To come deeply into the chambers of Bich Dong – the "second most beautiful grotto in Vietnam", tourists will walk on a stone bridge over a lotus pond and pass through the entrance gate. Situated at the grandiose Ngu Nhac mountain, Bich Dong Pagoda's ornate gate itself is one of the most iconic sights in Ninh Binh. Not as a usual pagoda, Bich Dong consists of 3 separate layered pagodas which are Lower (Ha), Middle (Trung) and Upper (Thuong) Pagoda on different levels. Inside each cave pagoda, looming statues and the smoke of burning incense create an otherworldly atmosphere. It will take about 2 hours to reach the Upper Pagoda to enjoy the magnificent view of Tam Coc region from above but it is definitely worth the effort!
Visitors can take leisure biking from Tam Coc to Bich Dong to enjoy the beautiful and peaceful countryside landscape along the way.
Entrance fee: Free.
Visiting time: About 2 hours.
Attractions near Tam Coc – Bich Dong
Thai Vi Temple (Đền Thái Vi)
Thai Vi Temple is about 1.5 km away from the main Tam Coc tourist pier, so worth doing a quick detour. If you not in the rush, you are highly recommended to take a walk or bike ride along small village path from Tam Coc boat pier to this peaceful and atmospheric temple. The surrounding limestone karsts and rice fields are stunning. The temple distinguishes itself from others with unique features of worship and typical Vietnamese culture. Thai Vi Temple dated 13th century and worships Kings and Generals of Tran dynasty. Its architecture style followed the concept of "Internal attack with outside support" (Nội Công Ngoại Quốc in Vietnamese). In addition, main parts of the temple were built from stone, as well as the altar and worshiping items, which make tourists admire the stone carving art of Ninh Binh's sculptors. If luck, you may have an opportunity to witness a ceremony, to meet an old shaman (custodian) or a monk and get interesting stories and legends about the temple.
Mua Cave (Hang Múa)
Mua Cave is situated 3 kilometers from Tam Coc. After finishing the boat ride in Tam Coc, the leisure stroll to Thai Vi Temple, tourists will continue the journey to Mua Cave in the later of the day to enjoy the cool air and the stalactites which are formed in many shapes and sizes. It is also considered as a miniature version of the Chinese Great Wall. To reach on the top with the magnificent panoramic 360-degree views of Tam Coc with rice fields on Ngo Dong River, visitors must prepare good physical conditions to finish 500 stone stair-steps.
If you can embark on higher climb, make your way up to the top of the mountain to see the Lying Dragon statue sits. From this peak, you'll marvel at the patchwork quilt of green rice fields below, the snaking rivers weaving in, out, and around the ancient karsts. The panoramic view is best enjoyed in sunset, when the sun slowly hides its glowing vanilla beams under the jungle-covered tops of limestone mountains. Also, make sure you wear proper shoes, especially in the rainy season as the steps can become slippery.
Hoa Lu Ancient Citadel
Hoa Lu was the economic and political centre of Dai Co Viet, the kingdom which predates Vietnam, in the 10th and 11th centuries. Most of what you'll see today at Hoa Luu Citadel is a reconstruction that was built in the 17th century. It contains several temples and statues that stand in beautifully created parks. Hoa Lu Ancient Citadel is worth investing in a guided tour of Ninh Binh as hearing beautiful piece of Vietnamese history and stories will really bring the experience to life.
Suggested restaurants in Tam Coc – Bich Dong
Your trip to Tam Coc – Bich Dong may not be completed without tasting some local dishes. The most signature specialties here are fried rice crust (cơm cháy) served with goat meat (thịt dê). Fried rice crust is made from steamed rice, then being soaked into hot oil pan until it turns yellow and crispy. It is eaten as a delicious snack when being dipped in warm sauce. The goat meat has a gamey flavor and it is cooked into many dishes such as fermented goat meat, steamed goat meat, grilled goat meat, rare goat meat.
Good restaurants below are recommended for tourists to try those specialties with price range from 10 USD per person.
• Anh Dzung Garden Restaurant – Tam Coc Village, Van Lam Commune, Ninh Binh District).
• Minh Toan Restaurant Father Cooking – Tam Coc Village, Van Lam Commune, Ninh Binh.
• Golden Rice Restaurant (fine dining option) – Ninh Binh Hiddem Charm Hotel, No. 9, Tam Coc – Bich Dong tourist center, Hoa Lu, Ninh Binh.
Places to stay
Tam Coc – Bich Dong is one of the most popular tourist sites in Ninh Binh with many choices for overnight accommodations from budget to luxury category. Within the scope of this article, we will provide the best options for every budget, depending on good reviews from our fellow clients.
Budget Options
•Tam Coc Paradise Homestay – great location, great chance to communicate to local family, tasty meals cooked by hospitable hosts.
•Tam Coc Rice Fields Resort – great value for money, swimming pool with amazing view to surrounded limestone karsts.
Mid-budget Options
Hidden Charm Hotel & Resort – amazing pool with a view, good location, spacious rooms, breakfast included.
Luxury Options
Aravinda Resort – amazing location near the limestone mountains, luxurious rooms, super-friendly staff, excellent breakfast.
Conclusions
Whether you take day trip or longer journey to Tam Coc – Bich Dong, the most comfortable and convenient means of transportation is taking private car with escorted English speaking guide. We are always available for pick up and drop off service from your hotel in Hanoi by private car being suitable with the number of people in your group, together with arrange your trip to Tam Coc – Bich Dong and surrounding areas. It will dispel your worries about having to drive yourself in Vietnam's chaotic and complicated traffic, about the road map, as well as having a completely private space on the car without sharing with strangers.
Two of our Ninh Binh's best-selling day tours and excursions are Trang An Scenic Landscape Complex (day trip) and Ninh Binh Excursion (2 days/ 1 night). We also add many other Ninh Binh's itineraries into our tour packages, contact our Vietnam Travel's consultants for more details.