Top 15 French colonial architecture sites in Hanoi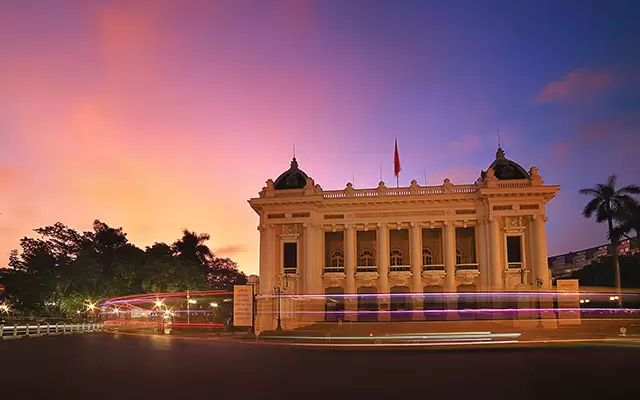 Although the French colonial period in Vietnam came to an end more than half of a century ago (1884 – 1954), it is obvious that much of the French arts and deco style are still imprinted in the architecture of Hanoi – Vietnam's capital. After a long time under colonization of French, Hanoi not only proudly remains its traditional color as many other cities nationwide, but the capital also absorbs new perspectives from a modern France. Along with the history of Hanoi City, it is not overstated to claim that ancient French architecture has significantly contributed in creating a unique and charming Hanoi today with its elegance and nobility. In this article, Vietnam Travel recommends you Top 15 French colonial sites in Hanoi that you should not miss.
1. The Hanoi Opera House
Add: No 1 Trang Tien Street, Hanoi
Within walking distance of Hoan Kiem Lake, Vietnam National Museum of History and Hanoi Old Quarter, the Hanoi Opera House is an outstanding piece of neo-classical French architecture featuring Gothic themes on the doors & domes with pillars, balconies shuttered windows and a glass room.
It was built from 1901 to 1911 by the French government under the design of two French architects V. Harley and Broyer based on the style of Palais Garnier – the Paris Opera. It also carries the marks of European architectural style from Renaissance period, consisting of Italian-made marble floor, French murals on the ceiling, and copper chandeliers.
In the past, performances in the theater by Western artists were just for wealthy Vietnamese and French officials. Today, Hanoi Opera House is place to organize many cultural activities, including famed domestic singers who are frequently invited to the theater for their traditional Vietnamese music performances.
Along with 2 other grand opera theatres built by French in Vietnam including Hai Phong Opera House and Saigon Opera House, Hanoi Opera House is the biggest one and speaks values as historical and cultural evidence of Vietnam under French rule.
Read more: https://vietnamtravel.com/hanoi-opera-house/
2. Vietnam National Museum of History (Indochine style)
Add: 1st building is at No 1 Trang Tien Street; 2nd building is at 216 Tran Quang Khai Street.
Located at the back of the Hanoi Opera House, Vietnam National Museum of History (VNMH) is also one of the French Colonial architectural structures in Hanoi. The museum was founded on the material facilities of the Louis Finot Museum – a museum belonging to the École Française d'Extrême-Orient which was built in 1926 and inaugurated in 1932. This cultural building was officially taken over by Vietnam Government in 1958 and the exhibition contents were converted from eastern arts into national history. The official opening for visitors was on 3 September 1958.
The main exhibition system shows the vivid historical book of Vietnam from the prehistory (about 300,000-400,000 years) to the August 1945 Revolution with about 200,000 objects and materials of Vietnamese cultural history among which there are nearly 110,000 antiques and 19 national treasures.
Coming to the VNMH, visitors will have chance to experience outstanding representations about the history and culture of Vietnam as well as the heroic tradition of the Vietnamese people that was formed during the process of constructing and defending the country.
Read more: https://vietnamtravel.com/vietnam-national-museum-of-history/
3. The Sofitel Legend Metropole Hanoi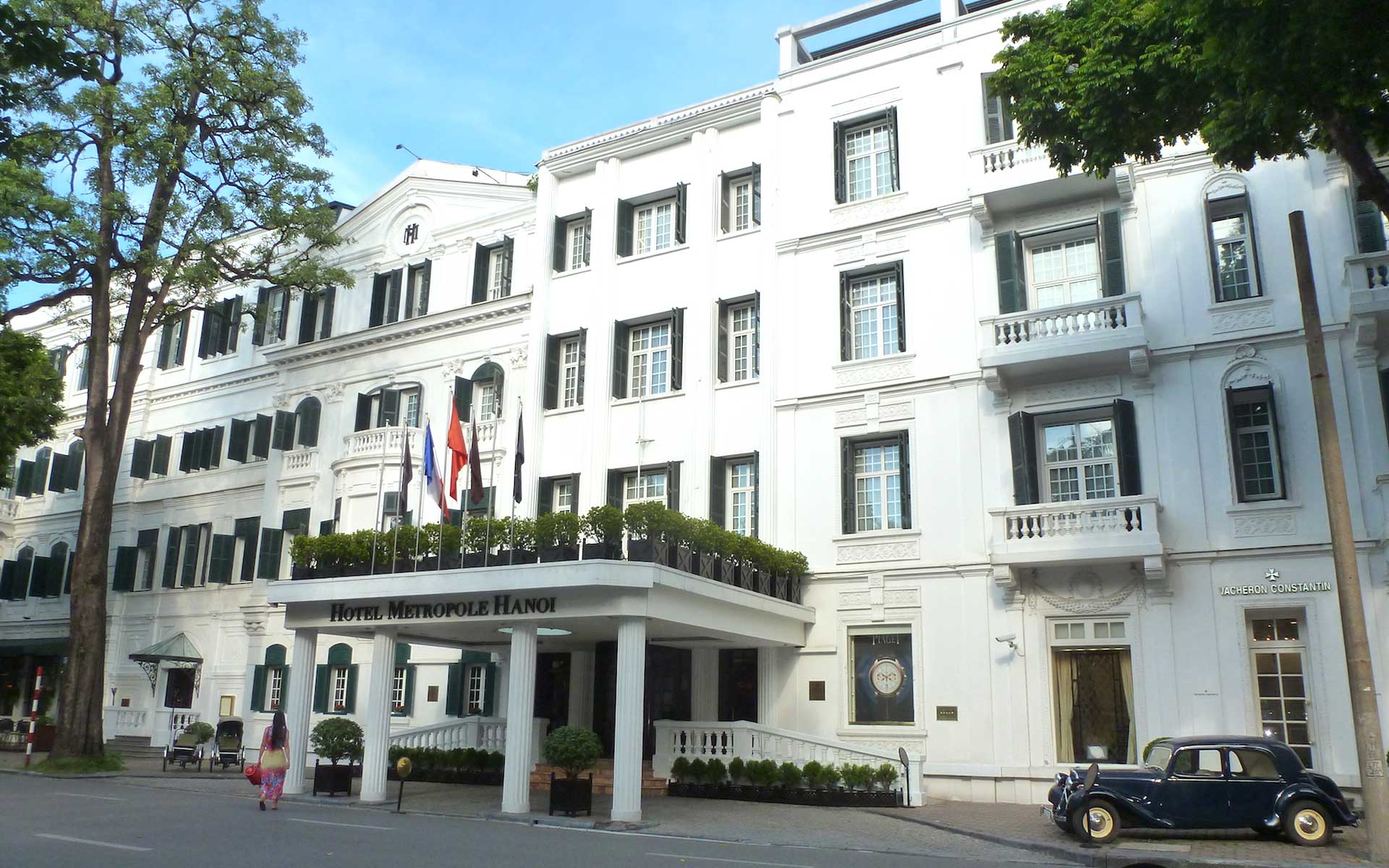 Add: 15 Ngo Quyen Street, Hanoi
Close to the Hanoi Opera House and VHMH stands Hotel Metropole Hanoi which was constructed in 1901 by two French investors André Ducamp and Gustave-Émile Dumoutier. This Neo-classicism architecture is the first 5- star as well as oldest hotel in Hanoi, chosen to be accommodation of many luminaries when they visited Hanoi such as Charlie Chaplin, Jane Fonda, George H. W. Bush, etc. This was also play important part in the 2019 North Korea–United States Hanoi Summit between President Donald Trump and Kim Jong Un.
After a 1990 restoration, Hotel Metropole Hanoi successfully re-emerged as a perfect evocation of the colonial era with the vintage Citroën parked in the porte- cochere. This 3-storey hotel's lobby leads to the intimate dark-lined sitting rooms, precious wood, chinoiserie furniture, prints, orchids and silk.
Additions were built to the rear as the Opera Wing (56 Ly Thai To Street) while the rooms in the Historical Wing (15 Ngo Quyen Street) still remains the best of colonial era with elegant entryways, sitting areas, slowly revolving ceiling fans above the beds.
4. The Government Guesthouse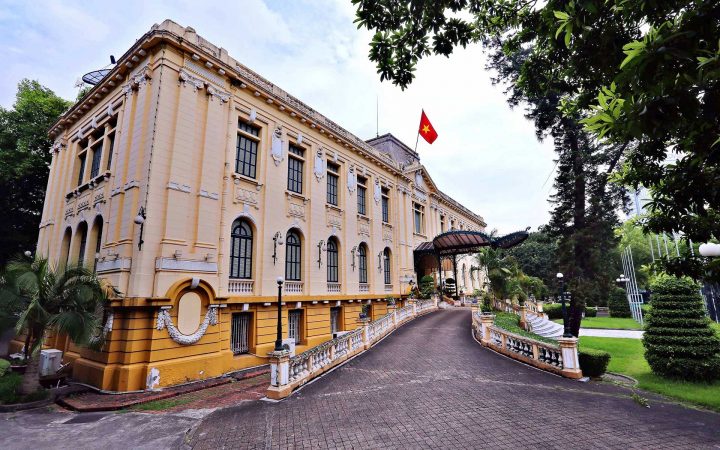 Add: 12 Ngo Quyen Street – 2 Le Thach Street, Hanoi
Just few steps crossing from Hotel Sofitel Metropole, you will clearly see a grand yellow mansion with Vietnam's flag held in the front roof, that is the Government Guesthouse. This elegant building was built in 1918 on the land of ancient Bao An pagoda, possessing the classic beauty of French architectural style with symmetrical ground and façade complex resembling authentic European style. It was formerly the Residence of the French Governor of Tonkin – historical name for North Vietnam. After 1945 August Revolution, this place become the headquarters of the government of the Democratic Republic of Vietnam, where President Ho Chi Minh worked, then used as the guesthouse for VIP visitors of the Government.
5. State Bank of Vietnam (Art Deco)
Add: 49 Ly Thai To Street, Hanoi
State Bank of Vietnam was formerly the French Indochina Bank headquarters in Hanoi, originally designed by Félix Dumail in 1928 in neo-classical style. The building was not until the early 1930s when architect Georges Trouvé redesigned it the architectural style in art deco style.
The structure of this building includes 3 storeys. The ground floor features very thick wall and small opened-windows for placement of money, precious metals and service rooms. The first floor is covered by reinforced concrete arches on the roof for the transaction space. The second floor consists of three working offices placed on three sides around the central block. This structure shows the building design according to the decisive model of the French banks by that time.
The main pavilion is a semi-cylindrical structure decorated with patterns for both ventilation and taking natural light. It is stacked with circular cylinders of descending radius, essentially to cover a dome with glass wholes that organized in a circle of very interesting shape. The whole glass windows system is arranged backwards from the external wall to avoid flamboyant tropical sunlight.
With its prime location and clear-shaped anterior surface as well as light-filled interior, State Bank of Vietnam is considered the most perfect art deco building in Hanoi today.
6. The St. Joseph Cathedral in Hanoi (Neo-Gothic)
Add: 40 Nha Chung Street, Hanoi
St. Joseph's Cathedral is the oldest church in Hanoi. Its construction began in 1884 on the site of the ancient Bao Thien pagoda. This was one of the first structures built by the French colonial government when it was first opened in December 1886 and completed in 1888.
The site possesses Neo-Gothic Architecture described as resembling Notre Dame de Paris.
Its exterior structure features a length of 64,5 meters, a width of 20,5 meters. The facade consists of two square bell towers with a height of 31,5 meters and a big clock as well as a stone cross on the top. There is a statue of Mother Maria made of copper in front of the church. The church's walls were made of brick and plastered and got historical marks on them by the fierce fights and the time.
As a typical structure of Gothic architecture in Vietnam, the interior Cathedral was designed with colorful tall glass windows and high domes, around are pictures about Jesus Christ. In the main court putting a 2 meter-in-height St Joseph's terracotta statue in the center. Below are long brown wooden rows of seats lining up to the door for the Catholics in ceremonies.
In spite of the long wars that destroying major parts of Hanoi, St Joseph's Cathedral is still in good condition and becomes a historical attraction in Hanoi which remains the image of the beauty of the old Hanoi.
Read more: https://vietnamtravel.com/st-josephs-cathedral-hanoi-vietnam/
7. The Presidential Palace (Neoclassical architecture)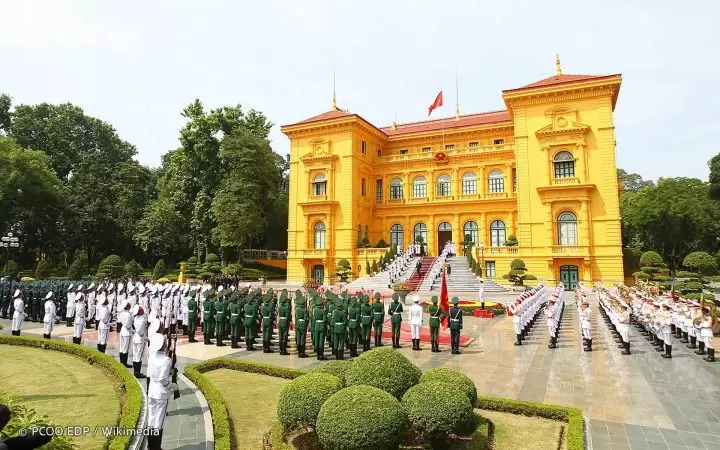 Add: 2 Hung Vuong Street, Hanoi
Set right to the north of Ho Chi Minh Mausoleum, the Presidential Palace is a souvenir of the French contribution to architectural splendor in Indochina. Constructed from 1900 to 1906, this structure played its function as the living and operational bases of the governors-general of Indo-China. The designs of this palace were conceived by Auguste Henri Vildieu, the French architect officially appointed for Vietnam. In 1945, the building was renamed the Presidential Palace, and it is used mostly in national ceremonies or national receptions for diplomats and foreign leaders.
The Palace possesses Neo-classicism Architecture. The only tropical character of the villa is the surrounding mangoes. The Renaissance style is reflected in the aedicule, a formal piano reached by a grand staircase, and broken pediments, classical columns and quoins. The interior is lavish. The Grand Ceremony Room is designed in accordance with the King Louis XIV, while the Grand Dining Room is of the Renaissance. Lastly, the private room of the General Governor reflects the ambience of French Emperor style. Of course, each General Governor sometimes ordered renovation, but the Palace still has a timeless beauty beyond time and space.
8. Vietnam Military History Museum
Add: 28A Dien Bien Phu Street, Hanoi
Set up on 17 July 1956, the Vietnam Military History Museum, also known as the Army Museum, is one of seven national museums in Vietnam and adjacent to the Hanoi Flag Tower, one of the city's major historic landmarks, which is a part of the Imperial Citadel of Thang Long. This is a fine example of French Colonial architecture.
This 2-storey museum covers its display system in both outdoor and indoor setup, housing thousands of exhibits, photographs, maps, scale models of the past Vietnam war. Thanks to this, visitors will have a good general knowledge of the process of the birth, growth and victories of the Vietnamese people's armed forces for the cause of peace, independence and freedom.
Read more: https://vietnamtravel.com/vietnam-military-history-museum/
9. Hoa Lo Prison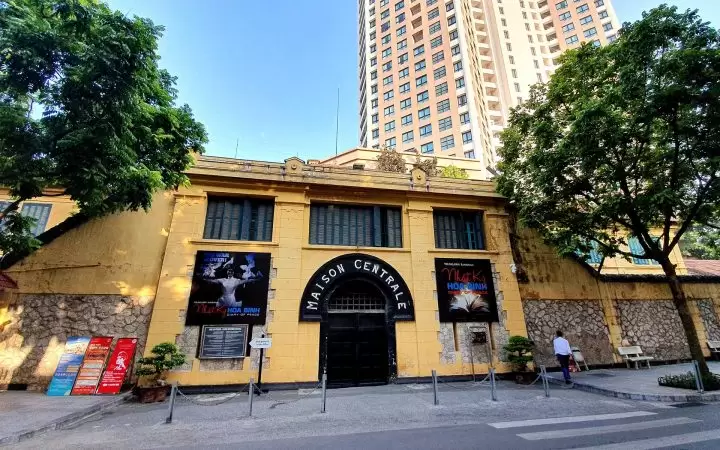 Add: 1 Hoa Lo Street, Hanoi
Hoa Lo Prison was built in dates ranging from 1886–1889 to 1898-1901. This is a prison used by the French colonists in French Indochina for political prisoners, and later by North Vietnam for U.S. prisoners of war during the Vietnam War. Located in Hanoi French Quarter, it is known with another name Hanoi Hilton, once was called Maison Centralle by the French colony which meant the central prison.
Under colonization of French, the construction of Hoa Lo Prison was included 4m high stone walls, 0.5-meter thickness and even electric steel wires as a reinforcer. Surrounded the prison with four corners of four directions which were arranged with watchtowers for the wardens to follow and observe closely and carefully every single action.
After the French left Hanoi, the prison served as an education center for revolutionary doctrine and activity. At the old time, the total area of Hoa Lo Prison reached over 12000 square meters, however, only nearly 2500m2 is kept and remained for today to turn into the historical relic.
10. Dong Xuan Market
Add: 15 Cau Dong Street, Hanoi
As one of the oldest and biggest markets in the old quarter of Hanoi, Dong Xuan Market is a symbol, a traditional feature and a pride of all Hanoian.
Built in 1889, the architecture of Dong Xuan Market deeply followed the French style. Its 3 storeys cover an area of approximately 9,600 square meters. Today, there is 3-arch entrance in Dong Xuan Market, instead of 5-arch entrance as before. The first and the fifth entrance had been removed to extend Hang Khoai and Cau Dong streets. Inside market, it is not hard to see the dorm architectural style with a water fountain right in the center of the ground floor. There are two escalators and 5 other staircases leading to upper levels.
For those who want to explore cultural values and discover local daily life, Dong Xuan Market is a must-visit destination when you are in Hanoi. You can find almost everything from souvenir, clothes, household goods to foodstuffs with cheap price if you know how to bargain.
Despite the fast pace of modern life, Dong Xuan Market has still been so lively and always full of customers.
Read more: https://vietnamtravel.com/dong-xuan-market/
11. Long Bien Bridge
Long Bien Bridge was officially built from 1899 to 1902 under the Governor General of Indochina Doumer. Although the bridge is clearly a French colonial architectural structure in Hanoi under the participation of about 40 French engineers and experts, it appears as an achievement of Vietnamese since it was finished also by more than 3000 Vietnamese workers' hands and indigenous materials.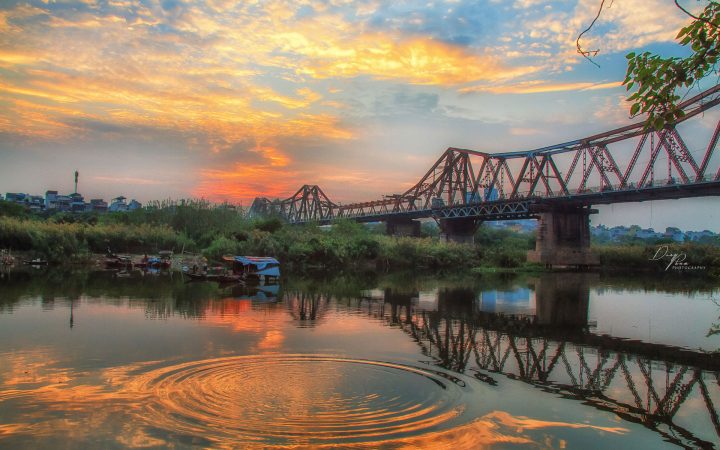 Firstly it was named after Paul Doumer, the Governor-General of French Indochina and then French president. After the capital liberation in 1954, the bridge was renamed as Long Bien Bridge. This is because the bridge is located not far from Thang Long Imperial Citadel (Hanoi nowadays), and it resembles a dragon flying across the Red River from the distance.
The bridge is 2,290m across the river and 896m in bridges, spanning 19 steel beams spanning over 20 pillars with unique architecture. It consists of a single rail running in the middle and two lanes for bicycles and pedestrians.
With its history of over 100 years, the bridge is not only a traffic construction but also a meaningful historical and symbolic witness to the resilience of Hanoi during the two greatest resistance wars against the French colonialists and American imperialism as well as the dramatic changes of this city in the new era.
Read more: https://vietnamtravel.com/long-bien-bridge-hanoi/
12. Hang Dau Booth (Hang Dau water tower)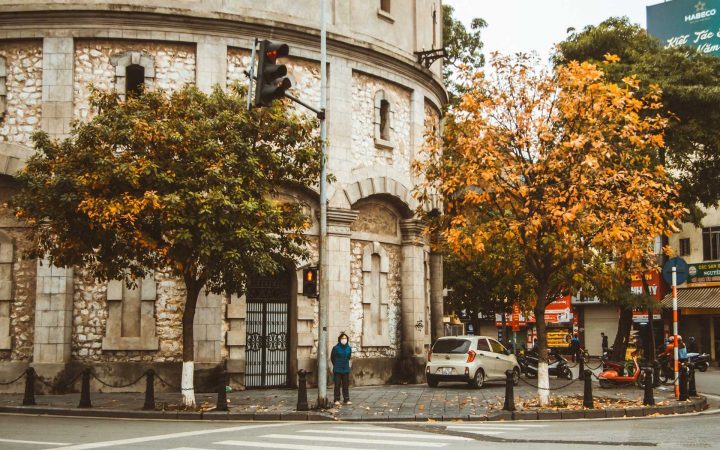 Add: at the intersection of Hang Dau, Hang Than, Quan Thanh, Phan Dinh Phung, Hang Cot and Hang Giay.
Hang Dau Booth was built in 1894, before Long Bien Bridge. Its function is to provide water for the citizens as well as Western soldiers in the Old Quarter. From outside, the tower looks like an ancient fortress constituting three floors, cylinder with 19-meter diameter and 25-meter height. Exploring inside, you will see some stone walls with doors to wander around.
Since 1954, Hand Dau booth has been abandoned and stood in its original form until early April 2010 when it was refurbished. Nowadays, it becomes a special landmark in Hanoi, and its presence appears as an evidence for a historical period of Hanoi capital.
13. Ministry Of Foreign Affairs (Indochinese architecture)
Add: No. 1 Ton That Dam Street, Hanoi
Designed by French architect Ernest Hebrard, the building of the MOFA' headquarters was constructed between 1925-1928. The building bears the distinct Indochine style, which blended Eastern and Western traditions. Its clay-tiled pitched roofs attract anyone's eyesight.
Used to be the headquarters of the Indochina Ministry of Finance, it become the headquarters of the Vietnamese Ministry of Foreign Affairs from October 3, 1945, and recognized as a national relic site in August 2016. Nearing its 100th year, the mansion is one of the rare examples of untouched French colonial era's architecture in Hanoi.
Though visitors are not allowed to visit inside, it is worth to stop by and admire its magnificent mansion. Indochinese architecture, distinguished by carved screens and roof beams influenced by Oriental temple designs, stood out with the dormers that covered windows, roofs and balconies. From Ba Dinh Square, it takes just a minute walking distance to get here.
14. Cua Bac Church (Indochinoise, Baroque)
Add: 56 Phan Dinh Phung Street, Hanoi
Another design from French architect – Ernest Hébrard is Cua Bac Church – a Roman Catholic church, belong to Archdiocese of Hanoi. Due to its location to the North Gate of Thang Long citadel, the church was called Cua Bac (meant North Gate).
Built between 1925-1931, Cua Bac Church possesses many unique features in rectangular style, combining Asian-European style – dignified and ancient architectural style. With this architecture of asymmetric style, it was totally different from a normal design of other cathedrals in this time which made Cua Bac Church one of the most famous ancient and beautiful churches in Vietnam.
15. VNU University of Science (Indochinese architecture)
Add: 19 Le Thanh Tong Street, Hanoi
Also designed by French architect Ernest Hébrard, VNU University of Science was built from 1923-1926, following Indochina architecture style and having the interference of Asia and Europe. There is multi-layered octagonal roof system with small doors decorated by flower patterns among the layers.
From the first name of the University of Indochina, the university has had serval name changes throughout its history, such as Vietnam National University in 1945, the University of Hanoi in 1956. In 1993, the name of Vietnam National University, Hanoi was officially created by merging 3 other members of the University of Hanoi, Hanoi National University of Education and College of Foreign Languages.
This site is walking distance from the Hanoi's Opera Theatre (450m) and Vietnam National Museum of History (700m).
Beside the above top 15, you can also find some other famous French architectures in Hanoi including the National Library of Vietnam, Chu Van An High School, Viet Duc High School, National Institute of Hygiene and Epidemiology, Hanoi Railways Station, etc.
It's unwise to romanticize the colonial period, of course, as we all know that French has implemented a subsequent number of cruel strategies on Vietnam during the colonization which caused severe consequences to the country and the people. However, all that left behind now. Vietnam in general and Hanoi City in particular are still developing rapidly with modern high-rise buildings mushrooming, but the French-Vietnamese style perseveres, a special enchantment for visitors to Hanoi.
Plan your trip to Vietnam and let our Travel Consultants help you to create the very own holiday of yours!