The Complete Nam Dinh Travel Guide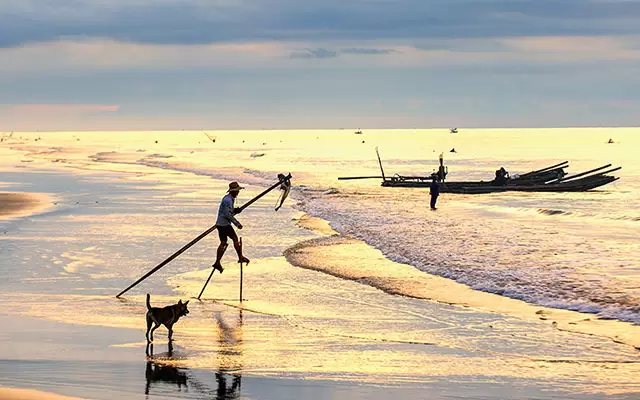 Nam Dinh Province, situated on the south of Red River Delta, is contiguous to Ha Nam, Thai Binh provinces on the north, Ninh Binh Province on the west and the East Sea on the east. Endowed with pristine 74km long coastline and 4 large rivers, Nam Dinh has great potential to develop the economy of fishing and water tourism. In addition, Nam Dinh is one of the key agricultural regions in the Northern Vietnam.
In some extents, Nam Dinh might not be on the list of popular tourist destinations in Vietnam and less visited by foreign travelers. But it's suitable for persons who like to visit off the beaten track places. Coming there, tourists will be immersed into rustic beauty of the rural landscape and discover rich culture and history of local residents.
Let's take an ultimate travel guide of this hidden treasure destination in Northern Vietnam!
1. The weather and best time to visit Nam Dinh?
The climate of Nam Dinh is defined by a hot wet rainy season, which is typical weather feature of the Red River Delta. The weather is affected by four seasons: spring, summer, autumn, winter. In winter the temperature ranges from 16°C to 17°C; the coldest months are January and February. The summer temperature is between 26°C and 28°C, with the hottest months being July and August. Rainfall is very low from November to April, with some months having almost no rain at all.
Tourists can visit Nam Dinh at any time of the year to discover various aspects of this coastal province.
2. How to get to Nam Dinh?
With such a short distance of around 100km from southwest of Hanoi Capital, Nam Dinh can be conveniently accessible by local bus, train, motorbike or private transportation.
2.1. By local bus
In recent years, there are several bus companies offers luxury buses between Hanoi and Nam Dinh. The bus ticket ranges around 100,000 VND/ per way and includes pick up and drop off services within Nam Dinh City and at some fixed points in Hanoi. These limousine cars offer bigger leather seaters to bring 1h30m comfortable journey for all passengers.
Some popular limousine buses for your references:
* Long Giang Limousine 9 seaters:
Schedule: Every 1 hour from 6.00 to 21.00
Ticket rate: 105.000VND per person per way
Duration: 1.5 hours excludes pick up/drop off time within Hanoi or Nam Dinh City area.
* Xe Viet Nam 9 seaters:
Schedule: Every 1 hour from 5.00 to 21.00
Ticket rate: 105.000VND per person per way
Duration: 1.5 hours excludes pick up/drop off time within Hanoi or Nam Dinh City area.
* Phuc Loc Tho Limousine 9 seaters and 18 seaters:
(Suitable for persons living in Thanh Xuan/ Cau Giay Districts in Hanoi)
Schedule: Every 1 hour from 5.30 to 21.30
Ticket rate: 100.000VND per person per way
Duration: 1.5 hours excludes pick up/drop off time within Hanoi or Nam Dinh City area.
2.2. By train
For car sickness persons, taking train from Hanoi to Nam Dinh is a good option. Nam Dinh Train Station is among train stops of the Reunification Express Train which runs from Hanoi to Ho Chi Minh City and vice versa. Travelling time by train between Hanoi and Nam Dinh lasts approximately 1 hour 45 minutes. Even this means of transportation has the cheapest fare around 70,000VND per person per way, it costs you more travelling time than other vehicles.
* Travel route: Hanoi > Nam Dinh
| Destination | Train SE7 | Train SE5 | Train TN1 | Train SE1 | Train SE3 |
| --- | --- | --- | --- | --- | --- |
| Hanoi | 06:00 | 09:00 | 13:10 | 19:30 | 22:00 |
| Nam Dinh | 07:47 | 10:46 | 15:10 | 21:14 | 23:40 |
* Travel route: Nam Dinh > Hanoi
| Destination | Train SE8 | Train SE6 | Train TN2 | Train SE2 | Train SE4 |
| --- | --- | --- | --- | --- | --- |
| Nam Dinh | 13:50 | 18:03 | 01:43 | 03:05 | 03:53 |
| Hanoi | 15:33 | 19:58 | 03:30 | 04:50 | 05:30 |
2.3. By motorbike
If you are confident with your driving skills in Vietnamese traffic conditions, don't hesitate to hire a motorbike for a nearly 2 hour journey from Hanoi to Nam Dinh. There is no better way to see beautiful rural landscapes along the way than riding your own bike.
From Hanoi, just follow the national highway 1A to Phu Ly city and turn left into national way 21A when you see a sign for turning. You'll reach Nam Dinh city after driving 30 more kilometers.
2.4. By private car/van
Because Nam Dinh is less visited by foreigners and a few of locals can speak English, this will be a smart choice to travel with local partners. Vietnam Travel's private driver and tour guide will be your perfect companions on the way to explore hidden treasures in this peaceful destination.
3. Main tourist attractions in Nam Dinh
Nam Dinh has many things to offer from historic Tran Temple Complex, Co Le Buddist temples to a paradise for nature lovers of Xuan Thuy national park. It is also famous for its specialties with simple but delicious dishes, especially, homeland to well-known noodle soup with beef. If you are looking for an off the beaten track destination to discover during your Vietnam holiday, please consider to put this place into your travel map.
3.1. Tran Temple Complex
Tran Temple Complex is the cluster of three temples, where Tran Dynasty's Kings and royal family members and their meritorious mandarins are worshipped. This complex is located in Loc Vuong Ward, Nam Dinh City. Nam Dinh is considered as the native place of Tran Dynasty (1225-1400) which was the most prosperous dynasty in the feudal history of Vietnam.
Although there are several Tran Temples in northern provinces such as: Thai Binh, Ha Nam, Hai Duong, Thanh Hoa; Tran Temple Complex in Nam Dinh is still the most invaluable property because this southern Red River Delta province is the sacred land of the Viet people, Tran Kings and national hero Tran Hung Dao who defeated three Mongol invasions in 1258, 1285 and 1288.
Royal Seal Opening Ceremony in Tran Temple is well known all over the country. Thousands of people wait in long queues from 11 pm on 14th of lunar January, in the hope to receive these yellow papers with royal seal as a token of luck and succeed for the New Year.
3.2. Phu Day Relic
Phu Day Relic is located in Kim Thai commune, Vu Ban district, around 15km southwest from Nam Dinh City. This complex consists of 20 cultural relics associated with the life and career of Goddess Lieu Hanh – one of four Immortal Gods in Vietnamese folk religion (Saint Tan Vien, Thanh Giong, Chu Dong Tu and Lieu Hanh).
The legend said that Lieu Hanh was the daughter of the Jade Emperor. She broke her father's treasured cup and was banished to earth. The Emperor allowed her to be reincarnated three times because she loved her life on earth so much. During her reincarnations, she used her magic to help people fight against invaders, spent money to build dams to prevent floods, saved miserable people. She is considered as the symbol of feminine power which is opposite to the "Three Obedience, Four Virtues" – moral principles for women in Confucianism. Vietnamese women admired her with the freedom in action as well as independence in thought. This is the explanation of her immortality in the Vietnamese conscience.
(Three Obedience: to obey her father as a daughter, to obey her husband as a wife, to obey her sons in widowhood.
Four Virtues: wifely virtue, wifely speech, wifely manner/appearance, wifely work.)
Annually, Phu Day Festival is held from 3rd to 8th March of the lunar calendar here and is the biggest among numerous festivals honoring Goddess Lieu Hanh all over the country. Being recognized as National Intangible Cultural Heritage, Phu Day Relic plays an important part in Vietnamese Mother Worshipping Religion.
3.3. Co Le Buddhist Temple
Lying in Co Le town, Truc Ninh district, 20 km from Nam Dinh City is Co Le Buddhist Temple, a distinctive combination of Vietnamese and European architecture. It was originally built by Zen Buddhist Nguyen Minh Khong under the reign of King Ly Tran Tong (1128-1138). In 1092, Superior Buddhist Monk Pham Quang Tuyen rebuilt it with inspiration from European Gothic architecture. Arched domes was designed as cathedral but curved tiled roofs of a traditional Vietnamese pagoda were still preserved. The curved corners of the roof are also decorated with typical stone carvings of dragons.
In 1947, following President Ho Chi Minh's appeal for national resistance, all 27 monks and nuns of the pagoda joined the army to fight against invaders.
Co Le Pagoda Festival is taken place annually from 13th to 16th of ninth lunar month. Coming here during these days, tourists can see that Co Le Pagoda Festival still preserves many traditional cultural and rituals reflecting the rich and diverse cultural life of rice farmers such as Buddha procession, wrestle, chess, boat racing etc.
3.4. Catholic Churches & Cathedrals
Nam Dinh is known as the home to many Roman Catholic beautiful churches & cathedrals.
* Bui Chu Cathedral – Xuan Ngoc Commune, Xuan Truong District, 35km from Nam Dinh City
It was built by a Spanish priest in 1884 under French colonial period with a length of 78 meters, a width of 22 meters, and the height at 15 meters.
* Phu Nhai Basilica – Xuan Phuong Commune, Xuan Truong District, 36km from Nam Dinh City
Phu Nhai Roman Catholic Church has official name as the Basilica of the Immaculate Conception. It was initially built of wood in 1866 and was restored 5 times then become larger and nicer with more Western style. When rebuilt in 1933, it was the biggest church in Indochina at that time. The church impresses visitors with its Gothic decorations and architecture reminiscent of the Middle Ages in Western Europe.
* Xuong Dien Church – Hai Ly Commune, Hai Hau District, 45km from Nam Dinh City
The church was built with tiled roofs and wood frames, which was influenced by architectural style of Vietnamese Buddhist temples.
* Hung Nghia Holy Shrine – Hai Hung Commune, Hai Hau District, 36km from Nam Dinh City
The church was built in 1927, the construction lasted 12 years with the contributions of thousands of Christiane, and newly renovated in 2000. Visitors will surely be surprised to witness the shape of the magnificent castle with fine and detailed decorations.
3.5. Xuan Thuy National Park
Located 60km southwest of Nam Dinh City is Xuan Thuy National Park in Giao Thien Commune, Giao Thuy District. This ecological tourism destination is a perfect option for tourists who are interested in biodiversity and migratory birds. From November to April, Xuan Thuy National Park was selected as a door stop of thousands of birds migrating from the north to stay away from cold winter. Besides, this 12,000 ha area is home for 215 species of birds living in its forests and mangrove swamps all year round, including several rare types such as the Pelican, Spoon-bill Stork and Saunder's Gull. More than 110 aquatic plant species, 500 species of benthos and zooplankton also found there. Visitors can choose tour packages with trekking or taking boat to visit the park, as well ask visiting other cultural sites in the surrounding areas.
3.6. Thinh Long Beach
It takes tourists around one hour for the drive from Nam Dinh City to Thinh Long Beach – a very popular weekend escape for locals in summer time. Its water isn't crystal clear like other beaches in Central Vietnam because the Red River flows into the ocean from here so the color of the water is like soil color. On the other hand, seawater in this beach has high salinity so it can treat rheumatism and skin diseases. In comparison to beaches in Sam Son or Cua Lo, Thinh Long beach isn't affected by hot southwest wind from Laos. Therefore, the climate here is cooler with pleasing sea breeze. You also can visit nearby fishing villages to experience the daily life of local people. Don't forget to taste local seafood when you are in Thinh Long because this place is well known for its diverse and fresh seafood at very reasonable prices.
3.7. Vieng Market
After celebrating Tet Holiday, locals will spend the 7th and 8th day of the first lunar month to visit Vieng Market. This spring market is held once a year in Nam Truc and Vu Ban Districts. Locals are more familiar with the name "Cho Am Phu" (Hades Market) because the busiest time to visit the market falls on the late night of the 7th and early morning of the 8th. That period is considered as the moment of heavenly-earthly, positive-negative exchange. This spring market is a kind of open-air fair, where displays handicraft products, antiquities and false antiquities, utensils, tools for agriculture production, and many kinds of ornamental plants.
Thousands of people gather here not just to enjoy the market atmosphere but the main purpose is exchanging luck and happiness for the new year.
4. Nam Dinh's local delicacies
Not being defined as a hustling and bustling destination, Nam Dinh is a small quiet place which attracts visitors by its own food paradise. With one half-charged electric bicycle, you can get around this city and enjoy delicacies it has to offer with super cheap prices.
4.1. Beef noodle soup (Pho bo Nam Dinh)
Beef noodle soup is the most signature dish of Nam Dinh. Giao Cu Village (Nam Truc District) is considered as the birthplace of this delicious dish. One perfect bowl of Nam Dinh beef noodle soup is the combination of soft noodle, sweet scented broth which is made by cow bones being stewed in a long time pounded thin sliced beef which are dipped then picked out immediately to keep the freshness and nutritional quality of the meat.
Where to try?
• Pho Dan: 128 Hai Ba Trung Street, Nam Dinh City.
• Pho Tang: 23 Hang Tien Street, Nam Dinh City.
• Pho Xuyen: Van Nhan Alley, Tran Hung Dao street, Nam Dinh City.
• Pho Tao: 44 Tran Phu Street, Nam Dinh City.
• Pho Sinh: 111 Nguyen Du Street, Nam Dinh City.
4.2. Nem nam Giao Thuy
"Nem mam Giao Thuy" is so popular that people in other areas learn to do it in different ways. However, only when you have the opportunity to visit Giao Thuy District (50km from Nam Dinh City) that you will feel the distinguished and delicious taste of this dish made by local people. The process to make this dish is complicated and meticulous. Three main ingredients are: pork, pig's skin and "thính". Fresh pork is boiled or even pale, and then beat up until soft. The skin is cleaned with boiling water, then immediately dipped into cold water and sliced into thin & long strings. "Thính" is a kind of powder made from local high quality rice which is soaked into water overnight, roasted and milled into powder. The dish is best served with fig leaf and fish sauce.
Where to buy?
• Dai Dong Market, Giao Lac Commune, Giao Thuy District, Nam Dinh.
• No. 373 Tran Nhan Tong Street, Nam Dinh City.
4.3. Thorn leaf cake (Banh gai)
Nam Dinh is the hometown of tasty thorn leaf cake (black sticky cake wrapped in banana leaves). From the outside, the crust is made of sticky rice flour with thorn leaves and sugar. The inside is made of coconut flesh, peanut, green beans, and ginger. Then cakes are wrapped by banana leaves. A good quality cake is soft, bland, and not too sweet. Tourists often buy this item as a gift whenever they visit or pass by Nam Dinh.
Where to buy?
• Banh Gai Ba Thi – No.106 Tran Hung Dao Street, Nam Dinh City.
• Banh Gai Ba Thi – No. 7 Mac Thi Buoi Street, Nam Dinh City.
4.4. Sticky rice with char siu (Xoi xiu)
As its name might suggest, this dish is made from sticky rice which cooked from fragrant plastic rice so it is very soft. "Xoi xiu" is served with char siu, sausage and special meat sauce. The char siu is roasted pork and braised with spices to create the sauce. Locals have a habit of eating sticky rice with char siu in their breakfast – lunch or dinner. Therefore, "xoi xiu" stalls on Hang Sat and Hoang Van Thu streets are open from early morning until late night.
4.5. Poland bread (Banh My Ba Lan)
Banh My Ba Lan's brand has been famous for over 50 years. It was first appeared in 1969. During the Vietnam War period, our country got lots of supported from countries in Soviet Union, from weapons, machines to food supplies. As a part of the Soviet Union, Poland built a workshop in Nam Dinh to produce bread with capacity over 1.500 tons per year. Until now, the workshop keep producing tons of breads for locals and others in nearby provinces.
A loaf of Poland bread is thick, fragrant and plump. It can be served with pate, pork, pickled vegetables, fresh green herbs or just eaten as a plain bread.
Where to try: Small street stalls along Thai Binh Street – near the Polan bread's factory.
4.6. Xiu Pao – Char Siu – BBQ pork bun
Xiu Pao creates curiosity for tourists when hearing its name at first time. It was originally sold by locals living in Chinese streets in Nam Dinh City. In some extends, it's the combination of stuffs inside the steamed wheat flour cake and mooncake's crust. The Xiu Pao's stuffs consist of boiled quail egg, minced pork, Jew's ear, spices, honey and pork fat.
Tourists can easily find Xiu Pao in traditional bakeries along Hoang Van Thu Street, Hang Sat Street, Le Hong Phong Street.
4.7. Sticky rice with ice cream (Kem Xoi)
Kem Xoi is a very common dessert for locals. A small bowl of Kem Xoi includes glutinous rice cooked with split peas mixed with ice cream and dried young coconut. There is only one Kem Xoi restaurant in Nam Dinh City at the address of 132 Nguyen Du Street. It opens all day but close during lunchtime from 12.00pm to 13.30pm.
5. Accommodations in Nam Dinh
5.1. Nam Cuong Hotel
This is the first 4 star and the largest hotel located at the gateway to Nam Dinh City and overlooking to a tranquil and romantic lake. Spreading on an area of 35,000m2 is the hotel building with 166 rooms and luxury apartments, luxurious facilities. The restaurant complex with European and Asian restaurant choices is complemented by a beautiful outdoor dining garden. The conference room accommodates up to 700, and can cater for groups large and small, suitable for international conferences, summaries, summits, gala dinners and meetings and more.
The team of thoughtful, friendly and professional staffs give you the feeling of being in your own home.
Address: 538 Tran Hung Dao Street, Loc Vuong, Nam Dinh City
5.2. Vi Hoang Hotel
Categorized as 3 star hotel, Vi Hoang Hotel is located opposite to the city's central park and square. The hotel has safe, peaceful greenery surrounding that is convenient for tourists to stay and go sightseeing. There are some room types with lake view. Breakfast is included and offers a choice of Western (bread) and Asian (rice, noodles) food, vegetables and fruit, cakes plus tea, coffee and juices. In a city with not many tourists, this is a pleasant hotel to stay for a short time and the staff are very friendly.
Address: 153 Nguyen Du Street, Vi Hoang, Nam Dinh City