Tran Temple Complex In Nam Dinh, Vietnam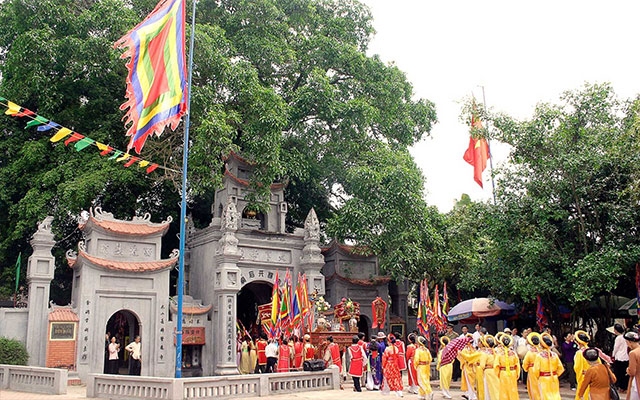 Tran Temple Complex is the cluster of three temples, where Tran Dynasty's Kings and royal family members and their meritorious mandarins are worshipped. This complex is located in Loc Vuong Ward, Nam Dinh City, which is about 90 km southeast from Hanoi Capital. Nam Dinh is considered as the native place of Tran Dynasty, which was the most prosperous dynasty in the feudal history of Vietnam.
Although there are several Tran Temples in northern provinces such as: Thai Binh, Ha Nam, Hai Duong, Thanh Hoa; Tran Temple Complex in Nam Dinh is still the most invaluable property because this southern Red River Delta province is the sacred land of the Viet people, Tran Kings and national hero Tran Hung Dao, the spirit of the Tran Dynasty.
1. History
Tran Dynasty replaced Later Ly Dynasty (1009-1225) and ruled Dai Viet (the name of Vietnam at that time) from 1225 to 1400. They started the process of expanding Dai Viet's territory southward from the Red River region down the Indochina peninsula, at the expense of the Indianized Kingdom of Champa. In addition, Tran Dynasty employed various successful military tactics and strategies that enabled them to triumph over the Yuan Dynasty khanate of the Mongol Empire during three attempted invasions.
In 1258 Mongol forces first came into contact with Dai Viet in connection with their advance on Yunnan (southern China) and briefly occupied Thang Long Capital (modern Hanoi). However, Mongolian invader didn't know that Dai Viet's people were psychologically prepared to abandon Thang Long at short notice. As King Tran Thai Tong and his mandarins realized early on that they could not protect Thang Long but adopted the scorched earth strategy. A scorched-earth policy is a military strategy that aims to destroy anything that might be useful to the enemy. King Tran Thai Tong ordered his people and military troops to remove from Thang Long Capital to Thien Truong Palace (Nam Dinh nowadays). During their movement, they carried away what they could, and destroyed everything else, so that the Mongolian troops could not use anything when they came to Thang Long. This strategy was summarized in Vietnamese as: "Leave both garden and house empty". Therefore, Thien Truong Palace was regarded as the relic of Tran Dynasty and the second capital of Dai Viet, only after Thang Long Capital.
In spring 1262, King Tran Thai Tong, whose birthplace was Tuc Mac Village, Thien Truong Palace (now in My Loc District, Nam Dinh City), ordered his subjects to build a royal complex and a temple to worship ancestors here, all of which were upgraded into the Thien Truong Palace Complex. The complex played its role as a special administrative and political centre in the south of Thang Long Capital (modern Hanoi). With its military advantages and prosperous economy, Thien Truong also took a key position in national defense.
In the 15th century, the original complex of Thien Truong Palace was destroyed by the Ming Troops. And the Tran Temple Complex seen nowadays was rebuilt in the late 17th century.
2. Structure & Architecture
The structure of Tran Temple Complex has three main and separate buildings. They are of the Thien Truong Temple in the middle position, Trung Hoa Temple in the right side, and Co Trach Temple in the left side.
2.1. Thien Truong Temple
Thien Truong Temple was established from the base of Trung Quang Palace which was the living and working places of the former Kings. Thien Truong Temple consists of four compartments: the front aisle for worshiping ceremonies; two aisles in the back devoted to 14 Kings of the Tran Dynasty and their ancestors. The left and right ones are dedicated to the warriors and mandarins who performed meritorious deeds for the country under the Tran Dynasty. The altars of Tran Kings' wives are located on the two sides of the main one.
2.2. Co Trach Temple
Co Trach Temple is dedicated to General Tran Hung Dao and his 18 officers who successfully fought off the Yuan-Mongol invaders. He was respectably regarded as one of the greatest generals in the feudal history of Vietnam because he gained three epic victories for the Tran Dynasty against Mongol invaders in 1258, 1285 and 1288.
When remodeling the Tran Temple to the east in 1868, workers dug out a stone stele carved the words with the meaning as "The Old House of General Tran Hung Dao". Therefore, they built the temple on the base of this house and called it Co Trach (translated into English as Old House) when the constructions were finished in 1895. General Tran Hung Dao's family and most reliable assistants were memorialized in this temple, along with other mandarins such as Truong Han Sieu and Pham Thien Nhan.
Co Trach Temple includes 4 compartments: Tien Duong dedicated to the three greatest generals under Tran Hung Dao's command: Pham Ngo, Pham Ngu Lao and Nguyen Che Nghia; Trung Duong dedicated to Tran Hung Dao and his four sons; Chinh Tam dedicated to Tran Hung Dao's parents and his family members; Thieu Huong (Kinh Dan) houses Tran Hung Dao's statue and 9 Buddhist statues. The side aisles are home to altars of other generals under Tran Hung Dao's command.
2.3. Trung Hoa Temple
Trung Hoa Temple is located on the western side of the Tran Temple Relic, or the left side of Thien Truong Temple. The temple was newly built in 2000, on the foundation of the old Trung Hoa Palace, where the Tran emperors took advices from their fathers.
In Trung Hoa Temple, 14 bronze statues representing 14 Tran Kings are put in the middle and main aisles (Trung Duong and Chinh Tam). Thieu Huong is used to worship the council of the most respected mandarins. The side aisles are dedicated to literature and martial mandarins.
Tran Nam Dinh Temple relic area worships 14 Tran kings, family members and mandarins with meritorious services. It is also famous for the Opening Ceremony of Tran Temple in early spring and Tran Temple Association in August, attracting a large number of people and tourists to attend and pay tribute to the Tran kings merit and wish for good things.
Read more: TOP 15 Famous Temples in Vietnam
3. Tran Temple Festivals
The Tran Temple is a sacred temple which attracts lots of Vietnamese pilgrims during the festivals' period. There are two festival held annually at Tran Temple Complex in Nam Dinh.
3.1. Royal Seal Opening Ceremony in lunar January
Royal Seal Opening Ceremony was originated in the 13th century. In 1239, the Tran King held a party to praise the military officials with meritorious services. From that time, other Tran Kings maintained the royal seal opening ceremony as a cultural custom to express the gratitude to Heaven, Earth, and ancestors.
The wooden seal is worshiped in the Tran Temple, Nam Dinh now was made in the late 19th century. At midnight on the 14th day of the first lunar month, a senior man representing the village conducts the ceremony at Co Trach Temple. A procession then carries the seal to Thien Truong Temple, where a prestigious man stamps the seal on yellow papers. Thousands of people wait in long queues from 11 pm on 14th of lunar January, in the hope to receive these yellow papers as a token of luck and succeed for the New Year.
3.2. Tran Temple Festival in lunar August
This festival is held from the 15th day to 20th day of August on the lunar calendar to show gratitude to 14 Tran Kings and General Tran Hung Dao.
4. How to Get There?
Tran Temple Complex in Nam Dinh is around 90km from Hanoi City Center and visitors can take day trip to this complex from Hanoi.
4.1. Local Bus
If you have plenty of time and want to experience local public transportation, you can take local bus as the cheapest option. But the drawback is that buses have fixed departure time and the journey Hanoi – Nam Dinh lasts around 2 hours per way. Also bus drivers cannot speak English so it's quite difficult to communicate and inform them about your pick up and drop off points.
4.2. Motorbike
This means of transportation is suitable for adventurous persons loving to explore the roads in Vietnam. Taking bike ride, you will have chance to witness the peaceful countryside of Northern Vietnam's Red River Delta along the way. However, traffic system in our country is really a challenge so this is not highly recommended for new comers.
4.3. Private car/van
If you want to save time and gain much experience, the best option is to book a day trip with escorted tour guide from Hanoi with Vietnam Travel. Private drivers will be flexible to stop as you wish to take photos of scenery along the way. In addition, Tran Temple is not popular among foreigners and the locals are not good in English. Thus, our private English speaking guide will help you to deeply understand about the historical and cultural values of Tran Temple and provide you with many interesting stories about daily life of locals in southern Red River Delta during the trip. You also can stop at Tran Temple (Đền Trần) on the way to Ninh Binh from Halong Bay or vice versa to learn about Vietnamese culture and history at this sacred temple, thus traveling by private car with a local guide will offer great benefits beyond your expectation.