Ho Chi Minh City Travel Guide: Facts, History, Weather, and Attractions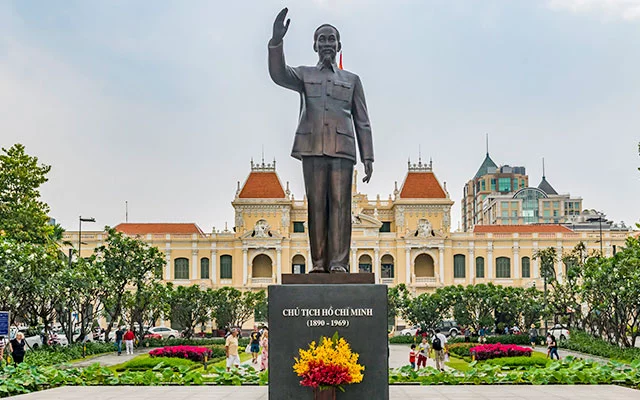 Ho Chi Minh City, also known as Saigon, is the largest and most vibrant city in Vietnam. It is a cultural and economic hub that attracts millions of visitors every year. Whether you are interested in its rich history, its diverse cuisine, its modern skyscrapers, or its lively nightlife, Ho Chi Minh City has something for everyone. In this travel guide, we will cover some of the most important facts, history, weather, and attractions of Ho Chi Minh City. By the end of this article, you will have a better understanding of this amazing city and what it has to offer.
Unlike Hanoi, the capital of Vietnam, Ho Chi Minh City may lack charm and elegance but its essential French colonial character has enough to draw your attention. The colonial villas, wide avenues and a lively cafe society in the city remind you the days of French dominance. Whether you are traveling to Saigon for a quick stop en route to other parts of Vietnam or are planning a visit to the city exclusively, you will be won over the city's frenetic energy and the many local gems just waiting to be discovered, which will be shown in the following article of Ho Chi Minh travel guide:
1. Ho Chi Minh City's Facts
The center of Ho Chi Minh City is situated on the banks of the Saigon River, 60km from the South China Sea and 1,760km south of Hanoi.  It borders Tay Ninh and Binh Duong provinces to the north, Dong Nai and Ba Ria – Vung Tau provinces to the east, Long An Province to the west and the South China Sea to the south with a coast 15km long.

Saigon is the largest and the most crowded city in the country with the official population of over 9 million people on the total area of over 2,061 km2. The city now comprises 19 districts and 5 suburban districts. District 1, along the Saigon River, where downtown Saigon is located, is the commercial center and contains most of the city's monuments and landmarks.
2. Brief history of Ho Chi Minh City
First established in 1698 and considered as an administrative unit under the Nguyen Dynasty, Saigon Gia Dinh attracted people from all over the country coming here to reclaim the land and settle. Later during the mid and late 19th century, it became the principal city of Cochin China under the French rule. From 1956 to 1975, Saigon served as the capital city of South Vietnam under the anti-communist Ngo Dinh Diem and his corrupt American sponsored successors. On 30th April 1975, Ho Chi Minh's forces overthrew the South Vietnamese regime and reunited the whole country. In July 1976, the city was renamed Ho Chi Minh City to honor the spiritual leader of Vietnamese Communism.
Experiencing more than 300-years establishment and development, today, Ho Chi Minh City has emerged as the center of commerce, economy, education, science and technology. It is also a popular tourist destination due to its fascinating culture, classic French architecture, and sleek skyscrapers as well as ornate temples and pagodas.
3. Weather in Ho Chi Minh City & Best time to visit
Located in the tropical monsoon climate near the equator, Ho Chi Minh City is characterized by high tropical temperatures all year round with 2 seasons: rainy season and dry season. The dry season is from December to April while the rainy season lasts from late May to November. April and May tend to be pretty hot but the cooler weather will appear around December and January.
For detailed information about temperature, precipitation, number of rainy days of each month in Ho Chi Minh City and find out best time to visit this largest city, keep reading at Weather in Ho Chi Minh City.
4. Sightseeing in Ho Chi Minh City
A modern Ho Chi Minh has been developing say by day while some French era boulevards and colonial structures are well-preserved, creating a vibrant mix of old and new culture. Tourists may be amazed by a dynamic metropolis of skyscrapers and traffic juxtaposed with war relics from the devastating Vietnam War, a wealth of ancient temples and traditional markets. To make sure you do not miss any worthy places when exploring this bustling yet exotic city, check out Top Ho Chi Minh City's attractions, including:
Saigon Central Post Office
FITO Museum
Saigon's Chinatown (Cho Lon)
5. Where to stay in Ho Chi Minh City
Deciding where to stay in Ho Chi Minh City can be overwhelming since there is a wide range of hotels ranging from budget rooms to sumptuous suites. The best hotels are often located around Dong Khoi Street in the city center. Ho Chi Minh City's budget enclave centers around Pham Ngu Lao, De Tham and Bui Vien Streets, though there are some smarter options here, too. The area sits roughly 1km west of the city center, but is still convenient for visiting most city attractions. In addition, restaurants, bars and shops tend to be cheaper out here.
If you are looking for a luxury retreat in Ho Chi Minh City, you should consider staying in one of Top best 5-star hotels in Ho Chi Minh City for a truly memorable experience.