Ho Chi Minh Mausoleum – Solemnly Historic Attraction in Hanoi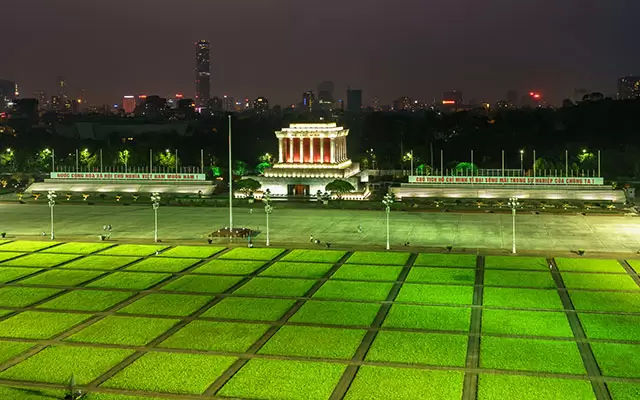 Ho Chi Minh mausoleum is a solemnly historic attraction in Hanoi – Vietnam's capital. It is the final resting place of Ho Chi Minh President, who has led Vietnam to independence and reunification. Both domestic and international visitors come here to express their admiration and gratitude towards him.
Construction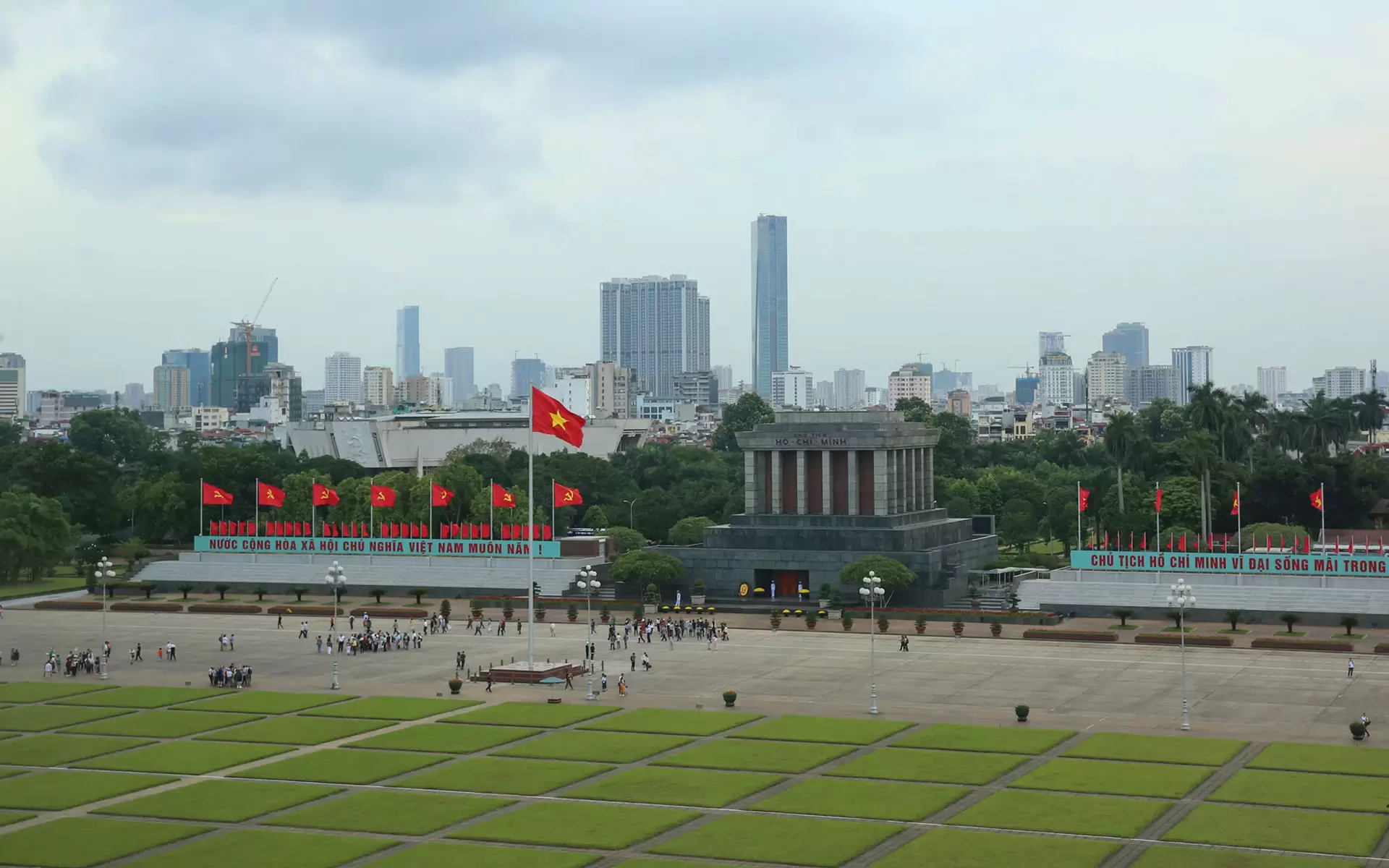 In Ho Chi Minh President's will, he said he wanted to be cremated and to have his ashes buried in the hills of the North, Central, and South of Vietnam. However, according to the earnest aspirations of the entire Party, the entire people and the entire army, the Politburo of Central Committee of the Communist Party of Vietnam decided to preserve his body and build the mausoleum.
Ho Chi Minh mausoleum was officially started to build on 2 September 1973 and completed on 29 August 1975. The building materials for construction were taken from many different places in Vietnam such as sand taken from Hoa Binh and Thai Nguyen Provinces, boulders from streams in Tuyen Quang Province as well as many other types of stones from Thanh Hoa Province, Non Nuoc Mountain in Ninh Binh Province, Thac Ba Lake in Yen Bai, Thay Pagoda in Hanoi…
External Design

Ho Chi Minh Mausoleum was the result of a close collaboration between engineers from Vietnam and the former Soviet Union. It takes some inspiration from Lenin's Tomb in Moscow but the layout and design clearly reflect Vietnam's culture and lifestyle. Vietnamese experts also had to change the materials to adapt to the tropical climate and condition in Vietnam.
The mausoleum is 21.6m high and 41.2m wide and consists of 3 layers: the 1st and 3rd layers are built in three-level pedestal style while the 2nd layer is the main part, supported by 20 stout granite-covered pillars.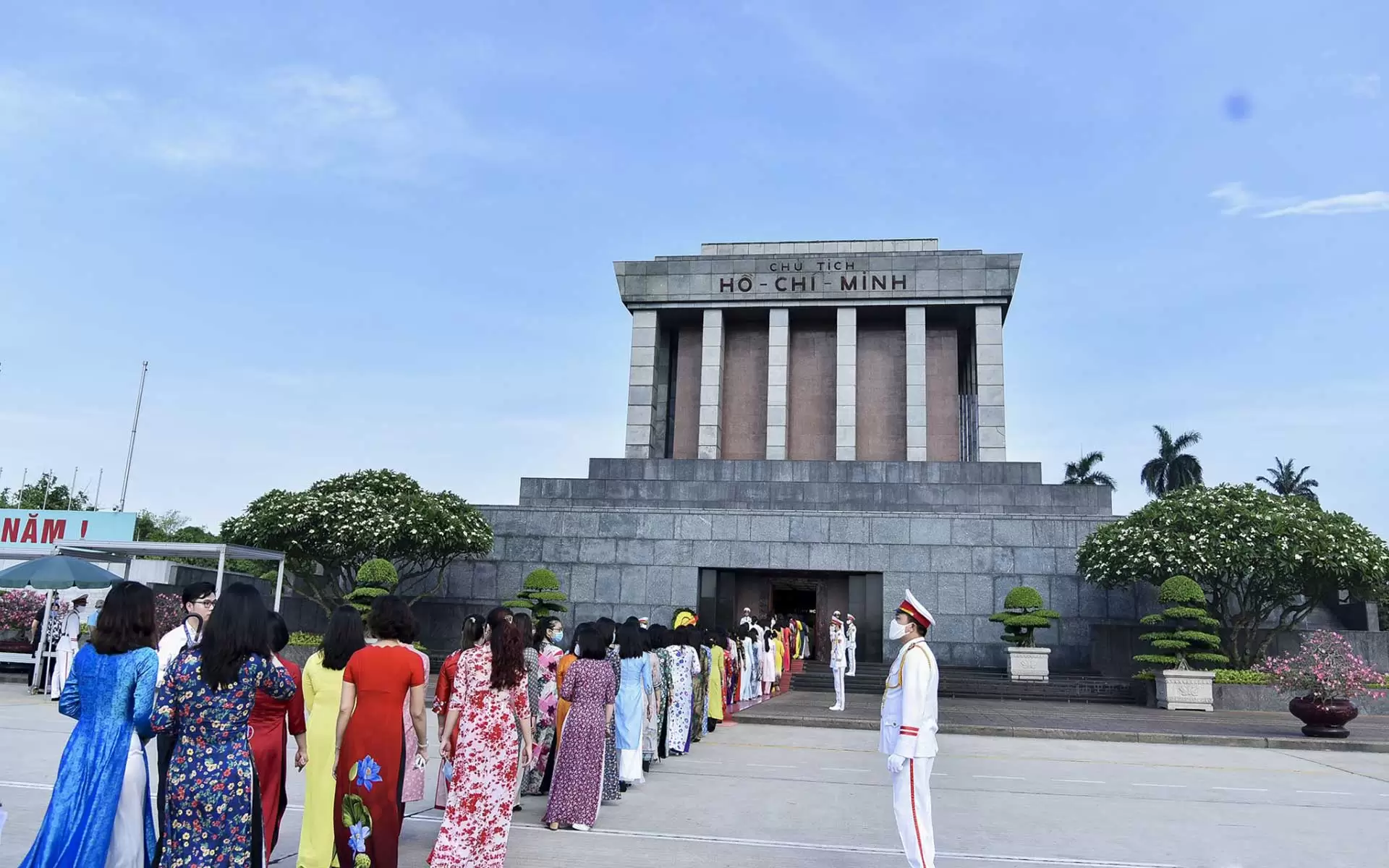 The words "Chủ tịch Hồ Chí Minh" (President Ho Chi Minh) were inscribed by dark red jade stone of Cao Bang province on the Mausoleum's portico, while the slogan "Nước Cộng Hòa Xã Hội Chủ Nghĩa Việt Nam" (State of the Socialist Republic of Vietnam Forever) is on the banner beside. There are 79 cycad trees in the back of mausoleum, symbolizing Uncle Ho's 79 years of life.
Internal Design

When you go inside, through the door, first you will see famous Uncle Ho's quote: "Không có gì quý hơn độc lập tự do" (Nothing is more precious than independence and freedom) stoned by granite with red and pink pattern highlights on the wall.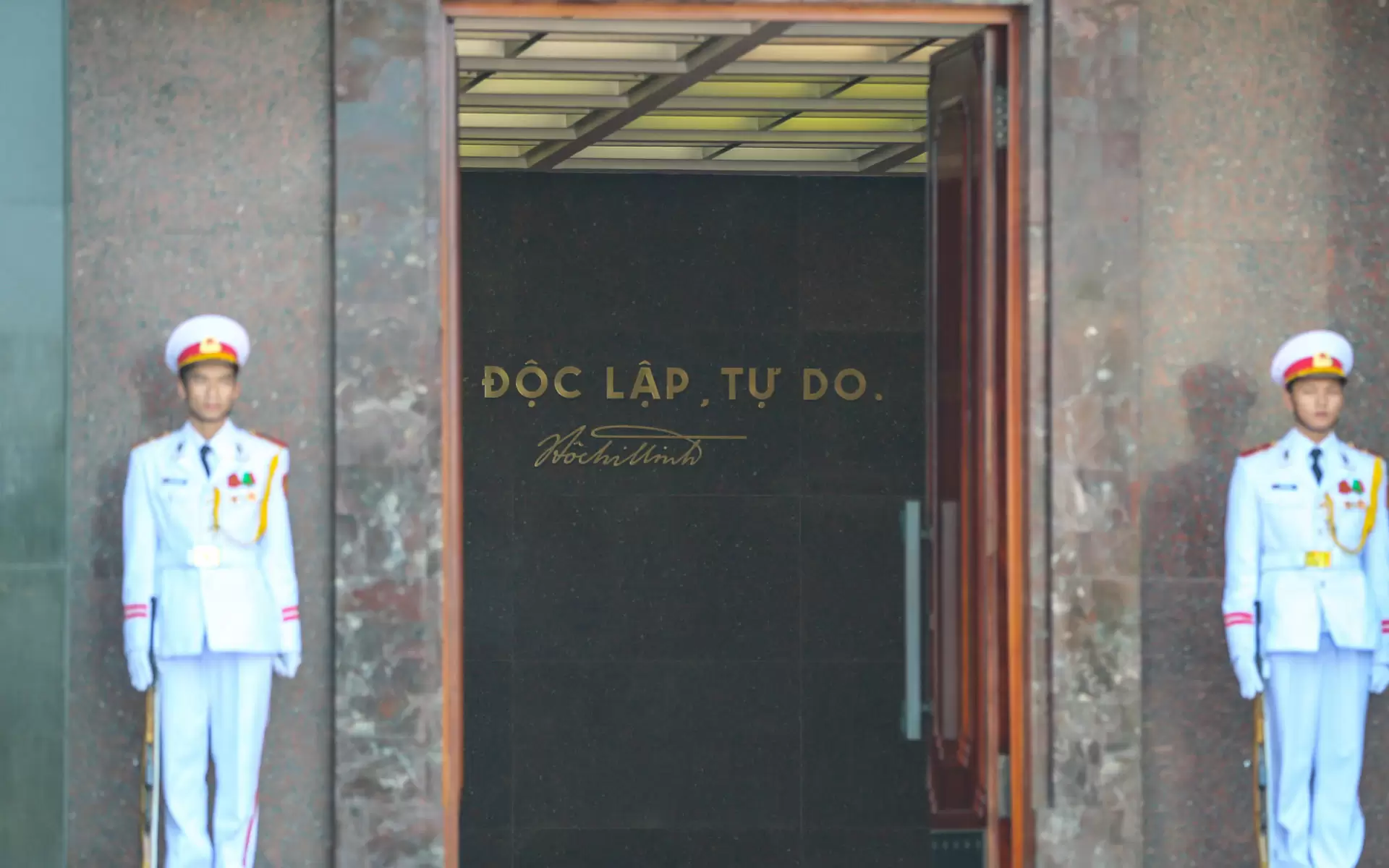 Following series of passages and flights of marble stairs, you will reach the central hall where the remains of the President are kept in a glass casket, in dim lights. This casket was the wholehearted artwork of many outstanding talented workers of both Vietnam and Soviet. The bed made from copper features lotus-shaped pattern. Three sides of the bed were made of toughened glass. Through the transparent glass, visitors can see President Ho Chi Minh in the faded khaki and his foot wearing a simple pair of rubber sandal.
Where is Ho Chi Minh Mausoleum located?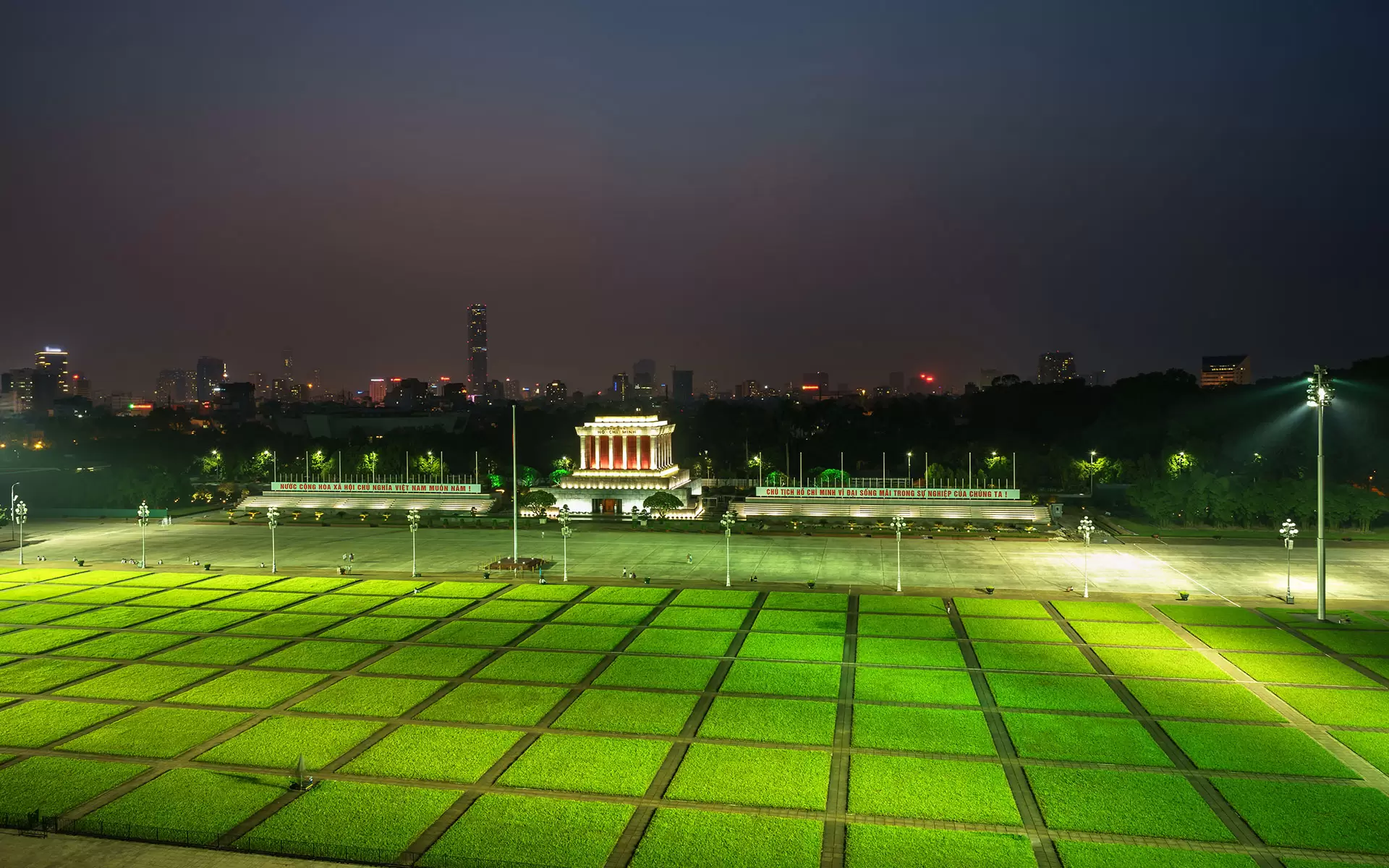 Ho Chi Minh Mausoleum is located in Ba Dinh Square (Hung Vuong Street, Ba Dinh District, Hanoi) where President Ho Chi Minh read the Independence Declaration, establishing the Democratic Republic of Vietnam (the current Socialist Republic of Vietnam) on 2 September 1945. This is Vietnam's largest square which composes of 240 patches of grass divided by intersecting concrete pathways.
Besides Ho Chi Minh Mausoleum, tourists can spend time to visit other attractions nearby including Ho Chi Minh Museum, the Presidential Palace, Ho Chi Minh Stilt House, One Pillar Pagoda…
How to get to Ho Chi Minh mausoleum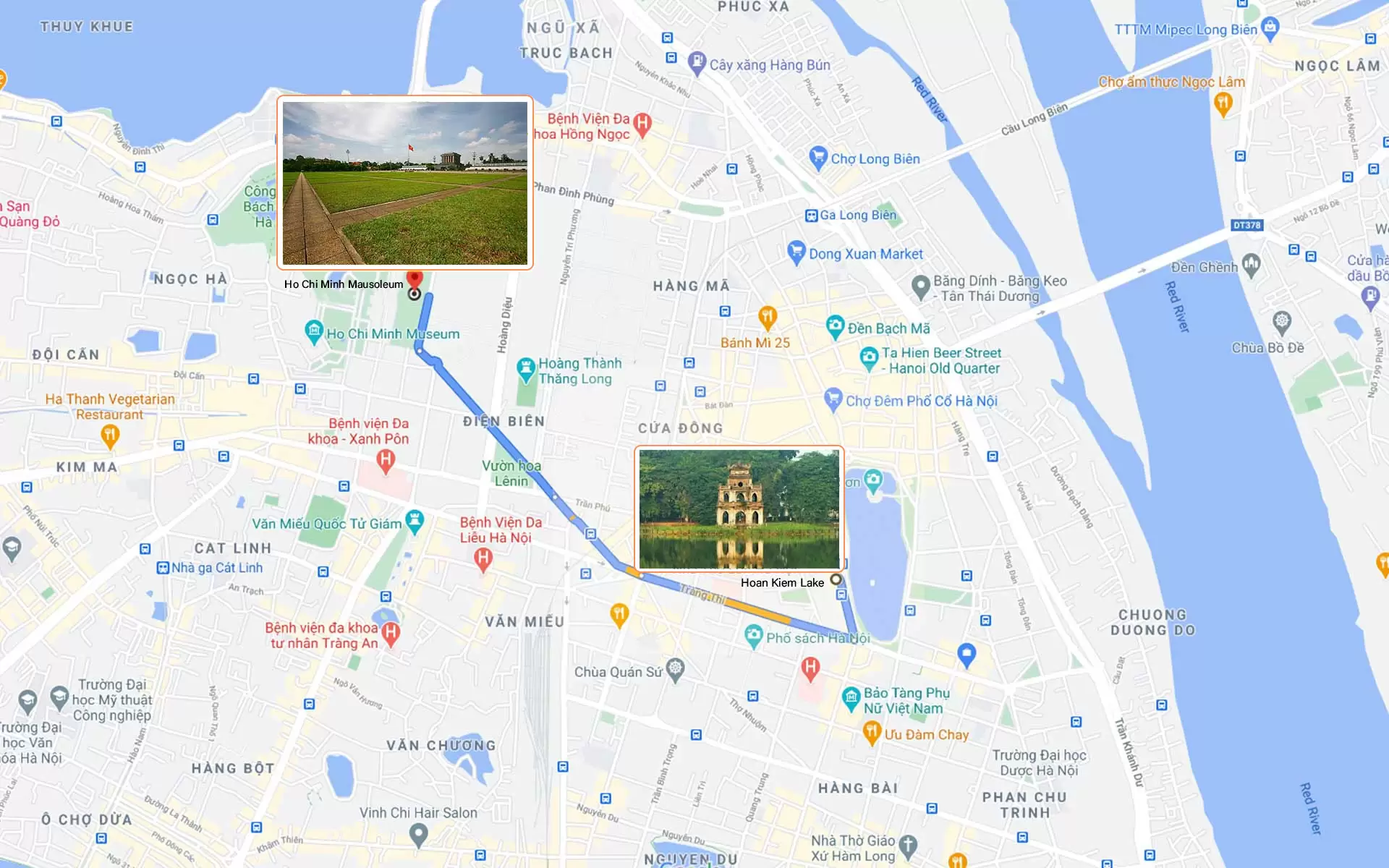 Just 5km from Hanoi Old Quarter, Ho Chi Minh Mausoleum can be reached by both private and public transportation.
The cheapest way is to take a bus #09 from Hoan Kiem Lake, which offers a stop at the Le Hong Phong road, just less than one-minute walk to the mausoleum. The ticket cost 7,000 VND/ person. You also can catch a taxi or motorbike taxi to get there, just pay a little more but it is faster.
If you are seeking for privacy, private car/ van is recommended. You should contact and book with local travel agency directly to get the good deal. A local experienced tour guide accompanying with you will give you more information and knowledge about the place.
Entrance Fee – Opening Hours – Dress Code
Visiting the Ho Chi Minh Mausoleum is free of charge but involves a set of strictly enforced regulations:
– Do not wear short skirts, tank tops or hats
– Be silent and walk in two lines slowly and steadily through the mausoleum
– Taking photos, talking, putting your hands in your pockets or finger-pointing are strictly prohibited inside the mausoleum
– Children under 3 years old are not allowed to enter the mausoleum.
Opening hours: 5 days per week, except for Monday and Friday
– Hot season (April – October): 7:30 AM – 10:30 AM
– Cold season (November – March): 8:00 AM – 11:00 AM
– Closed once per year in October and November for the maintenance.