Ba Dinh Square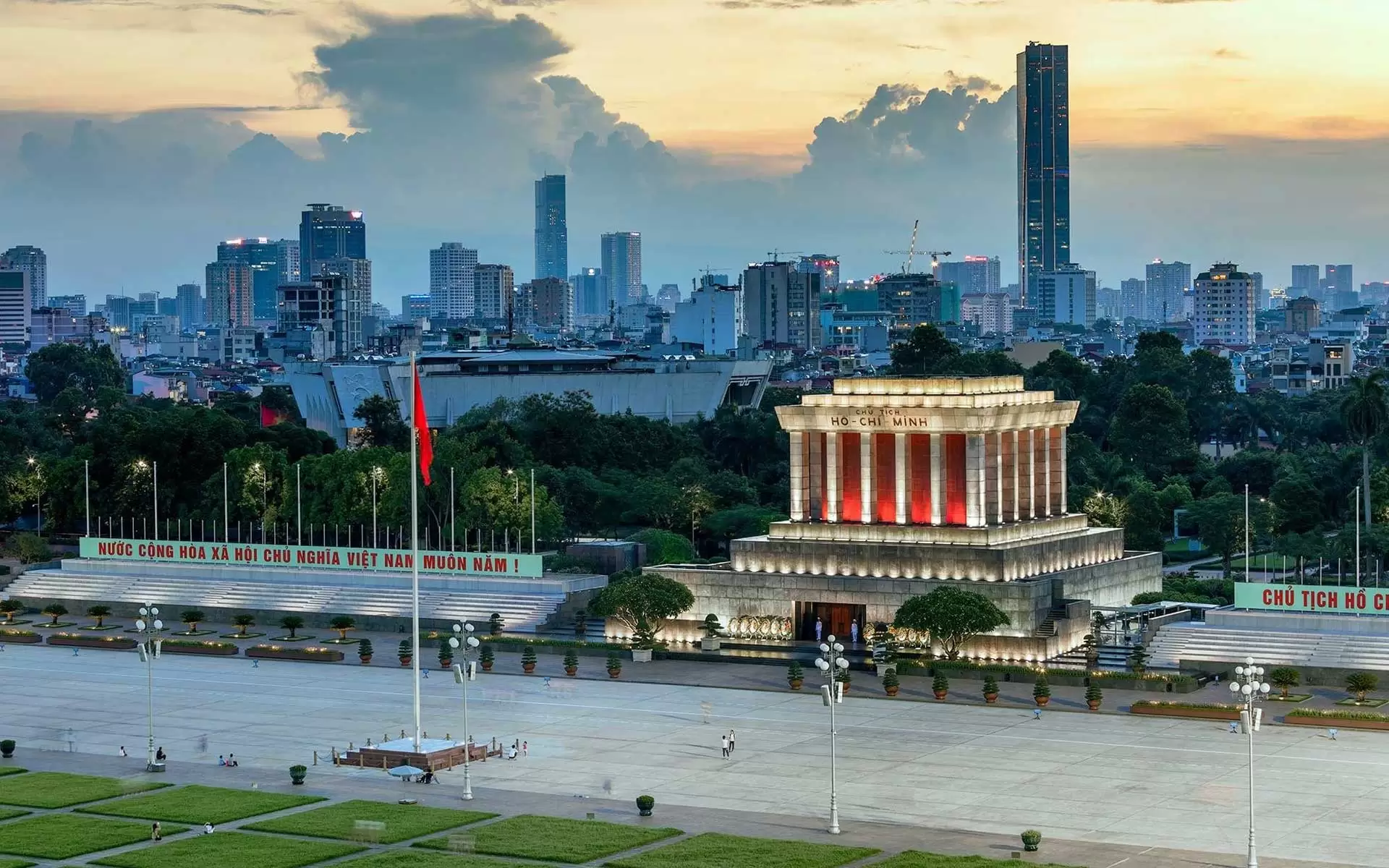 Located in front of the famous Ho Chi Minh Mausoleum, Ba Dinh Square is one of the popular historical relic sites in all Hanoi City Tour's itineraries. It is a place to recognize many important landmarks in Vietnamese history, especially on September 2nd, 1945, the President of the Provisional Revolutionary Government of Vietnam Democratic Republic Ho Chi Minh read the Declaration of Independence giving birth to the People's Democratic Republic of Vietnam. Below is everything you need to know for a visit to this lively and animated spot.
1. About the name of Ba Dinh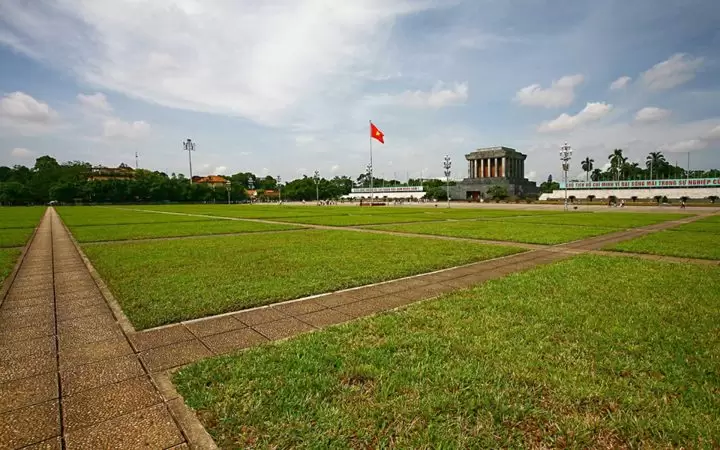 Each name in Vietnam has a meaning and Ba Dinh is not exceptional. "Ba" means three and "Dinh" means communal house. Now you may understand about its name but why people named "Ba Dinh" for this important place in the capital city of Vietnam? Originally, it is the name of a commune in Nga Son District, Thanh Hoa Province (about 135 km from Hanoi). There were three communal houses in three villages of this commune and from each of them, people could see the other two. It was the first place in Vietnam where local uprising against the French colonists took place. The square was named "Ba Dinh" in August 1945 by Doctor Tran Van Lai, the only Mayor of Hanoi, to commemorate that resistance to remind of the nation's brave history.
2. History marks
Originally, Ba Dinh Square was a western gate of Thang Long Imperial Citadel, a busy trading place with many craft villages. As the French came to Hanoi, they quickly turned this area into a political center of the Tonkin. As you can see today, there are many French architecture buildings around here, which used to be head companies and important offices under the French domination. In the early 20th century, it was rebuilt into the administrative center of Indochina by the French colony and named Round Point Pugininer or Puginier Garden (Le Parc Pugininer).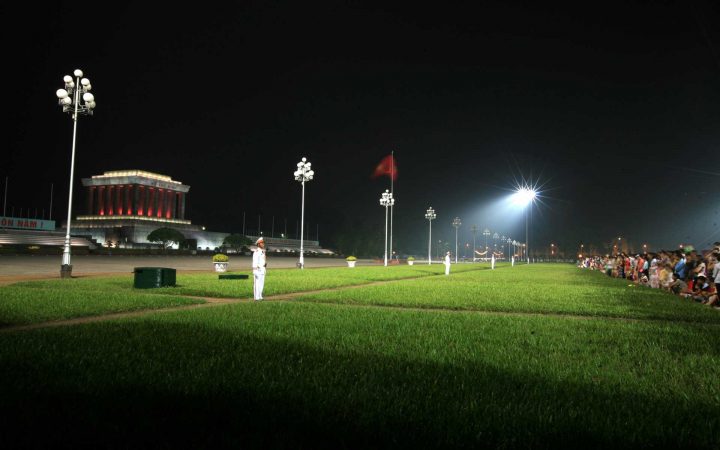 After Japan overthrew the French on 9 March 1945, Mayor Tran Van Lai decided to change the name to Ba Dinh Flower Garden to commemorate the uprising against the French colonists of Dinh Cong Trang resistance army in Ba Dinh, Nga Son District, Thanh Hoa Province (1886-1887). It was then called Independence Square or Ba Dinh Square after President Ho Chi Minh read Declaration of Independence there.
Ba Dinh Square was a historical witness of many momentous national events. The most important one was that President Ho Chi Minh read the Independence Declaration, establishing the Democratic Republic of Vietnam (the current Socialist Republic of Vietnam) on 2 September 1945. Half a million people from all social sectors, including workers, youth, educators, soldiers stood around Ba Dinh Square waiting for this historic moment.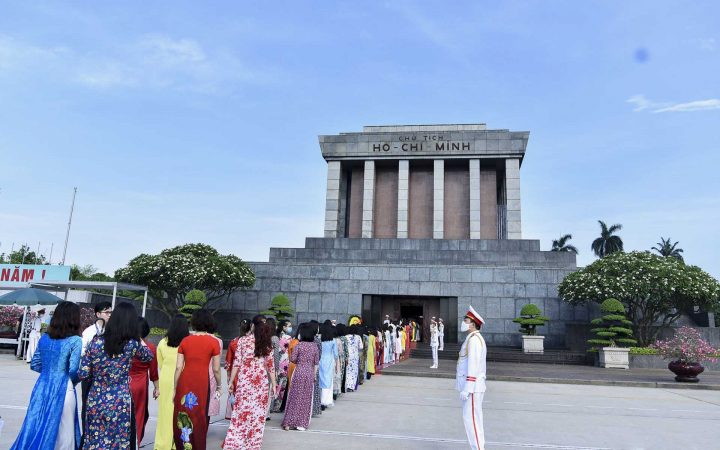 Also in this place, after the National Independence Day on 2 September 1969, the commemoration of President Ho Chi Minh was solemnly attended by thousands of compatriots and international friends. Then Ho Chi Minh Mausoleum was built in Ba Dinh Square, welcoming many domestic and foreign visitors every day.
3. Events and Activities
Ba Dinh is the largest square in Vietnam, with 320m in length, 100m in width, 210 grass plots and capacity of 20,000 people. There is a flag tower of 29m high in the square's center. Today, various national events, meetings, parades are organized at Ba Dinh Square. Especially, the flag raising and lowering ceremonies are taken place at 6 A.M and 9 P.M daily under the formal national rites. You may be surprised when seeing a lot of locals standing solemnly around Ba Dinh square to witness these solemn moments.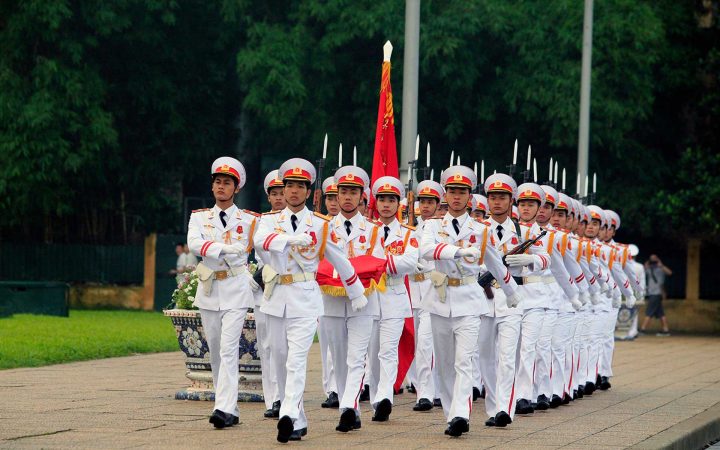 This is also a popular gathering place for the locals to enjoy sightseeing and strolling around. In additions, many attractive historical sites such as Ho Chi Minh Mausoleum, Ho Chi Minh Museum, One Pillar Pagoda… are located around Ba Dinh Square. So you can combine to visit these places in a half day or full day trip.
4. How to get to Ba Dinh Square
Ba Dinh Square is located on Hung Vuong Street, Ba Dinh District, 2.5km from Hoan Kiem Lake. You can get there by many ways such as public bus (#9A and #14), motorbike taxi, taxi, motorbike and private car. But it is recommended to book a private guided tour with a local travel agent to get better experience about the place.
Ba Dinh Square is always open for all tourists from 5 A.M to 10 P.M. No entrance fee is required. You should wear formal clothes covering shoulders and knees as this site adjacent to the Ho Chi Minh Mausoleum and it is always considered the political heart of Vietnam… Whether you want to explore the best of Ba Dinh, experience Hanoi like a tourist or follow the locals, ask Vietnam Travel's consultants to get more information for your trip.