9 Tourist Attractions You Definitely Want to Visit in Danang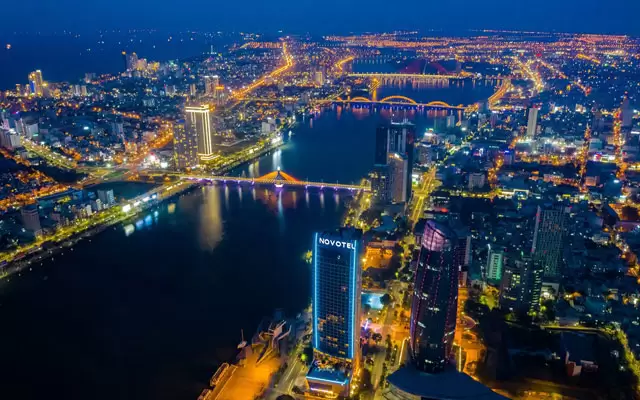 Danang in everyone's mind is the most dynamic coastal city in Central Vietnam with pristine beaches, rolling waves, luxury sea view hotels and resorts. This city was listed in the World's Top 10 Worth-living Cities in 2018 the famous travel magazine Live and Invest Overseas. The reasons for its fame come from many tourist attractions in Danang besides beautiful beaches, which will be revealed in this article. Let's dive into things to know about Danang – "the Miami of Vietnam", as the New York Time calls it, before visiting if you're not from Vietnam.
Top 9 tourist attractions in Danang, Vietnam
1. City of Bridges.
Till today, there are six bridges crossing Han River in the Danang City. We recommend four of them as "the symbol of Danang" only. The Golden Bridge (Cau Vang) or Bridge of Hands (Cau Ban Tay) is probably the most famous bridge of Vietnam you've heard about but we do not mention it in this paragraph as you will find its name together with Ba Na Hills Complex.
1.1. Han River Bridge – Vietnam's first swing bridge.
The construction of Han River Bridge lasted from 1998 to 2000. Proudly, the bridge was designed and constructed by Vietnamese architects and workers. Its appearance plays an important part in facilitating transportation, promoting local tourism as well as boosting Danang's economic growth. The reinforced concrete structure is 487.7 meters long, 11.9 meters width; includes 11 spans; and 2 spans of stay cables with a total length of 122.7 meters.
The distinctive characteristic of Han River Bridge is that it is the first and unique swing bridge in Vietnam. Before the swing time of Han River Bridge, all vehicles are not allowed to cross the bridge. Every day, the middle part of the bridge rotates 90 degrees around its axis from 1 AM to around 4 AM. During this period, big ships can pass through the bridge and run along the river conveniently. In recent years, local authority turned the bridge as a local "specialty" so they adjusted bridge's rotating time into 11 PM – 12 AM on weekend (Saturday and Sunday) to satisfy almost tourists' visiting schedule.
* Location: connects Le Duan Street on the west bank to Pham Van Dong Street on the east coast.
1.2. Dragon Bridge – a new and iconic symbol of the City.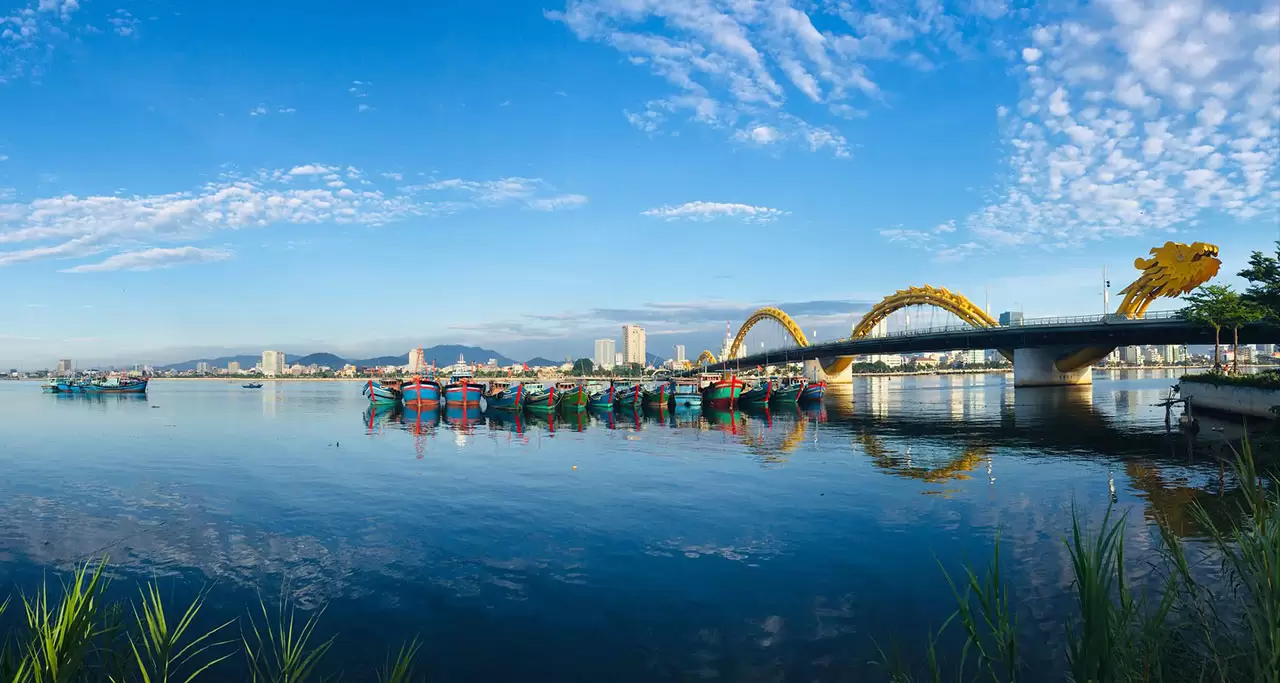 Dragon Bridge get its fame by its unique design of a golden dragon flying towards the sea with the architecture inspired by Ly dynasty. The bridge has become an iconic image of the City that visitors should not miss while in Danang. Officially being inaugurated on March 29, 2013, Dragon Bridge became the newest bridge among six bridges crossing over the Han River in Danang. The 666m long bridge offers six lanes for vehicles and two lanes for pedestrians crossing the Han River.

If you stay in Danang on weekend nights (Saturday and Sunday), they will be impressed by the dragon's fire breathing and water spraying performance on the bridge at 9 PM. Night time is when Dragon Bridge turns into a vivid dragon with a dazzling light effect created by 15,000 LED lights.

* Location: connects Nguyen Van Linh Street (Hai Chau District) to Vo Van Kiet Street (Son Tra District).
1.3. Thuan Phuoc Bridge – the country's longest suspension bridge.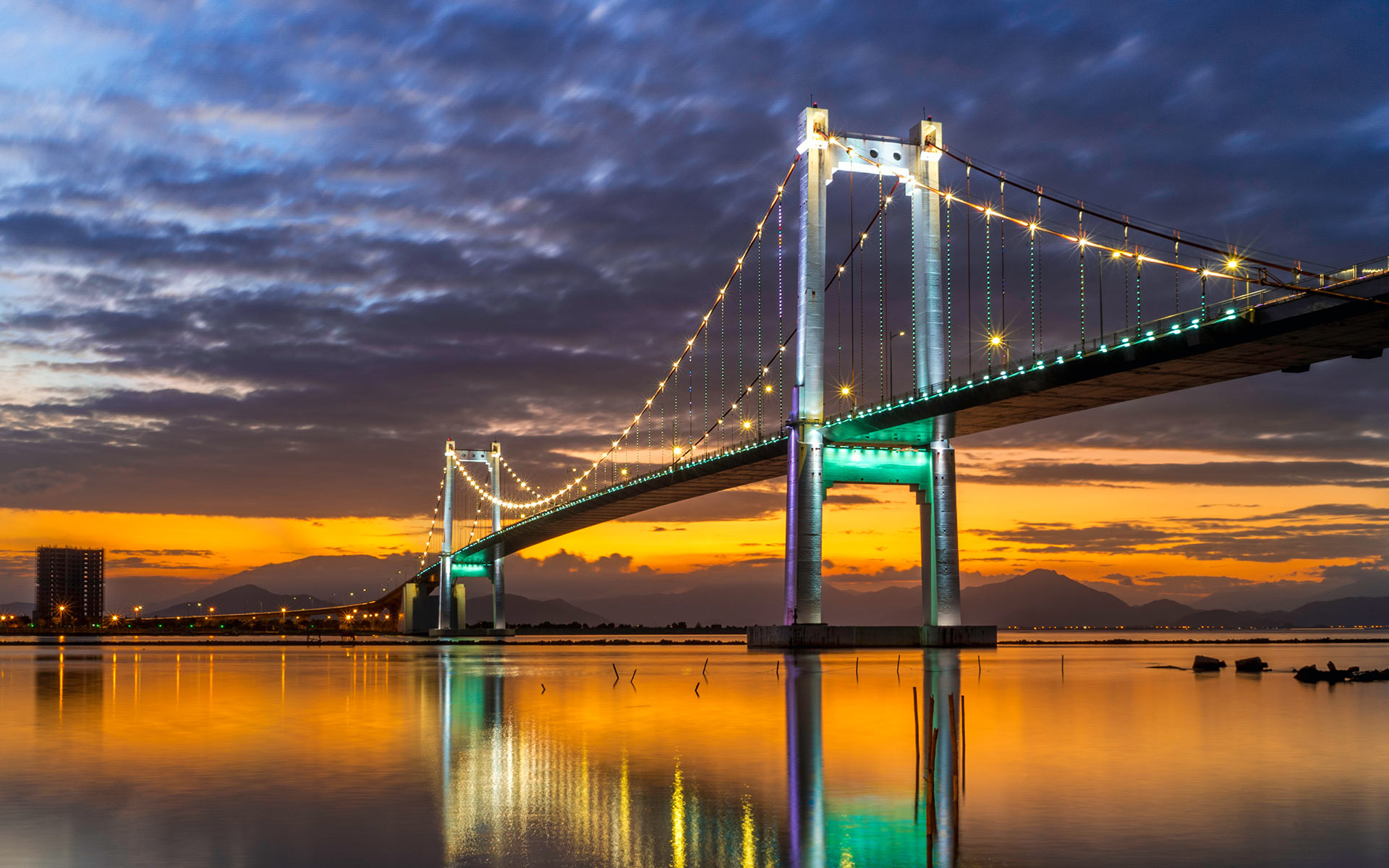 Thuan Phuoc Bridge connects the city centre of Danang with Tien Sa Port. Built in 2003 and finished in 2009, it is 1,856 meters in length, 18 meters in width, and 92 meters in height. This is one of the best ideal places in Danang to have an incredible city view at sunset. The bridge is the symbol of extending wings toward the sea, which means that Danang City attempts to expand internationally.
Thuan Phuoc Bridge lies at the end of Han River crossing Danang Bay and links with Son Tra Peninsula. It also connects Nguyen Tat Thanh Street with Truong Sa – Hoang Sa Street that are Vietnam's two largest coastal urban roads. Thuan Phuoc is one of the most popular bridges you should visit on your Danang vacation.
* Location: connects Nguyen Tat Thanh Street with Truong Sa – Hoang Sa Street.
1.4. Tran Thi Ly Bridge – a beautiful sail facing towards the East Sea.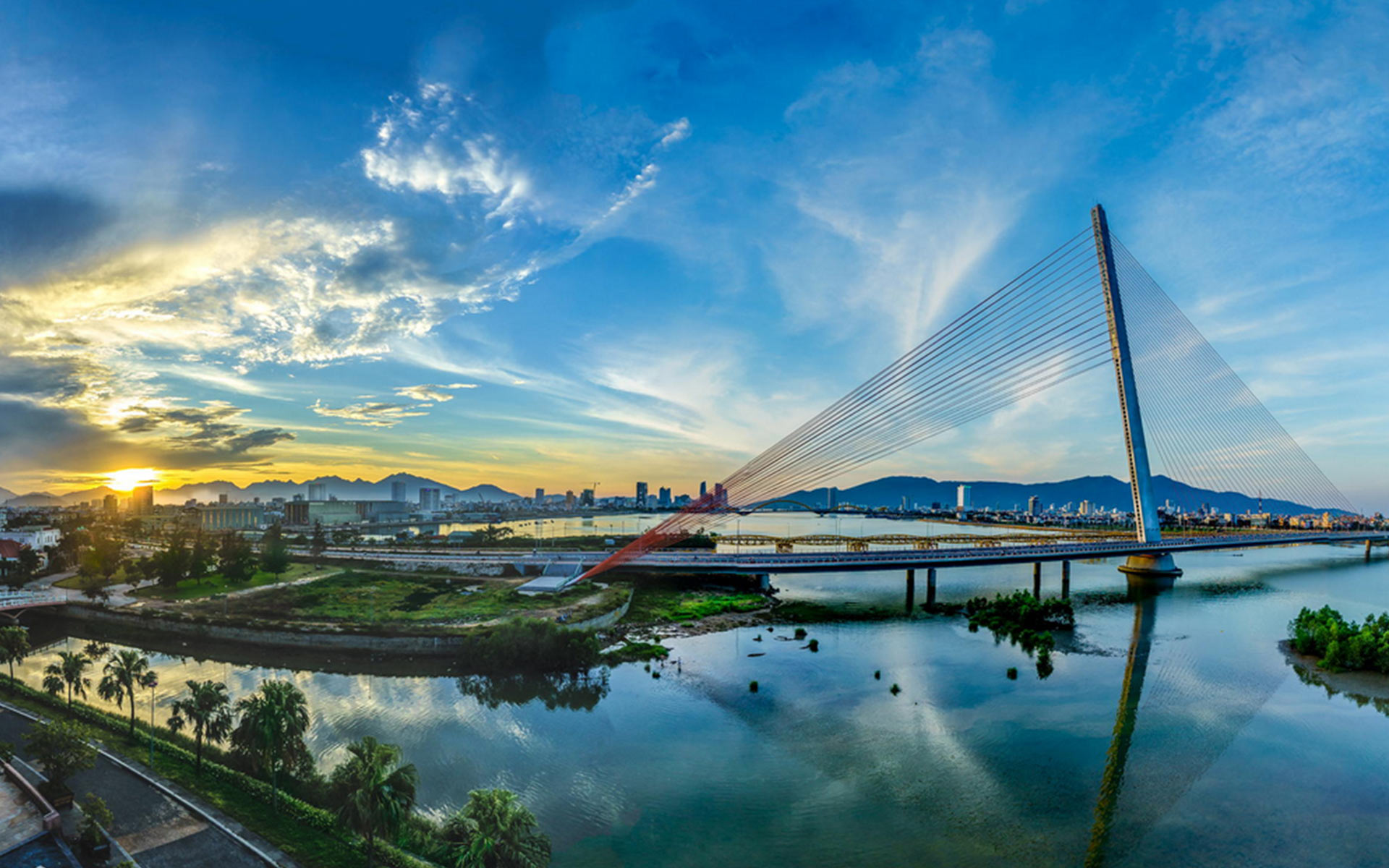 Tran Thi Ly Bridge was constructed from 2009 to 2013 to replace the two older bridges named Nguyen Van Troi and Tran Thi Ly. Located about 1km south of the Dragon Bridge, the cable-stayed bridge forms an upside down capital "Y" with its suspension cables, and looks like a giant sail filled with wind and facing towards the East Sea. Therefore, Tran Thi Ly Bridge is the symbol of Danang City's inspirations to develop further in the future.
This 731-meter bridge possesses one of the most unique architectural styles of bridges in Vietnam. The 145m-high, backwards-leaning single tower is a striking feature of its design. Under the pylon are one of the largest bearings to be used in bridge structures in the entire world. The bridge's lighting system applied newest techniques with changing colors of the pylon and deck of the bridge at night time. For these reasons, Tran Thi Ly Bridge has emerged as an ideal place for tourists and residents to visit and take pictures.
* Location: connects 2/9 Street and Nguyen Van Thoai Street.
2. Son Tra Peninsula & Linh Ung Pagoda.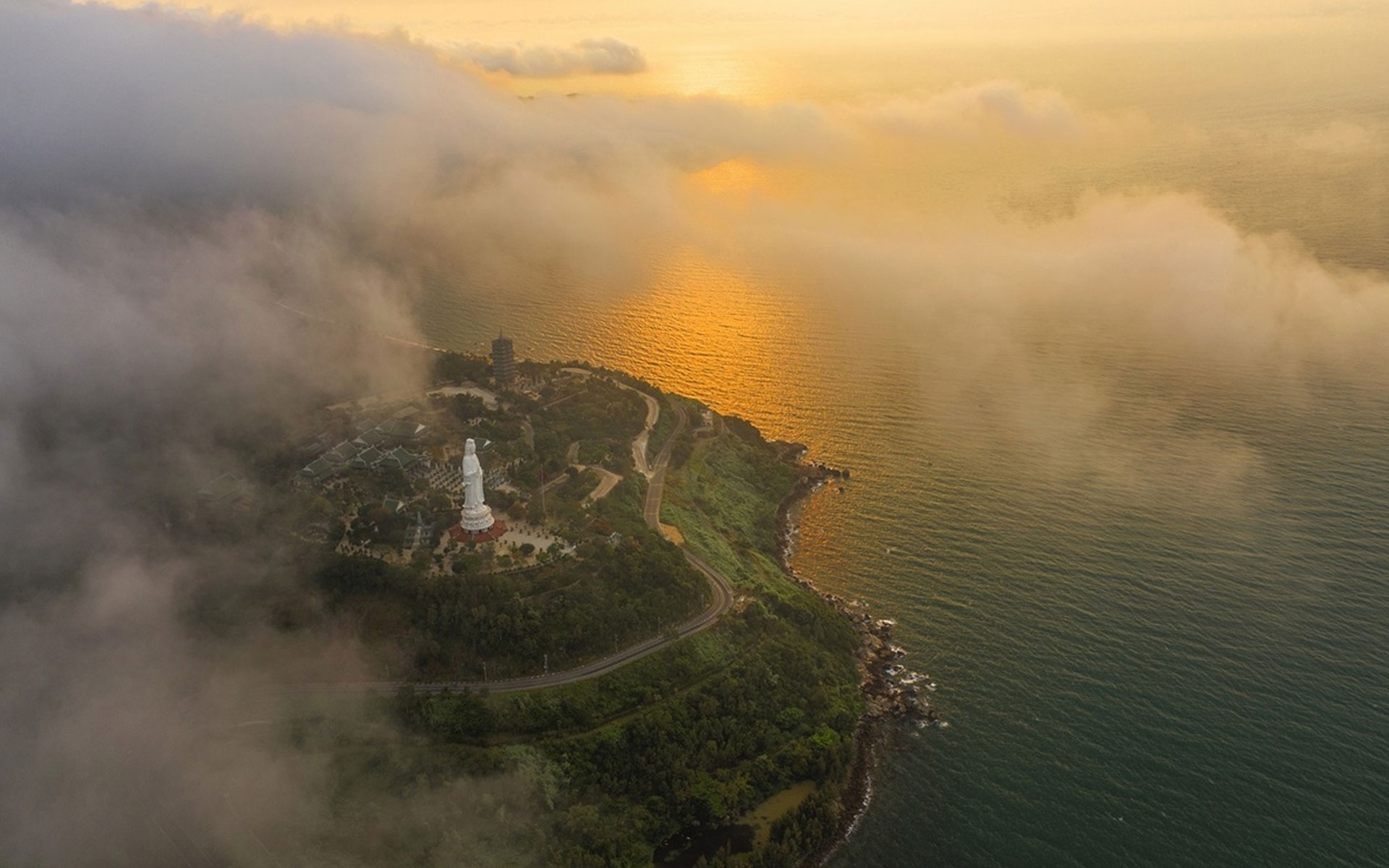 Located 10km northeast from Danang City and at 693m high above sea level, Son Tra Peninsula is famous for its long and white sandy beaches, primeval forests and sacred spiritual sites. With its sea-oriented appearance, Son Tra and mighty mountain ranges of Hai Van embrace Danang City and Danang Bay, also perform as a giant wall protecting Danang from storms and cyclones coming from the sea. Nature lovers will surely be impressed by the diverse fauna and flora system in Son Tra. With more than 30km² of natural forests, nearly 300 types of plants and several hundred kinds of fauna, including animals listed in the Red Book, Son Tra Peninsula was recognized as a Special Conservation Area in 1980 and Son Tra Nature Reserve is strictly protected.
If tourists seek for swimming, snorkeling and diving activities, there's no better place than Son Tra, which is surrounded by many beautiful pristine beaches like Bai Bac, Bai Nam, Bai But and Tien Sa beach. Just indulge yourself into the smooth sandbank and clear blue water at any above beach. Being the home for hundreds of coral species, sea grass, seaweed, mollusks, Echinodermata (starfish, urchins, etc) and plankton species, Son Tra Peninsula boats its name as an ideal place for snorkeling and diving tourism.
* Opening time: 6 AM – 9:30 PM
* Entrance fee: free
Linh Ung Pagoda on Son Tra Peninsula is considered as the conjunction between heaven and earth. Among three Ling Ung Pagodas in Danang, Linh Ung Pagoda on Son Tra is the the biggest, newest and the most attractive one. This magnificent artwork consists of the three-entrance gate, the main chamber and the ancestors' house; and represents a faultless combination of modern and traditional architectures of Vietnamese pagodas. The highlight of the pagoda is the 67m high Quan Yin Bodhisattva statue positioned on a lotus shaped platform. Each of 17 stories inside the statue has 21 Buddha statues with different shapes, facial expressions and postures. This well-known spiritual tourist attraction shouldn't be missed if visitors are on the way to explore Son Tra Peninsula.
3. Marble Mountains.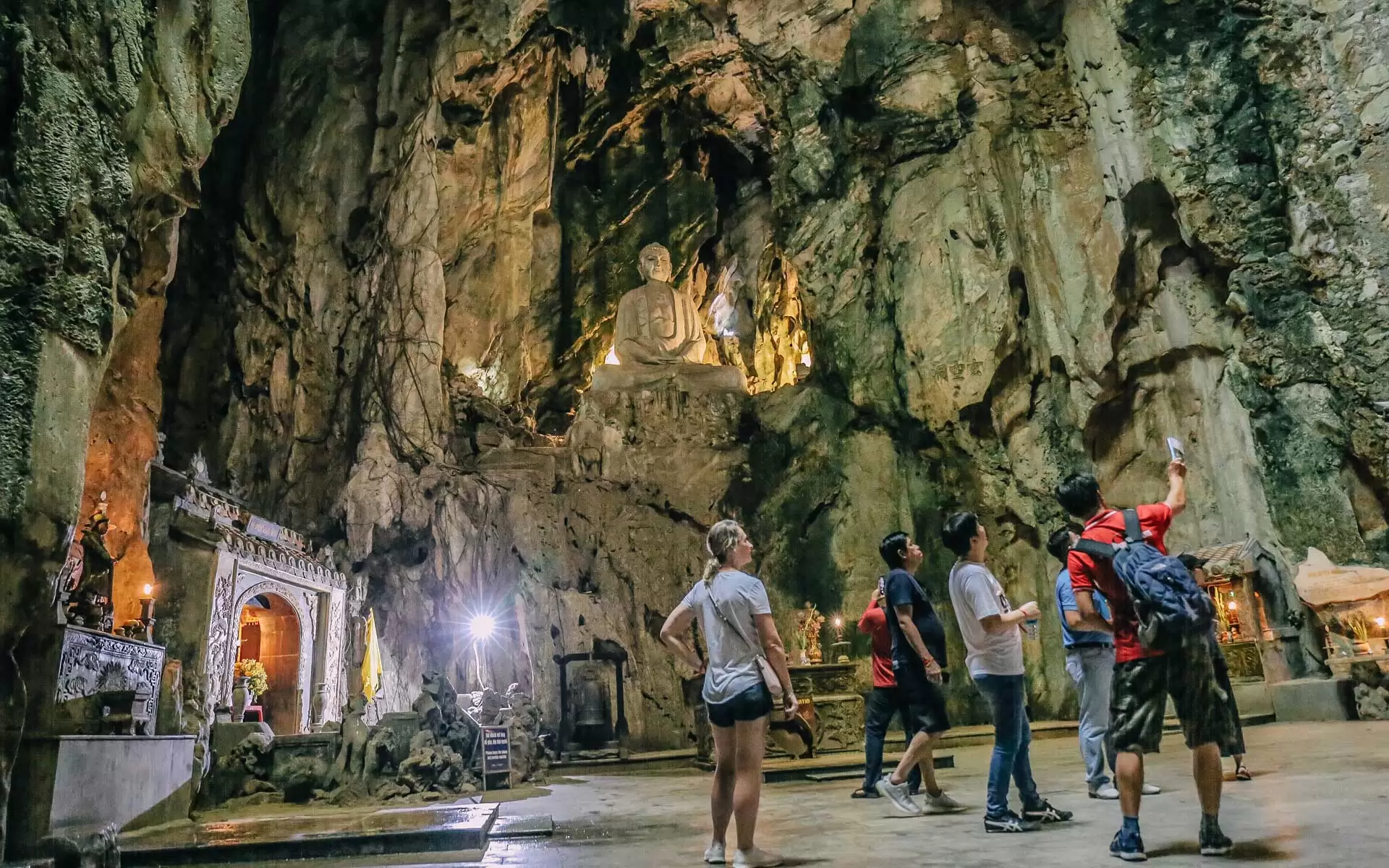 Marble Mountains are located about 8km southeast from Danang City center, along the coastal road between Danang and Hoian. The Marble Mountains are a cluster of five limestone and marble outcrops. Even not as massive as huge mountains, Marble Mountains' height are still impressive in comparison with the flat floodplains of the surrounding areas. Initially, these mountains were worshipping sites of Cham peoples in Central Vietnam. After that, Buddhist followers built shrines and temples at mountains' summits and in the caves. In 1825, King Minh Mang named the mountains as "Ngu Hanh Son" with five elements in Eastern Philosophical thought: Kim (metal), Tho (earth), Moc (wood), Hoa (fire), and Thuy (water). "Marble Mountains" was given by French geologists because they found out that the mountains were comprised of marble during the French colonial period.
Among the five mountains, Mt. Thuy Son is the largest and the most beautiful ones. To reach the mountain top, tourists can take a natural stone stairway or a glass elevator. With the highest summit, it offers a stunning and panoramic view of the coast, Danang City, and surrounding areas.
* Opening hours: 7 AM – 7 PM.
* Entrance fee: 40,000 VND/ person.
4. Museum of Cham Sculpture.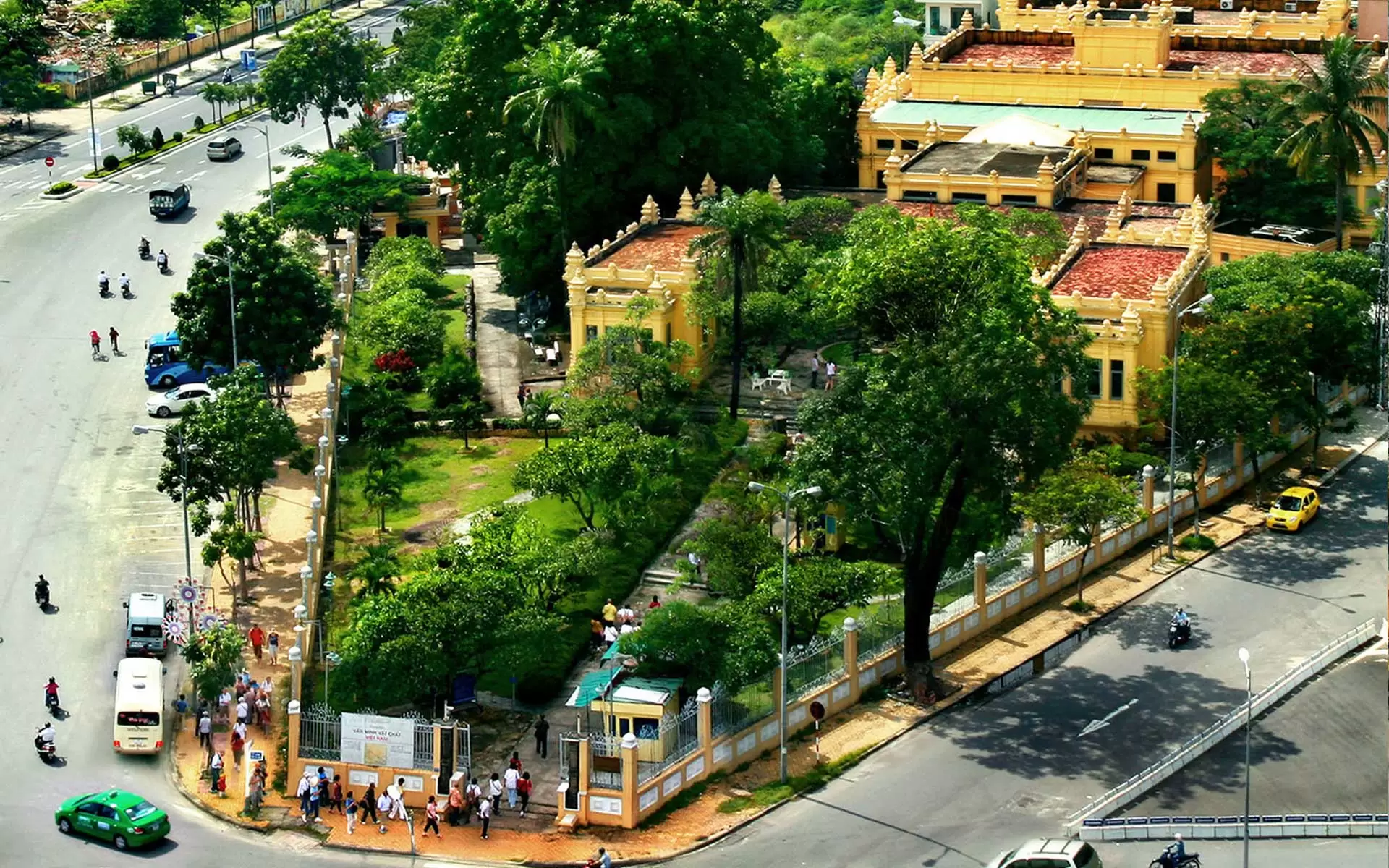 The Cham Pa (Champa) were a group of pioneers that occupied a territory in today's Central and South Vietnam from 192 A.D to 1697. During this period, they built temples and towers with unique Cham motifs and Hindu-flavored architectural styles. The Museum of Cham Sculpture in Danang houses the largest exhibition of Cham sculpture in the world, with almost 300 original sandstone sculptures and some baked clay products ranging from the 7th to the 15th centuries, and collected from the temples and towers that lie scattered from Quang Binh to Binh Thuan in Central Vietnam. The exhibits are statues, embossments, images, and patterns displayed in 10 rooms named after the places where they were found.
The museum was firstly established in 1902 by French archaeologists and experts from L'École Francaise d'Extrême Orient (EFEO). Then the museum has been expanded twice, in the mid-1903s and in 2002, which resulted in more spaces for display, storage, a library, a restoration workshop and offices for staffs.
* Location: No. 2, 2/9 Street, Binh Hien, Hai Chau, Danang City.
* Opening hours: 7 AM – 5 PM.
* Entrance fee: 60,000 VND/ person.
5. Danang Cathedral.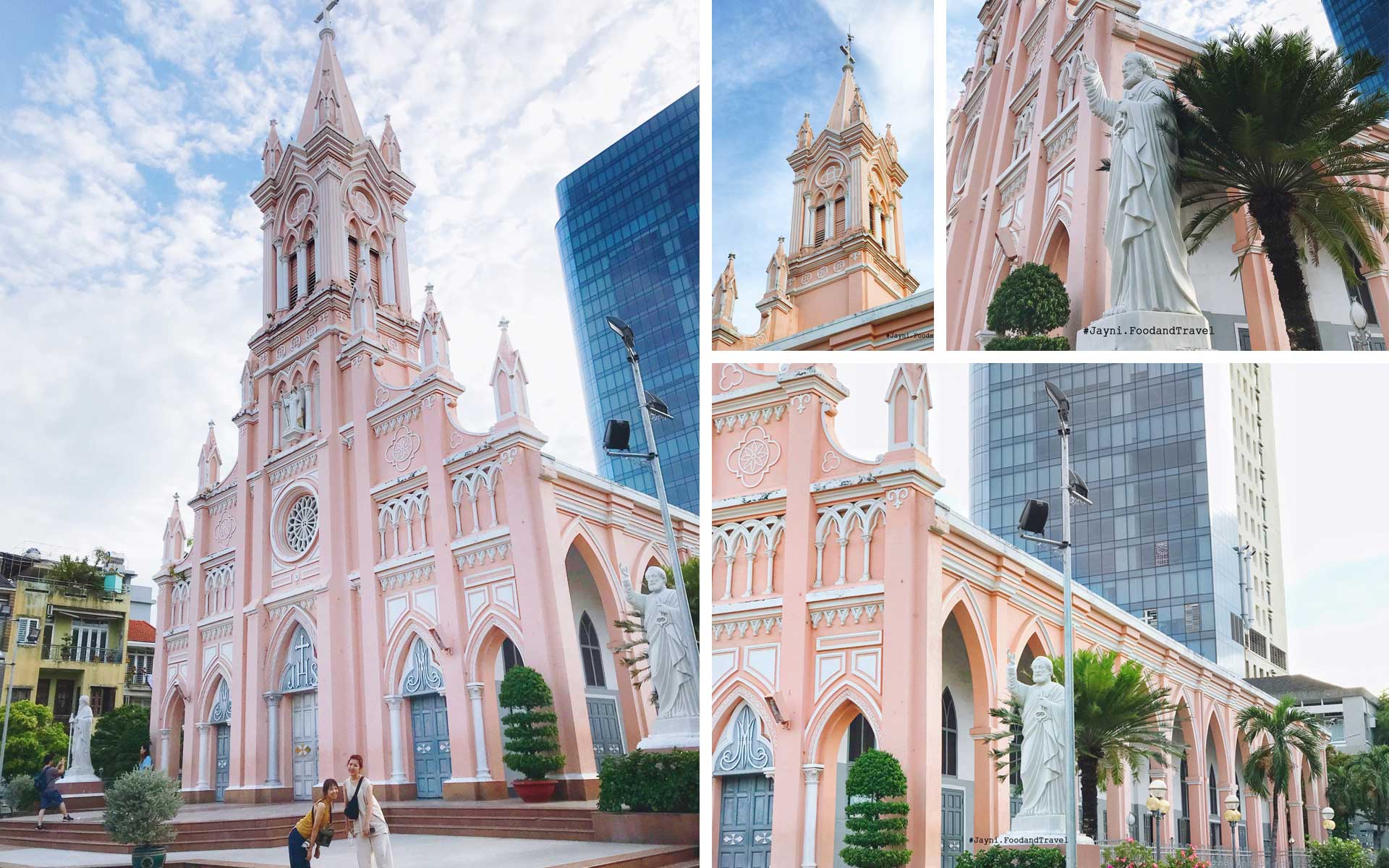 Danang Cathedral was built in 1923 by French priest Louis Vallet, and officially opened to public in March 1924 with the purpose of serving the French Catholics who lived in Danang at that time. And it was the only church built in Danang during the French colonial period.
At the height of 70m, the pink-painted cathedral was designed with Gothic architectural style, incorporating several medieval stained glass windows of various saints. A grotto of the Blessed Virgin Mary – a replica of the Lourdes Grotto in France, is set behind the church. Going inside the church, tourists can see holy pictures and statues illustrated the Bible events as Western churches' motifs.
Danang Cathedral is locally known as "Rooster Church" because there is a rooster weathercock sitting atop the imposing bell tower.
* Location: No. 156 Tran Phu Street, Hai Chau District, Danang City.
* Opening hours: 6 AM – 4:30 PM on Monday to Saturday/ 11:30 AM – 1:30 PM on Sunday.
* Mass time: 5 AM & 5:15 PM on weekdays/ 5:15 PM on Saturday/ 5:15 AM – 8 AM – 10 AM – 3 PM – 5 PM – 6:30 PM on Sunday.
* Entrance fee: 60,000 free.
6. Bana Hills & Golden Bridge.
Bana Hills, located 42km west of Danang City, features breathtaking natural landscapes, lush green mountains, word-class amusement park and inspiring architectural constructions such as a fully-fledged French replica village, spiritual landmarks and, of course, the Golden Bridge – a worldwide phenomenon. Situated at an altitude of 1,487m on the Nui Chua mountain, Bana Hills used to be a hill station founded in 1919 and was invested to become a leisure holiday destination for French colonists at that time.
Nowadays, it has been invested and expanded to become a top-notch recreational complex with the finest French architecture together with the most significant resort and exciting entertainments with official name as Sunworld Bana Hills.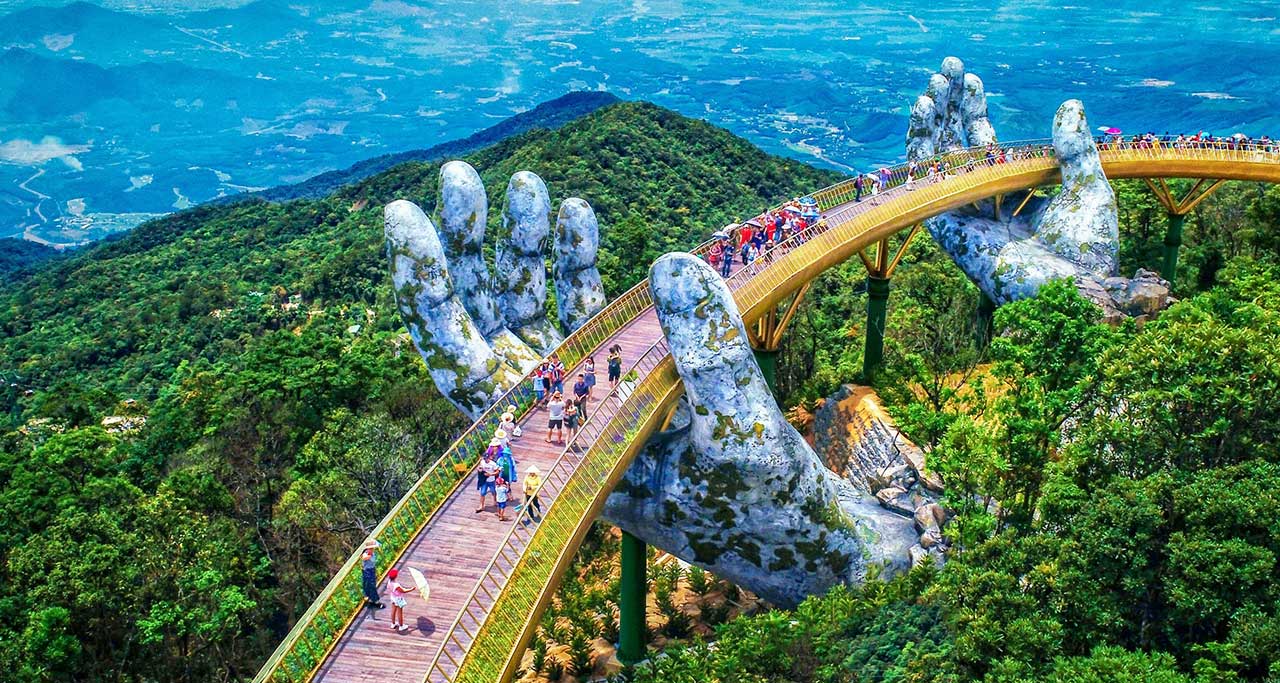 There are lots of things to do and see in Bana Hills but the most highlight is Golden Bridge. From its inauguration in Jun 2018, the bridge has attracted many tourists due to its marvelous unique design. The 150-metre-long pedestrian bridge is supported by two giant concrete human hands above the clifftops. In the midst of the forest, the bridge stands out in yellow and looks like a golden silk trip hiding in the clouds of Danang. The Golden Bridge was designed to connect Thien Thai garden to the French village and the Le Jardin D'Amour flower garden.
Other key sites are included in ticket to Sunworld Bana Hills:
– Le Jardin D'Amour Flower Garden
– 100-year-old Wine Cellar – Debay Wine Cellar
– The French Village
– Linh Ung Pagoda
– Fantasy Park
– Tru Vu Tra Quan Tea House.

* Opening hours: 7 AM – 10 PM.
* Entrance fee: 750,000 VND/ adult – 600,000 VND/ child (1m – 1m40).
7. Golf courses.
7.1. Montgomerie Links.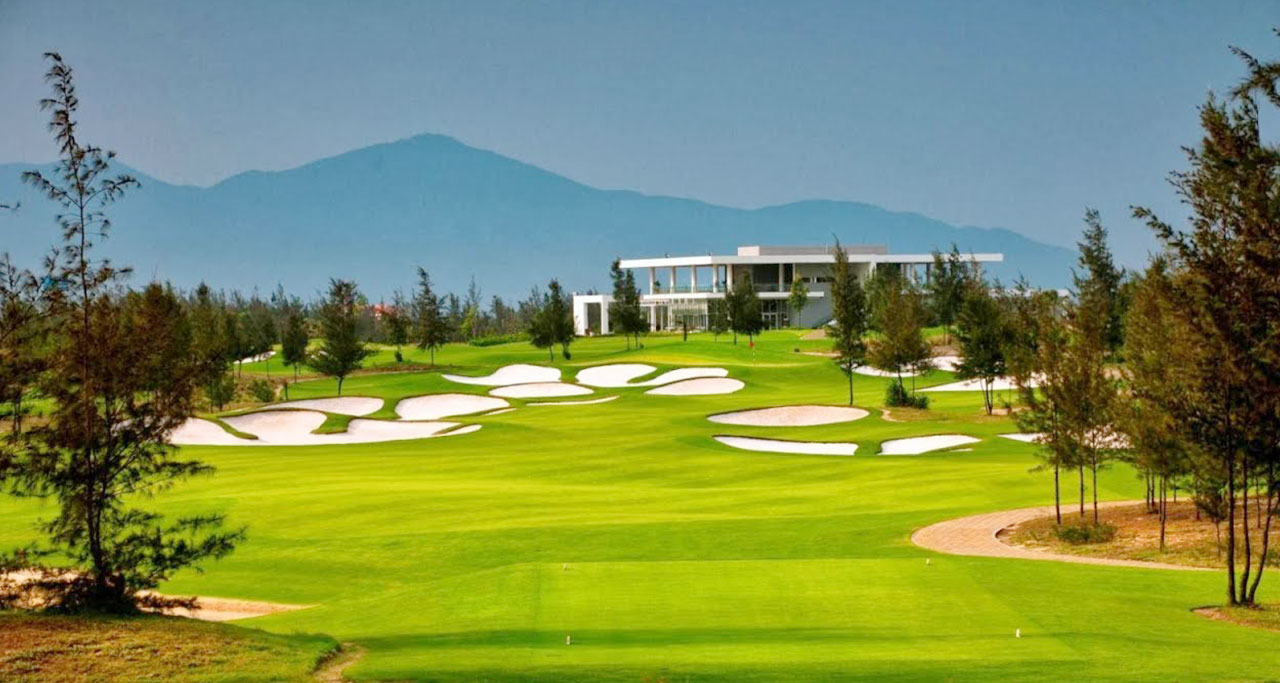 Located along the main road between Danang and Hoian, Montgomerie Links is an easy 20 minute drive from Danang International Airport and 15 minute drive to downtown Danang.
Created by golfing legend Colin Montgomerie, this stunning 7,090 yard – 72 golf course has outstanding natural features with the sandy soil, wind-blown dunes and indigenous vegetation. The course has been rated as one of Asia's ten most elite course by 2012 Forbes Travel Guide as well as voted as "Vietnam's Best Championship Course 2013" by the Vietnam Golf Magazine. Among the memorable holes are 7 and 13, a pair of par-4's with some of the deepest bunkers on the course. This is truly an international 5-star championship links style course that tees up challenging and enjoyable play for all levels of golfers from around the world.
7.2. BRG Danang Golf Resort.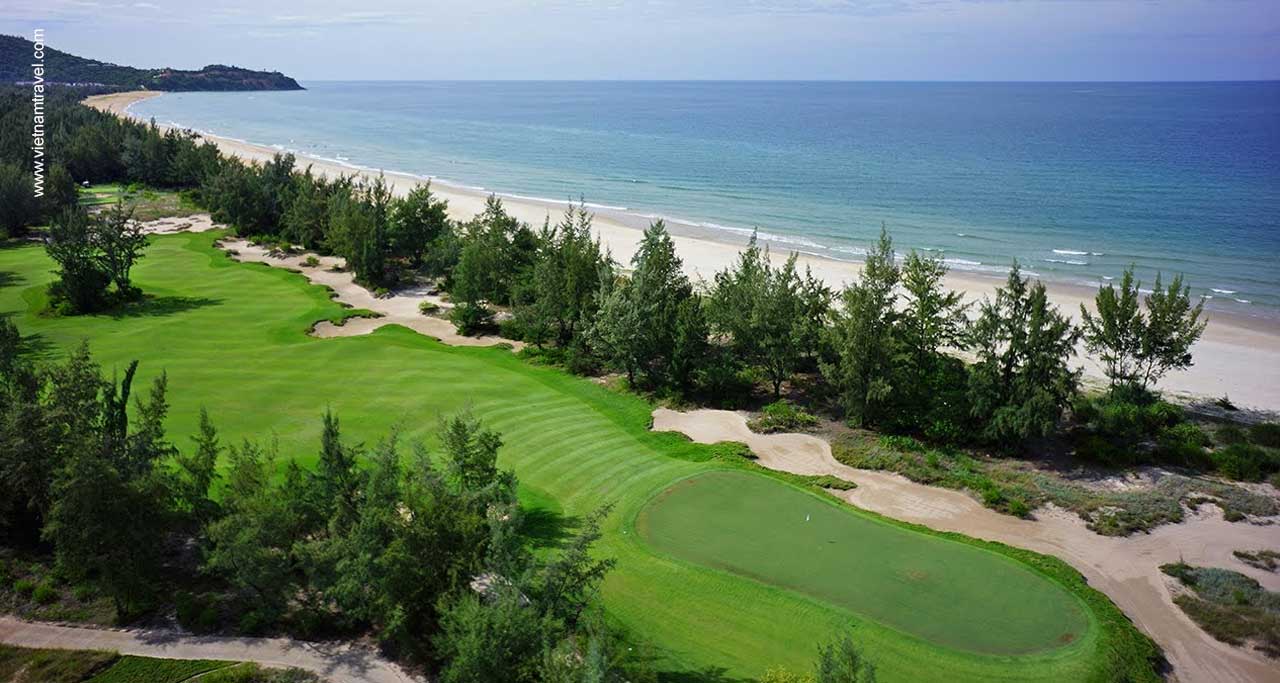 BRG Danang Golf Resort is situated on the fledgling central coast of Vietnam amid 150 hectares of dunescape similar to what the world's first golf courses were carved from. Greg Norman – Australian golf legend and former world No. 1, was designer of this golf course. He created a 7,160 yard, 18-hole, links-style layout in the true spirit of the game — blown-out bunkers, firm and fast fairways that bleed gently into wild seaside vegetation, rugged waste areas, swales and hollows. Fast and firm fairways and greens offering a completely different experience from the traditional Asian layout. For above reasons, this wonderful and authentic golf course was voted as one of the best new courses in the world.
7.3. Bana Hills Golf Club.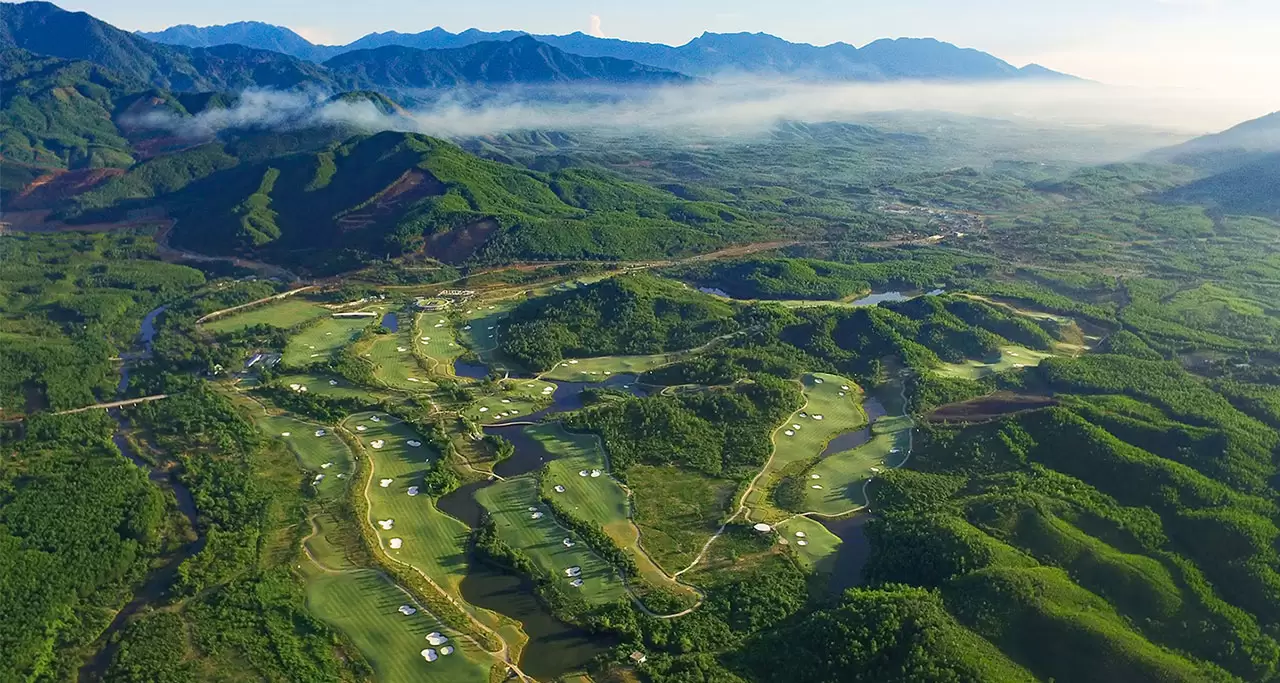 Bana Hills Golf Club, which was designed by Luke Donald and managed by IMG, is a world class golf course located at the foothills of the famed Bana Hills on Vietnam's central coast and less than 30-minute drive from Danang City center. Unlike other golf courses in the region, Bana Hills Golf Club is not near the coastal area but set among the most impressive mountain ranges and in a cooler setting typically void of wind. The par 72, 18-hole Championship golf course provides a balance of challenge, enjoyment and excitement to golfers of all levels and abilities with 5 sets of tees to ensure golfers of all standards a pleasurable round of golf. Ranging over 7,800 yards from the professional tees to 6,022 yards from the white, friendlier tees, a good variety and mixture of playing lengths makes every hole feel unique.
8. Traditional handicraft villages.
8.1. Tuy Loan rice paper making village.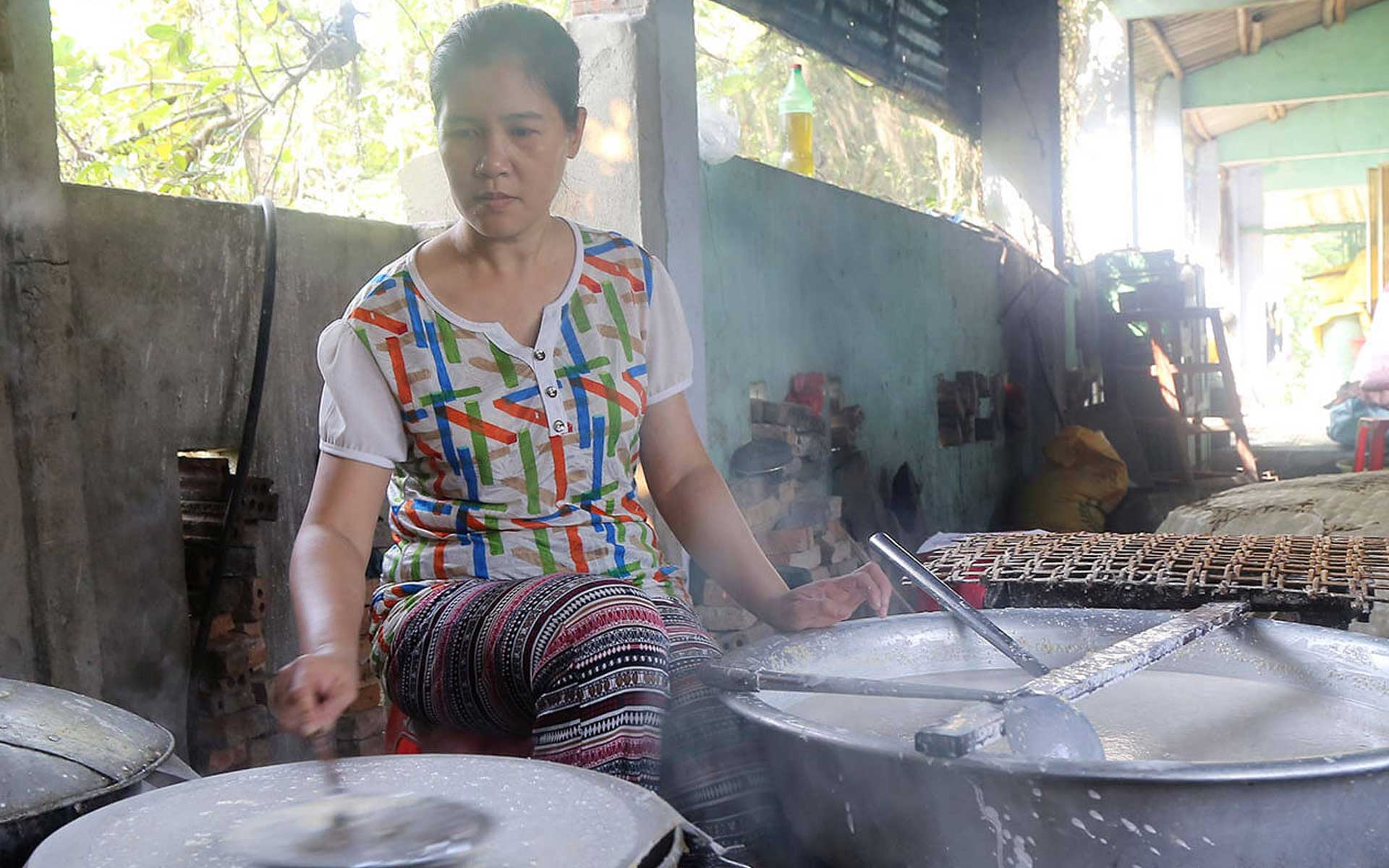 Located 14km southwest of Danang City is Tuy Loan ancient village (in Hoa Phong Commune, Hoa Vang District). With the history of over 500 years old, the village is home of many old houses and the unique characteristics of a typical Vietnamese rural village like: ancient banyan tree, communal house and water well. Beside the long history of cultural traditions, Tuy Loan ancient village attracts tourists by its traditional method of making rice paper and noodles. The rice paper and Quang styled noodles of the village have its very unique flavor that can't found anywhere else. The secrets lie into the special ingredient made by delicious scented rice from the winter-spring crop and various natural spices including dipping sauce, salt, sugar, garlic and sesame. Instead of using the sunlight, villagers dry rice papers by charcoal fired. It's will be an unforgettable experience to visit this ancient five-centuries village, learn how to make traditional rice paper and enjoy delicious dishes which accompanied by these special rice papers.
8.2. Cam Ne sedge mat making village.
Cam Ne sedge mat making village is situated in Hoa Tien Commune, Hoa Vang District, about 15km southwest of Danang City. As its name suggests, the village is well known for its traditional floral sedge mats. Cam Ne's mats were used in royal palace of Nguyen Dynasty and the mat making artists were honored and remunerated by the Kings.
To ensure the good quality of each mat, local artists carefully select the old palm trees which are straight, lightweight and strong to make reed and shuttle. Sedge and the fine knitting frame are used to produce a lot of flowered sedge mats of all measurements with attractive patterns to satisfy the requirements of any customer. Unlike sedge mats in other villages, sedge mats in Cam Ne village are thicker, stronger but softer. Lying on Cam Ne mats, you will feel cool in the summer and warm in the winter with the immaculate perfume of sedge.
8.3. Nam O fish sauce making village.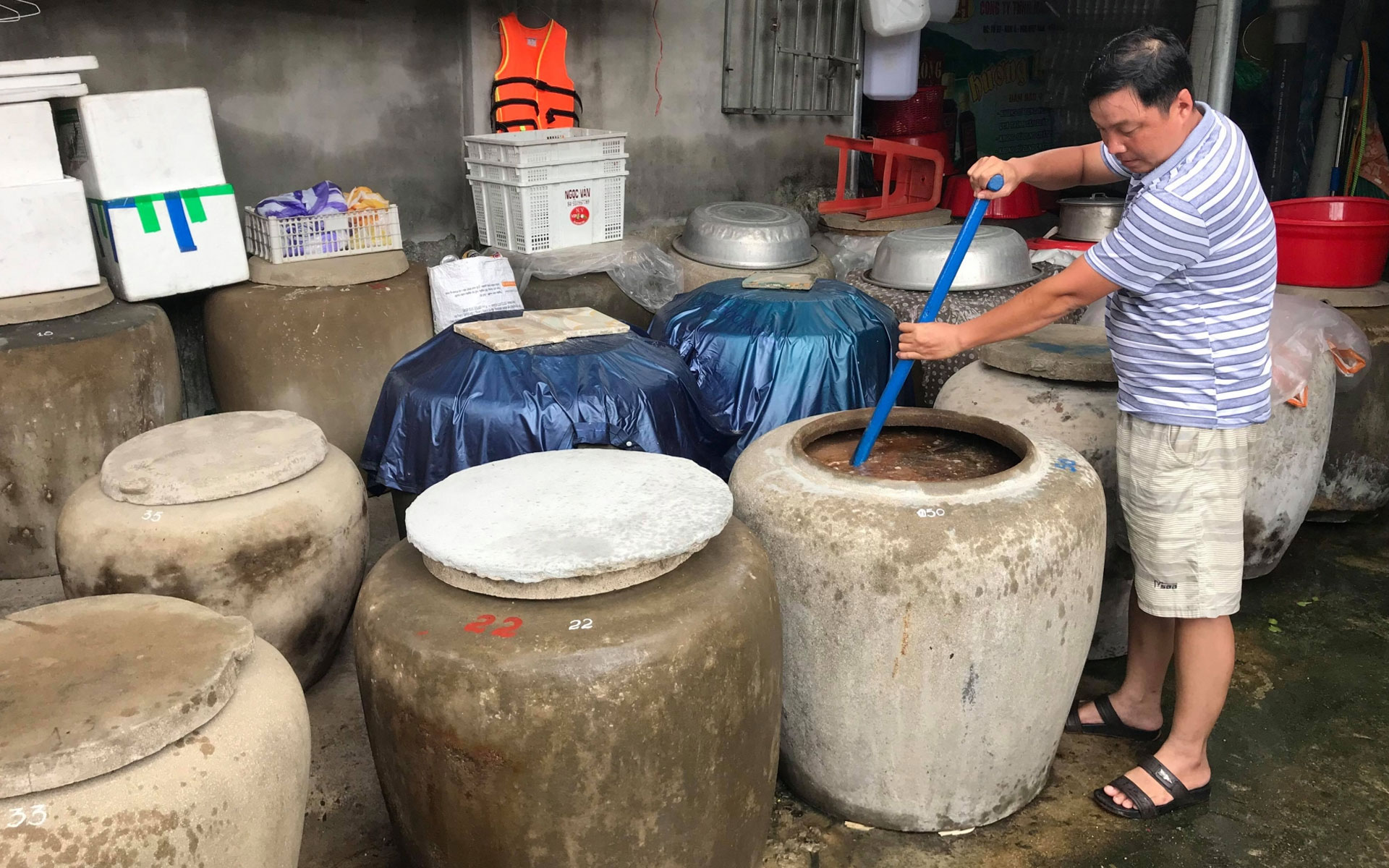 Nam O fish sauce making village was found in the early 20th century as a small fishing village at the estuary of Cu De River, at the foot of Hai Van Pass. Only 30-minute drive north west of downtown Danang City, the village is famous for the high quality of fish sauce and its long tradition of making that product with a history of more than 400 years.
Nam O fish sauce has its own special tastes, which originates from its main raw material – black anchovy. Local fishermen catch medium sized and long-jawed anchovies in the third lunar month, when they are in their high protein content. Then these fishes are fermented with salt obtained from Ca Na in Ninh Thuan to make top-notch fish sauce. Moreover, centuries-old traditional method of slow fermentation in vats made from jackfruit wood kept in a dark, dry, clean and cool place away from the wind to achieve the smoothest, richest, and sweetest flavor for Nam O fish sauce. Traditional method of making fish sauce in Nam O reflects the local identity and has been preserved from generations to generations. Therefore, it was recognized as a national intangible cultural heritage by Ministry of Culture, Sports and Tourism in 2019.
9. Beaches of Danang.
Staying in Danang, soaking up some sun and swimming on one of Vietnam's most beautiful beaches are must do. Many beach hotels and resorts that are being built here only prove how much tourism has recently flourished in the central part of the country.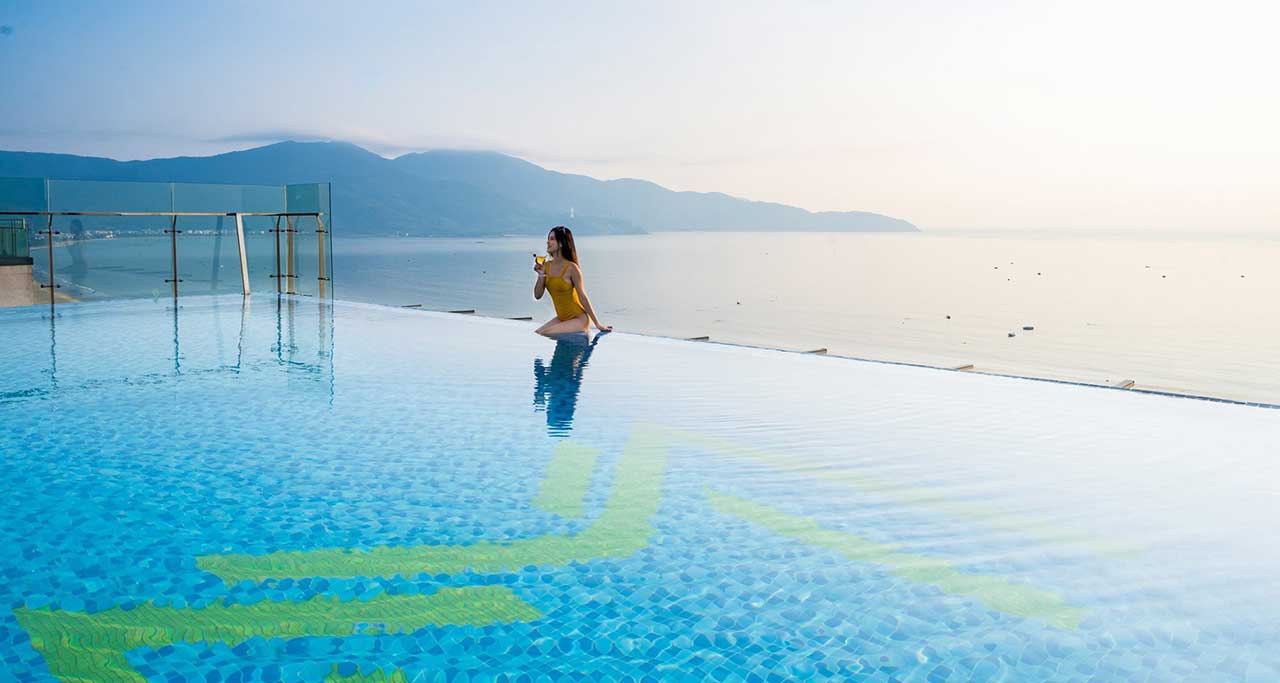 With the coastline stretching over 60 km from Hai Van Pass to Non Nuoc, Danang possesses numerous pristine beautiful beaches with white silky sand and crystal blue water. Pham Van Dong, My Khe, Bac My An, Son Tra, Non Nuoc Beaches name a few. Among these beaches, My Khe and Pham Van Dong are the most popular ones with both locals and foreign visitors. They are famous for white gentle slope sandbank, mild waves, clear warm water all year round and beautiful areas surrounded by coconut trees. Tourists can easily find hundreds of accommodation options from mid ranged budget to luxury international brand names, such as: Accor, Novotel, Marriott, InterContinental, Hilton, Sheraton, Pullman, Mercure, Melia, Hyatt, Sofitel, Wyndham, etc.
Those are the essential things to know about Danang tourist attractions before visiting. Discover the highlights of Danang locals love including white sand beaches, cultural landmarks, stunning parks and more today! If thirsty for more, contact Vietnam Travel to get instant support.