Things to do in Hoi An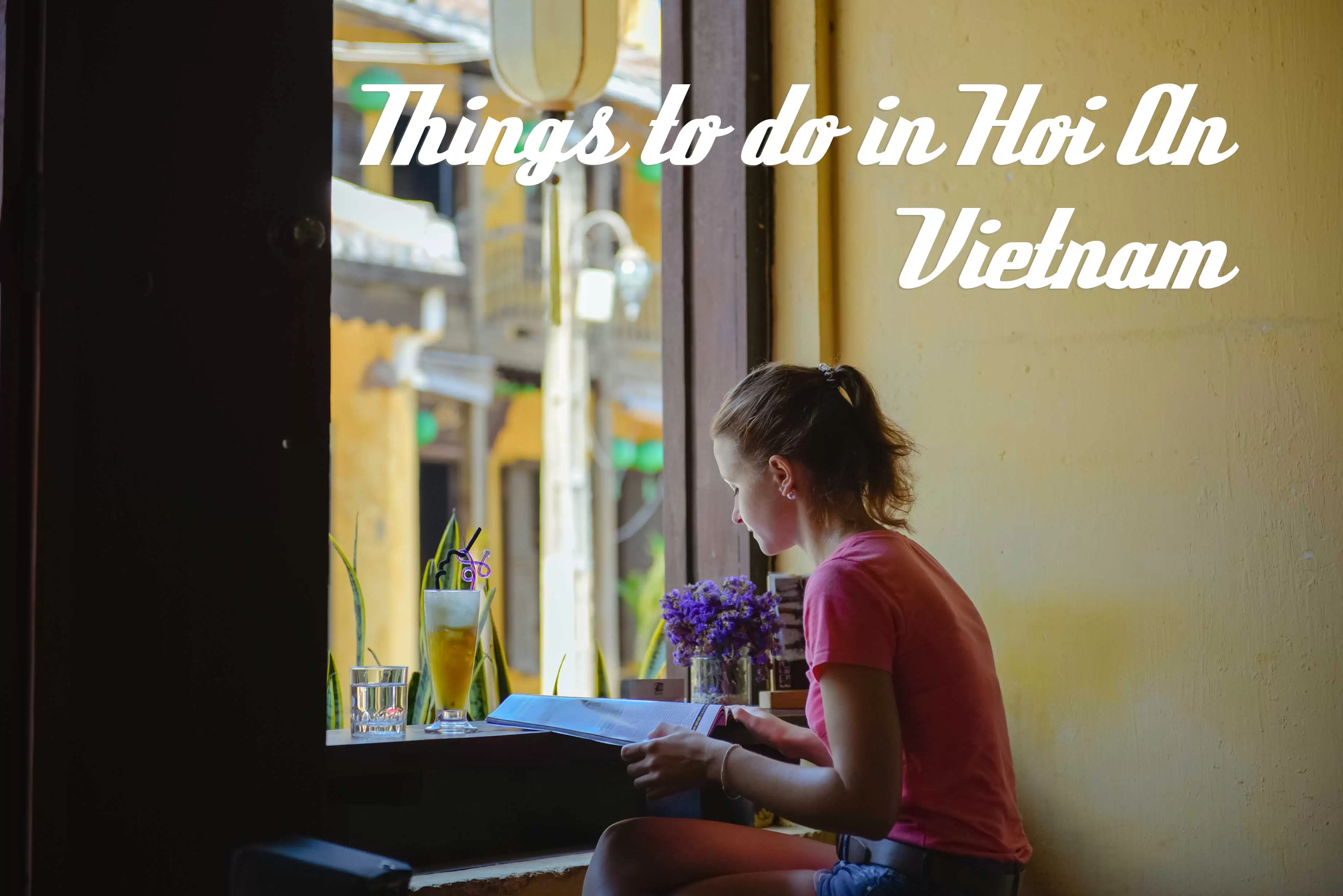 Being known as the prettiest and the most romantic destination in Vietnam, Hoi An has attracted a huge number of not only domestic tourists but also international travellers every year. The Old Town has been recognized as a UNESCO World Heritage Site since 1999. Hoi An representing for Asian fusion still preserves its original beauty of 1,068 ancient houses, 19 majestic pagodas, 43 divine shrines, 5 assembly halls, 11 dated wells, 1 central bridge and 44 antique tombs.
The best time to visit Hoi An is on the dry season which is from March to September. People usually rush to Hoi An on every 15th of the Lunar New Calendar for the lantern festivals when the moon is at its fullest and brightest. At 8pm, all the buildings in the old town turn off their electricity for vibrant lanterns to create a magical glow. Visiting Hoi An at this time, you will be lost in a fairyland that is extremely different from the rustle world.
1. Walk around the old town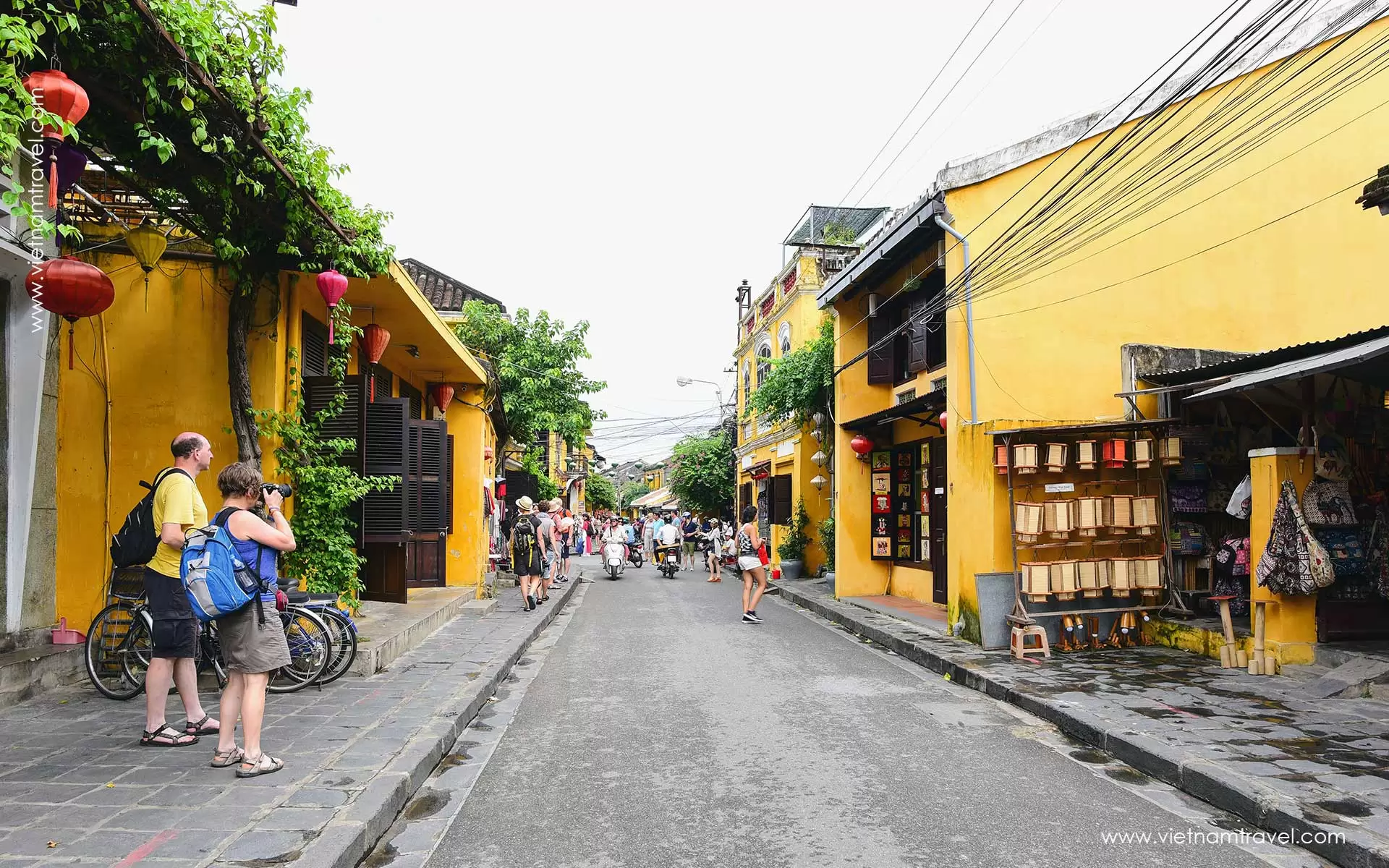 Hoi An is known as the most peaceful town in Vietnam because no motorcycle or car is allowed to enter the old town. Taking a walk in the town is considered as total safe and the best way to explore every little corners here. Until now, 1300 historic buildings are the fine blend of Vietnamese, Chinese and Japanese architecture maintained even after Vietnam War. This means that you can take gorgeous photos 0f ancient architecture (especially the Japanese Bridge), lovely flower bushes or just locals' daily activities. If it is too tired along the way, you can stop at any fresh beverage shops for some frosty tropical juices.
2. Sail along Thu Bon river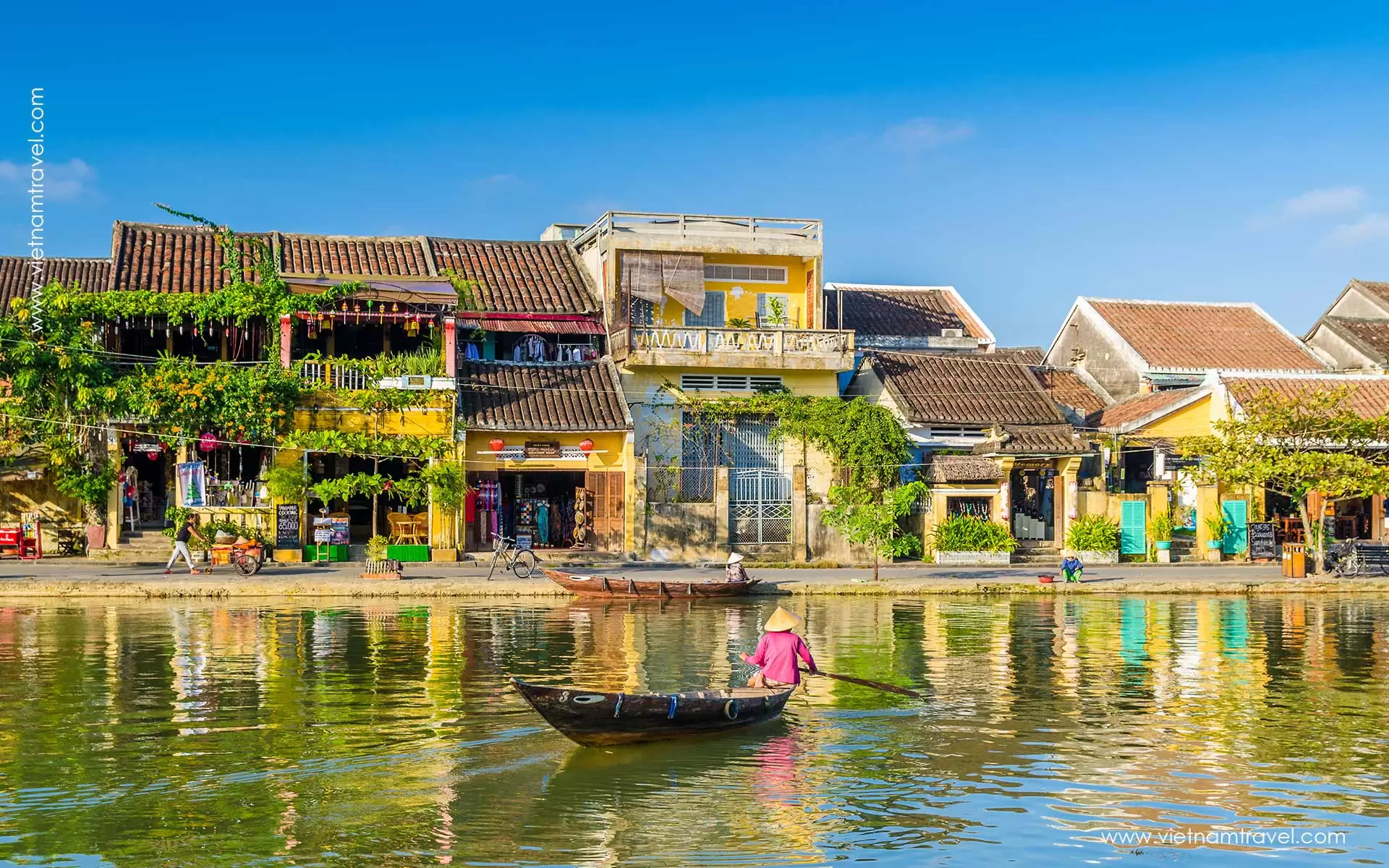 There is a serene river flowing in the middle of the town and if you want to see Hoi An in a different way, you can join a small sampan sailing along river while dropping colorful candle lights on the river surface. You can get a boat in the daytime so that you can see Hoi an archaic infrastructure, lives of local fisherman's in harmony with river flow. However, at the sunset or night time, Hoi An appears like a vivid picture with a lot of lanterns lighted up, music all around. Getting on a wooden boat on Thu Bon river will be one of the most peaceful experience you have ever had.
3. Make a lantern on your own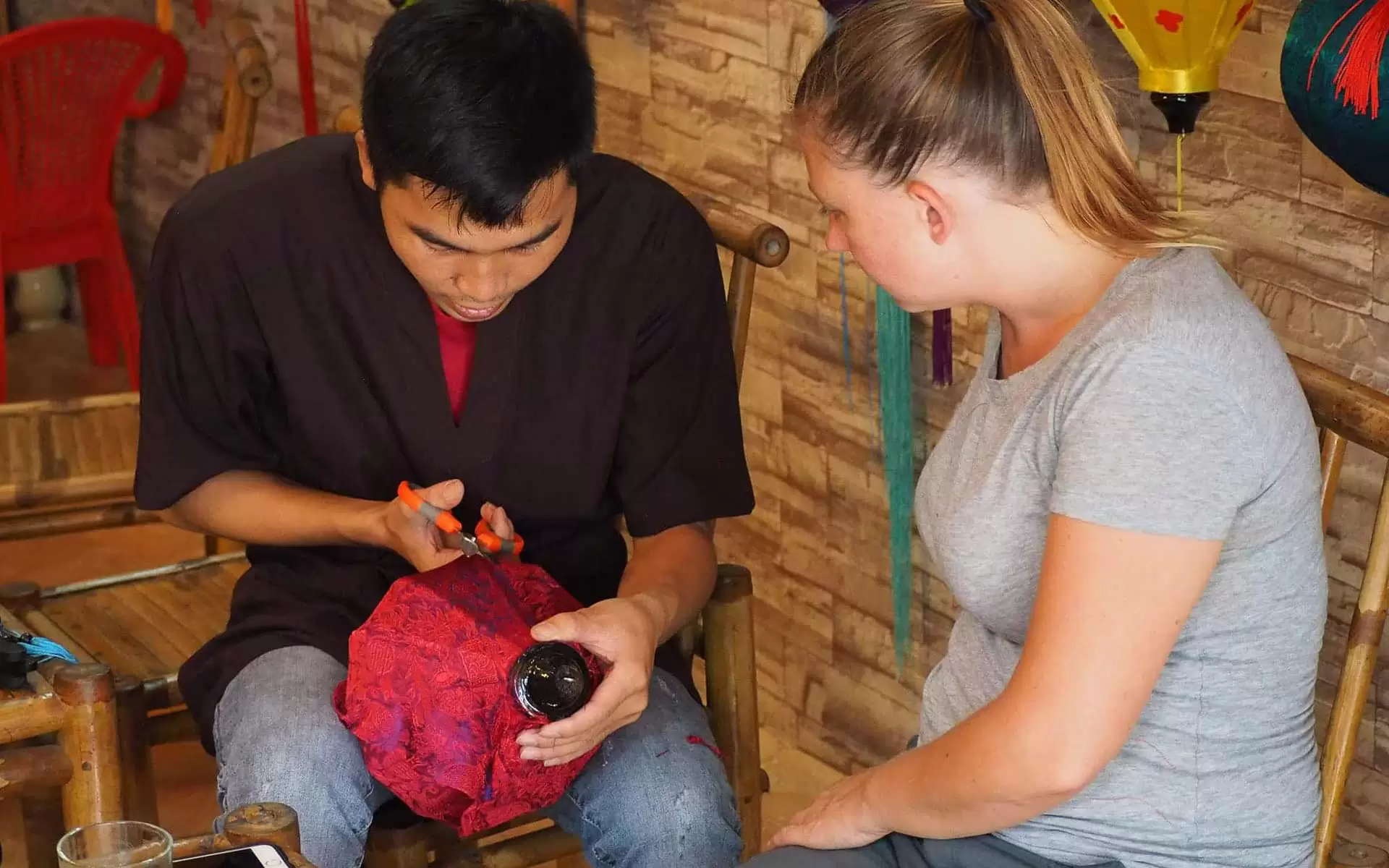 Talking about Hoi An, people will talk about lanterns as its symbol. You can design your own lanterns and bring them home like unique souvenirs. The price is about 100.000 VND/person for that class and you can bring your own product back home. People will introduce about lanterns's history, shape, color and step to create a lantern.
4. Shop at the night market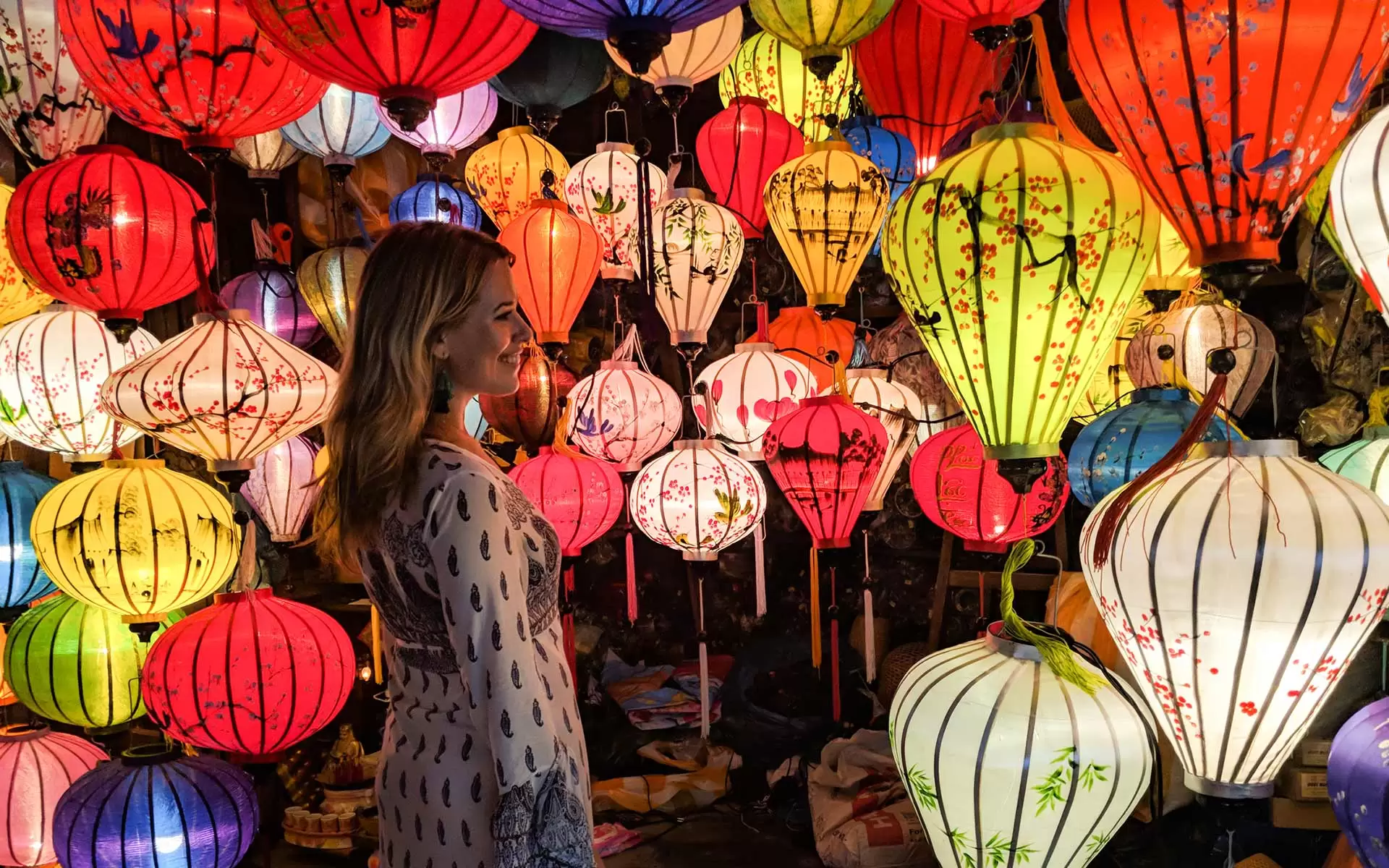 Any famous place in Vietnam will have the night market which presents the local life. The night market in Hoi An is located right next to the Thu Bon River opened every night and only spend for walking people. This attracts so many tourist both locals and foreigners who want to do shopping, buy presents for friends and family with so many things you can choose and of course lanterns will not be missing. Night market is also a place to try local food as well. You can also drink beer on the walk-side, enjoy barbecue as well. So many things that make night market in Hoi An become of the most experience that you must try. Just remember to visit this earlier than Hanoi and Ho Chi Minh since the night market in Hoi An will closer earlier than other places, about 09.30pm- 10.00pm they almost close all things.
5. Cycle in the countryside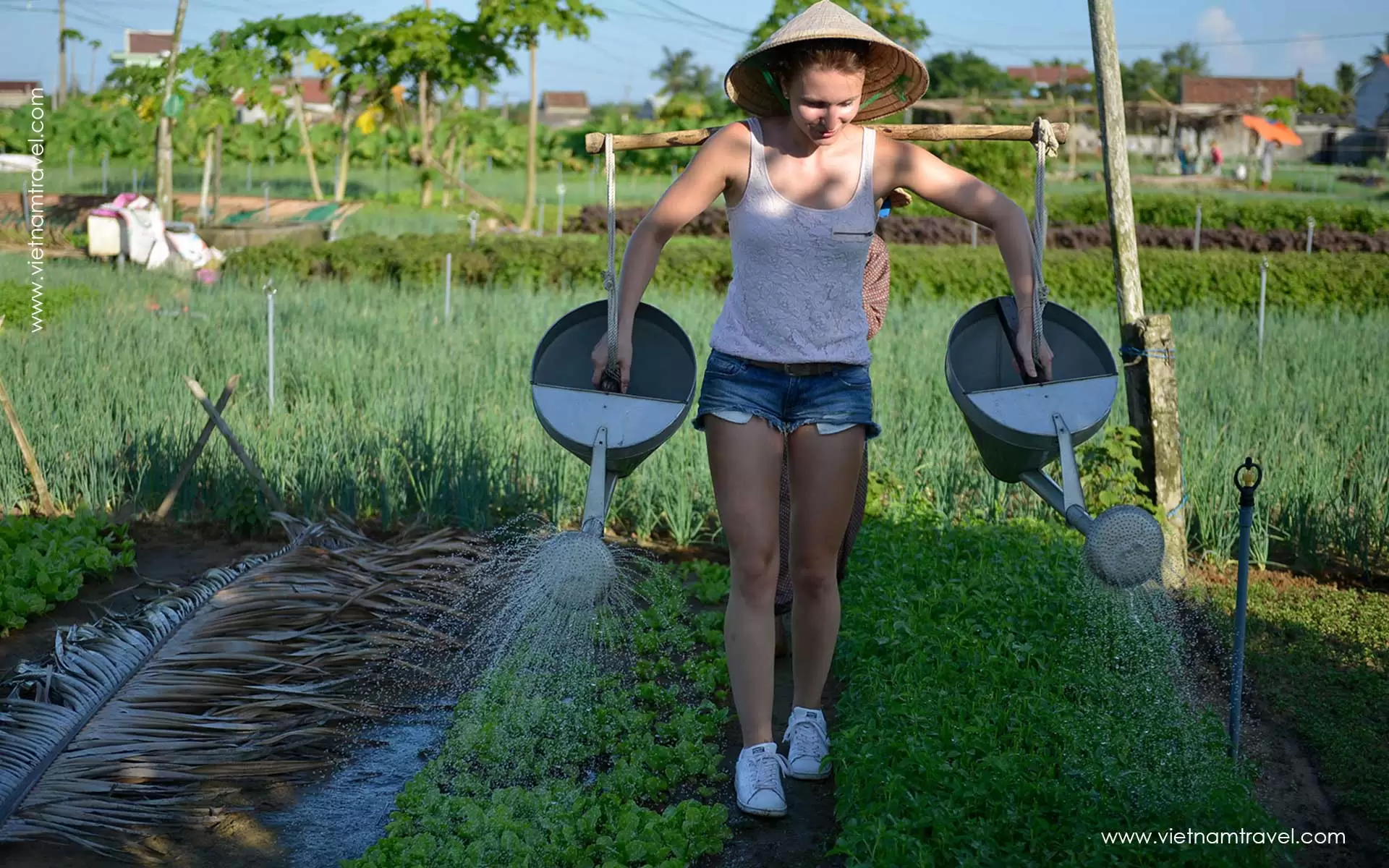 It will be much more special when you can get out of the city, tourist sites to see how local people live and earn living.  Take a taxi and ride a cycle to travel to the countryside in Hoi An will be a really ideas.
There is so many organic vegetable villages in Hoi An but Tra Que Village is most popular which is located between Hoi An town and An Bang beach. Most meals in Hoi An have great flavor thanks to the fresh vegetable and herbs grown and take care by farmer carefully. Doing this activities, you will need a guide since join the tour, they will show you where to go, what to see. Normally, the guide will take you to the village experiencing to be a real farmer take care garden. After that, you will be attracted by a cooking class lesson in which the Chef will teach you how to make their local food and they you will have chance to enjoy your own cooked.
6. Get your clothes tailored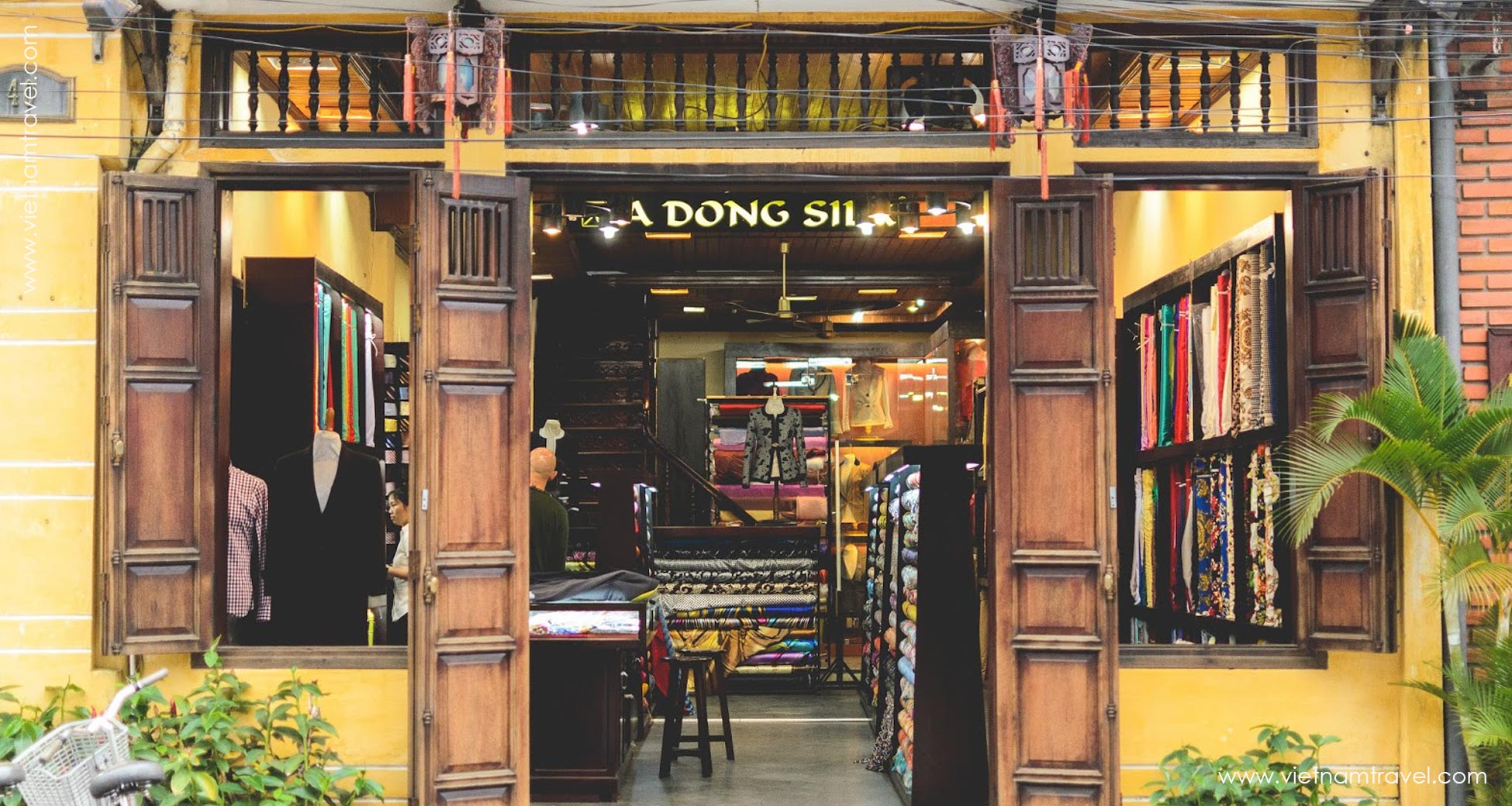 Last but not least, your Hoi An trip will not be completed without tailored clothes by exquisite talented locals. Anyone travel to Vietnam asking for making clothes, all answers will be in Hoi An which is  the most popular place to do great tailor mad. You can quickly and easily find many tailor shops in any Conner in Hoi An with really quick, quality and reasonable price. You can make many clothes to fit with your needs so just visit them and order your own type. If you do not know where to make the best clothes, you can ask hotel staffs, they can show you or the easiest way is checking it in TripAdvisor.