Travel to Vietnam from Canada
Vibrant, chaotic and exciting, Vietnam is a rapidly developing nation that's filled with dreams for the future and reminders of the past but fortunately for travellers, its traditional charms have not yet been eclipsed. Whether your fascination is wartime relics, rice fields or sandy beaches, see Vietnam now, because every year it seems to reinvent itself. And if you are planning a holiday to Vietnam from Canada, here's a broad range of travel information you may need to know to prepare for a safe and enjoyable journey.
Entry to Vietnam for Canadian Passport Holders

All Canadian citizens must have a visa in order to visit Vietnam. The tourist visa allows Canadians to travel to Vietnam for many reasons such as leisure, business, or a short study period.
Canadian passport holders are able to choose from either a single-entry (e-Visa) or a multiple-entry visa (Visa on Arrival). The difference being the single entry permits one stay for the duration of one to three months while the multiple entry option grants numerous stays within a three-month period.
While the type of visa needed depends on each traveler's unique plans, the application process remains the same. There are many ways passport holders are able to obtain a Vietnam visa from Canada.
Canadians can receive their Vietnam electronic visa without leaving their home. The Vietnam eVisa eliminates the need to visit an embassy, plus travelers don't have to wait in long lines at the border. The short application and speedy delivery of the visa via email is unparalleled. Please see the various options for obtaining your visa below.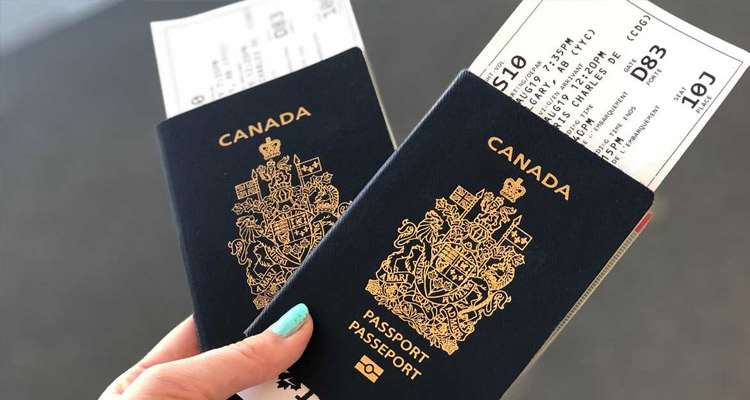 Book any travel service with Vietnam Travel and you will get our help for Visa Approval Letter for free.
If you need a business visa or a longer term visa, please contact Vietnam Travel for further support.
Option 1: Obtain a Vietnam Visa at the Embassy of Vietnam in Canada.
You will need to bring your updated travel passport and it will take about 4-6 working days with many required documents needed in advance such as a self-addressed stamped envelope and 2 passport photos.
For further information and updated requirements, contact the Vietnam Embassy in Canada.
Embassy of Vietnam in Canada
Address: 55 McKay Street, Ottawa, K1M 2B2, Canada
Phone:  +613 2360 772
Email: [email protected] or [email protected] (consul)
Office hours: 9.00 – 17.00, Monday to Friday.
Option 2: Get Vietnam Visa Approval Letter via our Vietnam Travel website.
If you don't have the time to visit the embassy in person or simply don't have the time to make the journey, Visa on arrival may be a good option. You will first need to apply for a Visa Approval Letter. You may apply for the Visa Approval Letter on line using this link. Once you have it, you will need to take it with you to Vietnam and provide it upon arrival along with your valid passport. Vietnam Travel can easily assist with this option and take care of all the details so your trip preparation is worry-free!
Option 3: The Vietnam e-Visa
The Vietnam visa application for Canadian citizens is a painless process when completed online. Applicants can apply using any smartphone, tablet or computer that has WiFi access. The Vietnam eVisa application is easy to understand and only takes a few minutes to fully complete.
It is vital to understand that each traveler needs to fill out an application for his or her Vietnam stay. Each person that has a passport also has to have an individual visa. One visa will not suffice for more than one person.
For a seamless application experience, ensure all requirements are met before opening the online request. Each applicant will need to enter his or her personal passport information and the details of where he/she will stay once in Vietnam.
As long as you have easy access to this information the application is completed in a matter of minutes. Make sure to review all the material to ensure its accuracy. That way the there are no complications during the approval time.
In most cases, the application process generally takes about 3 business days for approval. However, it is best to apply at least 7 business days before your planned arrival. That way, in case of any delay, the visa is sure to have arrived before you enter Vietnam.
Once approved, check your email as a PDF of the visa is sent to the address that was provided in the form. Your visa should be ready to present, along with your passport, at the border so don't forget to print it before departure.
In the event you need to contact the Canadian Embassy or Consulate General of Canada during your travel in Vietnam, please take note of the contact information below.
Embassy of Canada in Hanoi, Vietnam
Address: 31 Hung Vuong Street, Ba Dinh District, Hanoi
Tel: +84 24 3734 5000
Email: [email protected]
Office hours: 8.00 – 17.00 Monday to Thursday, 8.00 – 13.30 Friday
Consulate General of Canada in Ho Chi Minh City, Vietnam
Address: 10th floor, The Metropolitan, 235 Dong Khoi Street, District 1, Ho Chi Minh City
Tel: +84 28 3827 9899
Email: [email protected]
Hours of operation (Consular section):
Monday to Thursday: 08:30 to 10:30 & 13:30 to 15:30.
Friday: 08:30 A.M – 09:30 A.M.
Flights from Canada to Vietnam
Although there are many flight routes between Vietnam and Canada, there are currently no direct flights. Taking into consideration your budget and time, Vietnam Travel will assist in finding the most suitable flights for your Vietnam holiday.
Many of the major airlines (China Airlines, Korean Air, Cathay Pacific, Japan Airlines and Eva Air) offer routes from Canada's major cities such as Vancouver, Toronto, Montreal to Vietnam's top destinations. Although, fares can vary and prices are subject to change until time of booking, we've found China Airlines with a stop in Taipei typically offers a competitive rate, starting from approximately 650 USD. All fares are subject to change until time of booking.
Vietnam's top attractions for Canadian visitors
Hanoi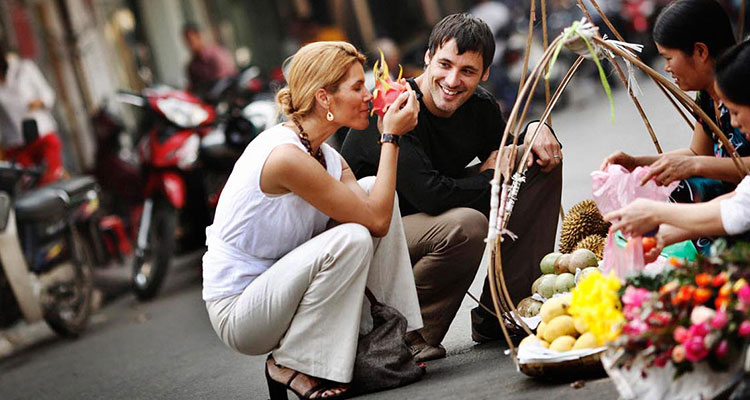 Hanoi, Vietnam's bustling capital city, is currently trending as one of the top-10 travel destinations for Canadians with an average of 10% increase year after year. The capital of Hanoi has a long history, spanning over 1,000 years of culture and civilization. It offers a perfect blend of the exotic ancient culture with the modern dynamics of the younger generations. You will also notice the French influence in the language, food and architecture right in the city centre while sipping coffee in a sidewalk café. Strolling through the Old Quarter also offers a wonderful to immerse yourself in the local culture. Savory the delectable Vietnamese cuisine, take in the alluring attractions and make new friends with the hospitable Vietnamese people.
Hacker tip from Kayak: "Head to Bia Hoi (Fresh Beer) Corner in the Old Quarter (at the intersection of Ta Hien and Luong Ngoc Quyen) and you'll find establishments selling refreshing local beer for less than 50 cents a glass. It's open throughout the day and into the evening, and it's a great spot to meet locals and fellow travelers alike".
KAYAK Canada Blog's survey ranked Hanoi on the top-10 travel destinations for Canadians in 2020, following Tokyo (Japan), Mexico City (Mexico), Florida & Miami, (USA), Istanbul (Turkey), (Athens, Greece) Milan & Rome (Italy), Kailua-Kona (Hawaii, USA) and Osaka (Japan).
Sapa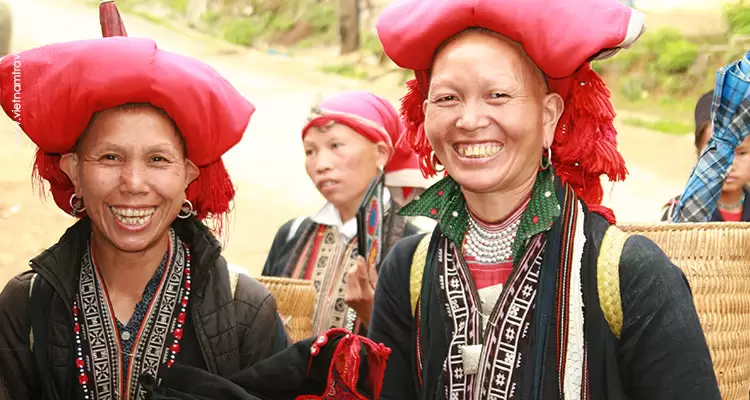 Sapa is located in Lao Cai Province, about 350 km northwest of Hanoi. Lying at the height of approximately 1,650 meters above the sea level and covered with clouds all the year round, Sapa has a breathtaking and primitive beauty of nature in the Northern border area of Vietnam. It is famous for Fansipan – the country's highest peak, terraced fields stretching far to the horizon and villages perching on mountain slopes. Visiting Sapa, you will have an opportunity to visit very famous natural landscapes such as the Silver Waterfall, Muong Hoa Valley, Heaven Gate and Ham Rong Mountain, etc. as well as experience the various culture and life of local ethnic minorities such as Tay, Dao, Meo, H'mong and Thai. Travelers also can spend time hiking in the villages of Cat Cat, Y Linh Ho, Lao Chai and Ta Van Villages.
For a truly unique experience, you may visit some of the weekly and colorful hill tribe markets. Plan a day trip to Bac Ha Market (on Sunday), Can Cau Market (on Saturday) or Sin Cheng Market (on Wednesday). Although, they are located about 2-2.5 hours away from Sapa by car, these authentic markets are not to be missed! Highlights of the markets around Sapa offer delightful local stalls & handicrafts, traditional and colorful dresses of the hill tribe people and many unforgettable sites you won't see anywhere else.
Ha Long Bay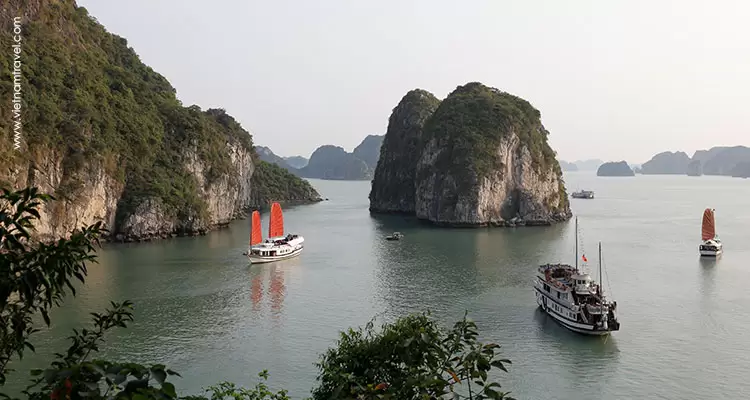 Dotted with over 1,969 beautiful limestone islands and islets, which spans an area of more than 1,500 square kilometers, Halong Bay is truly a spectacular destination. Located in northern Vietnam, this natural wonder was declared a UNESCO World Heritage Site back in 1994 and since then, has become the country's most visited site. This surreal landscape of karsts jutting up from the emerald waters, is often viewed as the most captivating aspect of the Gulf of Tonkin.
Vietnam Travel highly suggest staying overnight on a cruise to fully appreciate the iconic views the bay has to offer. More adventurous souls can explore a number of mammoth caverns such as the Sung Sot Cave or witness the glamorous stalagmites and stalactites in the Dau Go Cave. Whether your heart desires simply cruising the bay or exploring the caves, Halong Bay will not disappoint.
Hue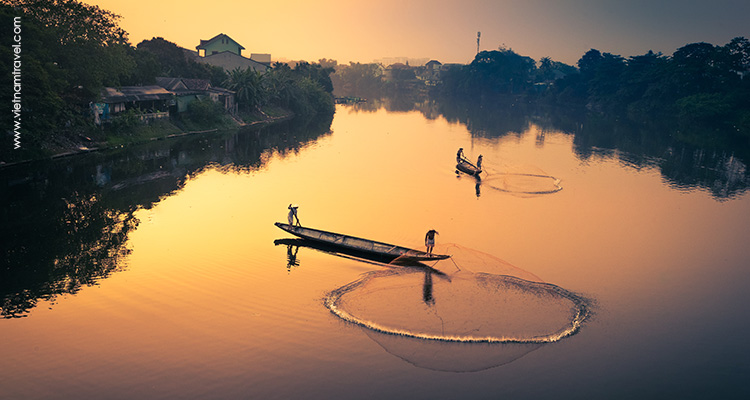 Knowing as the place of the last reign – Nguyen dynasty, Hue is considered as one of Vietnam's most historic towns and the former imperial capital of the country. The emperor's residence, palaces, and temples are some of the historic sites left standing inside walls of the Imperial Enclosure that spans for around 2.5km along the Perfume River. Other landmarks are the citadel's main entrance, the Ngo Mon Gate, the Thai Hoa Palace with its intricate interiors, Dien Tho Residence which serves as the Queen Mothers' chambers and lastly the Hall of Mandarins housing its' well-preserved ceiling murals.
Danang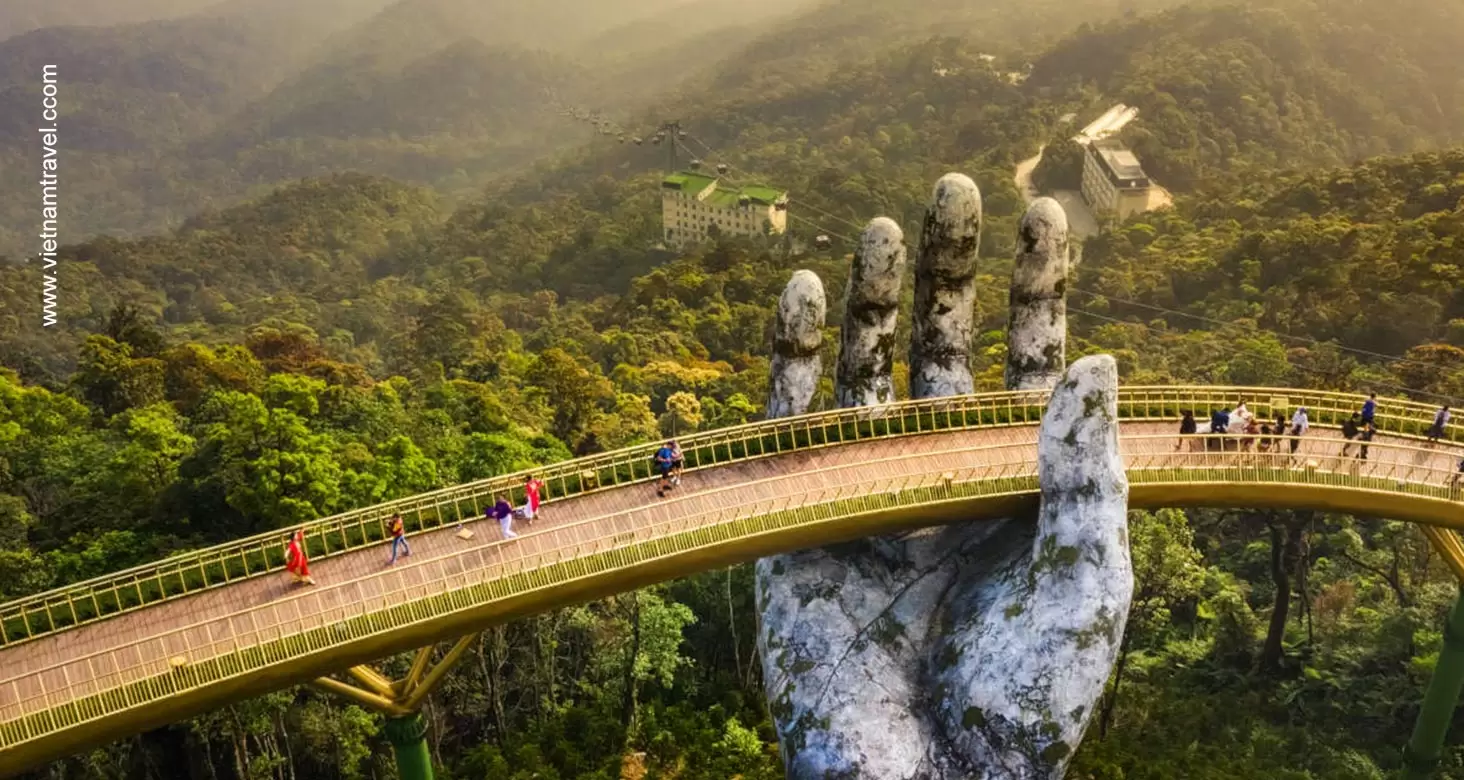 Da Nang will surprise you by its modern, cleanness and nature. Da Nang has so many things to offer from Hai Van Pass, Marble Mountain, Ba Na hills to the highlight of the Golden Bridge building 1 kilometer above sea level awes visitors. The Golden Bridge was designed to evoke the image of Mountain God's hands pulling a strip of gold silk. The shimmering golden walkway stretches 150 meters through the treetops on Ba Na Hills. With the unique design of real two smooth, giant hands, you would recognize that human can do anything. Moreover, the walkway in the sky, among the foggy and fairy-like lands of Ba Na mountain makes you feel like walking on cloud.
Besides, the fresh and beautiful white sand beaches of Da Nang which are voted as one of 7 most beautiful beaches on planet by Forbes, are also one of the reasons to hold tourist stay longer at this city.
Hoi An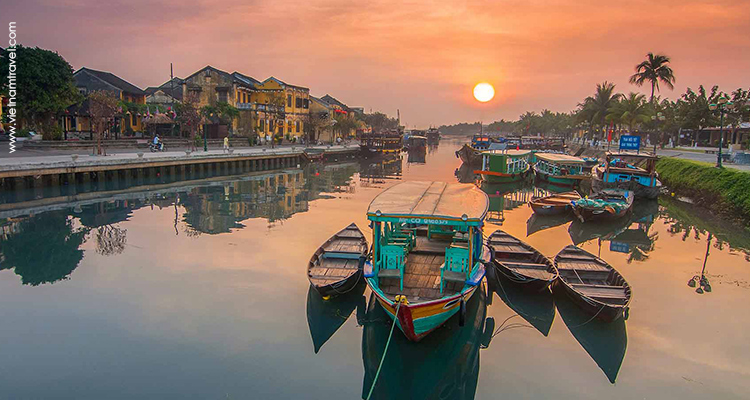 Hoi An is the place where not only attracting newcomers but also encouraging many tourists to come back again. It is famous for being an ancient town where the rustic yellow-walled tubed buildings line up. The town was built and developed by the Japanese, Chinese and Vietnamese in which the Chinese architecture is the main theme throughout the whole site. The most sought-after destinations are the Thanh Ha Pottery Village, Tra Que Herb Village, and Kim Bong Carpentry Village. Besides, there are plenty of restaurants with lots of variety at cheap price, the night markets are great and the people are lovely. It truly is a paradise for visitors to go and explore.
Ho Chi Minh City
Ho Chi Minh City is such a young and modern city born and raised for roughly over 300 years. Traveling here, you will see the attractions influenced by the French-era architecture such as Vietnam's own Notre Dame Cathedral, the War Remnants Museum, and Ben Thanh Market. The Central Post Office, Reunification Palace are also popularly visited by travelers. Let's not stop here, Saigon by night attracts you by its vibe and personal charming, please wander around Bui Vien streets, taste local cuisine or enjoy exciting nightlife of the city. Ho Chi Minh City is also as a stop-over for tourists who want to visit the lust Mekong Delta, historical Cu Chi Tunnels, Cao Dai Temple, beaches of Vung Tau or Mui Ne and the other southern provinces.
Mekong Delta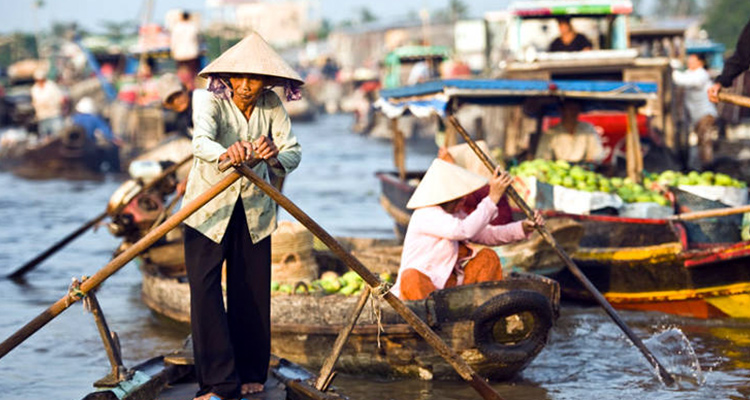 The Mekong Delta is the southernmost region of Vietnam with 1 municipality and 12 provinces. The Delta is formed by a huge amount of silt and has been extended together with the sea level rise over the years. The Mekong Delta is famous for its abundant fruit gardens and interlacing canals, the northern mountainous regions lushly forested with ancient jungles and open-hearted, generous, honest people. The region has a number of national parks (Tram Chim National Park, U MInh Thuong National Park, U Minh Ha National Park, Phu Quoc National Park).
Besides, you will have a change to visit their floating market in which Cai Rang is the biggest one. In Cai Rang Floating Market, visitors will experience an abnormal kind of shopping, and get surprised by looking at what is tied to the long pole above the boat to figure out what they are selling to smaller traders. Mekong Delta is home to many traditional folk festivals with art types typical of river areas such as Cai Luong, singing duets and dances of the Khmer people that you would love to discover.
Phu Quoc Island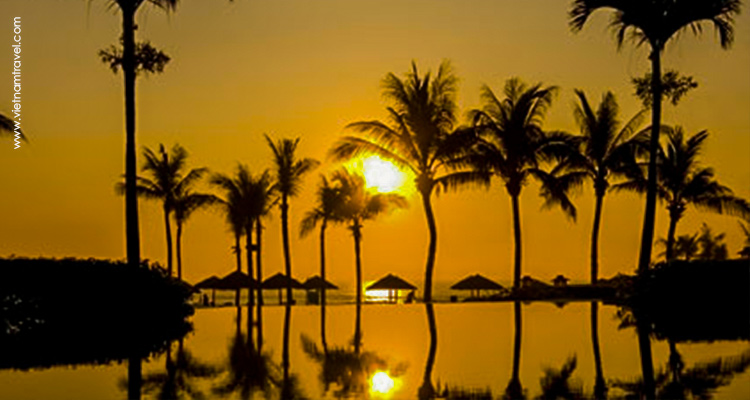 Unlike Bali or Thai Lan, Phu Quoc is an isolated tropical island located down South of Vietnam with 150km of coast in which you can reach there by plane at Phu Quoc International Airport. Phu Quoc is well known with many white sandy beaches and a perfect combination from mountain to forest and sea. With such a balmy weather, Phu Quoc is a good choice for all travelers who love nature and seek for a place to balance sightseeing and beaches. You can spend your time at your luxury resort or walk along the sandy beach to enjoy the fresh air or dipping yourself under the fresh green water of the sea. Visitors who love animals and wildlife, please spend a day at Vinpearl Safari Phu Quoc – a first and only open zoo in Vietnam that was built according to international Safari model, gathering around 3,000 individuals, representing 150 species of rare animals from around the world. We guarantee you will never be disappointed.
Interact with locals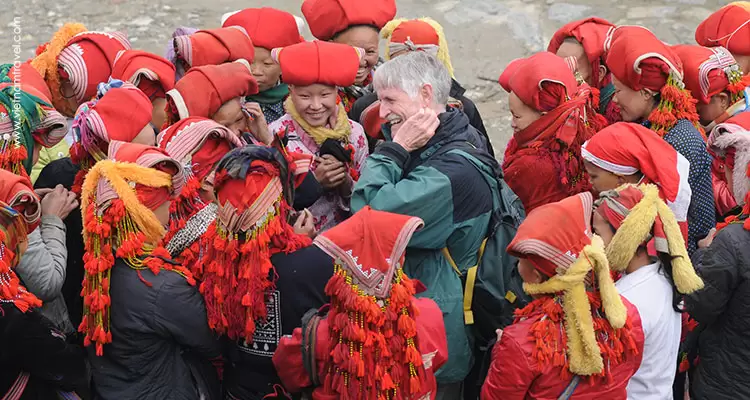 You will have the best experience from this country by interact with its people on a basic. Don't be afraid if you can't speak Vietnamese. Vietnamese people is one of the friendliest people in the world. It is not easy to speak Vietnamese fluently but with a few common conversation, you could learn from now, then practice and talk to the locals when you travel Vietnam:
– "Xin chao" (Hello),
– "Cam on" (Thank you),
– "Ban khoe khong?" (How are you?),
– "Toi yeu Vietnam" (I love Vietnam)
– "Oi gioi oi, ngon qua!" (Wow, food is good!)
Try the best Vietnamese cuisines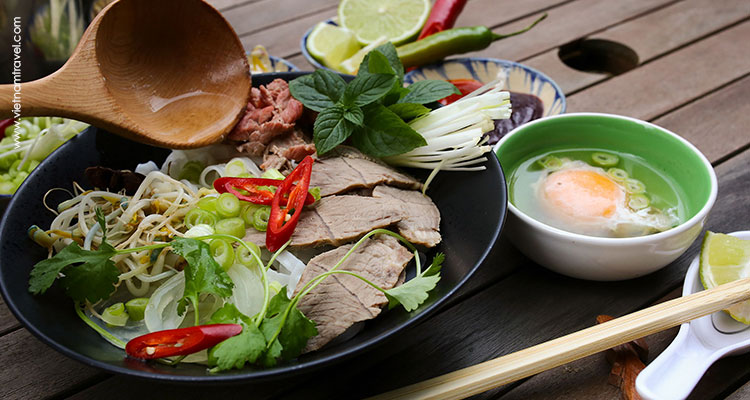 "Balance" may be the single word that is commonly used to describe Vietnam's gastronomy. Indeed, Vietnamese cuisines usually reach the balance of ingredients and recipe: neither putting too much salt and fat, nor using fattening cooking methods such as frying that may lead to diseases. Trying local food is an interesting experience for every tourist. Top street food in Vietnam, especially street food in Hanoi such as "Pho", "Banh Mi", "Bun Cha", "Nem" (spring roll) will make you unforgettable because of the impressive and delicious taste. "Pho" and spring roll, "Banh Mi" have become so famous and popular in many countries that they are included as new words in the American dictionary.
Besides, there are plenty of savory local dishes that you should try along your trip such as: "Bun Bo Nam Bo", "Bun Mam", "Banh Xeo", "Banh Trang", "Hu Tieu Nam Vang" etc.
Otherwise, we recommend some good restaurants in each city as below.
In Hanoi:
– Ngon Villa Hanoi (10 Nguyen Huu Huan Street, Hoan Kiem District) with price range from 20 USD.
– Home Hanoi (34 Chau Long Street, Ba Dinh District) with price range from 30 USD.
– Koto Hanoi (59 Van Mieu, Dong Da District) with price range from 15 USD.
– Cau Go Restaurant (73 Cau Go, Hoan Kiem District) with price range from 22 USD.
– Grandmas's restaurant (63 Duong Thanh, Hoan Kiem District) with price range from 22 USD.
In Ho Chi Minh City:
– The Chateau (26 Phan Van Tri, Go Vap District) with price range from 15 USD.
– Home Finest Saigon (252 Dien Bien Phu, District 3) with price range from 20 USD.
– The Chopstick Saigon (216/4 Dien Bien Phu, District 3) with a price range from 20 USD.
– Indochina Junk – meal on boat (10B Ton Duc Thang, District 1) with a price range from 18 USD.
Recommended tour packages for Canadian visitors

With an itinerary from 10 to 14 days which is the most suitable for Canadian citizens, you will have enough time to see nearly all famous attractions here. Depending on your flight route, you can choose your travel itinerary from North to South and vice versa. No matter how many days you have for the North or South of Vietnam, we always have plenty of choices for you in which you can check out these 5 suggested tours from Vietnam Travel:
No matter the travel style or length of the sample packages, our Vietnam & Indochina tours balance well-planned itineraries with the flexibility to do your own thing and make the experience your own. You also can create your own private holiday for a unique travel experience that's tailored to exactly what you like and how you want to see Vietnam. Contact one of Vietnam Travel's consultants to get personal assistance today. Vietnam Travel have measures in place to help keep you safe from the moment you book to the moment you come back home pleasantly.