Best Vietnam Day Trips: 10 Excursions You Must Do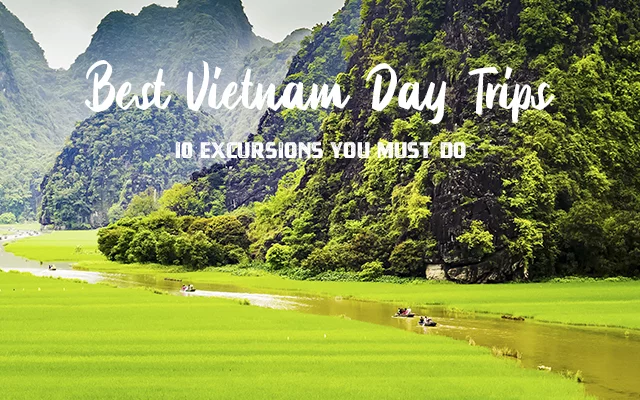 A guide to the 10 best Vietnam day trips to take from Hanoi, Danang or Hoian, Nha Trang and Ho Chi Minh City (Saigon). Whether you are a foodie, a culture lover or history buff, there is a Vietnam private day tour that is perfect for you!
Besides Vietnam private holidays, guided day tours aren't for everyone, but there's no denying that an organized day trip with air-conditioned transfers and an English-speaking guide is one of the most convenient ways to get around and experience Vietnam at its best. An escorted tour is also a surefire way to gain a deeper, more complete look at Vietnam's nature, history and culture. Day trips and short excursions in Vietnam are great options for travelers having a limited time or the ideal add-on to a longer holiday. But it's also too much for many people, so let's have a look at the 10 best Vietnam day trips covers North Vietnam, Central Vietnam & South Vietnam.
Explore Hanoi, the thousand-year capital of Vietnam, on a full-day tour with our friendly, knowledgeable guide. Get ready to hear all about Hanoi's culture and historical sites! During this day tour, you'll get to see the local side of this amazing city.
This day tour is carefully designed for you to have a deep insight into Hanoi's culture. The tour includes not only all the city key sites but also the places where the others rarely come.
Leaving behind the noisy and busy Hanoi City; let's join our one-day Hanoi suburban tour to discover a very different way of living of Hanoians. This one-day itinerary will guide you to the incense-making village of Quang Phu Cau, visit Thay Pagoda and wander through peaceful Duong Lam Ancient Village.
If you're pressed for time, do as many locals do and see Halong Bay on a day cruise from Hanoi. Take a traditional cruise with Vietnam Travel's professional tour guide to this spectacular UNESCO World Heritage site. Visit one of Halong's famous caves and go kayaking on the emerald water. Enjoy delicious seafood on board, and a comfortable private transfer. This full-day option offers visitors the overview of Halong Bay with 4 hours cruising and immerse themselves in the legend bay without the need for accommodation and transporting luggage.
Travel to Ninh Binh Province to explore Bai Dinh, a complex of Buddhist temples featuring the largest bronze Buddha statue in Vietnam. Afterward, explore Trang An is many hidden caves by sampan, navigating the surprising grotto network with a knowledgeable local tour guide.
Explore Vietnam's extraordinary natural beauty and let the incredible views from Ba Na Hills take your breath away. Ascend the hill via one of the 10 most impressive cable car infrastructure systems worldwide (ranked by CNN), and see the giant hands of the amazing Golden Bridge (Cau Vang). Visitors who travel to Sun World Ba Na Hills are lavished with the changeable four seasons in a single day and a diverse set of festive, recreational activities and places of interests. Sun World Ba Na Hills is on its own a fascinating entertainment world in which grown-ups, children and young outdoor enthusiasts can figure out their fun in a single complex.
Apart from the beautiful beach and ocean, this tour will bring you to the real nature. Explore natural wonders and the historic sites around Nha Trang on this carefully selected day trip by Vietnam Travel. Admire stunning views of Yang Bay Waterfall, enjoy lunch at Memento Country Home; visit Dien Khanh Citadel and Long Son Pagoda; stop at the Po Nagar Cham Towers and discover the intriguing story of the Chams; experience local life as you stop at villages and markets… Book now for an unforgettable tour of Nha Trang!
Declared a Cultural Heritage site by UNESCO in 1999, My Son is a cluster of Hindu temples once dedicated to the God Shiva. Explore the ruins of the temples from the 4th to 13th-century Champa Kingdom on a day tour of the My Son Sanctuary from Hoian Ancient Town or Danang City. Learn more about the different Champa Kings from your Vietnam Travel's English-speaking guide.
Discover Saigon, today's Ho Chi Minh City – the bustling and vibrating economic centre of the South. Over the past few centuries, Saigon was called the "Pearl of the Far East" and was an important trading centre for Chinese, Japanese and Western merchants who traveled along the Saigon River. This city tour unravels Saigon's turbulent past and also provides a glimpse into the fascinating variety the city has to offer. Museums, markets, monuments, iconic French colonial architecture, relish a delicious Vietnamese lunch and the everyday mayhem of the busy city streets all converge on this full day exploration.
Visit the Cao Dai Temple and learn about the stunning architecture of South East Asia and join the noon mass of the Cao Dai faithful. Then, explore the Cu Chi Tunnels – the underground network of rooms used by the Viet Cong during the Vietnam War, watch a war documentary, shoot an AK-47, and more.
Go beyond the usual tourist stops to get an in-depth look at life in the Mekong Delta. Ben Tre day trip from Ho Chi Minh is one of Vietnam Travel's most special programs have been exploited to experience the culture of Mekong Delta. Ben Tre Province, the land of coconut trees, can be considered as the most authentic tropical area in the Mekong Delta in Vietnam now. A boat tour here explores rural areas of crossing zigzag canals flanked both sides by palm trees. Enjoy a delicious lunch with local specialties and taste tropical fruits and other local products such as coconut candies. Take a cool tuk-tuk ride on village roads to see how local people live. As you continue along the river, be sure to take plenty of photos. It is all full of nature and less touristy than other areas of the delta.
Final lines:
We bet you will be surprised how many Vietnam must-sees and amazing destinations you can cover in a single day! It is really easy to spend a day out discovering what everyday life is like for locals who live outside of the city. You can learn some new skills too! It's time to make your trip the best it can be with our local guides to the top Vietnam day tours. Our Vietnam day trips, perfect to fill the gaps in any Vietnamese travel itinerary, showcase the best experiences to be had in this vibrant modernizing but charming nation. Your Vietnam day trips can be also 100% tailored to make your travel wishes come true. Our Vietnamese Travel Consultants are comprised of knowledgeable, well-traveled professionals who take great pride in delivering first-class personalized service. Contact us today to see how we can help your with your travel management needs.