How to get a Vietnam tourist visa?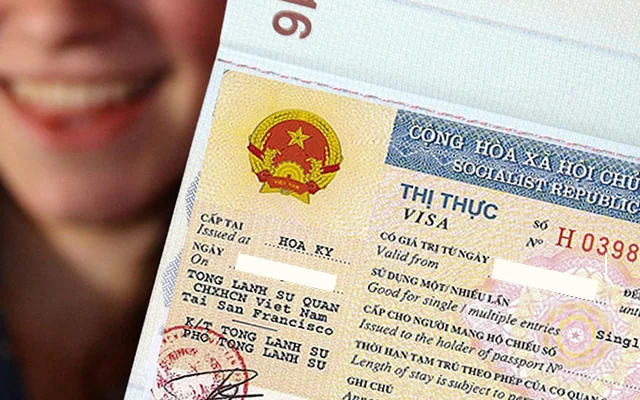 Visa is one of the necessary documents for anyone to travel abroad. Most foreign tourists including infants and children need a visa when visiting Vietnam. In this article, Vietnam Travel will show you how to get a Vietnam tourist visa, which makes you easier to choose the best one.
1. Types of Vietnam tourist visa
There are 4 types of Vietnam tourist visa:
– 1 month single entry (valid for 01 month with 01 entry only),
– 1 month multiple entry (valid for 01 month with several entry during that 01 month),
– 3 months single entry (valid for 03 months with 01 entry only),
– 3 months multiple entry (valid for 03 months with several entry during those 03 months).
2. How to get Vietnam Tourist Visa
2.1. Get Visa at Vietnamese Consulate/ Embassy
Obtaining Visa at Consulate or Embassy is a traditional way and makes sure that you already have visa before getting on plane. With this option, you need to prepare an application form with signature and photo attached and original passport or copy of original passport (for loose-leaf visa request), then bring all these documents to the nearest Embassy or Consulate in your country. It often takes around 5 working days to process. Visa fees vary depending on type of visa, duration of stay and type of service (standard or expedite). For more accurate information, it is suggested to contact your nearest embassy. In case you find this option inconvenient, the other 2 below ways may be your choice.
2.2. Get Vietnam E-Visa (for one-month single entry visa only)
E-visa is one of visa types issued to foreigners by Vietnamese Immigration Department via electronic system. It is very simple and saves your time since you don't need go to Embassy and avoid unnecessary line at airports. Just do everything online at home and you can get your visa after 3 working days. However, this method is only applied for one-month single entry visa and it is available to citizens of 80 countries. If you want to stay longer or enter Vietnam more than one time, you can choose the other two ways.
Required documents:
– A passport valid more than 6 months from intended arrival date,
– A photo in .jpg, .jpeg, .gif format of your full passport data page,
– A passport-sized photo in .jpg, .jpeg, .gif format (4x6cm, white background, straight looking without glasses),
– A valid international credit or debit card,
– An email address for support purposes.
Procedures:
– Open the official website to apply Vietnam E-visa,
– Upload you passport data page image and photograph,
– Fill up all required information,
– Pay E-visa fee (25 USD) via electronic payment gateway as prescribed by the Immigration Department. The fee will not be refunded in case the applicant is refused to grant E-visa.
– Your application will be processed in 3 working days. After that time, you can check your E-visa result in E-visa search menu by entering registration code, registration email and date of birth.
If being approved for E-visa, please print E-visa in 2 copies for safety when travelling. If your visa is still unavailable after 3 days, email Vietnam's e-Visa Support at this page.
With E-visa, you can touch down at any of Vietnam's eight international airports, including Tan Son Nhat in Ho Chi Minh City, Noi Bai in Hanoi and Da Nang in the central region. Visitors can also arrive via land at 13 international border gates, and via sea at 7 ports across the country.
List of Airports and Ports that allowed foreigners enter and exit Vietnam by E-visa.
Conditions for being granted E-visa:
– Outside Vietnam foreigners,
– Holding valid passport,
– Not falling into the cases of suspension from entry prescribed in Article 21 of Law on foreigners' entry into, exit from, transit through, residence in Vietnam.
Notes:
– E-visa holders in Vietnam may be considered to grant new visa if being invited/ guaranteed by authority/ organization/ individual in Vietnam in accordance with Law on foreigners' entry into, exit from, transit through, residence in Vietnam.
– Foreigners who entry Vietnam must comply with Vietnamese law.
– Inviting /guaranteeing foreigners in accordance with Section 1, Article 16, Law on foreigners' entry into, exit from, transit through, residence in Vietnam; can be applied through electronic system (click here).
2.3 Get Vietnam Visa on Arrival
Vietnam does allow foreign travelers to obtain visa on arrival (VOA) at one of 3 international airports: Noi Bai in Ha Noi, Tan Son Nhat in Ho Chi Minh City and Da Nang. This is a great option, especially you are pressed for time or have no Vietnamese Embassies in your area.
To get visa stamped on your passport at the airport, first of all you need to have Visa Approval Letter on hand, then print it out (you may be required to show this when you board the airplane) and prepare a passport size photo when travelling to Vietnam. Upon arrival at Vietnam's airport, show these documents at the Visa on Arrival counter and pay the immigration officers the visa stamp fee:
– 25 USD for single entry (<30 days),
– 50 USD for multiple entries up to 90 days,
– 95 USD multiple entries from 90 days to 180 days,
– 135 USD for multiple entries from 180 days to 365 days (cash only)
To obtain Visa Approval Letter, please contact our Travel Consultant who will prepare the necessary paperwork and send you the letter either by email or fax. This will make your trip a little easier!
Note:
– The Visa on arrival to Vietnam only works when you arrive by plane to the International Airports of Ho Chi Minh City, Hanoi, Danang and Nha Trang.
– If you travel via land (boat or drive) from Laos or Cambodia to Vietnam, please have the Visa in advance because service of Vietnam Immigration Offices at Vietnam borders (in Vinh Suong – Chau Doc or in Moc Bai) is complicated and slow.
– Visa on arrival option is not applicable to Chinese citizens. Chinese citizens will need to get their visa stamp at the Vietnamese Embassy in China before being allowed to enter Vietnam.
For more information, please contact one of our Travel Consultants for instant support and worthy travel advisory.
Click here to get more information about Vietnam Visa.