Vietnam Travel Destinations To Visit Post-Covid19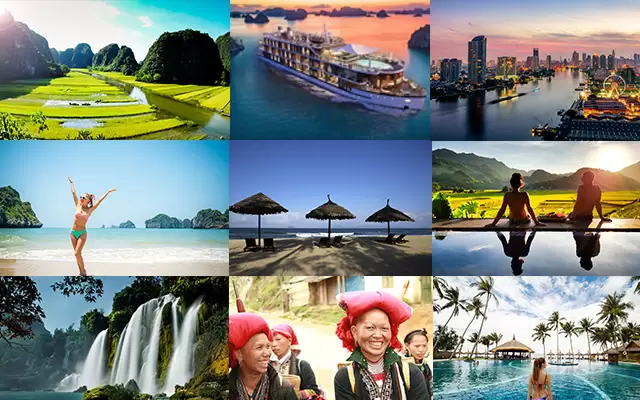 All we are hearing from the folks out there is, "We can't wait to travel again". We know the feeling all too well. So, we are sharing some great holiday adventure starters to help you plan your first post-Covid 19 getaway. And what better place to start than with the S-shaped land of the long coastal – Vietnam, one of the most favorite international destinations for Aussie travelers. The country received nearly 400,000 Australian visitors in 2019. It is no doubt that Australia is one of the biggest source of foreign tourists to Vietnam.
Overview about Vietnam destination
Vietnam is both exotic and compelling due to its land of staggering natural beauty and cultural complexities, of dynamic mega cities and hill-tribe villages, a hot spot for foodies, beach bums and thrill-seekers alike. In addition, it is not too far between the two countries, airlines always offer special promotions, there is no doubt that Vietnam is one of the most underrated destinations in Asia with unexplored beauty and scenic landscape that needs to be visited post-Covid19 for Australian tourists. From budget holidays to luxury beach escapes, Vietnam surely offers something for everyone.
There are numerous things to see in Vietnam but none should be skipped. Here is a list of the best places to visit in Vietnam, recommended for Australian travelers.
1. Saigon & the Mekong Delta
If you are looking for a wild night out in the glittering largest and most chaotic city of the country, look no further than Ho Chi Minh City (more commonly referred to by tourists and locals alike as Saigon). Modern skyscrapers, a flurry of motorbikes whizzing by the bustling streets, all amidst the beautiful and historic French-colonial architecture, including a famous reconstruction of the Notre Dame Cathedral. Ho Chi Minh City offers an eclectic mix of old and new attractions that are bound to excite every traveler. Additionally, you'll find some interesting museums like the War Remnants Museum and the Cu Chi Tunnels that should not miss for history buffs.
Ranking among the longest rivers in the world, Mekong River evokes associations with eternal life, a forceful nature, and the air of mysteries. The Mekong Delta is a network of dis-tributaries in southwestern Vietnam, between Ho Chi Minh City and Cambodia. Life in the area revolves around water, from the floating markets, narrow channels, to the vast agricultural industries. An amazing variety of fruits, flowers and livestock grow in the region. This region is home to unique ecosystems, as well as diverse communities unlike anywhere else in the world.
Too many people think they can see enough of Mekong Delta on a day-trip out of Ho Chi Minh City. Come on! There are much more than something you've heard about… all depends on your travel time budget. For whatever reasons, don't skip the busiest floating market of the Mekong Delta: Cai Rang! It is much more interesting and worthier to visit than Damnoen Saduak of Bangkok.
2. Phu Quoc Island
A trip to Vietnam would not be complete without a few days of beach relaxation. Depending on your travel itinerary, you can fly to Phu Quoc at first to begin the Vietnam holiday with sun and sands, or slow down the busy travel pace between many destinations, or spend this best for the last. Phu Quoc is perfect as a stand-alone beach getaway or as an add-on to your trip through Vietnam. Vietnam's paradise island is well-kept hidden gems. Come and enjoy nature at its best with its UNESCO protected parks, and spot rare marine life in the turquoise waters!
All nationalities traveling directly to Phu Quoc can visit the island for 30 days visa-free. You are required to show an outbound ticket on arrival in Vietnam for international flights into and out Phu Quoc Island.
3. Hoian Ancient Town
Set on the banks of the Thu Bon River in central Vietnam, Hoian is easily one of the most beautiful riverside towns in Southeast Asia. The city attracted merchants from Japan, China, Portugal and France, and the resulting cultural milieu remains visible in everything from the mustard-colored shop houses to dining traditions, folk crafts and robust coffee culture. Besides many beautiful beaches for sun soakers, Hoian is a biker's paradise, ecotourism lovers. Hoian, of course, offers various choice of delicious food and worthwhile souvenirs for everyone. Often jumbled into a two-for-one vacation, Hoian and nearby Danang – just 15 minutes up the coastline, play host to some of Vietnam's most alluring world-class hotels. The historic town of just 120,000 people is firmly on every Aussie savvy traveler's radar.
Outdoorsy types will appreciate the Marble Mountains, a set of stairs leads to Buddhist pagodas hidden inside the limestone grottoes.
The Insta-famous Golden Bridge, or Hands Bridge (Cau Vang or Cau Ban Tay) on Ba Na Hills, isn't too far from Hoian Ancient City! You've probably seen it pop up on your social media feed many times already. The design is extremely impressive by a colossal pair of hands reaching out from the mountain to grab the golden silk suspended in the sky, deserves to be listed on the list of must-go places while travelling in the central part of Vietnam.
4. Hanoi & Halong Bay
Hanoi is Vietnam's capital city. Located by the banks of the Red River in the northern half of the country, it's the second largest city in Vietnam by population, after only Ho Chi Minh City. Known as the "City of Lakes", Hanoi is home to over two dozen lakes and a climate that mimics the four seasons.
Walk along its many tree-lined boulevards and you'll see that Hanoi is an old city. Hanoi celebrated its millennial anniversary in 2010 though it's said to be much older than that, having been inhabited since at least 3,000 BC. Vestiges of Chinese and French colonial influence are everywhere, particularly in the Old and French Quarters which are home to thousands of colonial-era buildings.
With nearly 2,000 limestone towers rising from its turquoise waters, mysterious caves and grottos, Halong Bay is simply considered one of Vietnam's most beautiful spots. As a result, it is on every visitor's list – and hundreds of boats offer cruise trips every day. The bay is huge, but it can still feel crowded. With amazing landscapes, diverse and rich flora and fauna with great archaeological and geological significance, it has landmarks attached to the historical and cultural values and is close to the international gateways.
The best way to experience Halong Bay is on an overnight cruise. If your time is limited, choose 2 days/ 1 night option; but go for 3 day/ 2 night cruise package to enjoy Halong at its best. There are so many Halong Bay cruises to choose from, that it can be daunting to figure out which one will be the perfect fit for you. Don't do it yourselves as you might be headache, ask Vietnam Travel's cruise specialists for a help!
5. Sapa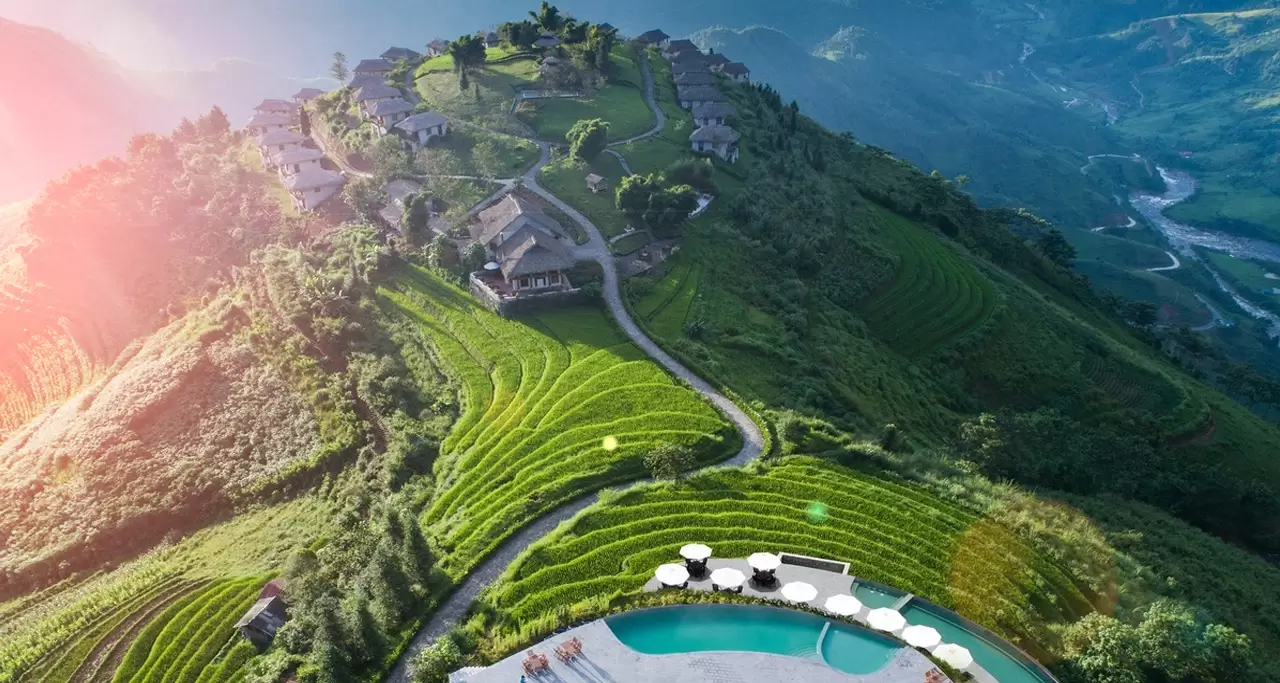 Set on a 1,650m-high mountain ridge, the town boasts fabulous views of the Roof of Indochina, rice terraces and a colorful market attended by hill tribes from the surrounding countryside every weekend. It has stunning sceneries and a beautiful landscape surrounding it that makes it ideal for trekking expeditions for adventure junkies, especially in the remote region of Sapa.
Mount Fansipan is part of the Hoang Lien mountain range and it watches over the terraced rice fields, gorgeous valleys and ethnic villages from a height of 3,143 meters. Conquering this mountain on foot is a big challenge, but now visitors can opt to take the cable car to the summit (great for those traveling with children, the elderly, and the disabled). Riding a funicular through Muong Hoa Valley and a vast of rose garden to the Fansipan cable car station is also truly an experience of a lifetime.
In addition, Silver Waterfall, 12 kilometers outside of the town, is also one of Sapa's highlights. Like Walleman Falls in Queensland's Girringun National Park, the Silver Waterfall is quite impressive, at about 200 meters high. Take an opportunity to visit it if traveling to Sapa, and snap photos of the bridge stretching over the water and the scenic views of the national park!
Combining both culture and natural beauty into one enticing package, Sapa is definitely worth visiting if you have the chance.
Vietnam has more than the above suggested destinations. Perhaps, you've heard about the other names such as Con Dao, Nha Trang, Danang, Hue, Ninh Binh, Mai Chau and Ha Giang etc., meaning the country could offer 2 or 3 weeks holiday for any kind of travelers.
Other reasons why Vietnam is a popular destination for Australian tourists
If you still wonder for more attractive reasons to choose Vietnam as a holiday destinations? Below are some figures:
– Vietnam's response to the Covid-19 pandemic has been stunningly successful, with only 331 confirmed cases and zero deaths (as of 8 Jun 2020). That makes the country a prime candidate for early access, and a very popular destination for Australian tourists.
– This is the perfect location for your south-east Asian fix: the food is incredible, the people are friendly, you get everything from the buzz of Saigon, the elegance of Hanoi to the peace of the Hoian, you can explore by airplane, train or scooter and modern cruise ship or river sampan…
– Each Australian tourist spent only $1,570 (average) while traveling in Vietnam, according to the Vietnam Tourism Annual Report published by the Vietnam National Administration of Tourism (2018). Meaning, it is very reasonable price for an oversea holiday package.
Vietnam Travel – a trusted tour operator for Aussie tourists
We know people love beaches, bars, rooftops, history & culture, cuisines, romantic cruises, and especially a safe travel destination, so what are you waiting for? Get ready to inhale some incense smoke at temples, dodge millions of motorbikes, navigate through market alleys, and squat on the sidewalk while eating a bowl of beef noodles or some breads ("banh mi")! After a few months off, Vietnamese professional tour guides, friendly drivers, helpful hotel receptionists, and experienced cruise captains are ready and eager to welcome all foreign visitors and surely you are all being cared, serviced and respected than ever! And if you have had so many difficulties with your international big firms during the last century pandemic, it is time to change your consideration and choice, and we are here to help. As always, all of our travel consultants are available 24/7 to support our clients. Booking a holiday with Vietnam Travel, you cut out the 'middle man'!
Similar topic you may like to read: Vietnam Travel Guide during and post-Covid 19