Things to do in Ninh Binh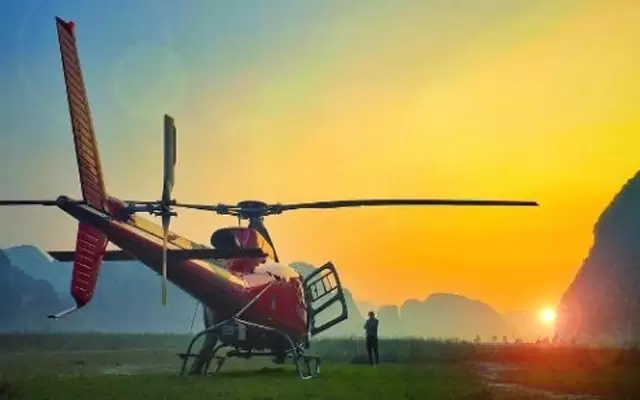 Located just 100km in the South of Hanoi or about 2 hour drive on the new freeway, Ninh Binh is one of the top attractions in North Vietnam. The complex of Ninh Binh is perfect for a day trip but 2 day trip is more relaxing and allows you the better travel experience of natural landscapes of limestone rocks formation, hidden caves, daily life of local people. The trip to Ninh Binh takes you to visit historical and cultural sites along with variety of interesting activities. Check out top things to do in Ninh Binh that you should know when visiting Vietnam.
Here are the 10 best things to do in Ninh Binh
1. Visit Hoa Lu Ancient Capital
Hoa Lu used to be the capital of Vietnam during the Dinh and Le dynasties in 10th and 11th centuries. Since the King Ly Thai To moved it to Thang Long (Ha Noi today), Hoa Lu became an ancient capital which maintained many ancient temples and relic sites. It was also recognized as one of the 4 cores forming of the UNESCO World Heritage Site – Trang An Complex. Nowadays, Hoa Lu is a cultural center filled with ancient pagodas, temples and citadel. It gives off a mysterious yet nostalgic vibe as it is surrounded by high arc-shaped rocky mountains, spectacular scenery and numerous calm lakes. This charming and tranquil landscape always leaves a strong appeal for anyone visiting.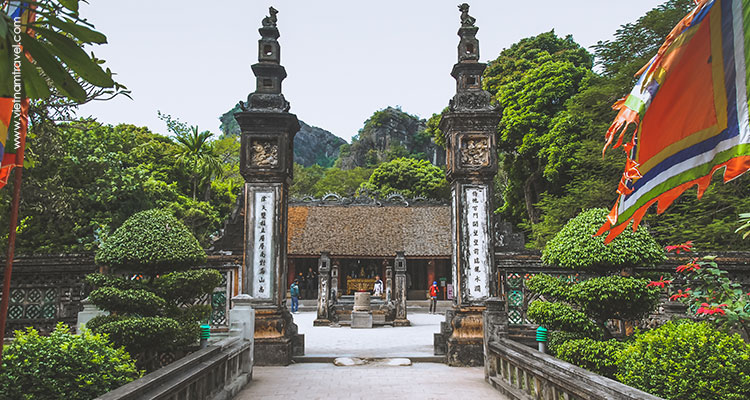 After Tet holiday, there are many festivals organized. The most important and largest one is the Truong Yen Festival, which is held on the 10th day of the third lunar month. This festival is in memory of the Kings of the Dinh and Le dynasties whose names are Dinh Tien Hoang and Le Dai Hanh. It may be crowded during this time.
Location: Truong Yen commune, Hoa Lu district, Ninh Binh.
Entrance fee: Free.
Opening time: 7:00 – 17:00 every day.
Visiting time: About 1 hour.
2. Visit Cuc Phuong National Park
Cuc Phuong National Park is a perfect place for those who love nature. It is the country's oldest nature reserve, containing a wonderfully rich ecosystem, a wide range of birds, mammals, reptiles and colorful butterflies along with plants and ancient trees. In earlier times, Cuc Phuong was home to the Muong minority people and to this day a few scattered villages around the park's periphery still house these interesting people and their unique culture.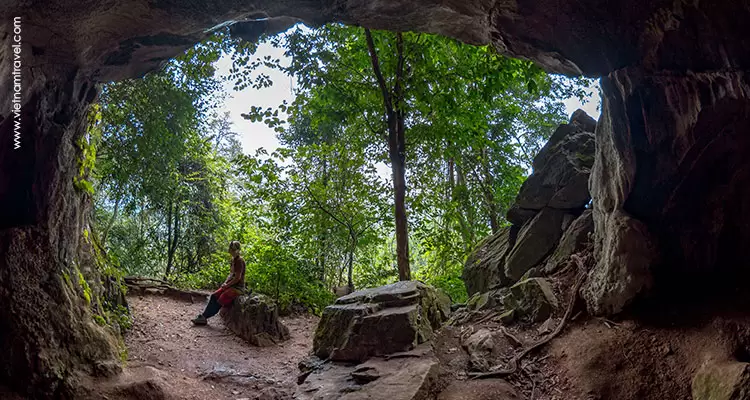 The best time to visit Cuc Phuong National Park is during the dry season (from December to May) when the weather is pretty cool. You should avoid going in the rainy season since the road will be slippery and there are many mosquitoes and leeches. Especially, visiting here in April and May, you will have chance to see millions of butterflies hovering on the sky. It makes Cuc Phuong become a beautiful fairyland.
You can trace a paved road on bike, motorbike or car to reach Cuc Phuong National Park but biking and hiking are the best choices to slowly stroll through the jungle. There are a few stops to visit, namely, Endangered Primate Rescue Center, Turtle Conservation Program and Botanical Garden.
Location: Nho Quan district, 45km from Ninh Binh city to the northwest.
Entrance fee: 60,000 VND/ person.
Opening time: 8:00 – 18:00 every day.
Visiting time: 4-6 hours.
3. Take the leg rowing sampan along Ngo Dong River
Tam Coc means "Three Caves" including: First Cave (Hang Ca), Middle Cave (Hang Giua), Last Cave (Hang Cuoi). As known as "Halong Bay on land", Tam Coc is a must-see place when you visiting Ninh Binh. And relaxing on a sampan boat rowed by locals along Ngo Dong River through caves, rice paddies and unique limestone karsts is the best experience. Here, you may feel like disappearing from the real world and getting lost in such a hidden fairy site. On the way back, you are recommended to stop at Ben Thanh then walk to Thai Vi Temple. This temple is dated 13th century and dedicated to the founder of the Tran Dynasty, it's a peaceful and atmospheric spot.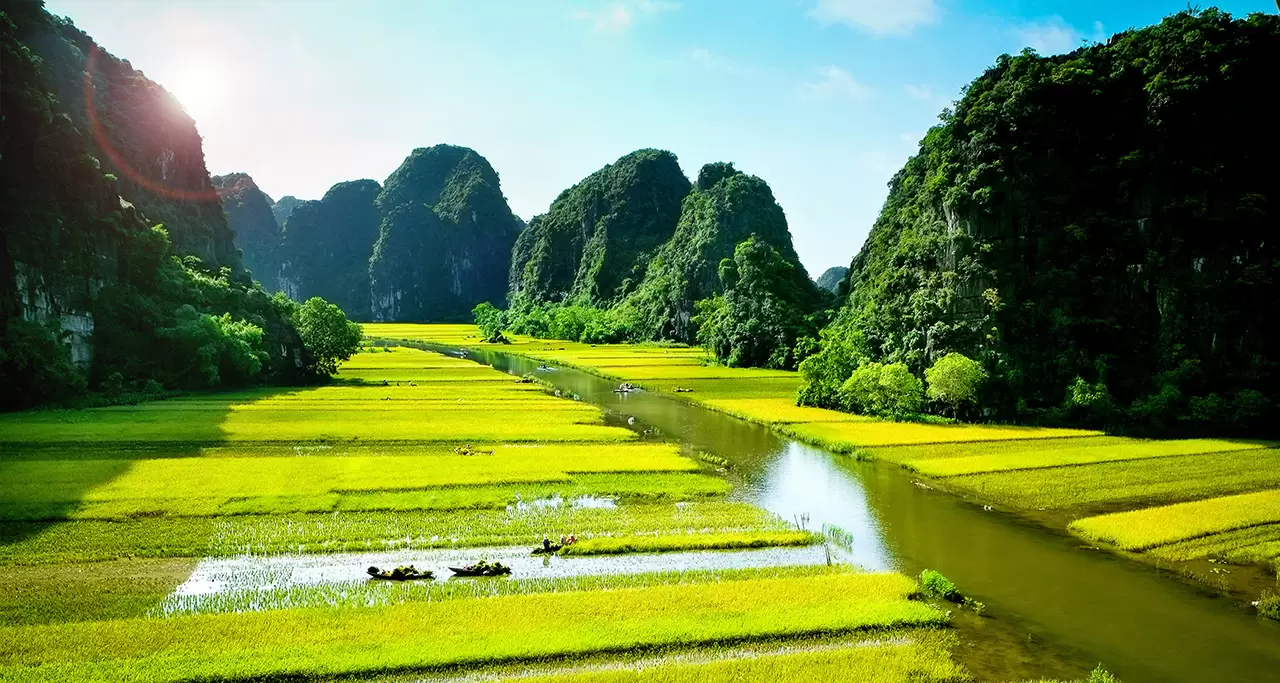 Tam Coc – Bich Dong quick travel guide: https://vietnamtravel.com/tam-coc-bich-dong/
You can visit Tam Coc all year round but if you want to get a photo of the golden rice fields, come here in mid-April to early June with blue sky and pleasant weather.
Location: Ninh Hai commune, Hoa Lu District, Ninh Binh.
Entrance fee: 120,000 VND/ visitor
Boat: 150,000 VND/ boat.
Visiting time: About 2 hours.
4. Explore Bich Dong Pagoda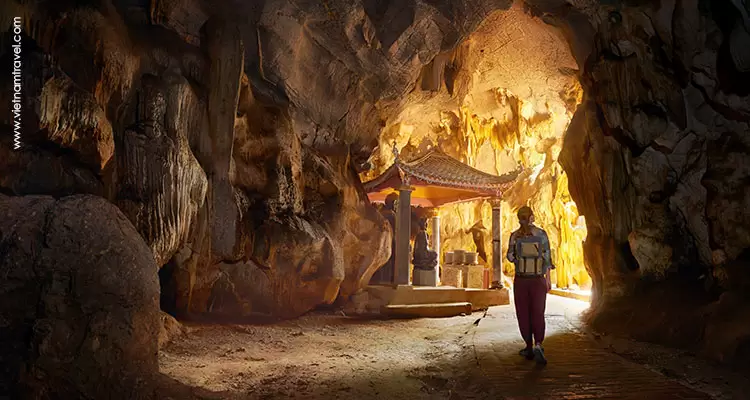 If you have time after the boat trip in Tam Coc, follow the road leading southwest from the boat dock for about 2km to visit the cave-pagoda of Bich Dong (which literally means "Green Pearl Grotto"). Located at the foot of a large mountain, Bich Dong Pagoda's ornate gate is one of the most iconic sights in Ninh Binh. You will walk on a stone bridge over a lotus pond and pass through the gate to come deep into the chambers of Bich Dong – the "second most beautiful grotto in Vietnam". Not a usual pagoda, Bich Dong consists of 3 separate layered pagodas which are Lower (Ha), Middle (Trung) and Upper (Thuong) Pagoda on different levels and you have to climb up the hillside to explore each of them. Inside each cave pagoda, looming statues and the smoke of burning incense create an otherworldly atmosphere. It will take about 2 hours to reach the top to enjoy a beautiful view to the Tam Coc region from above but it is worth the effort!
Location: Ninh Hai commune, Hoa Lu District, Ninh Binh.
Entrance fee: Free.
Opening time: 7:00 – 21:00 every day.
5. Discover Trang An Scenic Landscape Complex
The Trang An eco-tourism complex boats 12 historic relics and numerous grottoes and caves, including a system of 48 aquatic caves and caverns, springs, streams and rivers serving as portals into limestone mountain ranges. Besides, the very rich fauna and flora that has survived time adds more weight to the spectacular beauty of the eco-tourism complex. The best way to explore the beauty of Trang An is to take a rowing boat along the river. The boat tour lasts about 2 hours, which is enough time for you to admire limestone mountain settings, discover a system of mysteriously hidden caves and stop in certain areas to visit ancient temples or pagodas.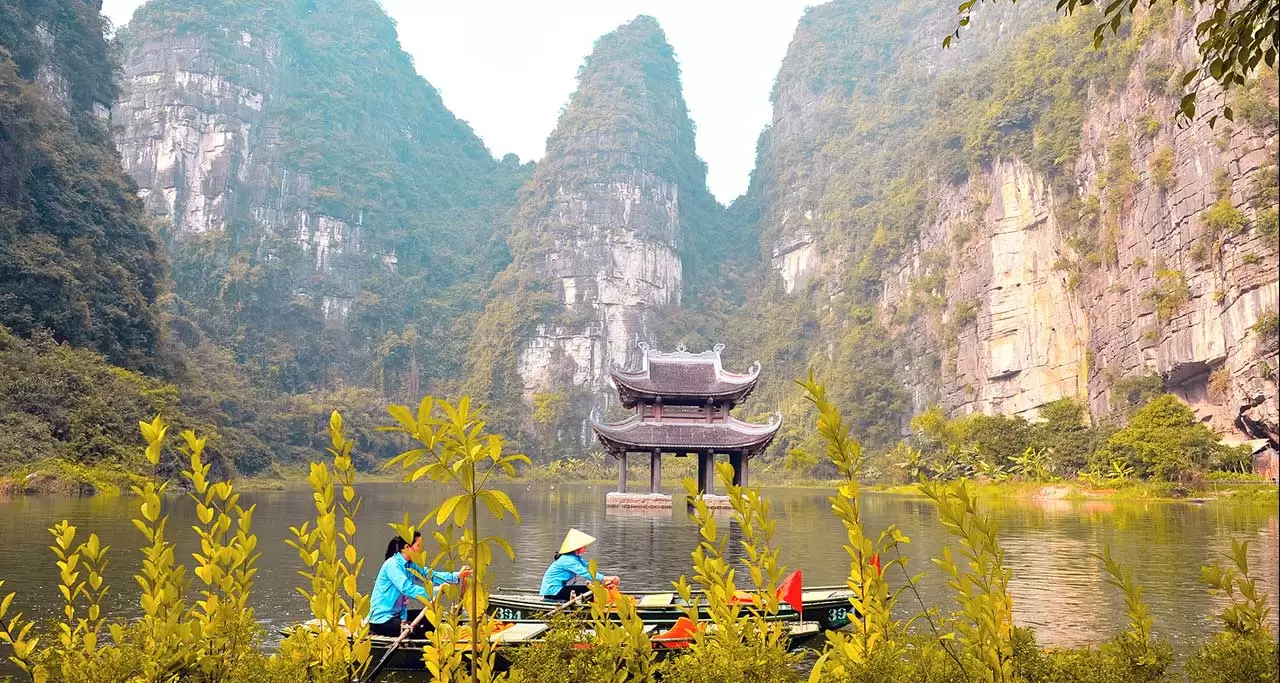 Trang An Scenic Landscape Complex: https://vietnamtravel.com/trang-an-scenic-landscape-complex/

There are 3 different routes with different sightseeings you can choose:
– Trang An Boat Tour Route 1 is designed for anyone who like exploring geological. Moreover, only this tour will take you through most of the caves.
Habor – Trinh temple – Bright cave – Dark cave – Nau Ruou cave – Tran temple – Ba Giot cave – Seo cave – Son Duong cave – Khong temple – Bao Hieu temple – Khong cave – Tran cave – Quy Hau cave – Habor (3,5 hours).
– Trang An Boat Tour Route 2: If you are tight on travel time, a boat trip route 2 is a perfect choice.
Harbor – Lam cave – Cao Son temple – Vang cave – Thanh Truot cave – Dia Linh mountain – Suoi Tien temple – Kim Quy mountain – Dai cave – Vu Lam palace – Habor (2 hours).
– Trang An Boat Tour Route 3 is suitable for those who want to see limestone mountains.
Harbor – Trinh temple – May cave – Suoi Tien – Dia Linh cave – Dai cave – Vu Lam palace – Habor (2,5 hours).
Location: Trang An, Truong Yen commune, Hoa Lu district, Ninh Binh.
Boat: 250,000 VND/passenger
Opening time: 8:00 – 18:00 every day.
6. Conquer Mua Cave (Hang Mua)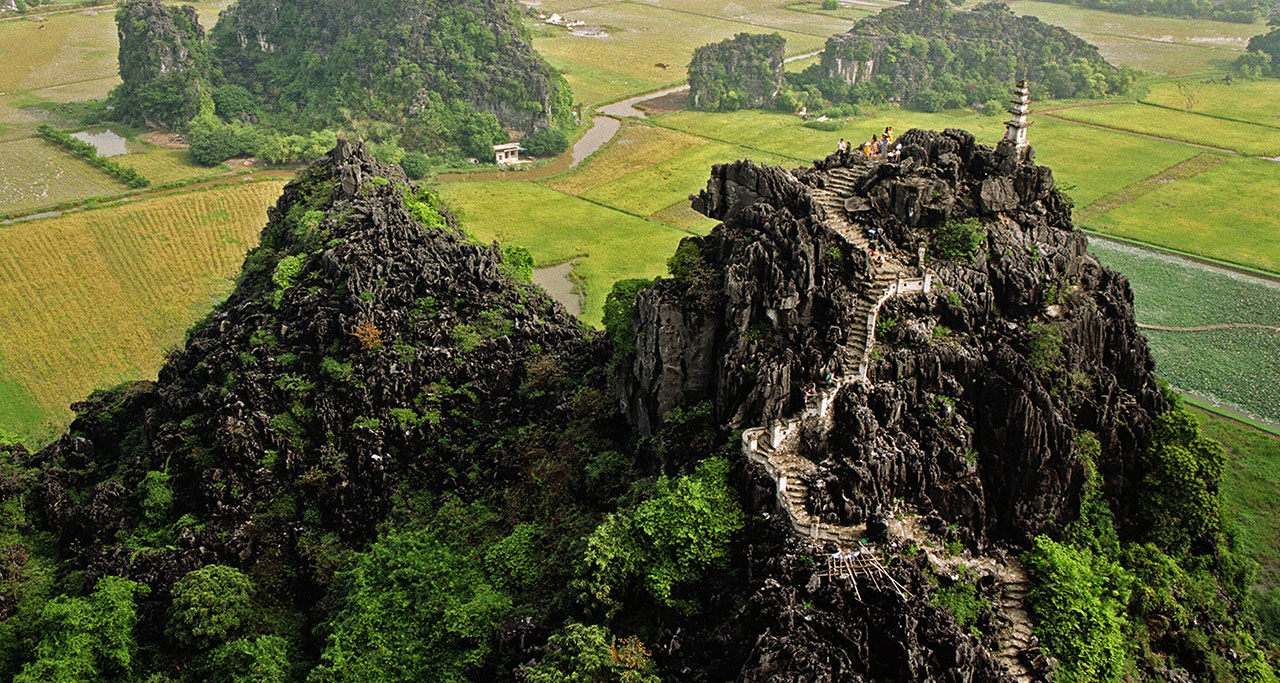 Mua Cave is one of the most recently mentioned places in Ninh Binh. It is also called a miniature version of the Chinese Great Wall. Coming here, you will be leisurely climbing up 500 stone stair-steps. At the top, you will admire the majestic panoramic views of Tam Coc with rice fields on Ngo Dong River. If you still have energy left, embark on another climb to the awe-inspiring lookout at Bich Dong Pagoda and see Lying Dragon statue. The vision might be blocked sometimes by mist, but wait for it to clear. The panoramic view is best enjoyed in sunset, when the sun slowly hides its glowing vanilla beams under the jungle-covered tops of limestone mountains. Also, make sure you wear proper shoes, especially in the rainy season as the steps can become slippery.
Location: Khe Dau Ha, Hoa Lu district, Ninh Binh.
Entrance fee:100,000 VND/ visitor
Opening time: 6:00 – 19:00 every day.
7. Visit to Bai Dinh Pagoda
An important place of pilgrimage and the largest complex of Buddhist temples in Vietnam, Bai Dinh is a fascinating site for its mix of old and new. The whole complex consists of the original old temple for Buddhist privileges and a newly created larger temple for tourists visiting. You may need at least 3-4 hours to see the whole site. Inside, you can find a huge bronze Buddha statue which weighs 100 tons, along with carved bells and a 13-story watchtower. On the 6th day of the first lunar month, Bai Dinh will be packed with Buddhists gathering for the Bai Dinh Temple Festival.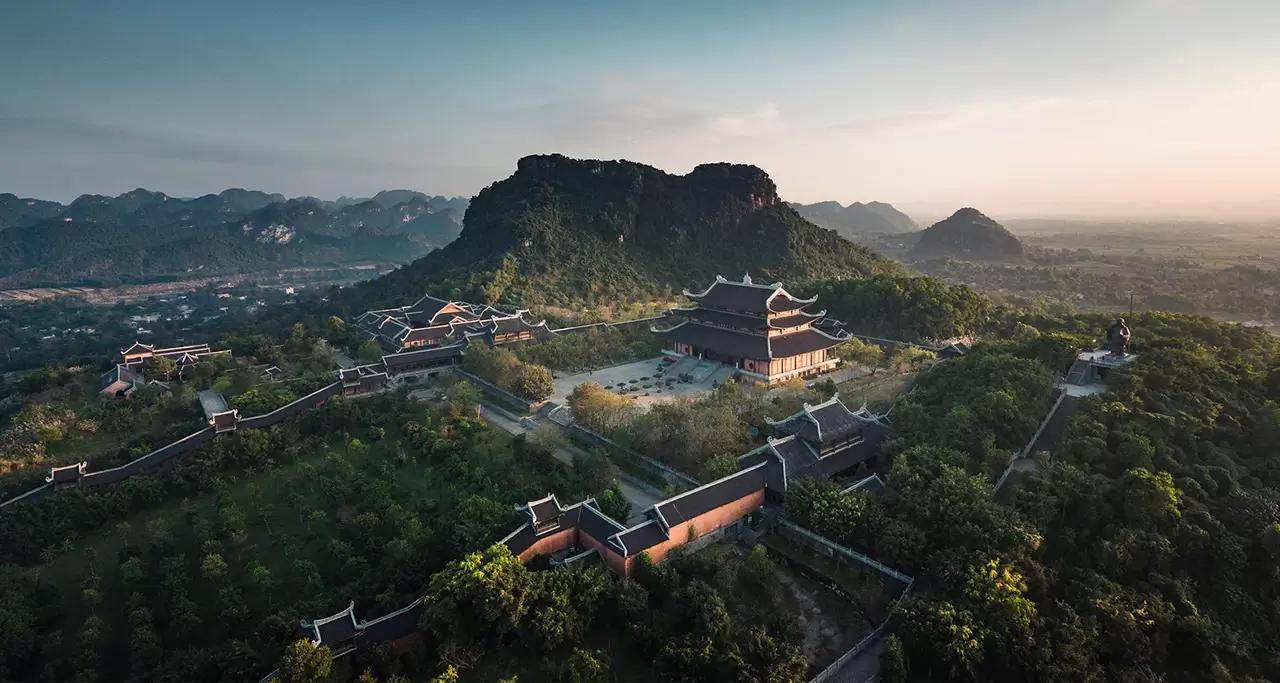 As a spiritual place, you should wear clothes covering shoulder and knee, don't wear tank tops, shorts, mini-skirts… There is available on electric car service, so if you feel tired of walking, you can use it.
Location: Gia Sinh commune, Gia Vien district, Ninh Binh.
Entrance fee: Free.
Electric Car: 60,000 VND/ passenger
Opening time: 6:00 – 20:00 every day.
8. Thung Nham Bird Garden
Thung Nham bird garden is located next to the famous Tam Coc – Bich Dong tourist spot, about 4km from Bich Dong pagoda. Thung Nham is surrounded by tropical forest strips on limestone mountains and numerous valleys and caves. It is home to 40 species of birds with about 50,000 individuals such as stork, cauldron, bittern, egret, teal and two rare birds listed in the Red Book as Phoenix and flamingo.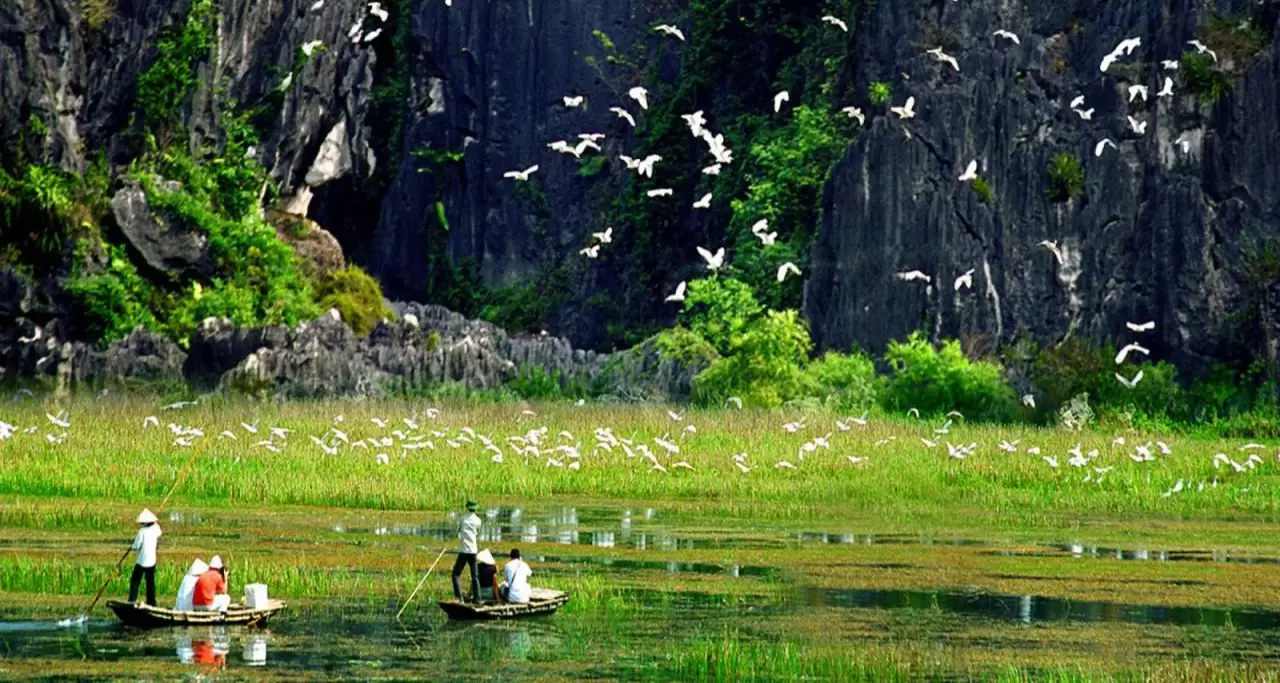 The most beautiful time to visit Thung Nham bird garden is at sunset when thousands of birds fly back to their nests after finding foods. There is no doubt that this is the most pristine and peaceful beauty you have ever experienced. The valley is magnificent in all four seasons, but its beauty is glowing in the autumn, when the temperature is cool and a thin layer of fog covers the whole area, creating a romantic beauty.
Location: Hải Nham commune, Hoa Lu district, Ninh Binh.
Entrance fee: 100,000 VND/ visitor
Boat tour: 20,000 VND/ passenger
Opening time: 6:00 – 22:00 every day.
9. Try local food

Ninh Binh is famous not only for picturesque landscapes but also for special and delicious cuisine. Your trip to Ninh Binh may not be perfect without tasting some local dishes. "Com Chay" (Rice crust) is what you must try. The slices of steamed rice are slightly fried in a hot oil pan until they turn yellow and crisp. It is eaten as a delicious snack or dipped in warm sauce. Besides, goat meat is considered as a specialty of Ninh Binh. The meat has a gamey flavor and it is cooked into many dishes such as fermented goat meat, steamed goat meat, grilled goat meat, rare goat meat… Other dishes like mountain snail, sticky rice with ants' eggs, shrimp paste, eel vermicelli, Yen Mac fermented pork roll… are some options you can try when staying in Ninh Binh.
10. Fly above Trang An and Tam Coc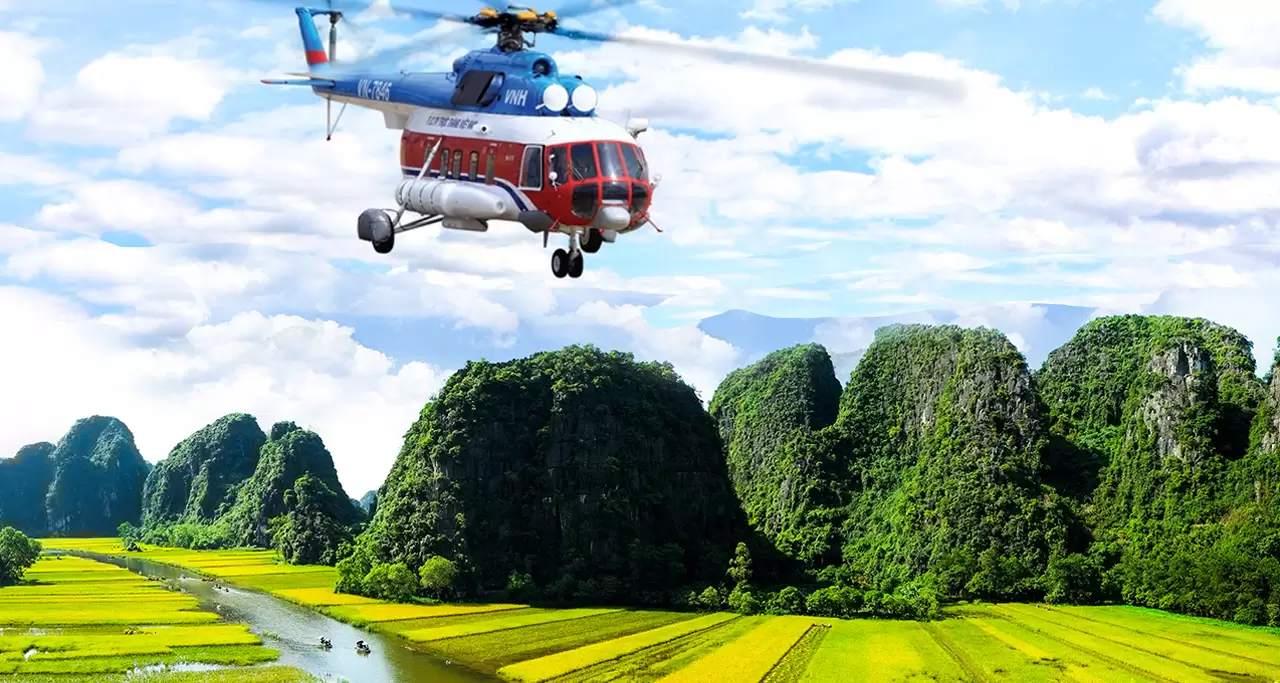 One of the most unique experience you should try when visiting Ninh Binh is to see Trang An & Tam Coc from above. Yes, I am talking about a helicopter tour. You will have chance to admire the panoramic view of the UNESCO-recognized site from above. The tour departs from Trang An pier and flies through Tam Coc-Bịch Dong tourism site…which lasts for 10 minutes with four passengers and a pilot. The experienced pilots will operate flexible flights at different altitudes, making it convenient for visitors to view as the scene in the latest King Kong movie. The ticket price is about 82USD/ passenger and you should book the tour 5 days in advance.
For more information, you can contact Vietnam Travel Consultant team to get instant support!