Trang An Scenic Landscape Complex
Trang An Complex is a mysterious natural and cultural area, not affected by human activities. There are the pristine forests, the clear lakes, rivers and streams, the fresh air, the quiet villages and only sound and colors of nature. Visitors to Trang An will experience the feeling of going back in time to the golden beauty of Vietnam history, immersing themselves in traditional spiritual culture, or floating on small boats that are popular with locals, contemplating strange rocks and caves, enjoying a pure atmosphere, experiencing each level of emotions and exploring the distant roots of human life.
After a few days in Hanoi, here is the chance for tourists to explore a famous destination which is not far from Hanoi: Trang An Complex – a UNESCO World Heritage Site in Ninh Binh Province.
1. What to visit?
Trang An scenic spot is about 90 kilometers southeast of Hanoi. It is a mixture of nature and culture, divided to three areas: Bai Dinh pagoda, Hoa Lu ancient capital and Trang an – Tam Coc – Bich Dong scenic areas, they are linked together by Hoa Lu special-use primary forest on limestone mountain and system of rivers, lakes and swamps.
1.1 Bai Dinh Pagoda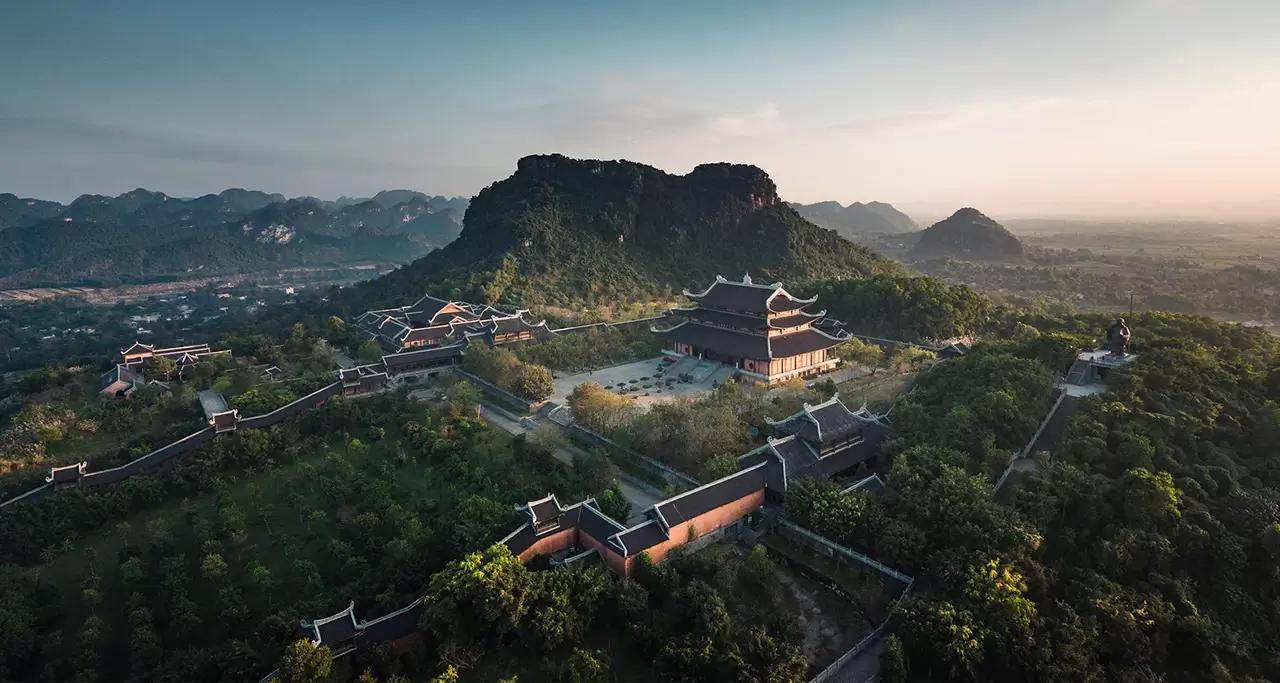 Bai Dinh Pagoda must be familiar to many people because there is a series of famous records such as: the pagoda with the longest Arhat corridor in Asia, the pagoda with the largest gold-plated Buddha statue in Asia, the pagoda with the largest bronze Maitreya Buddha statue in Southeast Asia. Besides pagodas, there are caves and the largest well in Vietnam (Ngoc Well).
Opening hours: 7 a.m – 6 p.m every day.
Entrance fee: Electric car: 30,000VND (~US $1.3) /person; Ticket to visit the Stupa: 50,000 VND (~US $2.2)/person.
1.2 Hoa Lu Ancient Capital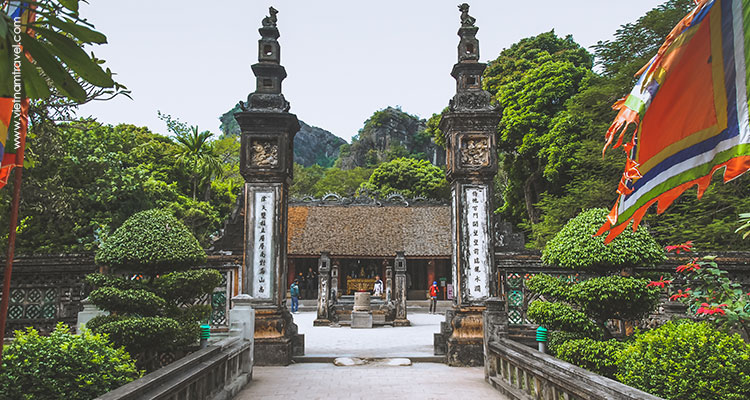 If you are passionate on Vietnamese culture and history, you definitely cannot miss Hoa Lu Ancient Capital. You will admire and hear the historical stories through dynasties.
Opening hours: 7 a.m – 4 p.m every day.
Entrance fee: 20,000 VND (~US $0.9) /person.
1.3 Trang An – Tam Coc – Bich Dong scenic areas
Certainly, when travelling to Ninh Binh, it is impossible to ignore the UNESCO natural and cultural World Heritage Site: Trang An. You will have a chance to admire the completely natural limestone caves, sit on a boat to watch the wild beauty of mountains.
Entrance fee: 250,000VND (~US $11.5)/person.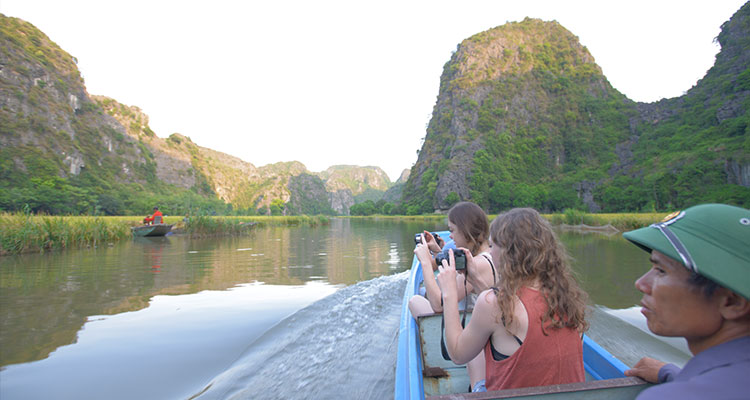 Tam Coc means "three caves". There are three magnificent caves created by the Ngo Dong river flowing through the mountain: Hang Ca, Hang Giua and Hang Cuoi. Besides, you can admire the "Emerald Grotto" (Bich Dong). In front of the cave is Ngo Dong river winding on the side of the mountain. Bich Dong Pagoda is just 3 kilometers far from Tam Coc boat pier, so you can walk to this pagoda or hire a bicycle to get near this pagoda from Tam Coc. The pagoda has a view to a valley of beautiful rice fields which is ripe in May and June creating picturesque view and attracting many tourists.
Entrance fee: 120,000 VND (~US $5.5) /person; Boat fee: 150,000 (~US $6.4) VND/boat.
Note: Trang An Complex is a spiritual tourist destination, you must avoid wearing skirts, short and leggings when visiting this area. Moreover, wearing running shoes and sneakers instead of high heels as you will walk and climb a lot.
2. When to visit?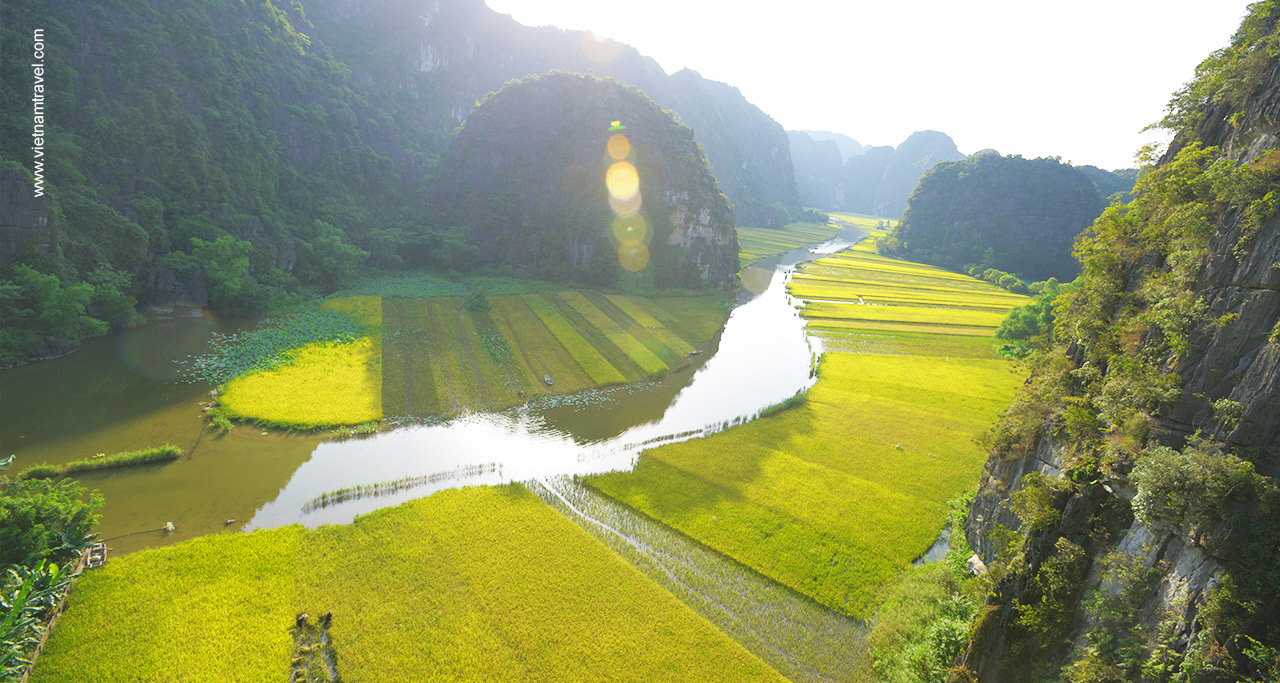 The good time to visit Trang An is in Spring after the Lunar New Year from February to April when the weather is nice and rice field is green.
For photographers who look for gorgeous picture should visit in the second week of June when rice fields turn to gold color and ready for harvest. It is super hot at this time of the year but it is worth to visit.
3. How to reach the destination?
The route to Trang An (Ninh Binh) is very modern because of national highways 1A, 10, 12A, 12B and even a part of north-south railway. Therefore, the transportation is quite easy, visitors can come to Ninh Binh by many different means such as buses, motorbikes, trains or private cars.
3.1 By private car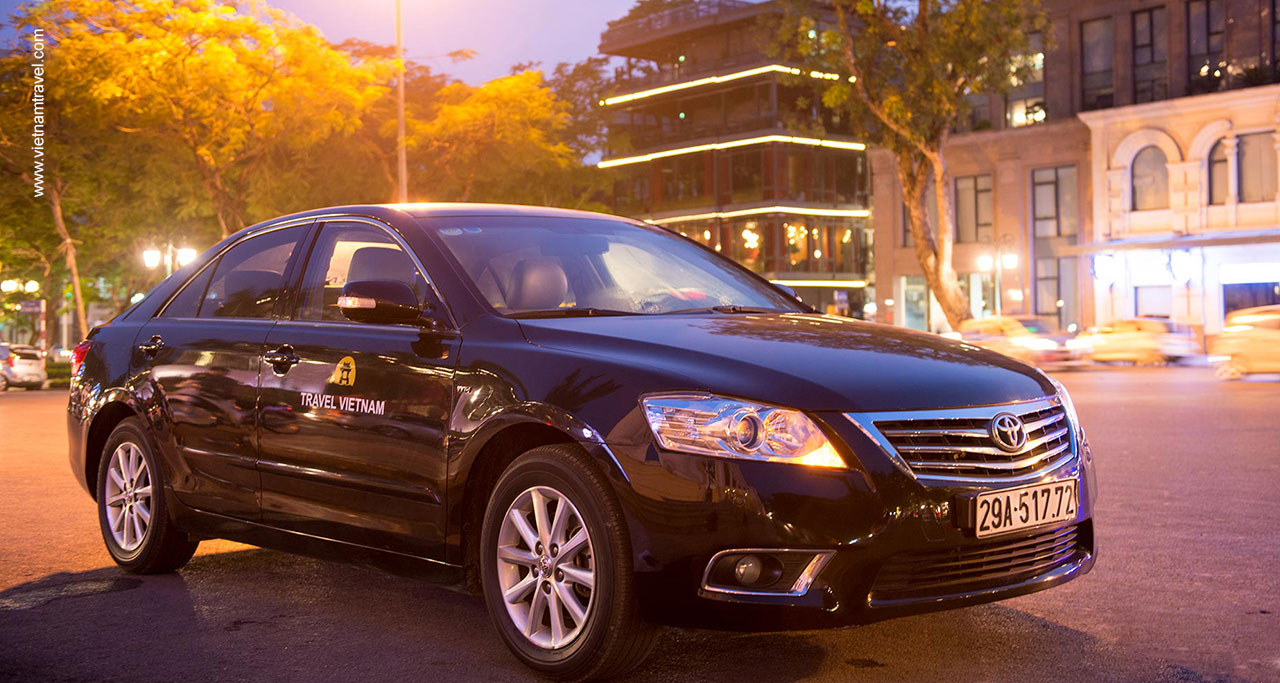 The most comfortable and convenient means of transportation for you is by private car. We are always available for pick up and drop off service from your hotel in Hanoi by private car being suitable with the number of people in your group, together with arrange your trip to Trang An or surrounding area. It will dispel your worries about having to drive yourself, about the road map, as well as having a completely private space on the car without sharing with strangers.
3.2 By bus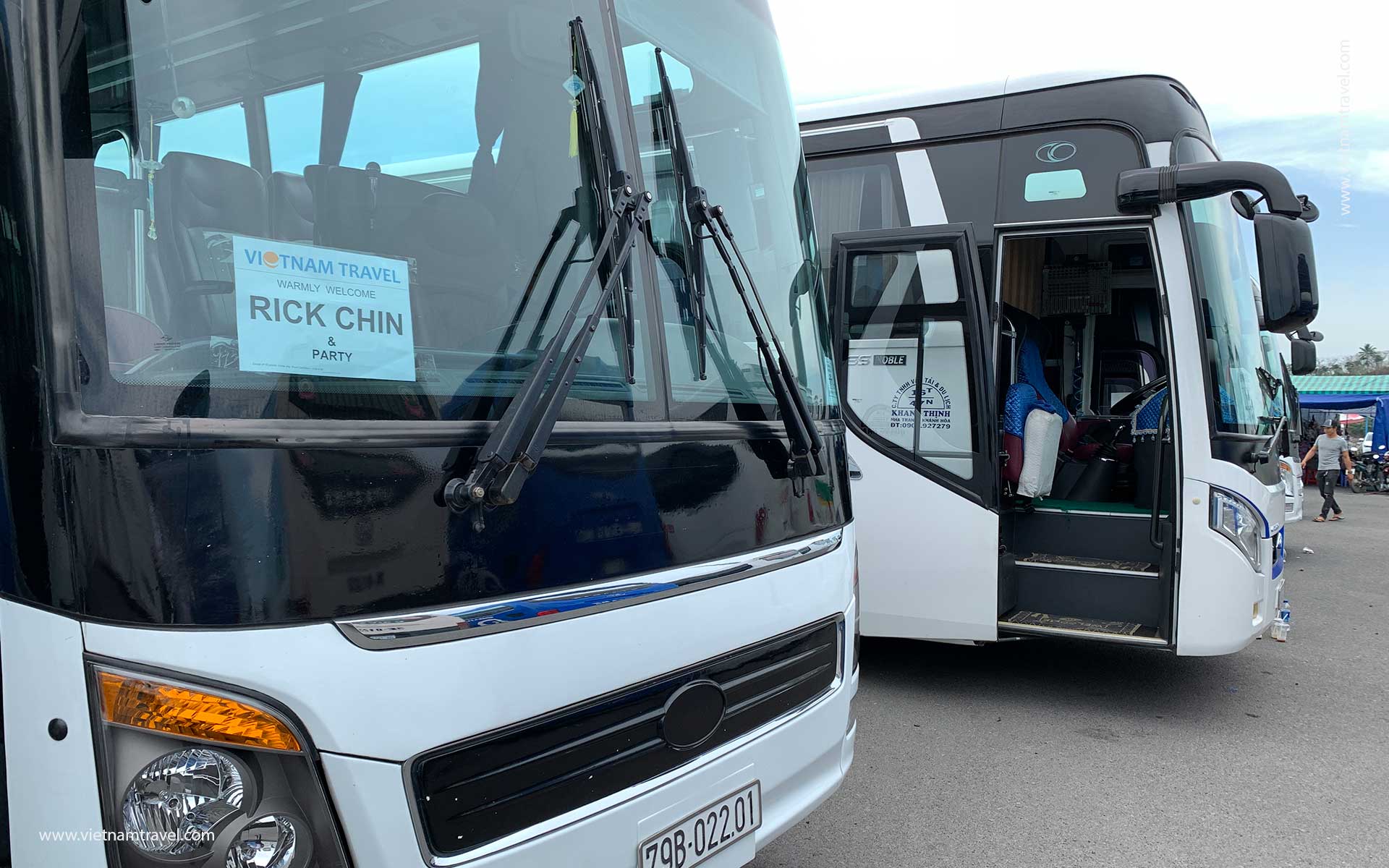 With lower cost than private car and safer than driving yourself by motorbike, travelling by bus still have some disadvantages. You will not be active in your schedule because it depends on the bus and you will have to hire a taxi to go to each destination in Ninh Binh so the cost will be arising.
3.3 By train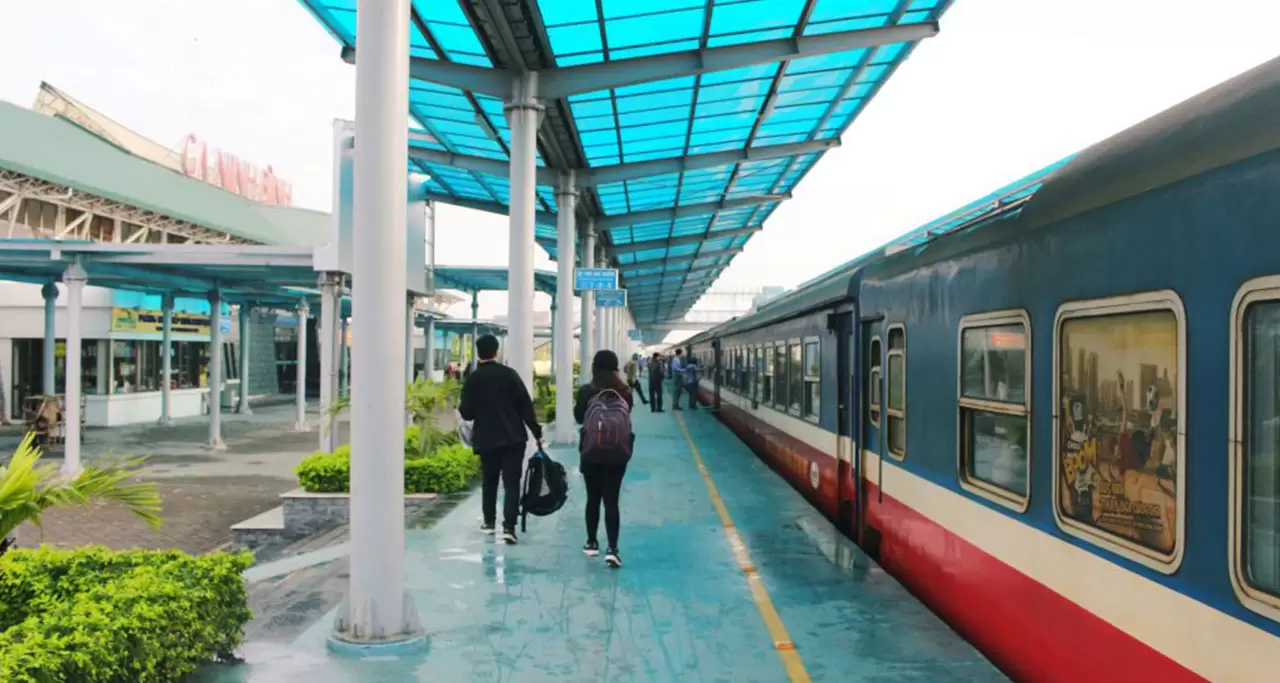 Similar to travelling by bus, travelling by train also cost more and be time-consuming as you have to follow the train schedule and take a taxi to transfer from the train station to the destination. The railway from Hanoi station to Ninh Binh station is 115km. There are three trains including SE5, SE7, and SE19 (north-south railway). The train departs daily and takes about 2-3 hours (From Hanoi to Ninh Binh or vice versa). Ticket price ranges from 80,000 VND (~ US $3.4)/person to nearly 200,000 VND (~ US $8.6)/person depending on seat class.

3.4 By motorbike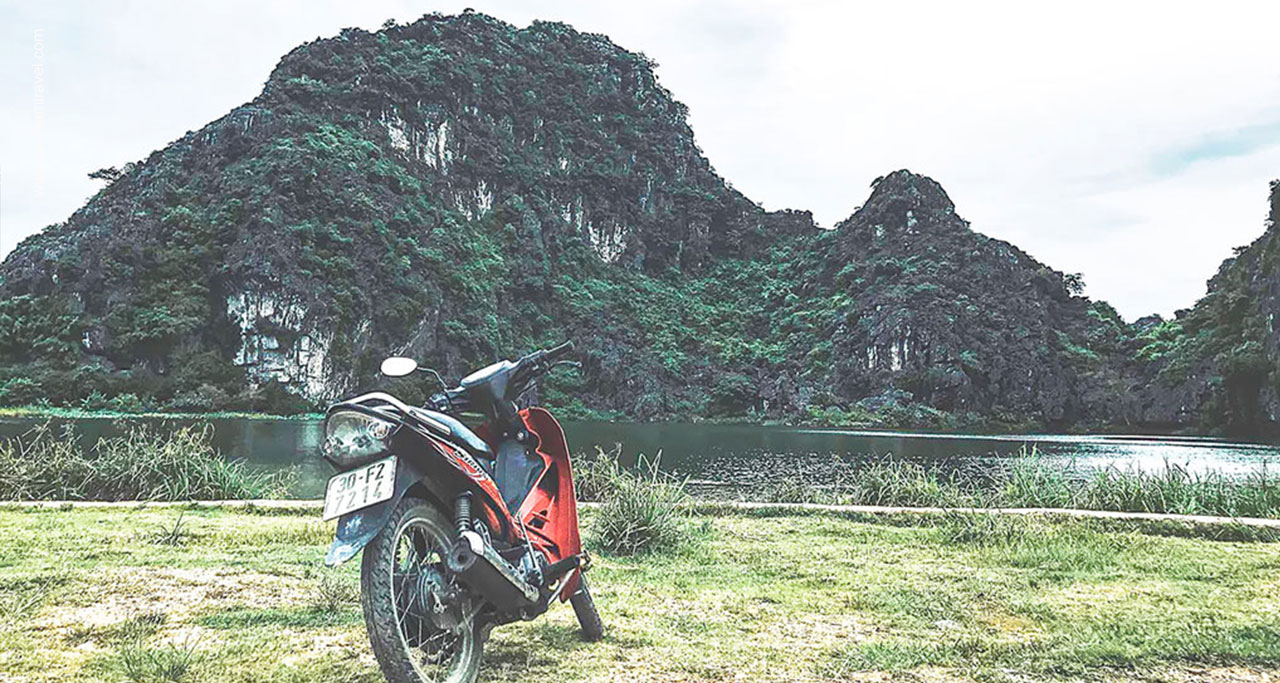 If you are a backpacker and want to experience in an adventurous way, hiring a motorbike and drive yourself will suit you most and bring you exciting experience on the way to Ninh Binh.
4. Things to do in Trang An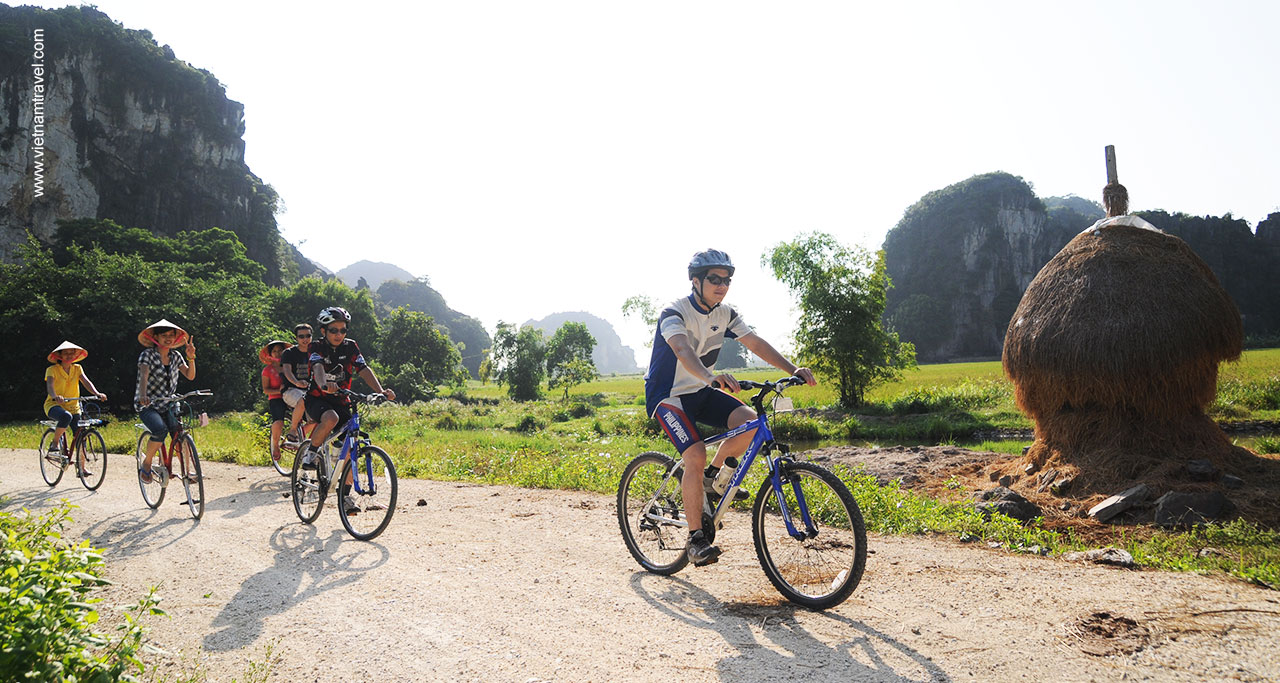 Besides taking a boat trip to visit Trang An Complex, you can try these interesting activities below:
– Biking through the local villages and spectacular karst mountains towering over a blanket of rice paddies to the ancient city of Hoa Lu.
– Trekking in Cuc Phuong National Park.
5. Tour options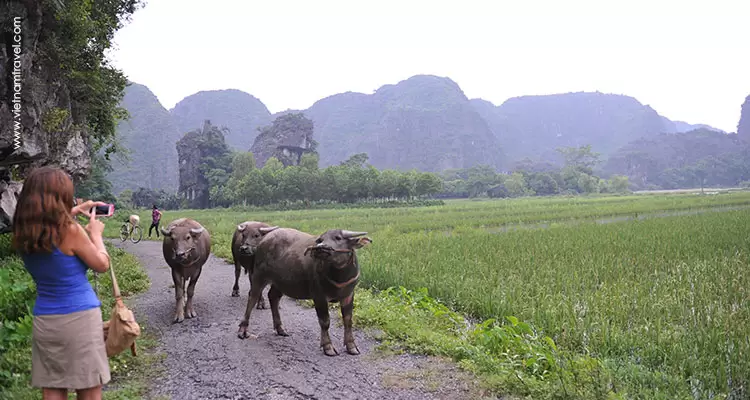 It is your choice to do a day trip to Trang An from Hanoi during your travel time in Hanoi. With a day trip, you will have a chance to explore another destination without having to worry about carrying lots of heavy luggage or finding accommodation. For your reference, there are some natural attractions surrounding Trang An Complex that you can choose to combine with your trip to Trang An: Mua Cave, Cuc Phuong National Park, Thung Nham Bird Sanctuary. Please contact your travel consultant to customize your trip to Trang An Complex.