Dong Thap Tourism – Discover the Hidden Gems of Vietnam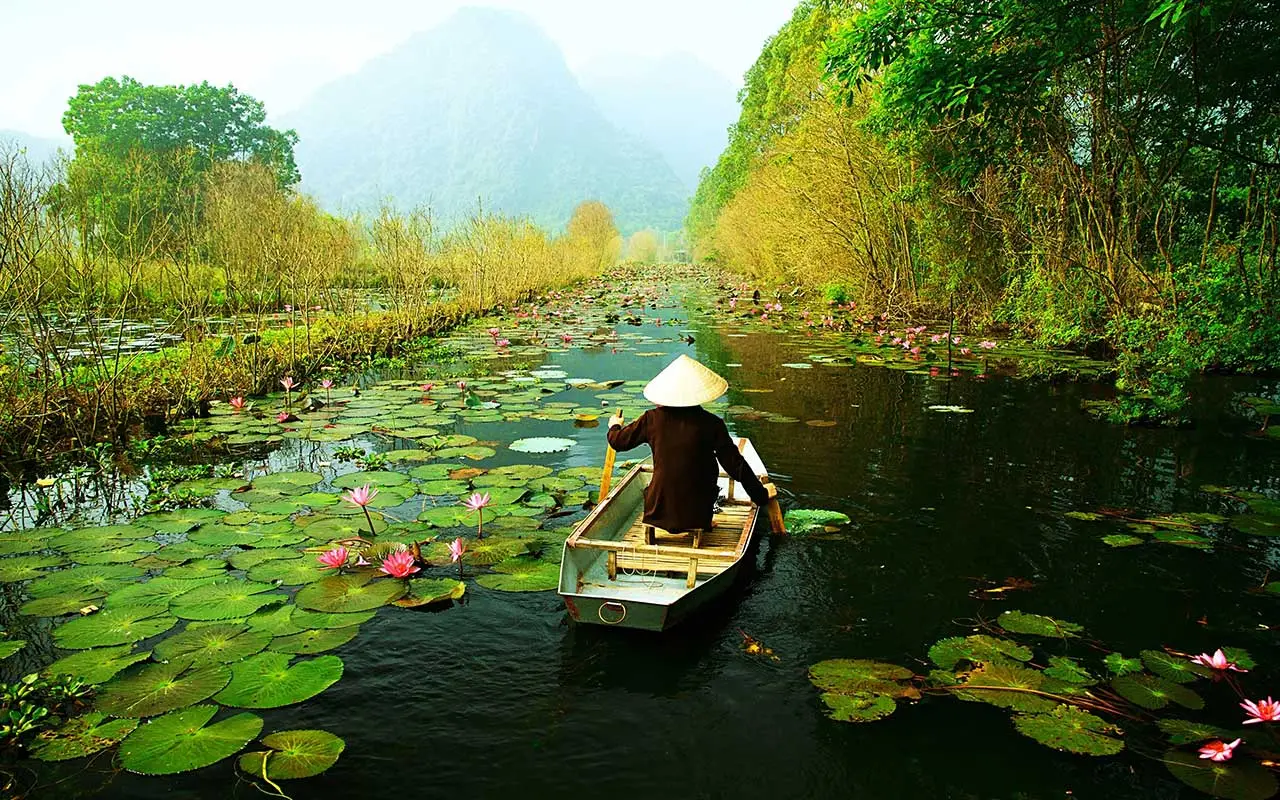 Dong Thap, the land of the lotus, is always attractive to visitors from everywhere. Read more information about this location right here.
Overview
People think about Dong Thap as a land of lotus. The kind of flower presents everywhere in Dong Thap, hence becoming a proud specialty here.
Dong Thap province is where the Tien River flows into, with the border with Cambodia at a length of more than 50 km. It borders at four gates, including two international border gates: Thuong Phuoc and Dinh Ba.
Rice is still a major crop, accounting for a large proportion in the cultivated area and in the agricultural production value.
Area: 3.383,8 km²
Population: 1.599.504 people (2019)
Provincial Capital: Cao Lanh, Hong Ngu, Sa Dec
Districts: Tan Hong, Tam Nong, Thanh Binh, Thap Muoi, Cao Lanh, Lap Vo, Chau Thanh, Lai Vung
History
Dong Thap was reclaimed around the 17th and 18th centuries under the reign of Lord Nguyen. When the French came, they included Sa Dec, Hong Ngu, Cho Moi district, and a part of Long Xuyen into it.
Through history, Dong Thap received and gave away many lands. It's got the official operation right after 1976 when Vietnam gained liberty. Dong Thap now has three declared urban areas, including Cao Lanh, Hong Ngu, and Sa Dec.
Geography
Dong Thap lies in the middle of the Tien and Hau rivers. The North borders Cambodia Prey Veng province, the South with Vinh Long and Can Tho city, the West with An Giang, the East with Long An and Tien Giang.
This province has a national border bordering Cambodia with a length of about 50 km from Hong Ngu to Tan Hong. There are four border gates, which are Thong Binh, Dinh Ba, My Can, and Thuong Phuoc. The system of National highways 30, 80, and 54 together with National highways N1 and N2 connecting Dong Thap with Ho Chi Minh City and other provinces in the region.
Climate
Dong Thap has a typical tropical climate. Like many provinces in Mekong Delta, Dong Thap features only two seasons: rain and dry.
In particular, the rainy season usually starts from May to November; the dry season starts from December to April next year. The annual average humidity is 82.5%. Rain focuses on the rainy season, accounting for 90 – 95% of the annual rainfall. The above climatic features are relatively favorable for comprehensive agricultural development.
Tourism
Dong Thap has many tourist and historical sites. However, sights and tourism of the province have just been invested and embellished in part. The infrastructure system is still weak, inconsistent, especially transportation. So there are many limitations, not creating a strong attraction. For visitors, the potential has not been fully exploited.
Still, the attractions in Dong Thap is not a shortage, notably Go Thap relic area, Xeo Quyt relic area, Mausoleum of the Deputy Head of Nguyen Sinh Sac, Temple of Senior Lieutenant General Tran Van Nang, Tram Chim National Park, Huynh Thuy Le Old House, Stork Garden Thap Muoi, Tan Quy Dong ornamental flower village.
Transportation
Ho Chi Minh is 160km away from Cao Lanh. There are direct buses from Can Tho, My Tho, Vinh Long, Long Xuyen, and Ho Chi Minh City.