Ho Chi Minh's Stilt House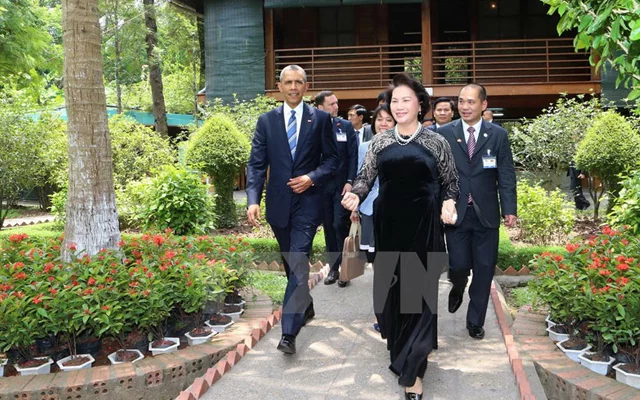 Ho Chi Minh's stilt house or Uncle Ho's stilt house is one of the most popular historic sites in Hanoi for both Vietnamese and international visitors. It evokes memories of President Ho Chi Minh – the country's great leader, and helps people to understand more about a humble and simple life of Uncle Ho.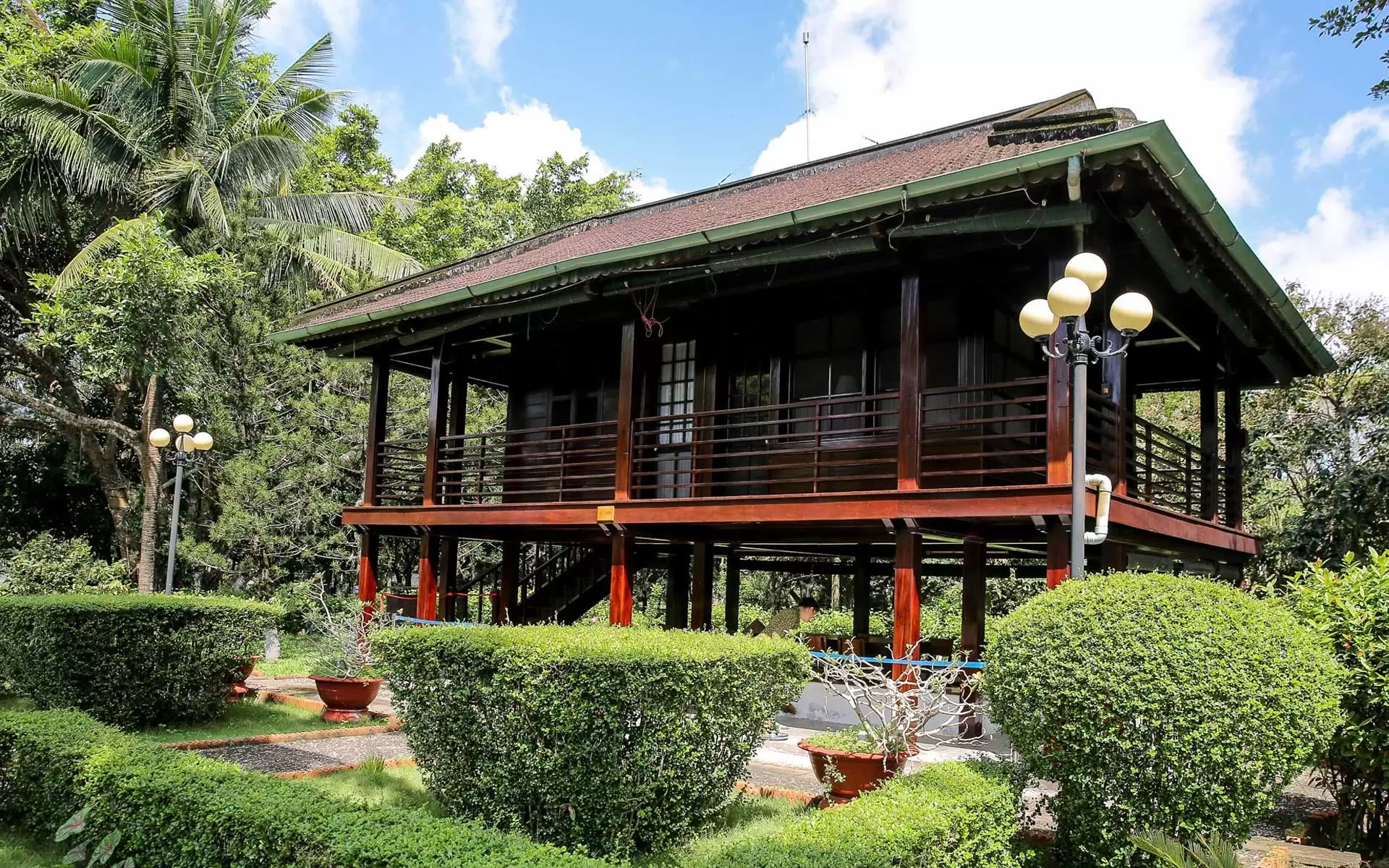 Architecture of Ho Chi Minh's Stilt House
Ho Chi Minh's stilt house was designed by architect Nguyen Van Ninh and built in 1958 in a corner of the Presidential Palace's gardens. It resembles the style of the traditional of the Tay – Thai ethnic stilt houses in Viet Bac, where Uncle Ho lived before moving here. Viet Bac was the name of the northernmost region of Vietnam in the time of war against the French colonists (1945-1954). It was consisted of 6 provinces: Cao Bang, Bac Kan, Lang Son, Ha Giang, Tuyen Quang, and Thai Nguyen.
This two-storey stilt house with wooden tiled roof is so humble and simple. It measures 10.5m in length and 6.2m in width. The ground floor is an open space, with a long table, and wooden and bamboo chairs surrounded, where Ho Chi Minh usually worked in summer. It was also served as the living room to welcome guests. The upper floor is divided 2 small rooms by a bookcase: a working room and a bedroom. Each room is about 10sqm2 with some essential furnishings in the daily life of Ho Chi Minh.
Uncle Ho loved to stay with nature. It is a reason why he refused to stay at a luxurious palace and asked to build a small simple stilt house surrounded by gardens full of fruit trees, many scented flowers like fragrant jasmines and eglantines, and a peaceful carp pond. It reflects the simple, pure and noble lifestyle of beloved President Ho Chi Minh.
Historical Significance

President Ho Chi Minh lived and worked in this stilt house from 1958 until his death in 1969. It witnessed many monumental decisions made for country at that time. It is not only of historical significance but also an architectural work bearing Vietnamese cultural identity. On May 15, 1975, Uncle Ho's stilt house was ranked as a special national cultural and historical monument.
How to get to Ho Chi Minh Stilt House

Ho Chi Minh's stilt house is a part of Ho Chi Minh Complex, along with One Pillar Pagoda and Ba Dinh Square. It is located within the garden of the Presidential Palace. It is possible to visit the whole complex in a half day.
From Hoan Kiem Lake, you can take a bus No.09 offering a stop at Le Hong Phong Street, less than a minute walk to this area. Besides, there is a parking available right at the entrance gate of Ho Chi Minh Museum for those getting here by private vehicle or taxi. For first-time travelers, it is recommended to book a guided Hanoi city tour with local agent to get door-to-door service.
Address: 1 Hoang Hoa Tham Street, Ngoc Ha Ward, Ba Dinh District, Hanoi, Vietnam
Opening hours: Daily from 7:30 AM – 11:00 AM and 1:30 PM – 4:00 PM
Ticket price: 25,000 VND/ per foreign visitor.